Meet Jenn, BMTM's food writer. On the first Friday of every month, Jenn will bring a new cuisine from a different part of the world to you, plus a recipe so that you can try it at home. I love food but I'm so bad at describing and photographing it, so here's Jenn to take over the reigns! – Kristin 
"We call this… Indonesian blender!" A beaming face belted the words across the courtyard of an impressive Balinese home as our instructor did a little shimmy and started furiously pounding a long wooden pole into a wide stone bowl.
My sister and I watched, slack-jawed, as the congenial woman dubbed 'Auntie Puspa' ground chilis, garlic, and several other exotic foodstuffs into a paste with merciless efficiency. It seemed to only take a matter of seconds before recognizable ingredients were turned to mush in her capable hands.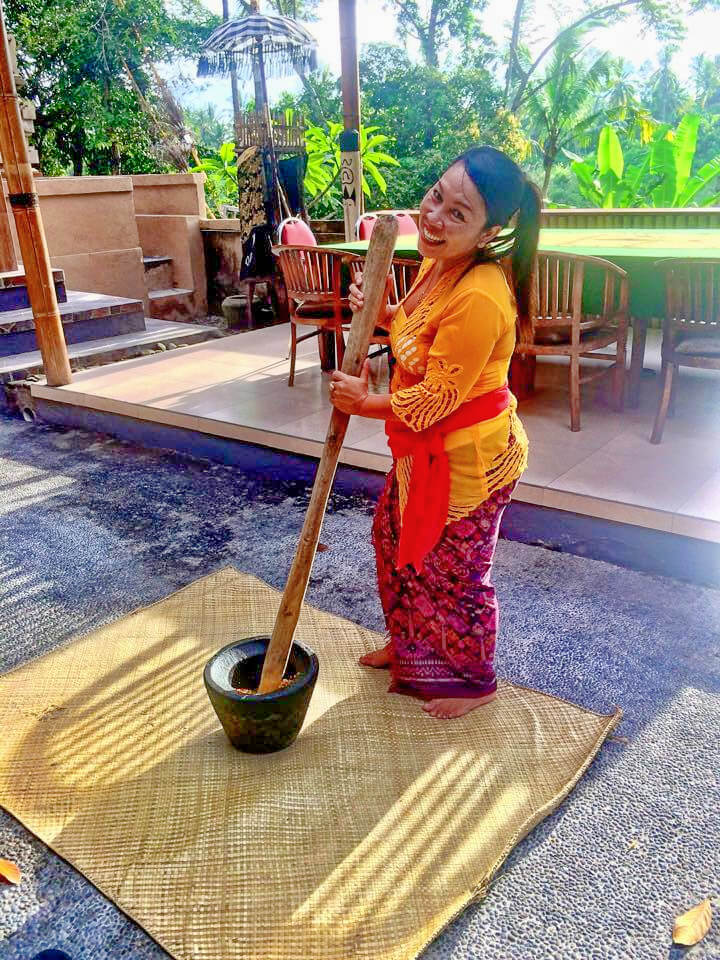 "You try now!" she exclaimed with her ever-present smile, beckoning me over to the bamboo mat that surrounded the bowl of mush.
I'm a good cook. I've got this. I mentally psyched myself up as I grasped the wooden pole and began mimicking Auntie Puspa's motions in front of the audience of our cooking class. Immediately, ground vegetable matter splattered the mat.
"It's okay! Like this!" Puspa exclaimed as she wrenched the stick from my hands and expertly resumed the veggie pounding.
We were learning how to make the base of a Balinese yellow curry sauce at Paon Cooking School in Ubud, and it was nothing like my trusty mortar and pestle at home.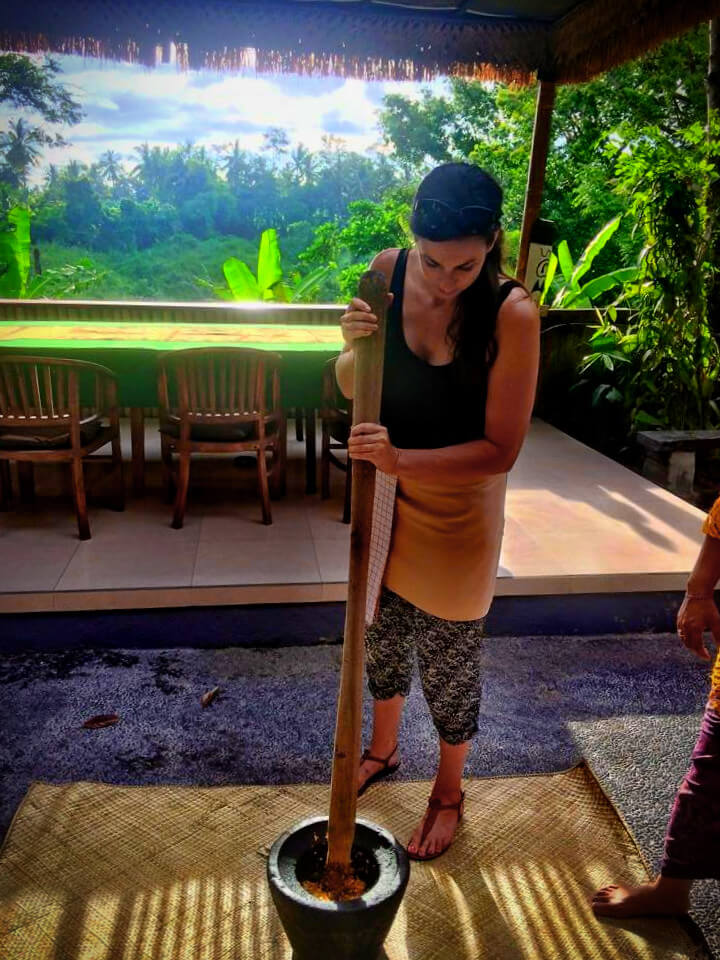 Let's talk about local food
With so many "Western" dining options throughout the Indonesian tourists hubs of Bali, Lombok and the Gili Islands, you could travel here for several weeks without touching the local food. If you wanted. But who wants to do that?!
Indonesian cuisine is bursting with flavor, from spicy and addictive sambal to hearty and sumptuous nasi goreng. Skipping the chance the educate your palate on the variety of flavor within this beautiful country would be doing yourself a major disservice. So here's a starter guide to Indonesian cuisine.
First, A Primer on Language
There are few words that are important to know if you want to order like a local. I've outlined the most important vocabulary (you can pick up the rest when you visit).
Nasi = Rice. As one of the most popular starches in Indonesia, this will be a frequent menu item at the fanciest restaurant or most humble warung.
Mie = Noodles. The second-most popular starch (or some may argue first), this will also feature prominently in traditional Indonesian dishes.
Ayam = Chicken. The most versatile of meats is also one of the most popular throughout Indonesia, so knowing the name for it is important (or you may end up with brains!).
Goreng = Fried. In country where the fried rice and fried chicken are both spectacular, it's important to know what you're looking for on a non-translated menu.
Warung = Cheap Restaurant. This is where you're most likely to find the bang for your buck with traditional Indonesian cuisine. You can still find great eats at the pricier (and more touristy) restaurants, but definitely give the warungs a try!
The Dishes Not to Miss
(And Where to Eat Them):
Narrowing this list down seemed impossible. I opted to go for a beginner's guide, and I had to make some hard decisions just so I didn't write a novel instead of a blog post. If this is your first visit, don't leave without trying these:
Nasi Goreng – Fried Rice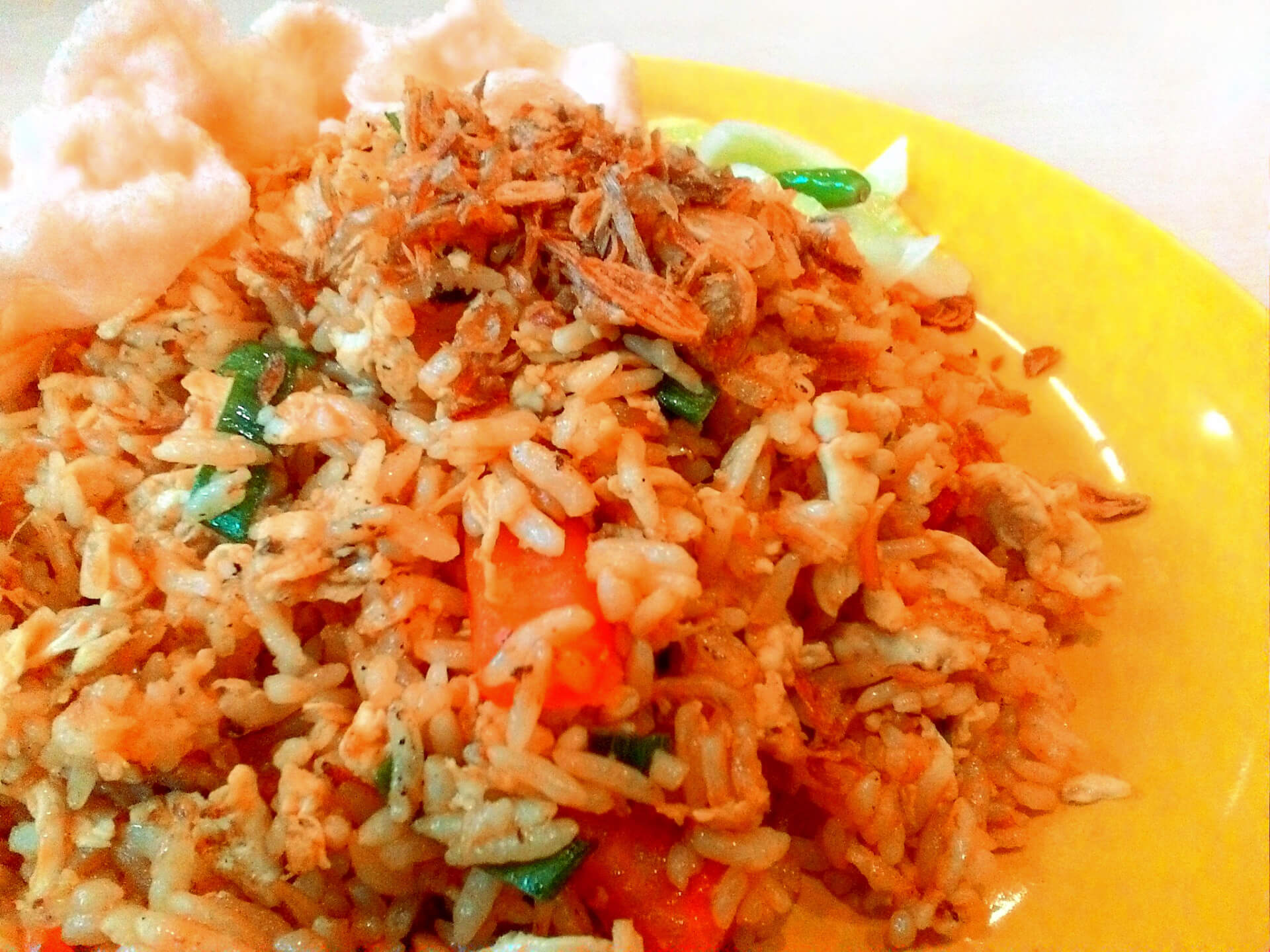 This is the one dish guaranteed to be on every menu in Indonesia, from humble street carts to the finest restaurants. You can order it any which way, from vegetarian varieties to recipes packed with meat (chicken and shrimp are the most common). What makes this particular fried rice so special? Maybe it's the shallots and garlic, fried to perfection. Maybe it's the sweet soy sauce that's in everything in Indonesia. Maybe it's the tiny hit of chili, to counterbalance everything else. Whatever it is, it's a universally loved dish by locals and tourists alike. You can order this anywhere, but try to find a locally-owned warung to be sure you'll get the most authentic recipe.  
Mie Goreng – Fried Noodles
Not the biggest rice fan? Don't worry, you won't get left behind in Indonesia! With similar flavors but a different starch (and usually a tiny bit more chili), mie goreng is the noodle alternative to fried rice. It's packed with veggies and your choice of meat, then doused in a perfect combination of sweet soy sauce, salty soy sauce, and oyster sauce. It makes for a perfect stop between beaches or bike ride stops. Get this one freshly made from the street vendors — so good.
Ayam Goreng
and
Ayam Goreng Taliwang
Fried chicken, Indo style. This is a delicious and hearty meal that you can find in almost any tourist center in Indonesia. For a special take on it, get the spicy version, Ayam Goreng Taliwang, in Lombok. Yogyakarta is also famous for their Ayam Goreng, which is poached in spices before it's fried up. People rave that they'll never go back to Colonel Sanders after getting a taste of this one. Many variations are served with a crispy topping called kremes, which lend a delicious crunch.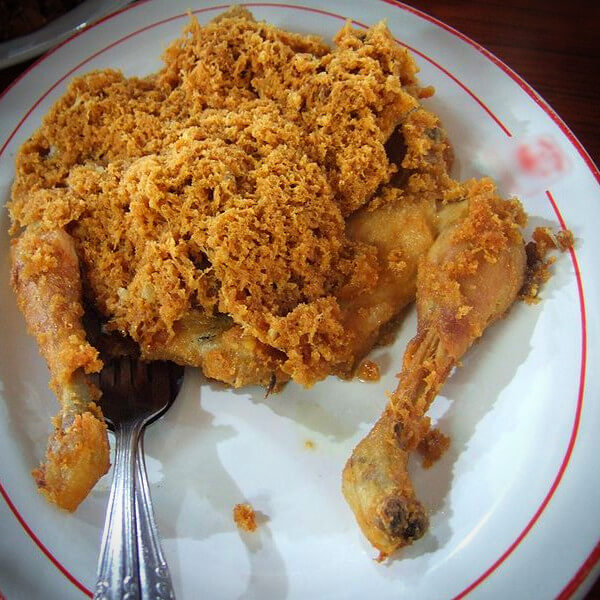 The best place to taste? Warungs. Check Ayam Goreng Suharti in Yogyakarta, Taliwang Irama in Lombok, or the Gili Trawangan night markets.
Gado Gado
You have to eat your veggies, too! Gado Gado is an Indonesian salad, but there isn't a leaf of lettuce in sight. It's a mix of vegetables such as cabbage, string beans, bean sprouts, and cucumber, tossed in a supremely delicious peanut-based dressing (though some may argue it's more like a sauce). The peanuts and ever-present sweet soy sauce, kecap manis, lend a sweetness to this dressing, which is amped up with spice from turmeric, ginger and chili.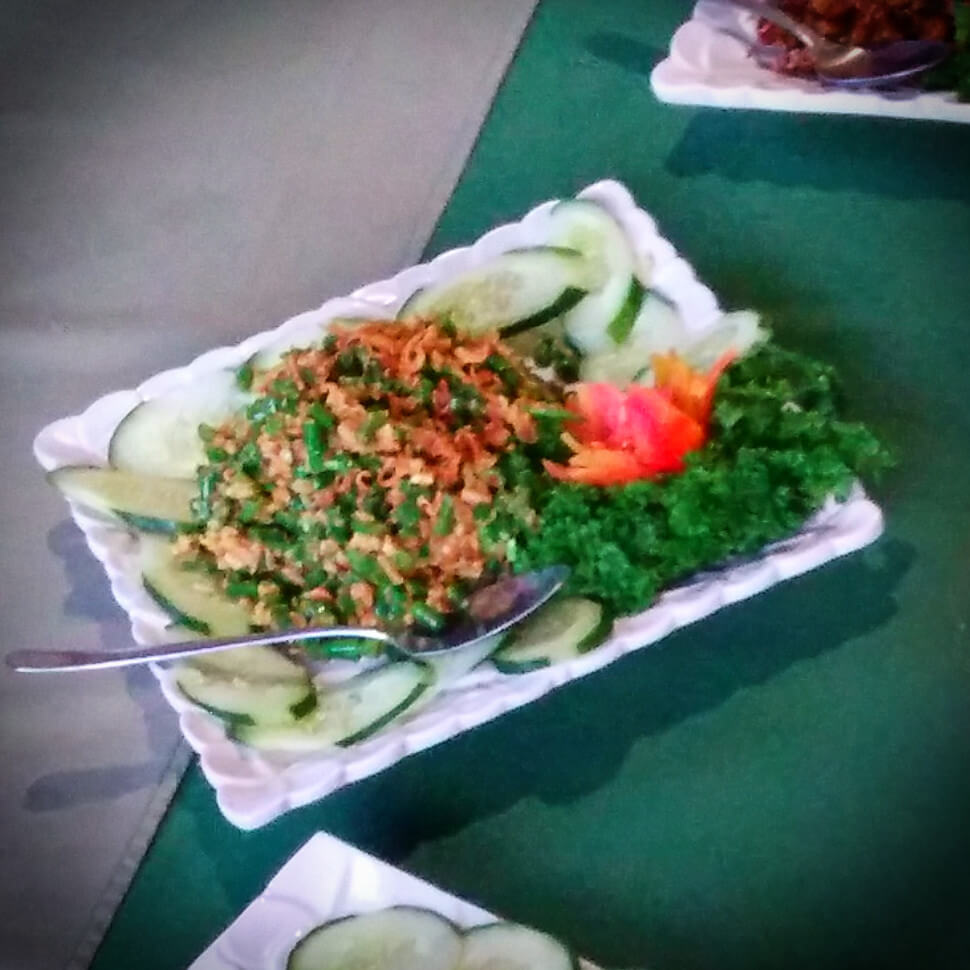 Babi Guling
Slow-cooked pork is a pretty hard thing to hate eating. This Balinese specialty is rarely found in other parts of Indonesia, where a predominantly Muslim population means pork is a no-go protein. A whole pig is stuffed with shallots, garlic, galangal, lemongrass, and dried shrimp paste (and a TON of other things) and roasted for hours over a fire. There are several places to try this in Bali, with Ibu Oka in Ubud and Sari Kembar in Seminyak topping the most popular list. If you're up for an adventure, there are rumors of a super-secret spot in a backyard north of Canggu that's the best on the island, but it's only available between 4 a.m. and 9 a.m. 
Tempeh Goreng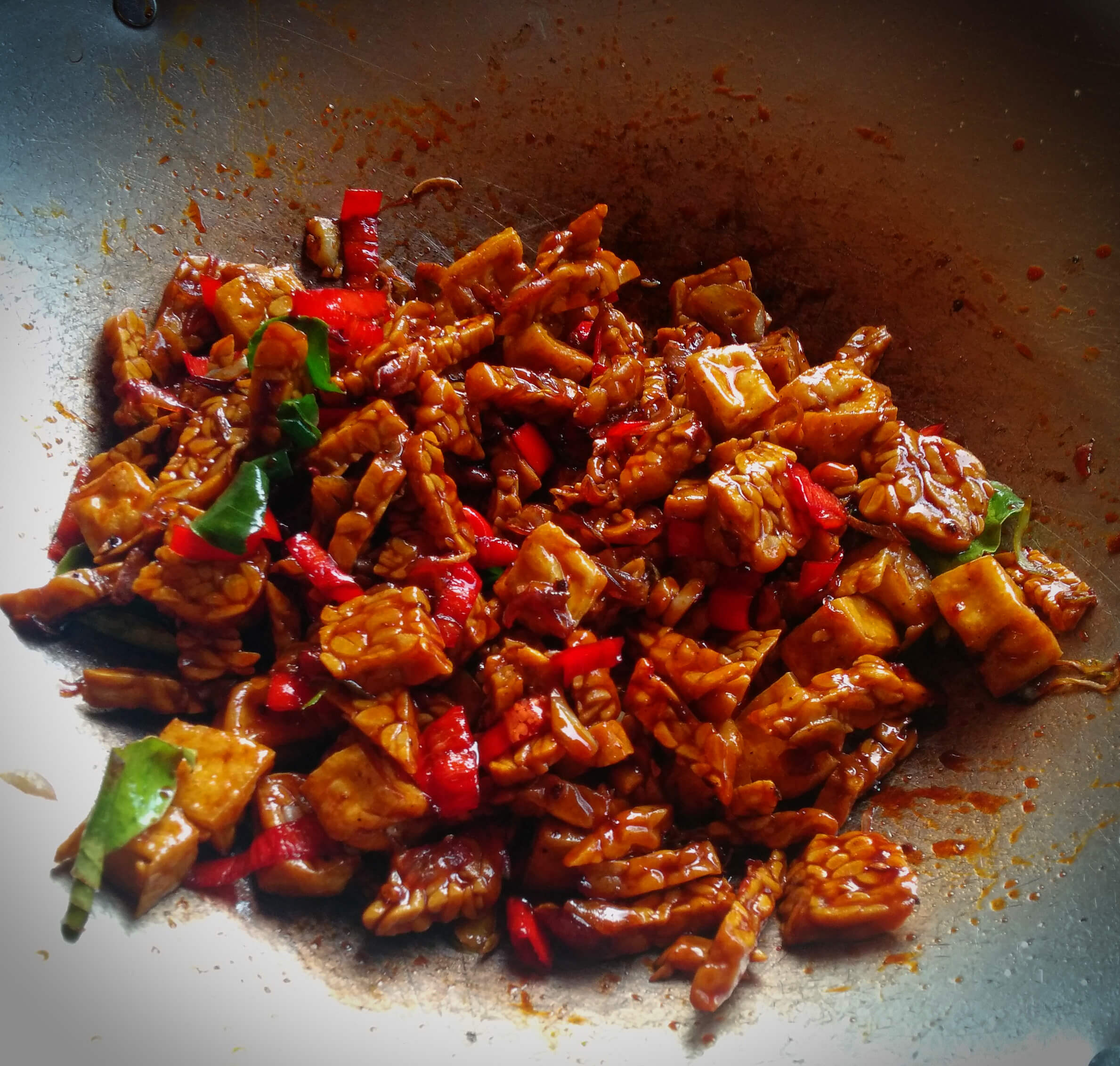 Tofu. It's just for vegetarians, right? Nope! Not when you ferment it, smother it in a sweet sticky sauce, and fry it up. Then it's just plain delicious, no matter what your opinion on meat might be. The sweetness is offset by the perfect hit of chili, and each bite makes your mouth sing an ode to joy. You'll definitely come back for seconds (or thirds!) of this unique dish.
Sate/Satay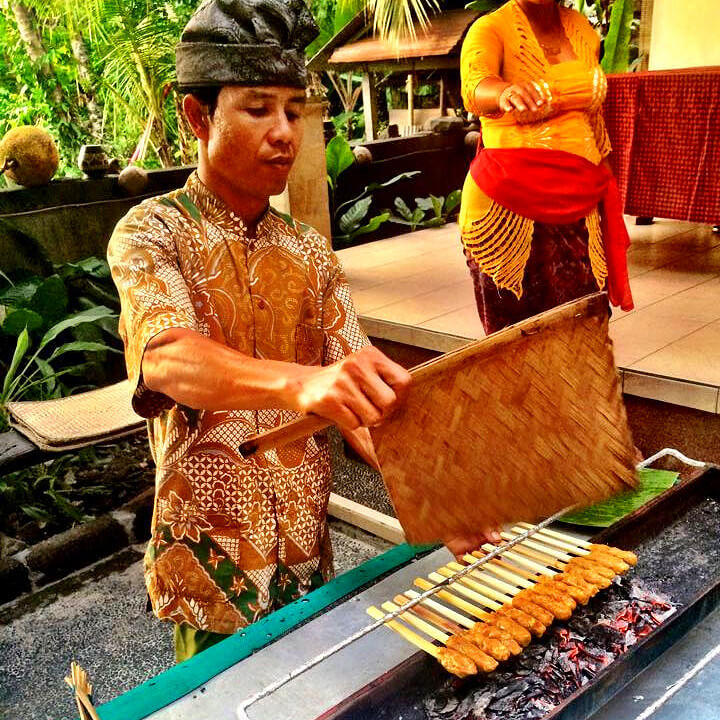 Take any kind of meat, pop it on a stick, and grill it over a charcoal fire. Okay, maybe it's not quite that simple, but this meal certainly is. There are dozens of satays all over Indonesia, but the most common is Sate Ayam, or chicken satay. Marinated in a mixture of turmeric, sweet soy sauce, ginger, garlic, and a few other aromatics, these are then grilled to perfection on a charcoal grill and served with a yummy peanut sauce and steamed rice for a simple but tasty meal. Get these from the street carts or market stalls — they do it right.
Rendang
When CNN Travel readers vote a food the best in the world, you know you should probably pay attention. Each bite of rendang is an explosion of flavor: earthy cloves, cardamom, and cinnamon wage war with tart kaffir lime, lemongrass, and tamarind, which battle it out with sweet toasted coconut, palm sugar, and coconut milk. All this (and more) is stewed down to nothing with some beef and plenty of chili to assault your tastebuds so thoroughly they have no choice but to be pleased. This dish originated in Sumatra, so your best bet is to get it there, but Warung Bernadette in Ubud also gets good reviews for their version.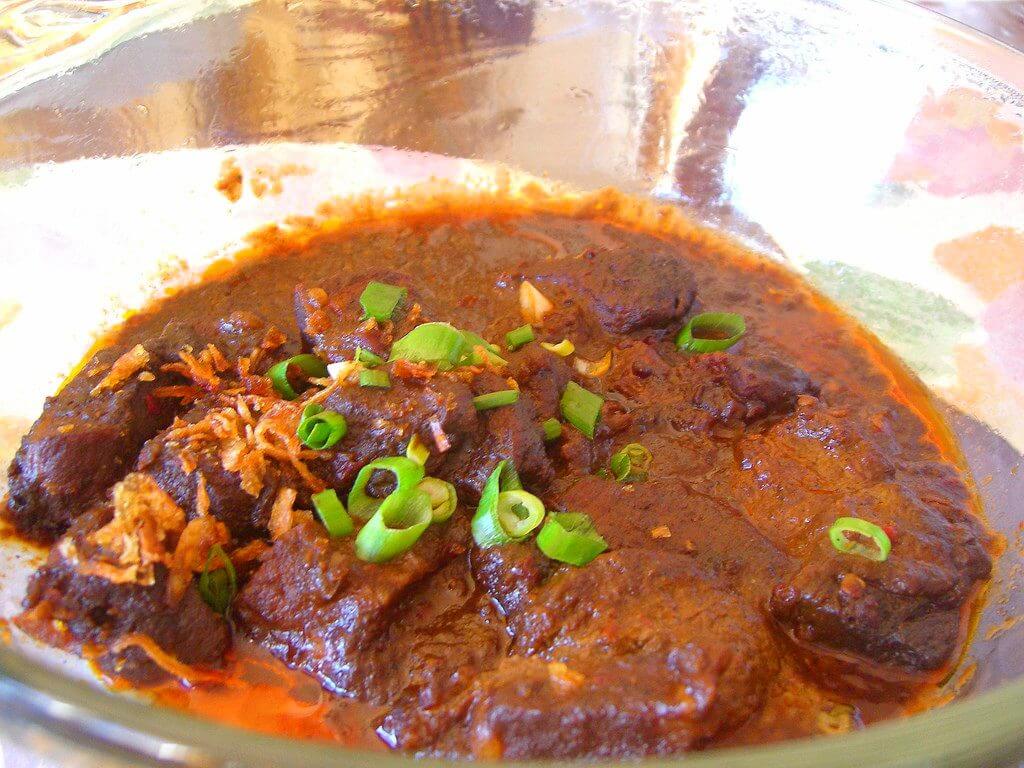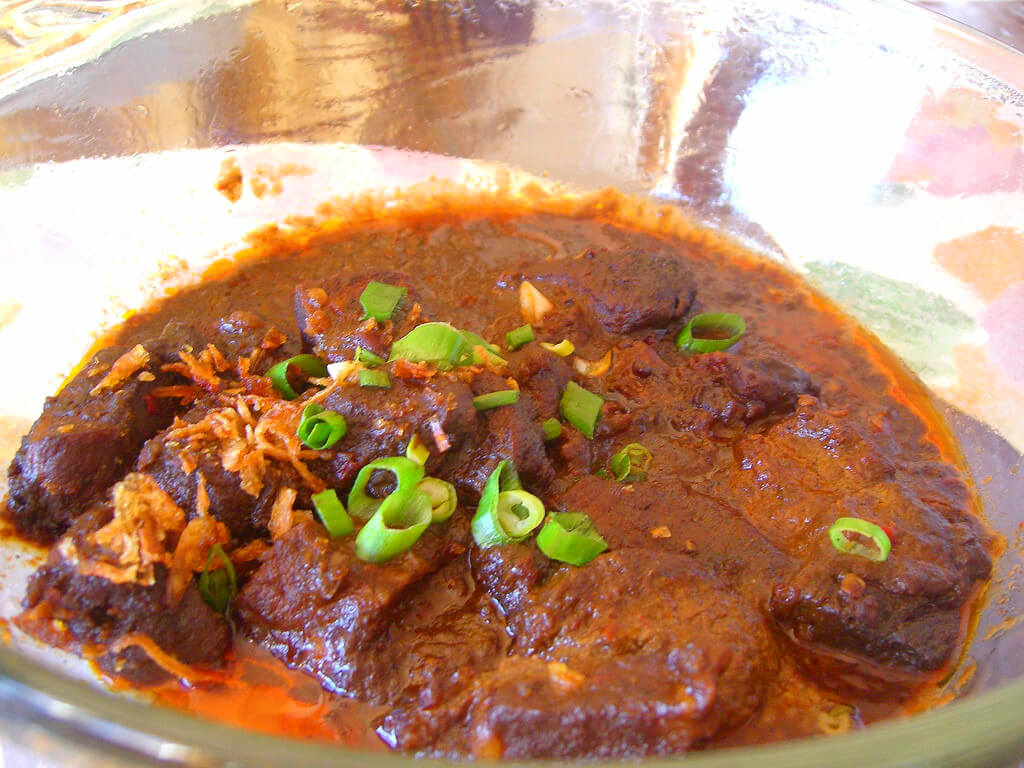 Pepes Ikan
After all that fried food, how about some light, refreshing steamed fish? Heavy on citrus with a dash of rich curry sauce, white fish is steamed in a banana leaf. That makes it the perfect foil to a long week of belly-busting fried eating. Lemongrass, tamarind, lime or lemon juice and lemon basil offset the turmeric and chili in the sauce, and steaming this fish keeps it delicate but packed with flavor. Warung Sabar in Amed, Bali gets rave reviews for their version, and Warung Mendez in Ubud does a great one too.
Sambal
Okay, this technically isn't a dish, but it deserves mention in any article about Indonesian food. Sambal is not quite a sauce… it's more like a relish. Made of fiery chili. But it is so good. It can be added to almost anything to increase the fire factor, and a little dollop here and there can make an already-yummy dish just sing with flavor. Don't be afraid of the red sauce on your table when you dine out in Indonesia! Add a little taste to whatever you're eating — you won't regret it.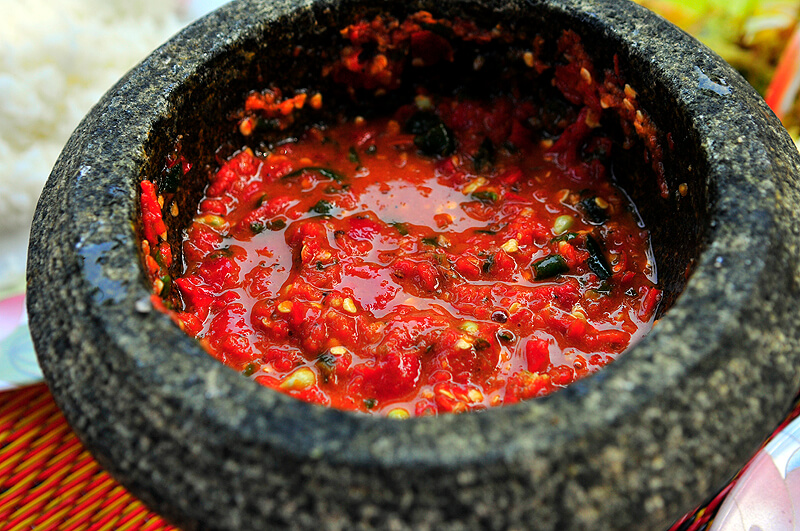 Martabak Manis
If you're like me, no meal is complete without a little something sweet at the end. Enter: Martabak Manis (a.k.a. Terang Bulan). It's a cross between a pancake and cake, but stuffed with any of a dozen delicious ingredients (like chocolate, or Nutella, or bananas, or condensed milk). You can find them at street carts all over Indo, and trying the different varieties is half the fun.
Beverages Not to Miss
Coffee –
kopi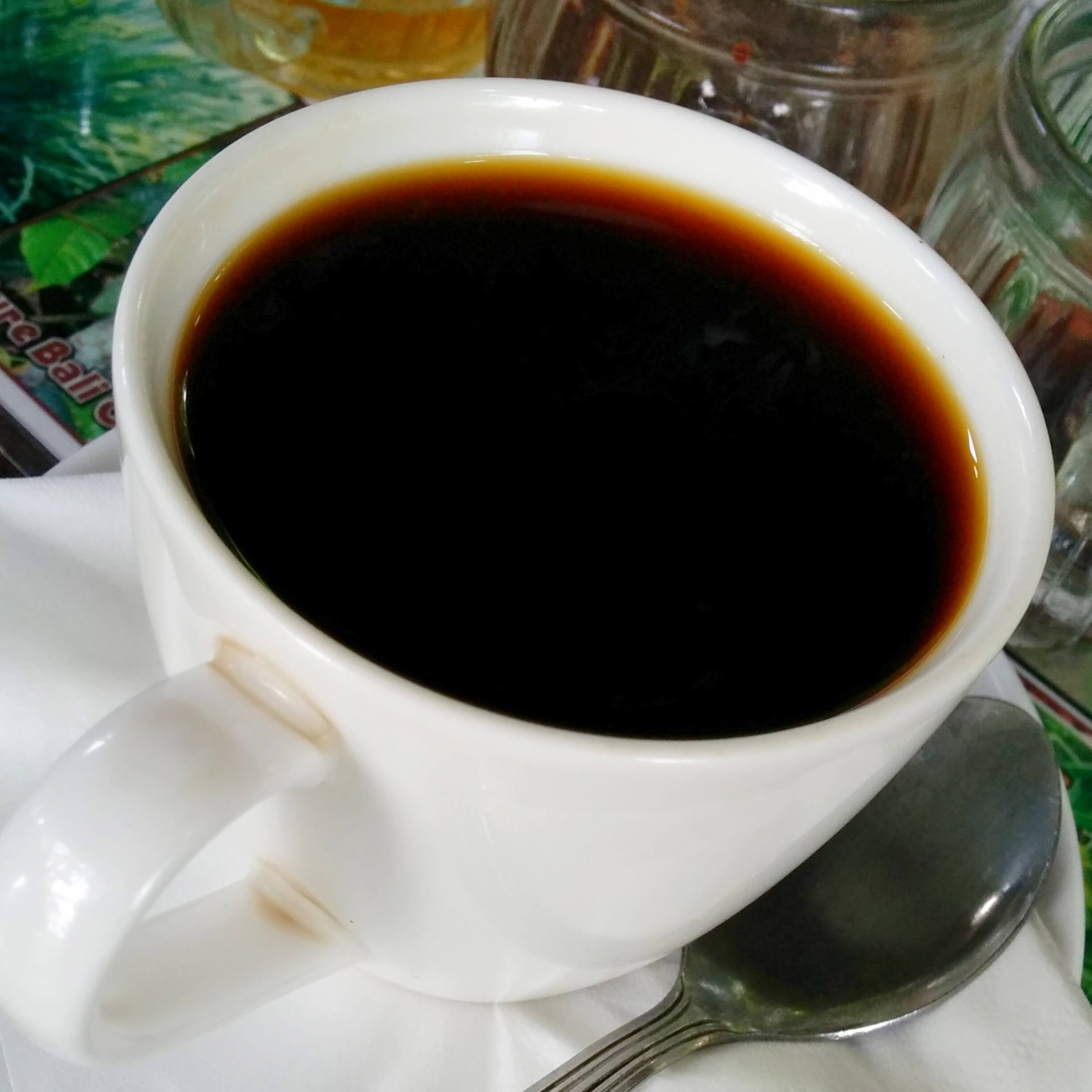 When you're in the nation with a whole region called Java, it'd be pretty silly to miss out on a cup of the stuff. Traditional Indonesian coffee is a hearty brew poured directly into a glass with sugar, grounds and all. If you're particularly adventurous, you can try kopi luwak, which are coffee beans that have been digested (yes, fully) by a civet, which is like a cross between a racoon and a small leopard. The locals unceremoniously call it 'cat poo coffee.'
Sweet Tea –
teh manis
If coffee isn't your thing, consider Indonesian sweet tea. It's iced, so it's a perfect refresher on a hot and humid day. It's sweetened with sugar and left mostly unadorned otherwise. You'll find that the locals can't live without it, and they can't all be wrong, so give it a try.
Bintang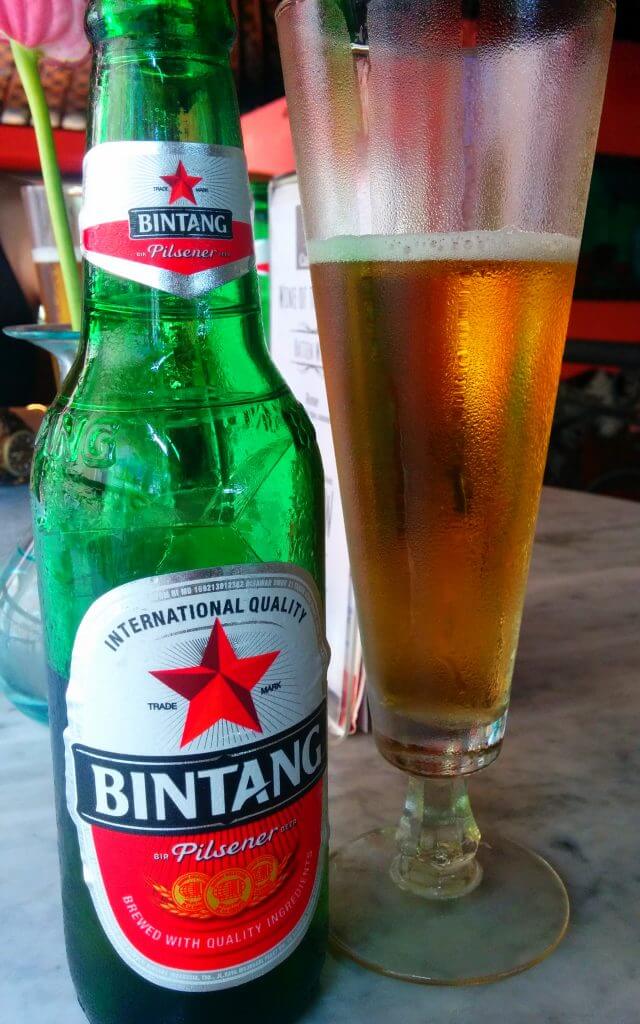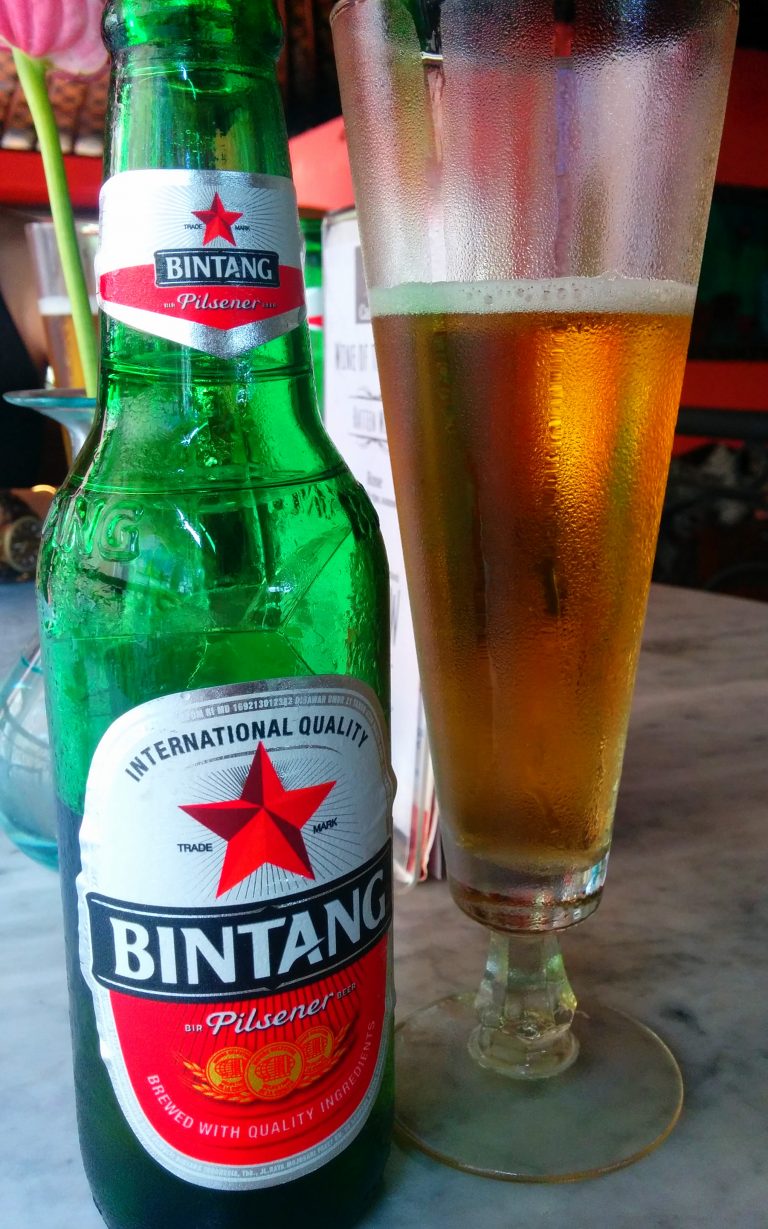 You haven't been to Indo if you haven't had at least one Bintang. This ubiquitous beer is a staple at just about any restaurant, warung, beach bar, or roadside shop. Like most Asian beers, it's uncomplicated and highly drinkable in the heavy heat of the day (and night). A must-try when you visit.
Side Note: Arak is an Indonesian liquor that has caught bad press for causing tourist deaths from a lack of regulation of the beverage. Though it is much cheaper than imported alcohol, drinking it is risky, and I wouldn't recommend doing so. In some cheap bars in tourist areas, beverages marketed as vodka or gin may actually contain arak, so drink with caution. If the price of a drink seems too good to be true, it probably is. And no drunk is worth your life. When in doubt, stick to beer.
Bring Indonesia to You
Summer is coming, so fire up your BBQ for an Indonesian feast! While I'd love to say Babi Guling is an easy and accessible recipe to try out, I don't think the average home has a fire pit big enough to roast a whole pig. So let's start with delicious and easy satay for now.
In Indonesia, many of the spices are the fresh version, ground with a mortar and pestle. Since many of these can be hard to find in Western groceries, I've put their dried counterparts here. They can be found in the spice aisle of any grocery store.
Recipe: Chicken Satay
Makes 30 Skewers
Ingredients:
3 ½ lbs. Boneless chicken breasts and thighs, cut into 1" pieces
Marinade: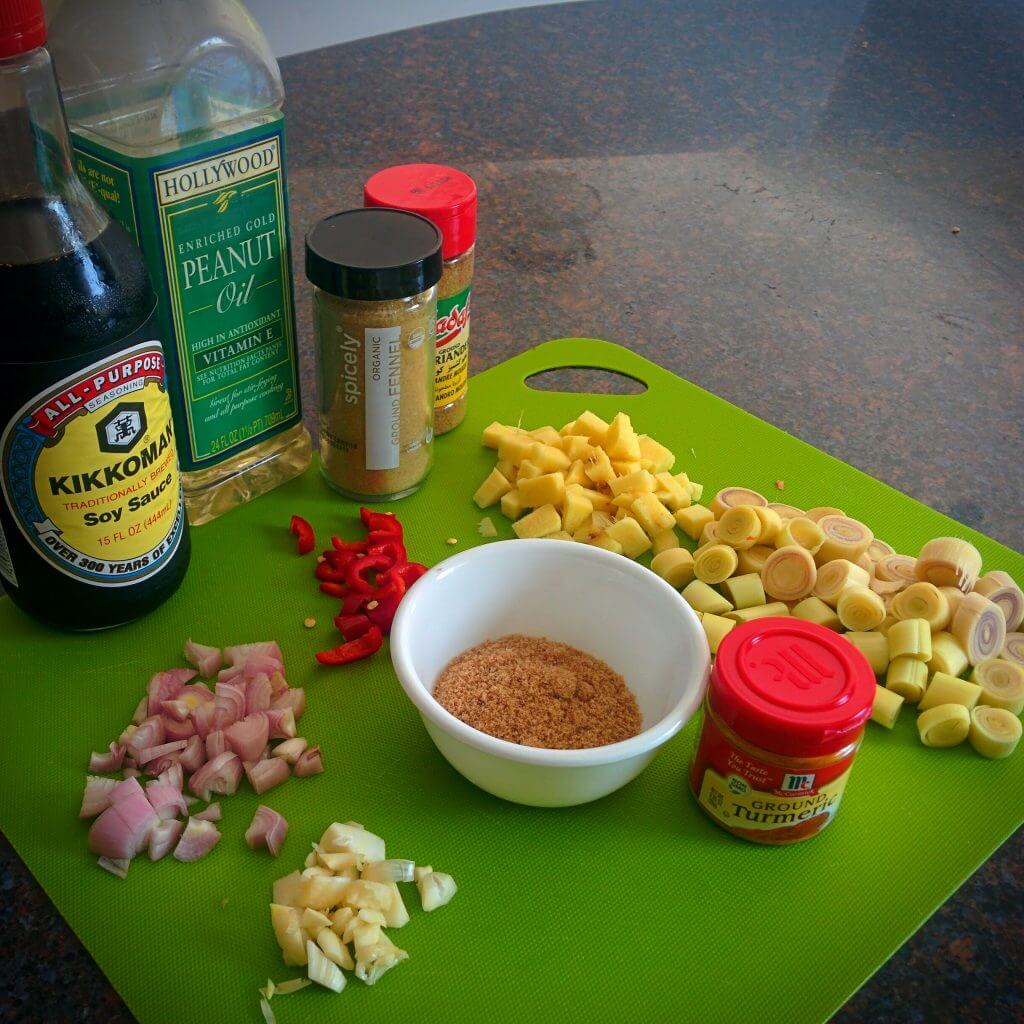 2 tbsp peanut or coconut oil
¼ cup dark brown sugar
1 tbsp ground coriander
2 ½ tsp ground turmeric
1 ½ tsp ground fennel
2 tsp soy sauce
2 tsp kecap manis*, sweet soy sauce
6 stalks of lemongrass, chopped
3 cloves of garlic
3 large shallots, chopped
1 large (5") piece of ginger, skinned and chopped
1 – 2 Thai chilis, chopped or ½ tsp chili flakes
For the peanut sauce:
2½ cups raw peanuts, shelled*
5 cloves garlic, sliced
1 to 2 Thai chilies, chopped (depending on spice preference) or 1 tbsp chili flakes
2 tablespoons minced ginger
2 tablespoons dark brown sugar
1 (14 oz) can coconut milk
2 tablespoons kecap manis, sweet soy sauce
1 teaspoon soy sauce
1 tablespoon fresh lime juice
1 teaspoon shallots, minced
Salt, to taste
Peanut or coconut oil, for cooking
Plus You Need:
30 wooden skewers, soaked for at least 30 minutes
Directions:
Puree all ingredients for marinade in a blender until it forms a paste. If you're a mortar & pestle girl or guy, you can grind these together instead (the consistency is a little nicer). Toss marinade with the chicken and refrigerate for at least 30 minutes, up to 4 hours.

Heat a pan with peanut or coconut oil on high heat until the oil shimmers. Add the peanuts, garlic, chili and ginger, stirring constantly to avoid burning, until the peanuts are golden brown (about 5 – 7 minutes).

Place the fried peanut mixture into a blender and blitz until it resembles a thick sauce. Spoon the sauce back into your pan on low heat.

Add the coconut milk, brown sugar, and the sweet soy sauce (or substitute) and simmer. Continue to reduce for 10 – 15 more minutes. Remove from heat, stir in lime juice, salt, and shallots, and keep warm for serving.

Heat a grill to medium-high heat. Thread two pieces of chicken onto each skewer and grill, turning once, about 2 – 3 minutes per side.
*If you don't want to fry the peanuts, you can saute the garlic and chili and mix with 1 1/2 cups of crunchy peanut butter. 
Serve hot with peanut sauce and steamed rice.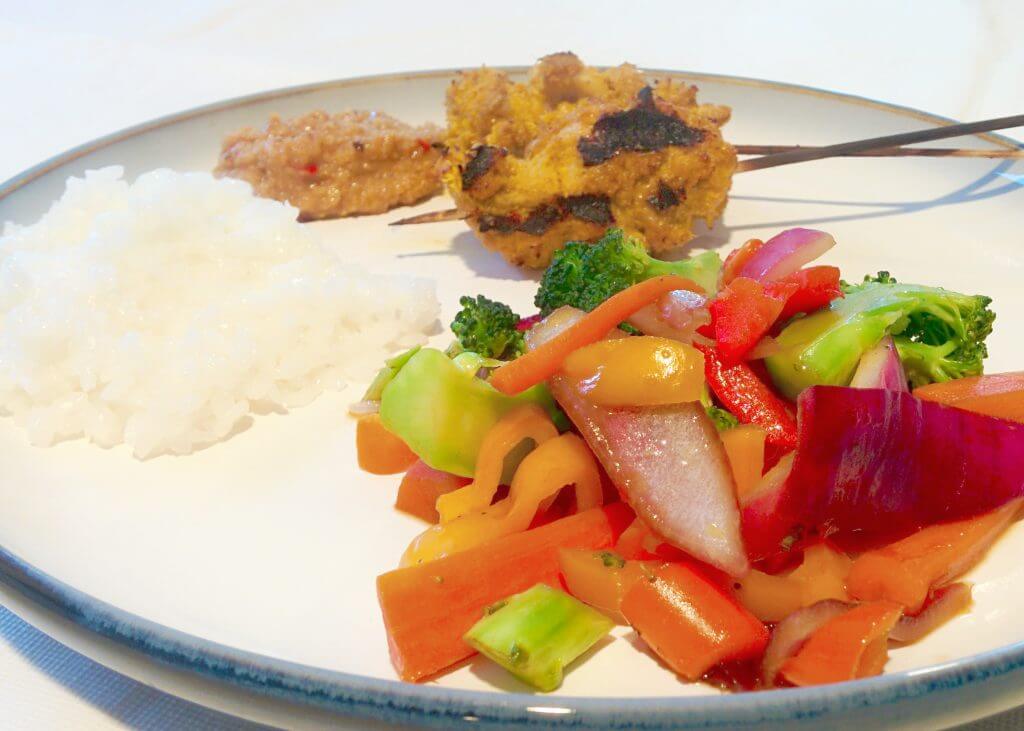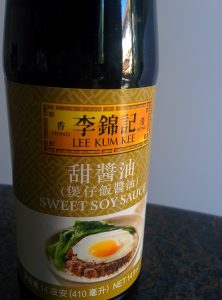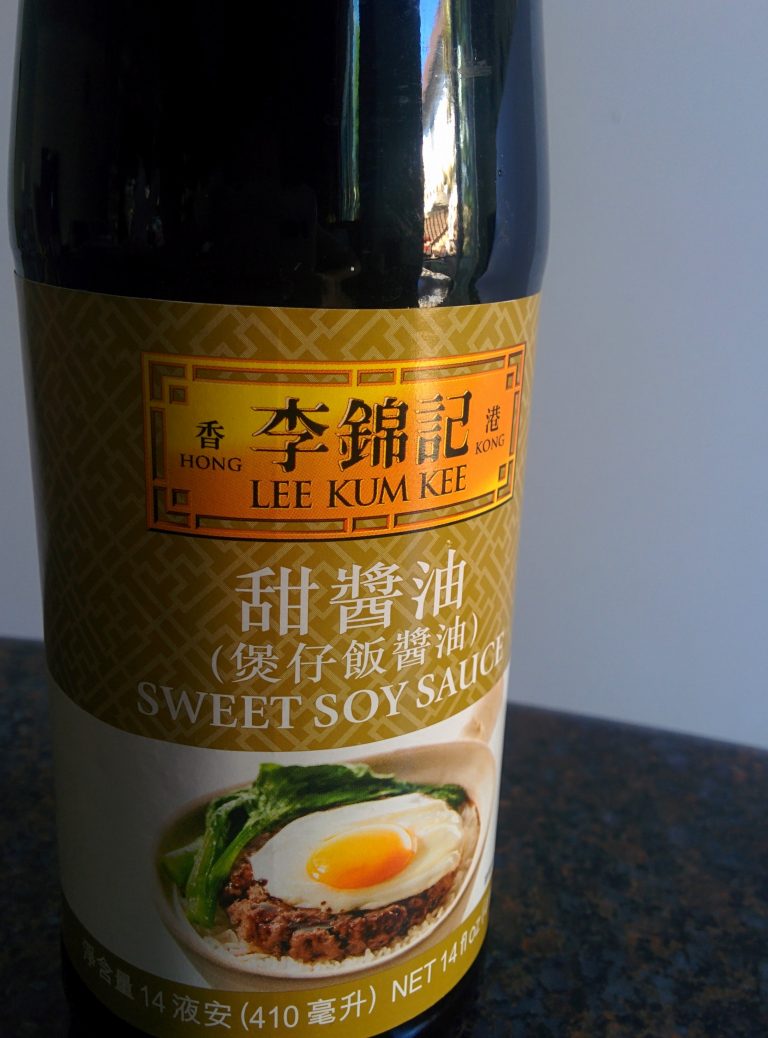 *If you can't find kecap manis, use regular soy sauce and add an extra tablespoon of brown sugar. In Western grocery stores, kecap manis will be labeled "Sweet Soy Sauce"
In Indonesia, it's as if the cooks couldn't choose their favorite ingredient, so they put them all in every recipe. Despite repeat ingredients, the flavors are so unique! Whether you master the art of the Indonesian blender or just enjoy the fruits of its labor, one thing is certain: You'll eat like a queen (or king) in Indonesia.  
About the Author: "Jetsetter" Jenn Brown is an adventurer, amateur chef, and wine-lover who has been on the move since 2012. Past adventures include swimming with whale sharks in the Philippines, solo hiking the mountains of Montenegro, and apprenticing at a dairy farm in Spain. This summer she is working aboard a tourism charter boat in Southeast Alaska as their chef. You can follow her adventures at her site, JetsetterJenn.com, or on one of her many social media channels: Facebook, Instagram, or Twitter.