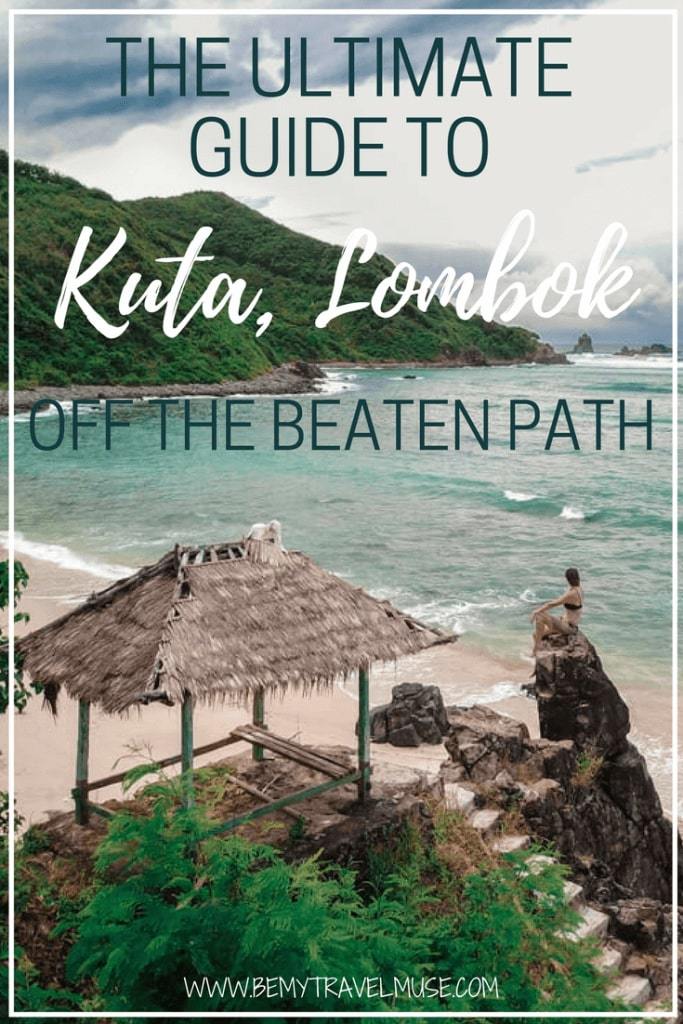 A gecko scurries past my head as I write this from the porch of my bamboo bungalow on Kuta, Lombok. Unlike its neighbor with the same name in Bali, Kuta Lombok is laid back, chilled out, and uncrowded, at least for now.
I first came here four years ago and it's blown my mind a bit coming back to see how much it has changed. There are more bungalows now, more coffee shops with Mediterranean style food and bamboo straws (yay!), and though it's rapidly growing, I found this has only added to its charm.
The people are still friendly, and it's still a surfer's paradise.
It's also the perfect jumping off point for a bunch of activities and beautiful beaches in the south of Lombok. Here were a few of my favorites while in Kuta:
Bukit Merese (Sunset Point)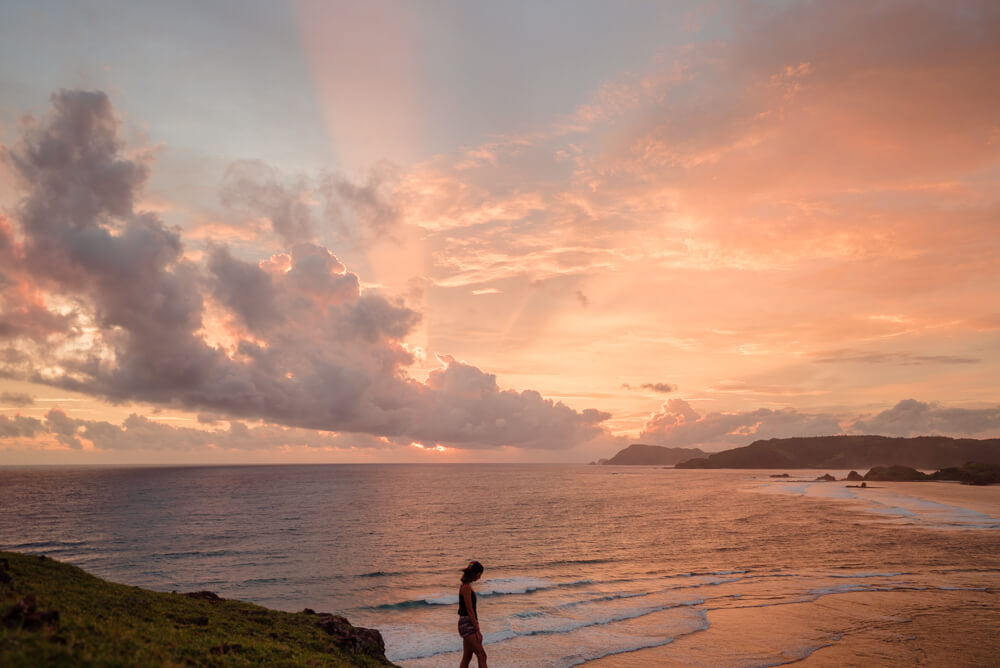 This viewpoint is popular with visitors to Kuta for two big reasons: It's only about a 15 minute scooter right away on mostly good roads, and the views are stunning in every direction.
It's most popular for the sunset since most of the beaches near Kuta are south-facing so it's one of the only ones where you can see such a stunning sunset view close to Kuta. That said, I would recommend heading there at any time of the day because there are so many strands of sand built into one little area and most of them get a lot less love than the hill itself which only tends to attract crowds at sunset. It's the perfect place to spend an entire day, if you ask me. Find it here.
Batu Payung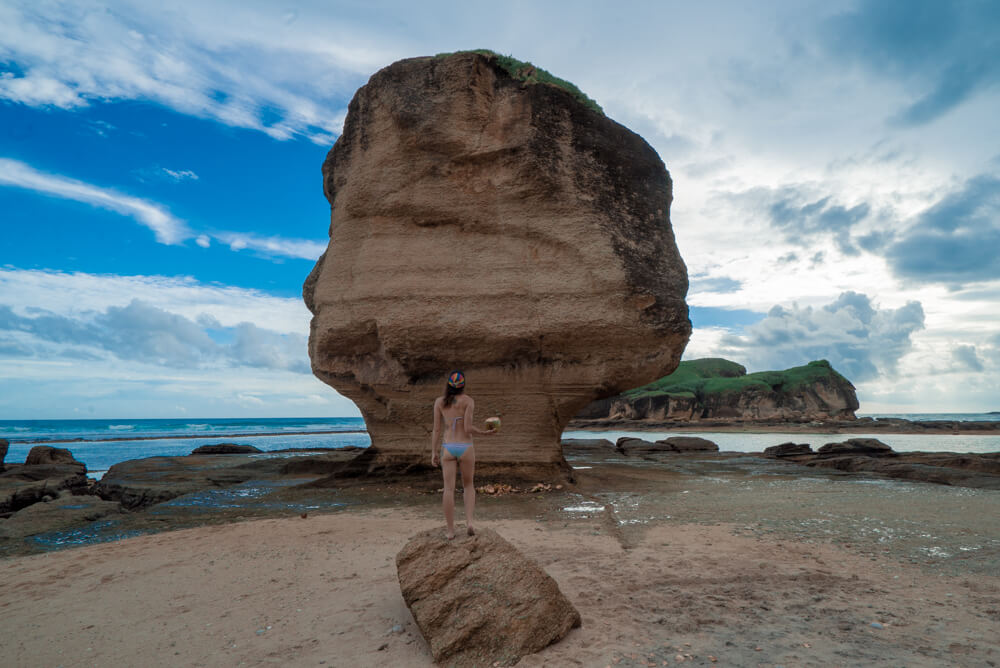 This umbrella-shaped rock is just a short drive over from the Sunset point, or a long walk, if you prefer. You can also take a little boat ride from the beach which takes 10 minutes or so, or you can park your scooter closer to the rock and walk over the rocks and along the tide pools.
I decided to walk and it looked like I was the only person all day who had decided to do that. As the boats shuttled tourists from other parts of Indonesia over to the rock, a few asked me if I had walked, and if I was alone, in a mix of surprise and concern! However I thought it was dreamy, watching the fishermen in the bay nearby and getting some exercise.
Upon reaching the rock you may find a few guys selling coconuts. One of their selling points is they will take photos for you, like this one. Not bad to have a photographer and a coconut in exchange for 15,000 RP, I'd say! You can find it here.
Pantai Mawun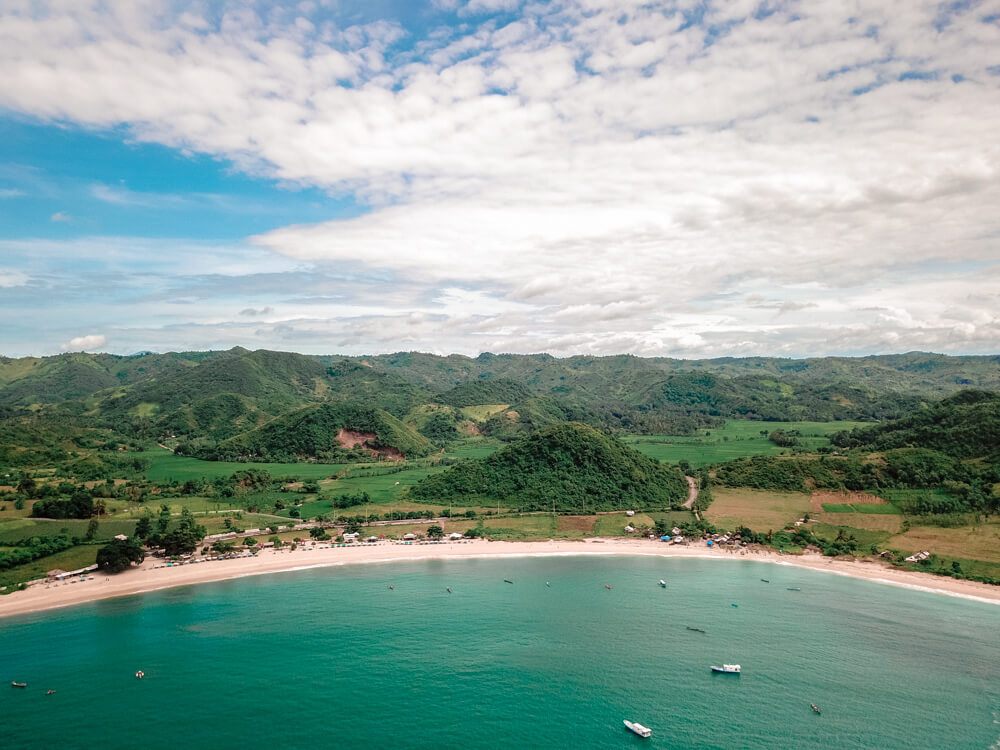 Mawun beach is popular for its beauty and was my first stop while exploring the beaches around Kuta. To be honest, it wasn't my favorite mostly because it didn't have the character of some of the beaches to follow. Still, it's only a 10,000 RP fee to park your scooter and have a look. Plus, there are chaise lounges with umbrellas, which most of the other beaches on this list don't have. Find it here.
Pantai Tampah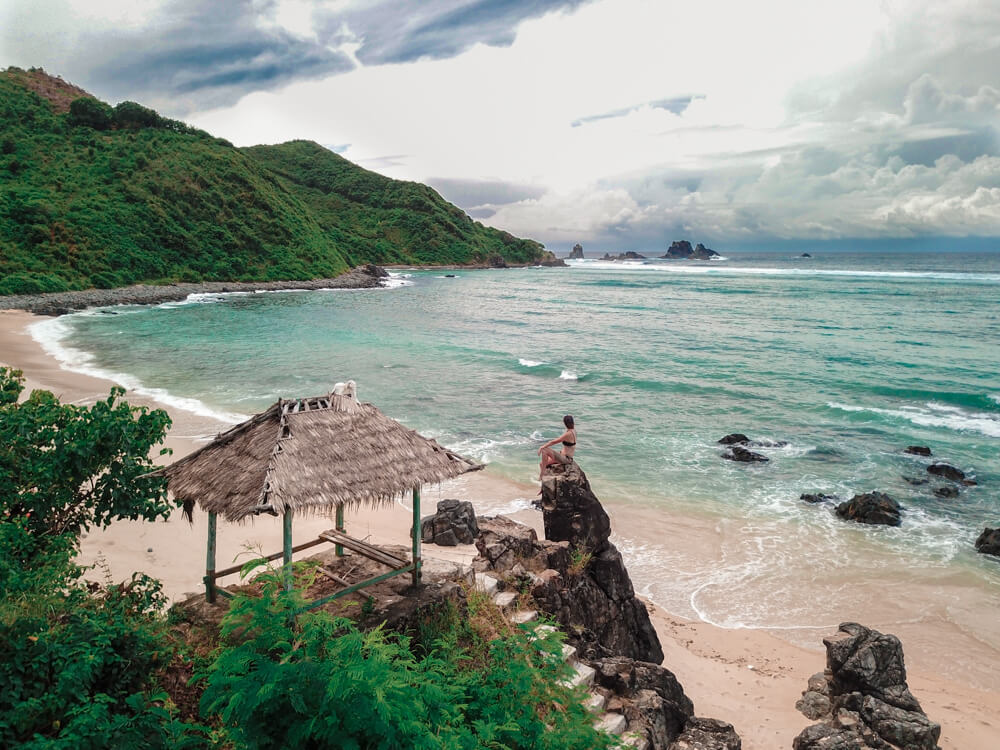 This was my favorite beach in the area for relaxing without any other people around. Their selling point is it is the cleanest beach on Lombok, and there are no touts on the beach (You will find there are often children selling bracelets elsewhere. I don't really have an opinion to push on this because it's a tough situation and I don't have the answers, but I did enjoy the undisturbed silence on this beach).
There was no trash and the locals obviously work hard to clean it daily. It's not great for swimming since there are a lot of rocks in the water, but I thought that added to its rugged charm. Plus, there's this little beach hut for one partway down the beach! There's also a friendly family selling octopus and coconuts on the beach, and it's nice to support them for their efforts to keep the beach so nice. Definitely stop by this one for some peace and quiet. Navigate here (for Lancing as well)
Pantai Lancing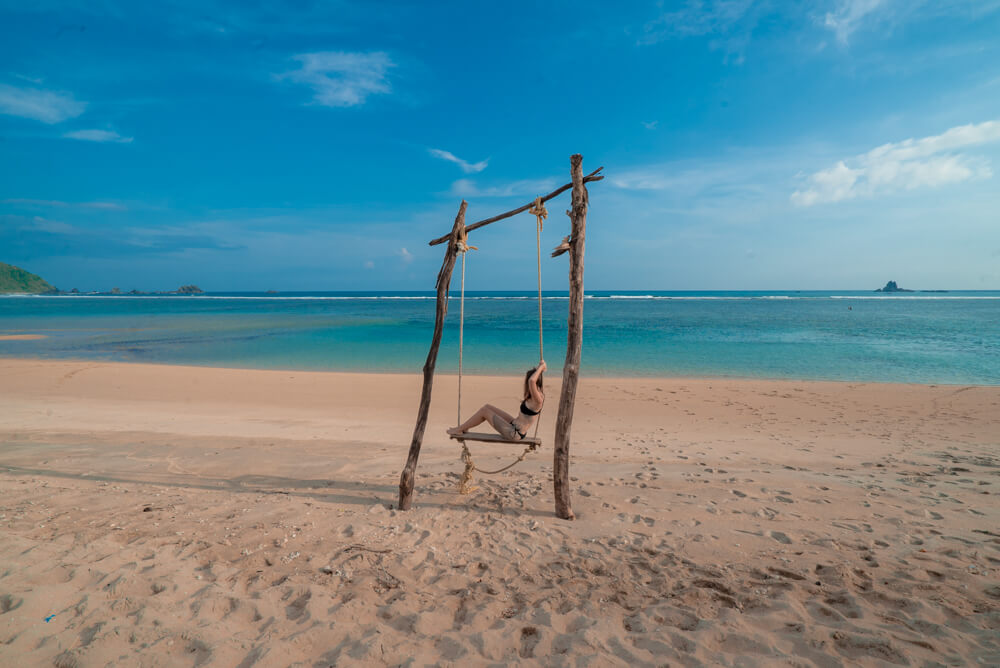 Like Tampah, and conveniently located right next-door, Lancing is another pristine and quiet beach. There aren't any facilities but that was just fine with me!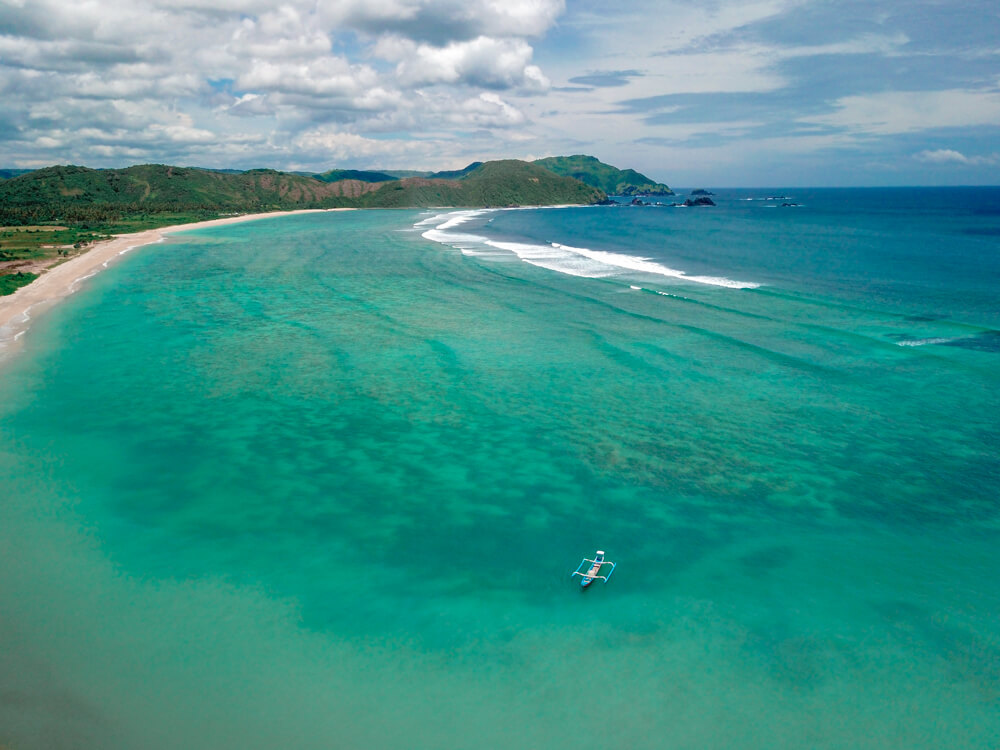 When I showed up, there was no one else around except for a local kid. We played around with my drone for a while and then went for a swim. Though there was a language barrier it was such a heartwarming and cute thing to play with him for a little while that afternoon. That's the lovely thing about an island as quiet as Lombok, these opportunities are still around and as a guest here you are still warmly welcomed.
Pantai Semeti and Telawas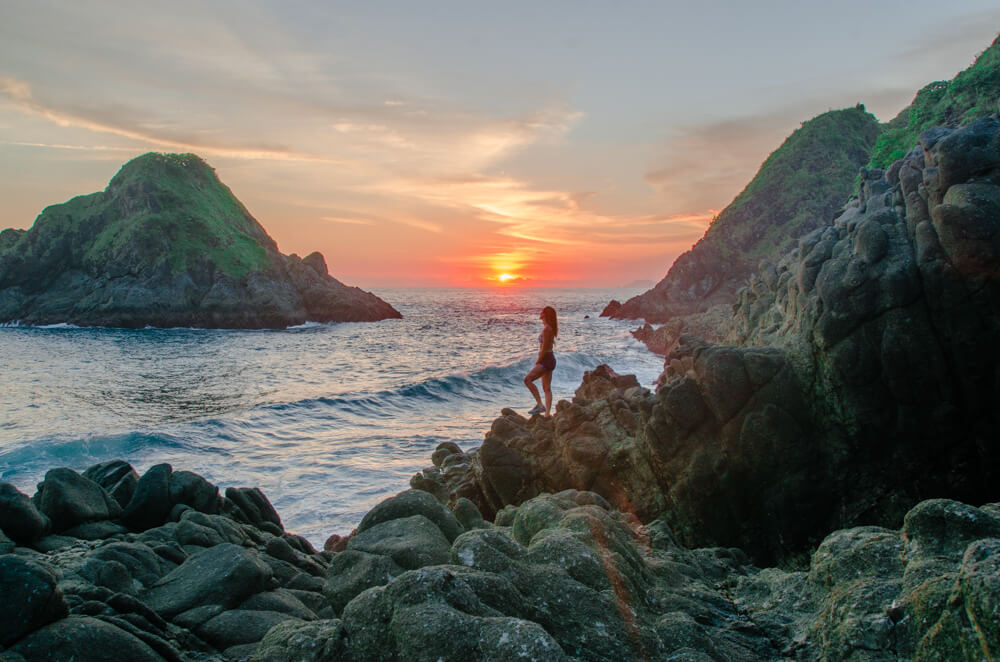 I absolutely love these two beaches for the sunsets and the incredible volcanic stone. I climbed all over it hand over foot like a monkey, finding something stunning and new around every corner and bend.
This beach is not easy to get to like the others mentioned in this post. The road is truly horrible and I would only recommend it if you're very confident on a motorbike or have asked a local to drive you. That said, it was one of the coolest features in the area and I highly recommend it! Give it at least a few hours to explore the caves and coves. You can find it here.
Pantai Selong Belanak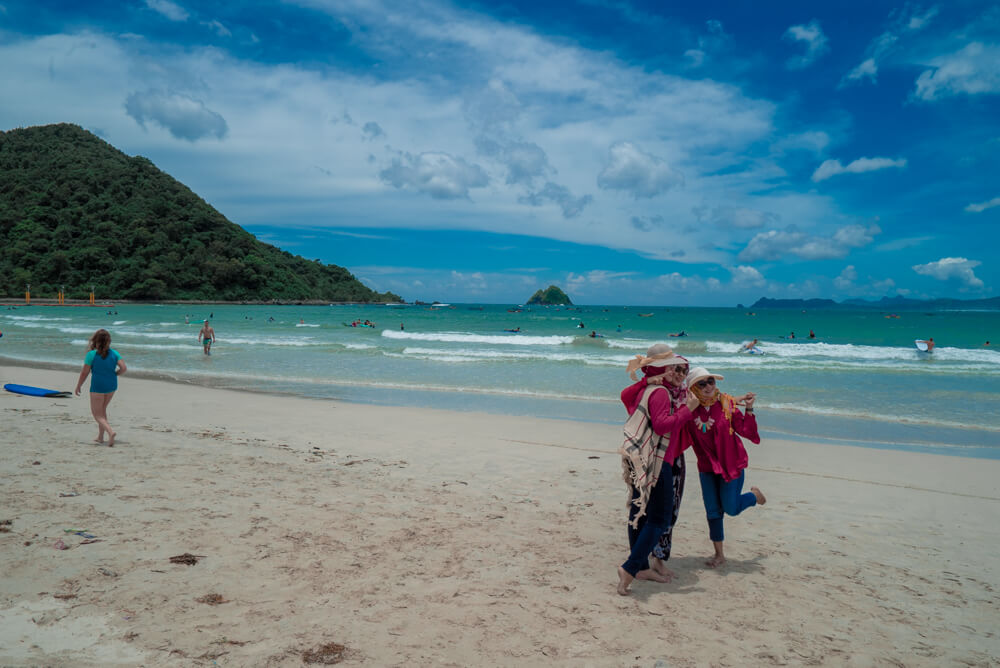 This beach is popular with surfers and you will find there are a lot more places to eat and hang out here than the other beaches. There are lounges with umbrellas that you can rent as well.
I ended up there on an Indonesian holiday and found it to be particularly busy, but I've heard that it is a lot more laid-back on other days. Given this, I didn't get to really enjoy the beauty but I was told that's a shame because it is apparently a nice beach after all. It's also pretty easy to reach, unlike Semeti. Navigate to it here.
Those are just a few of probably hundreds of beaches along the southern coastline of Lombok. With so many hills and peninsulas, little coves and side roads, you could spend weeks just discovering the beaches in and around Kuta. I had about 4 days though I wish I'd had more!
Day Trip to Sumbawa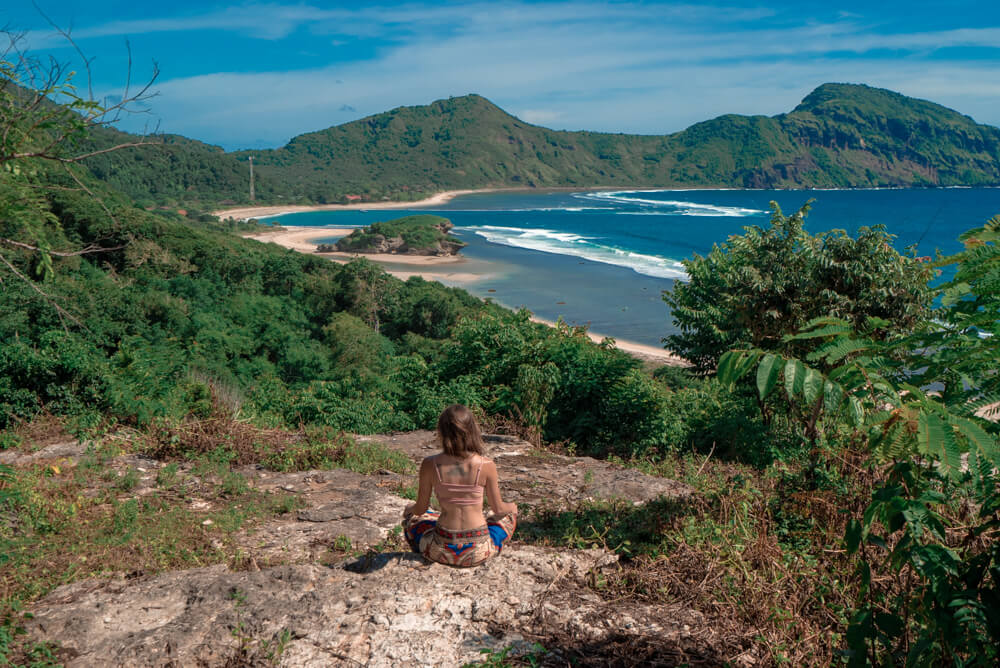 The first time I came to Lombok years ago, I passed through its neighboring island, Sumbawa, by bus. I remember thinking it was more beautiful than Bali. This time around I wanted to return for a chance to hang on an island that doesn't get many tourists at all. If you're into snorkeling, want to surf a wave that almost nobody else is on, or just want to have a beach almost entirely to yourself, Ozone Adventure does an amazing day trip from Kuta. Bonus: You get to see the entire southern coastline of Lombok with Rinjani behind it on the way, and a stunning sunset upon your return.
Yoga
Surfing and yoga tend to follow each other – maybe it's the balance required for both? Kuta is no exception, with two yoga studios to choose from (or alternate between) that offer surfer's yoga, vinyasa or gentle flow. I tried Mana and enjoyed the class. A drop in class costs 100k RP or you can buy a package for a discount. Mana also has accommodation on offer which looked amazing.
Getting there and around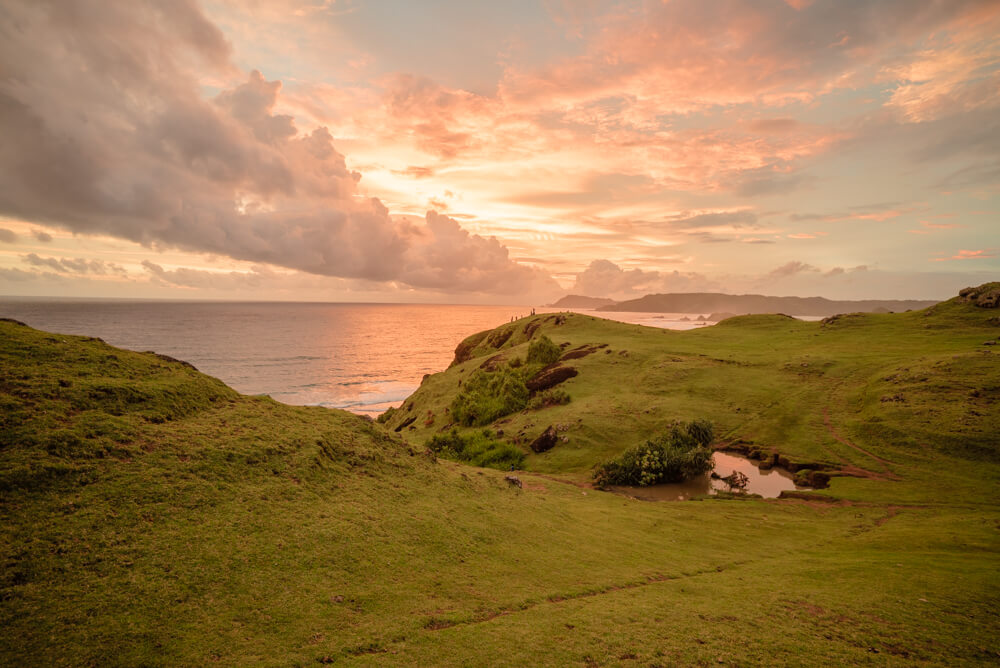 The easiest, and often cheapest, way to get to Kuta is to fly into Lombok's Praya airport and take a taxi down. The cost should be around 100,000 RP for the 20-minute journey. The Blue Bird Taxis run the meter and are trustworthy.
It's also possible to take the ferry over from Bali or Sumbawa, depending on the direction you're traveling from. If coming from Bali, head to Padang Bai harbor and take a fast boat over. Prices vary with the average hovering over $50. There's also a public ferry which is much cheaper (around $3.50) however it's much slower at about 5-6 hours depending on delays. If on the Gili islands, there is a public boat that costs 15,000 RP and departs when full, usually every 15 minutes or so. However both of these options will drop you off at the northwest side of Lombok at Lembar Harbor.
From there negotiate a taxi down to Kuta for around 250-300k RP, or take a shuttle bus run by Perama, buying the tickets directly from them for the best price.
Once in Kuta, most people rent a motorbike to get around. Plenty of them have attachments for your surfboard or if you're not a surfer, you can just get a standard one. I paid 50,000 RP per day for mine and stopped on the side of the road from time to time for a bottle of petrol which runs at 10k to fill up the tank about halfway. It's a cheap and easy way to get around.
The roads alternate between good with a bit gravelly and sandy in places. However this is mostly due to construction and the roads are becoming more accessible and paved with every passing day.
A few words about renting a motorbike: I'd suggest always wearing a helmet, minimize driving at night, and go slowly. If you're not comfortable, hire a driver and try to split the cost with other people from your guest house.
Eat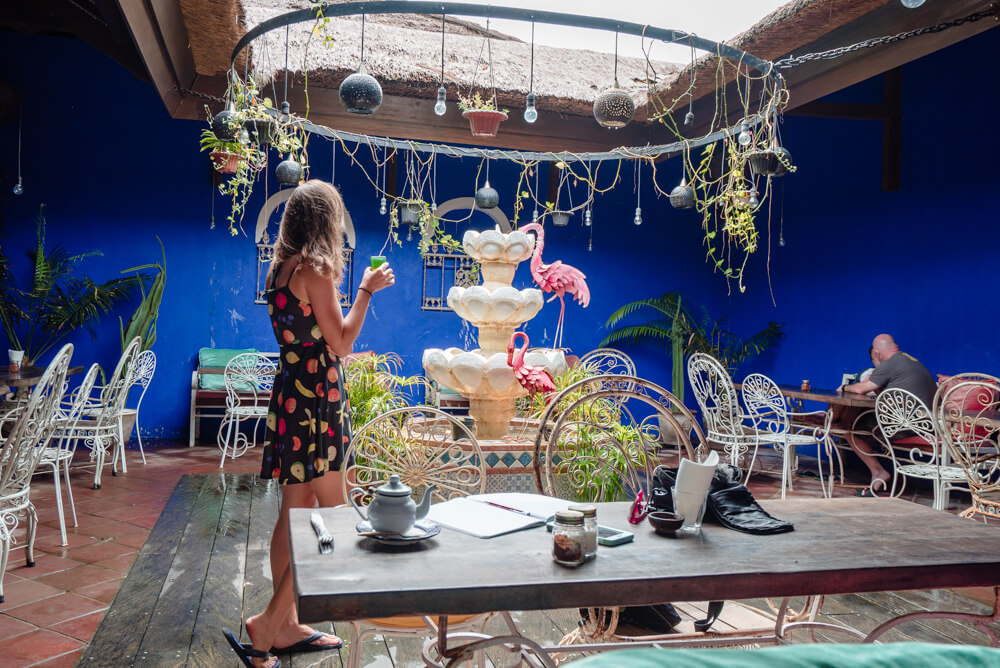 El Bazar: This place comes up first on Trip Advisor for the best restaurant in Kuta, but I just stumbled in looking for shelter from the rain, was wowed by the decor, and decided to return. The falafel plate was delicious, as was the Moroccan mint tea. Plus how cool is this flamingo sculpture?!
Kenza Cafe: In a sea of places only serving up instant coffee, I was so delighted to find Kenza coffee with an espresso machine and green smoothies. The coffee here is seriously good, and this is coming from a friend so you can trust my opinion! I also love their healthy breakfasts like the chia pudding parfait and egg white omelet. The prices are Western but it's worth the splurge.
Local Warung: If you want to eat local food for local prices this warung next to the mosque packs up perfect little lunches to go consisting of rice and a bunch of other things you can choose to throw in like chicken, bamboo curry, tempeh, black beans, and a whole bunch of other options.
Milk and Espresso: This place really comes alive with live music on Friday nights. Get the steak sandwich!
Sunset Cafe: I went to this cafe twice since it was across the street from where I was staying (and I can be unbelievably lazy about food sometimes) and ordered fresh seafood twice and twice it was good. I brought a friend along and she loved it too. I was surprised that both times we ate there we were the only ones. I'd put this down to location off of the main drag, which is a blessing since nobody was trying to sell us bracelets and we had a nice and quiet dinner for a reasonable price.
Stay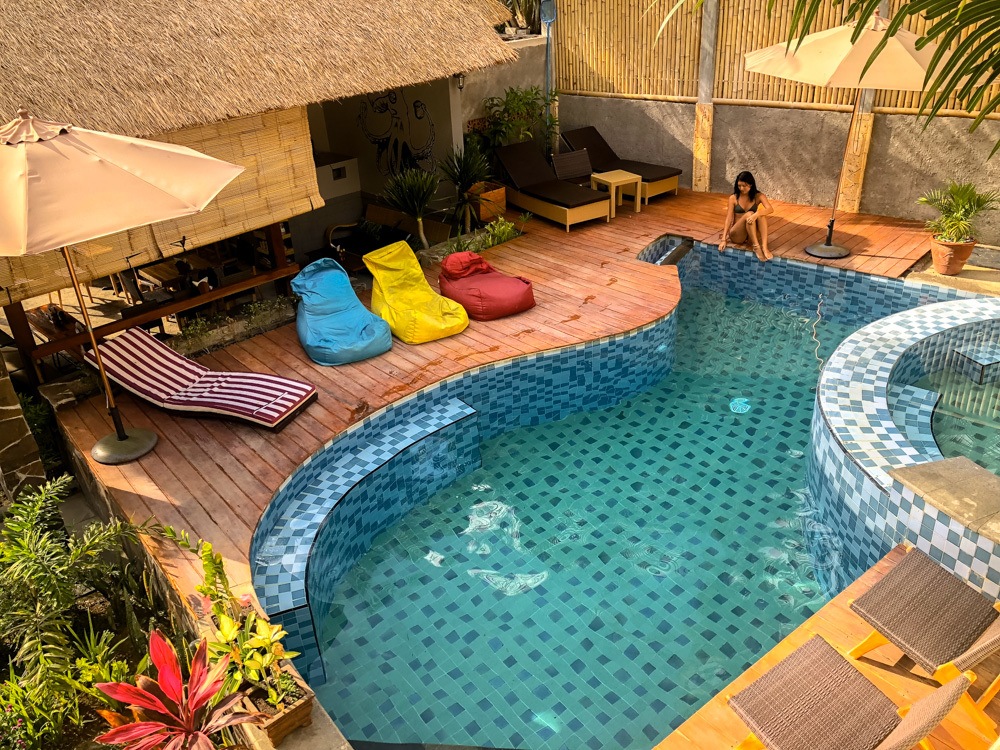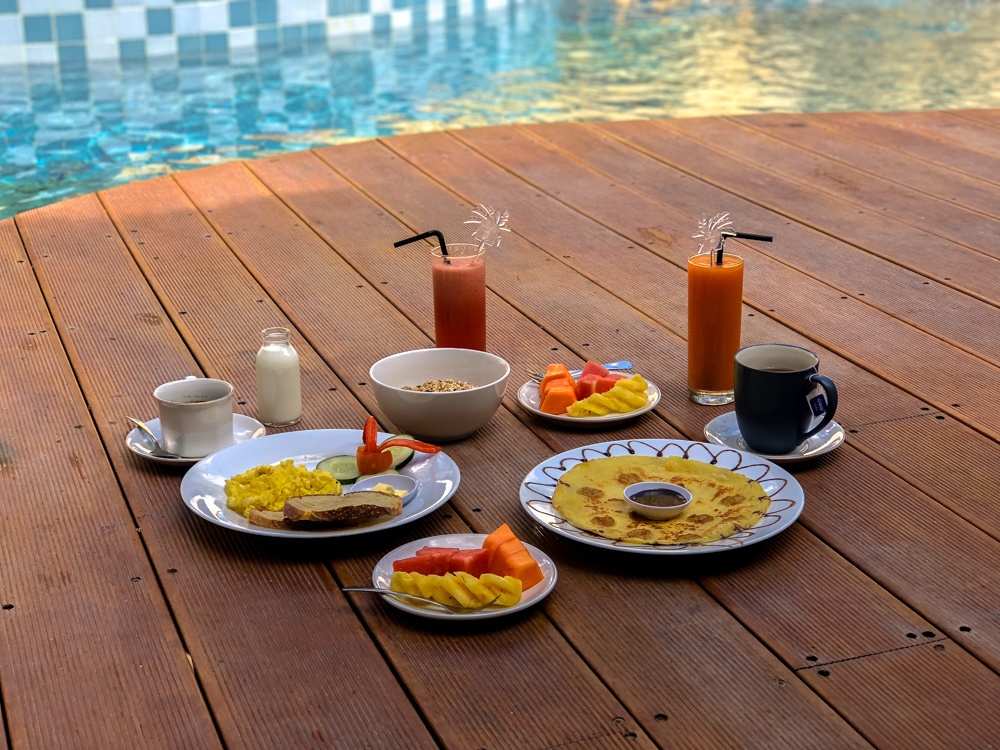 I love that instead of a typical resort setup, the rooms are built with inspiration drawn from a Sasak village. The absolute delight of Village Vibes is definitely the single rooms, which allows solo travelers to enjoy a stay at a resort without having to pay the extra money. Of course, feel free to indulge in the double room and have a nice, big bed all to yourself!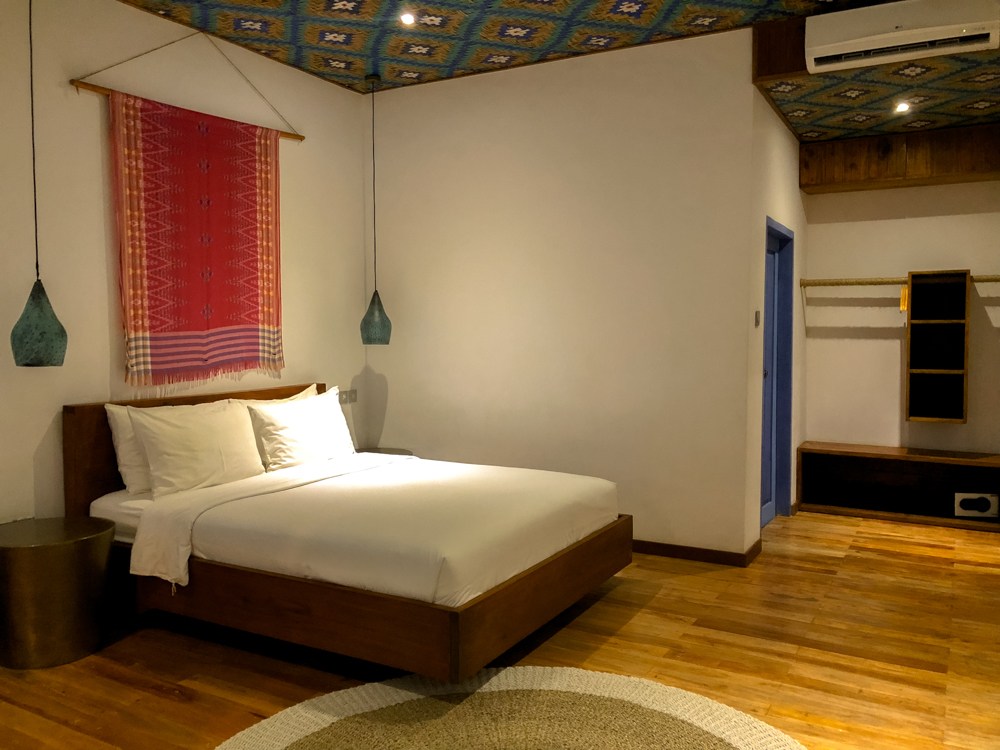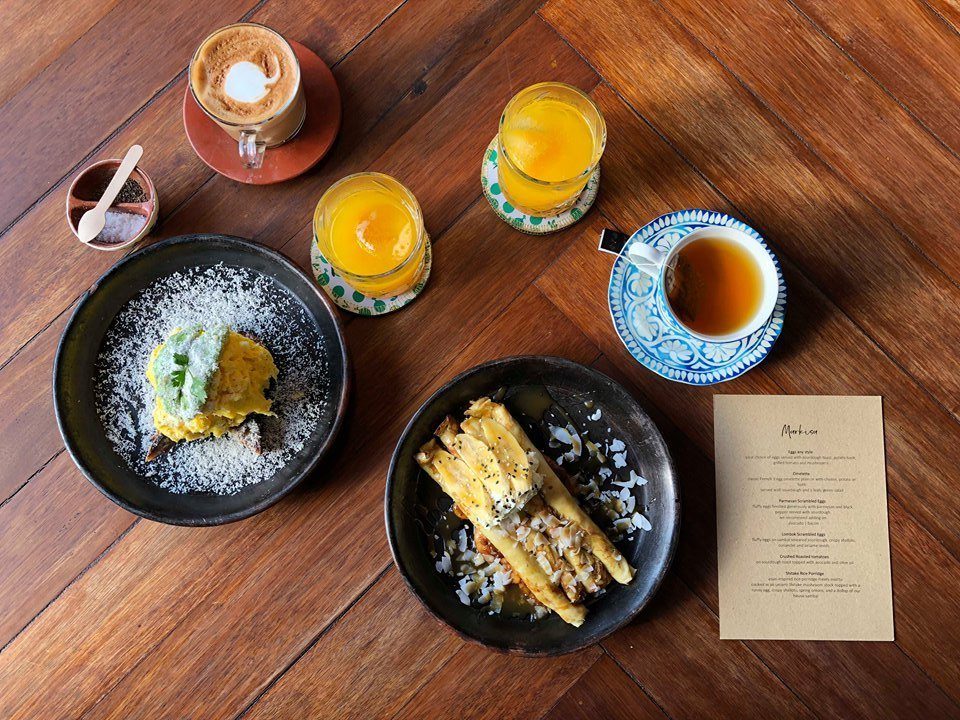 From the extra touch on toiletries that include after-sun lotion in the bathroom, to the delicious complementary breakfasts (definitely not your average toast, jam, and scrambled eggs combo!), topped off with a lovely pool on the rooftop, Rawa Lombok Resort is totally worth the splurge. I was so impressed by the daily breakfast that I actually went to bed looking forward to it every night. It's a mere 3 minute walk to the beach, and a short scooter ride to the center of town.
You can book both resorts through this link for $30 off. There are gorgeous Airbnb options as well!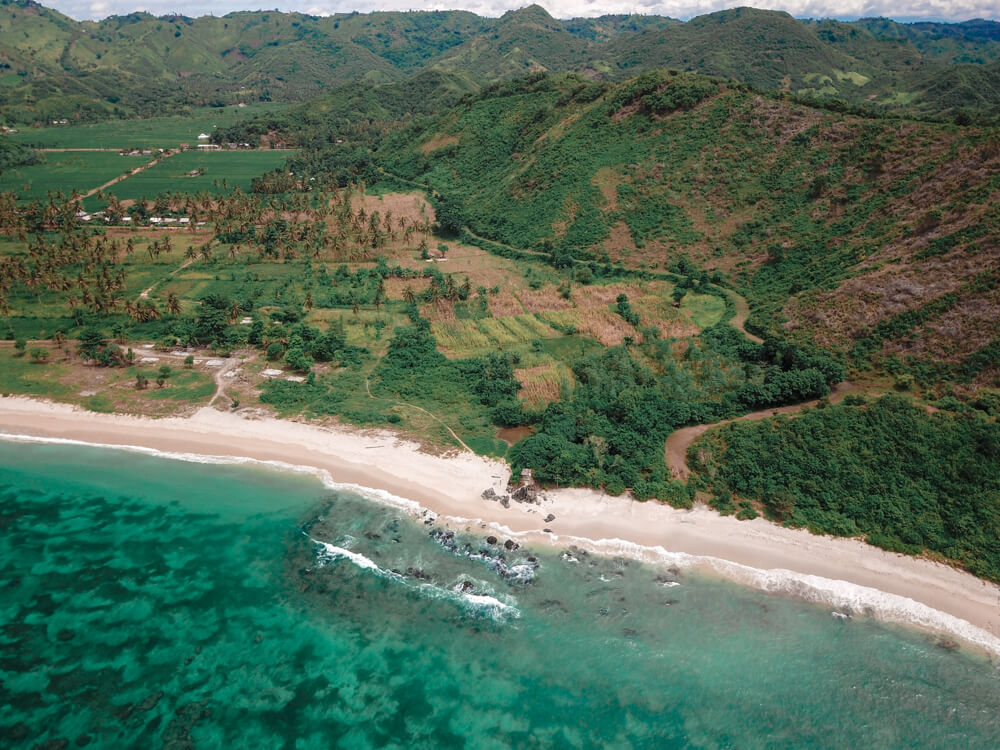 I hope this guide helps you to have a magical Kuta adventure. It was amazing to return and see how much it has grown and thrived since the first time I visited almost 5 years ago. I'm already thinking of returning simply because there were so many things to do that it seems it would take months to do it all.

But that's traveling for you, there's always more to discover and the trips are never long enough!