If Bali feels a bit hectic and you're aching for some time on quiet beaches, or a surf break that isn't full of other surfers, take a look at Nusa Lembongan, just a 30-minute ferry ride away from Bali, Indonesia.
Full of hidden coves, perfect sunset spots, lovely guesthouses, and boutique resorts, Nusa Lembongan is perfect for a couple of days away from it all. This guide will help you plan a seamless trip there:
Getting There
Getting to Nusa Lembongan is fairly easy. Take a taxi (or Uber or Grab car) to Sanur and book a ticket for a boat. There is no main pier, and to get on all of these boats requires walking into the water up to your thighs. Depending on the ticket you book, it can include pickup at your accommodation in Bali and drop off in Lembongan. The staff will also take care of loading and unloading your baggage for you.
These are the options:
A local slow boat: This one leaves Sanur starting at around 8am (though public boats in Indonesia tend to just leave when full) and costs 60,000-100,000 Rupiah. The journey takes about an hour to 90 minutes and is the least comfortable and safe option.
Perama local boat: Leaves Sanur at 10:30 and costs 150k Rupiah and also takes 90 minutes to an hour though on a slightly larger and more comfortable boat.
Fast boats: A fast boat with four daily departures which includes pickup at your accommodation, a safer and faster boat, and a quicker journey of about 30 minutes. The cost is much higher, however, at 250k-300k Rupiah. I happily went with this option to spend less time in transit and more time adventuring. You can book it here.
Things to do
Once on the island, it's easy to get around by scooter or push bike. If on a scooter, you can easily drive around the whole island, with stops at the major attractions, in just one day. Most of the roads are good though the traffic in the main areas can get hectic. These are the best things to see on your journey:
Dream Beach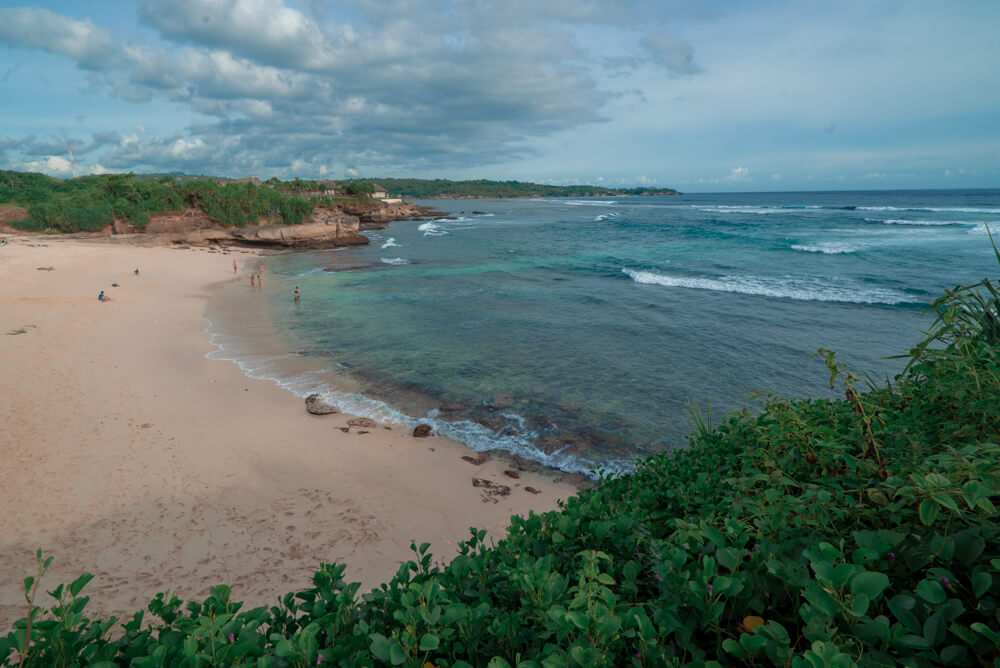 Dream Beach isn't so dreamy midday, when the truckloads of day tourists from Bali go for a visit. The best times to see it are early in the morning or in the late afternoon after the crowds have gone home. There's a restaurant with a pool right on the beach with a 50k entrance fee, or just enjoy the clean sand and the gorgeous blue water.
Devil's Tear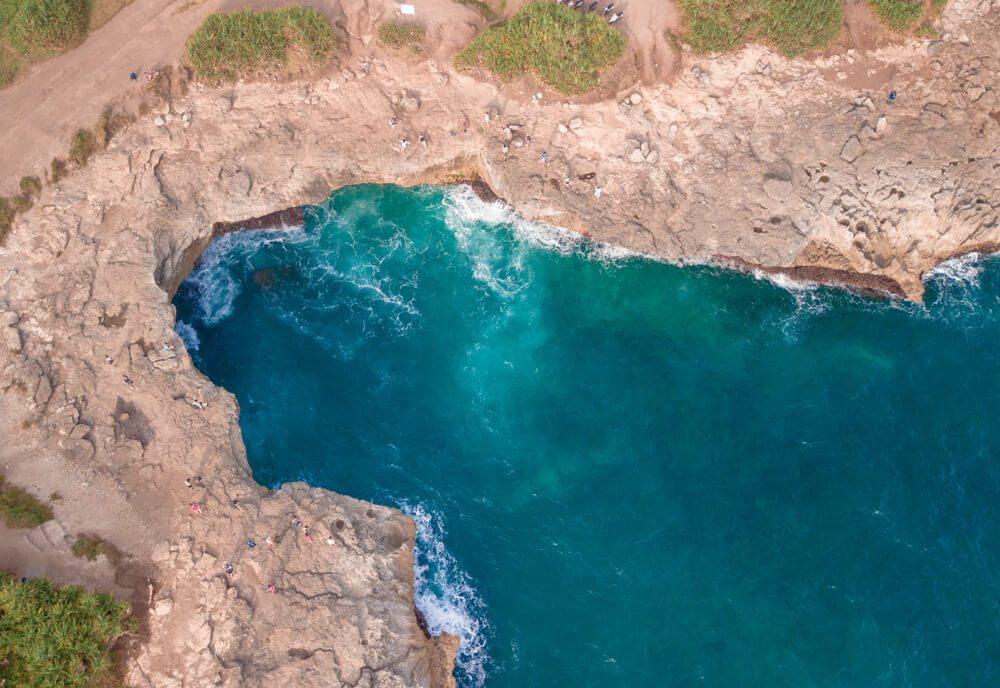 The Devil's Tear is a wave smashing up against a rock for quite the display when the swell is big and it's high tide. At midday and sunset you'll be sharing it with a lot of people, but the tides depend on the moon of course, and are always changing.
Be careful around the edges, as the waves come up quickly and powerfully. It's quite the display of Mother Nature at her finest!
Also be forewarned, the road out to Dream Beach and Devil's Tear isn't great. It's not impassable by any means but if it's your first day on a motorbike you might not want to drive here until you've practiced a bit first.
Rock Pools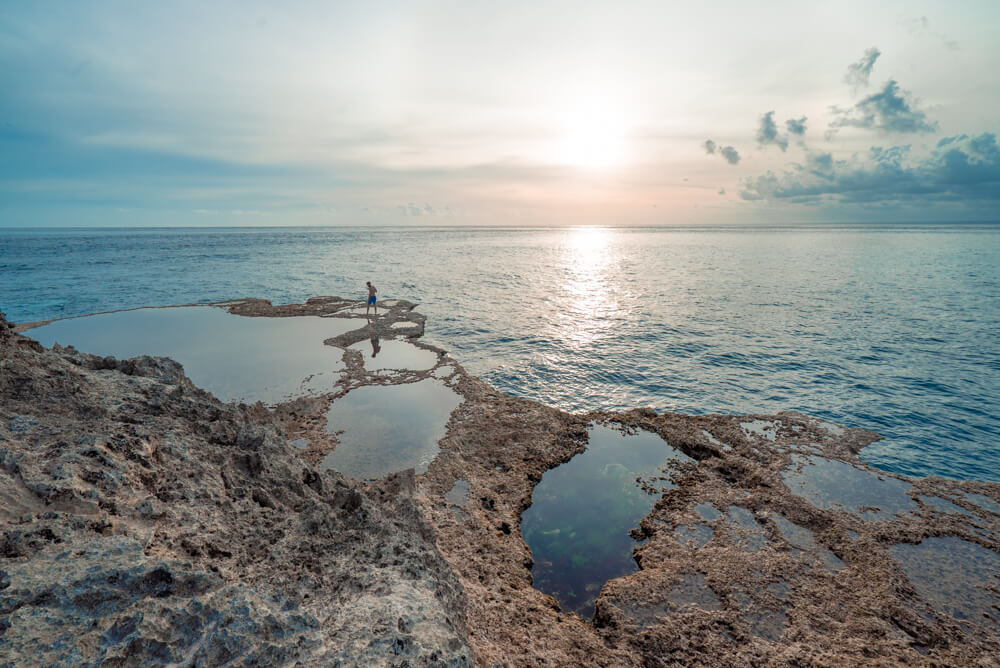 On the other side of Devil's Tear, it's really the rock pools that had me more impressed, reflecting the sun as it set in the sky. The waves can come up quickly on this side too, but the beauty of low tide at Devil's Tear is it's less likely to be a problem for these rock pools just behind the Devil's Tear on the coastline.
Sandy Bay Beach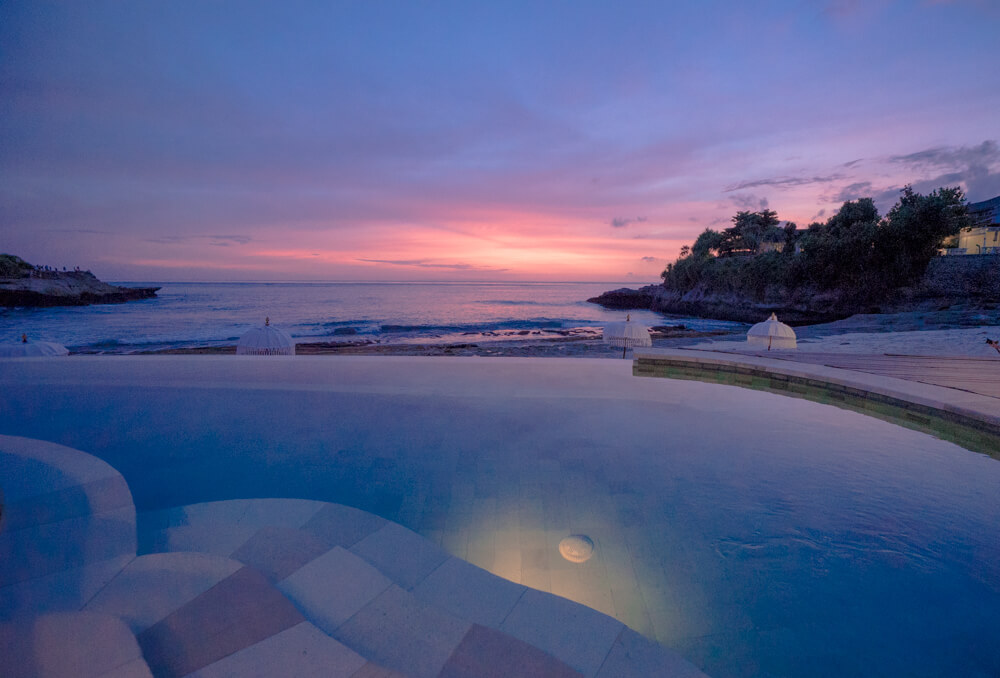 From the rock pools you can see this little cove with white sand and a nice restaurant right at the center. It's closer to Western prices but it was also nice to have some food that reminded me of home for a change. I do love Indonesian food but sometimes a burger and fries sounds nice too!
Mushroom Beach
A few coves over is the popular Mushroom Beach. Much like Dream or Sandy Bay Beach, it's another cove with restaurants and hotels all along it. Out of the three, pick your favorite and hang out for the evening or afternoon. To me, they were all quite similar.
Panorama Point
On the way back from the spots listed above, you can't miss Panorama Point. It's midway between Mushroom Beach and Jungut Batu Beach and provides a lovely view of the bay. The sunset would be slightly obstructed but still beautiful from there.
Jungut Batu Beach sunset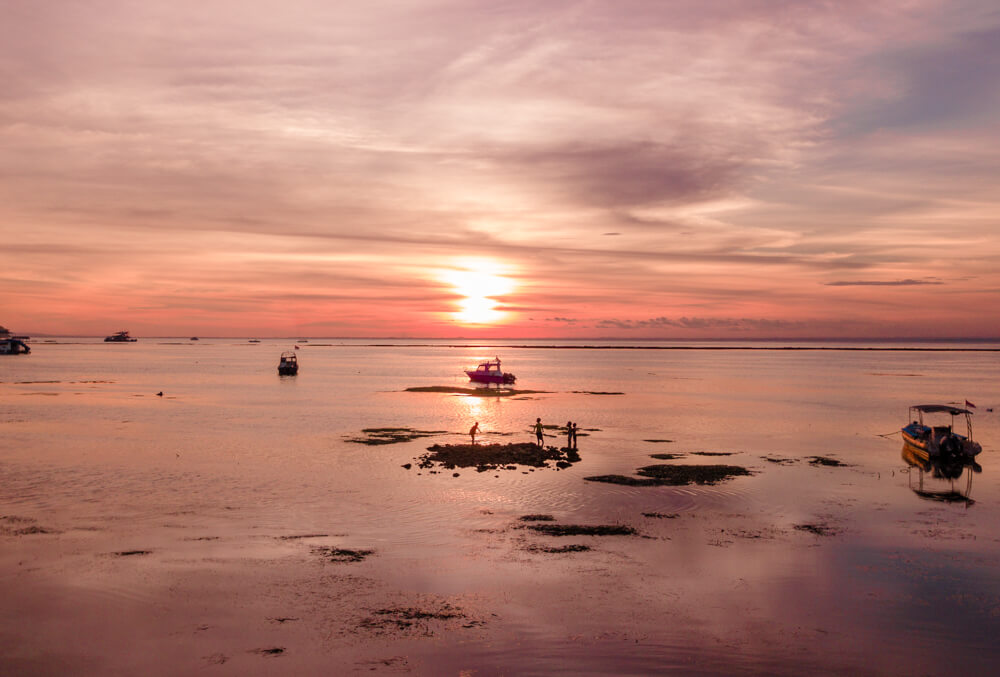 This is the beach you'll be dropped off at when arriving from Bali. Chances are good this is also the beach you're staying on during your Nusa Lembongan adventure and will therefore be the easiest spot to catch the sunset from.
Mangroves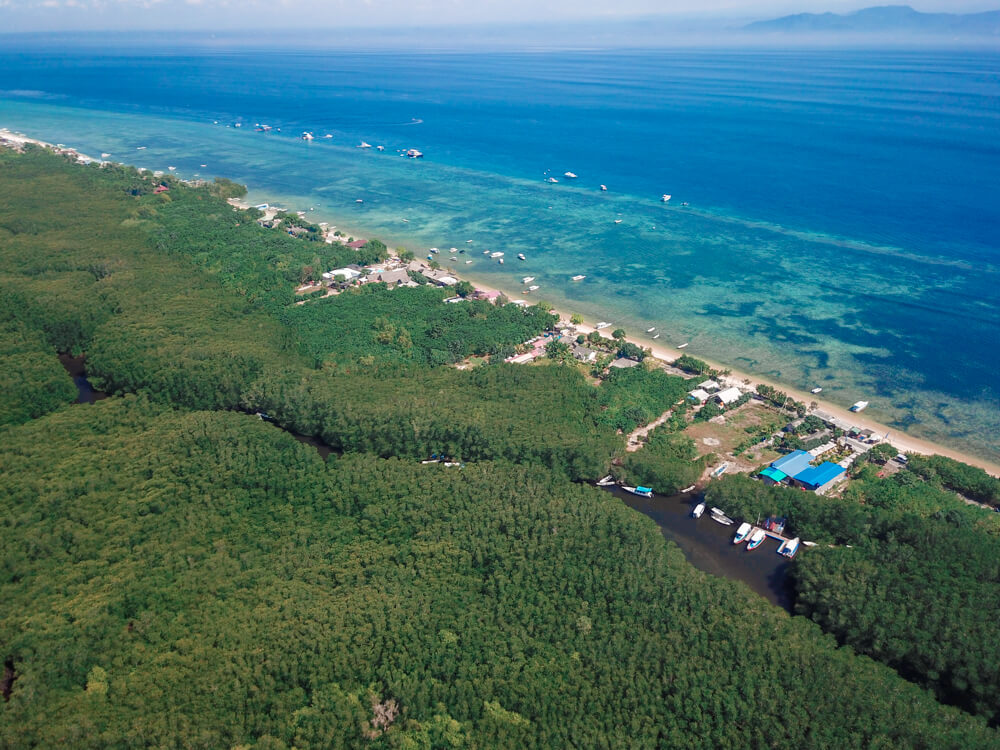 The mangroves on Lembongan take up a large part of the northeast section of the island and are one of the main activities. A boat tour which lasts for about an hour departs from the end of the road and takes you through the mangroves and to a few snorkeling spots.
It's easy to just show up and get on a boat. You'll start to see signs for snorkeling trips as you drive closer to the end of the road, all offering more or less the same thing. Relax at one of the beach bars afterwards, many of which have swings over the water and quirky themes. It's a quieter part of the island and a nice place to unwind. From there, the drive through the center of the island to Ceningan is quiet and pleasant. It was one of my highlights on the island with the jungly tree tunnels and butterflies flittering everywhere.
Yoga Shack
For a little exercise out of the water, I enjoyed the morning vinyasa at Yoga Shack. To suit the class to all levels, it was more stretching and less flow than I'm used to, but it turns out I'm pretty tight from just riding motorbikes and swimming so it was a welcome class for me! Drop-in classes run 100,000 IDR per class. You can find the schedule here.
Day trip to Nusa Ceningan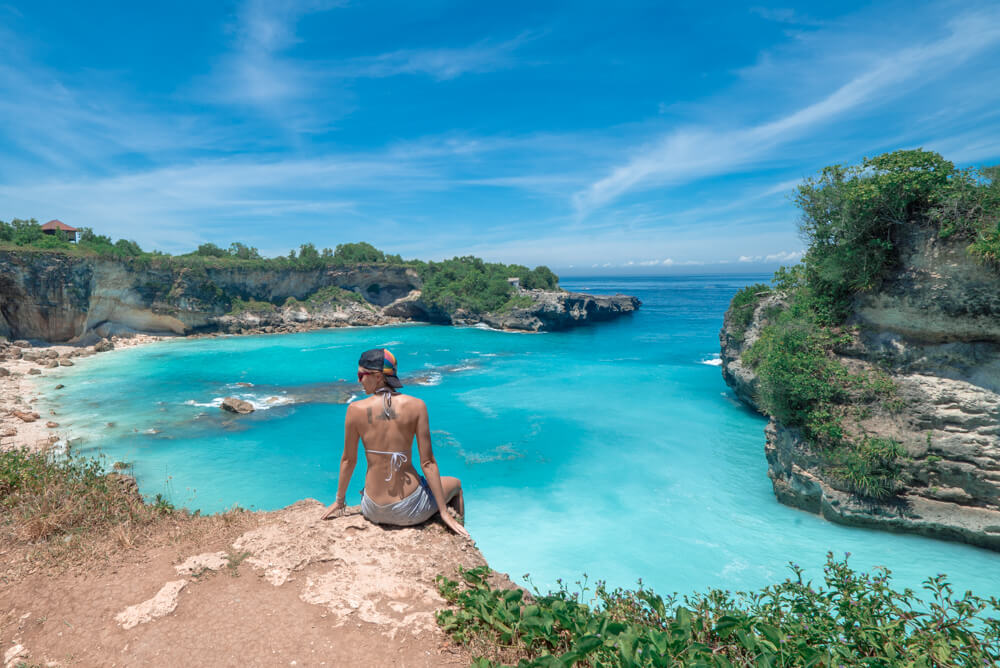 Between Nusa Lembongan and Nusa Ceningan, I actually liked Ceningan better! It was a bit more laid back and the water around most of the island was this dazzling baby blue color. It's easy to reach by motorbike. Just head for the bridge and follow the signs on Lembongan. You can read the full Ceningan itinerary here.
Snorkeling and diving trips
All around Nusa Lembongan you'll see signs advertising trips to snorkel with Manta Rays or dive the surrounding areas. Most of the trips actually take you over to Nusa Penida, so if you'll be going anyways, save the trip for that island. If not, jump on a boat and get into the Manta action! There's nothing quite like swimming with those majestic creatures.
Surf
Many surfers escape to the Nusa Islands to get surf without the crowds of Kuta or Canggu. The main spots are Playgrounds, Lacerations, and Shipwrecks, with a few good spots over on Nusa Ceningan as well.
Where to stay
There are a multitude of well-priced options on Nusa Lembongan, suiting just about every budget range. I thought the value for the money was incredible when it came to accommodation. I stayed at Kawan's Inn which was fantastic in terms of the breakfast, coffee, location, friendly owners, and the value for the room. I had a king-sized bed, air conditioning, a nice bathroom, and my own private outside sitting area for 300k IDR (less than USD $22)!
Food-wise, the menu seems to be the same at just about every establishment on the island – pizza, burgers, sandwiches, pasta, and a small Indonesian menu. Your options are either Western food at a slightly cheaper price than you'd pay back home, or searching out a small warung to get some local fare for way less. I'd select a place based on the ambiance, the pool, and the view.
When to go
Any time is a good time to visit Nusa Lembongan although the rainy season in Bali is for real! Expect frequent showers from December through February. I visited the island in March and found the weather to be nice but the traffic and main streets to be hectic. I can imagine it's a zoo in high season from May to October, so the shoulder seasons are probably best.
When visiting Nusa Lembongan, be sure to visit the other two islands as well – Penida and Ceningan. It's easy to pop over to both for a day trip.
I'd also probably stay on Ceningan instead of Lembongan in the future. It was more beautiful, more laid back, and had more cool things to do. It's just a quick scooter ride away from Lembongan, which makes it an easy day trip in either direction.
That said, Lembongan was a lovely place to lay my head for a couple of nights, and a nice taste of how Bali used to be.