When I dream of Bali, the Island of the Gods, my mind drifts back to my first trip there in 2007, before Eat Pray Love. I recall arriving and feeling like it had really lived up to the promises of beautiful beachfront resorts with those pools in the villas facing the ocean. I've always thought of Bali that way since – the perfect place for a romantic hideaway or a peaceful spot for personal reflection.
It's the combination of spirituality and beautiful nature that makes it so enchanting.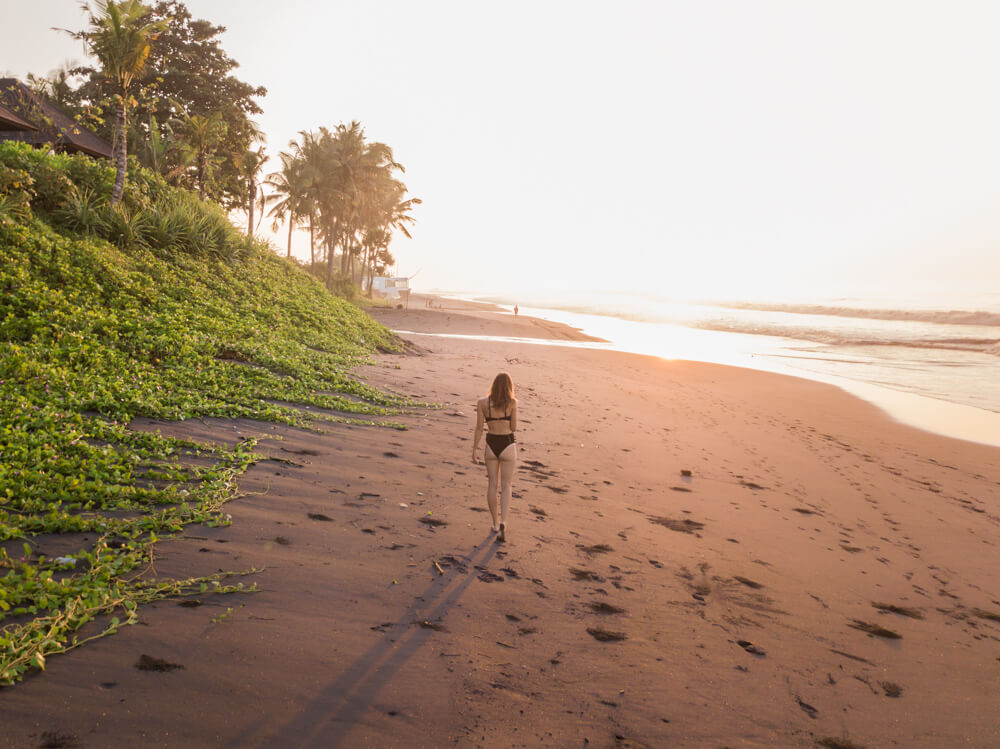 The thing about Bali is it's so attractive that it's also one of the most visited places in the world. Some of it feels like just a cheaper Australia, but the good news about that is most of the beach tourists are concentrated in the same areas and you don't have to wander too far from the airport or jumping off points for the Nusa Islands to get a beach almost all to yourself.
The ideal Bali with nice peaceful beaches and beautiful pool villas is still around, it's just about finding the right place before everyone else does.
I discovered that this time when I found Komaneka at Keramas, a new set of villas over rice paddies with a black sand beach so dreamy that for sunrise I only had to share it with fishermen and a few people riding horseback (what a good idea!).
At the end of my three month journey in Southeast Asia, I was delighted to find that this volcanic black sand beach is perfectly peaceful and for the surfers out there, there's a pretty nice wave with almost no one else on it – a rarity these days!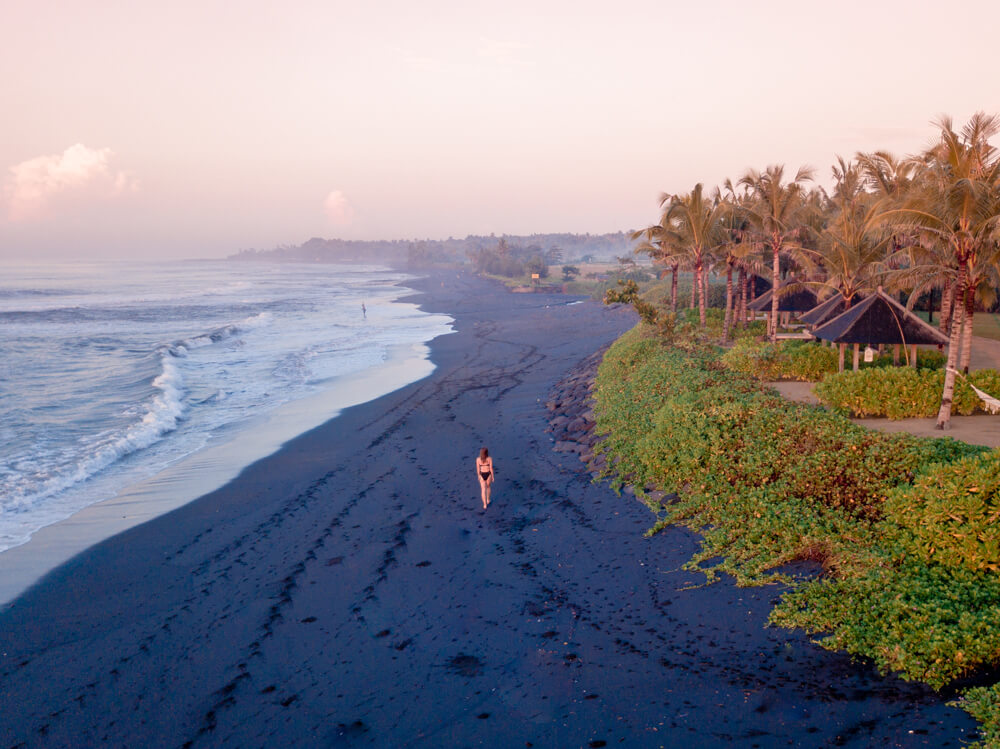 At the time of this writing, there are just nine villas at Komaneka at Keramas, although a few more are in the works. There's an Olympic size pool right on the property, though each villa comes with its own pool as well. I just love having options, and that kind of privacy!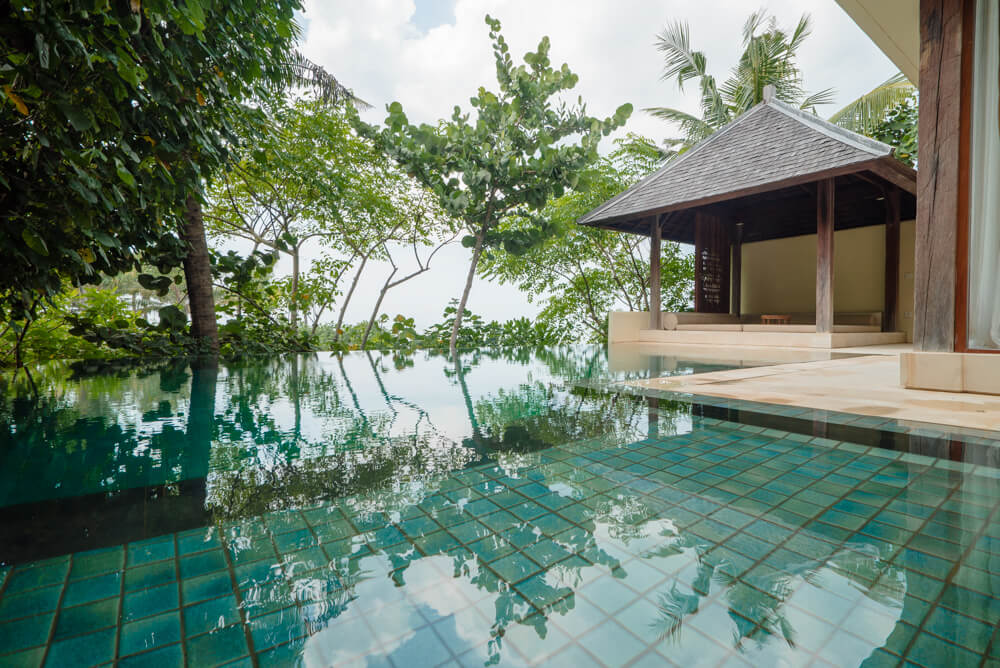 The villas are absolutely gorgeous, with a nice king size bed, a bathtub that they will happily fill with fragrant flowers, and a floating breakfast available at no extra cost.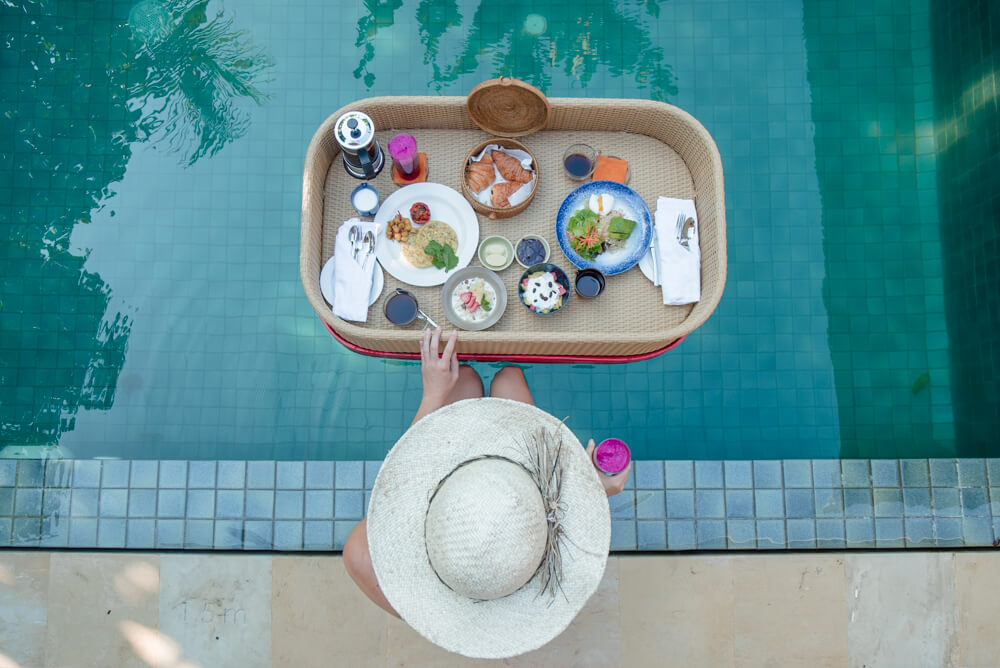 There's also an outdoor shower (are you an enthusiast like I am?), as well as an indoor shower, and an open walk-in closet that a girl could fall in love with.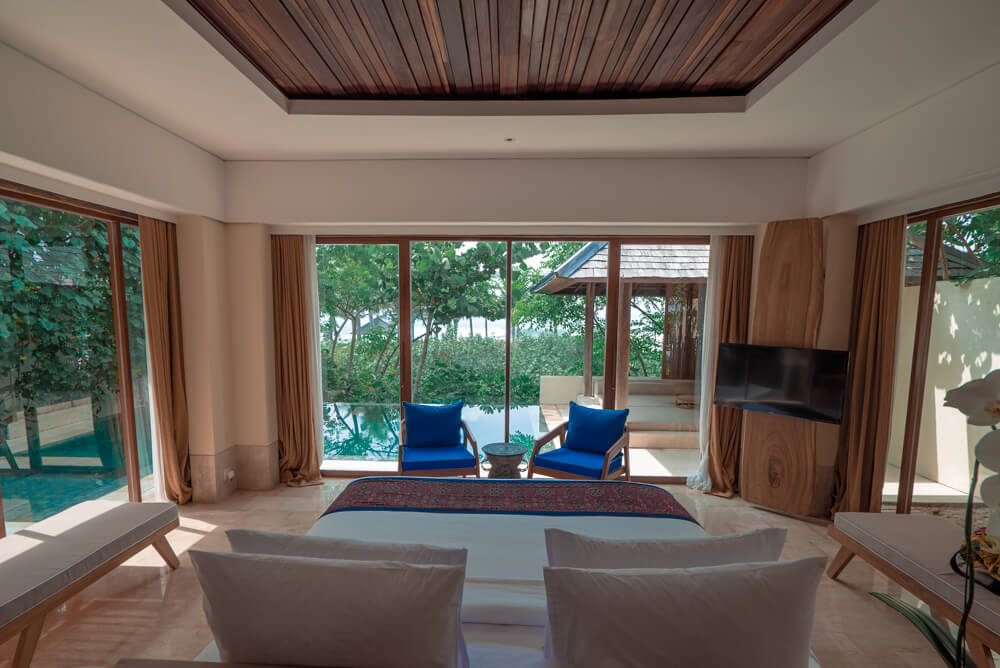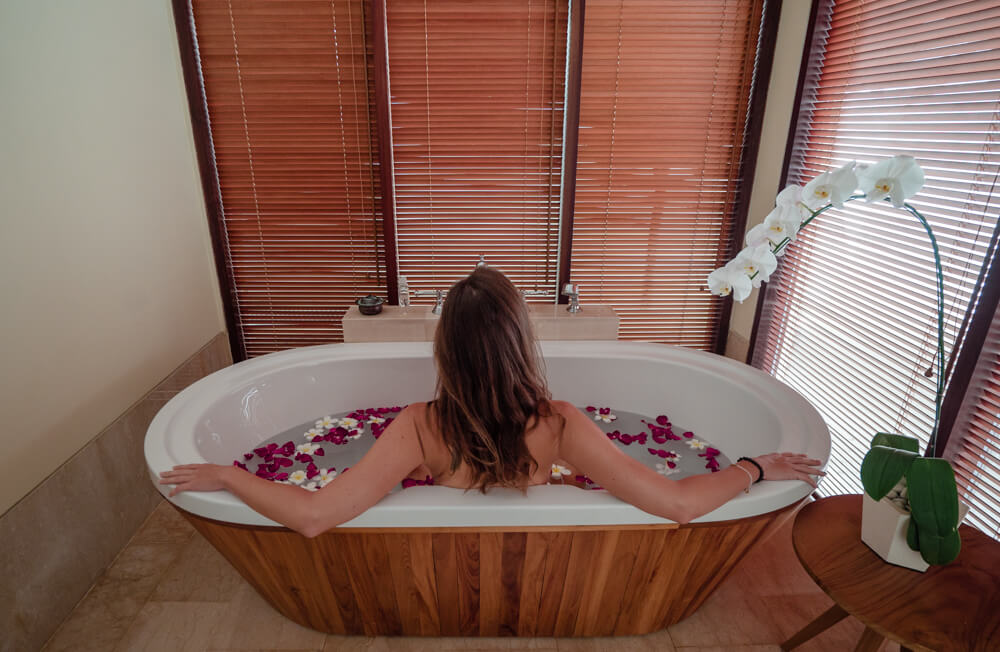 The grounds are amazing as well, set far back from the road through layers of rice paddies, featuring a cat walk from the lobby, to the restaurant, to the villas on a raised platform over the paddies. I love how they were worked into the existing design of the place.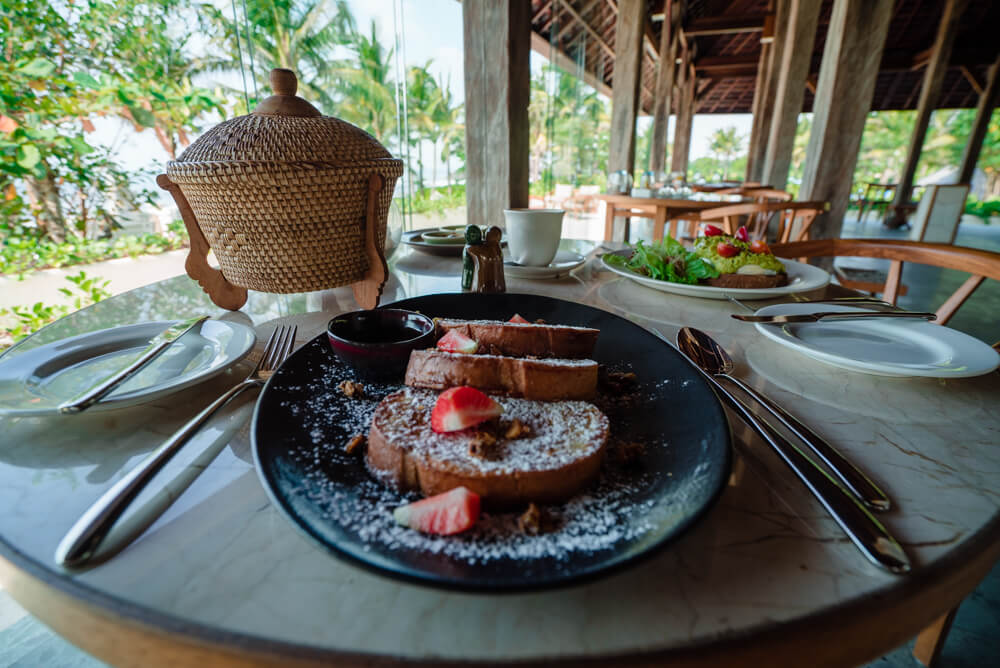 I also love that it's Balinese-owned, but as far as the comfort, amenities, and the delicious restaurant, it really caters to an international crowd. To me this would be perfect for a romantic getaway, honeymoon, or honestly just on your own. There was a mix of families, couples, and solo travelers. The idea is to get away from it all in peace and quiet, which is exactly what you get here.
Location-wise, it's only about 30 minutes away from Ubud, which is full of shops selling everything from clothing to crystals, and cafes serving up raw vegan food. You'll also find the famous Monkey Temple there. I loved that I could have the best of both worlds while still being able to stay on the beach and wake up to a golden sunrise. It only takes about 30 minutes to an hour to access the airport and the major ports as well.
As far as where to stay in Bali, this is my beach pick! It's tranquil, uncrowded, unique with the black sand, centrally-located for a lot of key Bali activities and the airport, east-facing for a gorgeous sunrise, quiet, and with delicious food. Could a girl want for more?
Not this one.
You can book your villa here. Happy loving in Bali!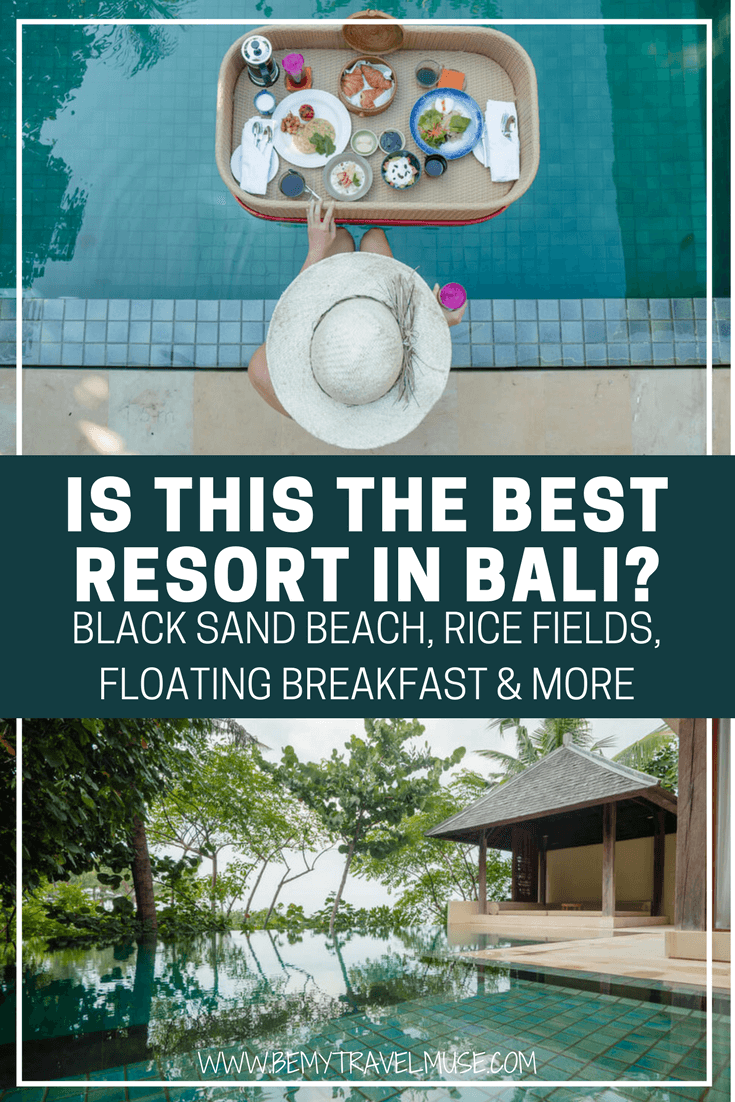 *Thanks, Komaneka at Keramas for hosting my stay. My feelings towards the gorgeous hotel, the delicious food, and the perfect Bali getaway are all my own.