There have been many brilliant sunrises in my life, but it's hard to top the one at the Rumah Pohon Treehouse in Nusa Penida, Indonesia. The way that the sun rose over the jagged islets, lighting up the entire bay in layers of orange, pink, and gold, all while I watched from the perch in the tree, I felt like a princess surveying my kingdom.
Or maybe like Wendy from Peter Pan.
Or Khaleesi, or something like that.
Looking back now at the photos I wonder if it was all just a dream. It certainly felt like it while the moon shone over the water the night prior, nearly full, while the tree gently rocked to me to sleep.
Was it the best place I stayed in Indonesia, or Nusa Penida? Far from it. Was it one of the most unique experiences I had on the trip? Undeniably, yes, it was.
Read on for my full review of Rumah Pohon and how to enjoy it fully if you opt for the same experience:
The Rumah Pohon Treehouse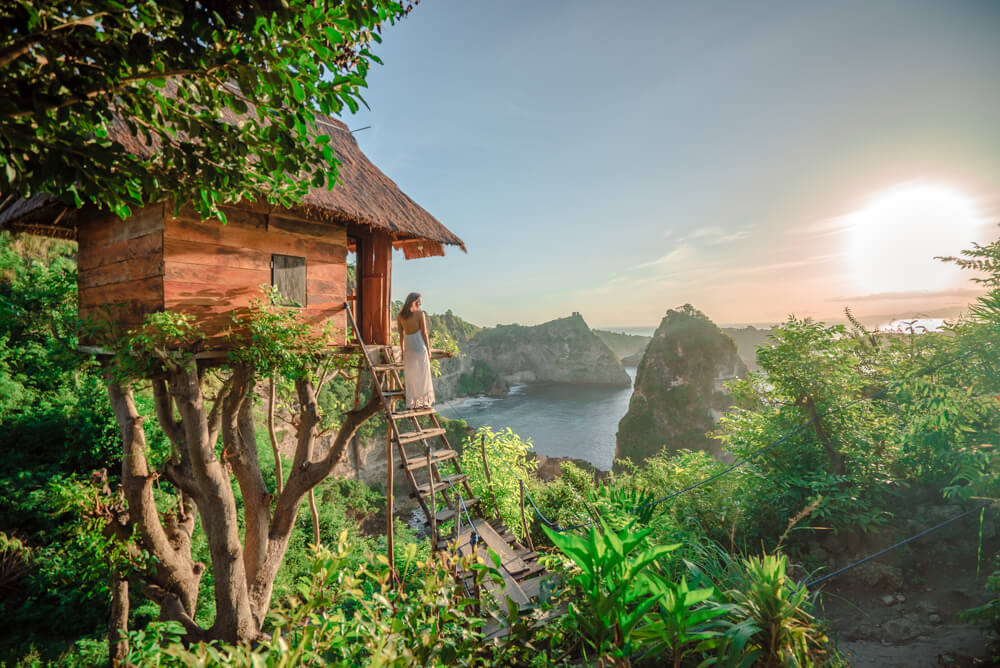 This must be the best sunrise view on all of the Nusa Islands. The treehouse is nothing short of dreamy, at least from the outside.
There are three treehouses and they book out quite far in advance. I found it online in January and booked it knowing that I'd most likely be in the Nusa Islands in March – that's how early I had to stake my claim. In high season in July I imagine it's even more important to book ahead of time.
It's also important to book the one you actually want. When I showed up, they let me pick which of the two open treehouses I wanted. Of course I picked the one with the best view, #1, pictured above. There are two others on the same peninsula that are both newer and probably a bit nicer inside, though they're all basic and what you're paying for is the view and the experience.
You can book treehouse #1 on Airbnb here, or here for #2, and here for #3. You can also get $25 off through this link.
You can also book it via booking.com.
Is it worth it?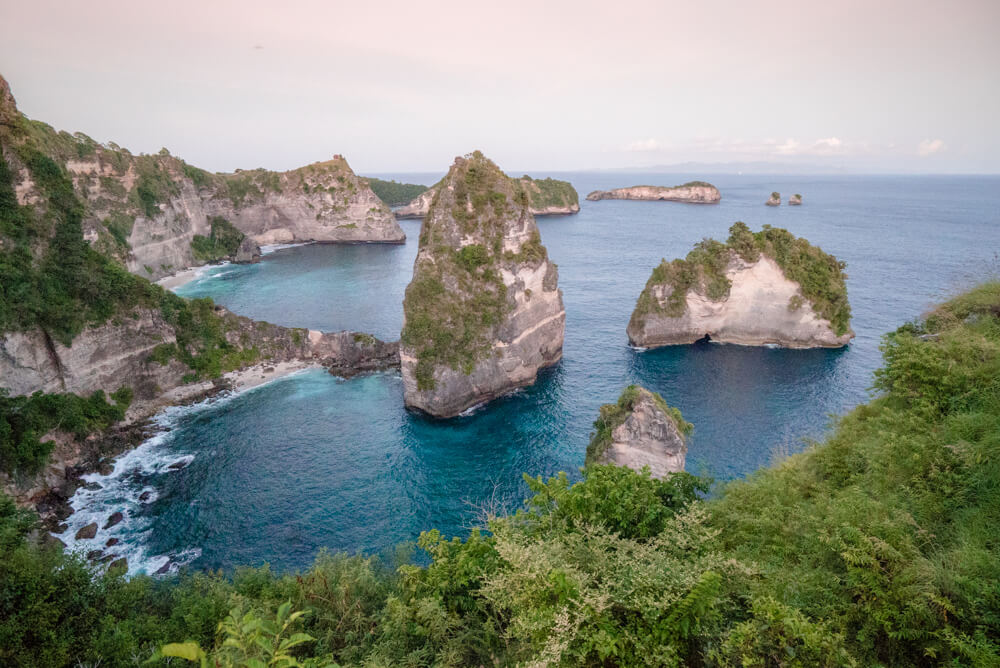 It's overpriced for sure. There's a lumpy double bed, a fan, a narrow bench on the balcony that'll make your bum go numb after 20 minutes, and not much else. The bathroom isn't very clean, it's not a private, secluded experience, and every move I made caused the tree and the bungalow to sway back and forth.
When I compare it with the AirBnB I stayed in earlier in the week on the top of the island which could have slept six people, had two bathrooms, was incredibly private, had an epic view of Mt. Agung, and gorgeous gardens for only a few dollars more per night, the value just isn't there for the treehouse (you can read more about the other place and get my full Nusa Penida itinerary here).
I know this is to be expected, but since it's so popular, people were asking constantly if they could come and take photos on the steps. I didn't mind and I always said yes, until it was 5:45 AM and someone bounded up the steps shining a flashlight in the door. It scared the crap out of me!
That said, it was private at night, watching the moonlight over the bay. I also had access to it at sunrise which you can really only count on if you rent it. Otherwise, you can expect that the other people who rented it will be using it for their sunrise photo shoot.
How to Prepare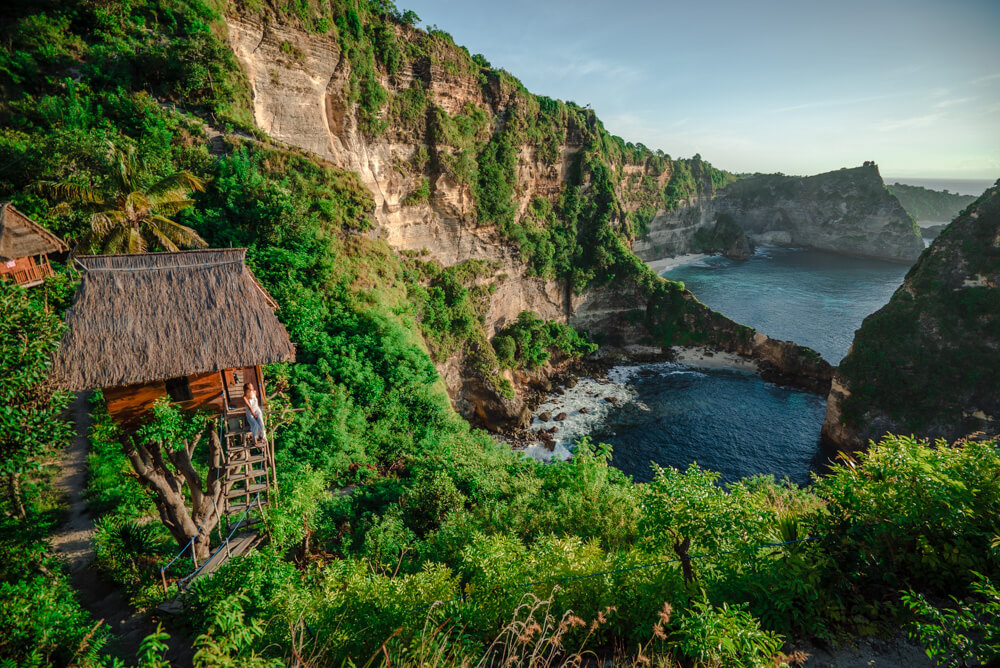 It's a bit of a hike to get down to the treehouse, but don't worry about carrying your stuff down the steps, the host will do it for you.
There's nothing on the peninsula except for the three treehouses and a bathroom, so you'll need to bring your own food and water down with you. There's a warung with fried noodles, soup, and fried rice at the top where you can buy some food to take down, though you'll want to eat it quickly or seal it in a Tupperware or jar as you're sharing your space with ants and other critters too, potentially.
Getting There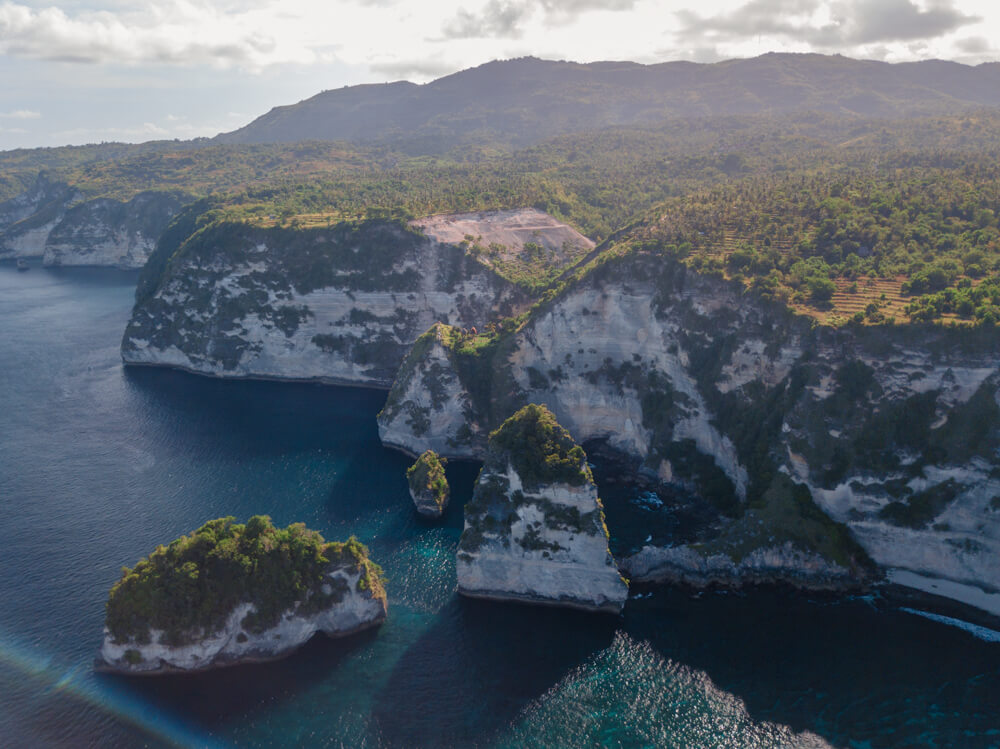 The best way to get to the treehouse, and around Nusa Penida in general, is by motorbike. It takes about an hour and a half to two hours from the port area to get to the Rumah Pohon area as it's on the opposite side of the island, though the drive is beautiful.
The roads are steep and pretty rocky and broken in places, so if you're inexperienced or nervous on a motorbike, you can ask Artem, the owner, to organize transport for you.
The Rumah Pohon Treehouse was an adventure to say the least. Would I stay there again knowing what I know now? The photographer in me says yes, mostly for the opportunity to photograph it at sunrise.
If that doesn't matter much to you and you want to climb down just to see it and take some photos, that's entirely possible too. Of course, it's up to whoever is staying at the treehouse at the time if they'll let you walk up the steps to take photos or not.
I don't feel like it's a great value, and it's probably only worth staying there for just one night (I actually booked two and only stayed for one), but with the following discounts you can save a bit on your stay (they also provide me a small commission at no extra cost whatsoever to you):
You can book treehouse #1 on Airbnb here, or here for #2, and here for #3. You can also get $25 off through this link.
You can also book it via booking.com.
Happy adventuring on Nusa Penida!