A few months ago I was scrolling on Instagram, as one does, and saw one of the dreamiest, coolest looking hotels – Capella Ubud.
I did a room search and had sticker shock. Was any hotel, especially in affordable Indonesia, really worth that price?
But I couldn't get it out of my mind. The incredible design, the fact that every tent has a pool, and the promise of amazing service made it sound like a great first stop on our trip to Bali, so I booked it.
Was it worth it? Here are my honest thoughts.
Capella Ubud Rooms and Perks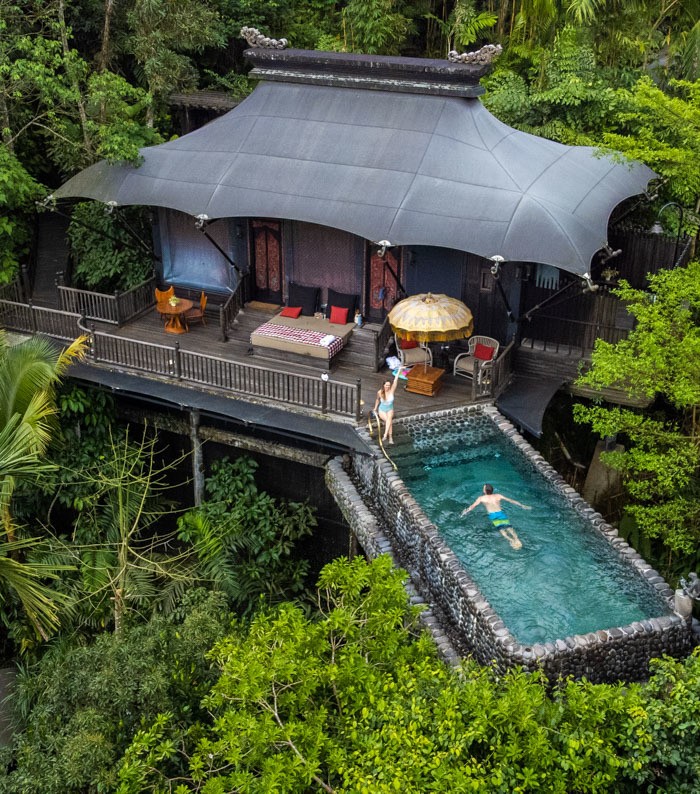 Why stay at Capella over any other Bali resort? That was Garrett's question to me when I told him I was looking at it. Yes, you can find cheaper places to stay in Bali that are also nice, but this one is unique.
There are 23 luxury 'tents' (that really don't seem like tents), and not a single tree was cut down during construction. They source their produce from local farms, have their own wastewater treatment, and much of the furniture is antiques. As I put more emphasis on being a better tourist, things like this really matter to me. Plus the look of it is too cool. According to the designer, Bill Bensley, "the camp evokes the tale of shipwrecked Dutch settlers arriving in 1800s Bali, and pitching their tents."
Is it a little weird celebrating a nostalgia for colonial times? Kind of, but also, I get why they went with this vibe: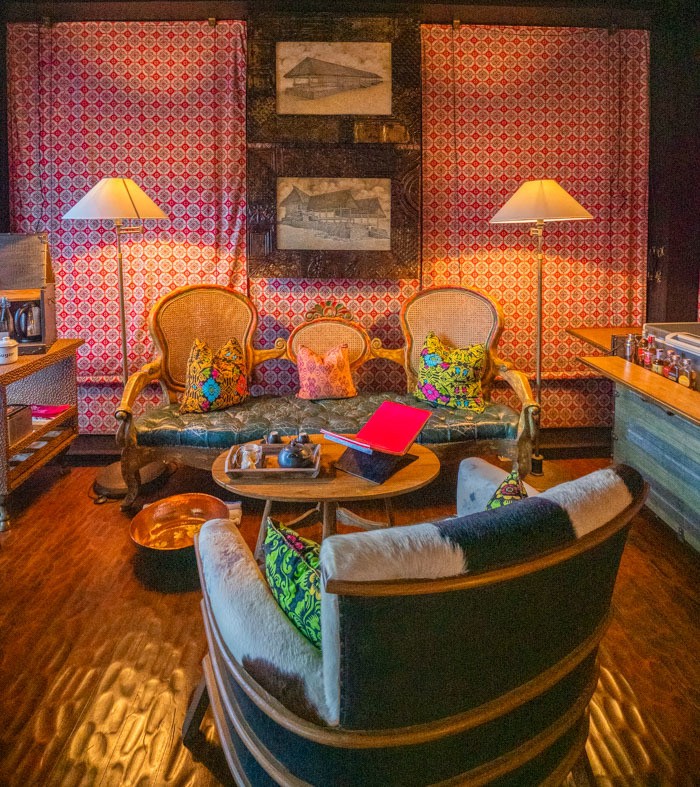 Each tent is the same size and has a 24/7 butler (which they call a 'culturist') access to 24/7 room service, return private transfers, included breakfast, and high tea and evening mocktails and canapés.
The Terrace Tents tend to be the lowest down on the property, which is built in a valley, with the smallest plunge pools. The Rainforest tents are similar, and the River tents have a slightly larger pool.
The Keliki Valley tents are the priciest, but have the largest pools and are the highest up on the property. Keeping with the 1800s vibe, you won't find elevators on the property. You will, however, find lots of stairs.
With a baby, I decided being higher up and having a pool we could enjoy while he napped would be ideal, so I sprang for the Keliki Valley tent, to the tune of about $1600/night with their pay 2 stay 3 deal (Luxury Escapes, by the way, is the only booking platform I've found that has this deal and also offers 1% cashback with the RetailMeNot or CapitalOne Shopping Chrome plugins. Sometimes Amex offers credits as well when you book with their card.)
They also have a family lodge that's the largest and priciest. The rooms can accommodate a family of three, but for larger families, the lodge has two rooms and a pretty cool-looking indoor/outdoor pool.
The room was just as cool as I'd hoped it would be. I'm an eclectic, boho-chic lover and clearly the designer is, too. The doors were intricately carved, the textiles inside were colorful, and there was even a copper-gilded tub and a literal throne for the toilet.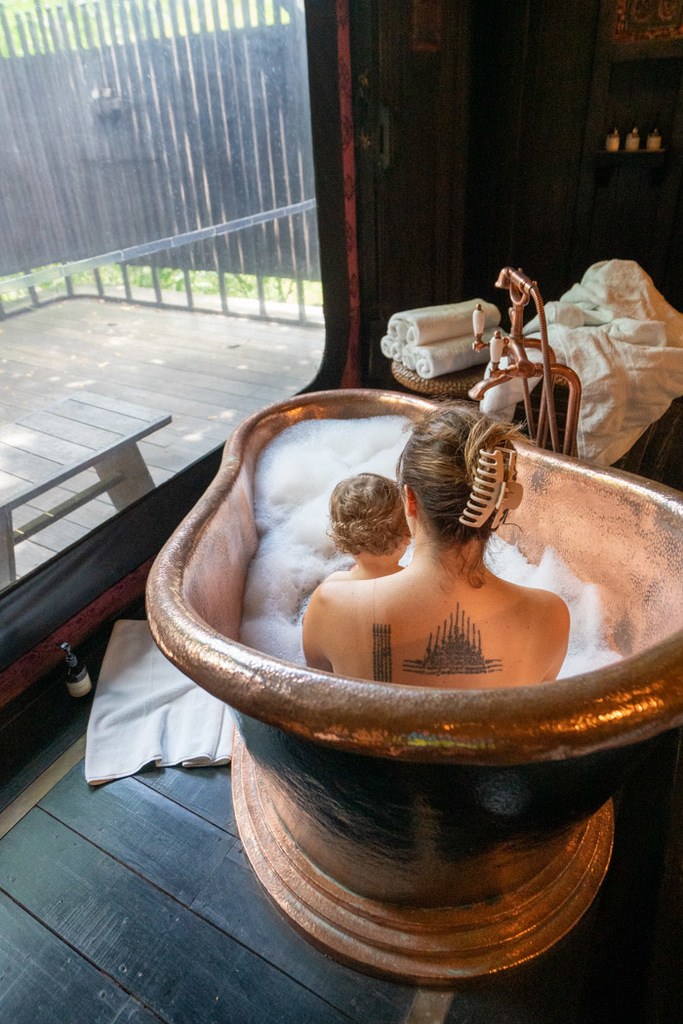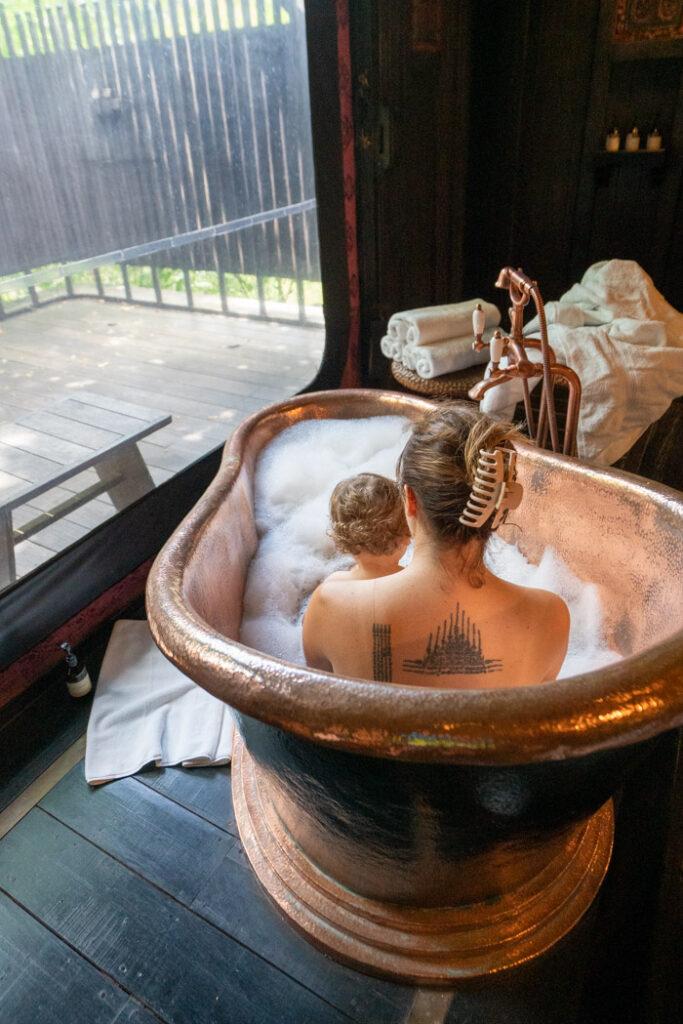 The pools can differ depending on the specific room you get. I requested the architect's tent since the pool was bigger and so darn cool-looking.
The Food at Capella
The food was great at Capella. I really appreciated that it was organic and mostly locally sourced. When it wasn't, like for the beef, it was high-end wagyu cuts from Australia.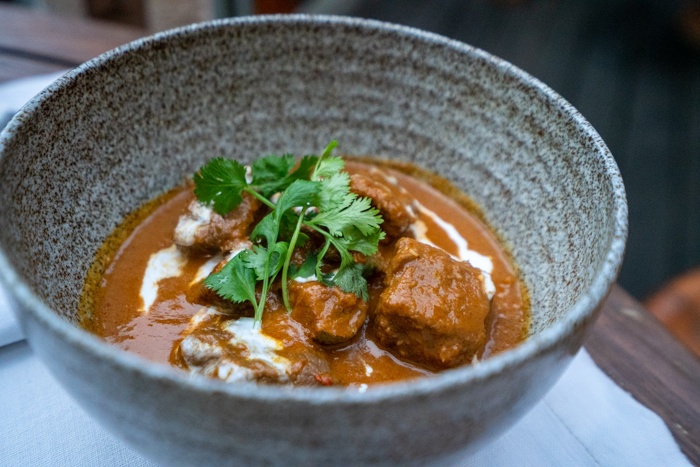 The breakfast was a great start to the day. It began at 6:30am and ran until 11am. We were handed a menu that was mostly the same each day with the exception of two dishes each day that would change. We could order as much as we wanted.
Since breakfast was so filling, we usually ordered one meal after that, whether it was a big lunch or dinner later on. The included tea had sandwiches and cakes, and they were always happy to bring a plate of strawberries for our baby.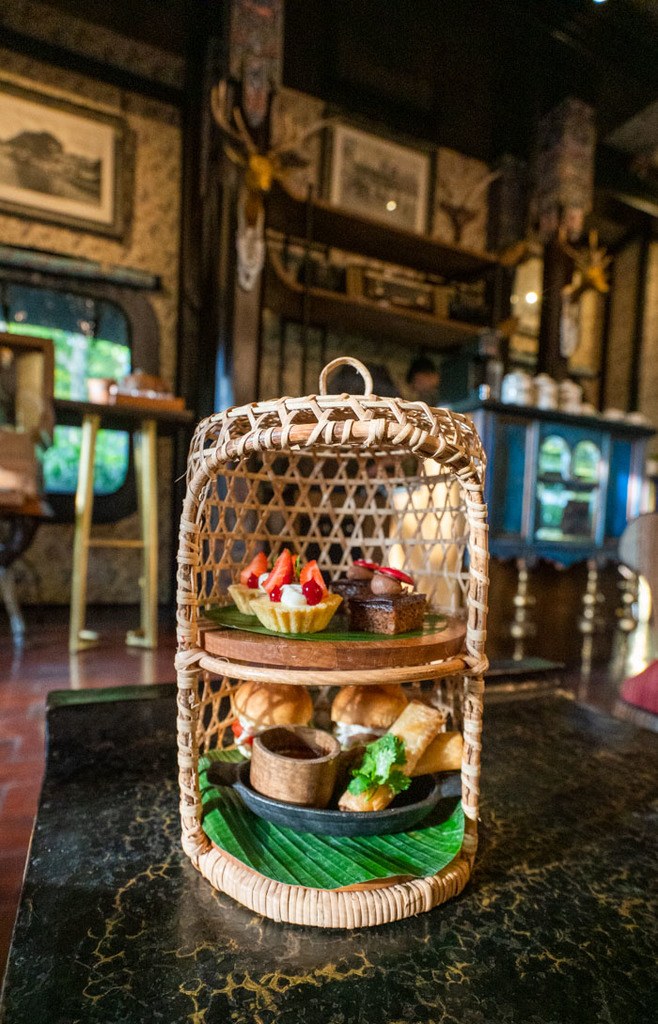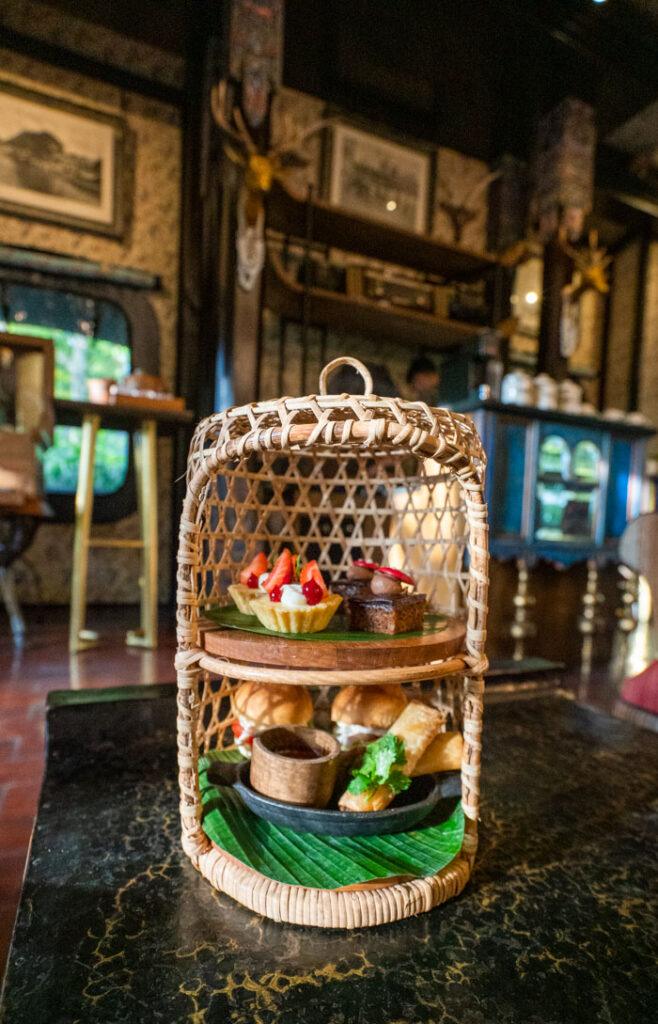 The room also had a cooler box full of wine and spirits for purchase, as well as included water, juice, sparkling water, and bintang beers. The officer's tent also had each of these available, as well as fresh fruit and snacks.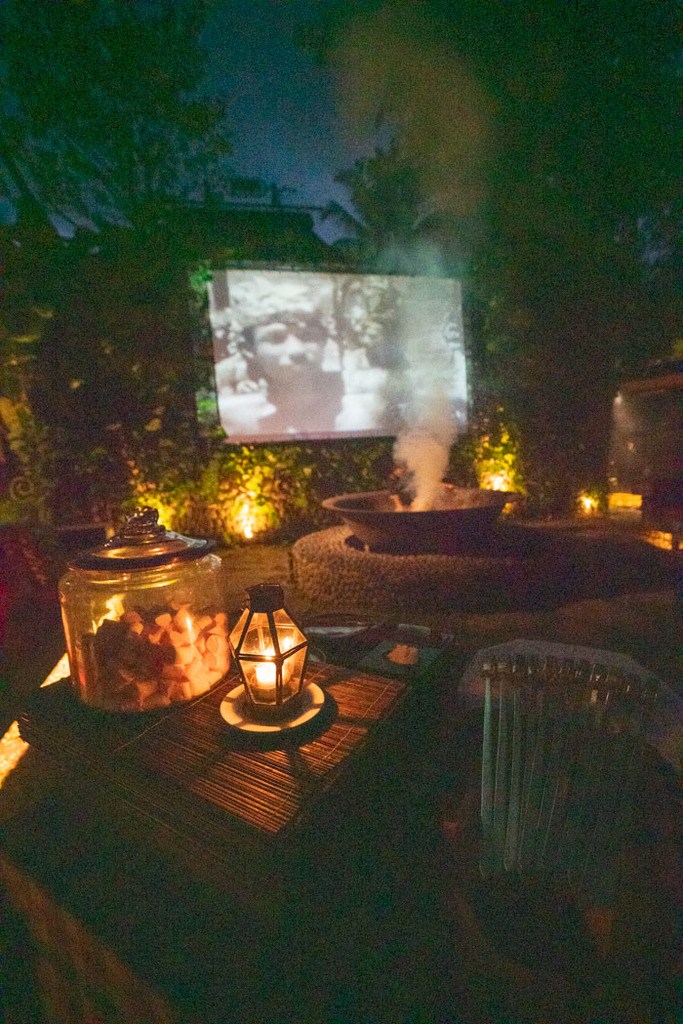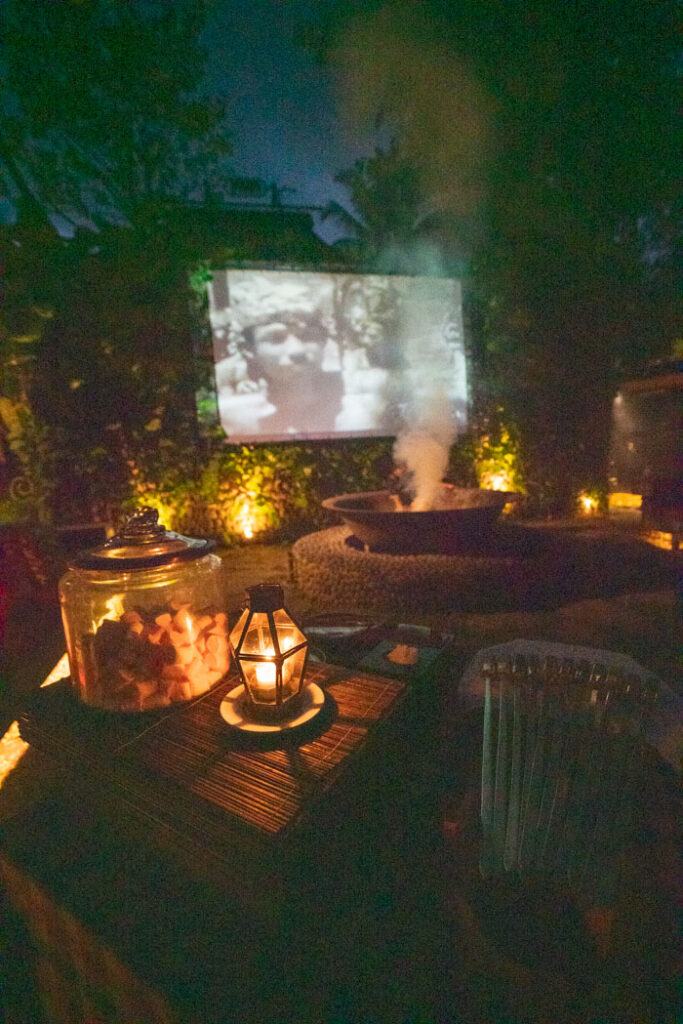 We only did the mocktails once, but they were great and not too sweet. They also have an area with a fire and marshmallows to roast in the evenings while old black and white Balinese movies play.
I figured we'd want to leave at some point at eat elsewhere in Ubud, but we ended up happily staying put. Although, of course, the food was closer to western prices, it was high quality and delicious. Plus, they were very careful with allergens, which was essential for us.
The Service at Capella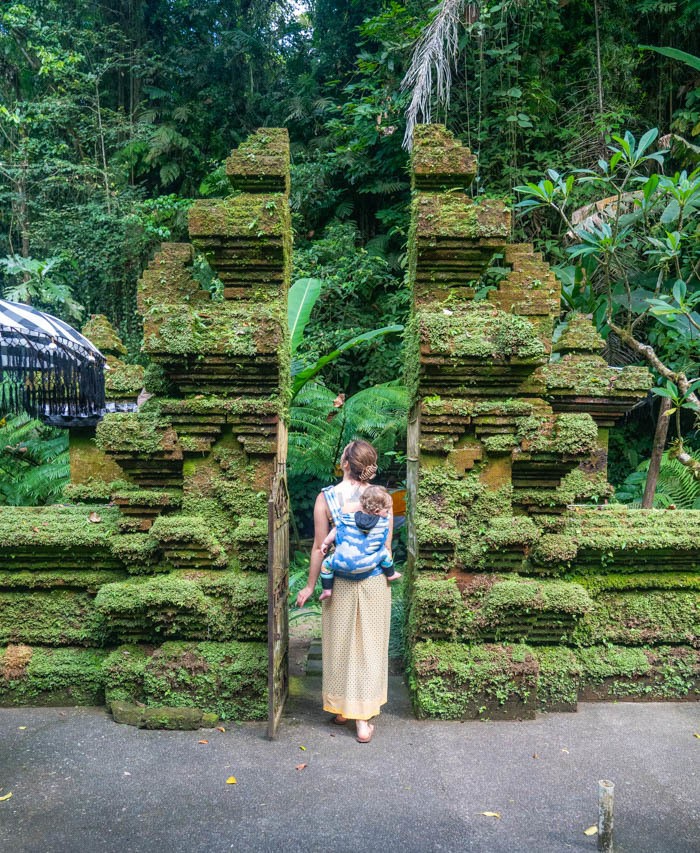 One of the best parts of the experience was the service. Almost any request was met with the answer, 'certainly.'
They even helped us to move rooms when I asked for the Architect's tent, which they can't guarantee at booking. Since someone else had been in there the day we arrived, we moved after one night and had the rest of our time in that room, allowing us to experience two rooms (the Naturalist tent is also great, by the way).
The best part was how they were with our baby, though. They'd regularly come hold him and show him the plants while we were eating. This is somewhat common in Bali, where they just love babies, and was such a nice experience.
Would I Recommend Capella Ubud?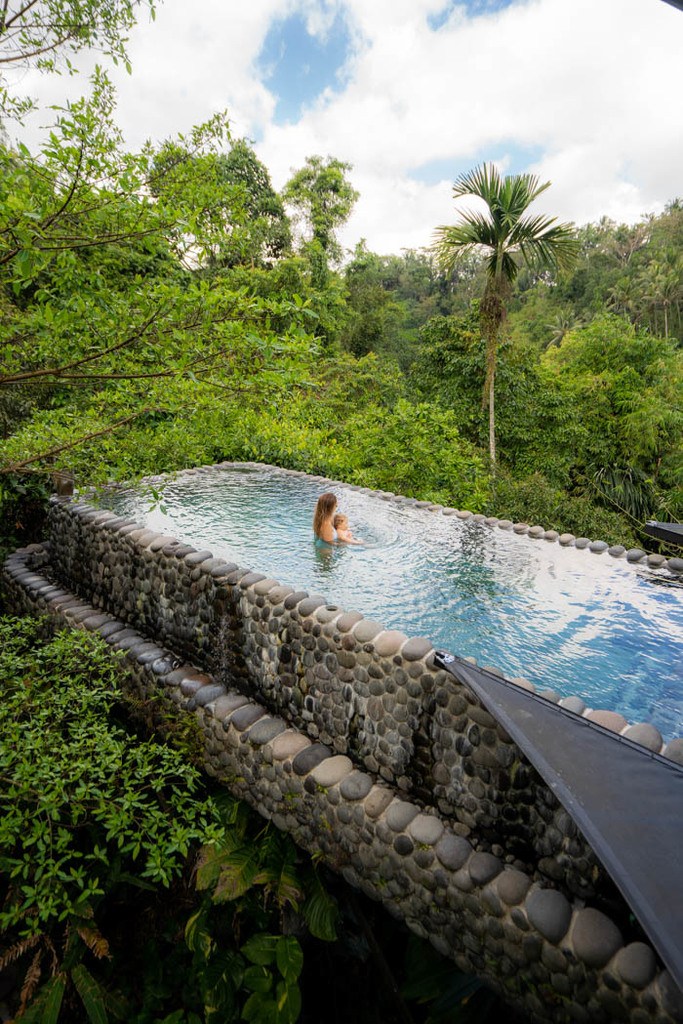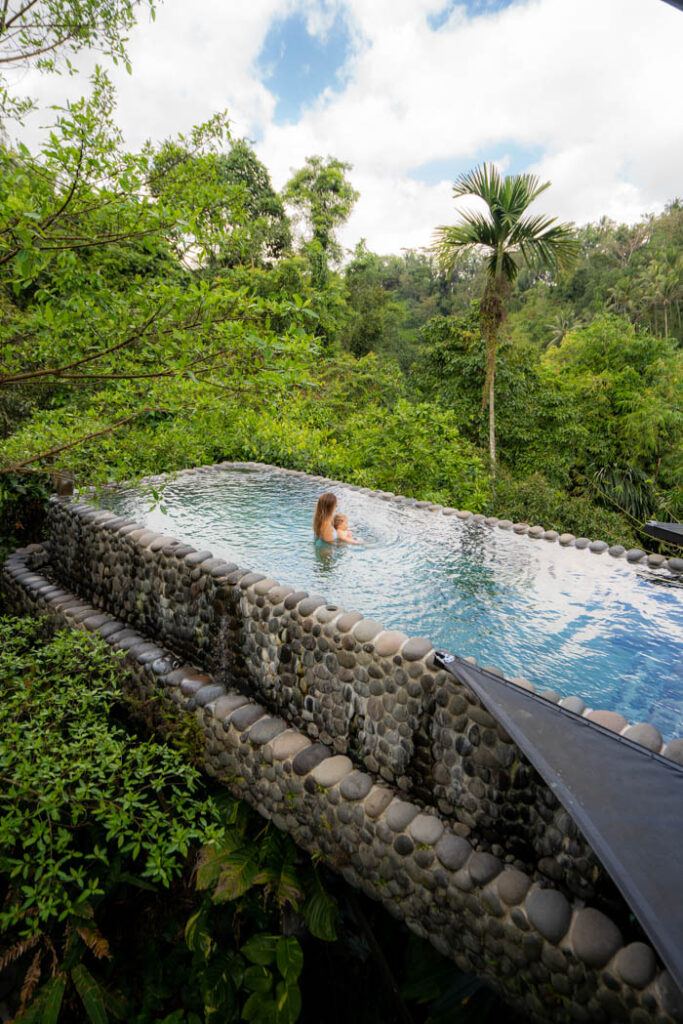 I had incredibly high expectations and almost regretted booking the hotel leading up to our arrival — I'd paid 5 grand for it after all which is a far cry from my budget backpacker days — but it was honestly worth it.
Everything from the arrival ride in a nice car to the welcome shoulder massage, beautiful room, delicious food, and beautiful grounds made it worth it.
I knew we wouldn't want to leave the resort after traveling so long to get there, and we were happily occupied in peace and quiet in what can be a pretty busy and touristy Bali for our three-day stay. The temple on the river is beautiful, the various tents with their snacks and gym were so nice, and I loved our private pool. The only thing I wish was different was the pool temperature – it was on the cooler side and was sometimes hard to get into. Sounds crazy for a place as hot as Bali, I know, but the valley in Ubud stayed relatively cool during our stay in July.
*Some links in this post are affiliate links that support this site at no extra cost to you. Everybody wins!