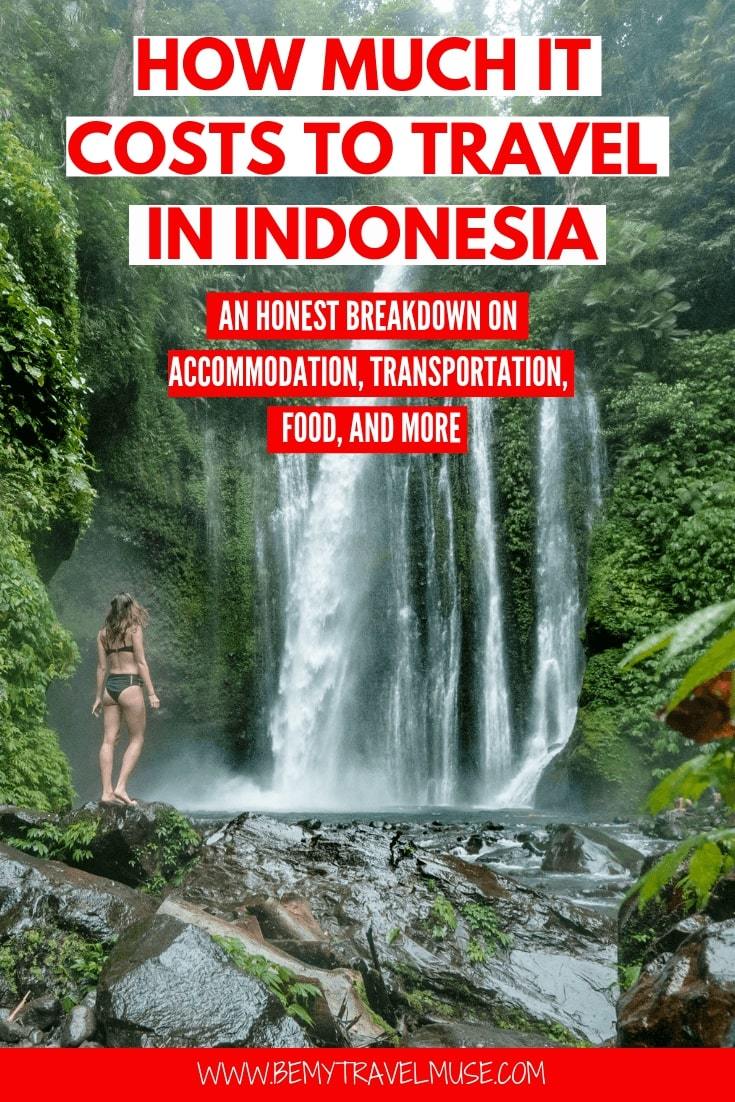 2018 update: I originally wrote this post in 2013, traveling in Indonesia on a shoestring. I returned this year with a bigger budget, spending more on accommodation and transport, though some categories, like food, have remained the same. You'll see both options in this post.
Indonesia, like Malaysia, had a lot of varying reviews from fellow travelers when I asked about the cost. One thing was easy for everyone to agree on: it's a big country that isn't easy to get around.
Here's the thing about Indonesia: it can be really cheap, or it can be quite expensive, depending on one big thing – transportation. There is a huge discrepancy between private, tourist transport and local transport. I'm not sure why, but I never did see another foreigner on any of the public buses or ferries that I took anywhere in Indonesia. I couldn't quite understand it since a private car costs around $100 one-way, and a public bus tended to cost more like $1.50 for the same distance. It was a no-brainer for me when I was traveling on a shoestring budget!
Apart from transport costs, there are some other ways to take the cost way down in Indonesia, such as where you eat, your haggling ability, and whether you do things independently or by tour. Where you are in Indonesia is also a huge contributing factor.
I backpacked in Indonesia for 6 weeks, and my daily average came out to $31/day (leaving out my SCUBA trip as I realize that is a factor many people won't involve when planning their trip). When I returned in 2018 and spent about 2 months there, my daily average came out to about $50/day. Here's the breakdown:
Accommodation: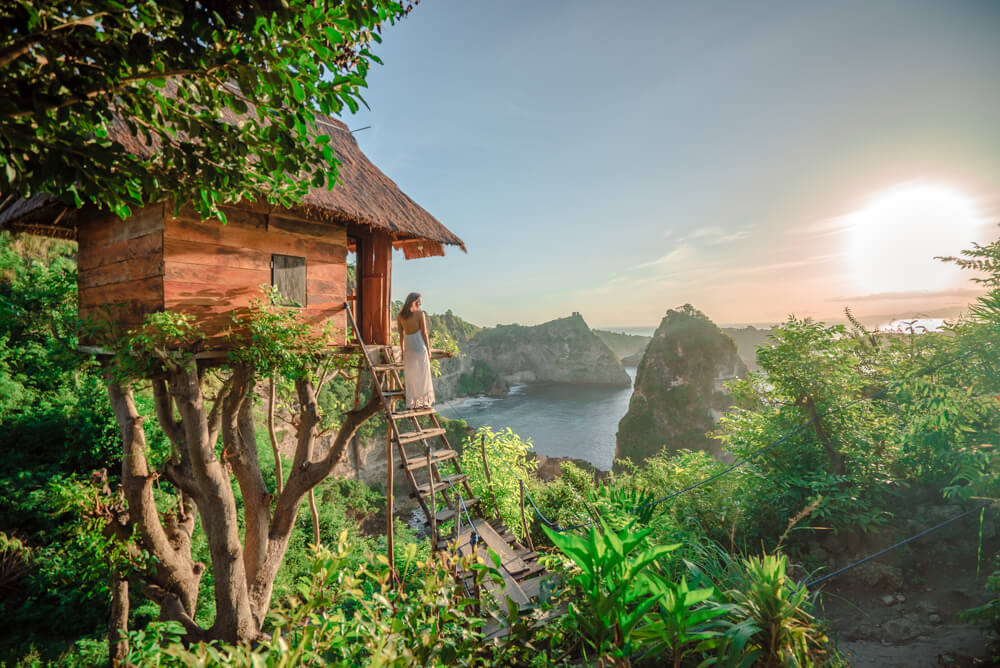 In places popular with backpackers, such as Bali, Yogyakarta, you will plenty of hostels with solid facilities. This was not the case when I visited in 2013, but Indonesia's popularity among budget backpackers have increased tremendously since then. The cheapest place I stayed was in Bukit Lawang, a trekking town in Sumatra, for only 50,000 Rupiah (USD$5) per night for my own room with a balcony on the river, ensuite bathroom, and a mosquito net around the bed without holes – trust me, this was a luxury. The most I paid was closer to $15 in Java at a guesthouse that had a bit of a monopoly on the area in Kawah Ijen.
Hostels in Bali: $5-$12 (book your hostel in Bali here)
Hostels in Yogyakarta: $4-$10 (book your hostel in Yogyakarta here)
Hostels in Surabaya: $7-$12 (book your hostel in Surabaya here)
In general, accommodation in Sumatra was the cheapest, while rooms on Flores and especially Java happened to be a lot more expensive and offered much less bang for my buck.
If you prefer a private room to yourself, there are many great options on Airbnb especially if you are traveling to Bali and the Nusa islands. I stayed at a tree house (as pictured above) overlooking one of the most magnificent views in my life, and a huge villa that could've easily accommodated 4 people for $55 on Nusa Penida. Booking.com also has some great hotel options.
Transportation: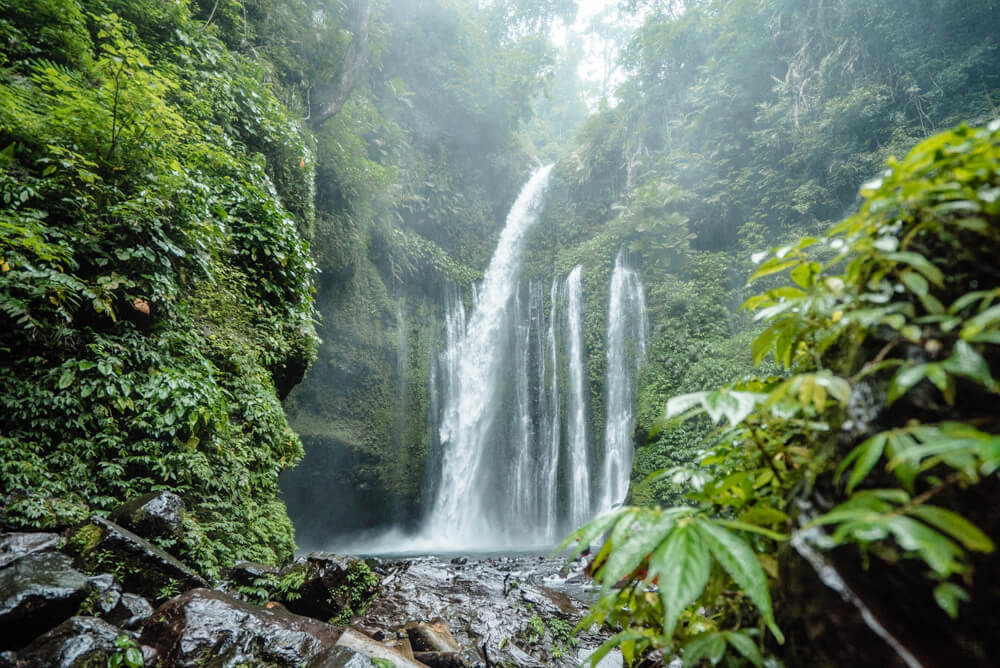 I only had one major (quite major) blunder when getting around Indonesia.  I was so used to the cheap Air Asia flights in Malaysia, where I would spend $18 to cross the country, that I didn't consider how much it would cost me to get from one end of Indonesia in Sumatra, to the other in Flores, in order to make it in time for a SCUBA diving liveaboard trip I had booked.  What was the damage? Almost $300 US dollars. Yeah, ouch. To avoid that, plan your stops in Indonesia and book your flights in advance.
Otherwise, I made sure to always take public transportation. As I mentioned earlier, nobody else seemed to do this, but it was incredibly cheap. The least expensive bus I took was about 4 hours and cost me $1.40. I'm not sure why almost nobody else did this, as it wasn't too difficult and even ended up in some funny stories and great interactions with locals. I must be in about 100 people's random photos at this point.
*Tip: Don't let a tout sell you a ticket. Pay the attendant on the bus directly. Even if you're dropped off outside of what appear to be ticket windows, they take a cut. Climb onto the bus that is going where you want to go, and you'll be approached once the bus gets going by an attendant who will quote a price. Don't be afraid to say, "mahal" (expensive) if it sounds astronomical. In general, public, non-air-conditioned buses should not be more than a few dollars. Also, be aware that many people smoke in Indonesia, and even enclosed busses will sometimes have smokers on board. This is just the reality of overland travel in this country.
When you are on the islands, you have two options: hire a driver, or rent a scooter. In Lombok, I hired a driver with a nice SUV for about $50 for the day, which was about 5 times the price of renting a scooter, but I was able to get to a bunch of cool spots in Lombok that I wouldn't be confident to ride a scooter to. Renting a scooter is cheap and easy, though you'd want to be fairly confident riding one, as you'd bound to come across some dirt roads. Be a smart girl and get insured!
Food and Drink:
This is where Indonesia became fabulously cheap. I often ate meals, especially in Java, for less than a dollar. The way to do this is to find a warung which cater more to locals and serve local foods. Indonesian food is delicious, so why not eat local? It helps to know what a few of the items on the menu are before ordering, as they may not be listed in English and it's possible the cook will not speak English.
Mie – Noodles
Nasi – Rice
Goreng – Fried
Nasi Campur – Steamed rice, noodles, some sort of vegetable, and fried chicken, typically
Soto Ayam – Chicken noodle soup (soto means soup)
Ayam – Chicken
Sate – Grilled meat on a stick
Tempeh – A soy-nut meat substitute (try it, it's good!)
Cheap vs. Expensive Places in Indonesia:
Sumatra was by far the cheapest island in Indonesia that I visited. I only wish I could have stayed there longer. The food was amazing, the people were kind, and the public transport was perfectly reasonable. I only had a chance to visit Lake Toba and Bukit Lawang, but I plan to return soon and see more of it.
The places that returned the least value for my money were Java and Gili Trawangan. That said, they were still cheap at anywhere from $8-$15 per night per room. Also, I had an absolute blast on Gili T and really enjoyed the beautiful volcanos in Java. It was worth it to pay a little more.
Other Incidentals: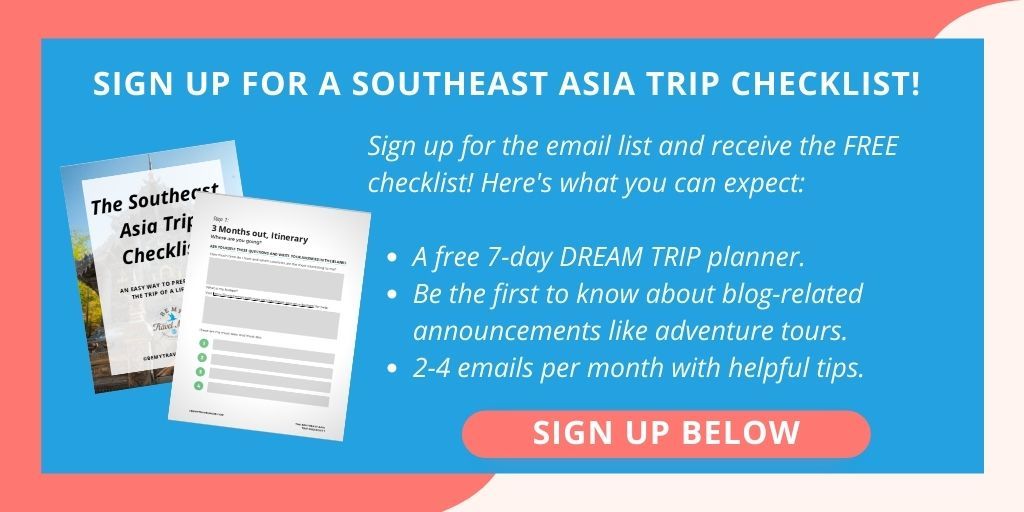 Haggle, haggle, haggle! Indonesia travel costs can vary widely if the ticket seller thinks he can get more money out of you. The starting price is never the ending price, and this goes for almost everything. Even posted prices are sometimes negotiable. At least try, and if you don't get the price you want, walking away is a good tactic. You'll almost always hear, "OK! Come back," and will get the discounted price you wanted. In more touristed areas like Bali and Gili T, this will be tougher as many short-vacationers don't know this and will pay the astronomical prices.
Buy tickets directly from the sellers. Cutting out the middle man always saves money. Book tours directly which helps avoid scams and is always cheaper.
Lastly, SIM cards were ridiculously cheap. I really don't know why, but I only paid $3 for 2 gigs of 3G with the 3 network. I have never spent so little on a data plan in my life! Simpati tended to work much better in the smaller towns and cost me a lot more. I alternated between the two cards as needed.