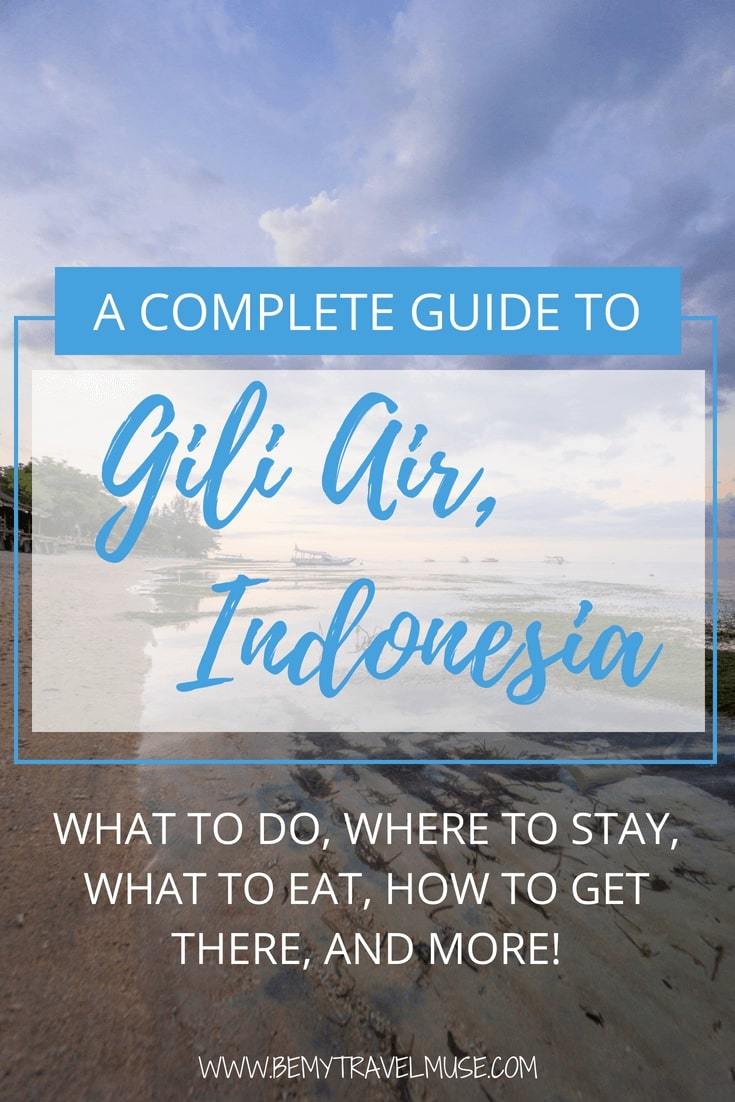 Gili Air directly translates to the 'water island', a fitting name, indeed. One of three of the Gilis off of the coast of Lombok in Indonesia, this is my favorite of the islands because it has the most balance. It is calmer than Gili Trawangan and has a bit more going on than the quiet Gili Meno.
Whether you're traveling solo or with others, this island is just laid back enough but also just social enough to be perfect either way. I have visited twice now, once in 2015 and again in June 2018, and while a lot has changed, the all-important vibe has stayed the same.
If you're heading to Gili Air, or trying to make a decision on which Gili island to choose, I'll guide your way:
The best things to do on Gili Air
This island is full of adventures – ones that everyone knows about and a few that many don't realize are even options. Read on:
Learn to free dive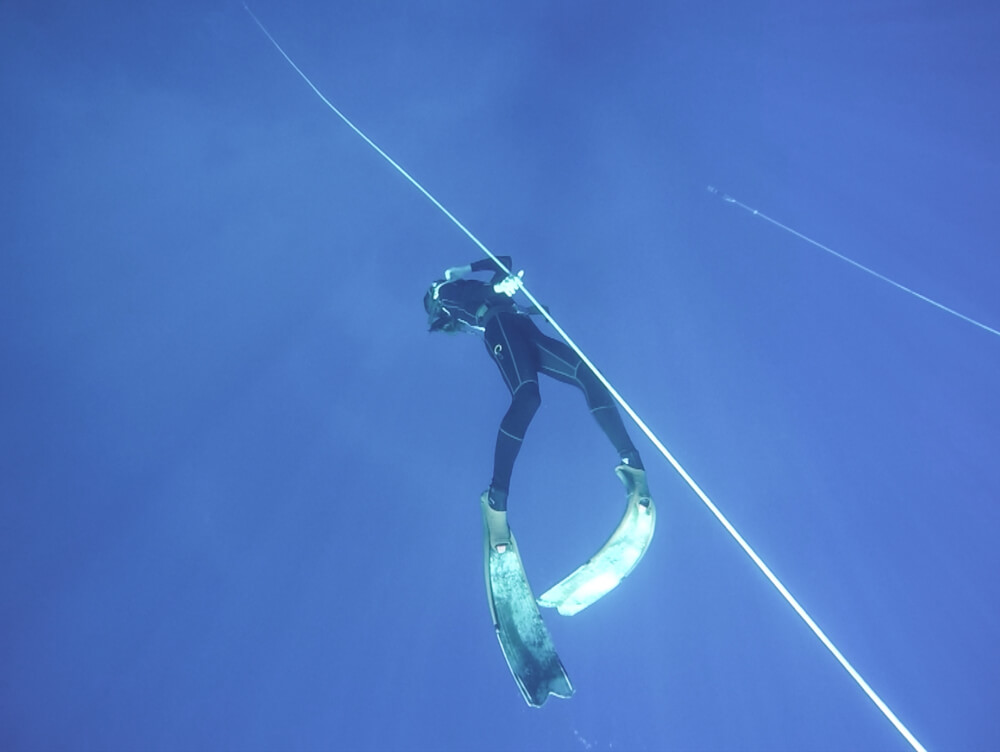 The Gilis used to be a scuba diving mecca but after coral bleaching in 2010, it's not as impressive as it once was. However it's still home to plenty of sea turtles which makes it great for snorkeling, and it's the only place around Lombok to learn how to free dive. I did a four day course with Freedive Flow and with their help was able to get down to 16 meters (52 feet!) and get certified with my AIDA 2. You can read my full review here.
If you want to scuba dive, the Gilis are still a good place to learn. However if you already have your certifications and want to see something a lot more mind blowing, head to Raja Ampat or Komodo.
Rent a boat (it's cheaper than you think)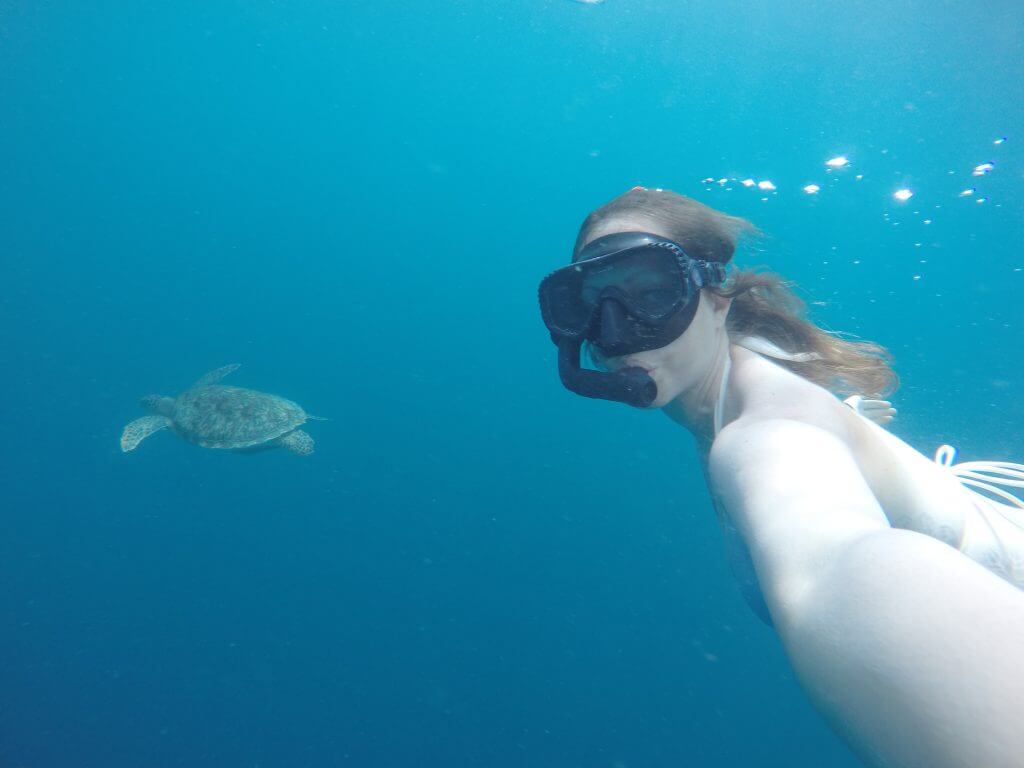 For snorkeling, some of the coolest things to see are around Gili Meno, including the Nest sculpture. If you take a snorkeling tour, you're going to be on the boat with a lot of other people. However the great thing about Indonesia is you can pretty much always work something out privately without it costing too much. My buddies and I once rented an entire snorkeling boat for a full day for $20 each between the five of us. If you can get a few people together, that's my suggestion. We just asked the guy at our accommodation to organize it for us and the next day we were in business.
If you want to do it cheaply and independently, hop on the public boat departing for Gili Trawangan at 8:30am and 3pm, arrive at Gili Meno in about 15 minutes, rent a snorkeling kit from the beachfront shop, and explore the underwater world that way. The same public boat will pick people up from Gili Meno at 9:30am and 4:15pm to head back to Gili Air. Note that you will be on Southeast Asia time, and the departure time depends heavily on sea conditions, so some delay is expected. A one-way ticket costs IDR 35,000, and tickets can be purchased at the Koperasi Angkutan Laut Karya Bahari office (check with your accommodation!).
Standup paddleboard
On the sunrise side of the island you'll see stand up paddle boards for rent. For the most part the water is pretty waveless, though the current can be very strong. Currents and tides are always changing so be sure to ask which areas to avoid before you head out.
Rent a bicycle
I had so much fun cycling around this little island. You can rent a bike for as little as 30,000 IDR per day (like $2) and go all around and through the island. Gili Air is flat, and a little bit like a labyrinth, which made it so much fun to explore. You'll want to rent a fat bike with big tires if you plan on heading around the west side of the island since it's mostly sand, but otherwise a normal bike will do you just fine. Pro tip: if you have a headlamp, use it at night. Most of the bikes don't have headlights.
Watch the sunset on the western side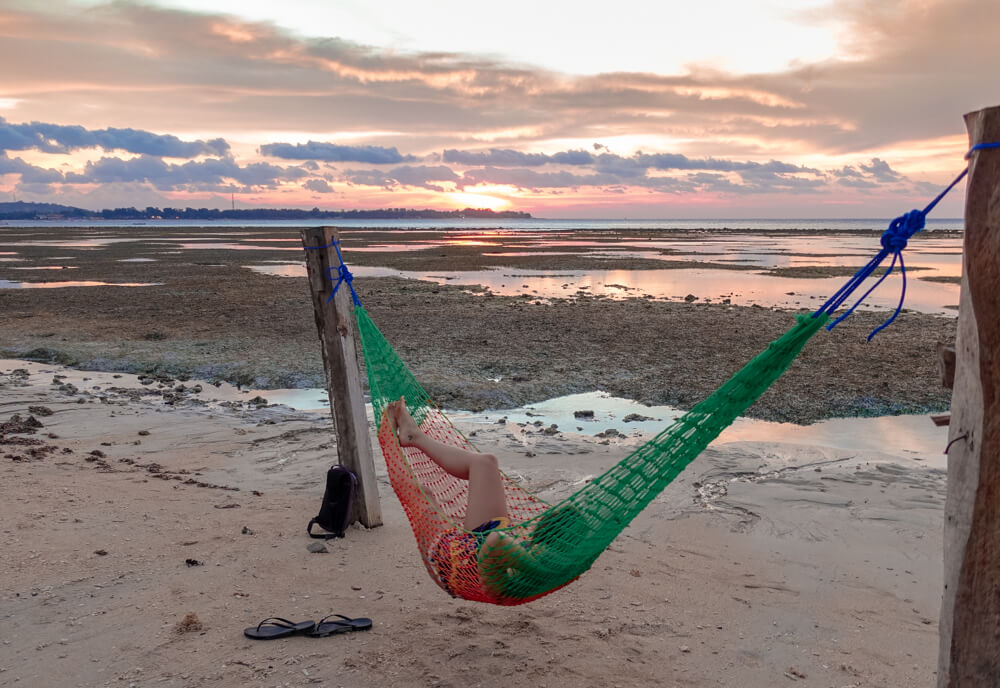 I spent every evening on Gili Air watching the sunset on the western side. Most of the open air bars out there play nice music and you can just take a walk and sit on the sand or grab a drink if you feel like it. Depending on the tide, it may be way out and you'll see a bunch of tide pools. Be a bit careful walking through these as there are sea urchins.
For the best spot, cycle out to the junction of Sunset Blvd and Jalan Pelangi Sunset View. Word got out about the famous sunset swing in Gili T and now just about every bar on Gili Air has a swing or hammock, too. Go for whichever place has the music you like best and enjoy!
What to eat (incl. vegan options)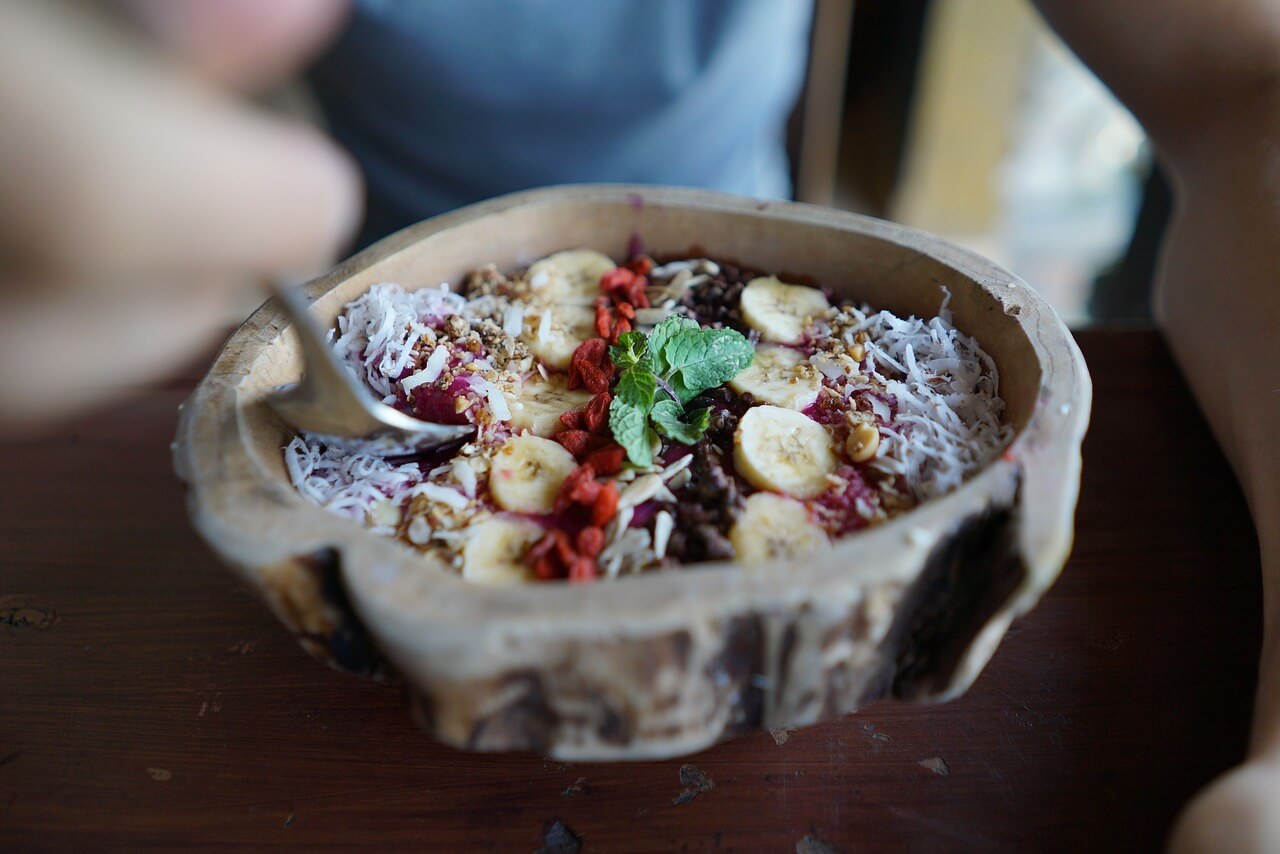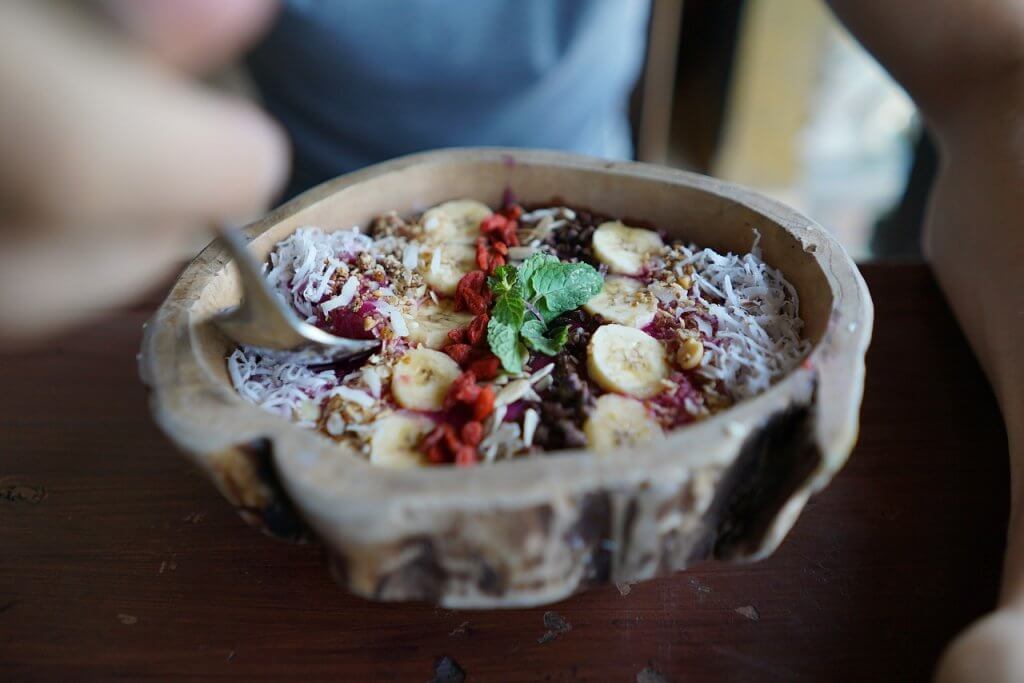 There's some pretty good eating on Gili Air, and good coffee and cakes too! I was eating vegan when I went and was delighted to find that there were so many options. The following are restaurants that serve a wide variety of foods, so don't worry, the following isn't only for vegans:
Coffee & Thyme: This coffee shop by the harbor has the best coffee on the island and some delicious cakes too. A lot of their cakes are vegan friendly as well. My favorite dish was the veggie club although for food, this wasn't my favorite option. For coffee, however, it had me going back daily.
Aura Bowls: This is the cheapest place on the list and was also my favorite out of everything I had. The menu consists of mostly Indonesian food with prices from 25 to 40,000 IDR. It's super small with only one table and a bar to sit at but if you can get a spot, it's so worth it. The green smoothie is super creamy and honestly one of the best green smoothies I've ever had, Probably thanks to the copious amounts of coconut cream. The urap-urap and curries are great, too!
Pachamama: This restaurant is healthy and organic with vegan options although they do also serve meat. I found the bowl I ordered a bit bland but the food others at my table ordered was pretty good so it's still worth recommending this one.
The Mexican Kitchen: As a Southern Californian I'm pretty snobby about my Mexican food, but I did enjoy the raw vegan lasagna at this restaurant and the guacamole was pretty good too. On Monday nights they have free salsa lessons as well! It was a fun way to spend the evening and get my heart rate up.
Ruby's Cafe:With a combination of Western and Indonesian food, this restaurant is delicious and has an element of romance as well. I really liked the pumpkin curry!
For cheap local warungs, head to the Harbor. Both times I've been on Gili Air were during Ramadan so these places weren't open during the day, but it's your best bet for cheap, local eats under two dollars for a filling meal.
BBQ: You'll also see tons of restaurants along the beach with fish and meat out for barbecue, both on the sunrise and sunset sides. Prices and quality are typically similar. I'd pick based on how their fish looks.
How to get to Gili Air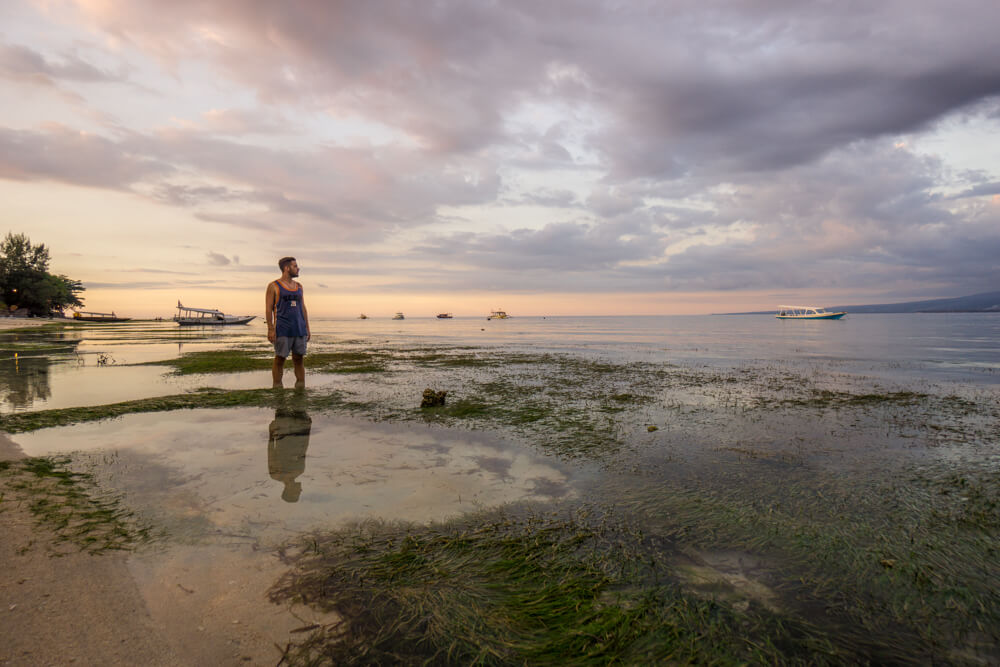 From Lombok: Both public and private boat transfers are available daily from early morning to late afternoon at irregular intervals, depending on the sea conditions. The main ports are Bangsal Harbor, Teluk Nara, Teluk Kode, and Sengigi. To do it cheaply and safely, head straight to the ticket office on the beachfront and purchase a ticket for the boat. There will be prices stated clearly on the wall. Avoid purchasing your tickets from people outside the ticket office, as touts and scams are very common.
For the public boat, the boats leave when full and stop running at 5pm. During high season they leave frequently but in low season you might have to wait for a while. The crossing only takes 15 minutes and costs a few dollars, so during high season, this is my favorite option.
For private boats, most companies have fixed schedules. Bluewater Express and Gili Getaway are two of the longest serving and most reputable companies. Note that luggage carrying service is NOT free and it is one of the scammers' tricks. If you do need luggage carrying service, negotiate on the tip first.
Finally, if you want to charter your own boat, it costs about $30 and takes 5 minutes to cross the channel. This is the quickest and most convenient option (and one I've done after 5pm). The best place to catch a boat is just before Bangsal Harbor. Ask whoever is driving you to take you to a charter boat.
From Bali: There are a few departure points from Bali to Gili Air. The most popular port is Padang Bai, a shuttle ride away from the popular Kuta. The fast boats depart between 9am – 9:30am, so most people would spend the night in Kuta or Padang Bai itself, and leave early morning. You should be able to arrive at Gili Air in about 2 hours. There are also public boats departing from the same port for a fraction of the fast boats' price, though it's not the most pleasant nor safest option.
From the southwest, Serangan Harbor also offer daily transfers to Gili Air. Another departure point is Amed, located in northern Bali, and Sanur, down south. All fast boats make a stop at Lombok before heading to the Gili Islands.
Click here for the Bluewater Express boat schedules for 2018!

Where to stay on Gili Air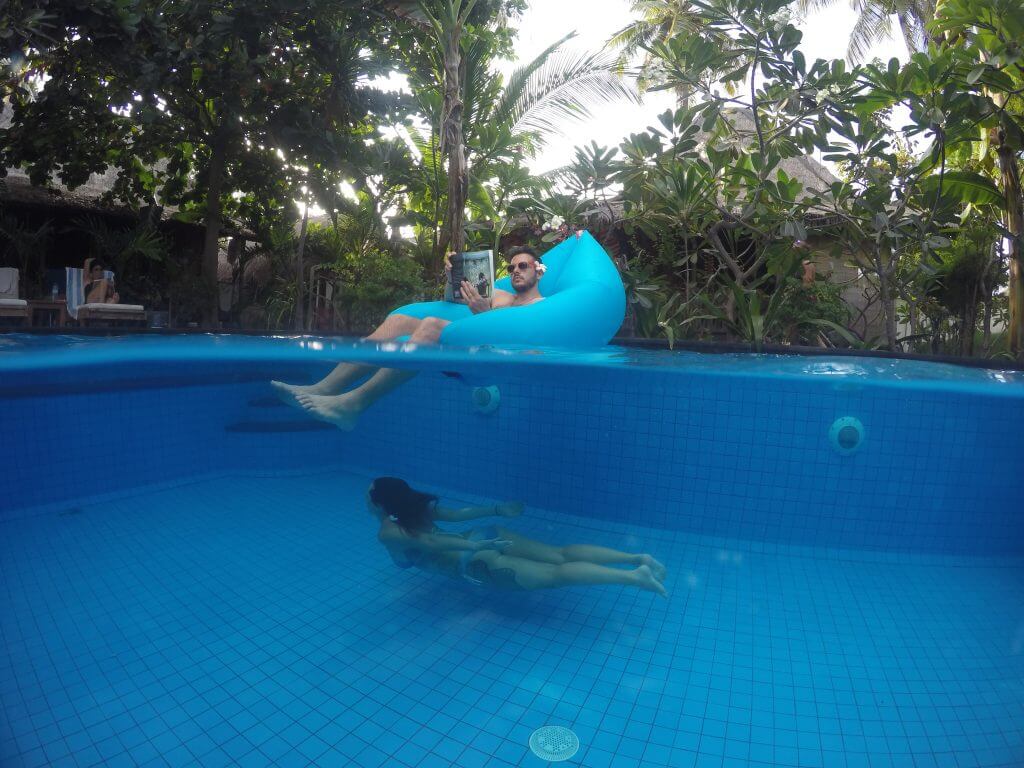 The island has a different vibe depending on where you stay. In the area near the harbor, there's a bit more activity and energy. In the middle of the island, you'll have more of the hidden and quiet bungalows, but no views. On the sunset side, it's a bit more laid back. These are a few good picks:
Pink Coco: This is one of the best rated places on the island within the $100/night price range. Everything is pink, from the decor to the bikes and the bean bags on the beach. Like seriously it is a pink explosion! You've got access to a nice big pool, a sunset view, and plenty of Instagram ops.
UnZipp: I stayed in this bungalow my first time in Gili Air and loved it. The outdoor shower and rooms right on the pool, surrounded by frangipani flowers, all had me swooning.
Botanica: This is where I stayed earlier this month and for the price point, I thought it was perfect. The downside is there's no pool or view, but the upside is the value for the money. Plus, it was right across from my dive school.
Every time I go back to the Gilis I find myself looking for reasons why I need to go back. It's just so laid back, without cars or gas stations. It's perfect for chilling or learning a new skill in the water, and if a little partying is what you're after, you can find that too.