The following post is written by Gaby, BMTM's resident surf expert:
When you think of Bali do you think exquisite, crystal clear blue waters that merge perfectly onto pristine, white sandy beaches drifting endlessly along tropical coastlines? If you mention the name Indonesia anywhere in the world, you will more than likely excitedly be told about the incredible waves and off the beaten track roads that should be explored in this natural paradise. Bali is the perfect location for any adventurous soul hoping to learn to surf.
As a young, female, South African surfer girl, the ocean has always been a huge part of my life. Last year, I encountered a new romance at my local spot where I was working as a surf instructor, which led me to embark on an exciting new adventure by jet setting to Bali in order to join my man. Enjoying the equatorial bliss on an unforgettable surfing adventure is definitely a better option than enduring another European winter!
4 months later I'm still in Bali, surfing some insane spots, pushing my limits both mentally and physically, while improving my surfing a heap load, but I still remember what it was like way back when I was learning the craft. Indonesia may cater to more advanced surfers with its sharp, coral reef sea floors in shallow break zones, strong currents, fast breaking waves with generally more steep, hollow, heavy take offs, particularly when bigger swells kick in. But wherever there are waves, there are always opportunities for newbies to experience and learn one of the greatest extreme sports that exists!
Major tips to note before surfing in Bali

Never go alone
Know your entry & exit points
Know your hazards – currents, (rip) tides, reefs, rocks etc
Know the crowd – aggressive/ competitive or sheer no. of people
Type of wave – size & hollowness, speed & heaviness
High/ low tide hours – especially for reef breaks
Best time to surf is during the dry season – April to October.
The 5 Best spots to learn to surf in Bali
Kuta
Padang Padang right
Thomas Beach
Balangan
Nusa Dua

BY REGION:
South West Coast of Bali- Kuta, Canggu & Seminyak
Kuta
Kuta is one of the most popular tourist destinations in Bali. Huge selections of bars, restaurants and cafes are jotted all over town, many of which are within walking distance to Kuta Beach. Kuta is the number 1 surf spot to learn to surf in Bali as it is one of few beach breaks the island has to offer. Beach breaks, meaning the floor is soft from sand, enables one to risk more and not have to worry about hitting, or more so not hitting, cement like plateaus found at reef breaks at other spots around Bali. Soft, mellow waves break far out from the shore, creating thick foamies that are perfect for giving time to try stand up and get a good length of ride.
The surf schools on Kuta beach are usually a simple set up of big soft boards propped up next to plastic chairs and tables, strategically placed under big tropical coconut trees where the locals will sit and enjoy chatting to anyone interested in taking up their services or simply wanting to know them! Go to a school where you feel most comfortable. All the guys are super friendly and will teach you the basics of what you need to know. They will give you a nice soft board, super for learning on, and look after your belongings while in the water.
The instructor will give you a quick introduction on the beach about how to stand up, control your board and basic tips on safety. Kuta is renown for being a bit of a jungle in the line up as when bigger waves start rolling in, many learners are likely to abandon their boards to dive under oncoming waves. Keep your eyes open and expect the unexpected!
The wave itself is soft. It's easy to paddle out when the swell is small and white water enables beginners to choose how deep they would like to go. Anyone not so confident in the ocean can stay waist deep where you can still have fun and an all round wonderful experience without fear. For those getting the knack of it quickly, take a chance riding sideways out back! This is the perfect place to do so!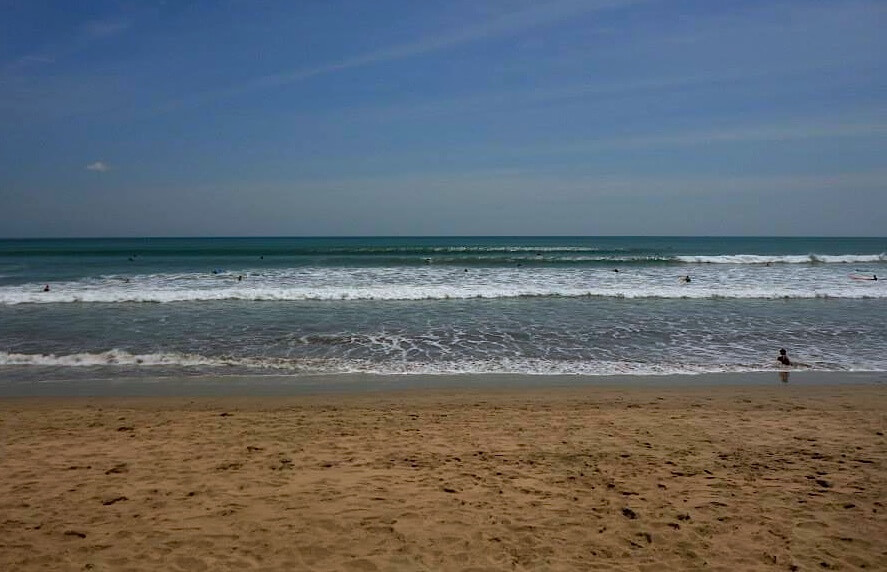 Hazards – Big crowds including surfers & swimmers. Boards flying around, Drop-ins and out of control boardriders in the lineup.
Ideal Learning Conditions – 2-4ft. Offshore wind. Any tide – low/ mid/ high. As Kuta is notorious for its pumping nightlife, hangovers may prevent early rises for uncrowded early morning surfs.
Canggu & Seminyak
North of Kuta, these are slightly heavier breaks for more advanced and confident surfers. The waves are generally bigger, faster, more hollow, and close out quicker than Kuta. One needs to know how to pop up fast and ride sideways along the wave. Going straight down the face in the direction of the beach will lead you directly into the impact zone, probably after an epic, jaw dropping nose-dive which is more likely to entertain sun bathers watching from the safe banks of the shore! These spots can be worth the challenge to push your limits and try advance your surfing post-Kuta. However, be aware of solid reefs, strong current & rip tides. Waves can also appear much smaller from the shore than what they actually are in the water.
SLEEP: The best place to look for accommodation in Kuta are on websites such as Agoda and Booking.com. The area of Legian and Kuta should be used as reference. Minimum per night can be as low as 50,000 IDR, average around 150,000 and more upmarket places are from 350,000 IDR onwards.
EAT: Just walking off the beach will lead you onto a coastal strech of bars, restaurants and cafe's, catering to all budgets. Either eat a local dish on the beach itself (fruit salads/ rice with chicken) at local rates. Otherwise, find a place that suits your cravings on the road off the beach.
Bukit/ Pecatu Region – Southernmost tip of Bali
Host to world class surfing waves and World Tour surf competitions, the Bukit/ Pecatu region is renown for its incredible consistency in delivering perfect waves and its ability to hold any size swell, especially during the dry season.
The beaches in this region have exquisite, picturesque backdrops of tall, steep cliffs with thick green overhangs from flora and fauna that have nestled into the golden rocks. Gorgeous golden sand and transparent, turquoise water make it a beachlovers paradise, while warm water enables hours of bathing with or without a board. The breathtaking beauty of boulders and reefs tracing the shoreline make these surf breaks unforgettable and easily distinguishable from other regions in Bali. However, when it comes to surfing, the jaggered sea floor becomes a hazard and something all surfers need to be aware/ careful of. kissing the reefs will likely leave some daunting scratches or open wounds, and infections are easily attainable if sores are not attended to with care.
BEST Bukit spots for learning to surf
Padang Padang – Right!
Thomas Beach
Balangan
Bingin
Uluwatu
Nikos Beach
Mushroom Rock
Seringan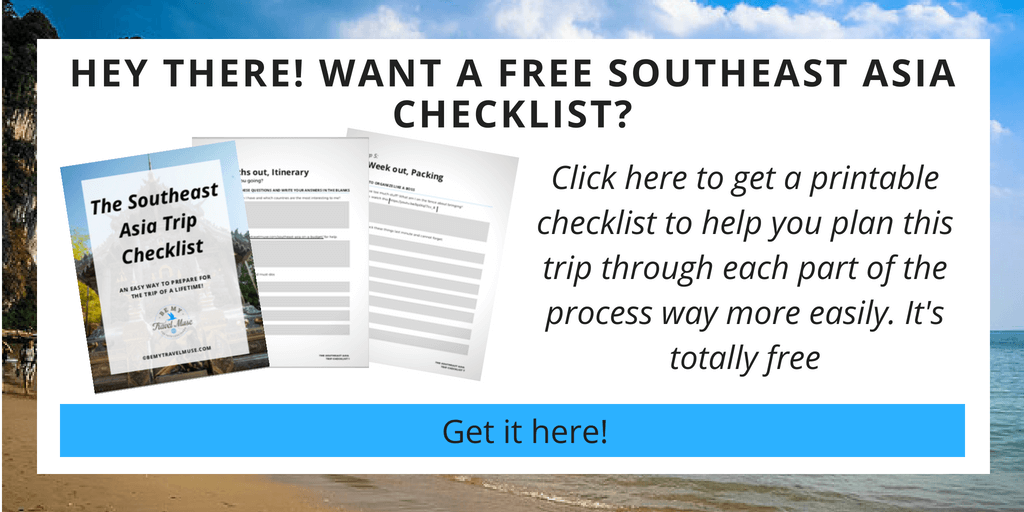 Padang Padang Right
There is the famous, barreling, left-hander wave hosting the annual Padang Padang Cup that should be avoided at all costs! It is a heavy wave for advanced surfers only – a definite NO NO for beginners! The wave you are looking for is the mellow right that breaks almost directly in front of the beach, closer on the inside towards the shore. A nice right peeling wave works on all tides, although it's better to paddle out mid- high tide when there is more water covering the reef. When the swell is big, currents can become strong and waves more wild. A surf school set up on the beach is run by locals that will explain everything you need to know. You can trust they will never take you into conditions they feel are too dangerous. Board rentals are also cheap – 150,000 IDR so should you feel you want to continue surfing after a lesson, its possible to do so. A lesson before attempting to go solo is recommended for getting to know dangers.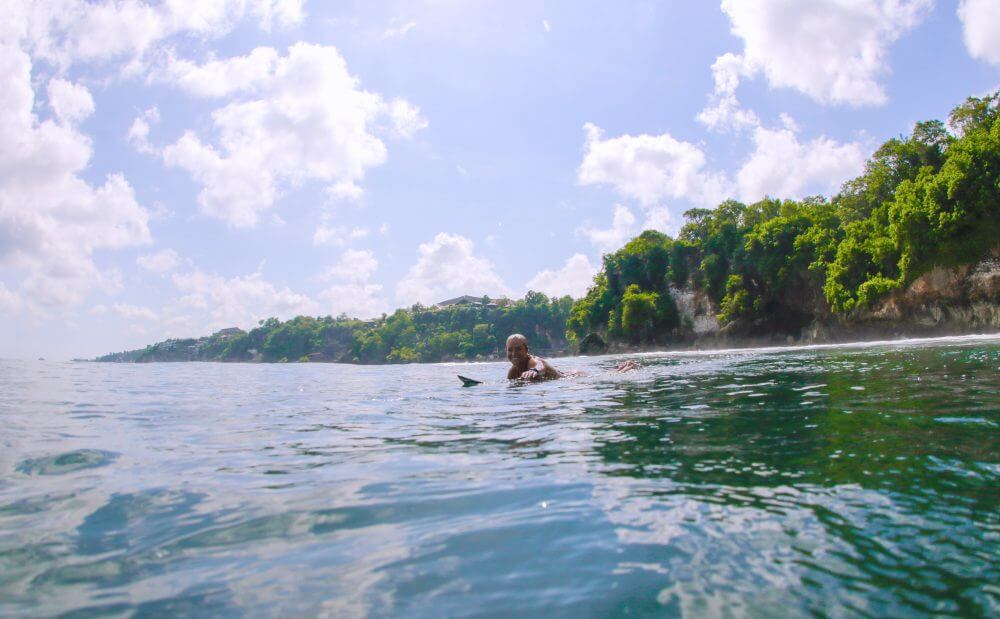 The walk down to Padang beach is often a tourist attraction in itself, with a natural gateway of steep concrete steps carved alongside a large boulder leading into a narrow cave and widening out at the bottom. Many people enjoy taking a moment to photograph this spectacle of an entrance. Trying to manoeuvre through this slot with a surfboard can be quite tricky. The best is to make sure you don't end up behind a tour group that have gingerly stepped off their bus!
Ideal surfing conditions – 3-5ft waves, light offshore wind, mid to high tides.
Hazards – Hard reef floor, strong currents and big crowds.
Beach Info – Entrance fee is 10,000 IDR per person. Parking fee for bikes is 2,000 IDR. The beach almost disappears on peak high tides and monkeys also like to roam around, so be careful where and how you leave belongings. Food and drink is sold at stalls on the beach. Lunch will cost you around 30 -50,000 IDR. Cheaper options are found on the main road not even 5min walk away, including minimarts for those on a tighter budget.
Thomas beach
Thomas Beach is a mix between a reef and beach break. Swell has to be pretty large for these waves to be surfable, usually when Uluwatu is 6ft+, but when it does, there are awesome, fun and easy lefts that peel off from the side of the cliff on the far left hand side of beach, and faster, more close out lefts and rights breaking in the middle. The left's seem to form better and open up for longer in the sense it will give a longer length of ride with opportunities to attempt basic turns.
In the middle of the beach, the rocky coral reef almost zigzags across the shore so there are sections where the ground is soft and other sections hard. Because the wave breaks further out in some places, the white water created enables beginners to attempt to surf just the foamies, although it's better to attempt the drop at the left hand peak to give more time to stand. It's by far one of the easiest waves this side of the coastline and is unlikely to be crowded, as large swell attracts surfers to neighbouring spots.
The beach itself is only a few hundred metres long but has soft golden sand, rich blends of lush green vegetation crawling down the sides of the cliffs and lining the back of the beach, adding a gorgeous backdrop to this majestic bay. The tall cliffs, trees and bushes provide shelter from the scorching sun on hot afternoons. Very low tide exposes the dry reef and enables a stunning walk deeper out towards the flawless aqua blue sea, or adventure behind the boulders on either end of the beach.
Hazards – Low tide reef exposure and close outs.
Beach info – No entrance fee. Steep flight of stairs from the parking lot to the beach. Lifeguards monitor the beach.
Balangan
A left-peeling point break perfect for beginners. A coral reef base lines the shore, but at the peak there's much deeper water making it easier to take the drop. The beach itself is absolutely gorgeous with the massive golden cliff and it's lush green overhang towering over the transparent water, as well as colourful and lively coral adding an extra tropical sensation to the surf experience. Balangan is easy to get to, easy to paddle out into and a great option to start learning how to ride green waves.
Bingin
This is a popular spot for families with younger children as the gorgeous enclave delicately lined with soft white sand provides a lovely ambient for playing on the shore, splashing in the warm ocean and simply relaxing in beautiful Bali! Bingin has breathtaking picturesque views, wonderfully convenient in having a selection of cafes and restaurants up on the rocks and good to advance in surfing!
Bingin is a left breaking wave where swell can reel in some bomber barrels and impressive crowds for surfing. There are no surf schools on this beach, but surf shops or camps providing lessons may bring you here if they feel it is safe to do so. It's only possible to Learn to surf on higher tides and small surf days as the shallow water crashing onto rugged reefs can be hazardous to any surfer, let alone beginners. The end section of the wave is usually more shallow than the take off, but when the waves break further out or at least on higher tides providing added depth for cushion, the foam that rolls in from the broken waves have quiet a bit of kick to them.
Surf schools will usually opt for going to Padang Padang as its simply easier to coach there than it is at Bingin. Impossibles is another famous wave right next door. However going out back would not be recommended as the spot got its name for a reason!
Hazards – competitive/ aggressive crowds, strong currents, big waves, and a shoreline scattered with rocks on top of hard reef. Avoid low tide at all cost and make sure you paddle toward the beach and not restaurants for safe exit. When the waves are big, they are tricky for a beginner. Only go on small days – Max 4 ft.
Beach info – car park fee is 5,000 IDR. The stairs are to the right. Ask locals if unsure on directions, otherwise you can end up confused as to how you haven't made it to the beach after walking a while! It is safe to leave valuables and personal belongings on beach and in one of beach cafe's, but try not take any expensive items of you plan to leave belongings alone…you never know!
Uluwatu
By far the most famous surf break in Bali, this is one of the most amazing, exciting, exhilarating and just awesome spots for surfing, sunbathing and sightseeing. Breathtaking panoramic views of the ocean, impressive cliffs and heavenly tropical beaches makes this a special location for witnessing some truly stunning sunsets. The beaches at Uluwatu are relatively small. Weaving your way down between the numerous restaurants built into the rocky cliff side, the zig zag descent leads you to a magnificent cave that is the entry point for surfing and exploring this unique paradise.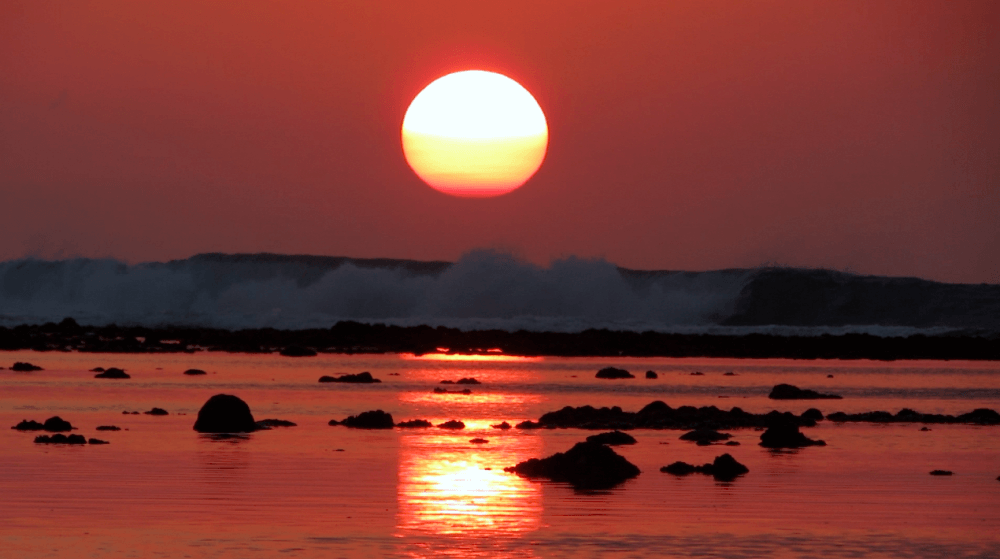 Live coral reefs expand deep out to sea with narrow enclaves, creating a mix of aqua, sky and Safire blue ocean lines from above . At low tide, the water sucks out and exposes the algae that has grown over the shingle reef. Narrow stretches of golden sand are elegantly tucked between the reef and cliffs, providing a perfect base for a sunsational sunbathing session!
The name "Uluwatu" means Lands End (Ulu) Rock (Watu) and understandably so when you see the outstanding magnitude of the tall cliff. The most amazing part of Uluwatu beaches is the cave – the entry point to sea and beaches. Steep manmade stairs etched into the side of the cliff lead into a natural arc with big, dark rocks contrasted by thick green foliage. Early in the morning, rays of sun shoot their beams through the crevices and into the transparent ocean below.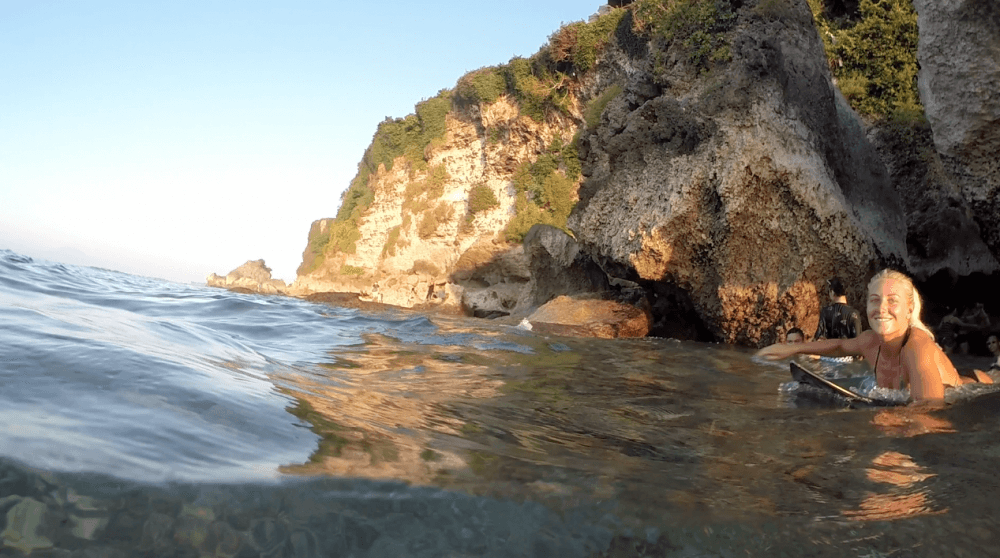 Uluwatu surf has many sections. Although not recommended for first time surfers, Inside and Outside corner are the safest options for beginners. It should only be surfed on mid to high tide to have water covering the coral platform and swell should not be greater than 4ft. The reef here is vicious. It's not uncommon to see guys being shifted to hospital with holes, lacerations or serious head injuries. This is not to create fear, but the reality is the floor here feels like cement, with lively, razor-sharp coral that cut on the slightest skim. Smaller waves requires more water, as they break and close out faster.
Uluwatu has some exaustingly strong currents pushing down towards the rocks in the direction of Thomas Beach. Every time you catch a wave, you need to paddle out in the direction of the horiz on before you paddle left towards the peak. Exiting the water requires slipping back through the cave mouth. Bad timing or positioning for exit can lead to all sorts of trouble. (See my blog "Unleash in Uluwatu" for some first hand account of such an occasion!)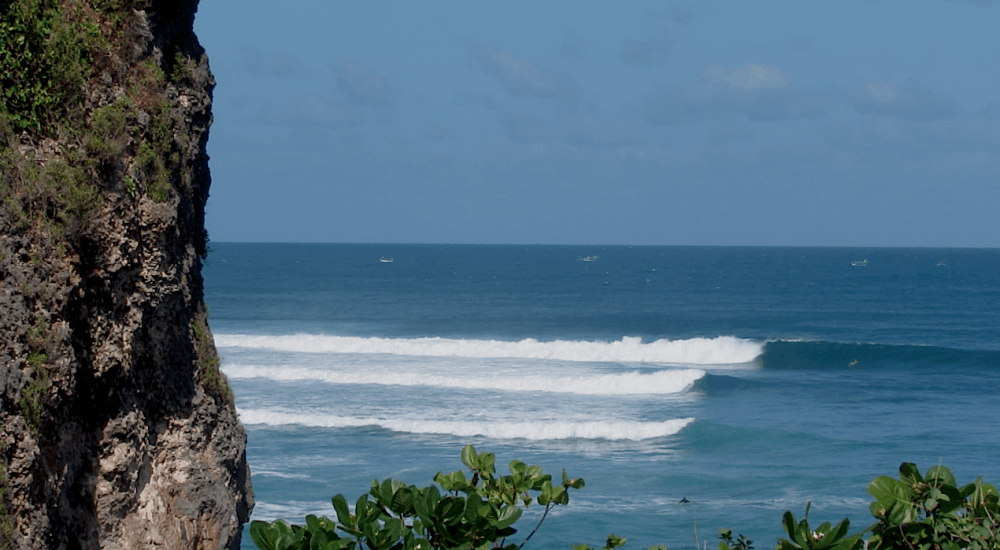 Hazards – Extreme Currents! Hard coral reefs, impatient surfers and ruthless crowds, sometimes more than 70 people in the water at one time. This is one place you must respect the locals. Dropping in on one, or interfering w ith their wave somehow, can be the end of your surf at Uluwatu. Monkeys hanging around the restaurants or down the path heading towards the cave can be little buggers, especiallly if in a pinching mood.
Beach Info – Entry Fee for motorbikes is 5,000 IDR. It's NOT safe to leave belonging in your vehicle. All food and drinks can be bought at any of the restaurants. The very first two as you walk down from the car park are the most expensive and overpriced even for someone not on budget – Single fin, the most famous in this area, is also renown for its Wednesday and Sunday night parties, h osting awesome international DJs and a hot spot for meeting others during your stay.
EAT: Warung Noodle Heads, 5mins drive up the road (going away from the beach) from Padang, owned and run by a wonderful local Indonesian lady who speaks fluent English – Saffire, eat your heart out on the most delicious and massive portions of rice, noodles, salads, ribs, sandwiches and other mouth-watering dishes! Prices are super cheap – 35K IDR for "double portions" that can be shared between two, if not 3 people! Usually open from 2pm-10pm Tuesday to Sunday.
STOP Makan – situated on Jimbaran main road. It's more central for Balangan beach or heading to Nusa Dua. Great buffet style Halal and Indonesian food where you select what you want and pay for your plate. Awesome, rich and tasty dishes give opportunity to taste a variety of new flavours and food combinations at very good prices. The inside decor is very artistic, rustic and colourful with funky signs such as "looking for wi-fi? Try looking for your wife!"and "life's better on the beach". A very vibey Warung worth the drive for a decent lunch or dinner.
Pizza Italia – At the top of Jl. Labuhan Sait, the name says it all. Decent pizza and pasta with good portion sizes are sold until late in the evening. A bit pricey but a great alternative to having a break from chilli loaded local dishes. Service charge of 15% is added to bills, so just be aware of this… expect to pay around 100K per person per meal.
Beach cafes & warungs – At each surf spot, any of the cafes/ warungs will sell local dishes, such as Nasi or Mie Goreng (fried rice/noodles with vegetables & chicken), sandwiches, omelets etc. International dishes are usually quiet a bit more expensive. Soft drinks are sold between 10-15,000 IDR, Coffees around 20K and beers roughly 30K. Meals usually start at 30,000 IDR.
SLEEP: Nightly rates usually start from 250,000 IDR per room, getting more expensive with closer proximity to beaches or offering views. Planning to stay for a while? Try arrange a monthly rate. Budget accommodations offering such prices are jotted down Jalan Labuhan Sait, including-
Baik Baik home stay – 400,000 IDR per night or 3.5 – 4 million IDR per month with aircon, access to kitchen and two swimming pools.
3D Homestay – Spacious fan or aircon rooms between 3-3.5 million IDR per month. No pool, but restaurant on site. They also help with motorbike rentals and day trips, Including boat passes to Lombok & Gilli Islands.
LBS Surf House – within walking distance to Padang beach, spacious rooms cost 3-3.5 million IDR per month for fan or air con. Big garden area with swimming pool access. They can arrange motorbike rentals or help with car rental contacts for the duration of your stay.
Type Uluwatu, Padang Padang or Bingin on Agoda.com or Booking.com for more options.
Nusa Dua
This is by far the cleanest, most pristine, golden sand beaches of the entire Pekatu Region. Nusa Dua is a wealthy area lined by upmarket resorts and a fabulous complex that has everything from shopping centers, cinemas, water parks and an incredible hospital of international medics and standards. There are several different surf breaks within Nusa Dua that cater to all different types and levels of surfing. Beginner spots include – Nikos Beach & Mushroom Rock.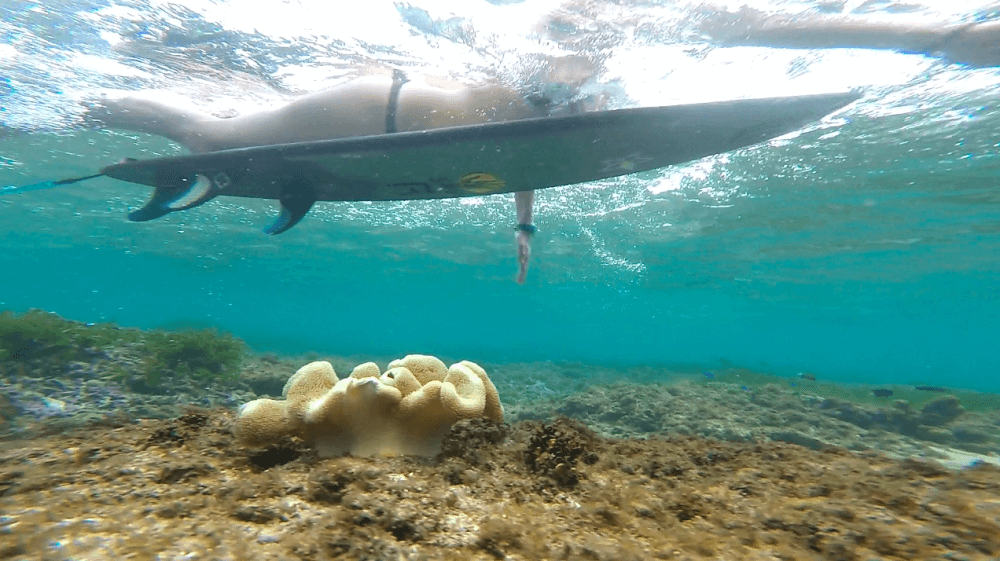 Nikos Beach
This is the first break heading into Nusa Dua from Uluwatu. It has a hollow, fast, barreling right that breaks over coral reef, on the far right hand side of the beach, closest to the pier. Right next to this, there is another right breaking wave, with slightly deeper water than the shallow reef break and a much softer, slower and easier drop where many beginners like to hang out. There is also a third section more on the inside, closer to the left hand side of the beach, that only works when the swell is bigger and on a higher tide. The wave is short so it's not possible to ride a long time, but it's easy to catch and practice getting to your feet quickly.
Nikos has one surf school in the far left corner of the beach that many foreigners use for lessons and board rentals. Nikos is a great place to learn as the beach is more secluded by being situated in front of classy resorts that pay great attention to upkeep of its grounds.
Hazards – Very shallow water (literally below knee-deep) and solid reef. Chaotic crowds of people scrambling and boards being flung.
Beach Info – Beach access by vehicle is either through the Hilton resort or a road under construction, which has a lot of loose stones bikes can easily skid on. Cars must be left at the top of the hill as there is no space to park at the bottom. At night there's no light, so it's best to make it back to the main road before dark.
Mushroom Rock
Inside Nusa Dua complex at the entrance to "Water Blow", it's the first break on Nusa Dua beach situated on the right hand side of the park. Similar to Nikos, there are a few sections of wave that break within metres of each other. All have reef bottoms, but on mid to high tide, water becomes deep and it's fine to surf without worrying too much.
Mushroom rock is situated on a huge stretch of beach that has countless numbers of hotels, restaurants and beach cafes, all of which are neatly tucked into the back-end of the beach. The endless stretch of sand elegantly weaves along the coastline, and has steep banks running horizontally from the water's edge up to the paved walkway in front of tasteful chalets above. Thick green flora and fauna, and perfectly aligned palm trees create natural shade up from the ocean. The water is so unbelievably clear, a bright, transparent blue, allowing to see plenty of colourful fish and an array of aquatic plants that are better than what can be seen on paid snorkelling tours!
Hazards – coral reefs, hollow waves, fast closeouts on low tides. Sea urchins hiding in the coral reef with long venomous spikes can nastily pierce and stick to the skin, creating a strong burning sensation. Remove the spike immediately and bathe in urine to disinfect!
East Coast of Bali – Serangan & Sanur
The Eastern coast of Bali is characterized by fine, black volcanic sand and small, shiny, jet black pebbles scattered all over the water's edge. All the beaches along this coastline have hard, dark, concrete like reefs cemented firmly into the ground with little growth of algae and other marine plants seen in the Bukit region. The black sand becomes extremely hot as the Sun glazes down in full power from around 9am onwards, but its easy to seek refuge from heat under the lush green vegetation and tall palm trees that run all the way along the back of the beach. The sea water appears dark and murky but over the ledge of the reef, a few metres off the shore, the ocean becomes a tropical mix of deep blue and bottle green colours blending together between their patches.
Looking out to sea, Nusa Lembongan Island sits gloriously with its big mountains covered in dense, tropical forest. On a clear, sunny day, the island seems extremely close as it's possible to see houses and other buildings built up on the mountain side. On Bali island itself, Mount Agung, the highest volcano, and other mountains and volcanoes make a picturesque landscape and unforgettable view/ backdrop.
Serangan
Serangan means Turtle Island in English, and is the first surfable beach reached when you exit the Mandara Toll Road Bridge either from Nusa Dua or Denpasar. It's the easiest wave in this region with easier take off, breaking in an A frame both left and right and sand bottom. Bigger swell brings in pretty sizable waves and not suitable for beginners. Even on small days, try not sit too far to the left as it is a more hollow break, reef bottom and occupied by more advanced surfers, including heaps of locals.
One has to travel a few kilometres down a wide, dusty, bumpy road to reach the beach and surf break. It is usually very crowded with scooters flying past in all directions, cars weaving between the potholes and bikes, big groups of families with surfboards, body boards and fishing rods, and clusters of warungs and surf schools that line the beachfront upon arrival. The gravel road, once you reach the end of the straight, continues hugging the coastline for over a kilometre in the direction of Sanur, where there are even more warungs and beaches to sit on. Eventually you will reach a point of no return by car or bike, but if interested, possible to explore by foot.
Hazards – (Avoid) Serangan Reef due to hard floor and faster breaking waves, big swell means big waves and a NO NO for beginners! Big crowds, especially over weekends. Avoid Sundays in particular, and mid to high tide is always recommended for learning.
Optimum surfing conditions for beginners – 2-4ft, mid to high tide, Monday to Friday.
Beach Info – Entry R for scooters. As soon as you have paid, take the road in the middle, heading straight where therefee is only 2,000 ID is tree cover and the widest road. You may think you have missed it or driven too far, but keep driving until the very end as Serangan is only place at the end of the road. It's a good 10-15 minute drive on a scooter from where you pay entry to the actual beach itself.
Sanur
A 15-minute drive North from Serangan, Sanur has epic right peeling waves that break off the reef about 150/ 200m out from the shore. This spot should only be paddled out as a beginner when the swell is around 3-4ft max. Any bigger and it becomes a more advanced peak and probably a little scary and dangerous for someone still in the initial stages of learning to surf. Translucent water appears both green and blue, with splendid backdrops of Nusa Lembongan in the far distance looking out to sea, and numerous volcanoes covering Bali.
Hazards – Sharp reefs, shallow water on low tide, big barreling waves in big swells. Sanur is only possible for beginners to surf up to 4ft at tops. After this its too heavy and difficult for even more experienced surfers.
Beach Info – Entrance fee is 3,000 IDR per scooter. There are plenty of warungs built up around the entrance and at the back of the beach. It's best to go with as little as possible and don't leave anything just sitting on the sand or in your bike compartment. The less you have the better. Sanur has other more beautiful, exotic beaches further down South, but do not have waves for surfing.
As the surf capital of the world, learning how to surf in Bali is a must! Even if you're not a strong swimmer or keen ocean lover, just give it a try! An hour or two in the water on a board will be a life changing and unforgettable experience that is sure to leave you stoked and craving more! Leave all your fears and worries on the beach with your bag and belongings and just go out there, give it a shot, have fun and have something different to go home and tell your friends and family! Who knows you don't have extraordinary natural talents and find this to be the sport your were meant to do all along!
For more information about other surf spots in Bali, feel free to contact me. Secret spots will not be mentioned as they are secret for a reason! However if you know you are confident in the water with a board and want to know where to go during which months or seasons, im all ears and happy to help! Learn to Surf!! It's the best decision you could ever make! Feel the Stoke! Feel Alive! Live the dream! Come to Bali!!! :)!!!
Photo Credits:
Alexandre Ribeiro – Brazilian Water Photographer
Itamar Guimaraes – Professional Brazilian Freesurfer & Filmmaker
Orige Productions – Images & Films Inspired by Cinematographer Art
Gabrielle Fisher is a qualified South African surf instructor currently living and working in Portugal. She studied Organizational Psychology & Industrial Sociology at the University of Cape Town, but as an outdoor enthusiast who loves travelling, surfing and writing, she began working as a freelance blogger in 2016. She coaches during the European summers and travels during the winters. She recently returned from a 5 month trip to Bali where she spent her days surfing, filming pro surfers and collecting useful information to share on her blog.