The Nusa islands off the coast of Bali in Indonesia are exactly what you're looking for if you want the beauty of Balinese culture but wish it came without the crowds. Located just 30 minutes by boat from Bali's Sanur, this is what people say Bali was like 30 years ago.
There are three Nusa islands: Lembongan, Ceningan, and Penida. Nusa Lembongan is the closest to Bali and the most popular, followed by the smallest; Ceningan, and then the biggest and least popular; Penida.
Most people just pop over to the Nusa islands for a day or two, and only visit Penida as a day trip. I hope this guide convinces you to reverse that, spending more time on Penida and exploring this beautiful, mystical island, the only one of the three that truly does feel like a quieter Bali.
This trip can be done in four days, though you can easily expand it to cover a week or several weeks.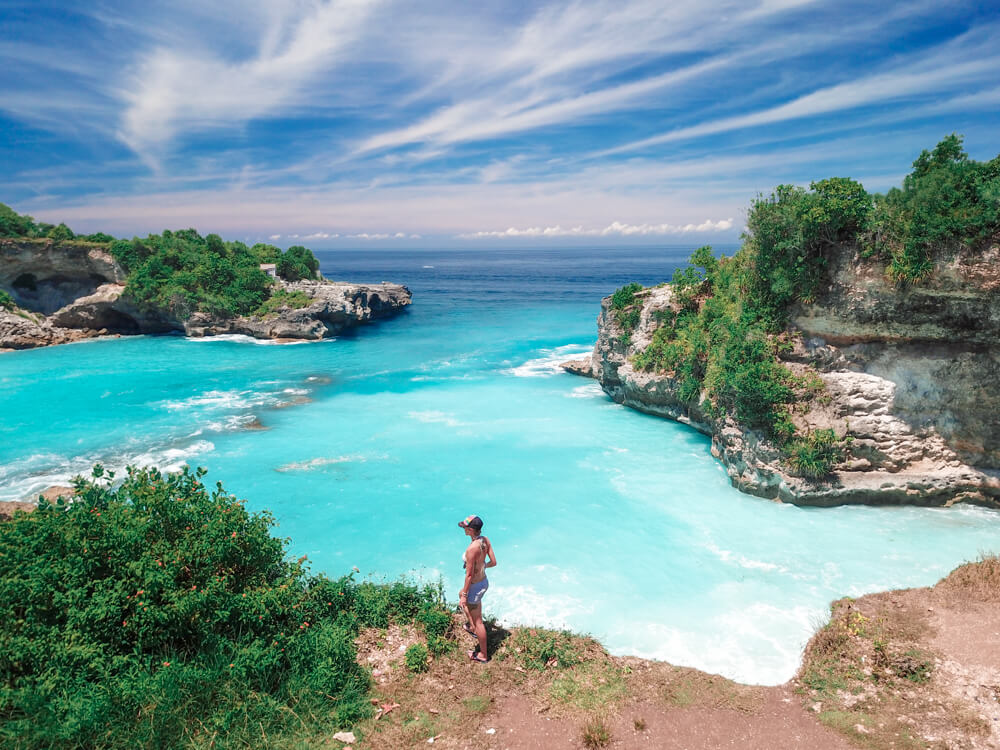 This is the ideal Nusa Islands itinerary:
Getting There
Nusa Lembongan is the starting point for your Nusa islands trip. You can either get there from Bali or Lombok. From Lombok, you can take a fast boat for 2,300,000 Rupiah, which includes pick up from your hotel in Lombok. The boat departs at 7:30am and 12:30pm daily, and the journey takes about 3 hours.
If coming from Bali's Sanur, You have the following options:
A local slow boat: This one leaves Sanur starting at around 8am (though public boats in Indonesia tend to just leave when full) and costs 60,000-100,000 Rupiah. The journey takes about an hour to 90 minutes and is the least comfortable and safe option.
Perama local boat: Leaves Sanur at 10:30 and costs 150k Rupiah and also takes 90 minutes to an hour though on a slightly larger and more comfortable boat.
Fast boats: A fast boat with nine daily departures which includes pickup at your accommodation, a safer and faster boat, and a quicker journey of about 30 minutes. The fast boat costs about 158,000 Rupiah. You can book that here.
If you're low on time, I suggest taking a fast boat from Bali and checking out Nusa Penida, my favorite, as a day tour and factoring it into the budget in order to maximize your island time.
Day one: Nusa Lembongan and Ceningan
Since both Lembongan and Ceningan are so small, it's pretty easy to drive around each one and power through most of the sights in just a day. For ease, it might make the most sense to just stay on Lembongan, rent a motorbike immediately from the port or your accommodation, and ride around to see the following:
The Mangroves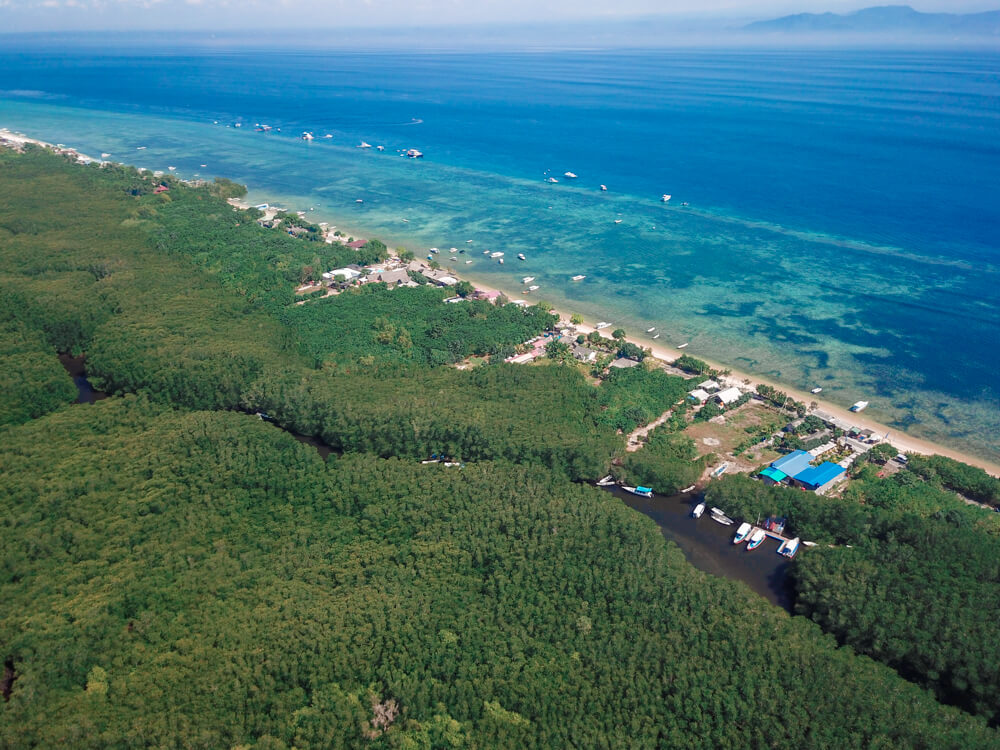 Driving to the top of the island, you'll eventually come to the end of the road where you'll see signs for mangrove tours. I was offered one for 100k which includes about an hour of boating through the mangroves and some snorkeling. I'd been through some mangroves in Raja Ampat prior so I took a pass and droned over it instead, but don't be lazy like me, see the mangroves!
Next I took a drive over the Yellow Bridge to Ceningan to avoid the day tourists on Lembongan and save the more spectacular sights there for when the crowds were thinner.
The Sand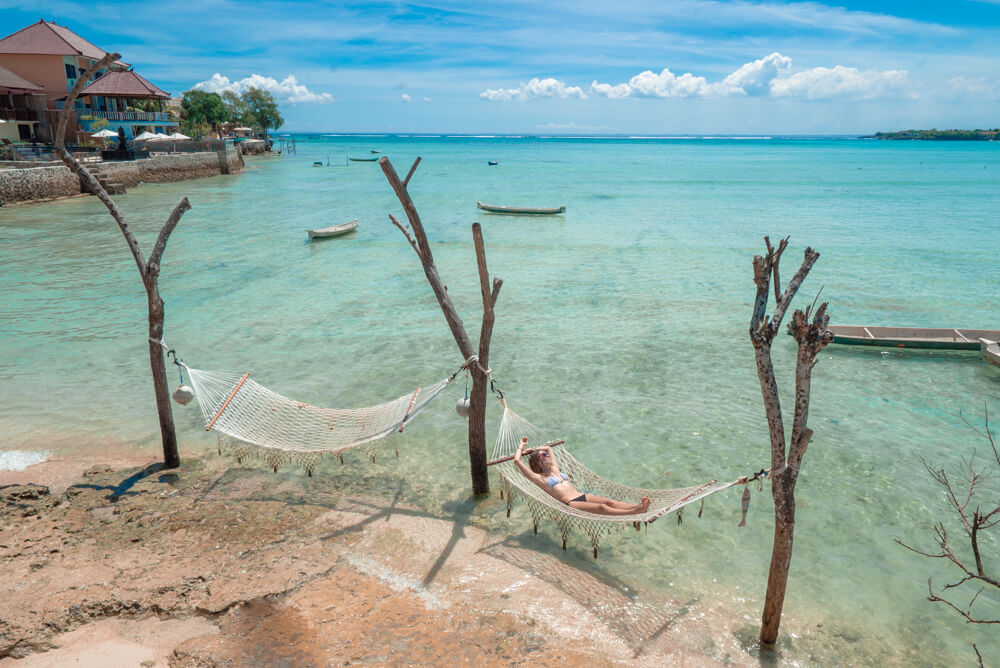 Upon crossing the bridge and turning right, you'll notice gorgeous, crystal clear water and several beach bars along the shore. This quirky bar, the Sand, is great for lunch or a drink – complete with paper straws instead of plastic (yay!) and these hammocks over the water.
The Blue Lagoon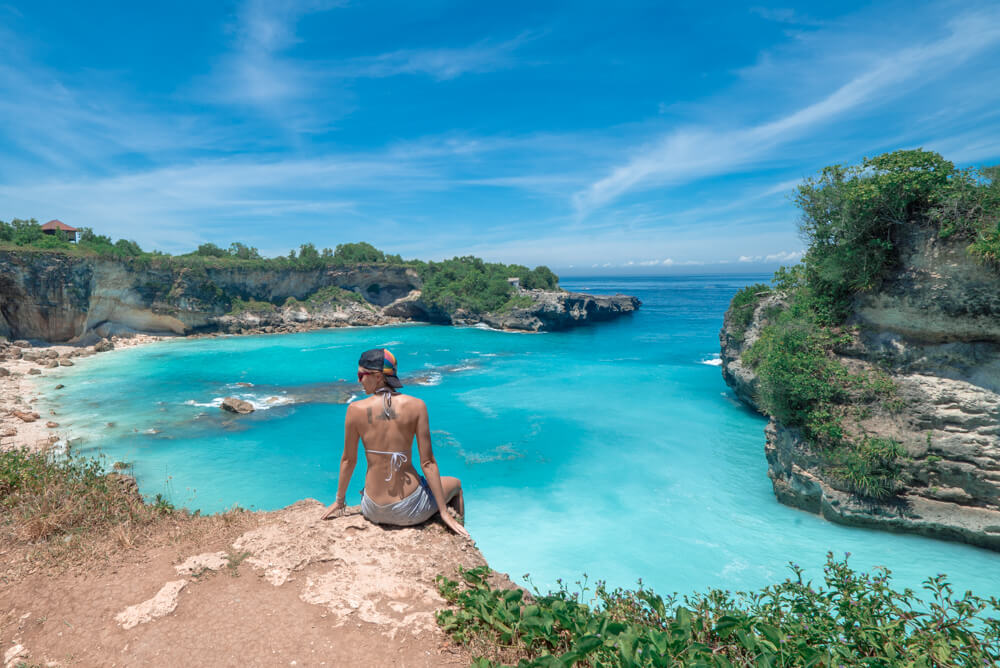 About a 10-minute drive, if that, from the Sand, you'll see signs for the Blue Lagoon on your left. The water at this lagoon is a shade of baby blue I'd never seen before, despite years of exploring the tropics. It's hard to believe until you see it with your own eyes!
Mahana Point Cliff Jump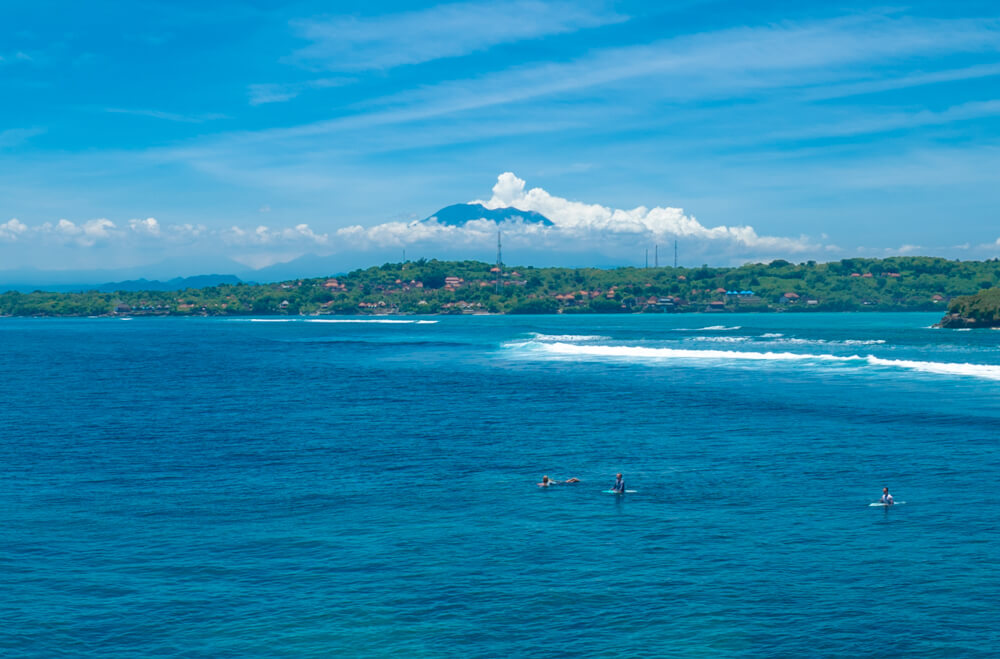 Just across the way from the Blue Lagoon you'll see signs for the Mahana Point restaurant and cliff jump. The restaurant has two jumps: a shorter one for 25k or a higher one for 50k. It's also the access point for one of the best surf spots on the island and gorgeous views of Bali's Mt. Agung.
Golden hour at Dream Beach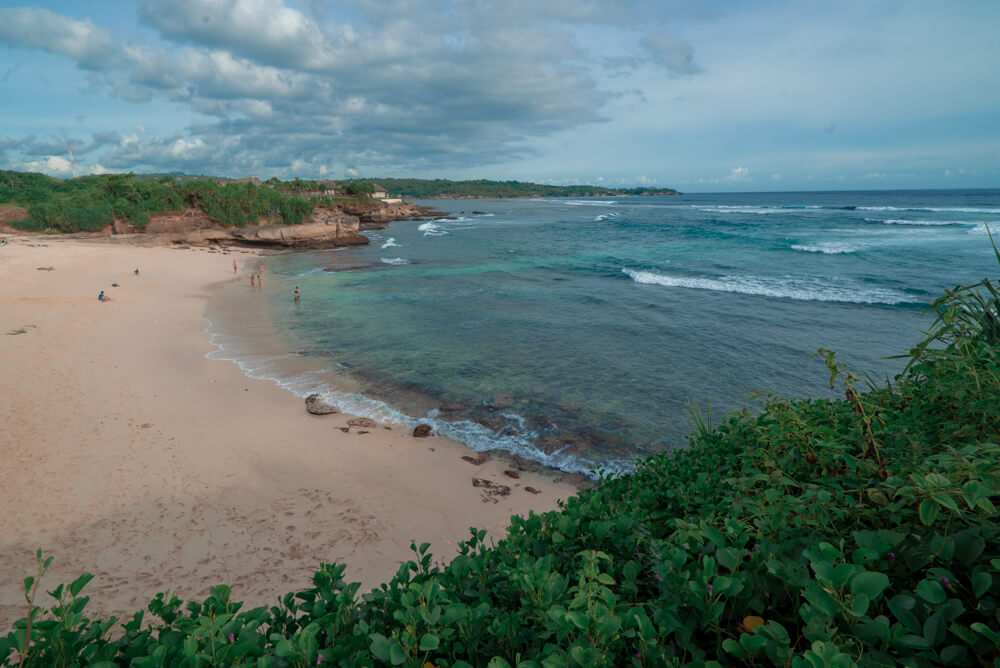 Next, drive back over the bridge to explore more of Lembongan, turning left at the end of the bridge towards Dream Beach. Dream Beach is one of Lembongan's most famous attractions which is why we've left it for later in the day when there are fewer people around. After seeing the beauty of Cengingan it was harder to appreciate dream beach to be honest, but it's still worth seeing and hanging out if you want a chance to lay on the sand.
Sunset at Devil's Tear and tide pools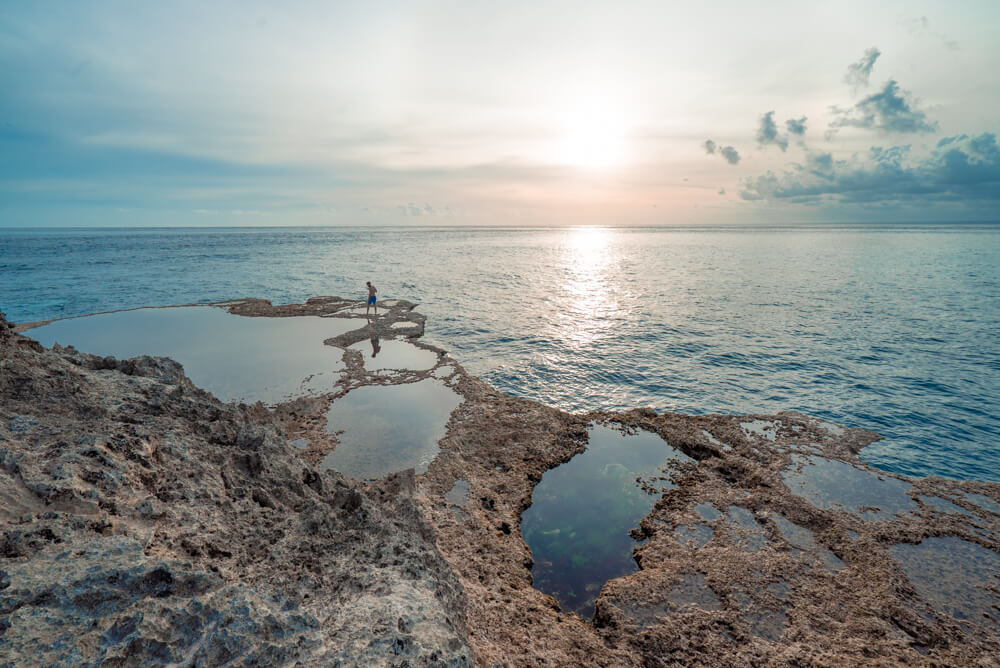 The Devil's tear got its name thanks to the spray when the waves crash up against the cliffs. It's only dazzling at golden hour if it's high tide, though the tide pools to the right of it are perfect for sunset no-matter what the tide.
Just be careful around the cliff edges here. The waves are unpredictable and can splash up at any time.
Sleep: I thought the value, coffee, and hospitality at Kawan's Inn was fantastic. They rent scooters as well!
These are just a few of my suggestions for these two islands. If you have more time to devote to them, read more about Nusa Lembongan here and more about Nusa Ceningan here.
Days two through three: Nusa Penida
Take an early AM yoga class at Yoga Shack on Lembongan, then pack up and get ready to head to Nusa Penida.
You can get to Nusa Penida from Nusa Lembongan by taking a public ferry from the Yellow Bridge, which leaves when full and costs about 100,000 IDR per person, and drops off at Toya Pakeh Harbour on Nusa Penida. You can also head to the mangroves to organize a private boat for 400,000 IDR. The latter is nice because it's easier to get dropped off at an area of your choice and you don't have to wait around for the boat to fill up. It's a quick 15 minutes journey.
Once on Penida, hire a motorbike for around 70,000 IDR per day.
The roads on Nusa Penida can be tricky in some places. They are steep and rocky and if you've never driven a motorbike before you might find them a bit terrifying. It's also possible to hire a driver and a car – just ask at your guesthouse or at the port. While exploring the island, it's a good idea to wear sneakers instead of flip flops. Nusa Penida is a lot more rugged and less developed (thankfully!) and has a lot more cliff edges and steep stairways. It's all part of the adventure!
Pick your favorites of the following amazing places over the next couple of days:
Kelingking viewpoint and beach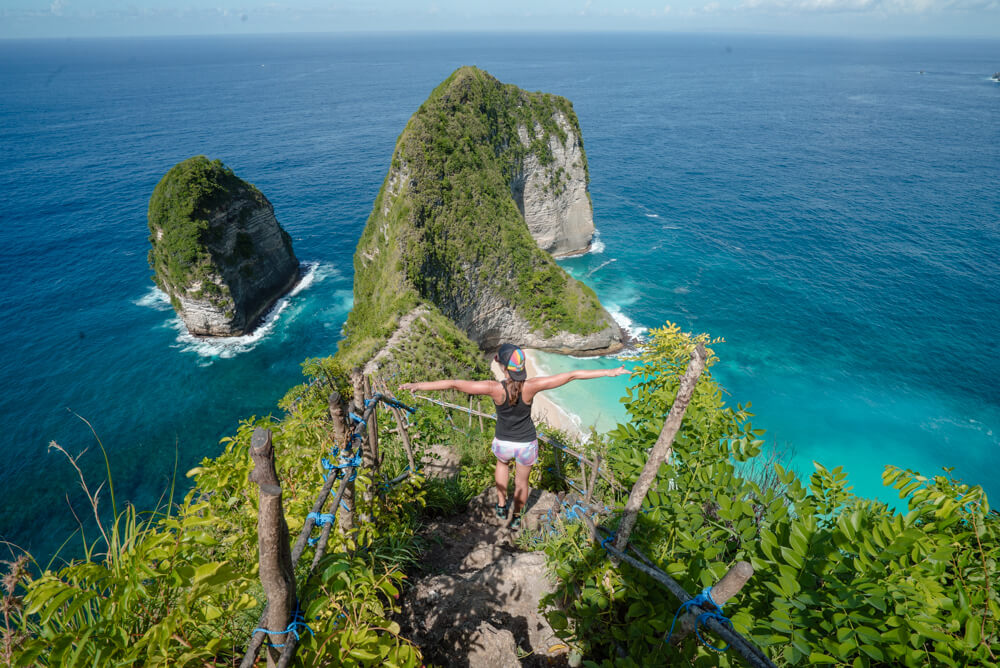 Kelingking viewpoint is possibly the most photographed place in all of the Nusa Islands but for good reason – it's stunning! There's a white sand beach at the bottom of the cliffs that is perfect for exploration as well, though it will involve steep scrambling up and down rocks and steps to get there. If you're up for it, it's worth it, though!
Crystal Bay, Broken Beach, Angel's Billabong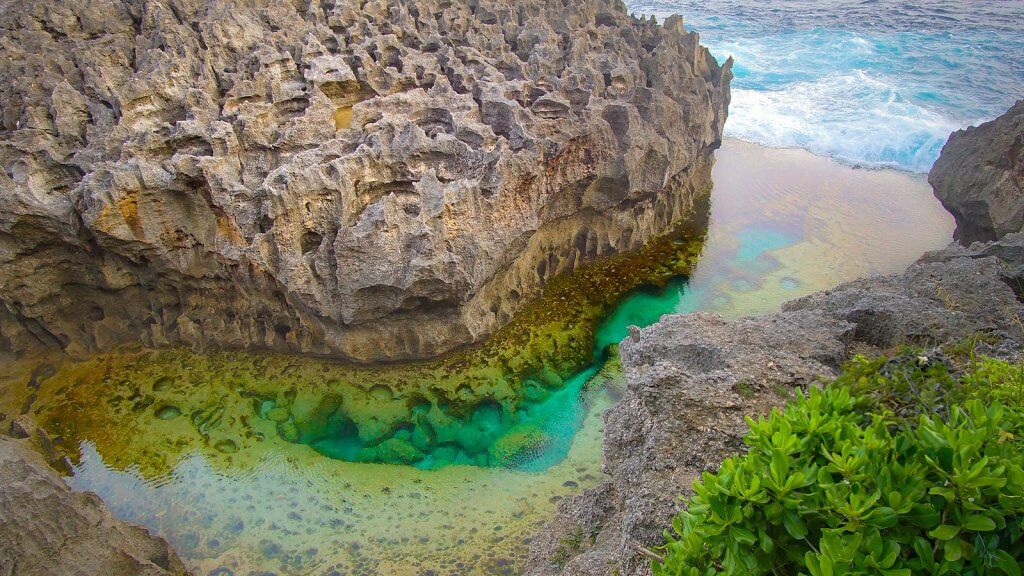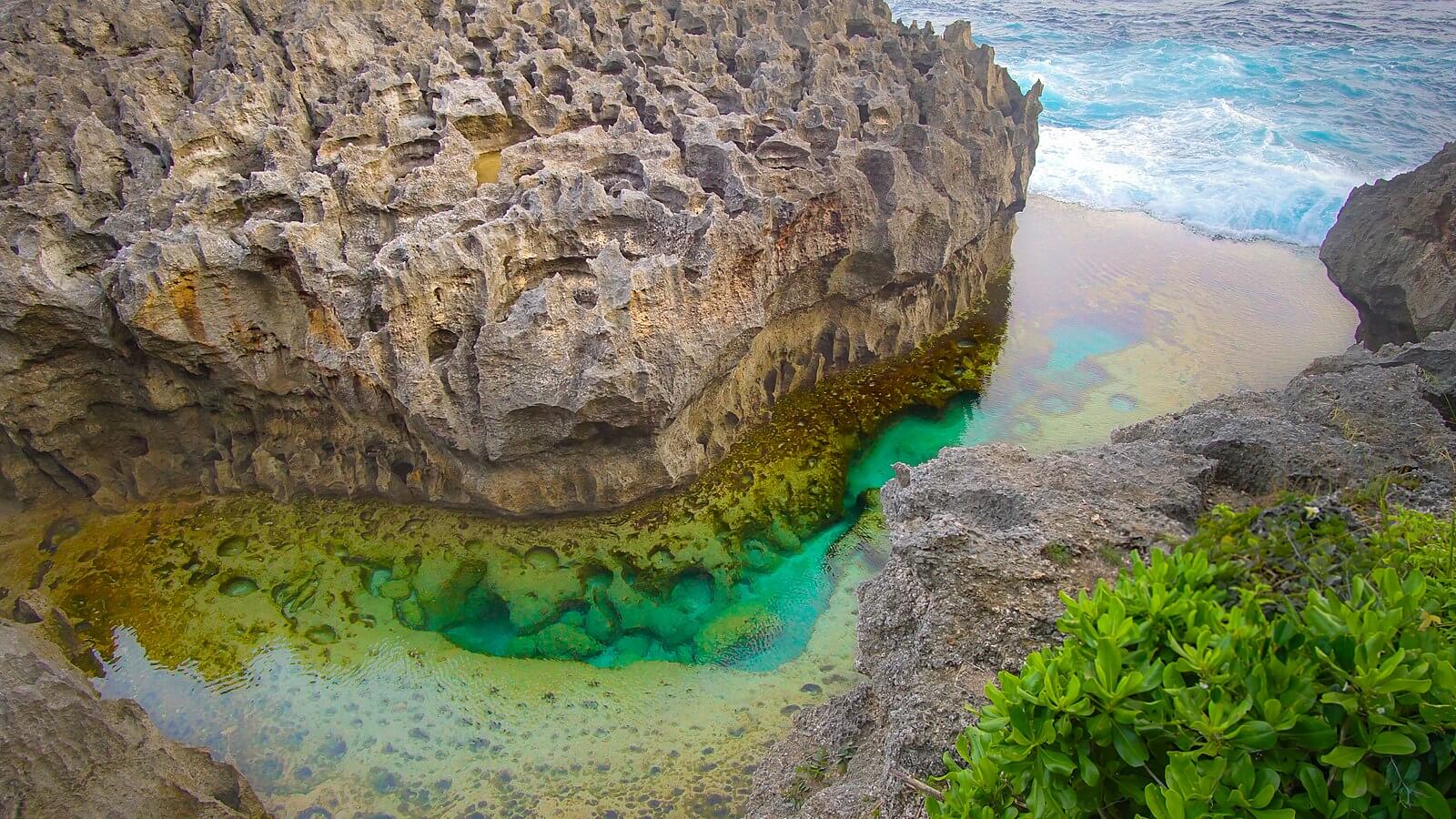 I've combined these three sights on Nusa Penida since they're close together and all good to visit in either the early AM hours or later in the evening after the day trippers from Penida have already headed back to Lembongan or Bali. Angel's Billabong is a crystal clear natural pool, Broken Beach is a cliff lookout over a hole in the rock, and Crystal Bay is popular for its crystal clear blue water, though honestly, you can find a less crowded version in the following spots on Penida.
Peguyangan Waterfall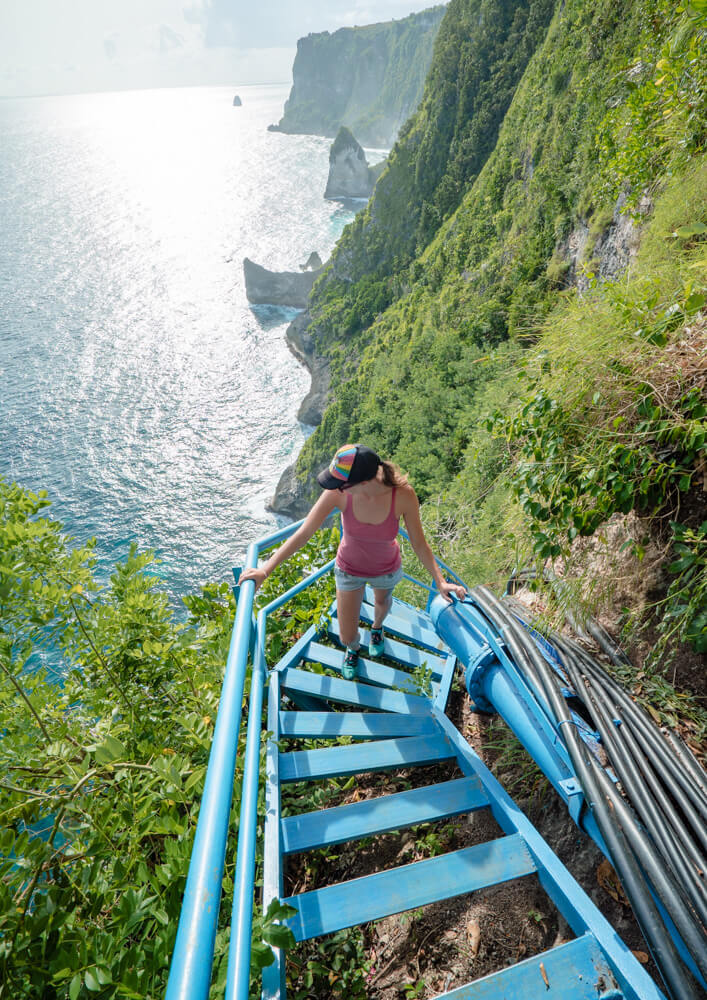 This is a steep one with 750 steps but the views are incredible and I loved how secluded most of the experience was, especially heading there later in the afternoon for golden hour. There's a temple at the bottom of the cliff, though the 'waterfall' is more of a show of the waves crashing into the cliffs. There's a sacred vibe there that had me enchanted, and feeling that it was worth the climb.
Snorkeling trips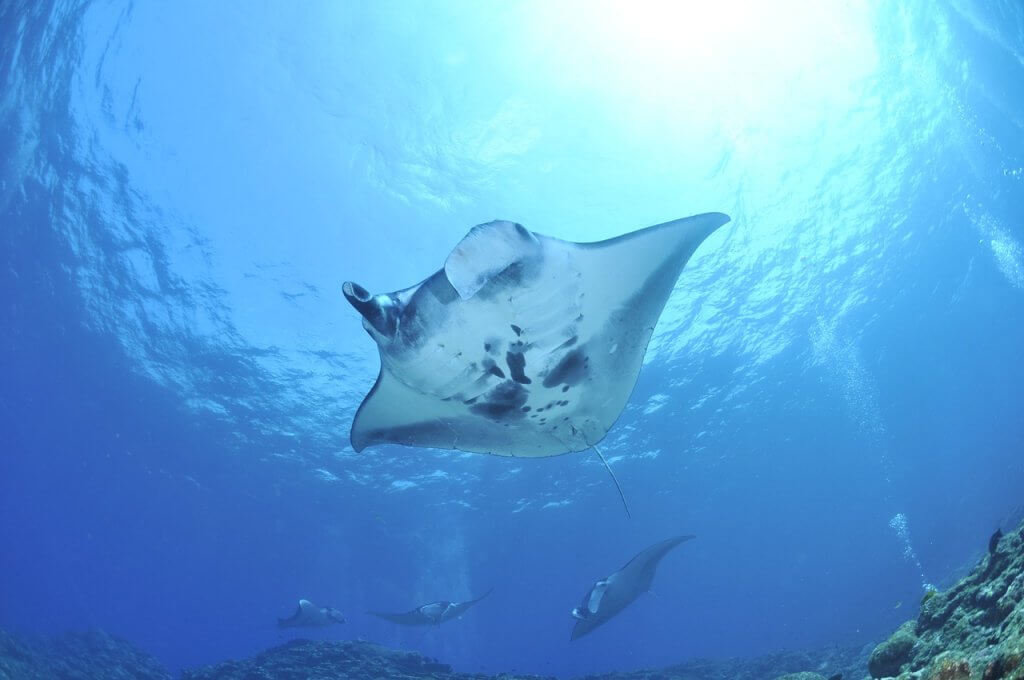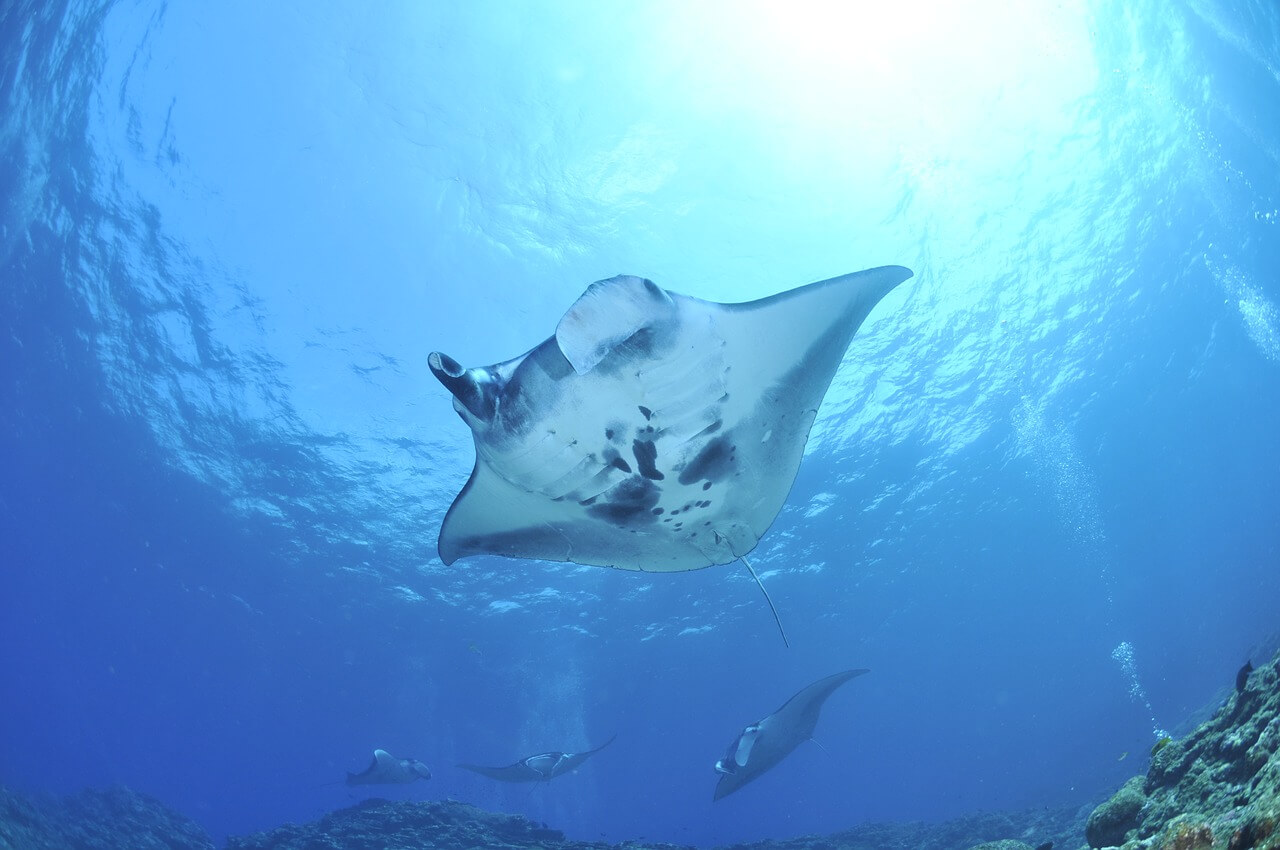 Snorkeling trips to see the Manta rays and the statue garden around Penida are on offer on each of the islands, but they all come to the same place – Manta Point on Nusa Penida. You'll see signs posted all over the Nusa islands advertising snorkeling trips to Manta Point, or you can head to the point yourself and ask a local to take you out on his boat. For this, negotiate! It all comes down to how long you want to be on the boat for. The more people you can split with, the better. You can also do this as a day trip from Bali, which you can book here.
Sleep: For night two, I recommend staying at the Airbnb on the top of the hill, which is a gorgeous secluded house with a sunset view.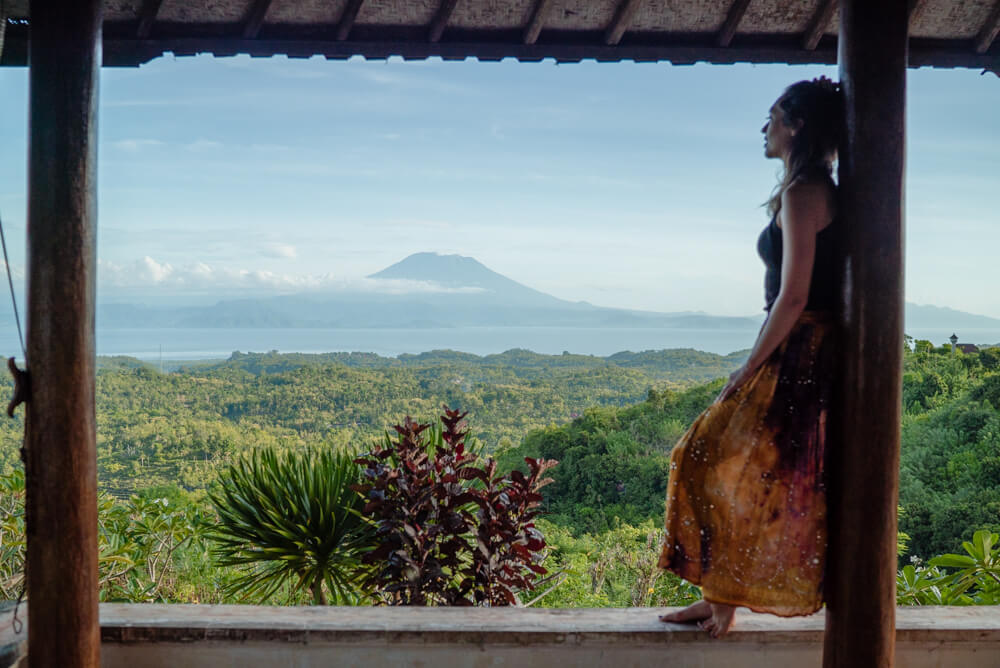 Day Four: Sunrise at the treehouse on Penida
For your last night, I recommend heading east to the treehouse for the best sunrise view on the whole island and quite a unique experience.
Rumah Pohon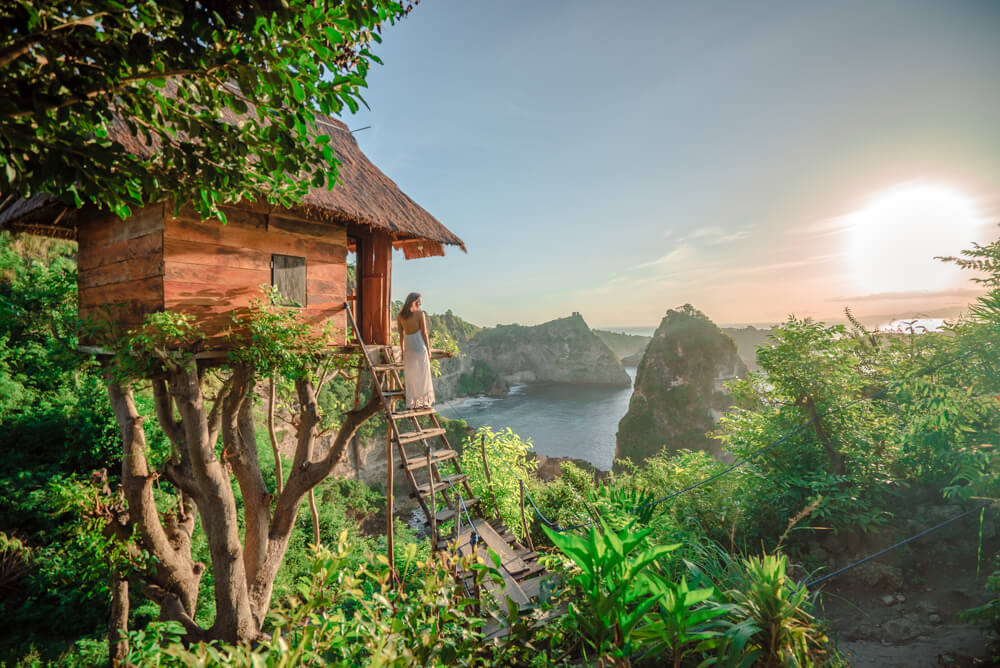 To be completely honest, I have mixed feelings about the price of the treehouse given how basic it was, but I still think it's worth it for the incredible views and the experience of staying there overnight. If you stay, be sure to bring food and water along with you. It's a beautiful and rustic experience! You can read my full review here and book it here.
If you'd rather have more time at the house on the hill from night two you can still drive to Rumah Pohon for sunrise, which will take about an hour, and visit the following beach on your way back:
Suwehan beach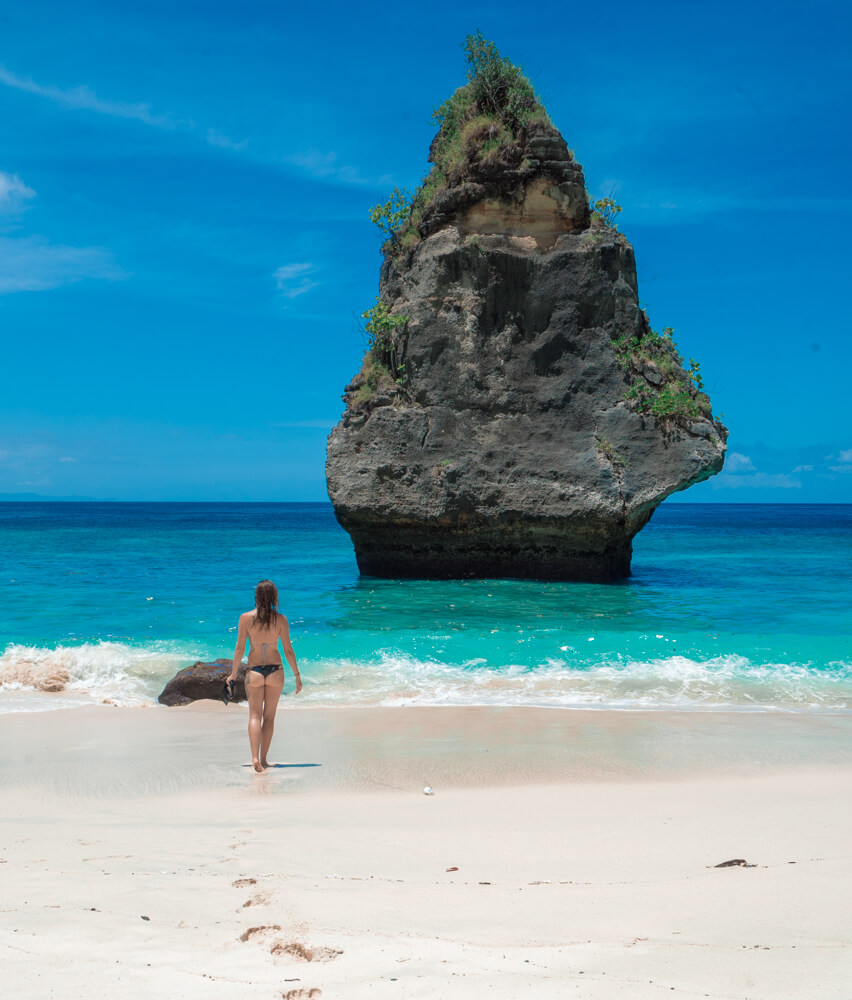 Heading east, this beach also requires a steep climb down but you can get it almost all to yourself. There was unfortunately a lot of trash when I visited, but the water hue is stunning and the sand is white.
Goa Giri Putri Cave Temple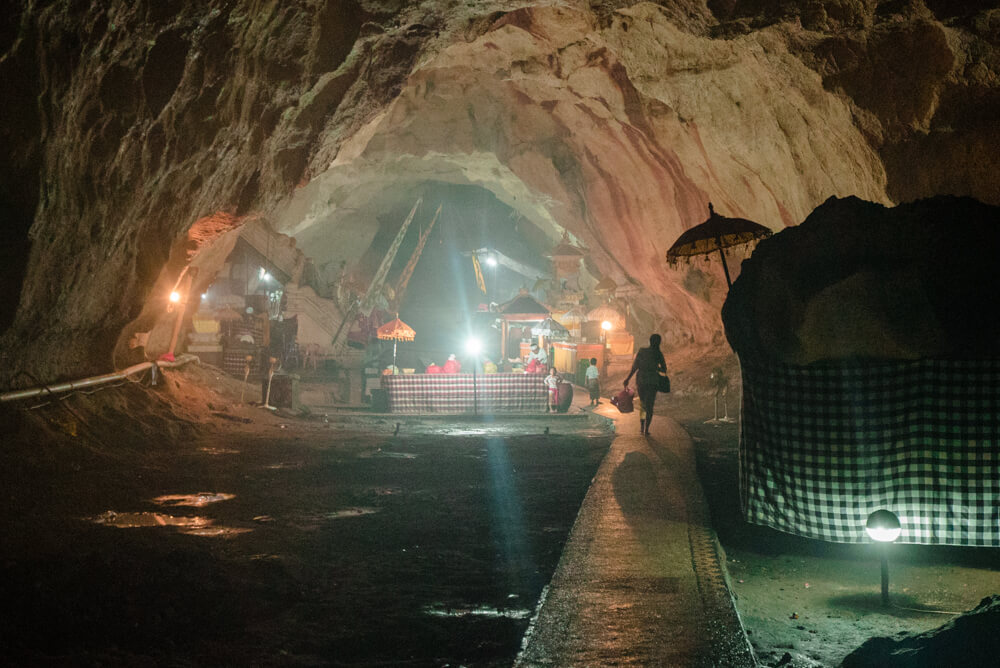 This cave temple is a pretty cool cultural experience while on the island. To go inside, don a sarong and climb up a few stairs (of course!), get a blessing with water on your forehead, then climb inside the cave. There are often ceremonies going on inside with locals all wearing white, along with some bats flying around, and chanting.
For more explanation of each of these places, you can read my full Nusa Penida guide here.
From there you can head back to the port area where you took the boat in from Lembongan initially. There you can either hire a private boat or take the public ferry back to the Yellow Bridge, which is what I did.
Again, if you can give this entire itinerary more time you'll be glad you did. I spent about six days on the Nusa Islands but left feeling like I could have spent a whole lot more on Nusa Penida. It truly did feel to me like exactly what I think most people are hoping for when they visit Bali – a mystical, jungly experience with beautiful beaches and dreamy temples.
From there, I highly recommend checking out Lombok, my favorite island in Indonesia, or checking out Keramas beach on Bali, a beautiful black sand beach without the crowds!