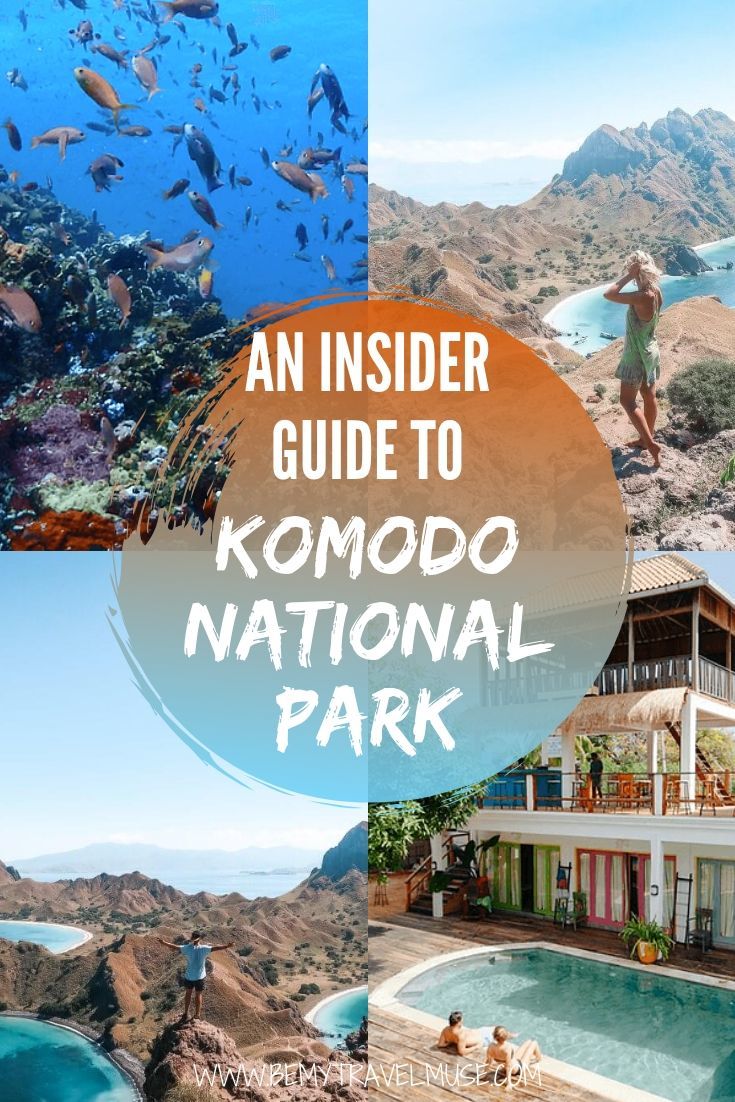 This guest post about Komodo National Park post is by Charlie:
Bali, the Gili Islands, Lombok … When you think of Indonesia these destinations probably pop straight into your head. And why not? With their beautiful beaches, paradisiacal infinity pools and lush green rice paddies its clear to see why they are at the top of most Indonesian travellers bucket lists. But those looking to escape the tourist haunts, you only have to look a little further to the island of Flores.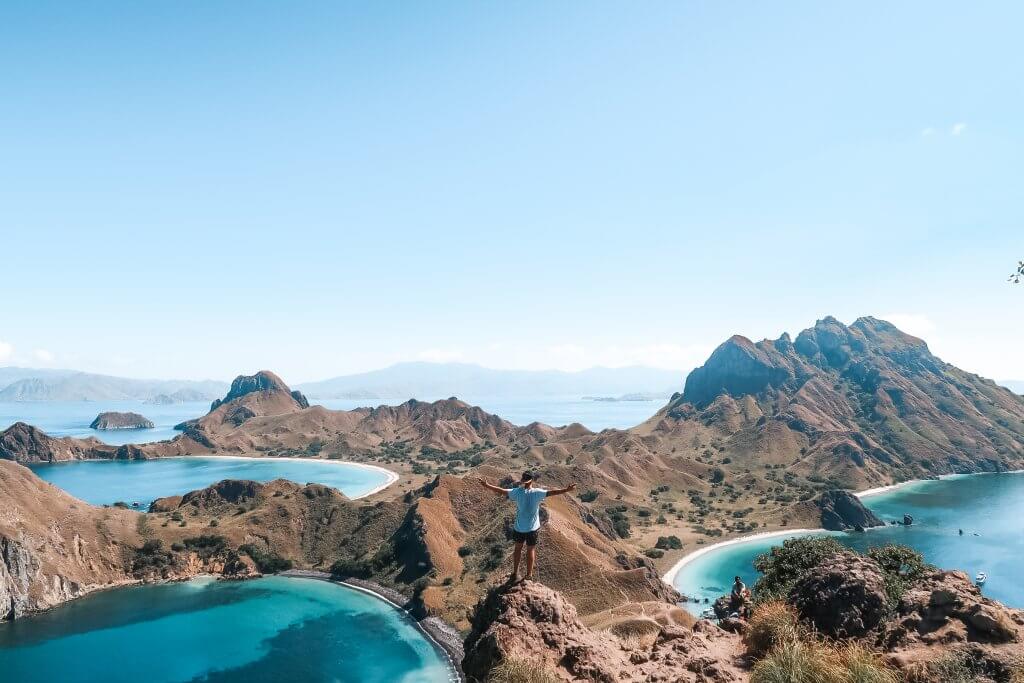 Nestled to the East of Lombok, Flores is still somewhat of a hidden gem! The Komodo National Park, which lays just off the shore is awash with enchanting Instaworthy landscapes and is home to the infamous Komodo Dragon, but its not just the landscape above the surface that is worth checking out. With an abundance of manta ray, diverse species of shark, turtles, untouched corals, drift dive opportunities and unimaginable underwater landscapes complete with a dive site with more species of fish than the entire Caribbean, its easy to see why the Komodo National Park is believed to have some of the best dive sites in the world!
For those looking to explore the island, there are several direct flights each day from Bali to Labuan Bajo. Labuan Bajo is the main hub for tourists and the once sleepy harbour town has been transformed into a bustling haven for dive fanatics and adventurers.
The accommodation in the town is very basic compared to other parts of Indonesia and is largely made up of guest houses run by the friendly locals, but we'd caught wind of a new dive school that had opened and with the underwater world on our mind, we checked in!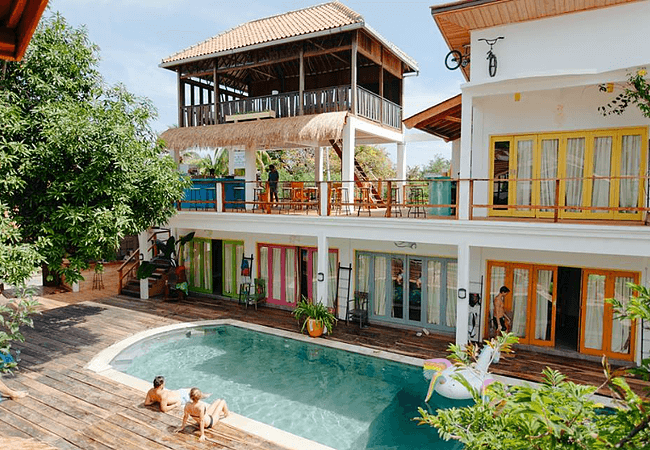 Coming for the airport our driver took us on the ten minute journey down the winding narrows roads until we saw our home for the next 10 nights perched at the side of the road. Dragon Dive Komodo. The dive resort is somewhat more modern and stylish than any other in the area and it's facilities blew all of our expectations out of the water. We were shown to our room, one of the decadently designed six bedroom dorms sat on the edge of the 12m pool. Its trendy poolside bar, cosy chillout areas, harbour views, pool tables and not to mention the amazing home made pizza oven make the hostel a haven for those looking for a place to relax, socialise and enjoy the many wonders of the Komodo Islands.
Although only open for a few weeks, there were plenty of dive enthusiasts eagerly anticipating their next dive fix along with backpackers keen to explore the craggy hills of Padar Island.
We've first started diving last summer in Gili Trawangan where we were first introduced and mesmerised by the underwater world. Just over a year later, our one off experience has now turned into a passion and we have accrued more than eighty dives between us in some of the best dive sites of the world. But no matter where we drop our fins, there is always one location on any divers lips, Komodo!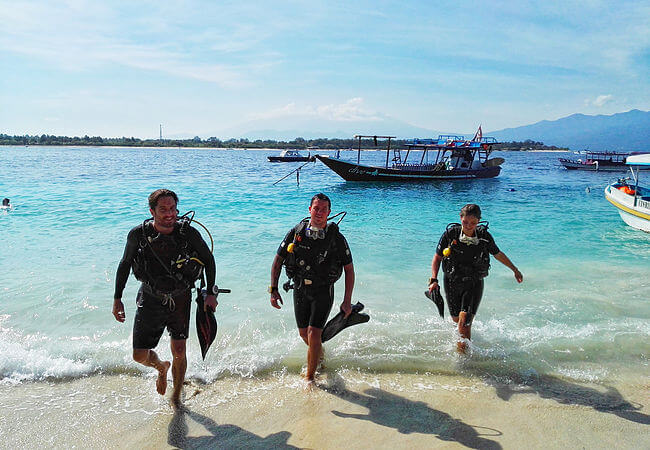 Renowned for its natural wonders, untouched coral, teeming wildlife and adrenaline fueled currents we were excited to experience one of the top dive sites in the world for ourselves, however, no one could have prepared us for what we were about to experience.
Setting sail we cascaded through the dragonesque landscape and snaked through the backdrop of jagged peaks and razor sharp crags. With the dive sites located an hour away from the town, we made ourselves comfortable on the plush top deck lounge as we tucked into a breakfast of donuts and pastries, while drinking in the view of the National Park.
With over 30 known dive sites we were spoilt for choice, but after much discussion we decided on Mawun, a site renowned for its manta "cleaning station" and having never seen manta before, we were hoping to get lucky and have our first encounter.
Sinking below the surface, we admired the effervescent corals and bright fish that danced past us. But just a few more meters below the water, we saw the signal we had been hoping for, manta! In every direction! We watched in awe as these beautiful giants of the ocean gracefully flew past us, elated, as they swooped and pirouetted. We savoured their elegant movements as they soared through the water.
We resurfaced with wide eyes and high fives. Euphoria!
With the first dive site seemingly hard to beat, we descended our second dive site Batu Balong, a reef home to more fish than the entire Caribbean put together, a real life underwater aquarium! Countless fish, flooded the waters in every direction! After an exhilarating forty-five minutes under water, the oxygen in our tanks was almost at an end and we were beckoned to the surface in a flurry of excitement. We could have stayed down forever!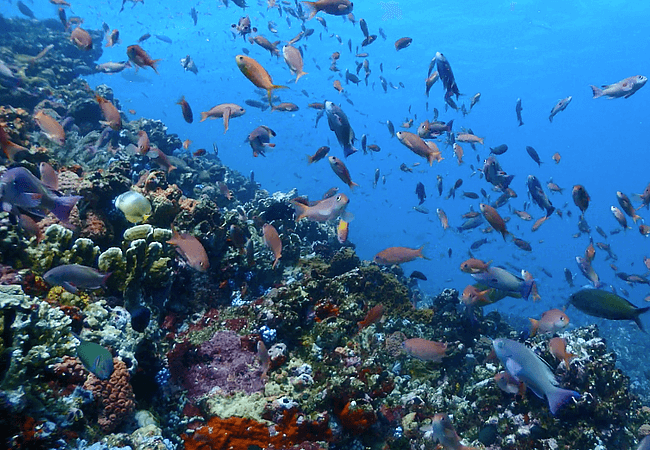 The following day we rose early, making our way to the local pier where our boat men waited. As the sky turned to a perfect shade of pink, we tucked into donuts and coffee on the roof of our vessel, watching several other small boats come into view, all seemingly heading in the same direction as us. Two hours into our journey, the craggy rocks of Padar Island came into view. We jumped off the boat and made the for the top of the hill. Our early start was generously rewarded with views over the entire island, including its three distinctive beaches, one pink, one black and one white. We marvelled at the view from the top, drinking in this natural phenomenon that so few have experienced.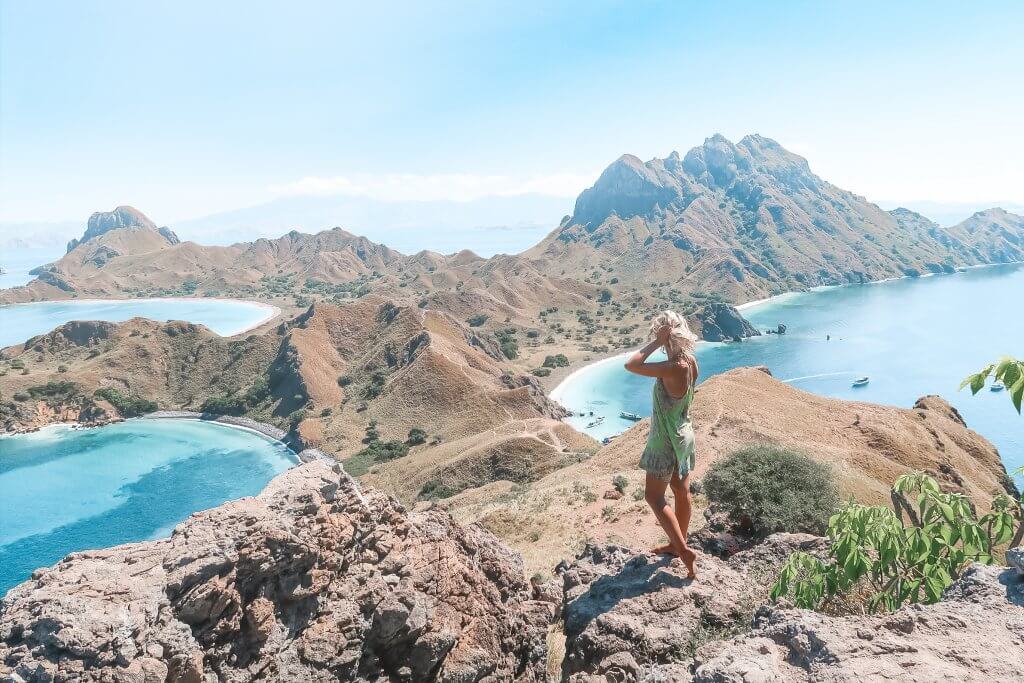 Whilst travel always has a habit of leaving us speechless, no place we have visited has done so like the Komodo National Park. With its unreal landscape both above and below the water, it's a real hidden gem for any traveller.
About the Authors: Charlie and Charlotte are the wanderlusting couple behind The Wanderlovers. They have swapped their city life in London for an action packed journey across the globe. Hand in hand, they're taking on one country at a time and creating a life they don't wish to escape from! Through their couple's travel and lifestyle blog and YouTube channel, they hope to inspire future travellers that anything is possible if you just buy that one way ticket … Go Live!