A few readers have asked me how I afford my life of constant travels.  Let me just start out by saying that I do not have a rich uncle who thought it would be nice to send me on an endless trip around the world, although that would be really nice!
I've worked on and off (but mostly on) since I was 15 years old.  I graduated with student loan debt just like everybody else whose parents aren't made of money, I paid my rent on my own after graduating, and I handled all of my bills myself.
The truth is, I held a well-paying job for about four years before taking off to travel.  I graduated from a four-year university (UCSB and I'm darn proud to be a Gaucho) in just three years, got a scholarship to study Mandarin in Taiwan, and then I came back home to Southern California in 2008 and picked up a job pretty quickly.  I worked at a buy-side investment bank and was lucky enough to close two semi-major deals before my departure, resulting in some nice commissions.
Everyone who travels long term has to save up a stockpile of money first.
For me, there were about four years of saving up and living cheaply.  I invested most of what I made, and the rest I kept in cash after paying off all of my student loans.  I'm not a big spender, have never had credit card debt (I don't believe in spending what I don't have) and figured at some point I'd be glad to have the savings.
The years passed and I stopped feeling fulfilled with life.  I realized I wanted to travel and thankfully, I had the cash to do it.  I had about $24,000 saved up before taking off on my trip to Southeast Asia.  To bolster that up, I sold off most of what I owned, ended the lease on my apartment, and largely made my life bill-free.
In my breakdown of 6 months of travel, I illustrate how cheap traveling in Southeast Asia can be on a shoestring budget.
What I didn't mention in that article is that I also lumped Australia and New Zealand into my trip, and those places are NOT CHEAP.  Not in the slightest!  I spent more during those 2.5 months in Oceania than 6 months combined in Southeast Asia, seriously.
I offset some of my costs by working in a high-end shoe shop in Melbourne for a month-ish.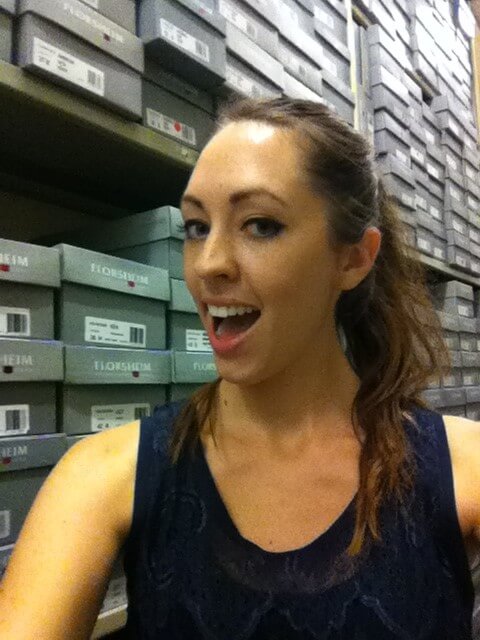 That was short-lived, however, and I spent almost everything I made just trying to pay rent, eat, and survive in Oz.
In short, I went through a big chunk of my savings during the ten months that I spent traveling over the past year.
This year, I have to get creative in order to keep traveling. 
When I returned home for a 2-month visit this summer, I had to get serious about how I'd afford my next year of travel.  So, I sold my beloved BMW, which is a huge deal for a Southern Californian, given we lack reliable public transportation.  I have also started going through what limited belongings I have left, choosing items from my closet to sell on Poshmark (take a look if you want my designer duds on the cheap!)
I also do make some money off of this website.  The amount grows each month and I have you (yes YOU) to thank for this.  Every comment, share, email, and tweet help out in a huge way to get the word out.  Readership keeps compounding and my number of Facebook fans, Instagram followers, Twitter loves, and Pinteresters keeps growing.
I have trouble conveying the magnitude of what this means, because it quite literally does mean the world to me that people like you read this.
Want to help me keep going?
Share:  Each time you share something on social media, it creates a story that other people who may not be aware of Be My Travel Muse might see.  Taking it a step further, encouraging your friends to like the fan page on Facebook is a huge help.  It's simple to do – just invite friends to like it via this page.  Each time I reach an important milestone, I'll give something meaningful from my travels to a select reader.  It's my way of trying to say thank you, although I can never really thank you enough.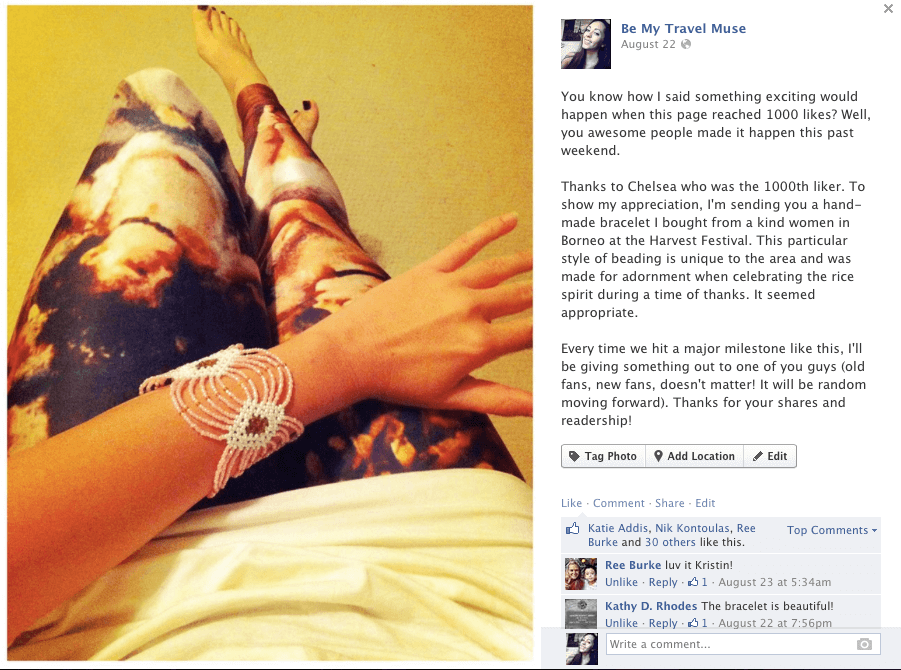 Support:  A good chunk of my compensation comes from affiliate sales through Apple and Amazon.  I recently wrote a post detailing absolutely everything I travel with, use regularly, and wouldn't hesitate to recommend.  The things I never ended up using during my trip and/or failed to find useful didn't make it into the article.  I promise never to suggest you purchase something that I don't use and absolutely love.
Even if you do not end up purchasing the product I suggest, simply following the affiliate links when you wish to make an Amazon purchase will still give me a small percentage and will cost you nothing.  Just by stopping by my website and following an affiliate link to buy the things you normally would, you can help me out big time!
Also, check the "support" category from time to time.  I will update it with new, easy, and cost-free ways that you can help me keep traveling.
My promise to you:  I will always be honest on Be My Travel Muse.  I sometimes am given a percentage off of things like diving tours in exchange for writing about the experience.  Luckily I love the company I worked with and would recommend them even if I had paid full price.  If I ever feel differently, I promise to tell you that.  I never guarantee a positive review and only give them where deserved.
I will always seek off the beaten path experiences and will keep providing budget guides to help you plan for your trips.
Tell me what I can do for you: Lastly, tell me how I can help you.  I really do love the emails and comments I get from readers.  You guys give me some of my best ideas.  I wrote about why I love solo travel since I got so many questions about it, and even this post has come about because a few of you asked.
Please always feel free to contact me.  You are what makes writing this blog, and all of the time, blood, sweat, and tears that go into it, totally worth it.