顺其自然 – "Shun qi zhi ran"
Translation: "Let nature take its course"
This saying came to define the travels of Ya Ting and me for the next few weeks when I would end up hitchhiking for over 2500 kilometers (over 1500 miles) across Yunnan and Sichuan provinces in China.
The first time we tried hitchhiking was in Lijiang with hopes of making it to Tiger Leaping Gorge. It took about 30 minutes of walking along the road with our thumbs up before a van pulled over and offered us a ride most of the way.  Once he dropped us off at the freeway interchange from which we chose the road bound toward Shangri-La, it took all of two minutes for us to get another ride to the start of the gorge hike.
Two days later, we finished our Tiger Leaping Gorge trek, culminating in the town of Qiaotou, ready to head to Shangri-La, about 186km away. We had no idea how successful we'd be trying to hitch again. Ya Ting kept repeating how lucky we'd been the first time around while cheerfully adding that all we had to do was "try and try" the second time around.
No sooner had she casually lifted her arm and raised her thumb than a car pulled over offering a ride.  We opened the door in complete shock to find our friend Lilly from the hostel in LiJiang inside.  
What were the odds? At the very moment we needed a ride, the man she was hitchhiking with pulled right over to provide.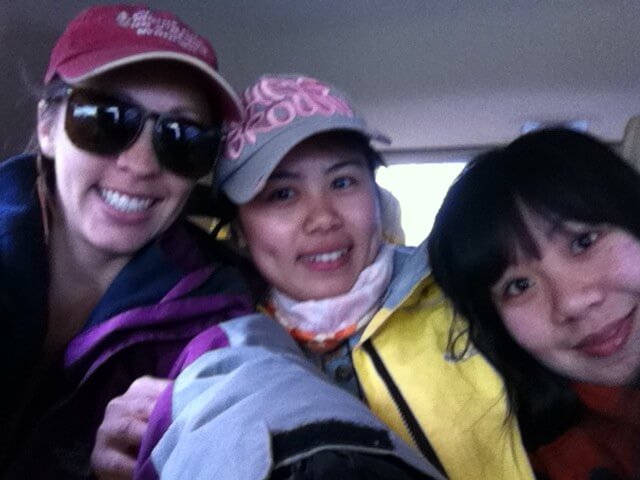 One thing that struck me was how kind the driver was.
He kept pulling over at various picturesque stops so that we could take photos, buy food, and generally enjoy the ride.
I hadn't known that was how hitchhiking could be. Sure, I'd done it in a sort of roundabout way in Costa Rica and Java before, when someone pulled over to offer me a ride and I took it, but this time was different.
I was on the side of the road with my thumb up, openly asking for a ride instead of having one offered to me.
In a few hours we arrived in Shangri-La, and he pulled away just as quickly as he had pulled over to pick us up, not expecting or even desiring excessive thanks.
That night was spent in Shangri-La, just to sleep rather than sight-see as sadly most of it burned in a restaurant fire last year.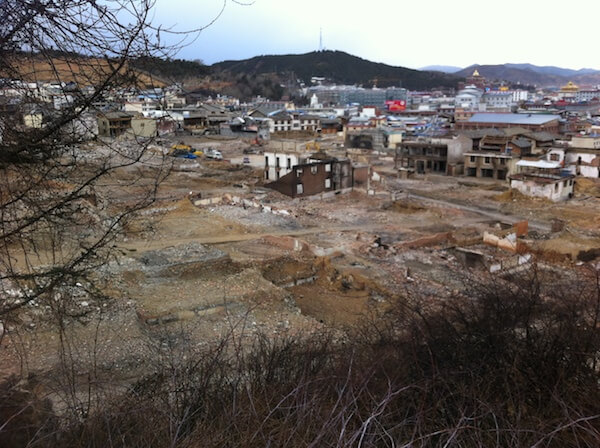 The next leg of the journey would be to Deqin, another 4 hours up snowy mountain roads.
In Yunnan province, straddling the line between Sichuan and Tibet, Deqin is known for its amazing snowy mountainous surroundings and fabulous trekking.  I just hadn't gotten enough at Tiger Leaping Gorge, and had heard too many good things about Yubeng, accessible only by foot or mule from Deqin.
Again, within a few seconds of sticking our thumbs up, a car pulled right over.  It was two minority tribesmen who were returning home to Deqin with a car full of styrofoam palettes.  Little particles of it rained all over the car, looking like snow.
We told the driver of our plans to trek into Yubeng – a sacred place with some of the prettiest landscape in all of Yunnan province (which is saying a lot!).  His reply was simple, "In the sky is heaven, and on earth is Yubeng".
We had around 200 kilometers to go, listening to his traditional music and talking about the weather.
It should have been an obvious bad omen when a dog ran across the street, making it impossible for the driver to miss him. I felt the bump as he hit the car, cringing, as we drove on.
Some time later, he announced, "If it snows, we'll have some trouble getting up the mountain".
It was smooth sailing for the first 130 kilometers, but as soon as we started to gain elevation, the snow came in sideways, blanketing everything around us and frosting the road.
The makeshift snow from the styrofoam inside finally matched the great outdoors.
At first I told myself it would be just fine, until we passed an overturned car.  A few feet away, a man was helping an elderly gentleman to the side of the road.
"We have to help them!" I begged.  The driver insisted there wasn't anything we could do and the police would be along shortly.  My heart hit my throat and my pulse quickened. The roads were narrow and without railings, riddled with rocks from landslides and the recent earthquake.
"Ni pa ma?" (Are you scared?) he asked.  I was, a little, but we made it safely to our destination an hour later.  True to my previous experiences, he made a quick pit stop to show me something he thought I'd enjoy, which was traditional dancing in the city center.  Not the tourist kind, but the kind put on by members of the town for other townspeople.  It was pretty cool. They had some impressive dance moves and ridiculously bright and intricate costumes.
I had read (and had been told) that the drive takes anywhere from seven to 10 hours, but it only took us four, even in those terrible conditions.  I would later come to appreciate hitchhiking not only for the amazing people I met, but for the much quicker and more comfortable ride.
Just like the previous drivers we'd had, he dropped us off without pausing to let us shower him with thanks, and drove on to his home town after taking us to Fei Lai (Flying) Temple, where we'd stay the night before making our way to Yubeng.
I often wondered in the times that followed why people picked me up.  I wondered what they got out of it.  Sure, I provided as much conversation as I could with my limited Chinese speaking ability and they had the joy of helping someone out, but I still felt as though they gave so much more than I did.
Maybe one day, if I pick up a hitchhiker, I'll understand.
Have you ever hitchhiked? Do you think I'm crazy?