The selling of the stuff might be the most symbolic part of the process of moving out and moving on from your old life in the name of long-term travel.
I was initially dreading selling my furniture on Craigslist. I figured it would take weeks, I'd be dealing with flakey buyers, and I'd have a hard time finding purchasers to haul away all of my unwanted furniture.
In actuality, the process was actually pretty easy and, dare I say it, thrilling.
I had originally purchased my furniture two years ago for around $700 secondhand. My final tally upon move-out was pretty close to $600.
Once I got the formula down, I sold off every last item of furniture, every dish, and every fork, in less than a week.
The following is my methodology for how to best engineer a Craigslist sale:
First: Do A Little Research
To size up the competition, I did a quick search for each furniture item to get an idea of pricing prior to listing. Lots of people had cheap furniture for sale, but the bulk of the cheap stuff looked cheap, and the expensive stuff was mostly listed by people who must have no idea how Craigslist works.
Even though I know my stuff could probably have fetched a little over what I was asking for it, I was willing to undercut the other sellers in order to get my volume up and make the process quick. As long as I could sell all of my stuff rather than having to figure out how to haul it away, it was worth it to shave off $5 here and $10 there (after all, storage and hauling costs add up).
This step only requires 2-3 minutes, tops.
Next: Market
Most postings on CL are crap with crap photos of crap stuff. It's easy to get a leg up on the competition simply by using adjectives like "beautiful," "chic" and "comfortable" in taglines to get people clicking. Once they've clicked, keep it very short, to the point, and informative – including item measurements and pick up requirements. Answer any obvious questions in the posting so that your email inbox doesn't get bogged down with people seeking information.
Most importantly, have good pictures of your stuff. Just by taking pictures during daylight hours, making sure the furniture was spotless, and using Instagram filters, I made my photos look about ten times better than the competition with very little effort.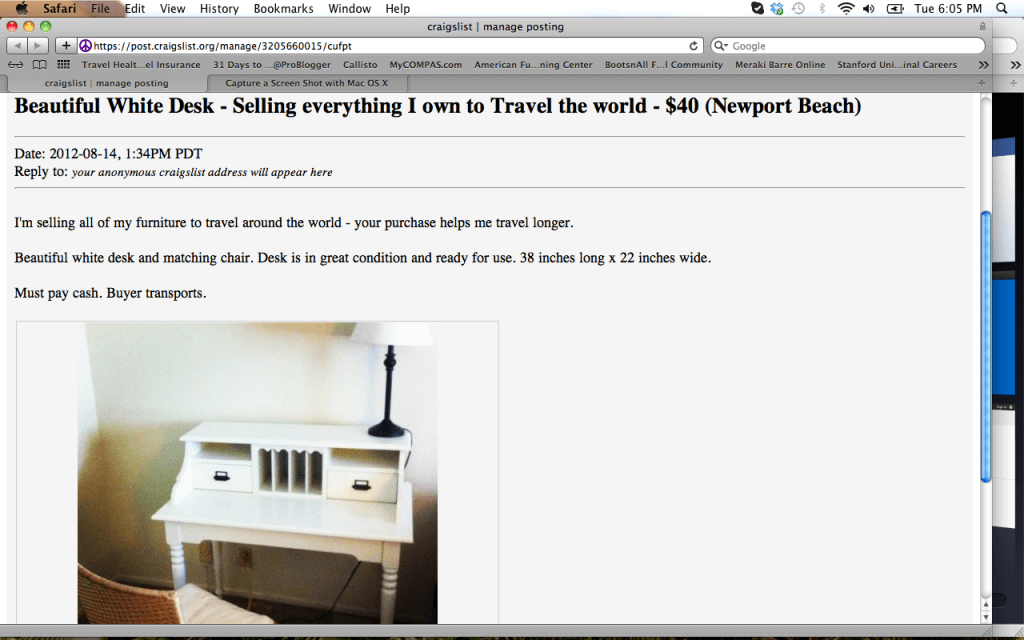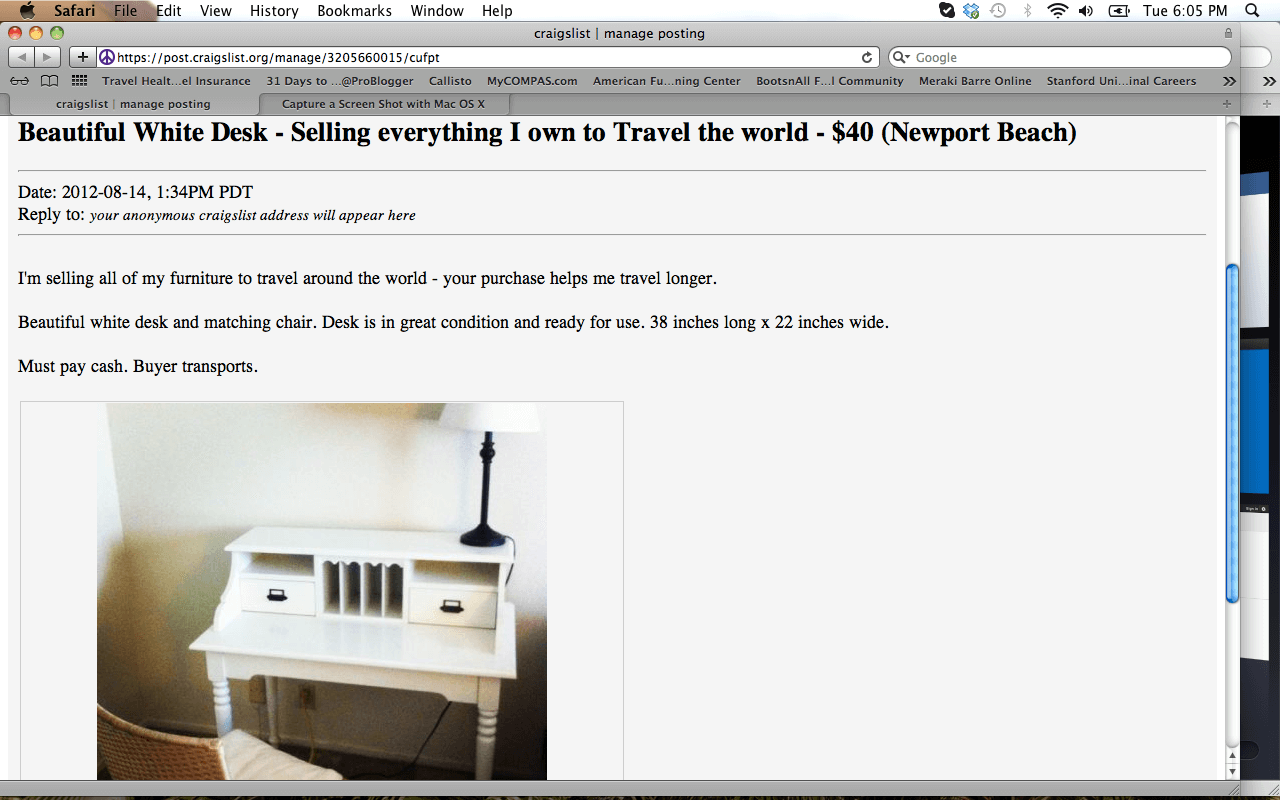 I wrote at the beginning of each post "Selling everything I own to travel – your purchase helps me travel longer," and, guess what?
Only ONE PERSON haggled with me.
Most of the time, the buyers asked about the trip and seemed happy to help my cause.
* If you're not getting contacted within the first few hours, or certainly within the first day of posting, modify the price and post again the next day. Conversely, if you get a heavy response volume, raise your prices slightly and re-post the next day.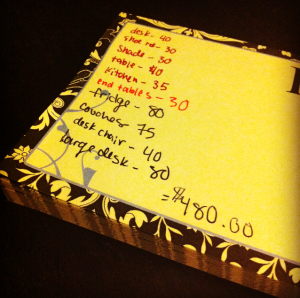 Then: Be Available
Post the ads when you've got some down time to be responsive and available for pick-up. Most interested buyers using Craigslist are interested right now, or maybe tomorrow. Being available to answer the emails and calls is important. If you don't respond right away, someone else with a similar product will.
The same rule applies for being available for pick-up. Buyers are sometimes late or early. Being available as much as possible during the week of your sale is your best bet.
Lastly: Safe selling
I was living solo during the sale process and wanted to be careful about potential predators.
On each posting, I listed no personal information other than my city. Once an email came through, I'd ask the person when s/he wanted to pick up the item. If I got a response, I would relay my cell number and ask to be texted when they were available to pick up the item. I would then provide my address, leaving out my apartment number (if you live in a house rather than apartment, consider giving the nearest intersection). When the buyers arrived, I would meet them at the front of my complex. That way, I weeded out any potential buyers who weren't serious, and nobody but actual purchasers ever knew my exact address.
Plus, I only sold during daylight hours.
Other Ideas
Go through your closets and be ruthless. What will you need abroad? What have you not worn in a year? What doesn't really fit anymore? Cut your wardrobe down by half, then take the excess clothing that is still in good condition (and especially designer) and try selling it to thrift and consignment stores. Options near me include Crossroads Trading Company and the Buffalo Exchange.
Have stuff that won't sell on Craigslist? If you've slashed the price yet can't find a buyer, ask the Salvation Army to pick it up for you if you can't drop it off yourself. This is one of few organizations I was able to find that would do this without a compulsory donation or fee.
I thought it might make me sad to see my things go. We'd had some good times together, my furniture and I.
In actuality, every time I got cash in my hand, the thrill of the deal had me excited for a good hour. With each item I sold off, I had a few dollars more towards my trip – another day in Thailand, another day of diving, another panang curry.
*cover photo from Beach Life Blog
—
Have you ever sold everything you own to travel? Do you have some killer Craigslist advice, or better yet, crazy stories? Do share!