*Note: This post is a little out of order as I still have a ton to post about Indonesia, but it's in the moment on day 301 of my travels and made sense to share with you today, as I'm living it.
As I watch the sun set on the final day of my travels I can't help but smile to myself. I'm coming into the last day of my trip the same way I came into the first day and approached my travels from the beginning: solo.
From the 7th floor of a hotel in Surabaya, Java, I look out on rooftops, listen to the mosque as it announces sundown (time to eat! It's Ramadan!), and reflect on my decision to take off on this open-ended trip almost exactly ten months ago.
It feels like so long ago now that I was searching for flights and hotels online and trying to fight the fear of the unknown. So much has changed.
I could have never expected the things that happened this year to take my life in the trajectory it has taken and had no idea it would all lead me to where I am now.
It all started in Siem Reap when I met an amazing group of fellow solo travelers at my hostel and spent the rest of my time in that amazing town biking around Angkor Wat with them and realizing that yes, solo travel is actually an extremely social way to travel, after all.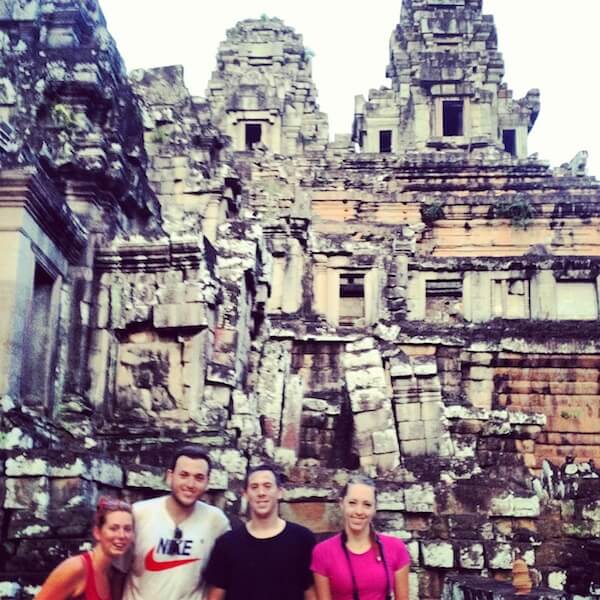 Maybe it wouldn't be so hard; maybe I wouldn't be alone much after all.
I fell so hard in love with Cambodia that by the time I left, my heart hurt and I knew I had left a piece of myself behind there, with the smiling children who chased after me laughing and yelling 'hello!'
Laos taught me that I could jump on a (scary, scary) motorbike and have an adventure. The natural beauty astounded me and I still tell people it's my favorite country I've visited so far.
Thailand brought a new set of life changes that I never in a million years thought would come. I got my first tattoo, and I let a monk pick it out! Even crazier, I actually cancelled my booking for the Full Moon Party on New Year's Eve and spent it in silence sitting at a Buddhist wat, meditating.
Thailand was where I spent the longest stretch of time (3 months) and came to realize that my style of travel is truly off-the-beaten path experiences. Ever since then, I've committed to that approach in almost every place I've visited and each experience I've sought.
Australia taught me about finding love and losing it, only to fall in love with travel again. Everything happens for a reason and I see that now.
Malaysia brought me back to the roots of travel – hanging out with locals and experiencing previously unimaginable hospitality. I'm so glad I didn't listen to anyone who said Malaysia wasn't worth spending time in. They were simply wrong.
Indonesia has proved to be the most challenging yet most rewarding country yet to traverse solo. More on that to come, but it pushed me to truly take off-the-beaten path to a new level.
It all began with a half-baked dream, a whole lot of self doubt, and a healthy dose of fear (I mean c'mon hardly any Americans travel long term like this, much less as solo females).
The most surprising about all of this is that I'm still scared. I'm scared every day. Each time someone asks, "what will you do when you're done traveling?" I shudder a little bit. That is the one question that, from the beginning, I never had an answer to.
"It will come to me on the road," I always said.
As I close this chapter of: life, wandering, hundreds of hellos and an equally high number of goodbyes, new friends, new beginnings, hundreds of brilliant sunsets and awe-inspiring sunrises, hours of laughter, times of frustration, jar after jar of tiger balm to soothe the mosquito bites, mental calculations of baht, dong, rupiah, kip, riel, and ringgit, countless random acts of kindness and thousands of smiles, my heart feels heavy with nostalgia, warmth for the good times, a little bit of pain, a little bit of fear, and even more anxious anticipation of what's to come.
The only thing that is clear to me right now is that my wandering isn't finished. It can't be. I'm not ready.
I've missed everyone from California, and it's still home, so when I say this please don't get me wrong:
I'm coming home, but I have a plan.
I won't be staying for long.