Have you heard of Trover? It's like Pinterest meets a virtual travel agent – like a really, really, ridiculously good-looking travel agent.
Trover is a social platform that allows you to find suggestions in locations the world over made by bloggers, friends, or even complete strangers who just happen to have stumbled on something amazing. Each discovery is accompanied by a geotag that makes it easy to find, and, in the case with my discoveries, a corresponding link to a blog post I've written to give you more information. They are arranged in a user-friendly list created by each user, making travel planning that much easier.
When I first discovered Trover, I reached out to them to see if there was a possibility of working together, because it embodies just about everything that Be My Travel Muse is all about – sharing off the beaten path information and insider's tips. Now that I've gotten to know the platform over the past few weeks, here are 7 reasons why I'm addicted, and why you should check it out:
1) Follow people who are in the know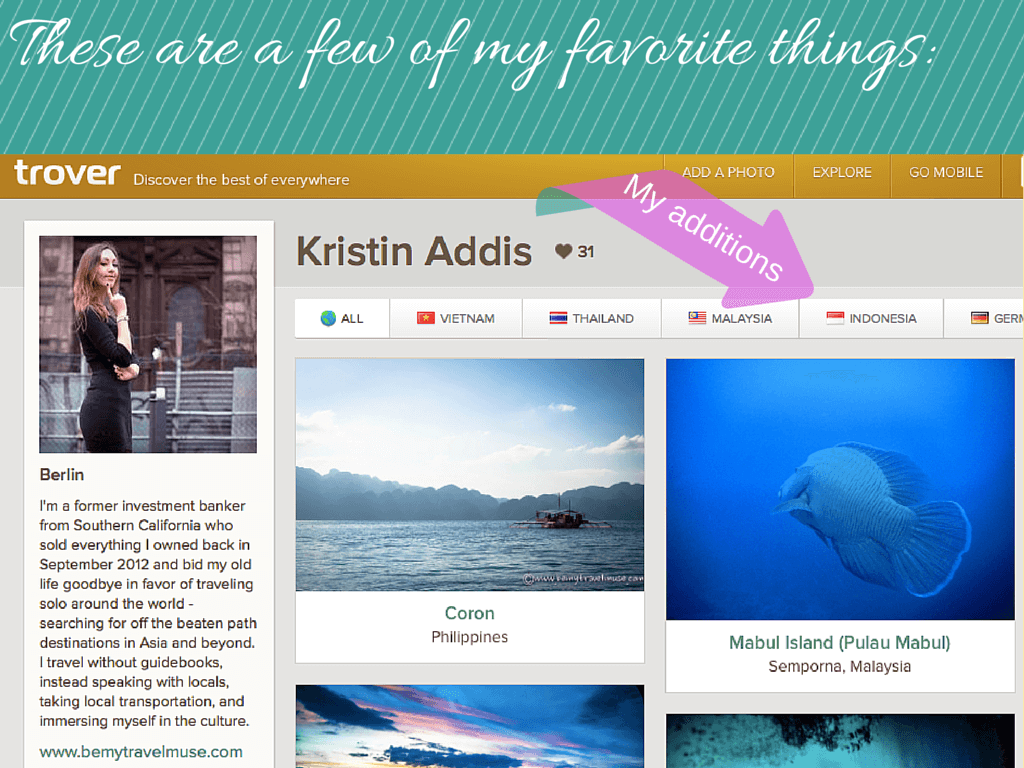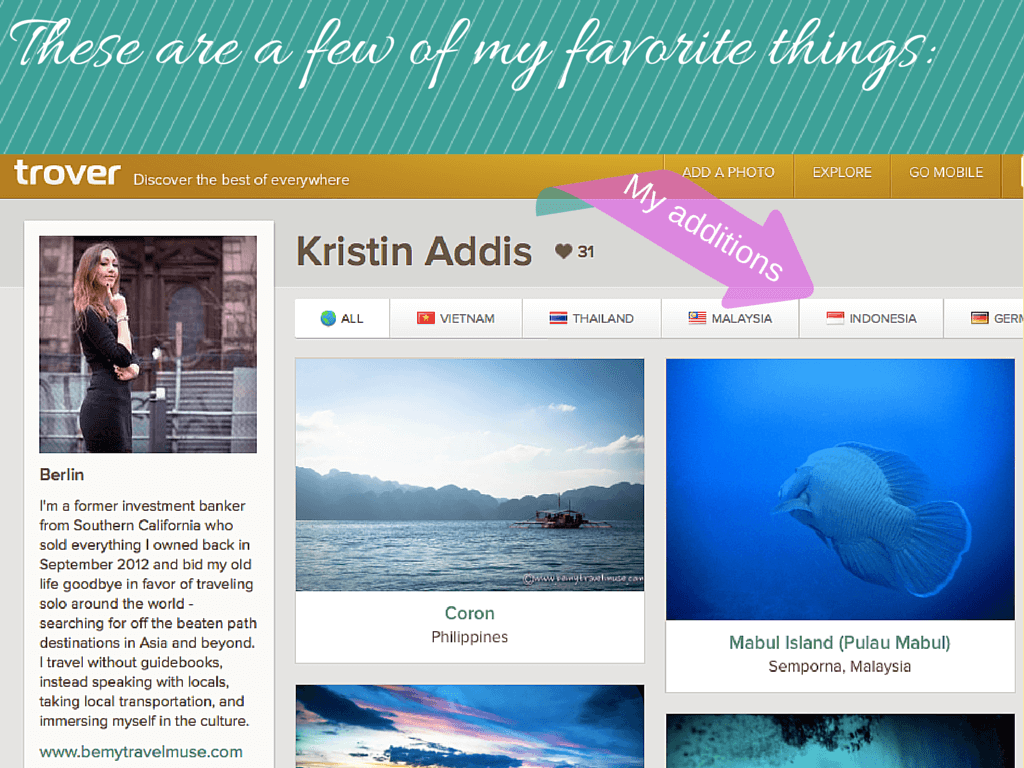 May I be so bold as to suggest myself?
What I like about Trover is I see names I recognize on there and can easily follow people who I know are experts in certain areas of the world. Since Trover works by syncing your Facebook or Twitter contacts, it's easy to find the lists and discoveries that your friends have made, and to search for your favorite travel bloggers' suggestions as well.
2) Find things you didn't know about before
While looking into activities for my South Africa travels, I discovered a bunch of things I didn't know existed. Rather than dig through Google or head blindly to a place on a map, I liked that I could pick things based on the awesome photos I was seeing.
I am a visual person, after all.
Who isn't?
3) Plan vacations more easily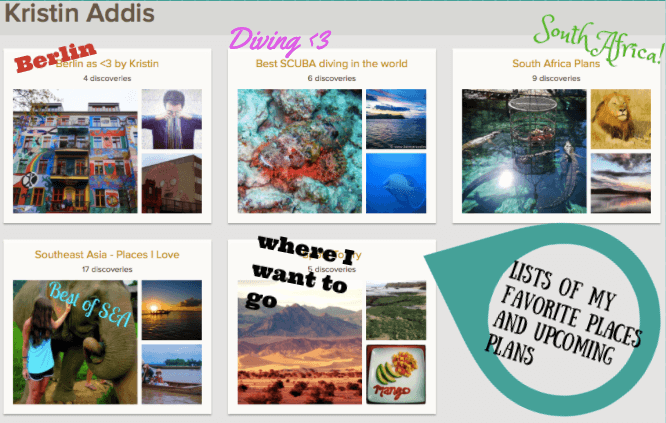 Following up on point #2, it's just easier to plan things out when I can easily make a list, reference it later, and find the locations of each place I chose based on the geotag.
4) Make lists you can share with friends (or readers) 
If you're planning a trip with a friend or two, I really like this method of sharing some of the places on the top of the wish list.
As for me, I get a lot of emails asking me for tips for certain areas of the world. While I've done a lot of trip planning to help readers plan their dream vacations, now I can easily follow up with a list I've curated of all of my favorite places, especially in Southeast Asia and Berlin, with corresponding geotags.
For all of the SCUBA diving enthusiasts out there, you'll notice I've made a list for you, too!
5) Become known as an authority on the places you're passionate about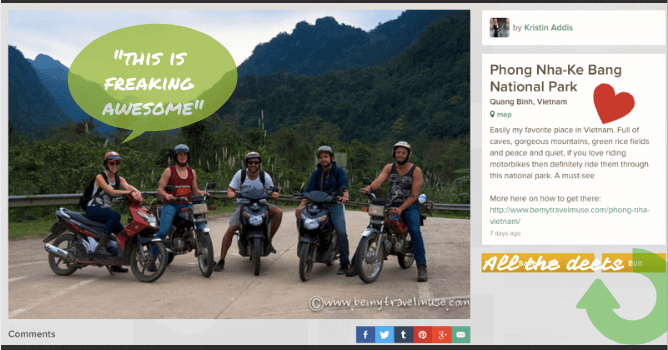 If you love sharing your travel tips and are as addicted to social media as I am, your dopamine levels will get a little spike (it's science) each time a person "thanks" you for your discovery on Trover. 
If you're like me and being an authority is important to your business, it's yet another reason why this app is helpful for more than just feeding your wanderlust on a Sunday afternoon.
6) Drive traffic to your website
For each discovery, place a link to your blog post that corresponds, and if your discoveries are compelling enough, you just might encourage some traffic to your own website via Trover.
By the way, If you're a budding travel blogger, my tutorials on how to build a successful travel blog can be found here.
7) Feed your wanderlust
I just like going on Trover and dreaming of the possibilities in various countries I want to visit, and discovering places that I may have missed in countries I've visited previously.
I consider myself an authority on experiences that are outdoorsy and/or culturally immersive, but other things, such as where to find the best food, are best left to the foodies and those who devote their time to discovering such things. I've really appreciated Trover for that in particular, because we can't be experts at everything, can we?
Those are my reasons for loving Trover. If you haven't tried it before, give it a go and let me know what you think.
P.S. I'm sorry in advance for presenting yet another social media addiction!
*As mentioned earlier in the post, this was brought to you as part of a collaboration with Trover.
Click to read more posts about