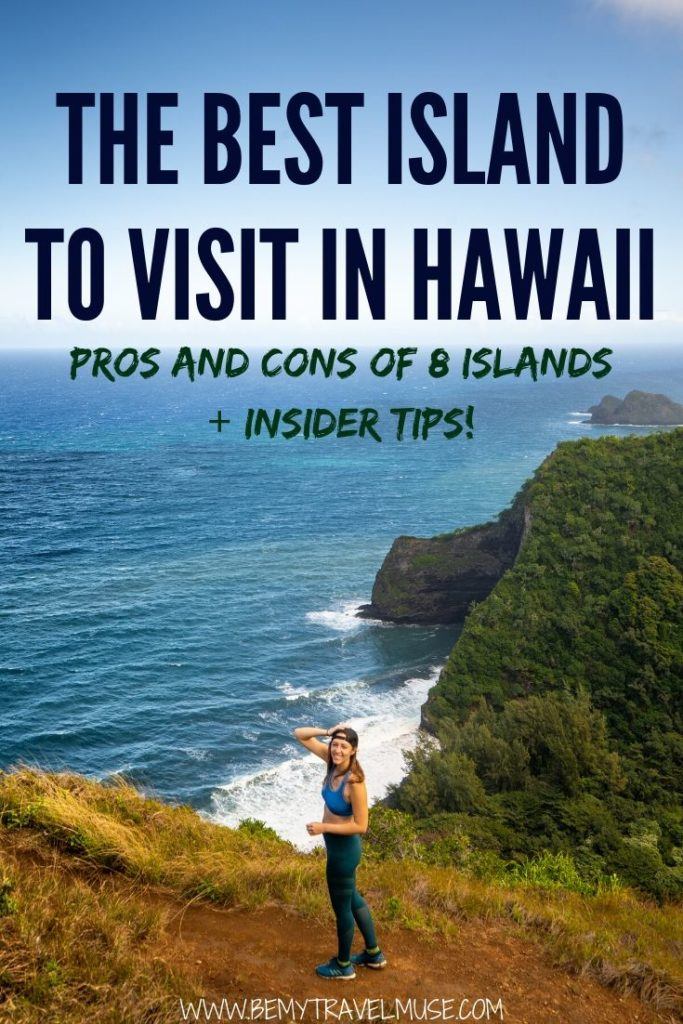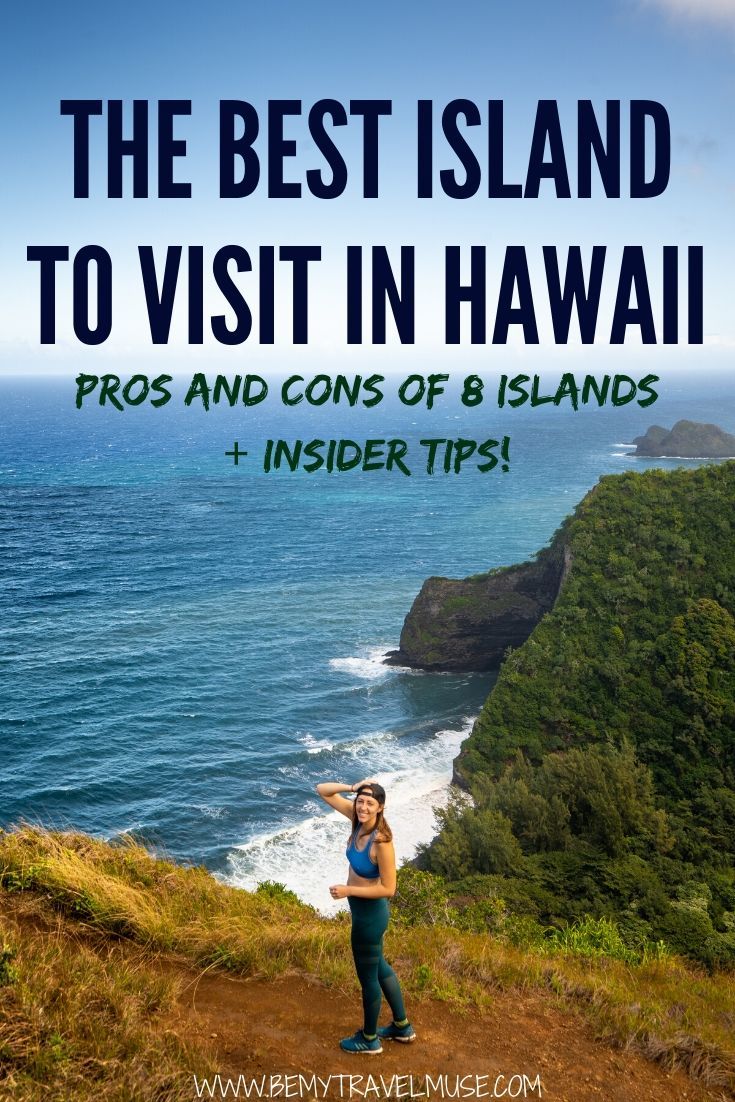 Which island in Hawaii is the best to visit? Which one, if you're short on time, is going to give you exactly what you're looking for?
I've spent time on every visitable island in Hawaii, and the only thing I know for sure is that they're all quite different. That's why I'm writing this post today – because the best island to visit in Hawaii will depend on what you want to see, experience, and get out of it, and I want to help you pick.
Let's focus on the perks, and drawbacks, of each so that you can plan the ultimate Hawaiian vacay:
Big Island of Hawaii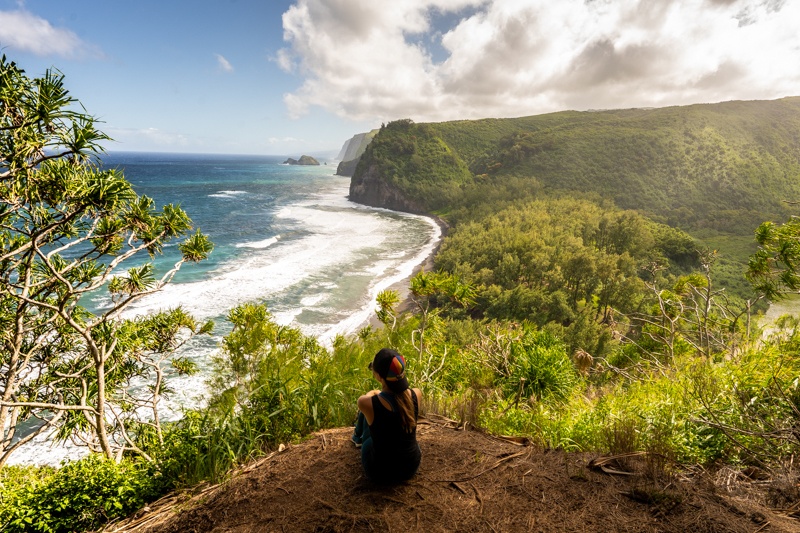 The Big Island is so big, it can fit all of the other islands of Hawaii combined. It also has eight to ten of the world's 14 microclimates, depending on which source you believe, offering an abundance of adventures no matter what your appetite may be. It's also home to 4 of Hawaii's active volcanoes. I love this island so much, I'm in the process of buying property there!
Great things about the Big Island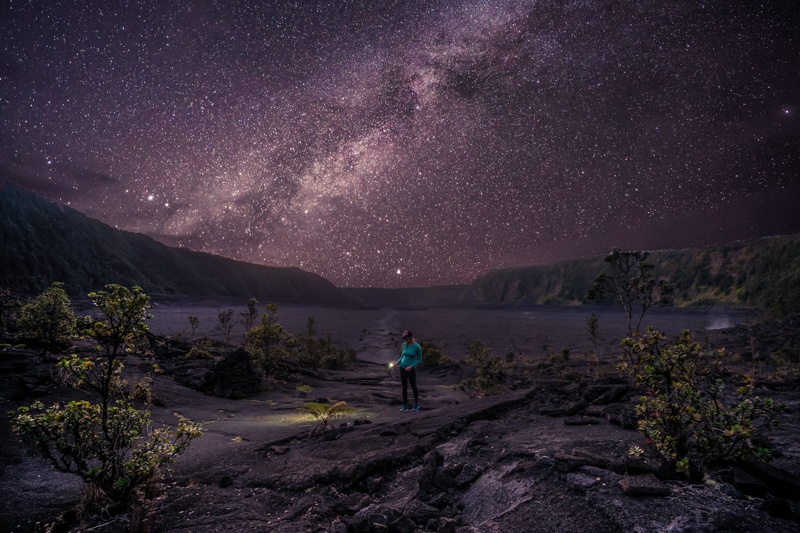 It's Wild: If you're looking for an abundance of adventure, and an island that feels truly wild, the Big Island fits the bill in so many ways.
Diversity: Cliff jump and swim with a bait ball at the most southern point in the US (50 states), join a beach drum circle in Puna, and see snow on the top of Mauna Kea.
Multi-day hikes: If hiking on places that look like the moon appeal to you, there are multi-day hikes up on the volcanoes, in the national park, and along several stretches of coastline.
White, green, and black sand beaches: the Big Island has one of four green sand beaches in the world, along with a variety of black and white sand beaches with lots of great snorkeling and sea turtles!
Variety: The Big Island offers so much to do, from waterfalls to dolphin watching, snorkeling, hiking, and tons of tours that you can choose from. I believe the Big Island has more to do than any other Hawaiian island. Here are 25 of my favorites.
Downsides of the Big Island:
It's big! It can take hours to get from one side to the other, and this is not an island you can truly "see" over the span of a weekend. To me, that makes it perfect for a road trip, but not for a quick pitstop.
Oahu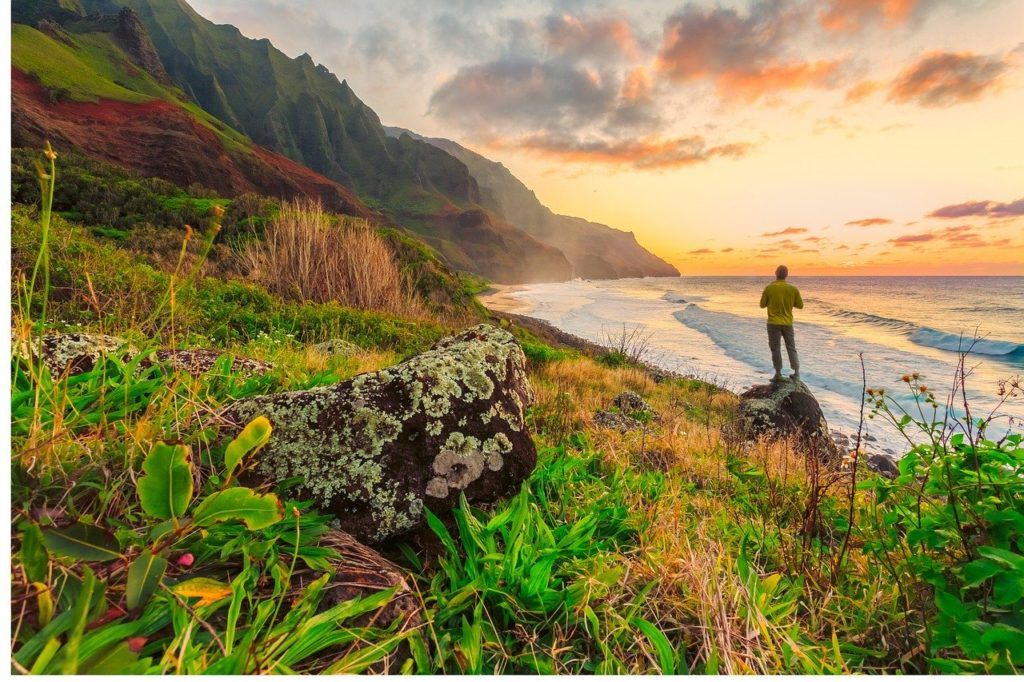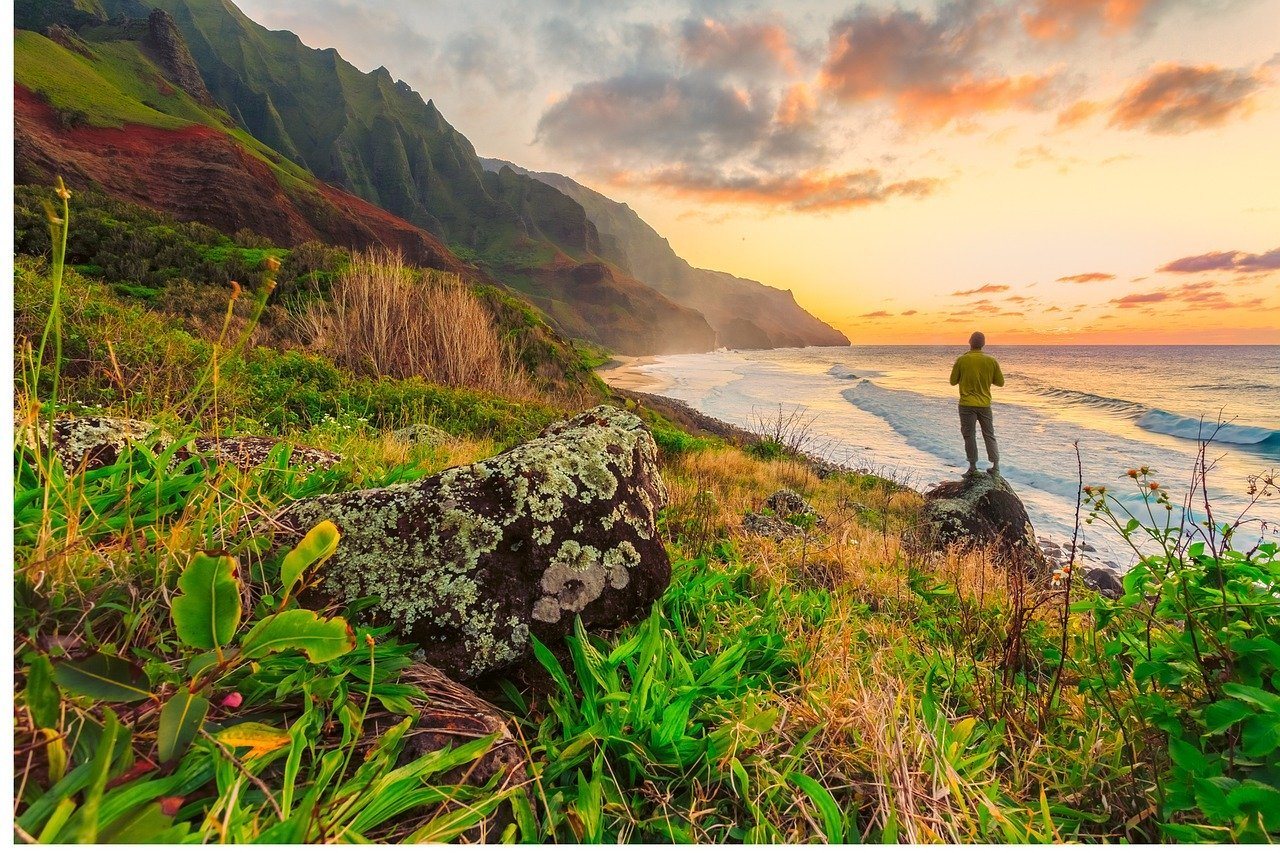 Oahu is the most visited of all the Hawaiian islands, welcoming about half of the 9 million or so people who travel to Hawaii each year.
Here you'll find the state capital of Honolulu, Hawaii's biggest city, as well as the famous Waikiki Beach. There's a lot more to Oahu though, like famous surf breaks, the gorgeous North Shore, and lots of beautiful hiking on dramatic clifftops like Diamond Head Crater.
Great things about Oahu: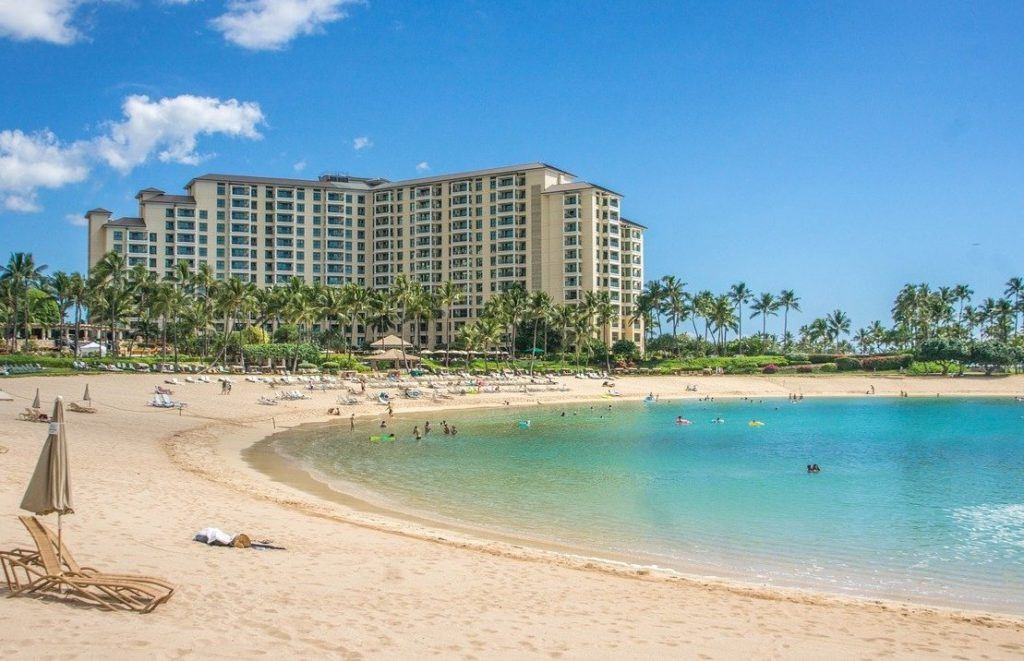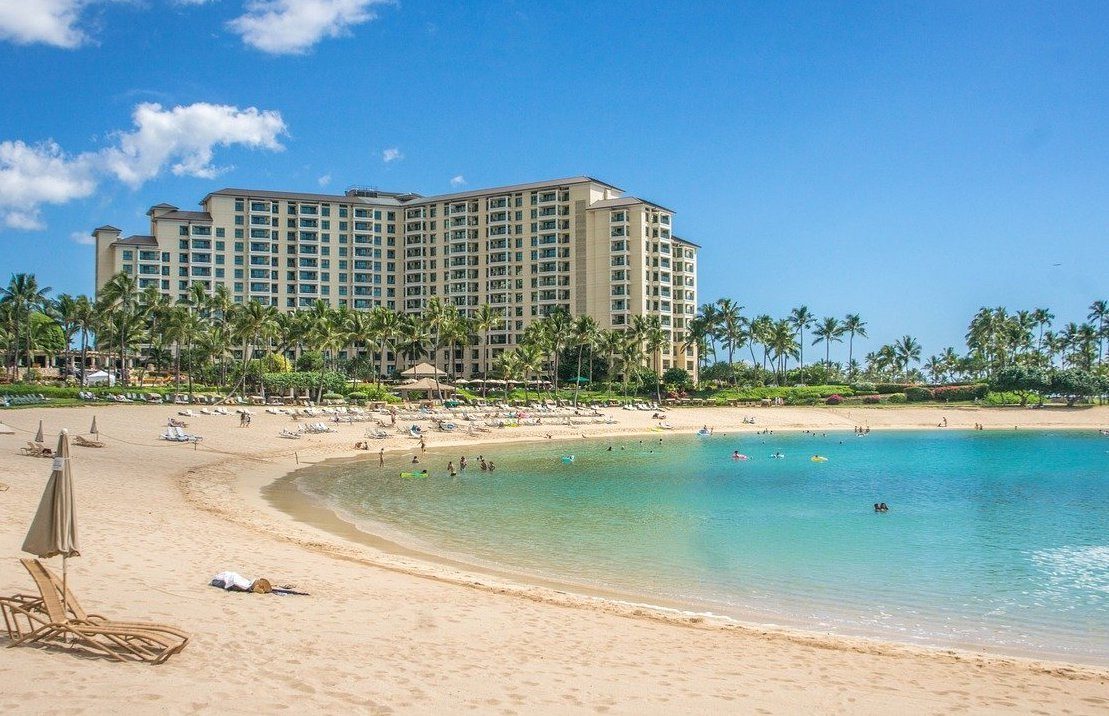 More infrastructure: If you want variety, including a big city with nightlife, fantastic surf on the North Shore, dramatic clifftop hiking, and gorgeous beaches, Oahu is perfect.
Ease: This will also be the easiest island to travel to for international visitors, as Honolulu International is the state's most accessible and biggest airport.
Accommodation options: If you're looking for big resorts, Oahu has plenty of them. If you're looking for small vacation rentals, you can find those too. Some of the bigger names like Disney have options here that you can't find on the other islands.
Lots to do: Again, you'll find all kinds of things to do including tours, hiking, snorkeling, and surfing.
Downsides of Oahu:
What some people may consider an upside, others might consider a downside. If you don't want to share your vacation with so many tourists and aren't interested in a beach lined with high-rises, Waikiki is not going to be your cup of tea. That's not to say that you can't get away from it all by heading to the North Shore, or hiking Chinaman's Hat (I know, cringe at the name! The official name is Mokoli'i meaning "Little Lizard"), but if you want something more wild, keep reading.
Maui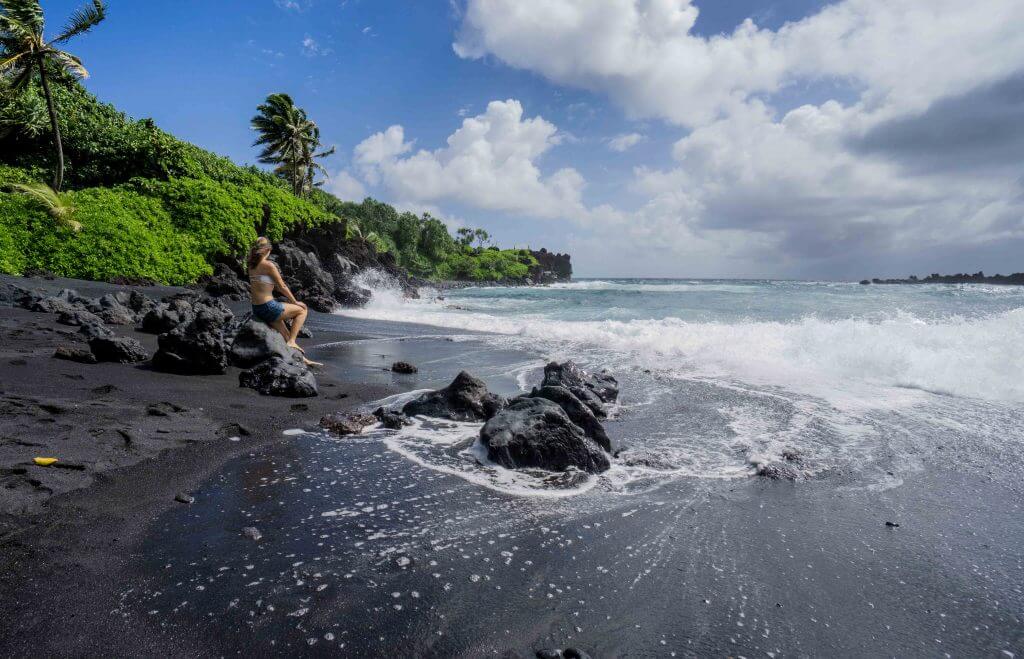 Peanut shaped Maui brings in its fair share of visitors too, welcoming almost 3 million people in 2018. Yes, it's touristy, but also insanely beautiful, and not as packed as Oahu. In Maui you can climb volcanoes, chase waterfalls, and snorkel the Molokini Crater. I traveled solo to Maui a couple of years ago and had a fantastic time. I can't wait to go back!
Great things about Maui: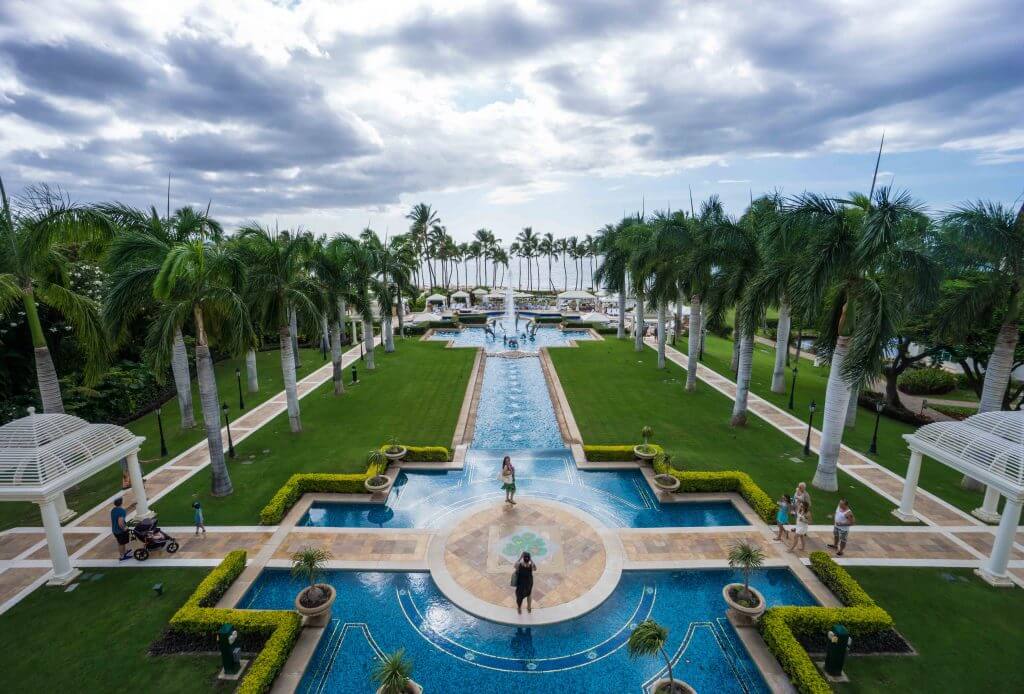 Haleakalā Volcano: This is easily one of the best sunrises in the whole state of Hawaii. Watch as the clouds make way for the sun on Maui's tallest point.
The Road to Hana: This scenic drive has plenty of hairpin turns and narrow roadways, but where else can you see black sand beaches, rugged coastline, a bamboo forest, and dozens of waterfalls?
Beautiful resorts: If you still want to get the resort feel, and especially if you want something higher end, Maui delivers. I particularly loved the Grand Wailea.
Downsides of Maui:
If you really want to get away from other tourists, it's going to be difficult on Maui. Though there are all types of accommodation, Maui does cater to a higher-end traveler with a bit more money.
Kauai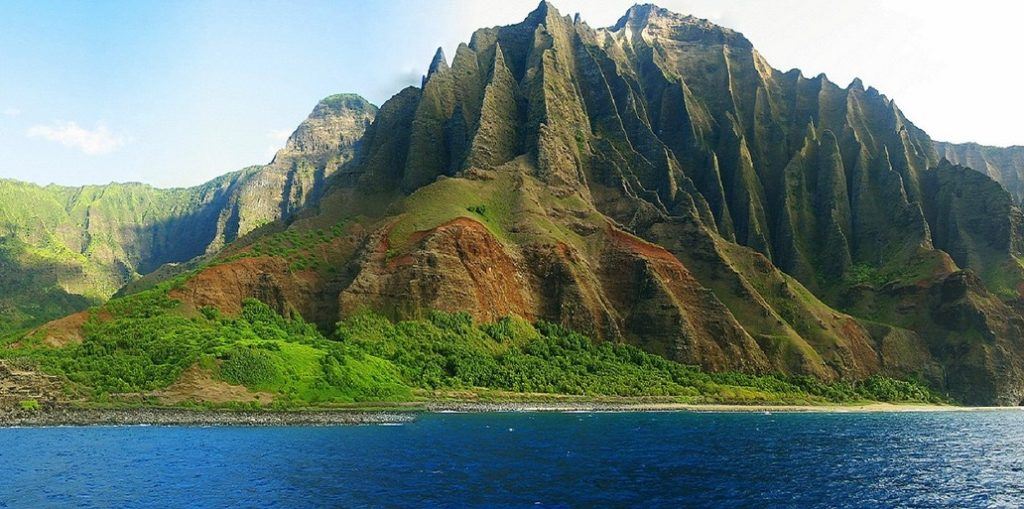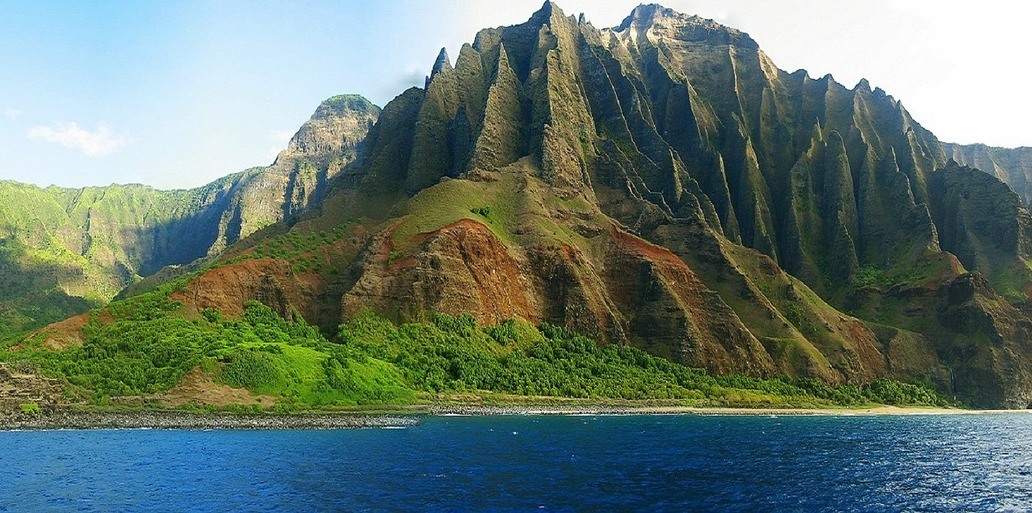 Kauai is the fourth-most visited island in Hawaii, and also receives the most rain out of all of the Hawaiian Islands. That means that it's quite lush and jungly, as well as waterfally (not a word, but it should be!). Though every Hawaiian island feels magical, Kauai has truly gorgeous beaches and dramatic mountains as well. Plus, there is plenty to do on Kauai for nearly every kind of outdoorsy traveler.
Great things about Kauai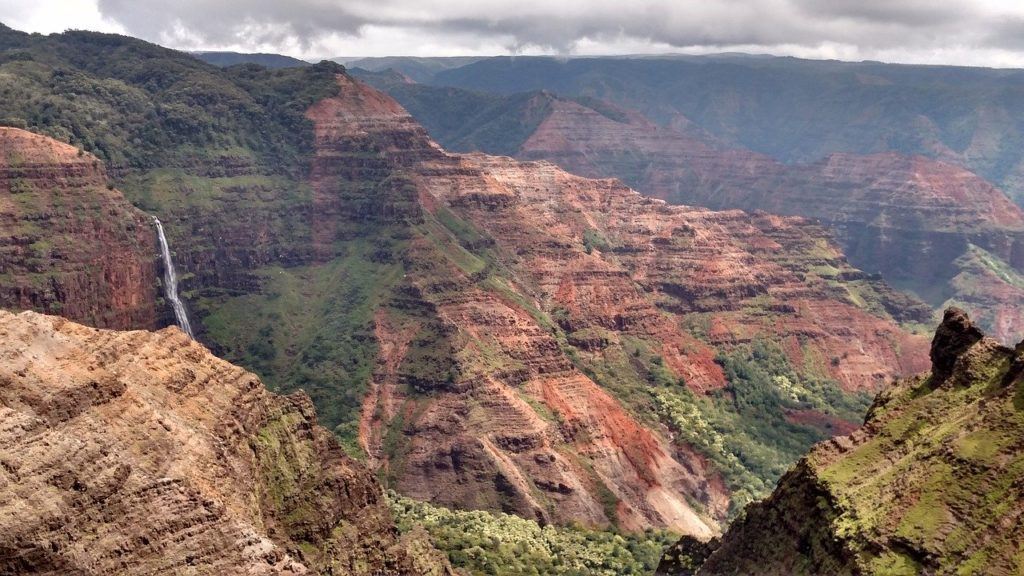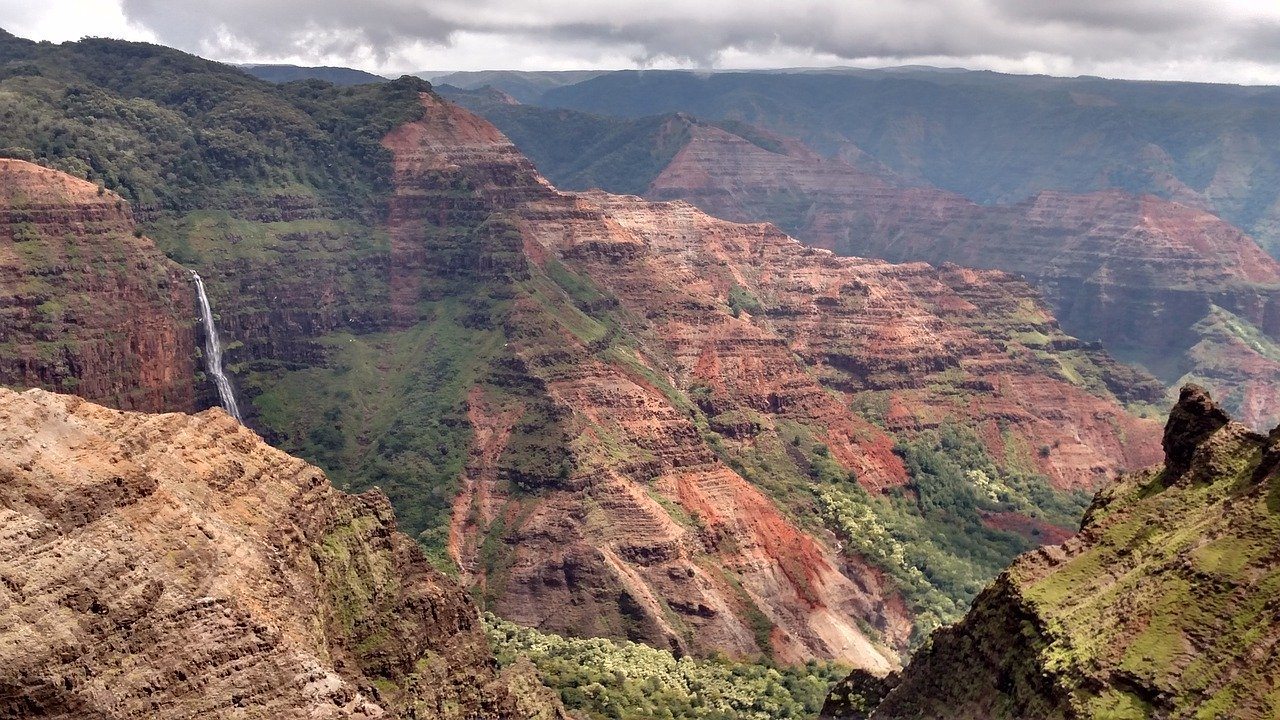 The Nāpali coast is enchanting, with more waterfalls than you can count! You can experience it by helicopter, or by boat. Many boat tours turn it into a snorkeling excursion as well.
Hanalei Bay: The beaches on Kauai's North Shore are lovely, and not as crowded as what you might find on Maui or Oahu.
Waimea Canyon: Hawaii's version of the Grand Canyon offers some fantastic hiking.
Downsides of Kauai
Kauai is 25 miles long, with one road that runs along the coast. Word has gotten out about it's beauty, and now it's a popular island. That often means lots of traffic. It also has more mosquitoes than some of the other islands due to all of that rainfall. That said, most of the islands have mozzies, it's the tropics, after all.
Lanai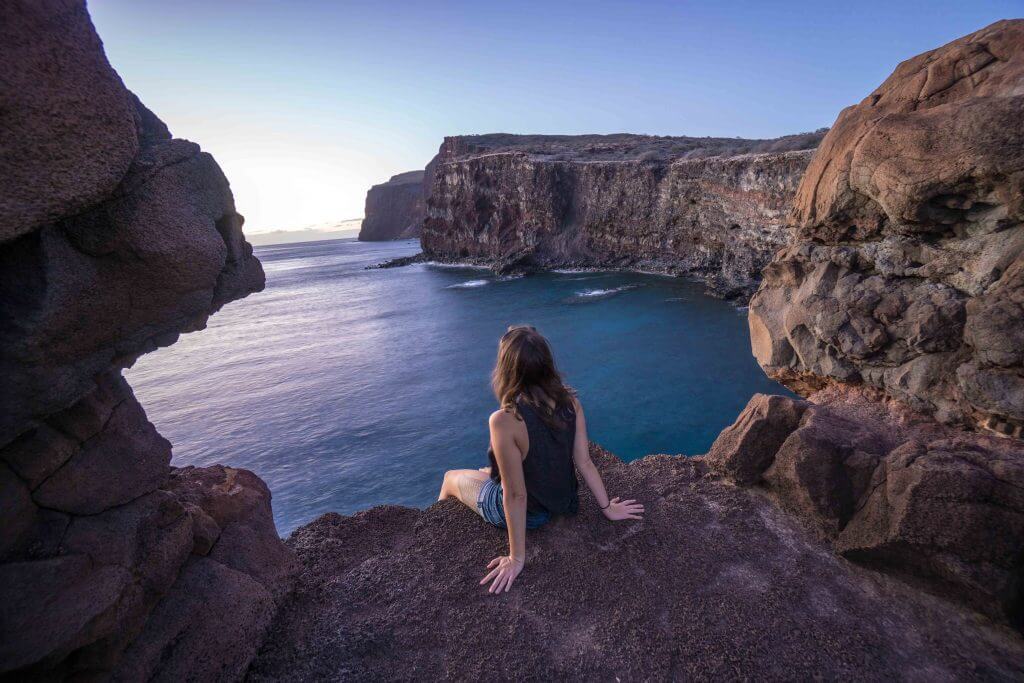 I love this little island! But it's not for everyone. When you arrive on Lanai, you'll notice that the only car rental available is a jeep, and that's because nearly all of the roads on this island are unpaved and rugged. They are also very few places to stay, and very few other visitors as well. This is, overall, the driest of the islands, but you're almost guaranteed to get most of your adventures all to yourself.
Great things about Lanai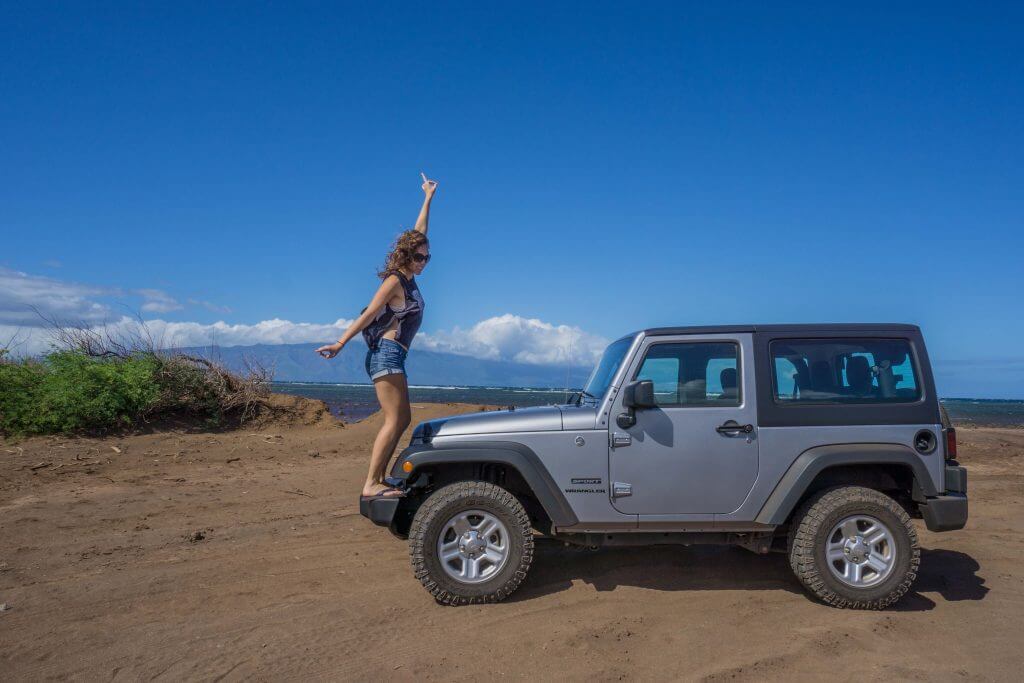 Solitude: Compared to Oahu's millions of visitors, Lanai gets more like tens of thousands. If you want to have an adventure without other tourists around, this island is perfect.
Pu'u Pehe: This beach and the tide pools are lovely, and great for snorkeling and free diving through swim-throughs.
Kaunolu: One of the most sacred places on the island, and a beautiful cliff from which to watch the sunset. You'll probably be the only one there, provided you're up for an adventurous drive! You can read more about the best things to do on Lanai here.
Downsides of Lanai
If you want lush jungle, you won't find it on this island. It's dry, which means almost no mosquitoes, but also very few jungles and waterfalls.
Lanai is also small, so you might run out of things to do quickly. You'll also need an appetite for adventure, since many of the roads will be rugged. To some people this will be great, to others it will be a no-go. If you're looking for luxury, there is a Four Seasons resort on the island, but that's about it!
Molokai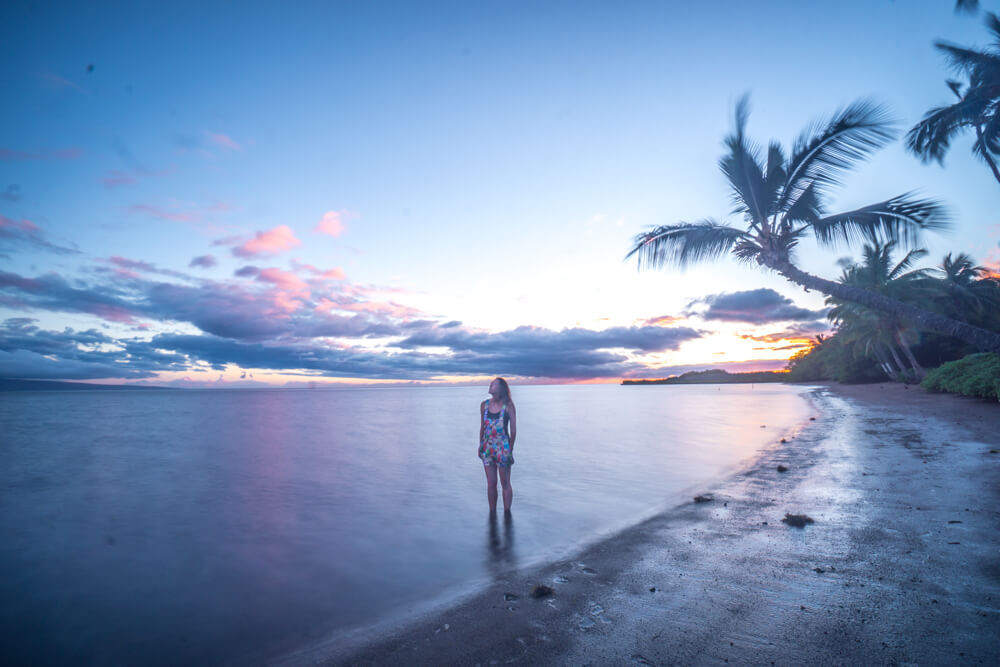 The most local of the main Hawaiian Islands, Molokai also receives far fewer visitors than the other islands and will have the least touristy feel.
Great things about Molokai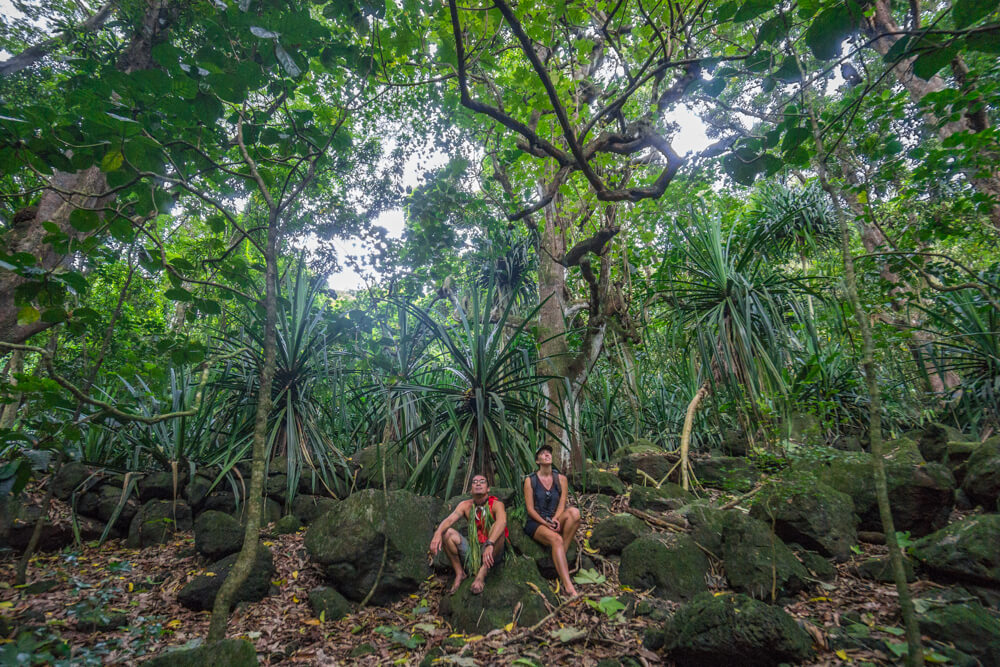 Authenticity: if you're looking for authentic Hawaii you will find it on this island. The residents have actively worked against having any high-rise hotels and as a result, there's not much industry on the island and only a few places to stay. However if you want a truly Hawaiian experience, you can find it here. I loved walking to Greg's waterfall. Read more about it here.
Kalaupapa: Most people take a horseback ride to reach the former leper colony of Molokai. Even if you're kind of afraid of horses like I am, this is a truly beautiful experience to a lush green canyon and a peek back in history.
Downsides of Molokai
This is not a touristy island at all, so don't expect a lot of infrastructure or tours and hotels catering to tourists. Some people also warned me that the locals might not be all that welcoming, but I didn't find that to be true as long as I was super friendly with them first. As they told me, it's not that they want no tourists, they just want the right tourists.
Niihau and Kahoolawe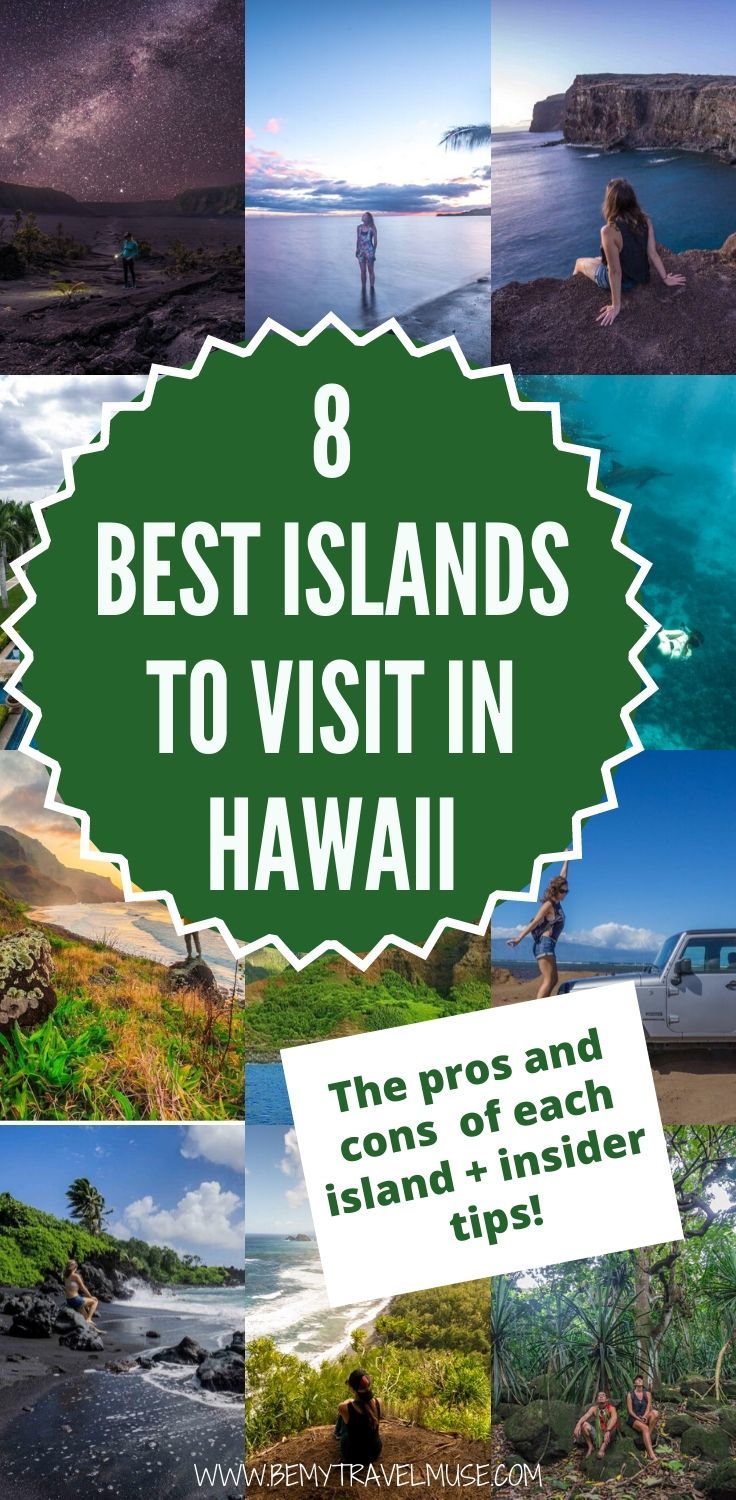 These two islands are off-limits to visitors, unless you take a helicopter ride to Niihau, or volunteer on Kahoolawe. They both have critical habitats for highly endangered species. While Niihau does have a few permanent residents, they have no roads, cars, stores, restaurants, or even electricity.
Kahoolawe is the smallest of the main Hawaiian Islands, and also quite dry. It's considered uninhabitable due to its small size and lack of fresh water. The only way to get there is to volunteer to help on large scale restoration projects.
I hope that helps you pick out the best Hawaiian island for your trip. I had to reach to come up with any downsides for the islands, because all of them are fantastic and each is worth visiting. However, if you have limited time, I hope this post helps you to find the best island to visit in Hawaii for your desires.
PLEASE: When traveling in Hawaii, swear off plastic. Take refillable water bottles and shopping bags, and don't buy items that come in single use plastic, like soft drinks, fruit, etc. Hawaii no longer recycles plastic or paper! Please help keep the islands clean.