Thailand is one of the best countries to visit if you're new to travel. Rich culture, kind people, beautiful beaches and jungles, and a solid tourism infrastructure make it an ideal place for solo travelers and vacationers alike. But many first timers make the tragic mistake of eating only Thai takeout favorites for their entire trip. I like Pad Thai as much as the next person, but there is so much to taste on your first visit that you'd be doing yourself a huge disservice if that's all you ate! Here's a guide to help you make the most of each meal when you visit Thailand. 
Choose Your Curry: Red, Yellow, Green, Massaman or Panang Curry
Curry is one of the most renowned dishes in Thailand, and for a good reason. No matter your taste preference, you're guaranteed to find a favorite out of the Thai options. Most curries have lots of vegetables and a choice of meat: chicken, shrimp, pork, beef and tofu are the most common options. Despite having common ingredients, each curry sauce has such a unique flavor profile that you'll have a hard time getting burned out.
Red Curry
Red chilies, shallots, ginger, lemongrass, and loads of other yummy fresh Asian herbs are ground into a wet paste. Meat and vegetables are fried in this spicy concoction, then coconut milk is added to give it a creamy sweetness that takes this flavor to a new stratosphere. The spice level on red curry is usually about a 3 out of 5, with just enough zip to keep it interesting.
Yellow Curry
Yellow curry gets its color from super-spices like turmeric, yellow mustard seed, and cumin, among many other things. These earthy spices counteract the less-prominent chili and blend beautifully with the sweetness of the coconut milk to create a wonderfully balanced dish. With a spicy scale of a 1 or 2 out of 5, it's a great 'starter curry' for those who can't take the heat.
Green Curry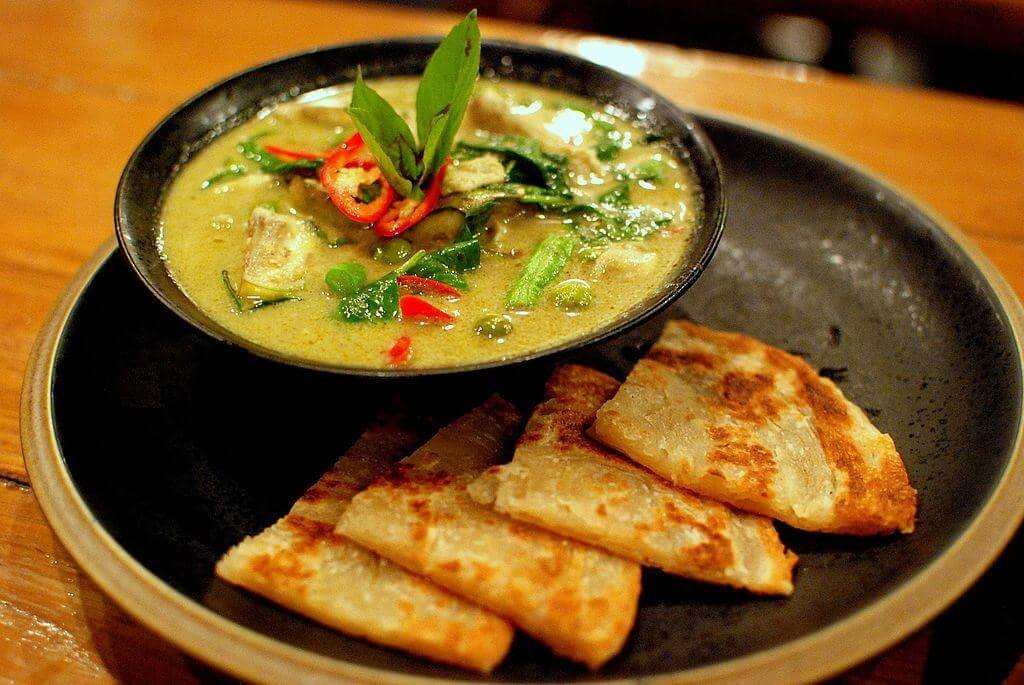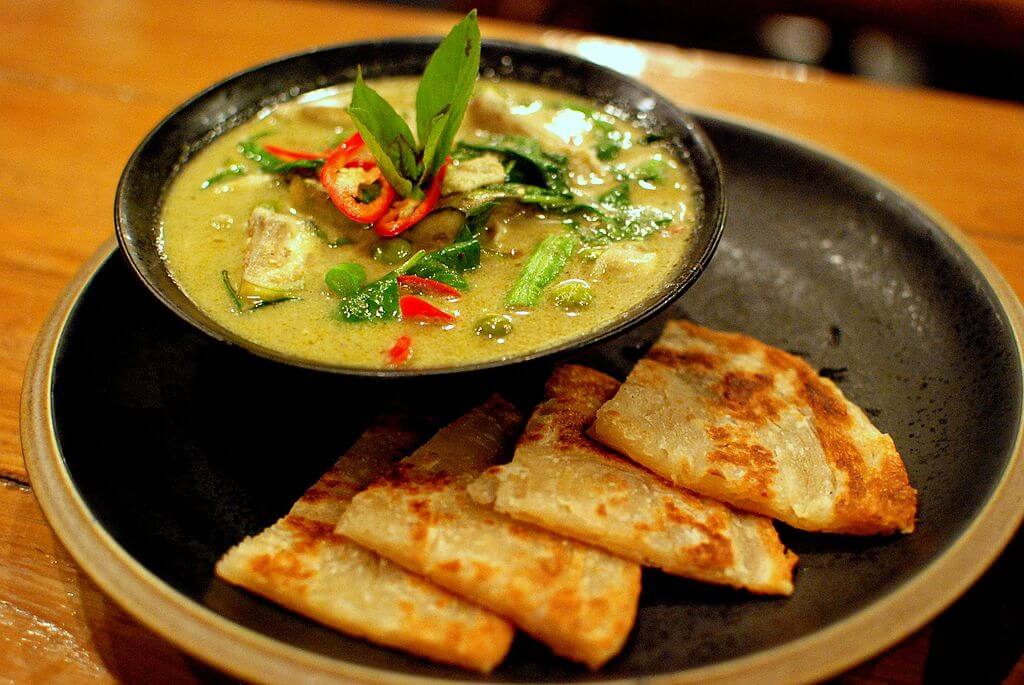 The spiciest of them all (and my personal favorite), green curry gets its color and its heat from underripe green chilis. These are ground with all the usual curry suspects into a thick paste, but even a healthy dose of coconut milk can't counteract all that spice. You may sometimes find this watered down to a 3 out of 5 on the spice scale, but a true green curry should be at least a 4.
Massaman Curry
This is the most unique of the curries, with spices like cardamom, cinnamon and cloves making it one of the rare Thai curries that doesn't rely solely on chili for some heat. With Muslim origins, many attribute these unique flavors to Persian influence. This is generally made with chicken as the protein, and the surprise addition of potato makes it a hearty and satisfying meal (and a pretty decent hangover cure). Some of the best Massaman can be found in Koh Lanta, a predominantly Muslim island just a ferry stop away from Koh Phi Phi.
Panang Curry
My favorite! Many say it's red curry sweetened with coconut milk, but my experience in the southern islands was a slightly spicier, richer version. Ground peanuts are the game-changer with this dish, creating a thicker sauce that makes this curry the least soupy of the options. So much so that you might be able to skip the rice, if you were so inclined. Sweet or spicy, this is a hearty, yummy dish that should definitely make your 'to taste' list when you visit Thailand.
Choose Your Soup: Tom Yum Goong, Tom Ka, Gaeng Jued
Tom Yum Goong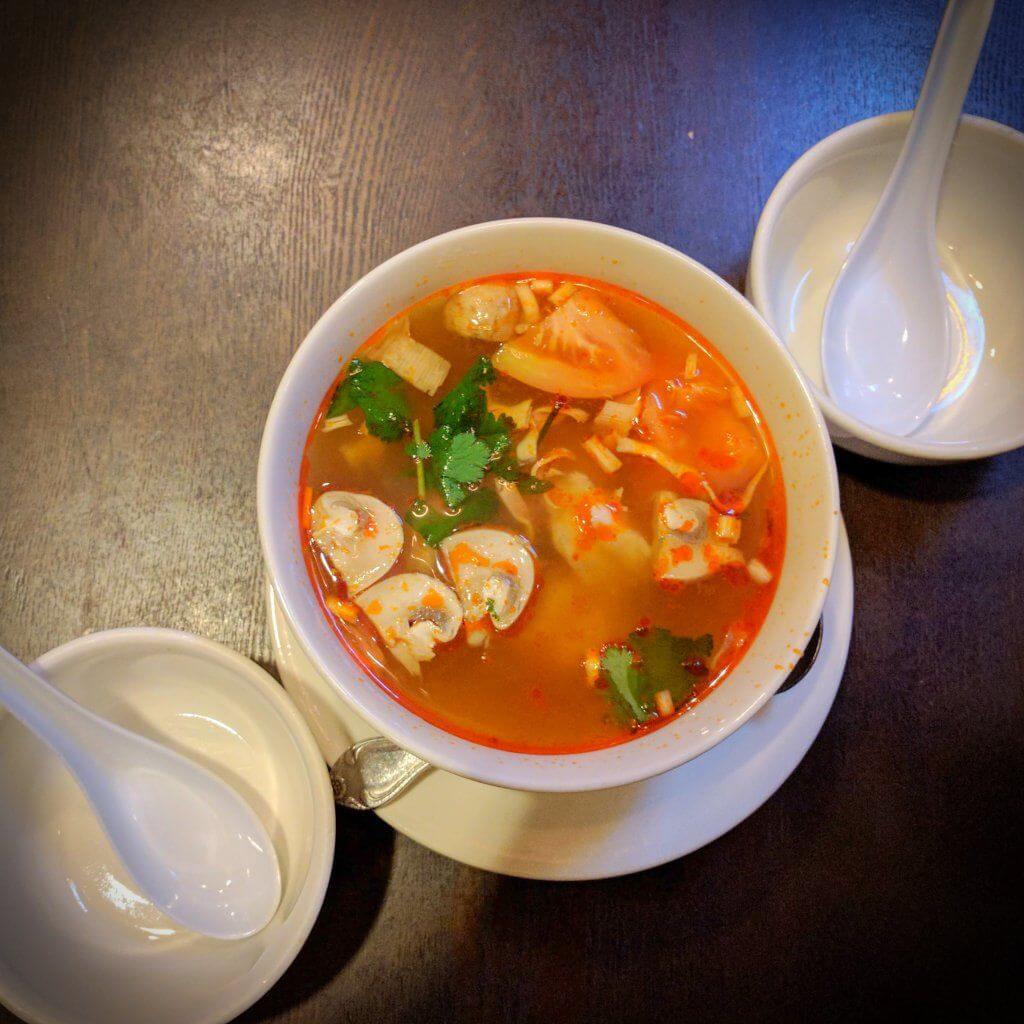 This tangy, savory shrimp soup is heaven in a bowl. It gets heat from chilies, a sour note from kaffir lime leaves and lemongrass, and plenty of hearty flavor from mushrooms, onions, and fish sauce. With chunks of juicy shrimp floating through all that spicy-sour goodness, you'll want to dive into the bowl and never find your way out. Even if soup isn't usually your meal of choice, you'll make an exception for this one.
Tom Ka
This is Tom Yum's creamier, sweeter cousin. Generally made with chicken instead of shrimp, it has a note of tartness from some kaffir and lemongrass, but the coconut milk is really the star of the show. With a hit of cilantro to give it a fresh lift and galangal (a stronger-flavored relative of ginger) to give it depth, it is a well-rounded comfort food meal that will keep you full all night. 
Gaeng Jued
Too many curries have your belly protesting? Gaeng Jued is the answer. This is the equivalent of mama's chicken soup, except it's a veggie and noodle soup (vegetarians rejoice!). Compared to most Thai food, it's pretty bland, but sometimes you need to take a break from the spice and the noodles and just eat something that's easy on your stomach. This is your answer!
Choose Your Noodles: Pad Thai, Drunken Noodles, Pad Siew, and Khao Soi
Pad Thai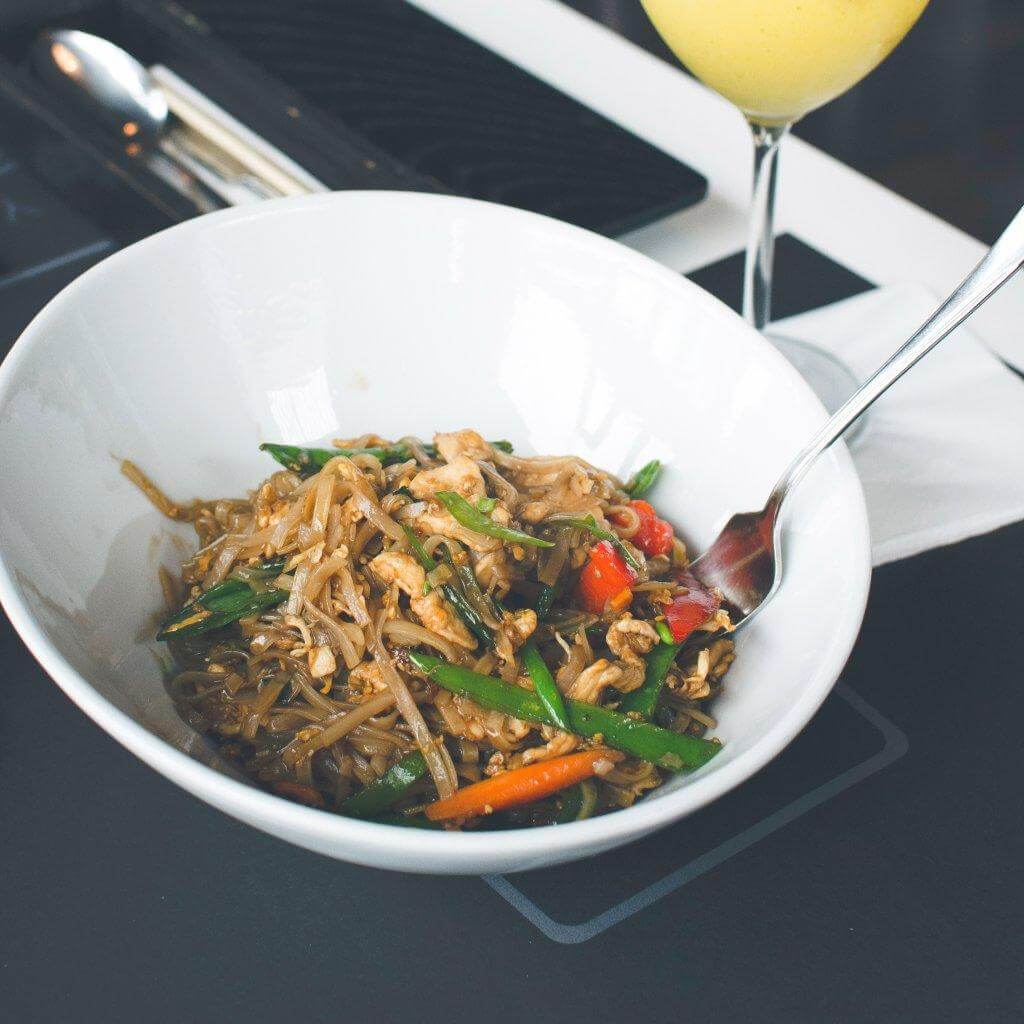 If you've made it to Thailand without trying Pad Thai before, congratulations! You're part of a very small group of people. This dish is most Westerner's first intro to Thai food, made up of thin rice noodles laced with vegetables and chicken (or some other meat) and fried in a wok. Punchy tamarind and earthy fish sauce create a yummy balance, and peanuts, lime and loads of bean sprouts get the texture, crunch and tang that will send you to seventh heaven. Since a heaping plate of this is usually under $0.50 on the street, you'll be loading up.
Pad Kee Mao or Drunken Noodles
The story behind this dish is a good one: One late night a man came back to his house looking for some drunk munchies. He grabbed some noodles, started to fry them up, and threw in everything in his refrigerator. Generally consisting of wide, flat rice noodles, vegetables and some form of meat, it's the stir-fry sauce that makes this dish so yummy. Soy sauce, fish sauce, chilis and Thai basil combine to create the perfect balance of salty and spicy. Unsurprisingly, it's a phenomenal late-night meal after you've had a few Changs. Dig in!
Pad Siew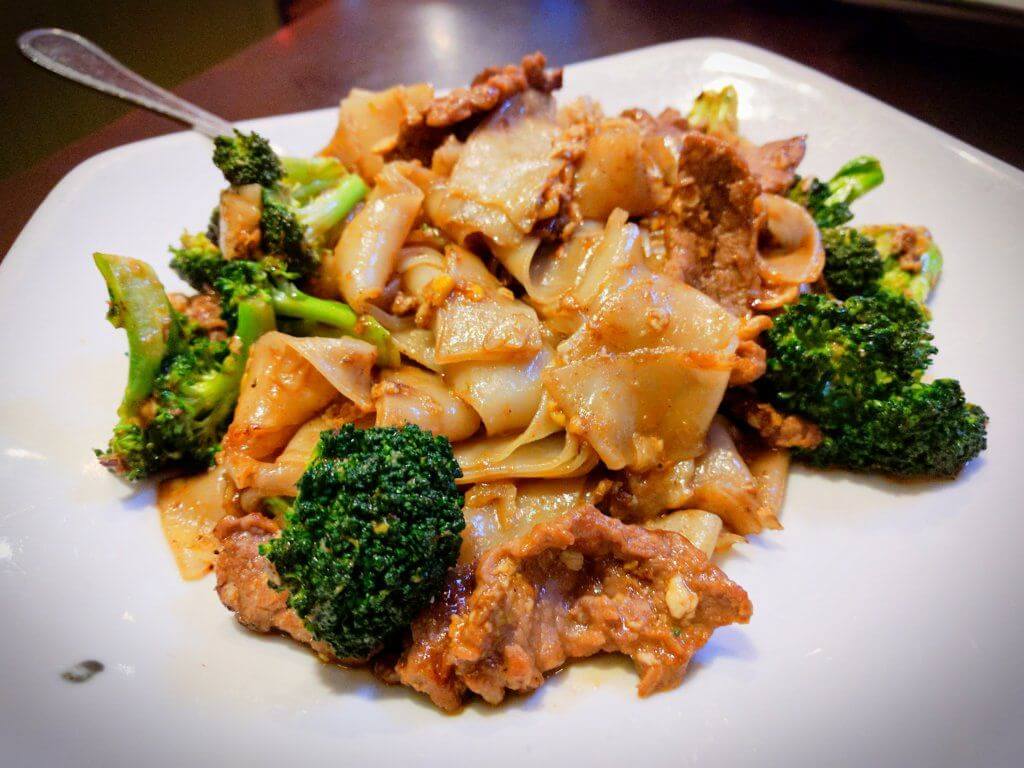 Pad siew is another all-star fried noodle dish you won't want to miss. Similar in many ways to Pad Thai, it features broad, flat rice noodles and a rich sauce that is dominated by dark soy and oyster sauce. It's usually a little sweeter and a little less crunchy (the peanuts and bean sprouts are nowhere to be found on this dish), but with a hit of chili flakes it may supersede Pad Thai as your noodle dish du jour.
Khao Soi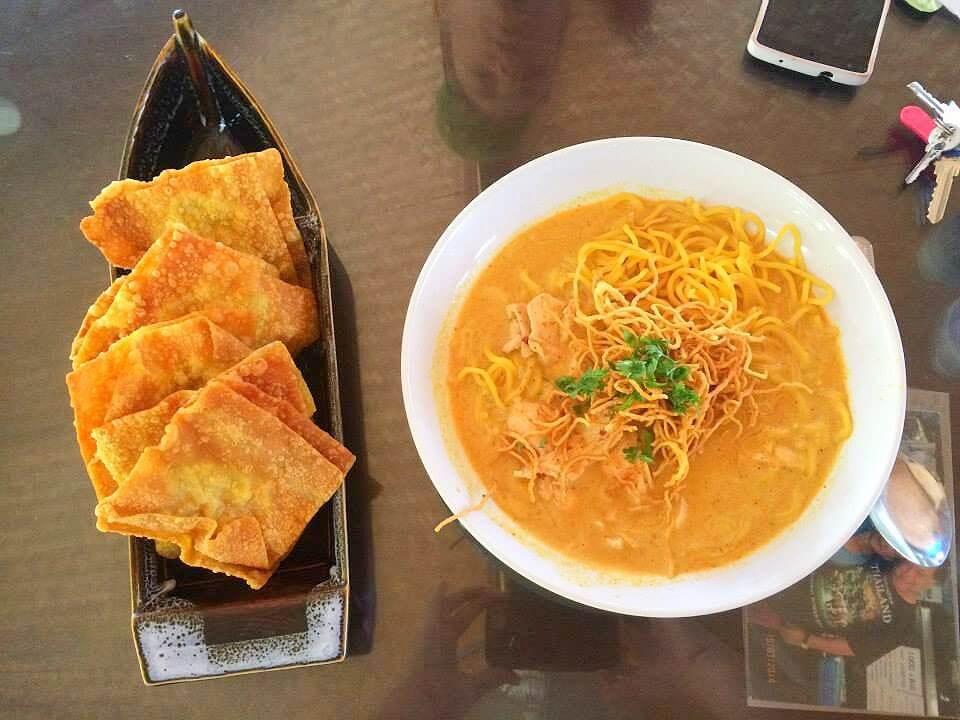 This Northern Thailand staple is an almost-curry, almost-noodle, almost-soup dish. Whatever you may call it, it's 100% delicious. The base of this dish are egg noodles, boiled soft and deep-fried to delightfully crunchy crispiness. This contrast in textures is covered in a thin turmeric-heavy sauce that's thinned out with plenty of coconut milk. Added into the mix are fried chilies, shallots, lime, and pickled mustard greens that create texture and flavor heaven. This ended up being my favorite new discovery on my last visit to Thailand, and it's rarely on restaurant menus outside of the country, so don't miss it!
Som Tam or Green Papaya Salad
Salads don't usually make my list of 'favorite dishes' when I travel abroad. They're usually more of a dietary necessity than the celebration of intense flavor. Not so with Som Tam, an explosion of salty shrimp flakes, loads of spicy chili, nutty toasted peanuts and a lime juice-fish sauce dressing smothered over shredded green papaya. There are so many flavors going on in this dish that your tastebuds will take a beating with each bite, but it hurts so good. It's easy to find, super cheap, and so delicious that you'll come back for more again and again.
Mango Sticky Rice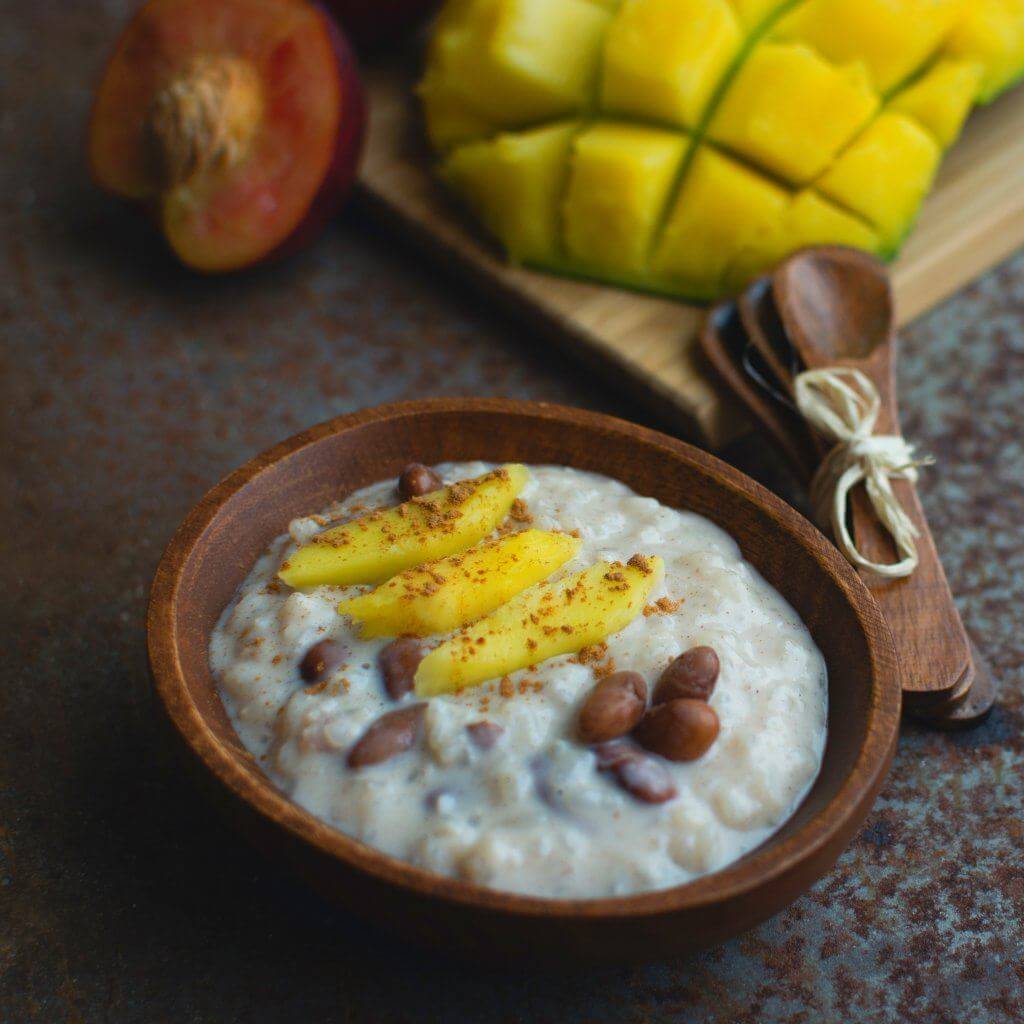 By the time dessert rolls around, I'm usually so stuffed full of curry or noodles that I can't possibly fit another bite. On the rare occasions I can, Mango Sticky Rice is the ultimate sweet treat. It's a very simple combo of ripe mango, glutinous rice and coconut milk. You can find it all over southeast Asia, but I personally think Thailand does it best.
Choose Your Drink: Thai Iced Coffee, Mango Shakes, Chang Beer
Thai Iced Coffee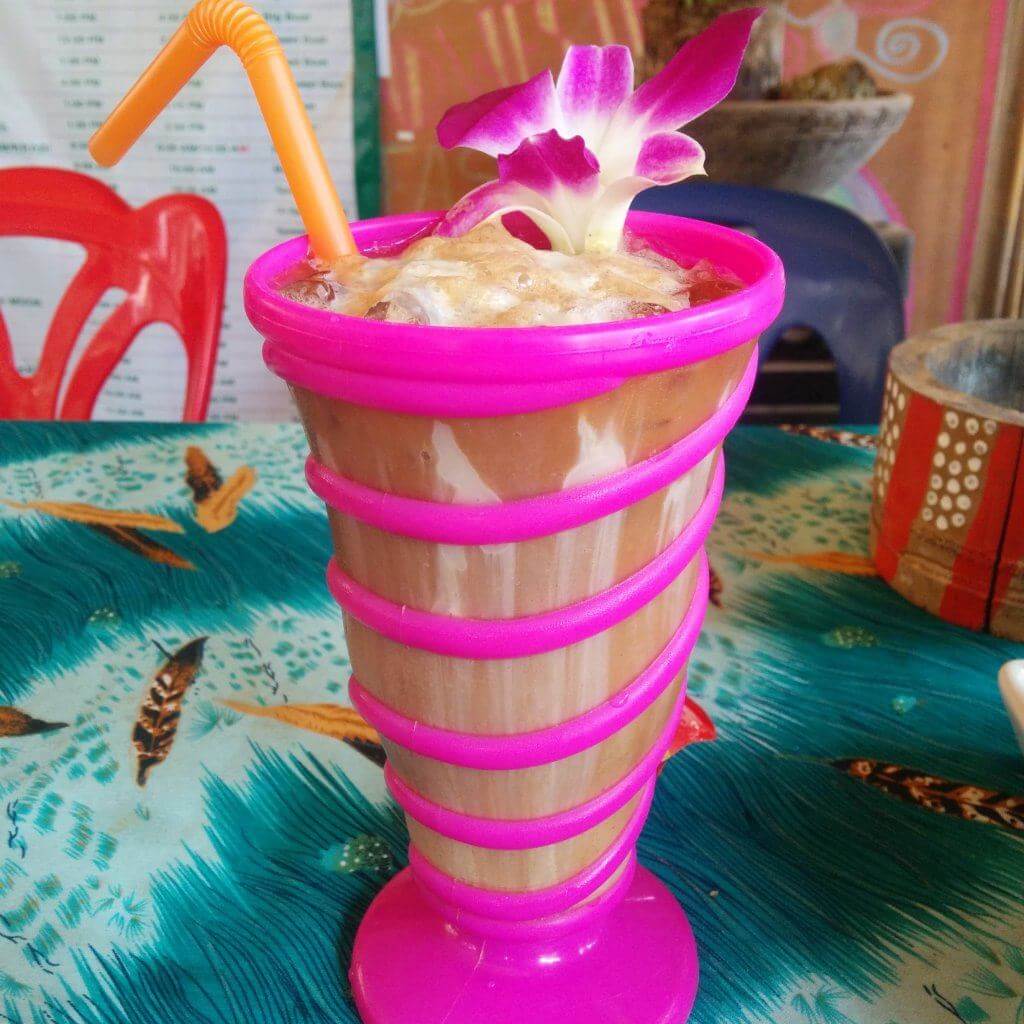 Take super-strong coffee, pour it over a layer of sweetened condensed milk, and put the whole thing on ice. The result is a power-punch of caffeinated goodness that is the best way to start your day. What sets Thai coffee apart is the infusion of spices like cardamom and cinnamon into the coffee itself. Over ice, it's the perfect way to cut that heavy Thai heat.
Mango Shakes
Mango shakes and banana pancakes are staples on the backpacker trail through Southeast Asia. Sure, they may not be traditional Thai fare, but they are so good you won't want to skip it. Shake carts can be found just about anywhere there are people, and on a hot afternoon it's just what the doctor ordered. A ripe mango, a little condensed milk, a little sugar syrup, and a lot of ice. You'll be doing a happy dance.
Chang Beer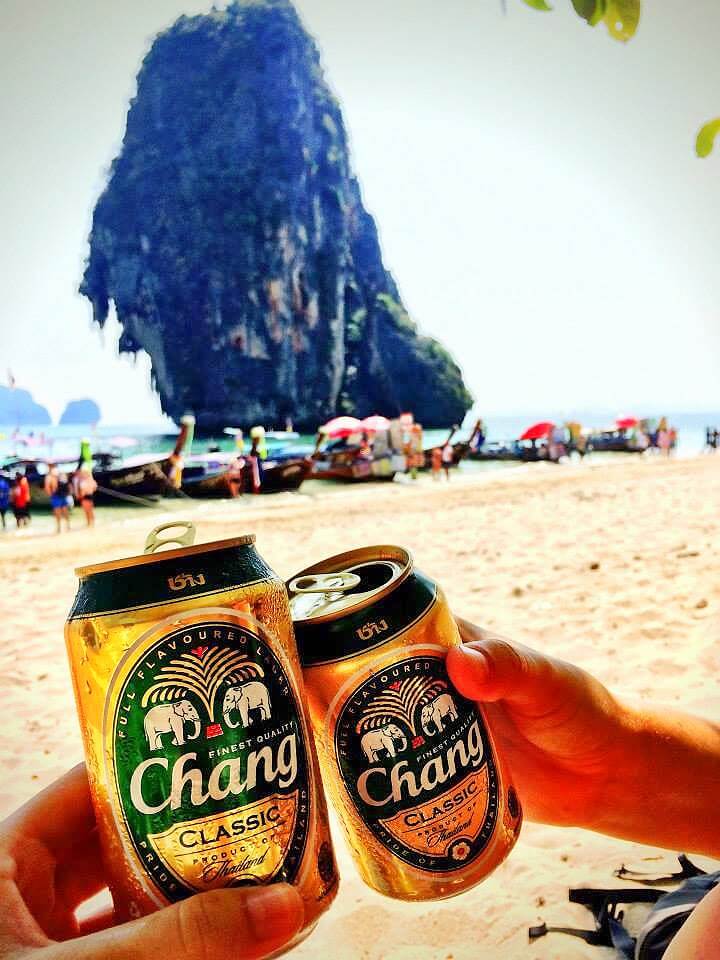 With it's distinctive elephant logo plastered on tank tops, key chains, and hats, Chang is more than just the local beer. It's a national icon. It's an easy drinker (sometimes too easy, if you ask some of the backpackers on Khao San Road), it's refreshing, and a big bottle is a great way to wash down a spicy curry. It might not win any craft brew awards anytime soon, but it gets the job done.
There is so much variety and deliciousness in Thai cuisine, this list is only the tip of the iceberg. There is no better place to get adventurous and try new flavors than in Thailand, so get ready for a culinary journey! Do you have a favorite that didn't make the list? Let me know in the comments!
About the Author: "Jetsetter" Jenn Brown is an adventurer, amateur chef, and wine-lover who has been on the move since 2012. Past adventures include swimming with whale sharks in the Philippines, solo hiking the mountains of Montenegro, and apprenticing at a dairy farm in Spain. She is currently working aboard a tourism charter boat in Southeast Alaska as their chef. You can follow her adventures at her site, JetsetterJenn.com, or on one of her many social media channels: Facebook, Instagram, or Twitter.