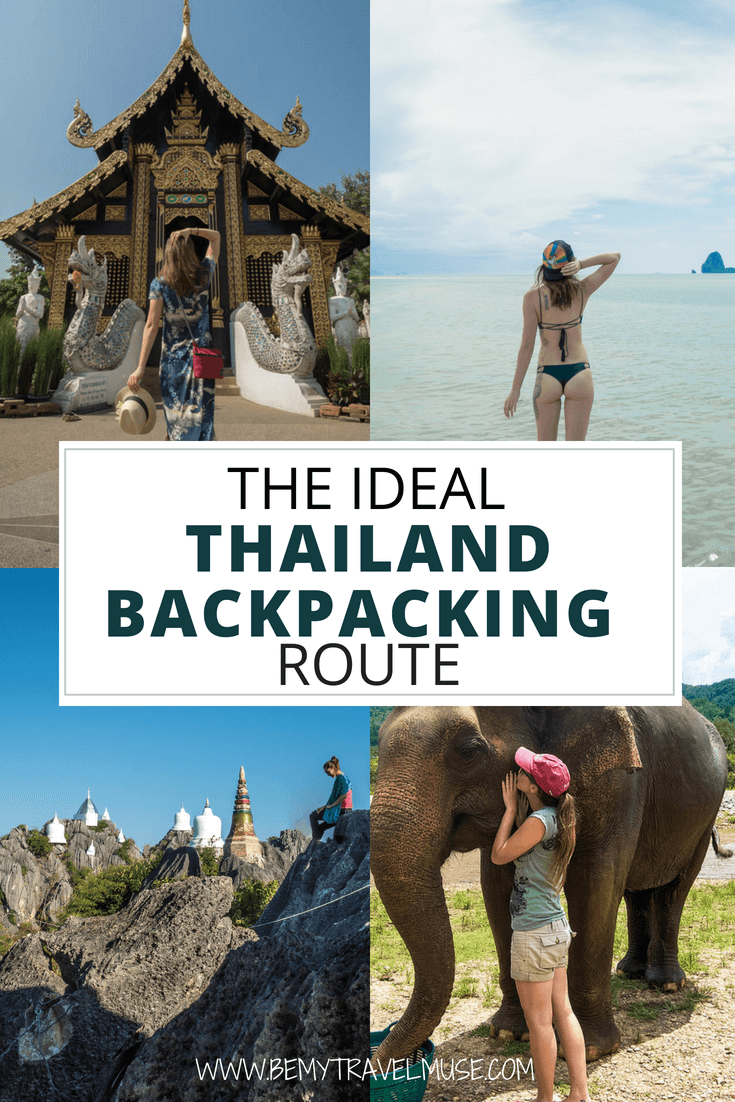 It's hard to think of a better place to backpack through than Thailand. It's easy to get around, great for solo travelers, incredibly social, the food is excellent, and the culture and landscape are both beautiful and interesting.
With so many options and new hotspots popping up all the time, it can be hard to pick places to go, but this rough itinerary can help you figure out your must-sees.
Some of these spots will feel touristy – it's Thailand after all – but plenty of these options are more off the beaten path as well.
Choose your own adventure:
Up north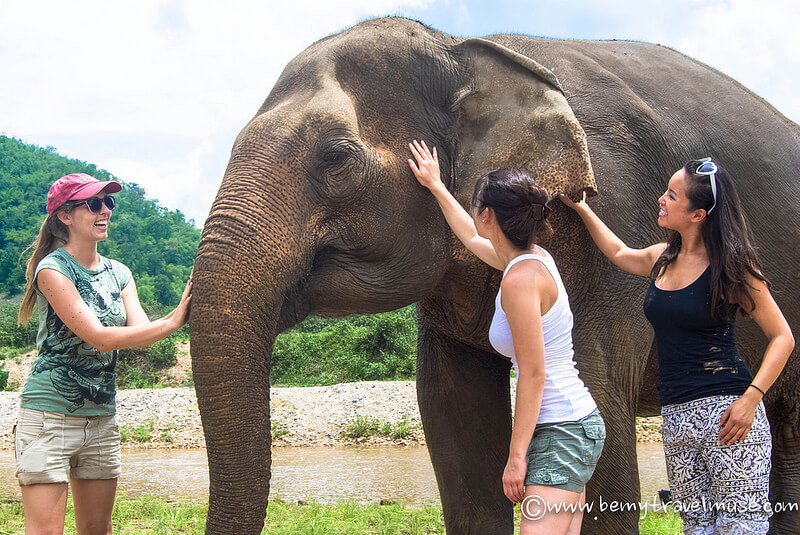 Thailand's north has some of the more rural areas and will be less touristy than the islands of the south. It is also significantly cheaper, with greater value for your money and equally excellent food and activities. This is my favorite part of Thailand.
Chiang Mai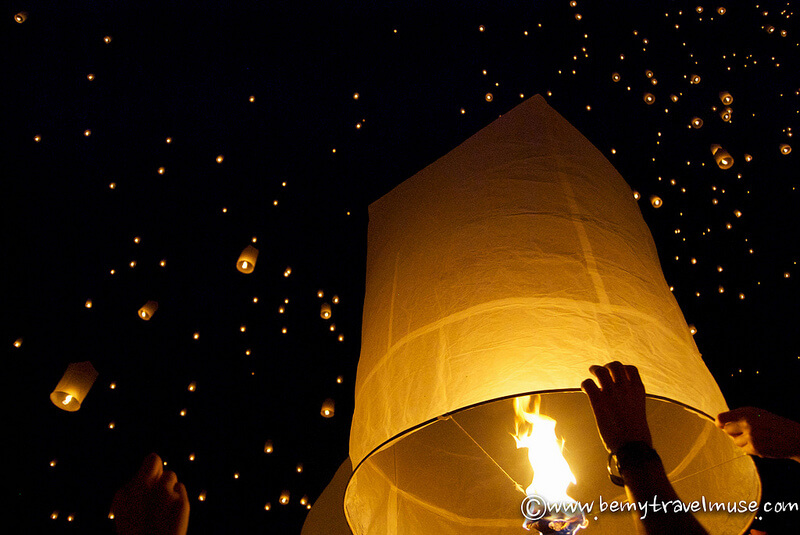 The largest city in Thailand's north, Chiang Mai is a hotspot for expats and has some incredible and unique food, too, like khao soi curry with noodles.
Popular activities around here include dining at the various night markets, including the Sunday night market, holidays like the Yi Peng lantern festival in November and the Songkran water festival in April, Thai cooking classes, and motorbiking around the beautiful outskirts. Here's my list of the best things to do in and around Chaing Mai, including ethical elephant encounters. Want something off the beaten path? Here are 8 amazing day trips from Chiang Mai, including a cenote in the middle of a jungle!
Pai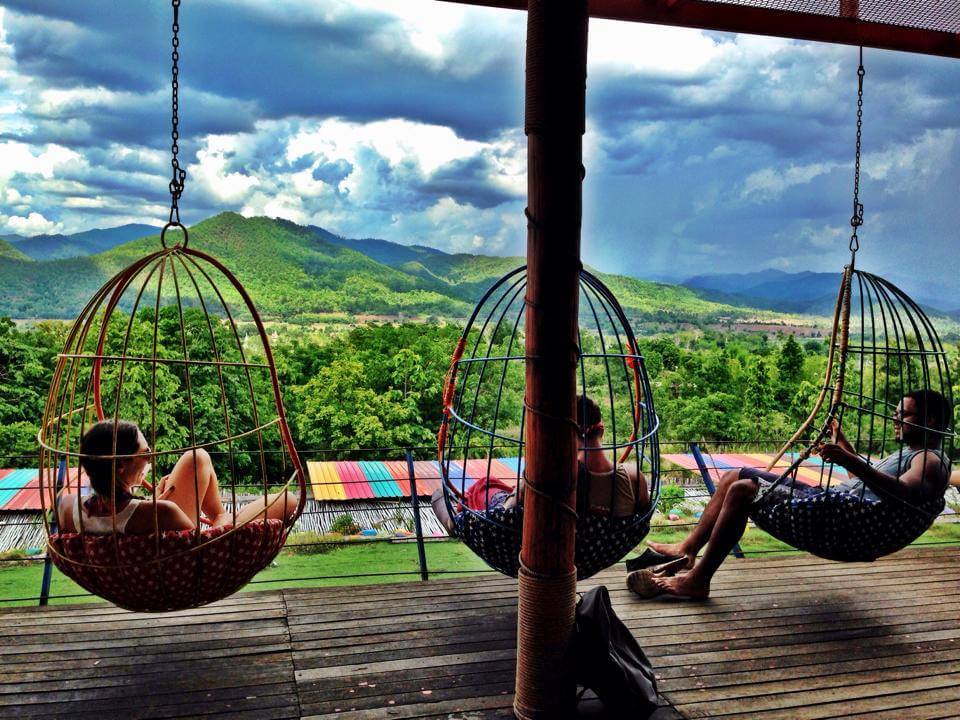 Pai is a hippie haven about a 2.5 hour bus ride, or if you're feeling confident, motorbike ride through winding mountain roads from Chiang Mai.
Prepare to find yoga classes, vegetarian restaurants serving up western food, and plenty of other backpackers in Pai, along with some gorgeous landscape.
My favorite thing when I'm in Pai is to rent a motorbike and take it around to all of the waterfalls, canyons, and curious little spots that surround the village. I also learned how to spin fire poi there at the circus school! Though some people think of Pai as a touristy place, I personally love it and have been back three times. These are my favorite things to do there.
Chiang Rai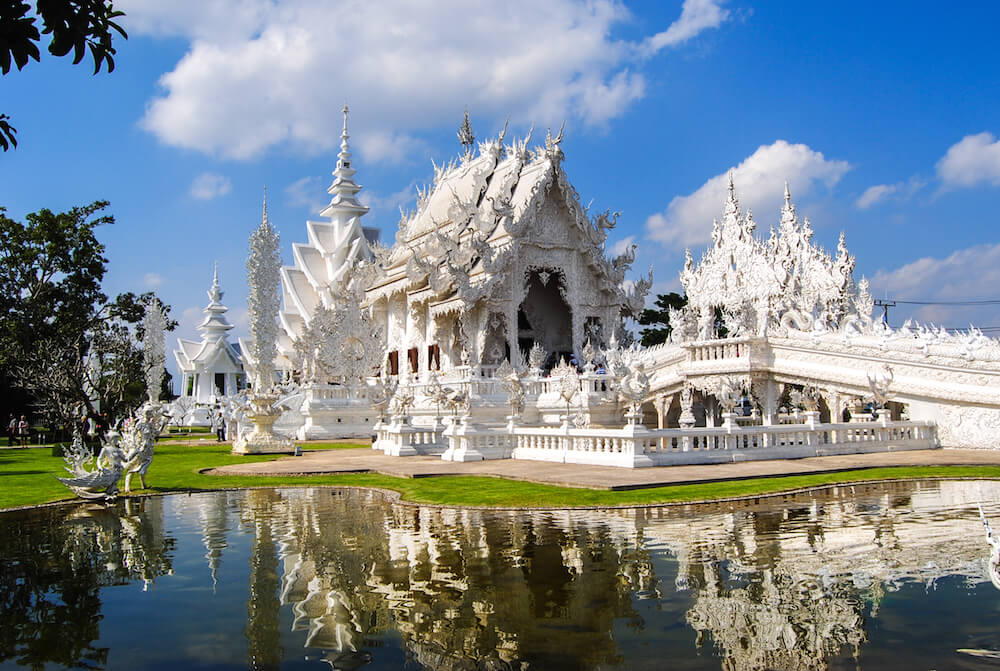 If one were to draw a triangle on the map, Chiang Rai would be one of the corners and the other two would be Pai and Chiang Mai.
Chiang Rai is famous for the White Temple which looks like a psychedelic wonderland mixed with the bowels of hell. It is absolutely worth seeing, even if you can only devote a day or two to Chiang Rai.
Access Chiang Rai from a tourist bus in Pai or route back through Chiang Mai and give it an overnight.
In the middle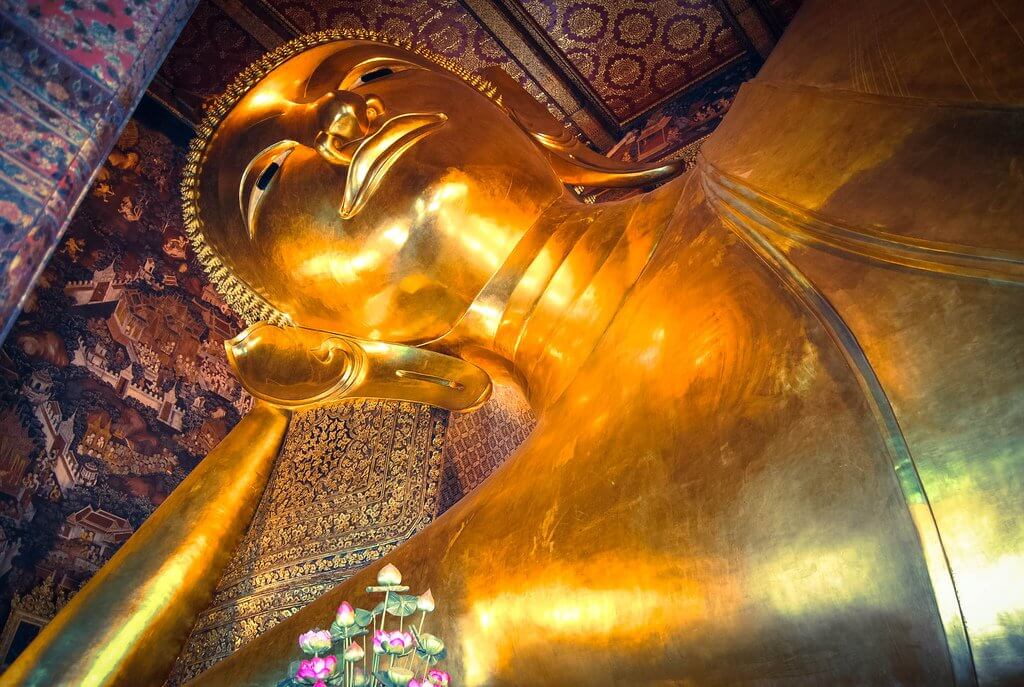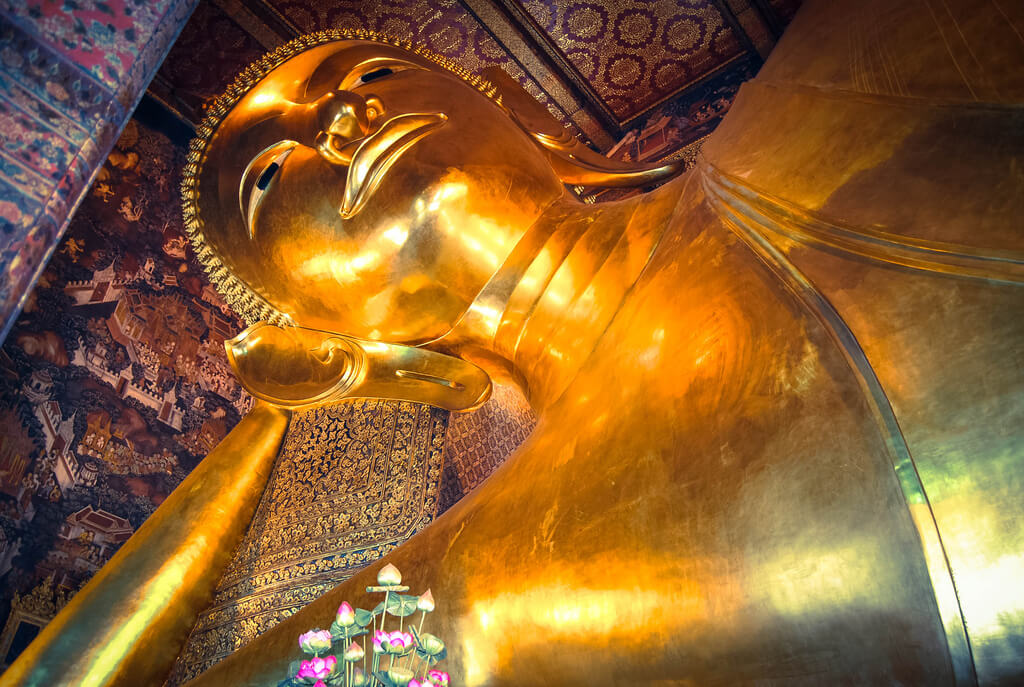 There is more to the middle of Thailand than Bangkok. It's also home to one of the coolest islands in Thailand and fascinating ruins from the ancient kingdoms as well.
Sukhothai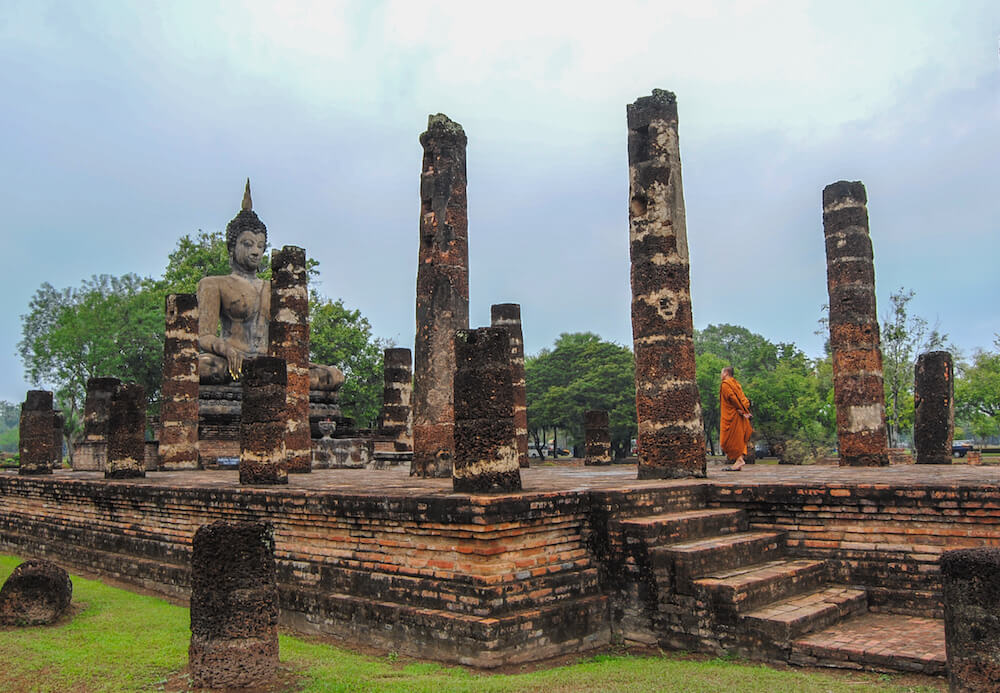 On the bus route down from Chiang Mai to Bangkok, might as well break it up and stop by Sukhothai, Thailand's ancient capital.
This is basically the Thai version of Angkor Wat but with far fewer people around. Renting a bike and cycling around the ancient ruins is an excellent way to spend a day. Bonus, there were only a handful of other tourists and the rest of the people around were monks. What an experience!
Ayuthaya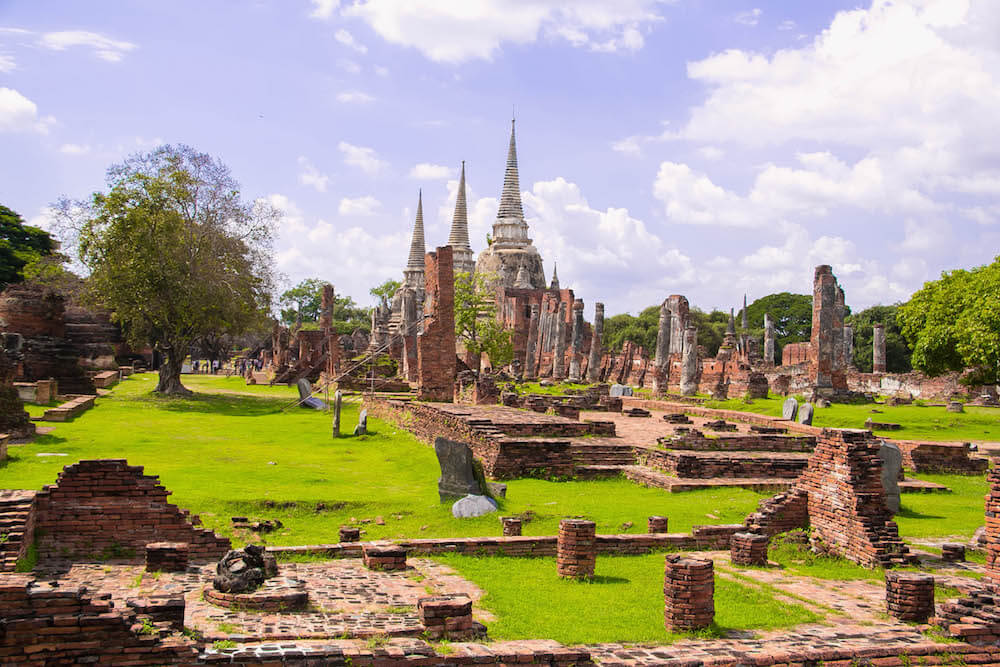 If you're dying to see more ruins, this is another stop a few hours south of Sukhothai with even more to show, including a Buddha face that has been grown over by tree roots. It's pretty cool and worth a day as well, if nothing else, to break up the overland journey from north to south or visa versa.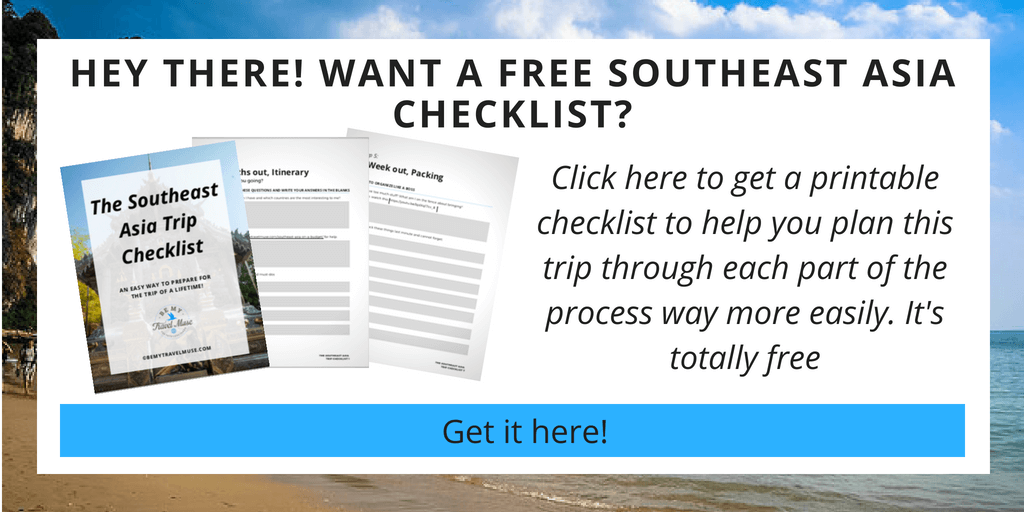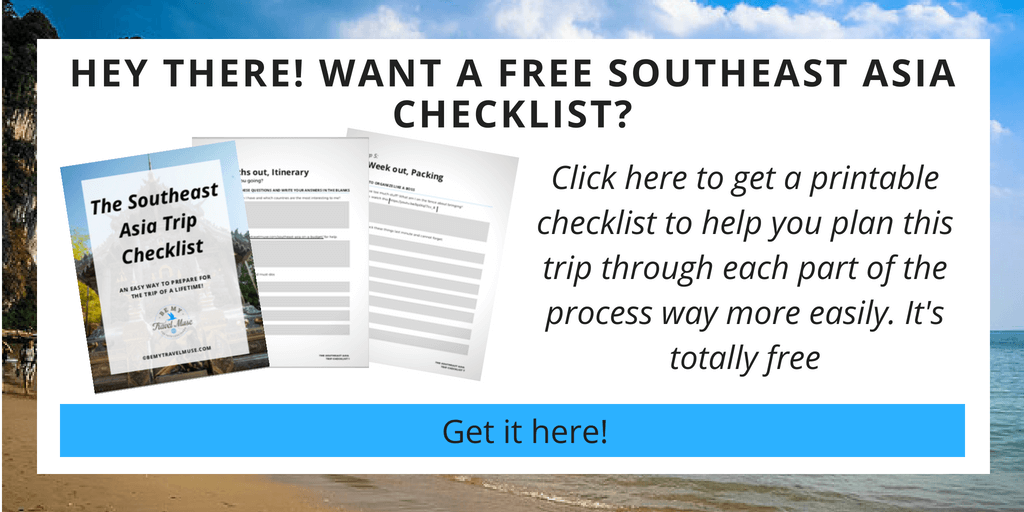 Bangkok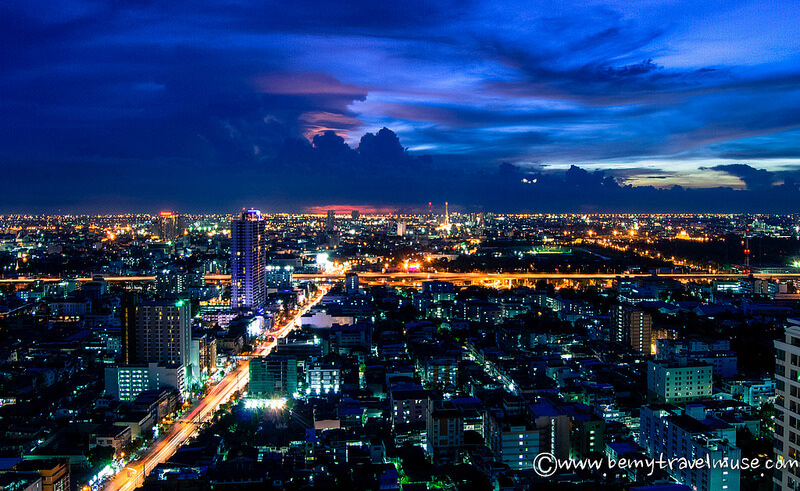 Some people love Bangkok and some people hate it. However I think how much you enjoy it really comes down to where you stay in Bangkok.
Most backpackers head straight for Khao San road, but it also happens to be full of scams and it's far away from any train stations. I suggest staying near Siam Square, and just making Khao San a day trip if you're really curious about it.
There are a lot of wonderful things to do in Bangkok, including shopping, exploring beautiful golden temples, and fulfilling all your foodie desires. These are my top tips for enjoying Bangkok.
Koh Chang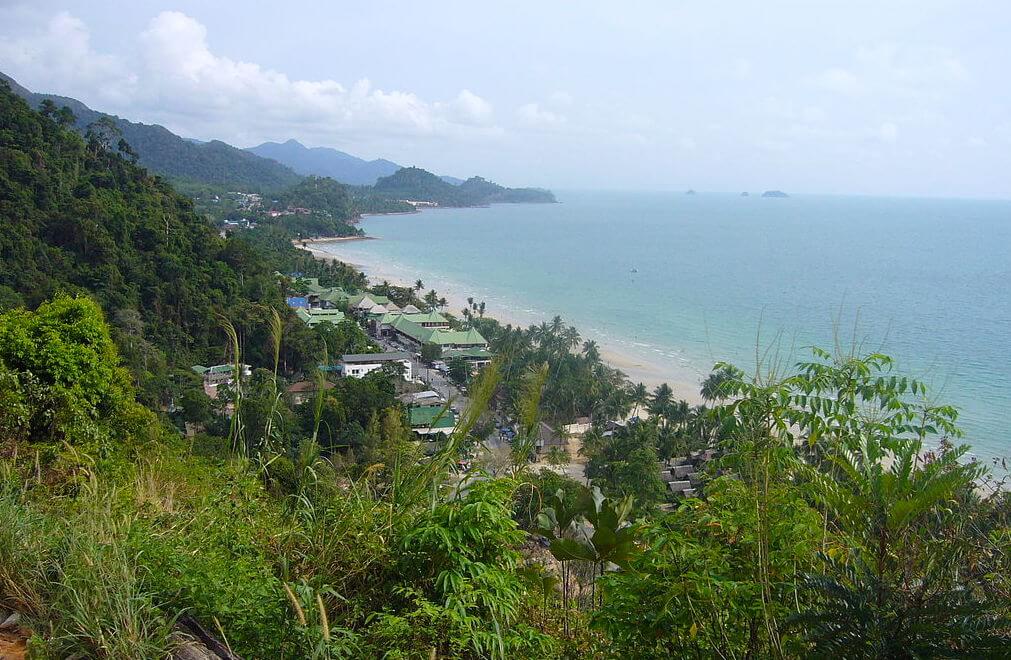 Koh Chang is Thailand's second biggest island after Phuket and is known as Thailand's 'last cheap island.'
The backpacker haven of Lonely beach isn't so lonely anymore, but it is still small in comparison to most backpacker hangouts, and you will find the crowds to be a bit more laid back than the southern islands.
This island is a personal favorite of mine because it is beautiful, uncrowded, and it still has a great backpacker scene. I also appreciate that it's closer to Bangkok than the beaches in the south, making this a great option if you're short on time.
South Islands and beaches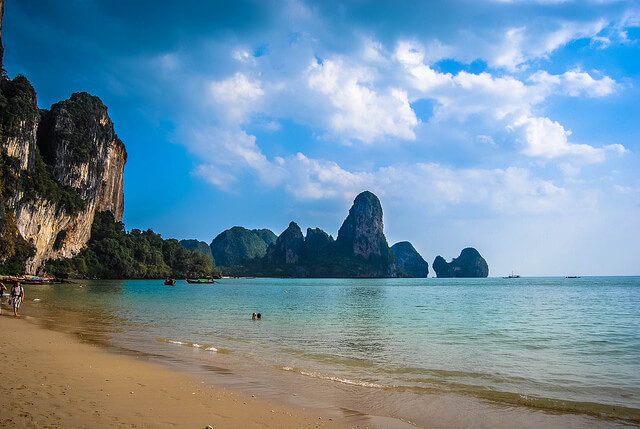 Most people who go to Thailand are doing so to visit the beautiful islands in the South. They are more touristy and expensive than the north, but it's still a budget destination, so you can spend way less than you would in Europe or the US, for example.
I have noted which places tend to be more popular and which tend to be a bit quieter and less trafficked. Both are great depending on what you seek at the time:
If you like it quiet: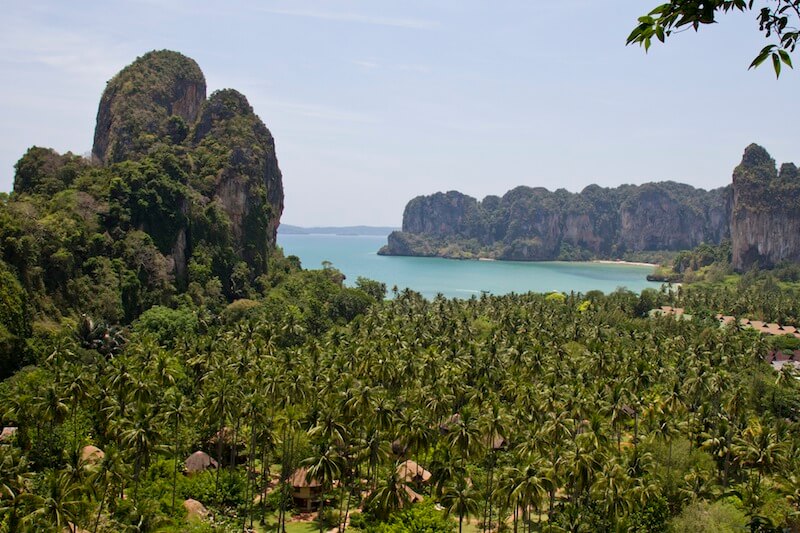 Tonsai
Tonsai sits right next to the more famous Railay beach but IMHO, it's way better. It's full of slack-liners and rock climbers and even base jumpers. If you want to give those sports a try, this is the spot.
Tonsai is more relaxed and has less of a resort feel than Railay, and the best part is you can easily access one place from the other by foot or a 5-minute longtail boat. Maybe you could even swim! I haven't tried it. It's worth it to stop by Railay to check out the lagoon, if you're cool with the climb.
Koh Yao Noi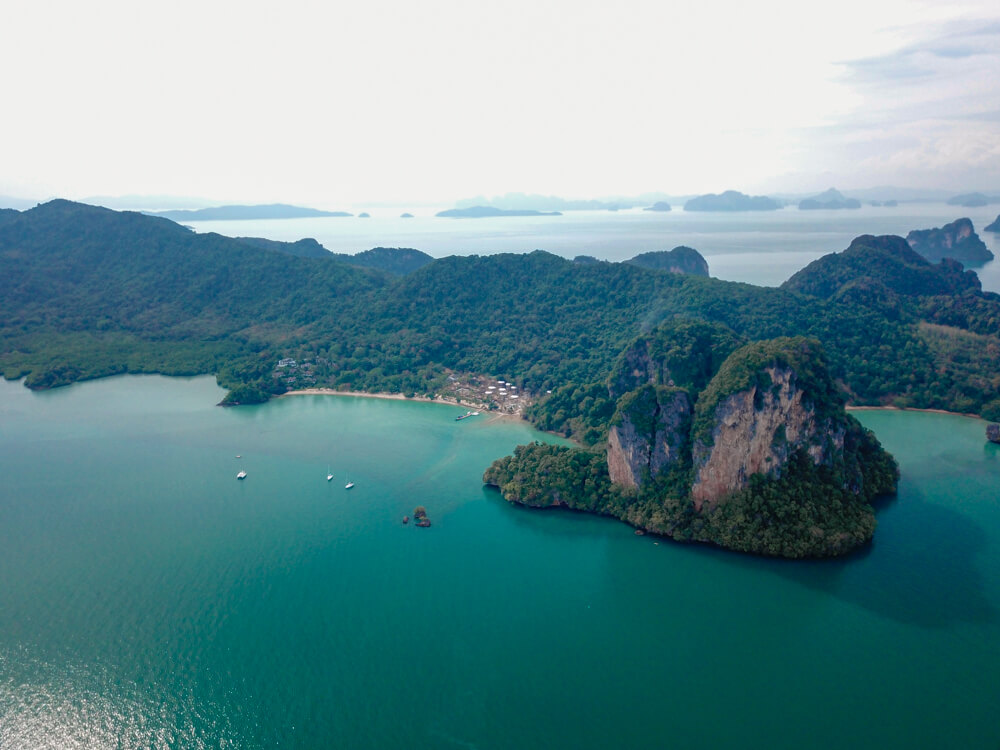 This Island is sometimes called the non-farang island to due to the lack of tourists. Now obviously there are some foreigners going and there is tourist infrastructure, but not at nearly the volume of the nearby islands.
I spent a couple of nights at Paradise Koh Yao, explored both Koh Yao Noi and its neighbor, Koh Yao Yoi. What I found was that both islands were relaxed and eco-minded, with far less tourism than the bustle of Phuket or the thumping party scene of Koh Phi Phi. Koh Yao Noi tends to cater to a higher end and sporty crowd and has maintained a peaceful elegance that I hadn't found yet in Thailand.
Bottle beach
I would understand if you're surprised to see a beach on Koh Pha Ngan listed as quiet, but it's actually true! The island is pretty big, and some parts of it have nothing to do with the full moon party madness.
Bottle beach is peaceful, laid-back, and only reachable by boat or down a long 4×4 road. At the time that I visited, electricity only ran at night and there were four sets of bungalows along the beach. That was it! For some tranquility, head here.
If you want to party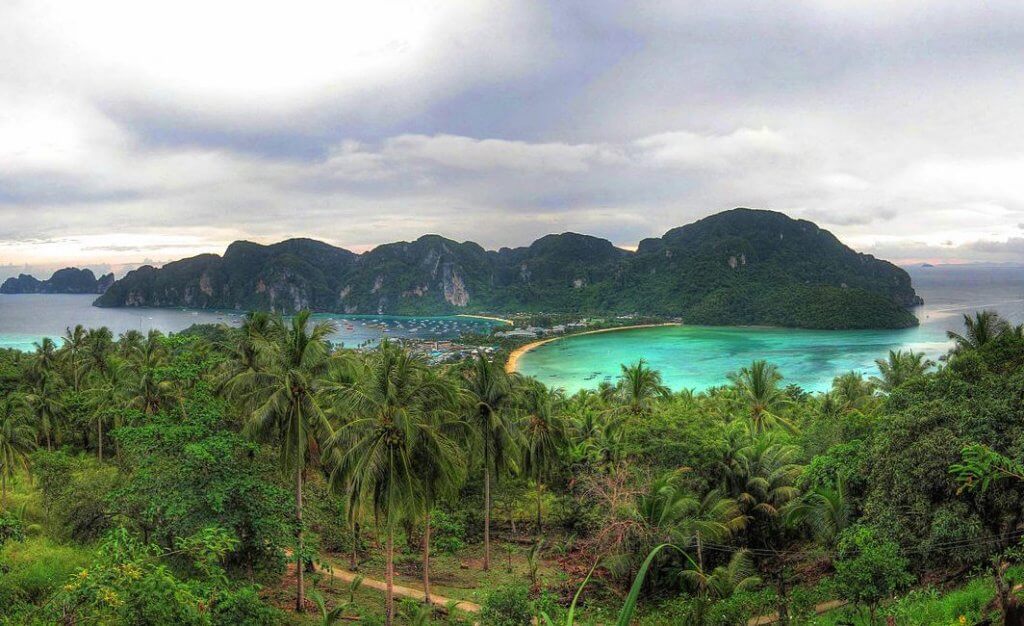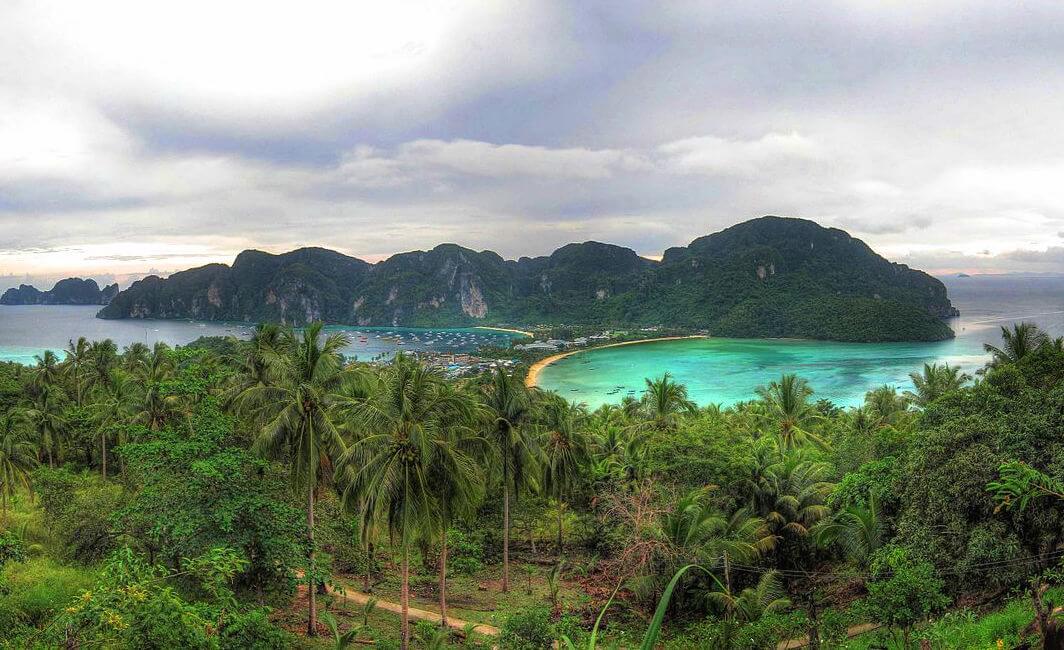 Koh phi phi
The famed assumed inspiration for the book and movie, The Beach, Koh Phi Phi is no longer a secret by any stretch of the imagination. Though beautiful, expect more of a party vibe and plenty of other backpackers enjoying the beaches with you.
Koh Pha Ngan
The full moon party (and the jungle party the night before) can be fun, but it's probably not the best party you will ever attend in your life. However it is still an experience – I went for my 27th birthday and had a great time!
You can stay on other parts of the island without having to be right in the party zone in Haad Rin. In fact I would recommend this, because this island has some really beautiful beaches and nicer places to stay than the epicenter of the full moon party. If you would rather not book ahead, you can show up and look for accommodation on the ground without having to book an obligatory five nights together.
Phuket
Phuket is huge, and this is where you can find debauchery or fancy resorts with their own beaches. I have stayed there a few times in transit and the pros are that there are so many islands to hop in Phuket, as well as plenty of tourist infrastructure. The cons are it will feel a bit less authentic and quiet than some of the smaller islands.
if you want something in-between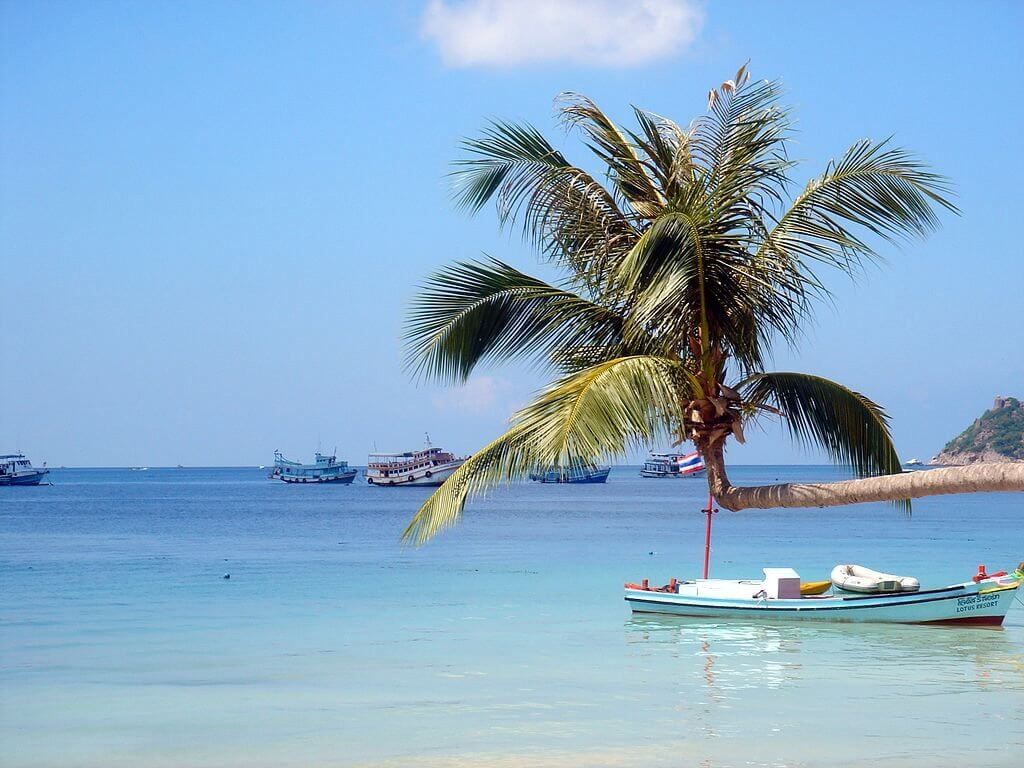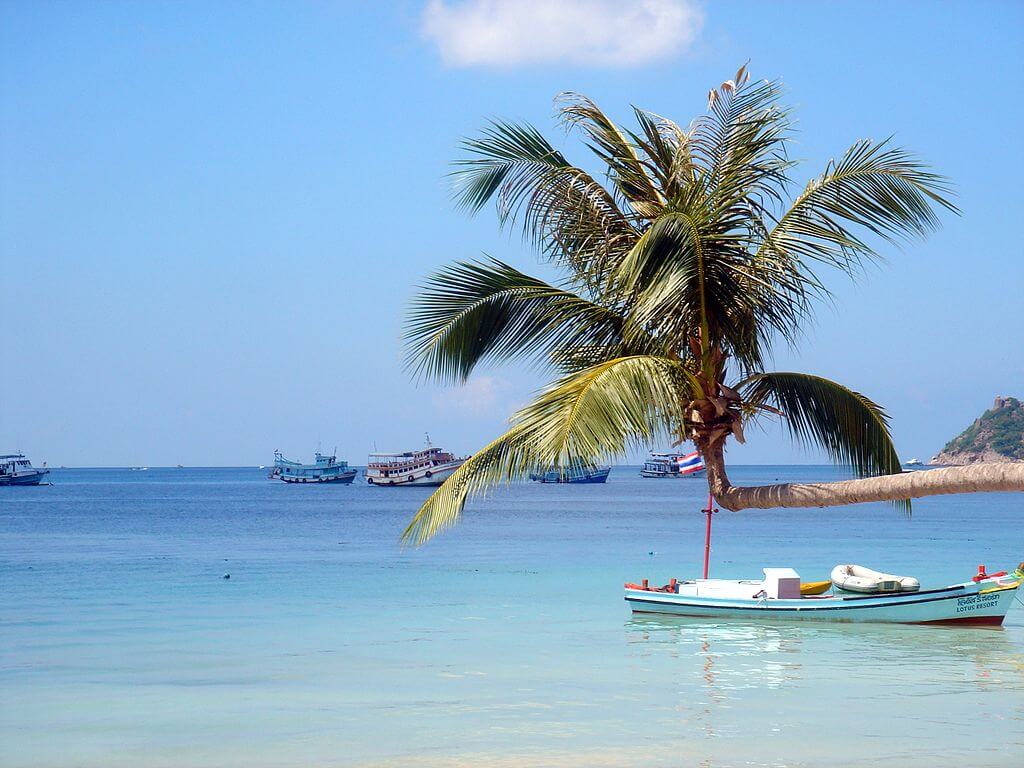 Koh Tao
This Island is known as Thailand's diving hub. If you haven't learned how to dive, this is a great place to do it. Though it can get pretty rowdy around the Christmas and New Year's holidays, it can have a more relaxed vibe at other times. It is also a backpacker favorite so expect lots of socializing if you're up for it.
Koh Samui
Ko Samui is one of the larger islands in the south and it also has more resorts and a more upmarket clientele. There are still backpacker options and a backpacker scene, though.
Khao Lak
This is the jumping off point if you want to dive in the Similan Islands. The coral bleaching has removed some of their beauty, but this is still a popular spot for diving in Thailand and it's also where I saw my first Manta ray.
Bonus: meditation retreat in Chaiya
There is a monastery on the mainland in the south of Thailand that offers a monthly 10 day silent meditation beginning at the end of every month.
I attended the meditation that took place over New Year's in 2013 and it was one of the more challenging but rewarding experiences of my travels. It is basic, and you sleep on concrete and meditate in silence all day. It is kind of like a Buddhist nun boot camp, but you will also find that it's incredibly transformational.
Those are a few of my favorite spots in Thailand, whether you've got months or just a couple of weeks.
Though this itinerary has all of the hotspots worth seeing, if you can possibly leave your itinerary somewhat open with room for in-the-moment decisions, your trip will be even better.
The great thing about traveling in Thailand is booking the day of or the day before usually does not equate to a higher price. During my cumulative 4 months there I often made the decision to move on or stay the day of, and it did not affect me.
It's easy enough to buy bus tickets directly at the bus station or to organize transport from your hostel. For shorter distances, taxis, tuk tuks, and songthaews (truck taxis) abound.
The exception is during major Thai holidays, and Christmas and New Year's, during which time accommodation and transportation can book up.
Happy backpacking, and if you have anything you'd like to add, feel free to comment below or email me with a section and I'll include it in this post!