There is a magical Buddhist blessing that each of us carries on our bodies.  Some of us carry just one, others two.  Some of us were gifted this art from the very same monk – Luang Pi Nunn of Wat Bang Phra near Bangkok, and others traveled to the green and mountainous Chiang Mai to be bestowed with this beautiful protective enchantment.
In each case, the monk chose the tattoo based on what he felt we needed.  In exchange for a small donation of flowers, cigarettes, and incense, we were all given the privilege of leaning over a triangular pillow while the monk tapped away on a bamboo pole dipped in an ink of venom and charcoal, inscribing ancient sanskrit characters meant to protect us and bring us luck.  He finished with a gentle chant – an additional blessing to breathe life into the tattoo.  We each emerged a little more decorated, protected, and blessed.
Where we all differ is our reason for getting these tattoos. Curious about why my other travel blogging peers felt the urge to permanently carry a Sak Yant tattoo, I asked them all what their purpose was for seeking it out. The stories are just as varied and beautiful as the tattoos themselves:
My Story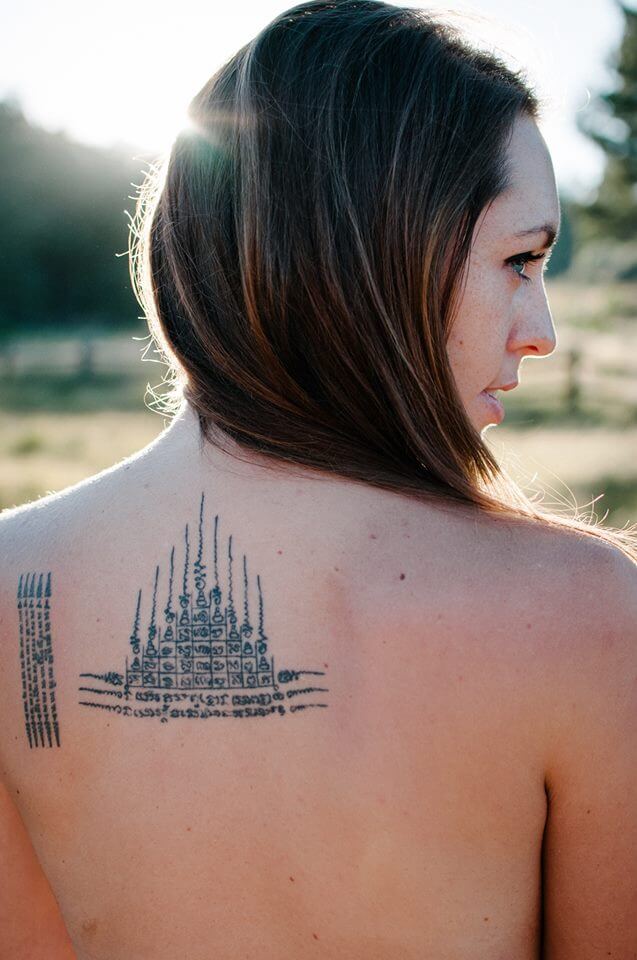 I had always wanted a tattoo and had even gone as far as making an appointment to get one and canceling…twice.  I just wasn't sure that what I wanted had enough meaning.  Sure enough, after each time I thought to myself, "whoa, dodged a bullet there!" I finally felt compelled to take the plunge when my friend Yvonne (who tells her story later in this post) told me all about the magical monk tattoo.  I loved the idea that the monk would choose the design for me.  We went together to get the tattoo and will forever match and have that beautiful memory when we look back on our time in Thailand.
I decided to get the second tattoo a few days after my 27th birthday.  I had just gone through what seemed like a few rough changes, but in reality, they had all brought me back to my favorite part of the world: Asia.  I had also spent the better part of the previous six months discovering Buddhism, not as a religion, but as an understanding of life. It taught me compassion, which made me a happier person, and helped me to develop patience and kindness.  My second tattoo was my way of cementing that understanding.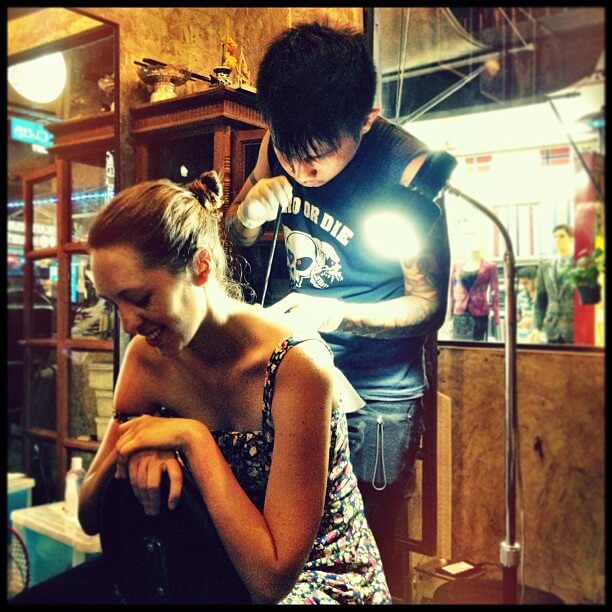 I have the Ha Taew – sacred five lines which provides five blessings: to clean out unwanted spirits, protect me against bad luck, protect me from curses, to recognize and support my good fortune and drive, and to gain charisma and attract the right people. The second is called the Gao Yord, or nine spires – nine is a very significant number in Buddhism and the nine spire incorporates Buddha's image underneath each spire, bringing me similar protections and good luck.
Yvonne's Story: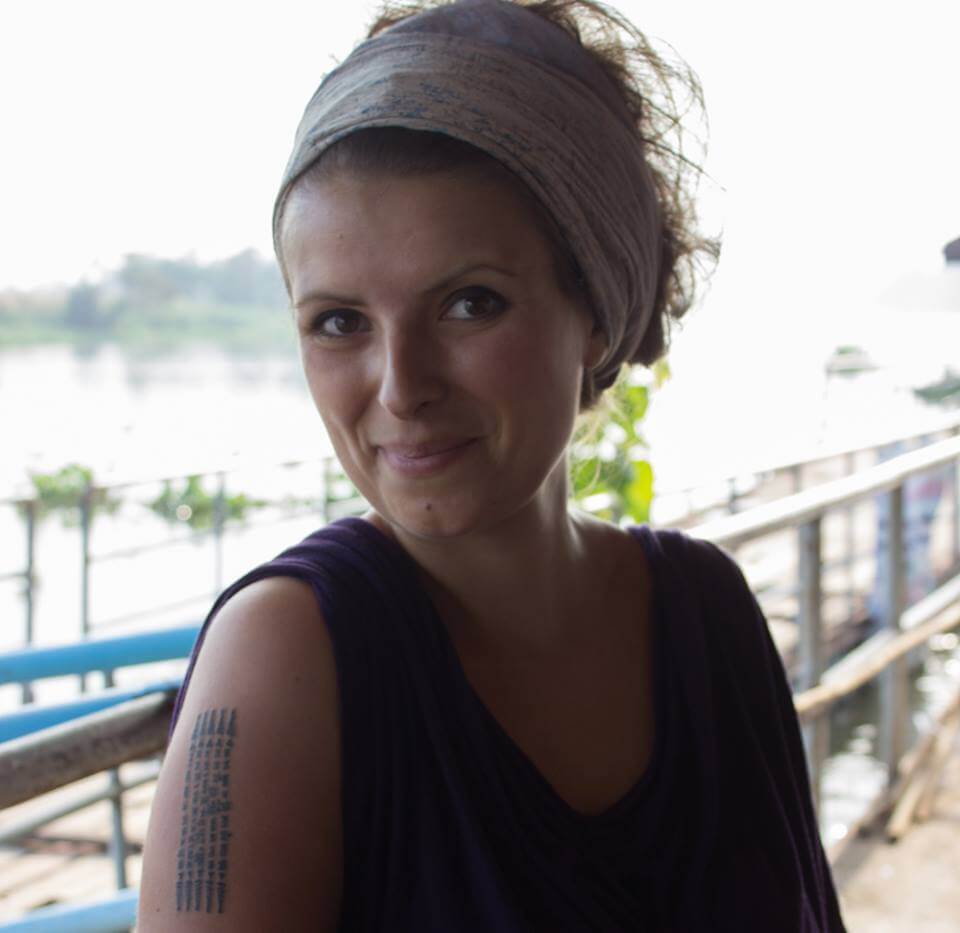 "Tattoos are for me an expression of the true me. I do believe that we got our bodies from something, let's call it God, to use in our life. But the real me, the person behind the body, the thing which makes me me, is the thing inside. Lets call it soul. Bodies are random. Personality is not. Some people do sport to make that body look like they feel. Some people use make up, some experiment with hair and clothes to let you see, what kind of person they really are. For me, tattoos are a perfect way to express the inner me.
My body is full of everything I believe in. Justice, Karma, that evil and good are just two sides of one story. It's a long story. And yes, I do believe in magic. So once I heard about Sak Yant, the magic tattoo, I knew that's for me. I can't remember when I first heard about it, but I remember exactly the moment when I decided I'm really going to get one. It was in Chiang Mai, I was talking to the chef of our hostel about my back tattoo and he showed me his tattoos. They were beautiful. Sak Yants. And he told me about the spirit of Sak Yants, what they mean to him and encouraged me to go to the same temple where he got his ones. And I knew I'm going to do this. And I did. "
Read more about our experience getting tattooed together on Yvonne's blog.
Matt's Story:
Matt actually went with me when I got my second tattoo.  Our reasons for getting the tattoos were pretty similar. Here's what inspired him to get his:
"My very first tattoo was engraved into my flesh by a practicing Buddhist monk in the traditional Sak Yant style. While I'm a fan of many Buddhist principles, I don't practice the religion. So why did I get it? I'd been considering a tattoo of some sort, but could never figure out what. My lifestyle revolves around seeking out new travel adventures, so when I learned about the Sak Yant process, I was intrigued. Why not let a practiced Thai holy-man pick an ancient design and apply it using a traditional method?
The Gao Yord protection symbol currently on my back will always remind me of the day I sat on a dirty monastery floor for 4 hours with 40 locals waiting nervously for my turn to be jabbed blessed. An incredible and unusual travel experience that will remain etched into my mind, as well as my back, forever."
Ian's Story:
Ian was my guru for getting my tattoo. I followed his directions and advice completely, and made sure to see his ink for myself before getting mine.  His beautiful story takes it another level deeper: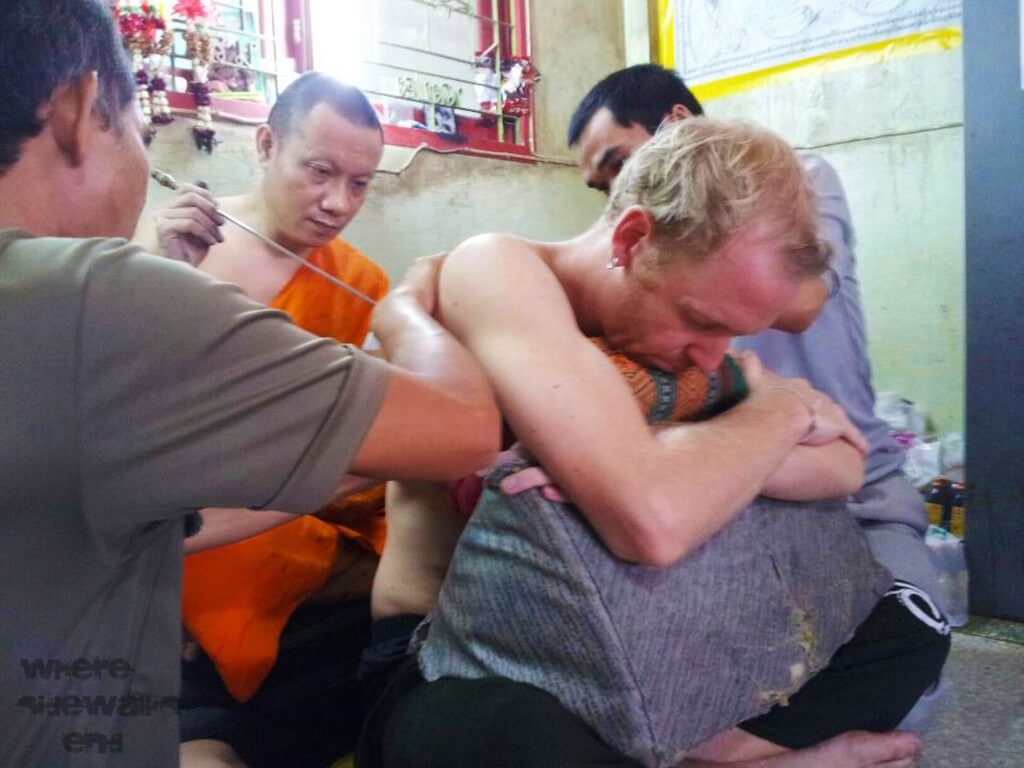 "I don't have many tattoos – I should probably say *yet* – so finding something that has profound significance to me was very important. I have one from college, which marked a transitional period in my life, and it's the Japanese equivalent of Chi, representing balance in your mind, your body and your soul. More than a decade later and I found myself living in Thailand.
A possible career been and gone, and a brand new life just being started. Already there was an appeal to have a marking symbolic to this transition. Then the unthinkable happened. During a trip to Thailand to visit me in my new quarters, my father suffered an irrecoverable cardiac arrest. My family joined together to support one-another here in Bangkok while doctors passed numerous tests. For my brother, it was his first time leaving North America. Not the introduction to my life-long passion I would have wished upon him, but significant none-the-less. We decided, while here together, to get a specific Sak Yant.
We took a wild trip involving minivans, motorcycle taxis, sun-rises over rice patties and a village-based Buddhist temple, Wat Bang Phra. It was there that a buddhist ajarn (tattoo master) monk gave us our sacred bamboo tattoos. They were of the symbol "Paed Tidt", which looks like a compass, composed of the 8 reincarnations of Buddha, one for each point of the compass. It is said that this Sak Yant offers protection "from the 8 corners of the universe" to anyone who is blessed with it. It is ideal for travellers, and of course very significant to not only the transition of my new life abroad and all the travel entailed in my life, but also for the transition my family would now go through.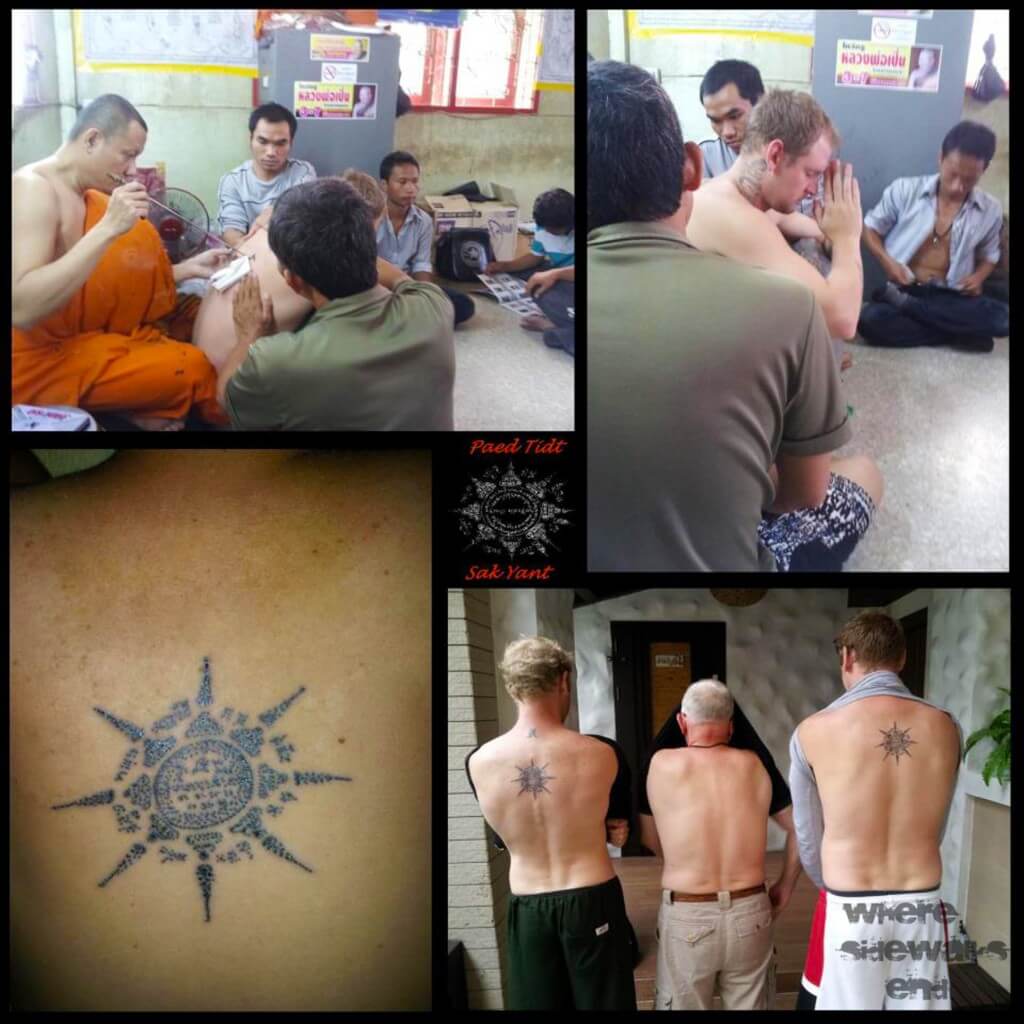 Our Sak Yant experience was incredible. It was raw. It was sacred. It was unifying. I am so grateful I was able to experience that with my brother, and know that we are forever connected with the protection of the Paed Tidt, no matter how far our geographical locations separate us."
Tawny and Chris' Story:
Thanks to Chris for giving me info on the healing process after getting my tattoo.  The video these two made of their experience is a great introduction for anyone curious about the method: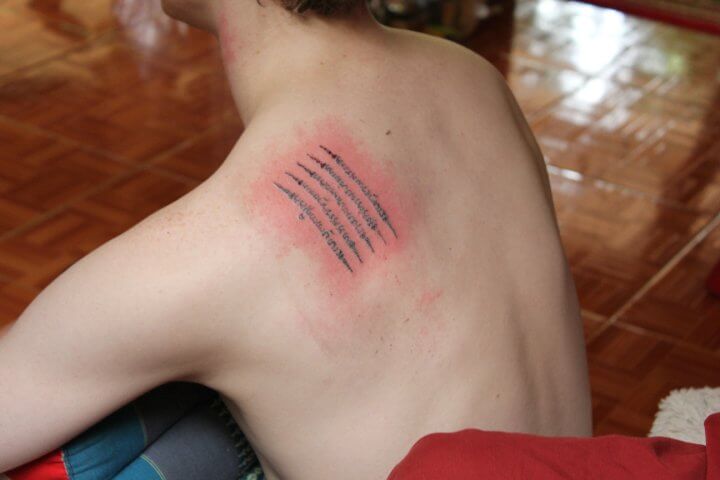 "It's an inescapably seductive story. The idea of traveling to a distant land and asking for a blessing. No paltry blessing either, a blessing that is etched into your skin for eternity. For me the experience gave me so much more than just the story, it gave me a compass to live by. The blessing I received was translated for me and reminds me of the virtues I value. Blend that all together with the sex appeal and how can you turn a yant down?"
Read more about their love story and amazing travels.
Do you have any travel tattoos? What do they mean to you?
UPDATE: The most common topic I am emailed about are how to get Sak Yant tattoos – the cleanliness, concerns over choosing a design, making an appointment, etc.  The reality is, the needles are cleaned between tattoos, but not as thoroughly as they should be and are certainly not unwrapped new for each recipient. In the case of Captain and Clark, who visited an ajarn who helped them discuss which tattoo they should get and operated in a cleaner environment, I would ethically like to recommend this as the best way to get a Sak Yant.