Sukhothai had big shoes to fill after my magical week in Pai.  I was feeling slightly blue for leaving that colorful town at all, and a little sore after spending 6 hours on a bus.
I wasn't sure what I would think of Sukhothai, the first capitol of Thailand, but when I alighted from the bus, I was immediately warmly greeted.
About Sukhothai
The first capitol of Thailand lies about 280 miles north of Bangkok. The word 'Sukhothai' means 'Dawn of Happiness' (so appropriate – you will find out why, soon), and it was the first truly independent Thai Kingdom, founded over 700 years ago.
From Bangkok, you can buy tickets at major bus stations, and take an 8-hour long bus ride to Sukhothai. Buses run every couple of hours from 7am – 10pm. from Chiang Mai, buses depart from Arcade Bus Station every few hours, and the journey takes about 5-6 hours.
This little pocket of Thailand is split into two towns: the old and new. Most guest houses are located in the New Sukhothai – a small town full of friendly people and smiling faces. To get to the old town, where the historical park and ruins are, simply take a Songthaew, a converted truck in blue that is commonly seen in northern Thailand.
I'd heard that the ruins of Sukhothai warranted a look, and were even impressive enough to rival some of the ruins in the Angkor Wat complex. Like Pai, this town wasn't even on my radar before leaving home for this journey. I'm glad I stopped by, it was impressive, indeed: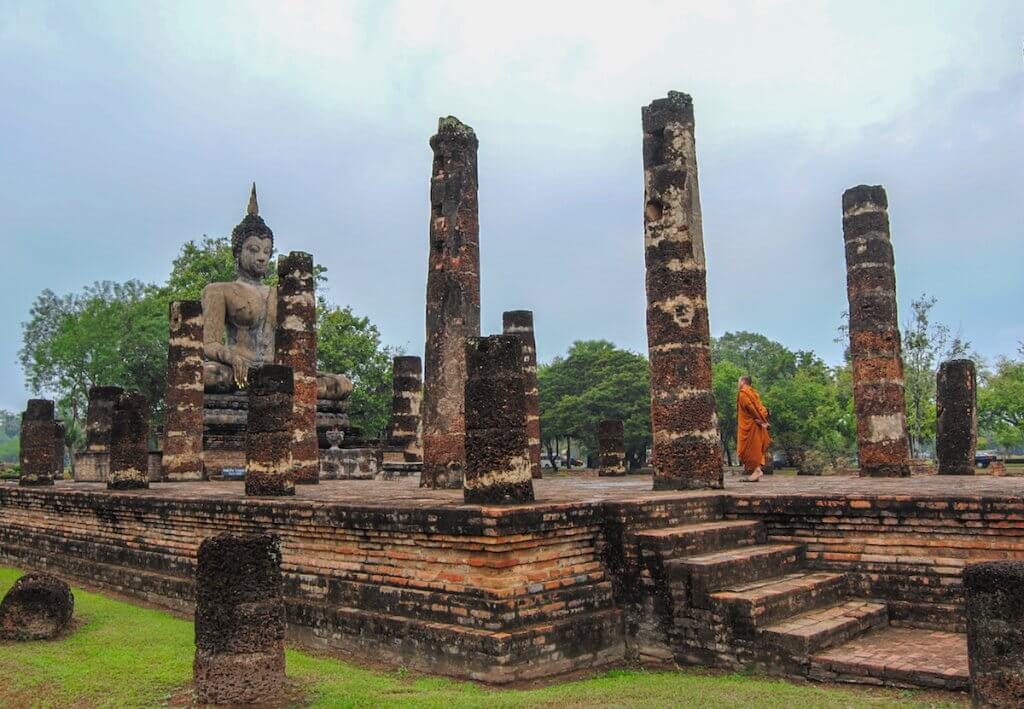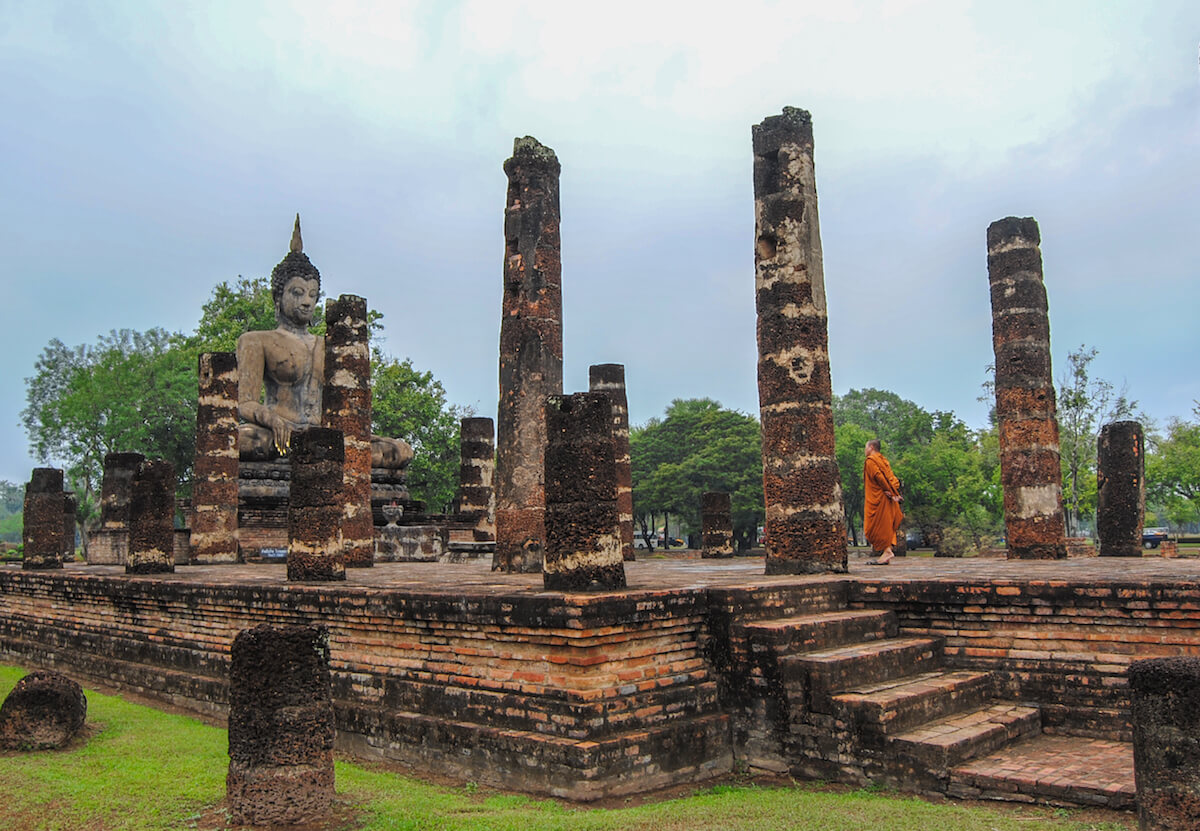 Sukhothai Historical Park
Sukhothai Historical Park is a UNESCO World Heritage Site that is divided into 3 sections of wats, stupas, and temples. Most of the main attractions such as Wat Mahathat and Wat Si Wai are in the center. In comparison to Angkor Wat, Sukhothai Historical Park is much quieter, which I definitely appreciated.
I met a friendly crew on the rickety ride over from the new town to the Park. We rented bicycles for a mere $1, and made our way to the first set of ruins, Wat Mahathat. The brakes on our bikes didn't really work, but as my friend Marco pointed out, brakes are overrated (see Marco? You did get a mention!).
It was early morning, and for the most part, we were the only tourists around. It could be due to the rain that had only just stopped as we arrived, but for the most part, this seems like a far-lesser-visited destination on the tourist track, which I always find immediately attractive.
A few magical things happened during my time here: first, a group of monks touring the temple were only a few steps ahead of us.  I caught one of them taking a photo of me:
He then asked if we could take one together, which I found touching.
Next, at the statue of King Ramkhamhaeng, a cute old Thai man helped Lisa and I read one of the ancient chants.  He quietly said the words, and we immediately repeated them.
He then beckoned us over to the other side of the shrine, and said a little prayer while applying gold leaf to our foreheads.
Cynical me, I figured he might hold his hand out for a donation following, but he did no such thing.  He gave us both hugs and sent us on our way.
We were like mini local celebrities, with children cheerfully yelling "hello!" as they saw us biking by.
After a lovely day of biking around and enjoying the vistas, I made a wrong turn walking back to my guesthouse.  A friendly local could tell I was lost, and offered me a ride, gratis, on his motorbike.
Perhaps it's due to the lower influx of tourists in Sukhothai, or perhaps the locals are simply friendlier here, but I felt extremely welcomed in this little pocket of Thailand.  I can tell they're not tired of us tourists here, yet.  They still find us fascinating.  They still welcome us with open arms.
I'm very glad to have seen this for myself, and I think you should go see it, too. Here's a map with some of the coolest spots I found at the historical park:
*If visiting Sukhothai, I can't recommend Sila Resort enough. They picked me up from the bus stop and brought me back when I was done staying with them, saving me money and making it a really nice experience.