Doi Luang Chiang Dao is Thailand's third tallest peak, accessible via a fairly easy drive 1.5 hours from Chiang Mai and surrounded by mountain after mountain in every direction. In a word, it's stunning.
The hike itself is also lovely. It's steep in parts, though not overly so, weaving through a jungle over mountain saddles and up to a peak that gives you what must be the most beautiful and expansive view in Thailand. After comparing with Doi Inthanon, this one might not be as tall but it's so much better.
It's pretty hard to find any concrete information online about this hike. I was left with more questions than answers before attempting it myself: Does one need a guide? Is it necessary to book weeks in advance? Is it possible to do it in one day?
We arrived at the park area well after dark the night before we aimed to do the hike. Everywhere I might be able to inquire was closed, so all I could really do was just go and see. Thankfully it worked out, but for those who would like to plan ahead a bit more, here's what I found out about hiking Doi Luang Chiang Dao:
Independently or with a guide?
This is the tricky part. I read online that one needs a guide, and also that one doesn't need a guide. Which is true? There's not much in place to enforce the rule of taking a guide, if it is a hard rule, and the trail is easy to navigate, so you're unlikely to get lost without one. It's not really possible to book one the day of due to the park office opening late (8:30am) and sometimes availability of guides is limited. (Update from a reader Nov 2019: Guides are absolutely required!)
Therefore you must book in advance, at least one day before at the park office, which is in a different location than the park entrance. You'll need to get there before they close at 4pm. The guide costs 1000 baht and will probably not speak English.
That said it's a small fee, really, and provides a job for someone.
I had also read that booking several weeks in advance is necessary. Perhaps this is true during the highest season, though in late January didn't seem to be the case.
It's also possible to join an organized 2 day, 1 night hike with a guide and porters if you'd like to camp out and see the sunrise and sunset from the top, which must be spectacular. This is by far the most popular option and you'll mostly be with Thai people, which if the abundant friendliness on the trail is any indication, is probably a pretty cool experience.
If attempting in one day, the earlier you go the better. If driving, you'll enter the park headquarters where you'll be asked to pay 200 baht per person plus a vehicle fee if you're driving yourself. It's also possible to take a taxi.
The first obvious clearing to your left is where it starts, about 14km up the road from the entrance. Be careful, as there's a huge dip in the dirt and there's just one area, at least when I was there, where you can safely pull off the road and into the parking area.
To the left, there's a 'do not enter' sign, which is, ironically enough, exactly where to enter and start the hike. Next you'll see a pile of walking sticks and a few parked motorbikes.
From there it's a straightforward hike all the way to the top through a gorgeous forest with tropical plants, tall trees wrapping around rocks, bamboo, and in mid January, even some cherry blossoms.
There will be several forks in the road with signs that are only in Thai. At each one, veer left and you'll stay on the correct trail.
Towards the end, there will be a large camping area that lasts for several hundred meters. Keep walking through it and up to the top.
Again, I'm not encouraging that you go without a guide, but I did notice during the hike that it would be doable independently with relative ease.
Is it possible in one day?
A few posts I saw online insisted that doing the hike in one day would be impossible or incredibly difficult. I disagree. This hike was only moderately difficult (by my standards – everyone is different) and at about 12km roundtrip, which is totally doable if you leave early enough in the morning.
I started at 7am and finished at 4pm, including plenty of time at the top and lots of photo stops.
The beginning and the end are steep, with a bit of rock scrambling at the top. I imagine shortly after it rains the trail is muddy and difficult. However I found it to be pretty manageable just in running shoes.
One big benefit of doing it in one day is the possibility of having the top to yourself. I passed what must have been at least 70 people coming down as I was going up, since most people don't do it in one day. The sunrise and sunset are undoubtedly incredible, but also crowded, so unfortunately, you will miss that doing it in one day only. Unless you hike in with the stars, which I suppose is possible.
Other Tips
Though you can leave Chiang Mai in the very early morning — like while it's still dark out — to make it up to the trailhead, I suggest booking a couple of nights in Chiang Dao. It's a lovely little town and it's nice to have a laid back and relaxed evening before and after the hike, should you choose to do it in one day. I stayed at Chiang Dao Story Camp and thought it was lovely.
Also, bundle up! It gets cold up there, especially if you camp overnight at the top.
Additionally, if you can make this part of a bigger road trip, do! There are so many amazing things in the areas surrounding Chiang Mai, much of which are unknown to other tourists, which to me, makes them all the more special.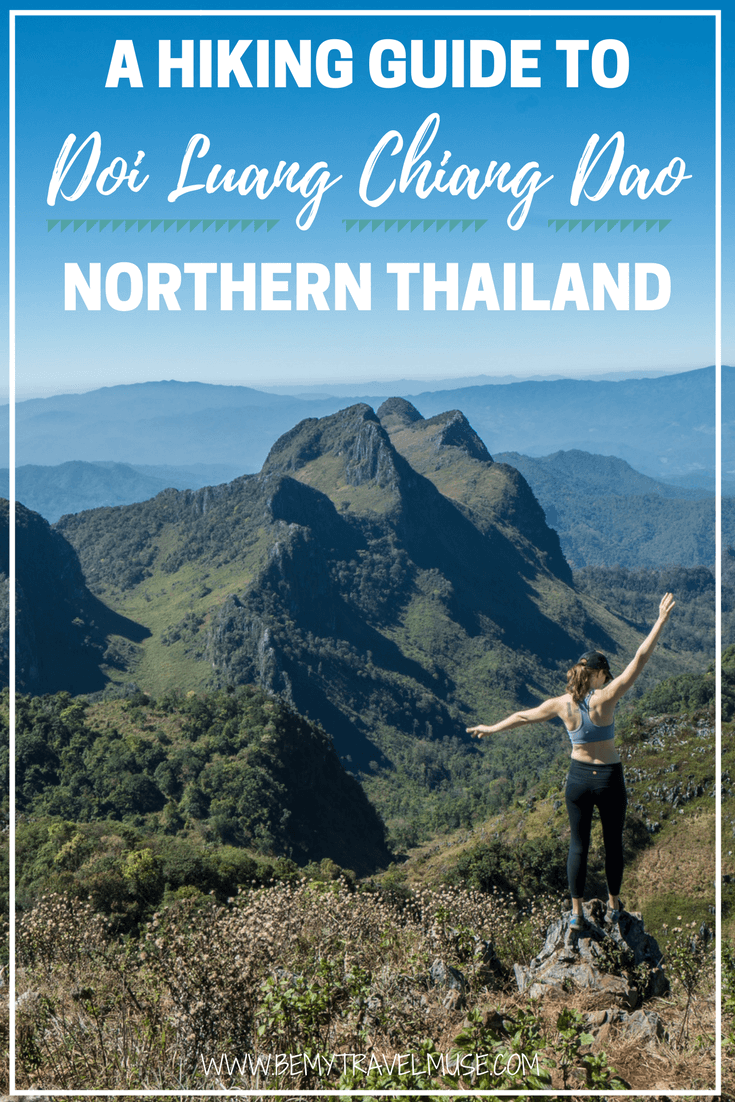 Doi Luang Chiang Dao was a highlight of the north for me, and a lovely hike that I thoroughly enjoyed. I hope that you do, too!