Pai, just a few hours outside of Thailand's second biggest city, Chiang Mai, is a hippie oasis I've been dreaming about ever since I left.  I had visited for 5 days almost exactly a year before, and had loved it so much that it made my very short list of places I just had to return to.
When my time in Europe drew to a close, I knew where the first leg of my third Asian journey would take me: right back to Pai.
Why do I love it so much? Let me count the ways:
1) Mhor Phaeng Waterfall
Or known as the "slide" waterfall, given there are a few parts along the falls that can be slid down or even jumped into.
On a hot day (and let's be real, they're all hot in Pai!) it's an amazingly refreshing way to cool off.  Plus, I love the drive to this place.
As serendipity would have it, I met a French guy who found some sunglasses on the lagoon floor, decided they didn't suit him, and passed them onto me (thanks!), followed by taking a group of Thai kids up on their offer to help pull me out of the lagoon so I could slide again. It's just a feel-good place.
2) The Canyon
Pai Canyon's landscape is truly unique. Tall pillars of rock make for quite the treacherous and interesting climb, but a worthwhile one, because the vista is simply beautiful.
3) The Land Split
I dedicated an entire separate post to this one, just because I think it's such a cool idea.  The farmer who owned the land happened upon a giant crack in his soybean farm one day several years ago.
With his crop and land destroyed, he came up with a creative new plan: he now makes jams and drinks out of hibiscus and offers tourists a place to relax during the day while dining on fruit.  He simply asks for a donation in return.
4) Pam Bok Waterfall
Also known as the "jumpy" waterfall, since there's a rock to jump off of and a pool just deep enough to accommodate it, this is my favorite waterfall because I can swim right up to it and stick my face under the running water.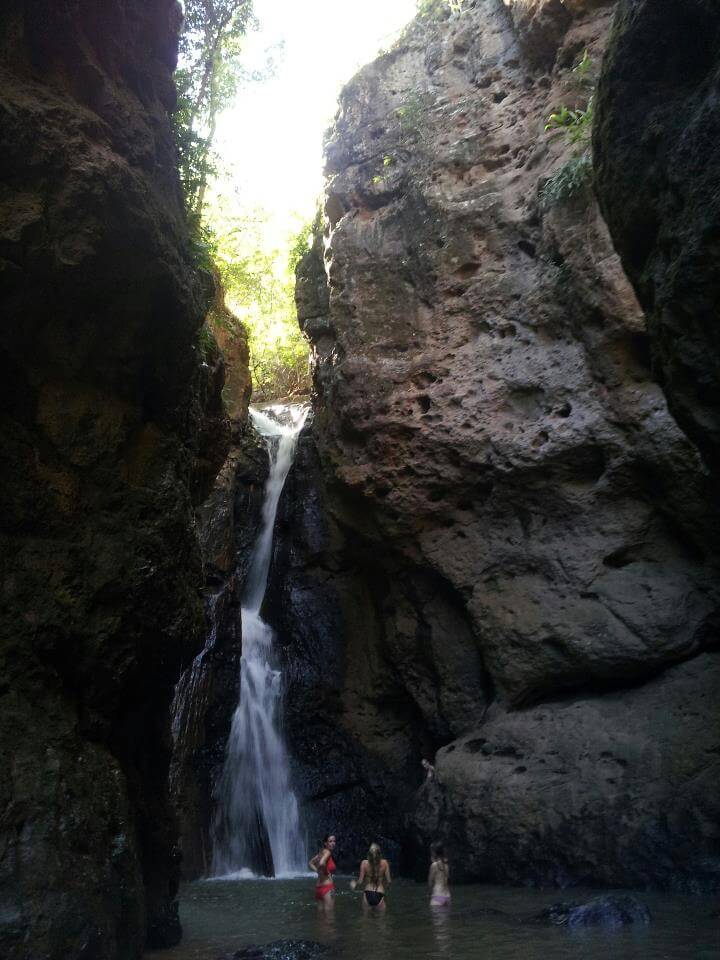 Plus, it's just such a serene place and the drive to get there is beautiful.  I've returned five times just to experience it again and again.
5) The drive from Pai to Mae Hong Son
Driving by motorbike all around Pai is probably my favorite part of visiting (but seriously, get travel insurance before you attempt it, just in case).  I haven't really seen landscape that is more naturally stunning than that surrounding Pai, especially the 2-hour drive to Mae Hong Son.
It was cool seeing the town itself, but the drive was more of the draw for me.  I had just learned how to ride a motorbike and really enjoyed the feeling of the wind in my hair.
6) Captain Jack Sparrow
Always in character, selling postcards, and even sporting a Captain Jack Sparrow email address, this guy truly is the Thai Captain Jack Sparrow: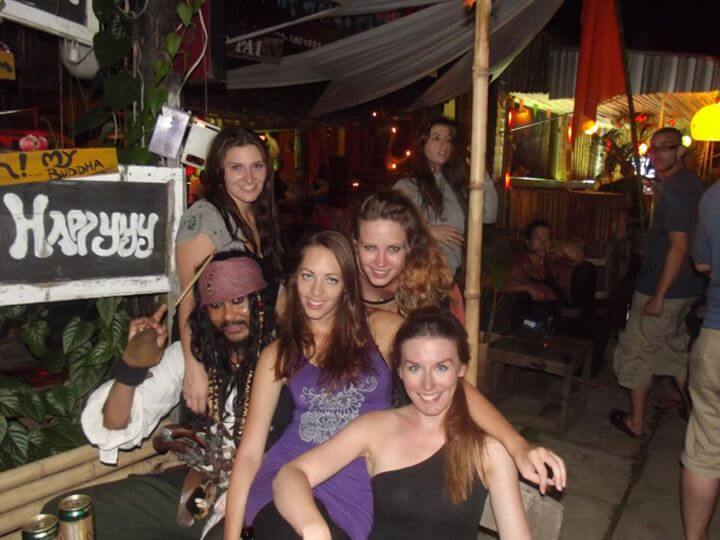 7) The circus school
I've always wanted to learn how to dance with fire, and had no idea that it was so easy to pick up.
This is what I learned in only a few hours without ever having touched poi before.  Well done, circus school!
8) The people I meet there
When asked what it is that I really, truly love about Pai, I always respond that it's the people I meet there.  Last year, I met a group of three other girls whom I toured the rest of Thailand with, and have since met up with in Melbourne and again in London.  Another friend I met there ended up being my roommate in Melbourne.  This time around, I was lucky enough to meet up with another close friend whom I met in Pai a year ago, which was wonderful.
On my last day there before heading to Chiang Mai for Yi Peng, I looked around my group and realized that we were all solo travelers from different parts of the world who had been strangers days before and were now new friends.  It's truly wonderful knowing that this is the kind of place I'll always meet amazing people who I'll wish to keep in touch with.
(Book Pai hotels here, or hostels, if that's more your thing 😉 )
Want to do it yourself? All of these attractions are best accessed with a motorbike, which can be rented in town from Aya Rentals or your guesthouse.