Upon making my way back to Thailand, I returned to Tonsai Beach near Krabi knowing that I simply wanted somewhere familiar to heal my heart and generally be a lazy bum drinking chai tea and reading books all day.
Most people head to Tonsai to go rock climbing, but I had no intention of being anything near that active. I was content to sit on the deck of Chill Out Bar with my Kindle, glancing up every now and then at the amazing view, and maybe walk to Mama's Chicken every so often to stuff my face with some curry and pat myself on the back for discovering the amazing coconut milk and Oreo shake combination.
That's when my friend Matt came to hang out and completely ruined my grand plans of idleness.
"I heard about this really cool lagoon in Railay. Want to walk over there tomorrow?" he asked.
I heard 'walk' and figured it would be a leisurely stroll, so I agreed.
Railay is the beach directly next to Tonsai.  I find it a bit too resorty for my tastes (read: there are not enough people with dreadlocks and not nearly enough reggae music on loop), but was happy to check it out. We made the 15-minute climb over and, sweat already permeating my being, continued from Railay West to Railay East.  Following the signs, we finally stopped in front of a stake in the ground with an arrow reading, trail to lagoon. 
It was pointing straight up a muddy set of rocks with ropes dangling down – ropes that were clearly needed to scale the route to the lagoon.
I shot Matt a glance, "I suppose I'll be climbing in Railay after all!"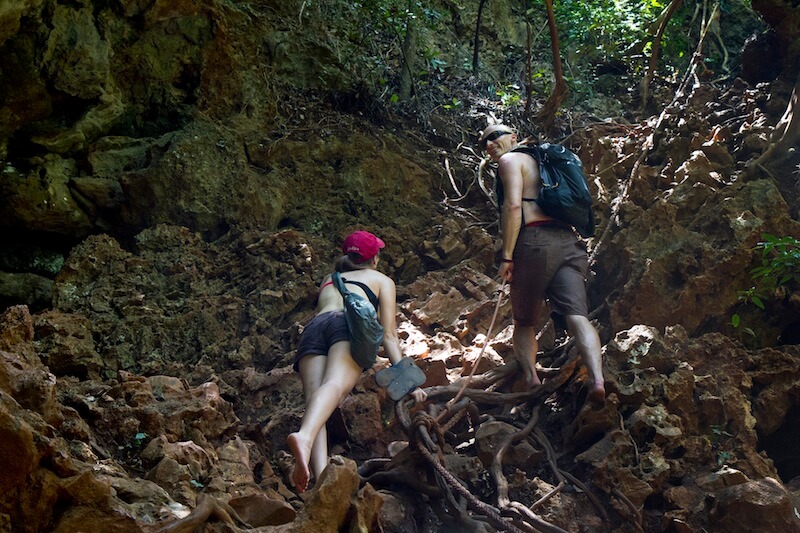 "Just so you know, it's really muddy up there" said a passer-by.  I elected to remove my shoes and my in-the-tubing tank top from Laos (I prize that thing more than a rational person should), and pronounced myself ready.
We quickly got to work climbing.
Several groups of climbers passed by us on the way down, exclaiming, "Oh! So difficult! So muddy!"
We thought surely they were messing with us.
"I didn't make it to the lagoon. It's pretty much a vertical drop beyond the lookout point…barefooted?! You're doing it barefooted?" exclaimed an Aussie passing us on the way down.
"Better for gripping," I replied.  He nodded skeptically and continued on his way.
After perhaps 25 minutes or so of fairly reasonable climbing, we reached the lookout point, where it seemed most people ended their hikes and turned back for Railay: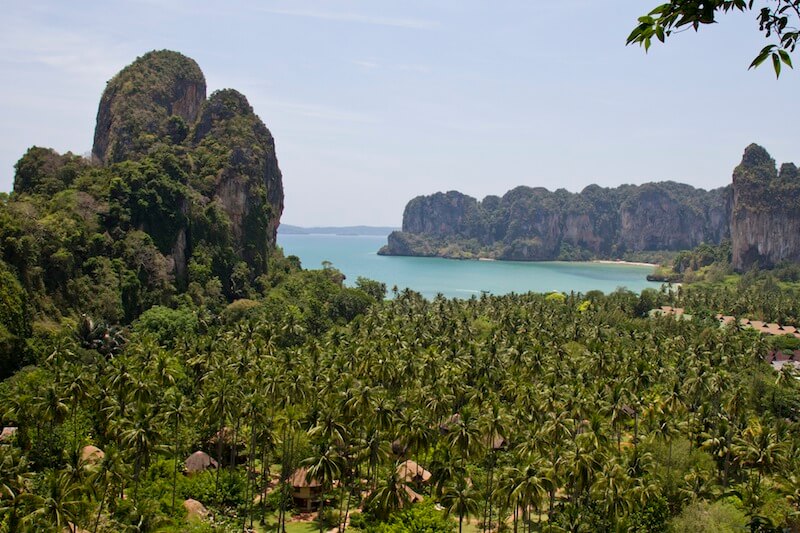 We stood for about five minutes to appreciate the beauty of the lookout point before turning back down the road and setting our sights on the lagoon.  We had made it this far, we were not turning back.
It turned out to be true: the trail, appearing to be something out of Jurassic Park, turned quite muddy, and became a vertical rock climb, sans gear, to the bottom.  Our tools for scaling the rock wall were our hands, bare feet, and some muddy ropes hanging from the top.
Matt was a champ.  He took each climb first then told me where to place my feet when it was my turn to head down.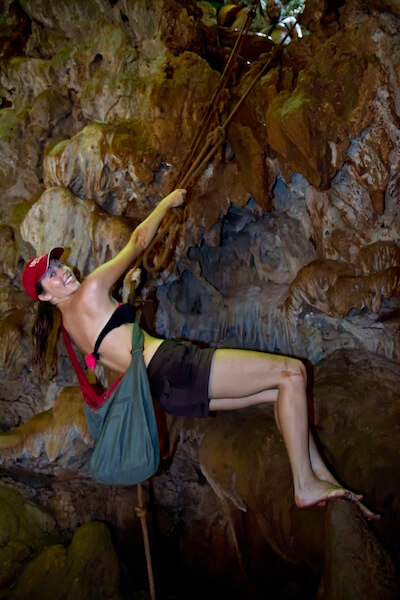 We scaled down four steep inclines, sometimes dangling only by a rope, before finally seeing some jade water in the distance.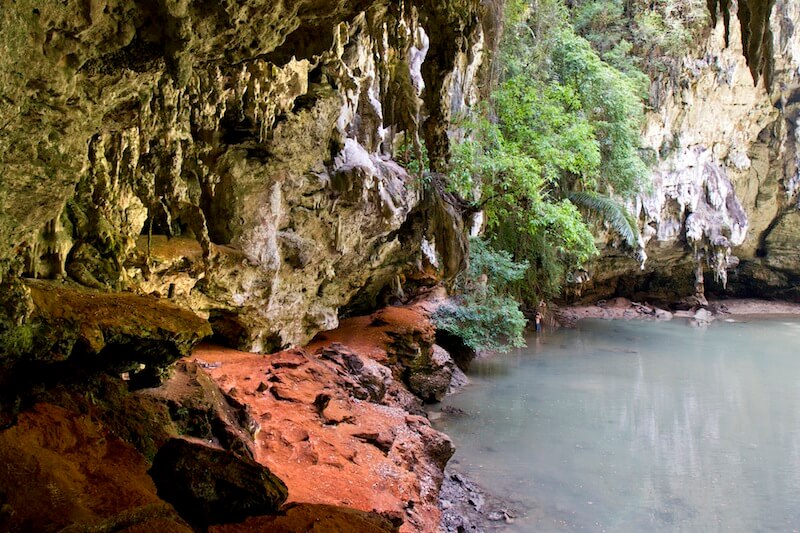 By the time we reached the lagoon, we decided to embrace the mud, and headed to the cave to write in mud on the walls and explore what the lagoon had to offer.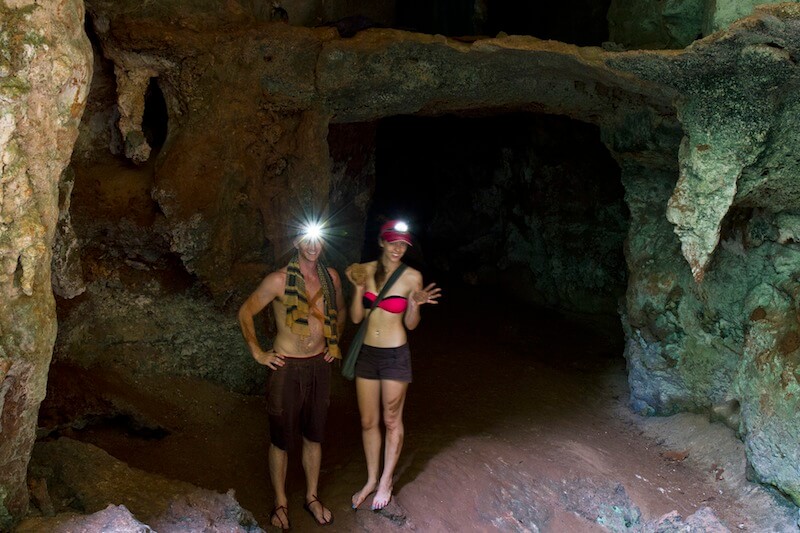 The climb back up, to me, seemed a bit easier, though it did require a fair amount more upper-body strength.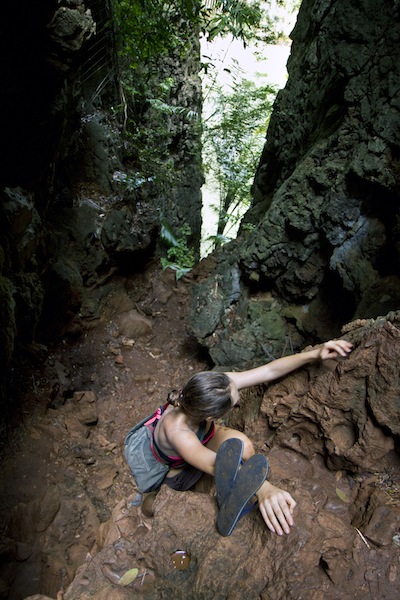 All-in-all, we were happy with our adventurousness and glad to have seen something that many tourists shied away from in an otherwise somewhat touristic Railay Beach.  Oh, and I can finally say I rock climbed in Railay.
Not to worry, I rewarded myself with doing nothing but reading books and consuming coconut milk and Oreo shakes for the rest of my Tonsai time.
Do it yourself:
If you're in decent physical condition without injury or ailment, then you should be fine to take on the climb.  At least some prior climbing knowledge would be helpful (I had only ever climbed a rock wall – twice, 5 years ago)

If heading out from Tonsai, take the path to Railay West.  From there, follow the main road to Railay East, where there will be posted maps and signs indicating the route to the lagoon and lookout point hikes

The path to the lagoon and lookout point (pictured in the first image) is opposite a small open-air gazebo that is usually covered in monkeys
The lagoon turn-off is a right turn slightly before the lookout point
Proper footwear would be helpful.  I had no issue going barefooted, although Matt unfortunately cut his toe at the lagoon itself.  Tennis shoes and flip-flops will be too slick, but climbing shoes should work well
Head out early in the day as the climb takes several hours overall
Be prepared to get sweaty and muddy!
Bring plenty of water to keep hydrated
*Many thanks to Matt, the Expert Vagabond, for providing the photos for this post, as well as serving as chief motivator against laziness and captain of not allowing me to fall to my death.