After spending a cumulative five months in Thailand over the past few years, sampling the backpacker's favorites and finding a few places that were just budding on the tourist radar, it felt like time to go back with a different intention. This time, I wanted to go more local and see things that I hadn't seen all over the internet yet.
Thailand's north is full of national parks, waterfalls, mountain peaks, and incredible temples. It seems you'd need months to feel like you really saw the best of it, but as it were, I had about a week to road trip around.
After hours of driving Thailand's lovely roads, seeing things I never knew existed here, these are eight of the best Chiang Mai day trips that you're not likely to see much info on yet. This is the hidden Thailand that you won't find all over Instagram yet. Some of these you can take public transport to, and others are much, much easier to drive to either by car or motorbike:
Compare prices and rent your car here!
Doi Chiang Dao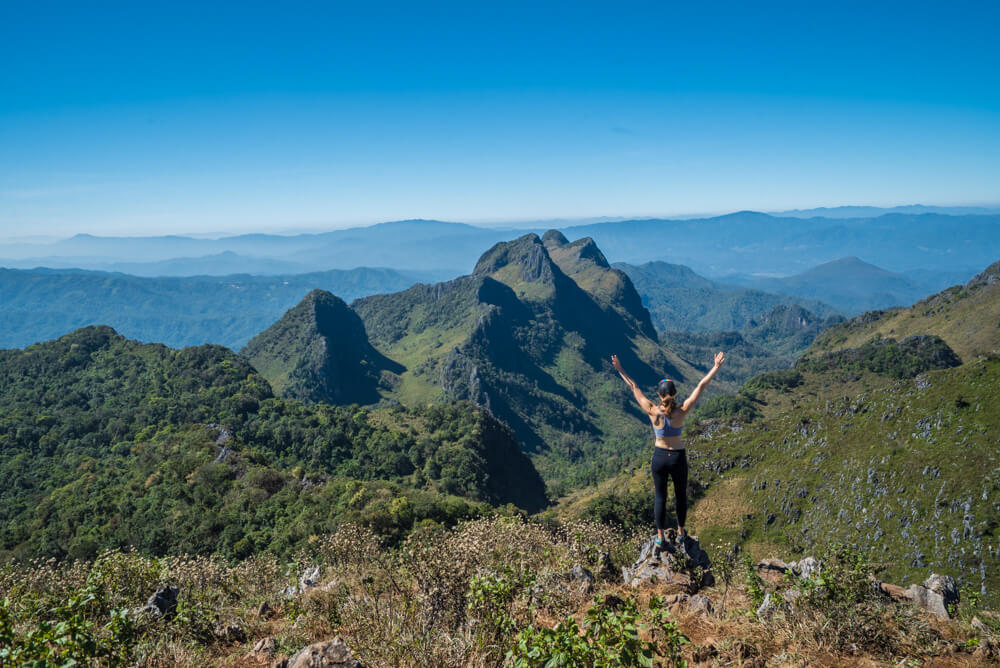 Doi Luang Chiang Dao is Thailand's third tallest peak (Doi Inthanon is number one), though the view must be the most beautiful in all of Thailand. Once you get to the top, if it's a clear day, you'll see undulating mountain after undulating mountain as far as the eye can see. The rock formations are incredible up there.
Like most of the other spots mentioned in this post, this hike was plenty crowded with Thai people, but hardly any other farangs (foreigners). Each person who passed me would smile, respond warmly, and giggle every time I said 'sa wat dee ka!' And those who knew English welcomed me to Thailand and encouraged me as I headed higher up the mountain.
What a contrast to the short hello or curt head nod that's common in the Alps or Sierras!
This hike is commonly done as a 2 day, one night hike, though it's possible to leave Chiang Mai very early in the morning to drive the hour and a half up, get to the base, hike up and down in one day, and head back to Chiang Mai for the night, though I'd suggest staying in the area to rest and enjoy the brisk mountain environment afterwards and chill out.
To get there, navigate to the Doi Chiang Dao national park entrance. More here on how to climb it.
Stay: Hot Coffee Guest House
Wat Chaloem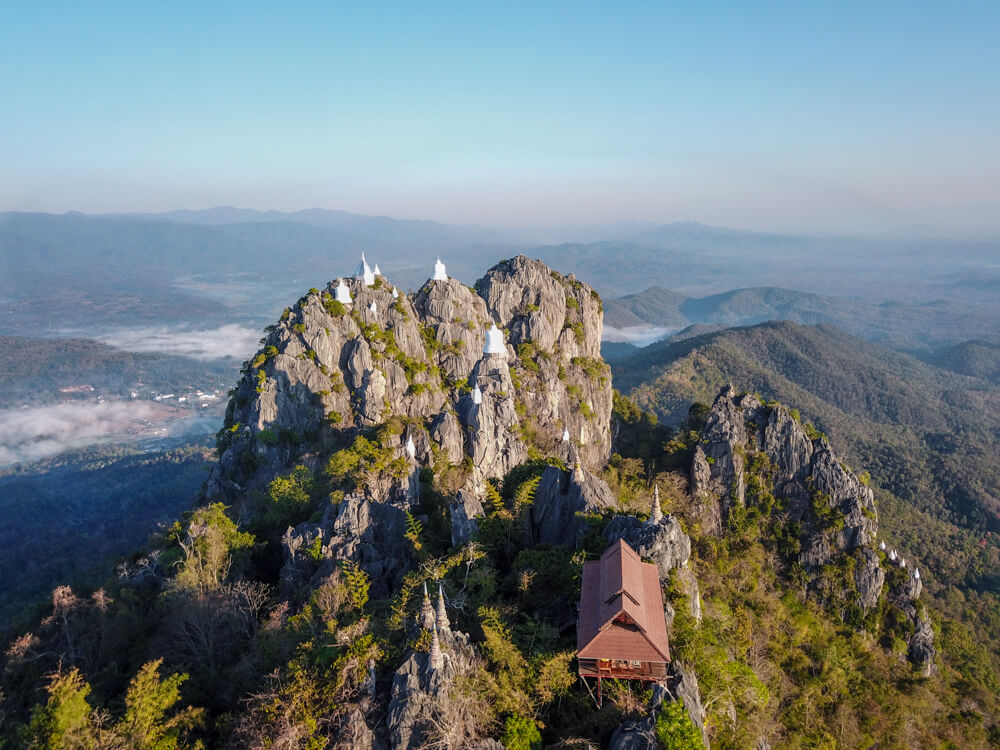 At first glance, it seems like these floating pagodas have to be in Bhutan. Those glowing white and gold structures dotting the sharp mountain peaks look otherworldly, like they could only exist in a movie.
I wondered if it would really be that great in person, and it was! Even better, I saw zero farang there, though it was plenty popular with locals.
The entrance fee is 200 baht and a compulsory 80 baht fee for the truck to bring you up to the steps, which you'll climb for 500 meters to the top of the mountain. I recommend getting there very early in the morning to see the mist hang in the hills, and to avoid crowds.
To get there, navigate here. It's about a three hour drive away from Chiang Mai, and can also be combined with the next stop on this list if you want to make it a multi-day adventure. More about the wat here.
Emerald Lake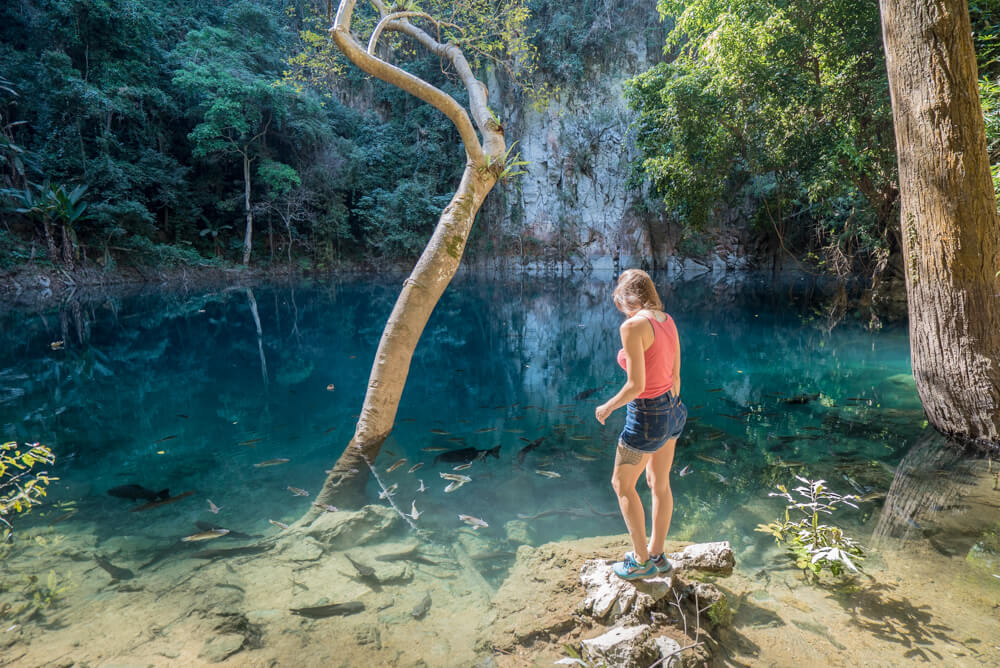 This sinkhole in the jungle filled with crystal clear blue water reminded me so much of the cenotes in Mexico. It was amazing to see that they exist elsewhere, too.
The pool is yet another attraction that doesn't seem to be very well known outside of the local visitors, who consider it to be a sacred pool. That means there's no swimming or fishing allowed, but you are welcome to sit and admire all afternoon, which I did!
It's a somewhat narrow and in some parts, dirt road to get there. In this case, it's both the journey and the destination that make this place interesting. More here.
Chiang Rai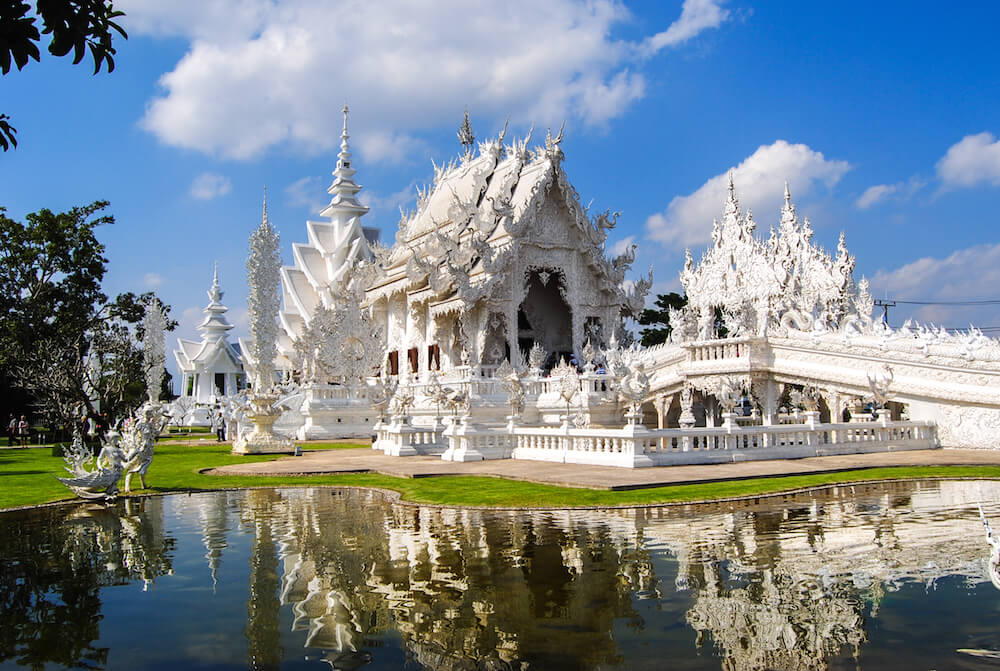 The White Temple in Chiang Rai really is a sight to see. No photo can do it justice – you've got to see this in person.
This contemporary style Buddhist temple is unique with its shape, structures, the dazzling white and silver adorning the outside, and the trippy mural on the inside.
If you're not driving yourself from Chiang Mai, you can take a green bus for under 200 baht. Though this can be booked as part of a tour for closer to $60 and done as a day trip from Chiang Mai, I highly recommend going the day before, staying overnight, and arriving early in the morning so that you're not sharing it with as many people. It will still be crowded, but it won't be anything like the crowds that descend on it by midday.
Pha Chor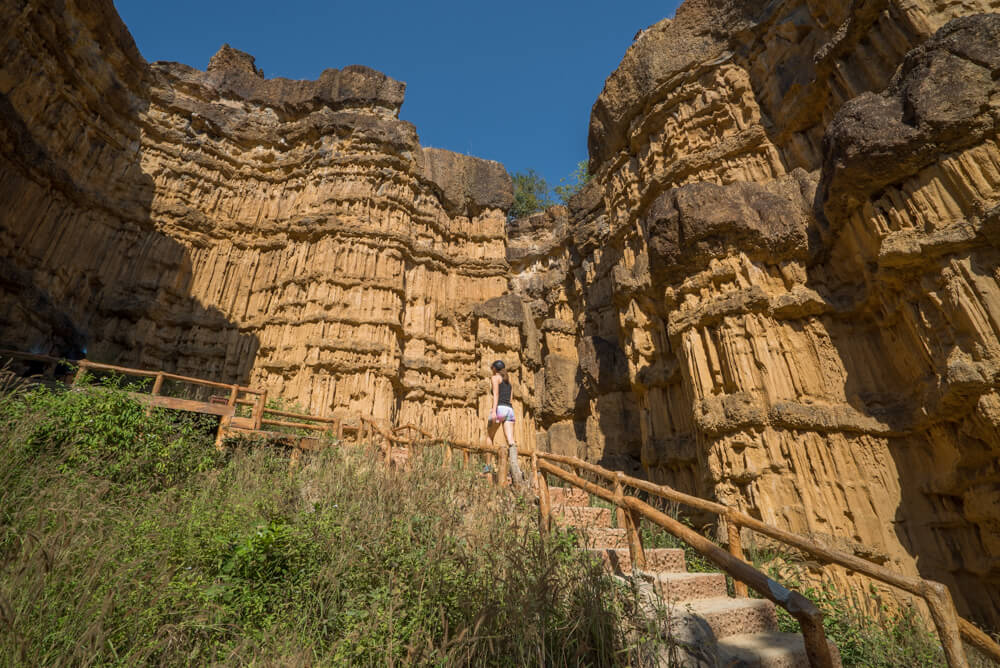 Heading west of Chiang Mai towards Doi Inthanon, there are two popular stops – the Grand Canyon which is popular for swimming, and Pha Chor, this orange canyon.
Doi Inthanon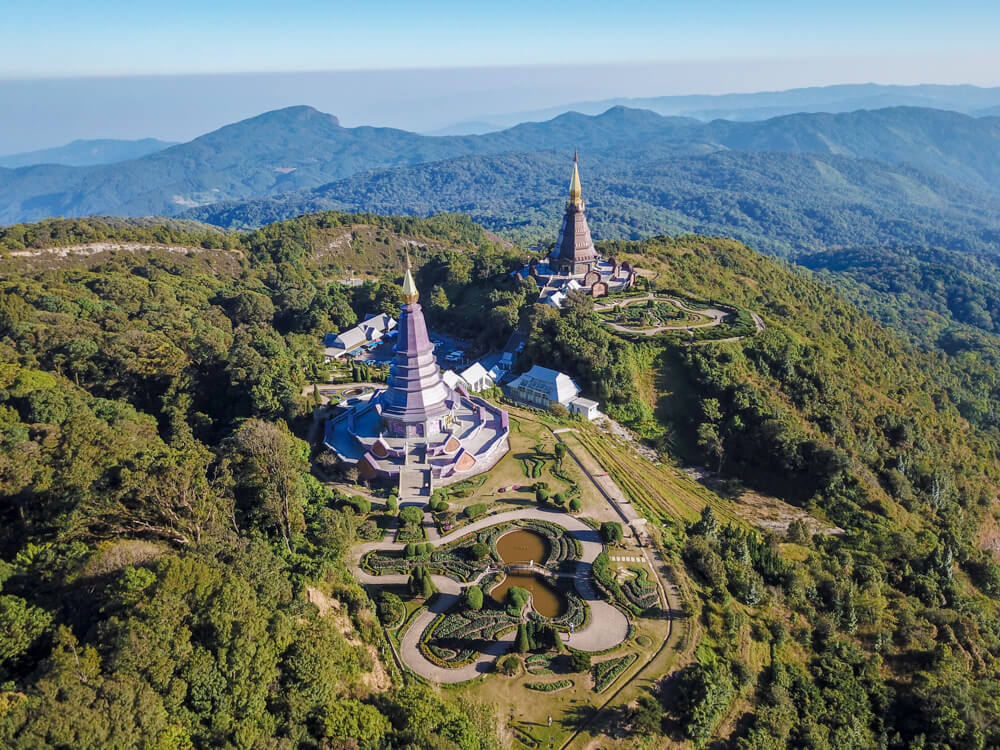 Doi Inthanon National Park is home to several waterfalls, a nice nature trail, and Thailand's tallest peak. The park's most famous features are the King and Queen Pagoda, pictured here. The park also has sakura blooms in mid-to-late January, which are lovely.
The stairs officially close at 5pm to the pagodas, as will the gates that grant entry for 60 baht per person, but you can stay a bit later if you're already up there. Golden hour is a lovely time to watch as the sun reflects on the golden tops of the pagodas!
Watch the video here:
The park entrance costs 300 baht, plus 30 for a car if you drive yourself in. Leave plenty of time to enjoy the park since it's big with a lot to see, and a steep entry price to boot. It takes about three hours to reach the top from Chiang Mai.
A car rental for the day will set you back 1000 baht, and a private car with a driver is closer to 3000. There are also tours available but those won't give you the freedom to stay as late as you like or pick and choose your activities.
Mae Ya Waterfall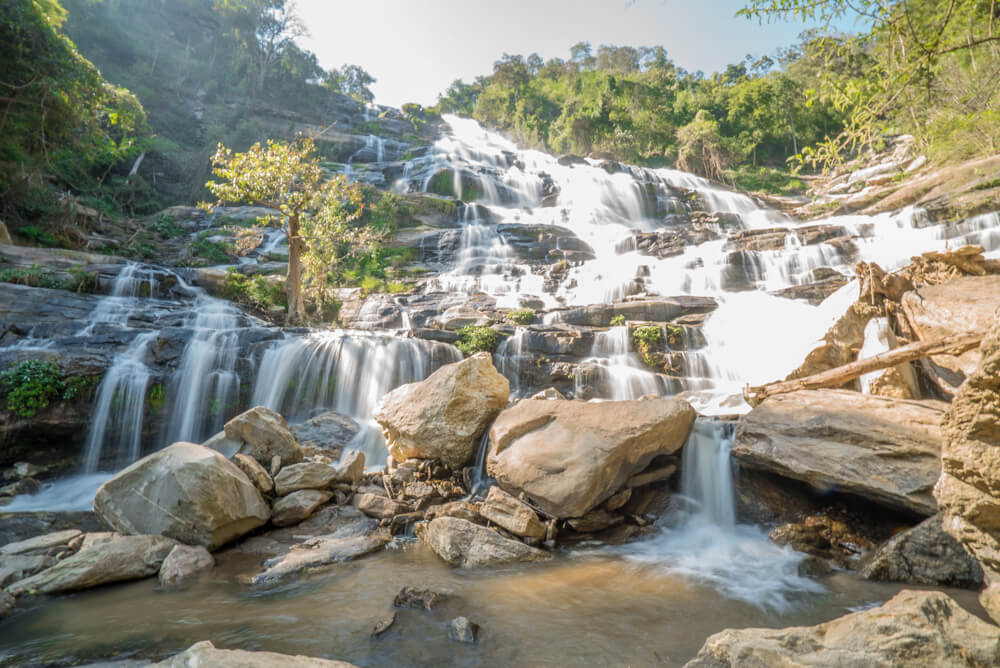 The Mae Ya waterfall is also located in Doi Inthanon National Park, though it's an additional hour of driving round trip to reach it. If you love waterfalls, it's worth it since this is the tallest and most magnificent one in the park, and it's a lot less crowded than the other ones will be.
The entrance to the waterfall is the same as the Doi Inthanon National Park ticket, so either buy it here if you head to the waterfall first, or retain the one that you buy at the park to show the rangers at the entrance so that you don't double pay. Navigate to it here.
Elephant Nature Park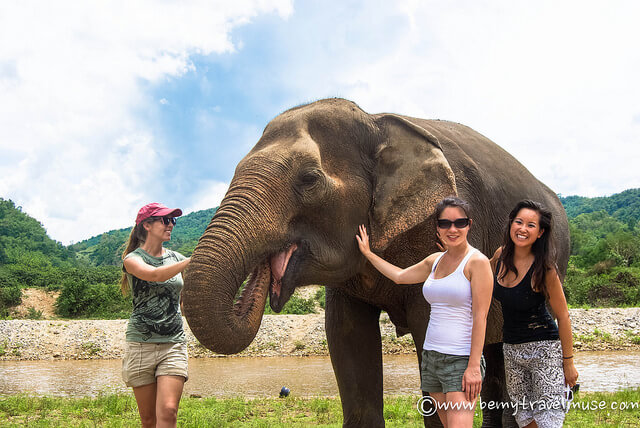 It's hard to visit Thailand without being tempted by an elephant adventure. However the rumors about riding them are true – it's bad for the elephant due to the orientation of their spine, and the training methods are abhorrent. If you still want the elephant experience without the guilt, I highly recommend Elephant Nature Park, which is full of rescued elephants with a new lease on life.
Trips range from one day to several, giving you an opportunity to feed and bathe the elephants, and to walk with them, or even volunteer on site. The tours will pick you up from your hotel early in the morning and provide transport and lunch. More on my experience here.
About driving in Thailand
To be honest, I never considered renting a car in Thailand until a friend of mine who recently moved to Chiang Mai did it for a longer road trip up north. At first I thought he was crazy, but once we got out of Chiang Mai the traffic made way for open roads and a relaxed road trip experience. I'd do it again in a heartbeat.
The car was a basic Toyota coupe with 4 seats and a roomy enough trunk. It didn't have a lot of power to it but it still worked on those winding mountain roads and had great fuel economy. It set me back 1000 baht per day plus gas, but it was worth it for the freedom.
One could also rent a motorbike though it'll take you much longer to get around, however the flipside is it's cheaper.
I'd also heard that an international driver's license is necessary to drive in Thailand. Officially this is true, however the rental companies don't generally ask for proof of it and if you do get pulled over, you'll be fined 500 baht and can retain the receipt to show the police if you get pulled over again. Apparently the ticket allows you to drive for the next three days. Sounds ridiculous but it's true. All that said, we never got pulled over.
Compare prices and rent your car here!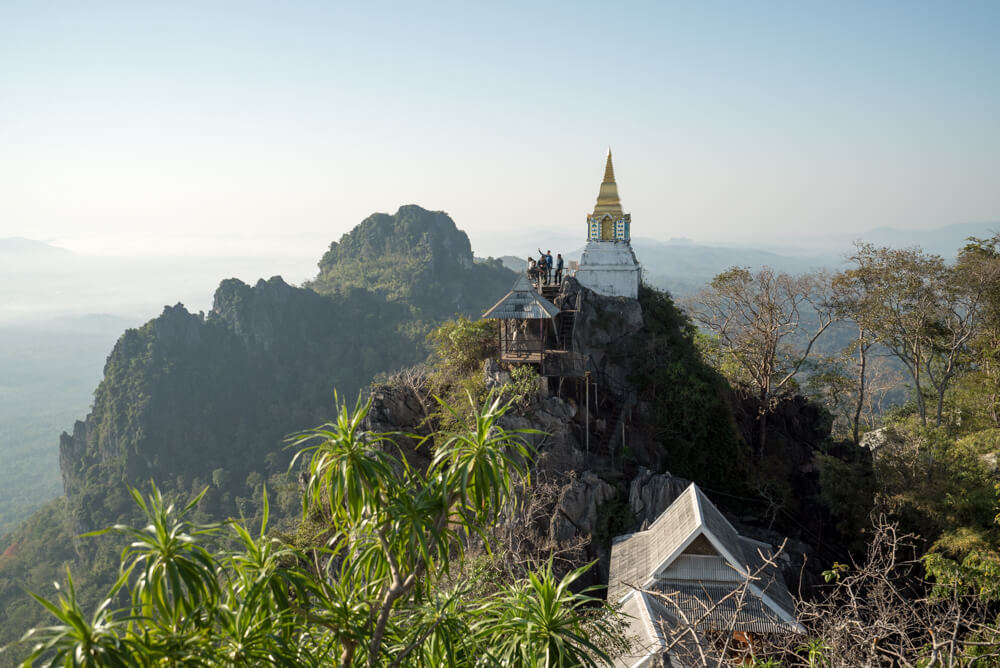 Those were a few of my favorite day trips from Chiang Mai, some of which are loved by foreigners and locals alike, and some of which I had never seen or heard of before. I only had about five days to explore, but also highly recommend Pai and Mae Hong Song if you've got more.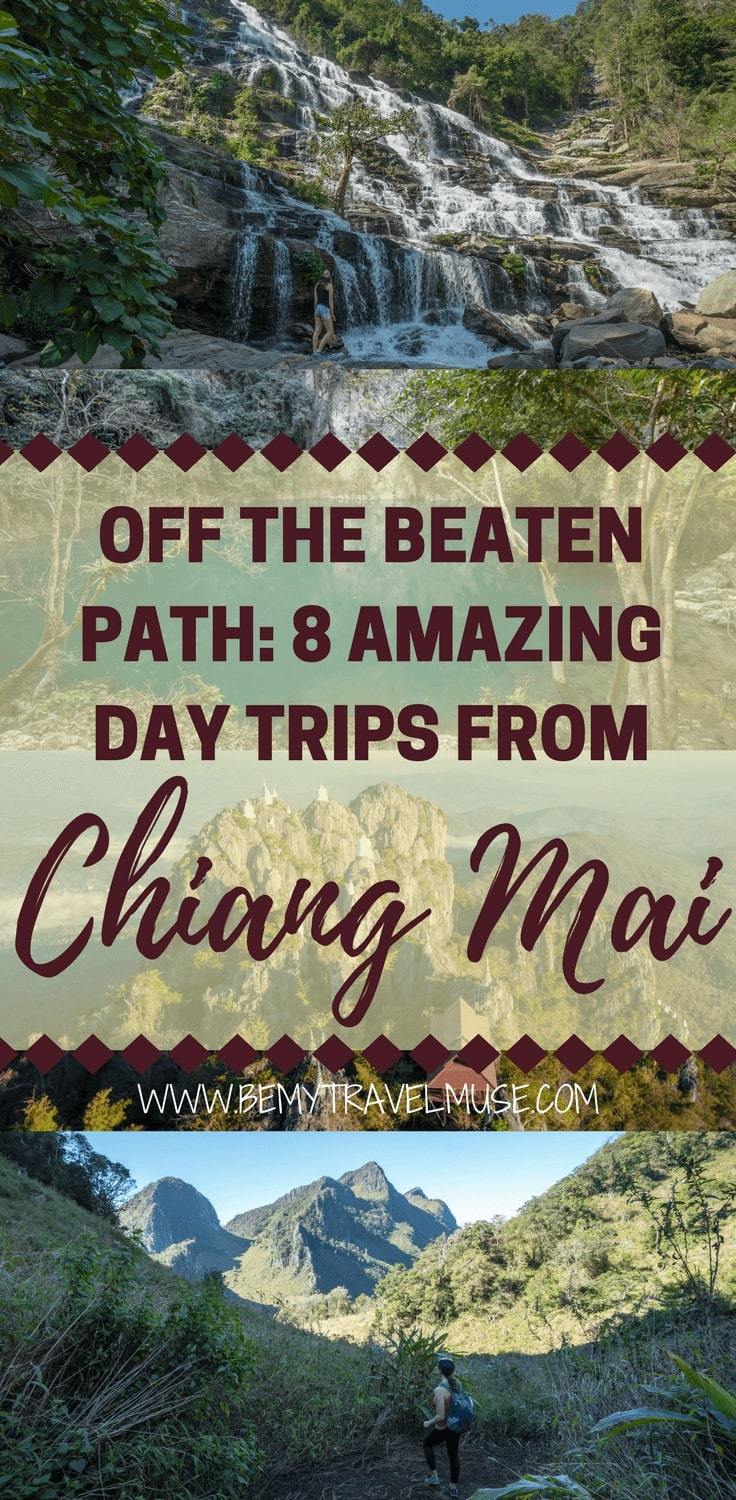 Traveling in Thailand's more 'local' places showed me a side of the country that I fell head over heels in love with. It reminded me of why Thailand is called the Land of Smiles, and showed me that yes, it is possible to see a non-farang side quite easily – you just have to head off the beaten track a little bit.