The 10-day meditation retreat at Wat Suan Mokkh in Chaiya, Southern Thailand, has been inviting English speakers to learn more about Dharma and meditation for several decades.
Thanks to generous donations of time and supplies, mostly by local Thais, the open-air meditation halls in the beautifully manicured forest of the monastery provide a perfect refuge for both newcomers and those who are deeply familiar with the practice of meditation.  The retreat is designed for anyone who wishes to achieve peace, compassion, and an ability to approach destructive emotions in a new and healthy way.
One of the main teachings is to be present and mindful – to let go of the past and not angst over the future.  Another teaching is to practice loving kindness towards all beings.  Yet another is to recognize what causes pain, and how to approach it in a healthy way.  Each of these teachings is meant to lead to inner peace and calm.
If you decide you'd like to give the meditation retreat a try, the best plan of action is to go in with no expectations.  One of the main issues with meditation is the near impossibility of achieving it if one desires it.  Have an open mind, and be a true student.   Also, recognize that this is a Buddhist monastery and, as such, will naturally rely on Buddhist teachings to communicate the meditation methods.  Of course, this does not mean you must convert to nor believe in Buddhism.
Be receptive and ready for change.  How often do you get ten full days with no speaking and no distractions to truly listen to yourself and recognize what you spend most of your time thinking about, all while surrounded by the beauty of a forest?  This, in itself, is a rare treat.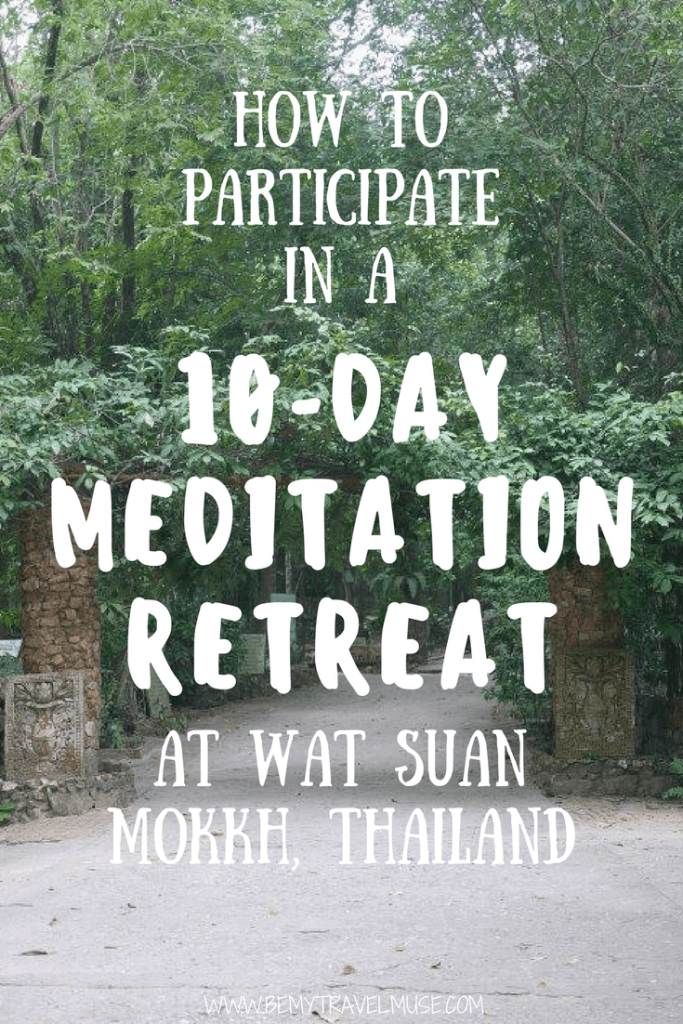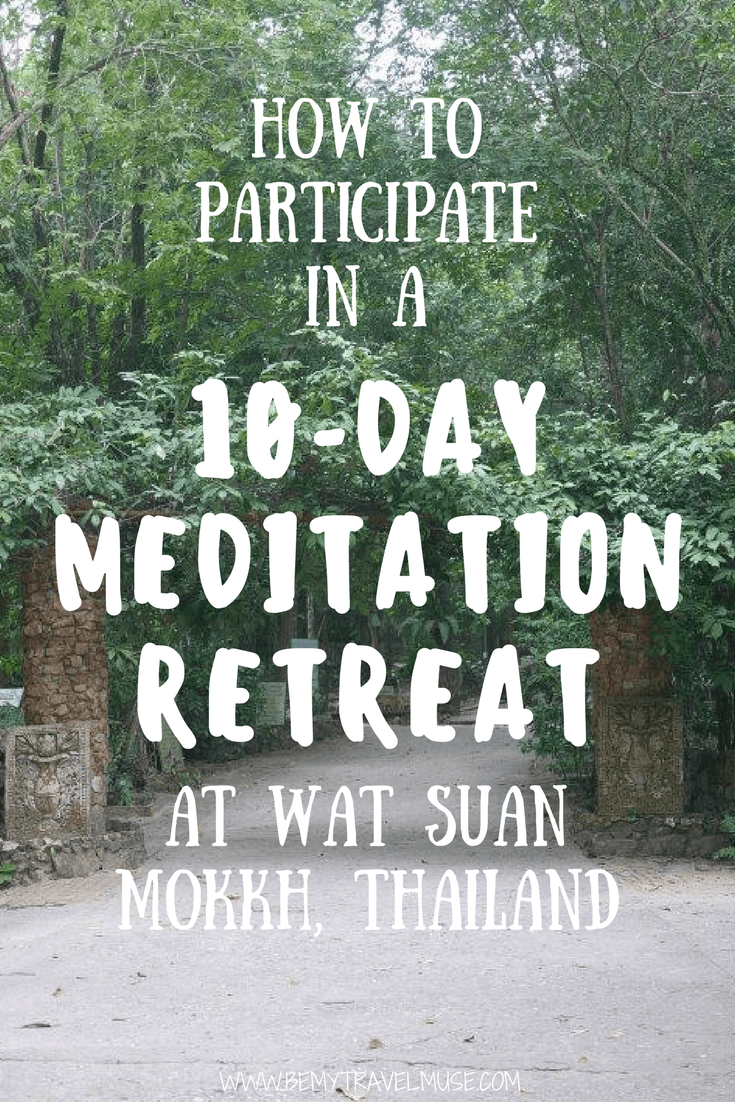 Things to Consider Before Participating:
Your objectives: you will be interviewed prior to admission into the meditation center, and will be asked what you hope to achieve through the 10-day meditation.  To know for yourself why you are participating is a good start.
Your physical well-being: can you handle concrete beds, hours of sitting meditation (you may not lay down), six hours of sleep, and are you free from physical addictions?
Can you be respectful of the rules: no smoking, speaking, no killing (this includes mosquitoes, centipedes, spiders, and scorpions, all of which you may encounter), no reading, no writing, no eating past afternoon, no laying down, no jogging or other exercise, no sexual acts, and no straying from the grounds of the meditation center.
Can you speak English fluently? All instruction and Dhamma talks are given in English.
The meditation is not rehab.  It is not suitable for those suffering from addiction.
Getting There:
Take the bus from Surat Thani bound for Chumpon for 50 Baht. Tell the bus attendant that you want to stop at Wat Suan Mokkh (What Soo-An Mock) in Chaiya.  He/She should know exactly where you intend to go.
There are two sides to Suan Mokkh: the International Dharma Heritage (IDH) is located on the opposite side of the road from the main monastery where most tourists visit.  You can get a ride from the information booth at the main monastery (where you will most likely be dropped off) to the registration area at IDH.
There are no reservations at Suan Mokkh – simply show up prior to 3pm on registration day, which is the 31st of every month.  The earlier, the better.
Helpful Information:
Sign up for your chore early on registration day in order to avoid getting stuck with a less-than-desirable chore, such as cleaning the toilets or foot baths (that's twice a day for ten days cleaning out toilets – yuck).
Bring loose-fitting pants and shirts to keep your person covered without getting too hot – Southern Thailand is nearly always quite warm and humid.
Bring leggings, an extra sarong, or additional body covering to combat the mosquitoes, which are the worst at Suan Mokkh than I had encountered anywhere else in Southeast Asia.
Clothing should not be tight, and should cover past the knees and shoulders.  Clothing does not need to be white.
What is Provided:
Mosquito net
Individual dorm room
Blanket
Water bottles with filtered water
Candle lantern
Buckets, clothes pins and drying lines for clothing washing
Daily vegetarian food (most of which would also be suitable for vegans)
Mats, cushions, and wooden seats for meditation
Meditation instruction
Daily yoga instruction from a program participant
What to Bring:
A towel
headlamp or flashlight
Toiletries
Copious amounts of mosquito repellent
Toilet paper
Something to sleep on if you don't fancy concrete and wooden pillows
Loose, breathable clothing that covers the shoulders and knees
A sarong to bathe in (no nudity, uncovered underwear, or bathing suits allowed)
An umbrella
Laundry detergent
Yoga mat (useful but not necessary)
You may even find a mosquito tent helpful
2000 Thai Baht (the equivalent of USD$60) to donate to the monastery – this is compulsory
What NOT to Bring:
Any kind of drugs or alcohol
Cigarettes
Stimulants such as tea or coffee
Food or candy
What you will have to submit for safe keeping during the retreat:
Books
Computers
Cameras
Cell phones
Passport
Excess money that you would like kept in a safe (they recommend you keep 500 baht on your person — about USD$15 – to buy provisions at the convenience store, which opens on certain days to sell repellent, toilet paper, candles, etc.)
Read more about the day-to-day schedule and overall experience.