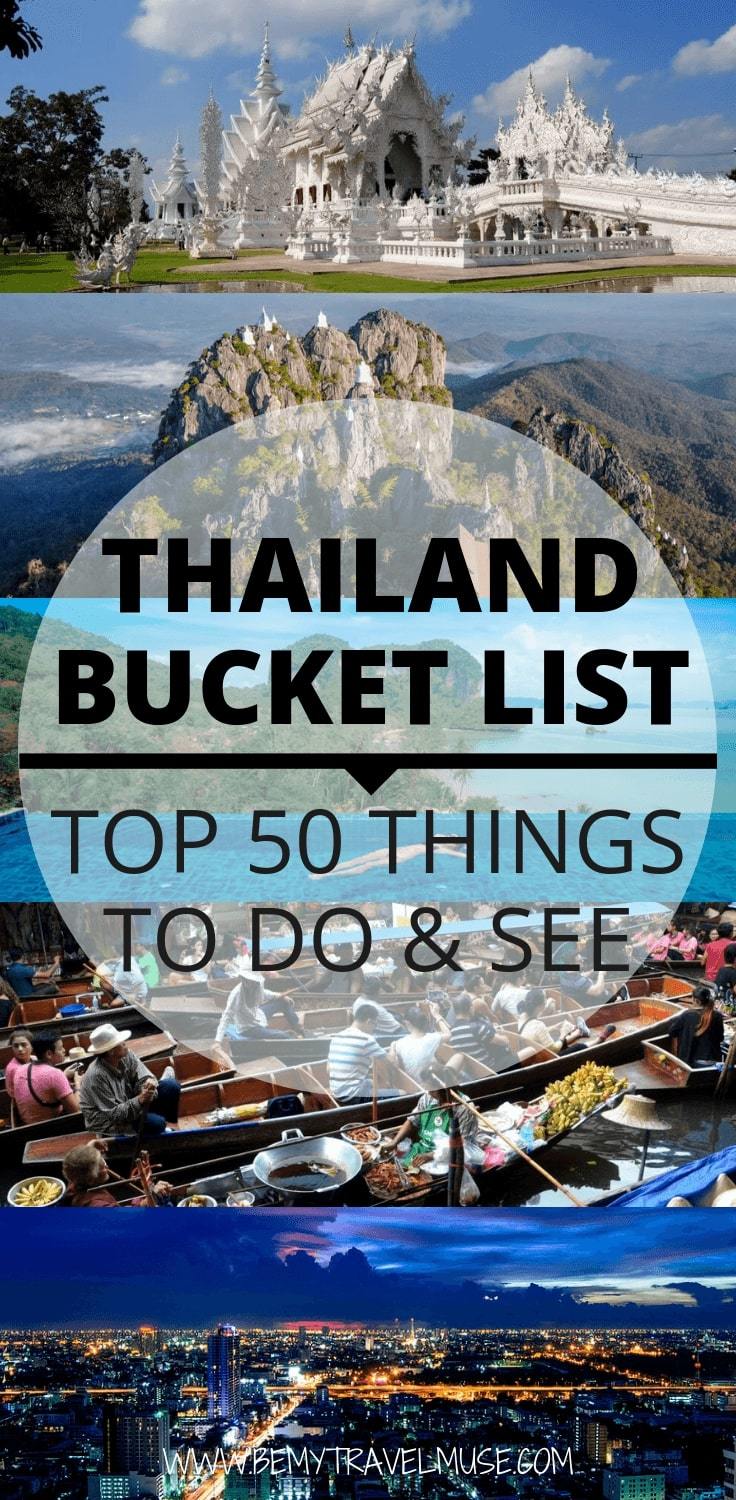 Oh, Thailand, the Land of Smiles, one of the easiest places to travel through in the world, and one of the best values for your money out there, too.
When planning a trip to Thailand, it's understandably hard to narrow down the best of the best, but a girl's gotta try, right? Here are 50 bucket list items in Thailand to consider adding to your list:
1. Visit the White Temple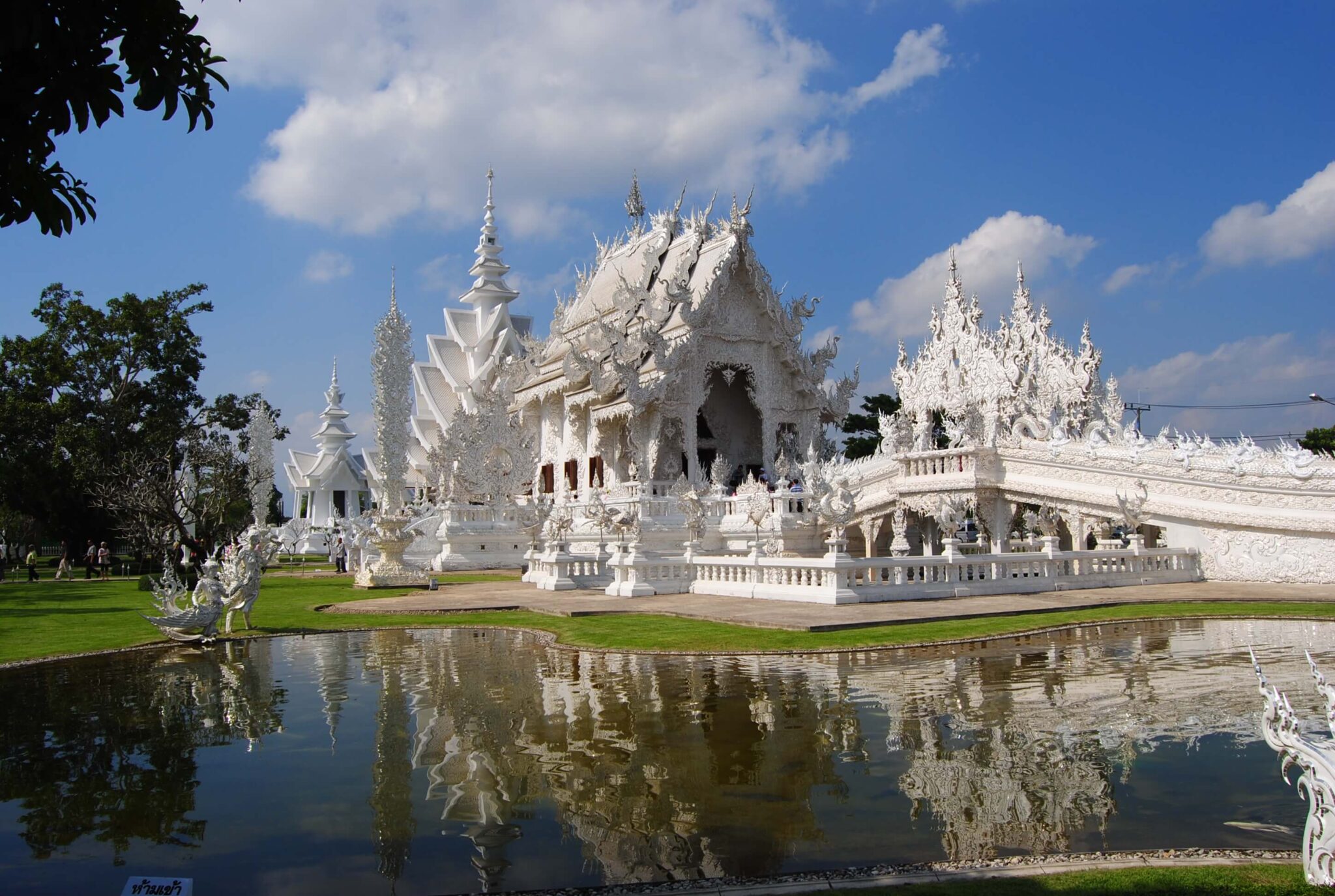 The White Temple in Chiang Rai is like no other. After years visiting countless temples around the world, the White Temple remains one of the most interesting temples I've ever laid my eyes on. A massive project that will remain under construction until 2070, the White Temple is a compound with beautiful and strange sculptures like hands reaching out from the depths of hell to vibrant guardians of paradise. There's a trippy mural on the inside as well that I don't want to ruin for you, but think Sailor Moon and Neo from the Matrix. If you can only see one place in northern Thailand, this should be it.
Blog post: Words cannot describe the White Temple in Chiang Rai
2. Visit the Blue Temple
Wat Rong Suea Ten, known as the Blue Temple, is another non-conventional temple in Thailand that should be on your bucket list. The combination of blue and gold results in a stunning and unique temple. The bonus? No entrance fee is required.
3. Visit the Silver Temple
Better known as the Silver Temple, Wat Srisuphan is covered by hammered silver designs made by local artisans. The outside is intricate, with allegories of the Tipitaka and the world capitals displayed on the walls. It's an easy and quick pit stop near the South Gate in Chiang Mai and only costs 50 baht. Sadly women are not allowed inside (but we still get to pay the full rate!), but the outside is still worth seeing.
Blog post: 5 delightfully unique temples in Chiang Mai, Thailand
4. Visit the Black House
Are you seeing a pattern yet? There are just so many interesting temples in northern Thailand! Not that I am complaining, as they were all so refreshing to see, and so different from each other. The Black House is a large compound with more than 10 temples that share a common theme – black. Walking through the Black House you'll see some bizarre displays, such as a chair made out of animal skulls, and a darkened crocodile skin.
5. See Doi Suthep Pagoda
The Doi Suthep Pagoda may remind you of the Golden Pagoda in Yangon, Myanmar, if you've been. I recommend visiting this at golden hour, just before sunset. The setting sun reflected on the shiny, golden pagoda is beautiful, followed by the sun setting over Chiang Mai. You may also join the locals as they walk around the pagodas with a stem of flower in their hands while chanting prayers, like I did in the photo above.
6. Explore Doi Inthanon National Park
Doi Inthanon National Park is home to several waterfalls, a nice nature trail, and Thailand's tallest peak. The park's most famous feature are the King and Queen Pagodas, which also have sakura blooms in mid-to-late January. Leave plenty of time to enjoy the park since it's big with a lot to see, and a steep entry price to boot. It takes about three hours to reach the top from Chiang Mai by car. You can also take a taxi, tour, or motorbike.
Blog post: 8 amazing day trips from Chiang Mai
7. Experience the Flight of the Gibbon
For the adrenaline junkies, consider joining the Flight of the Gibbon in Chiang Mai, an experience that allows you to zipline through the dense forest (it is the longest single zipline in Asia). It's probably the best place in northern Thailand to channel your inner Tarzan (or Jane).
8. Fall in love with Pai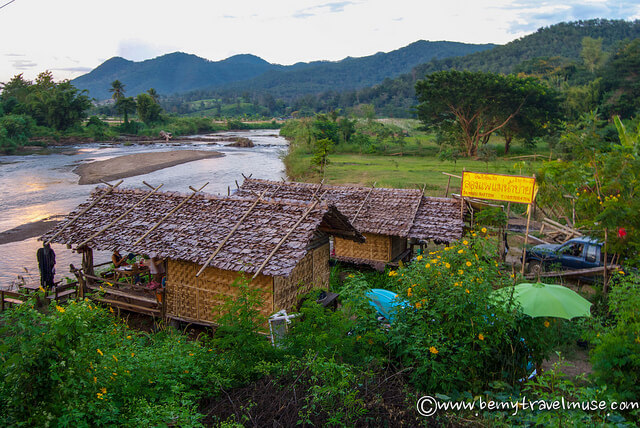 Pai, just a few hours outside of Chiang Mai, is a hippie oasis I went back to again and again. It's not uncommon to meet people in Pai who only meant to stay for a few days, and extended to a few weeks or more. There's just something about this hippie town that's so easy to fall in love with – perhaps it's all the waterfalls, the canyon, or the delicious food, or all three?
Blog post: Why I'm so hopelessly in love with Pai
9. Relax at the Pai Land Split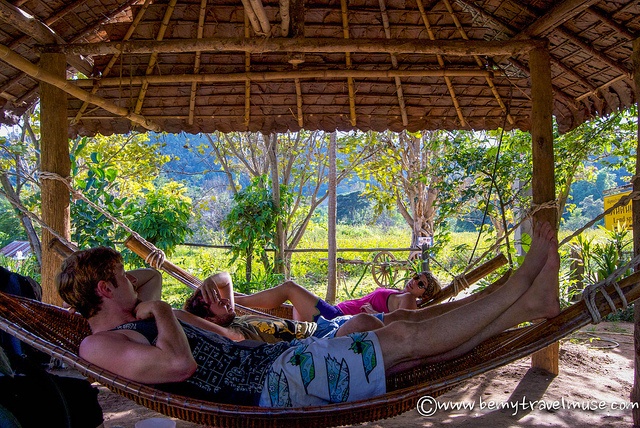 If you ask me, the Land Split is truly what makes Pai, Pai. Once a soybean farm, the land cracked one day in 2008, making it unsuitable for farming and destroying the farmer's crop and income. The farmer figured out how he'd make his living: providing fruit and hibiscus juice spreads to tourists who passed by on their way to one of Pai's three famous waterfalls. If you are in Pai, make sure to visit and spend an afternoon enjoying the snacks and chatting with the farmer.
10. Attend the Circus School
Want to learn how to dance with fire or pick up some new tricks while hanging out with new friends? There's a circus resort + school in Pai that offers just that. It's a unique experience that you won't get anywhere else, and I was happy to have been able to pick up some basic fire spinning tricks after just a few hours.
11. Hike Doi Luang Chiang Dao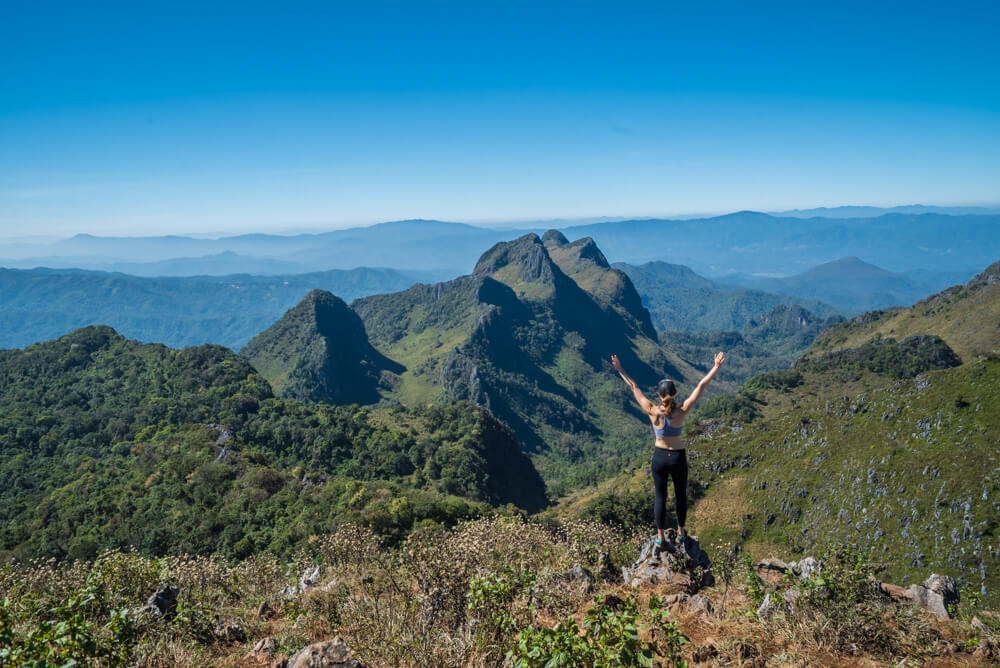 Doi Luang Chiang Dao is Thailand's third tallest peak, accessible via a fairly easy drive 1.5 hours from Chiang Mai and surrounded by mountain after mountain in every direction. In a word, it's stunning. The hike itself is steep at first and right at the end, but for the most part it runs through a temperate forest full of friendly passers-by – most of whom are Thai. The cherry on top? The view!
Blog post: A guide to hiking Doi Luang Chiang Dao
12. See the Floating Pagodas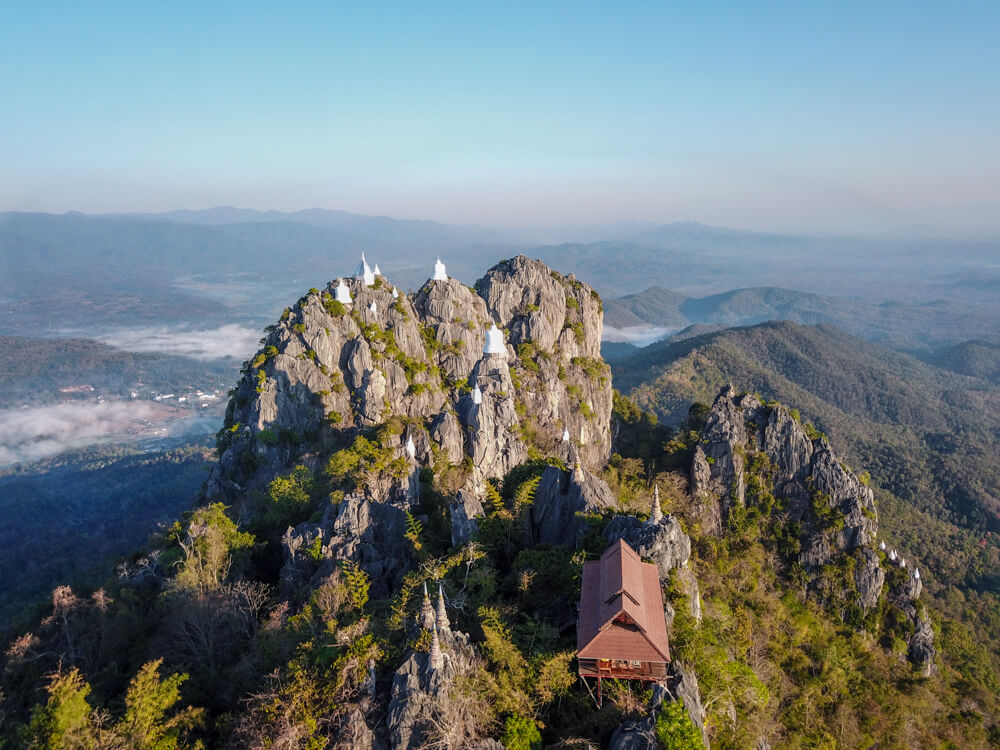 There was hardly any info about Wat Chaloem Phra Kiat Phrachomklao Rachanusorn Temple when I looked it up online after seeing awesome drone footage from a Thai tourist. These pagodas dotting the mountain peaks were each carried up piece by piece by a revered local monk and a team of nearly 50 workers just over a decade ago. The amount of love and sweat that went into making this work of art and devotion a reality is astounding, especially when seen in person. I was completely blown away.
Blog post: Wat Chaloem Phra Kiat, Thailand's floating pagodas
13. Play with the elephants ethically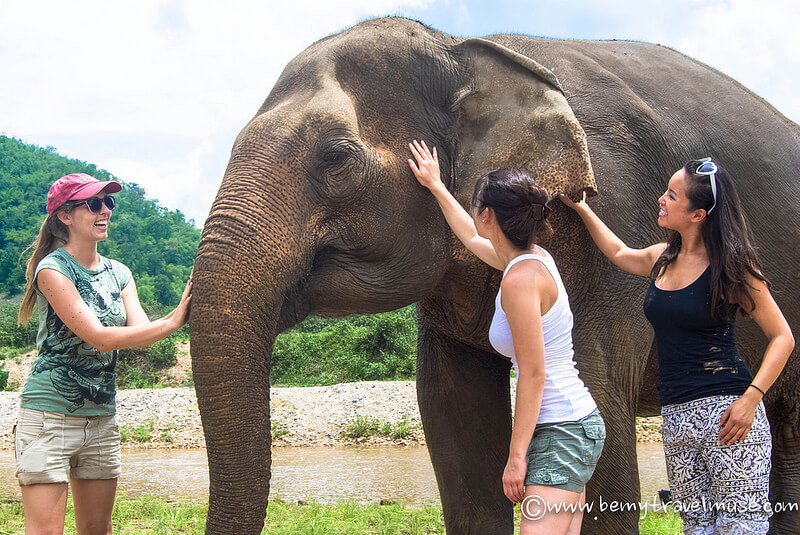 The opportunity to interact with elephants is what draws many tourists to the country. Unfortunately, most, if not all of the elephants many have interacted with were likely to have been taken away at a small age, put in a small pen, tied up, and poked, prodded, and pierced for days in order to make them submit. For the remainder of their lives, they are typically controlled with the same sort of stick, with a hook in the end. That's not something I ever want to support.
Fortunately, there is a way to play with elephants ethically. Elephant Nature Park is one of the few real sanctuaries that care for rehabilitated elephants, and I highly recommend visiting or even volunteering.
Blog post: The best way to play with elephants in Thailand
14. Check out the Sunday night market in Chiang Mai
Each province in Thailand offers cuisine that is "same same but different" (I love this phrase!). In Chiang Mai, check out the Sunday night market full of delicious food, clothing, jewelry, art, sunglasses, you name it. It runs right down the center of the old city from Thapae gate. For a truly local dish, try the Khao Soi curry with crunchy noodles!
15. Attend the Yi Peng Festival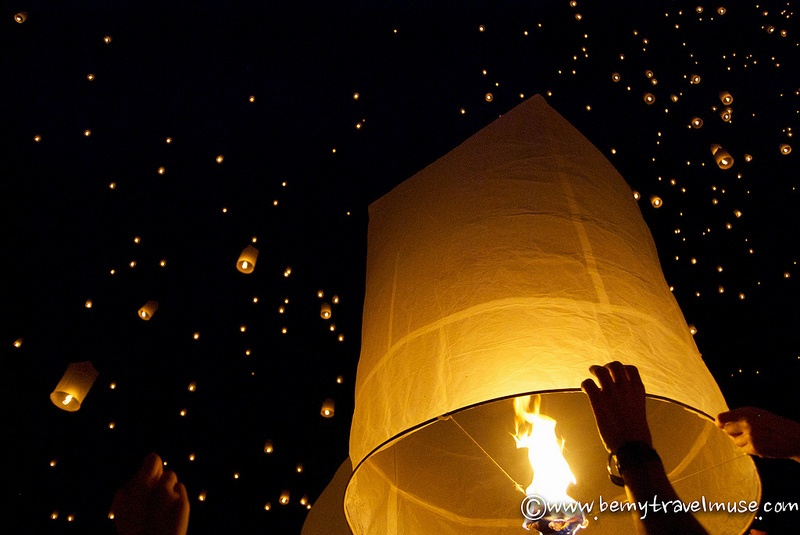 Every year, thousands of lanterns are released into the sky at the Yi Peng Festival. To reduce the amount of tourists at the local event, they try not to release the exact dates until only a month or so before the Yi Peng festival. Typically taking place around November – December, if you are traveling in northern Thailand around that time, be sure to ask around and see if you can swing it.
Blog post: Yi Peng in Chiang Mai
16. Try your hands at a cooking class
It's a ton of fun, you learn something new, and your newly acquired skills are possibly the best souvenir to bring home and share with friends and family!
17. Explore A Thai Cenote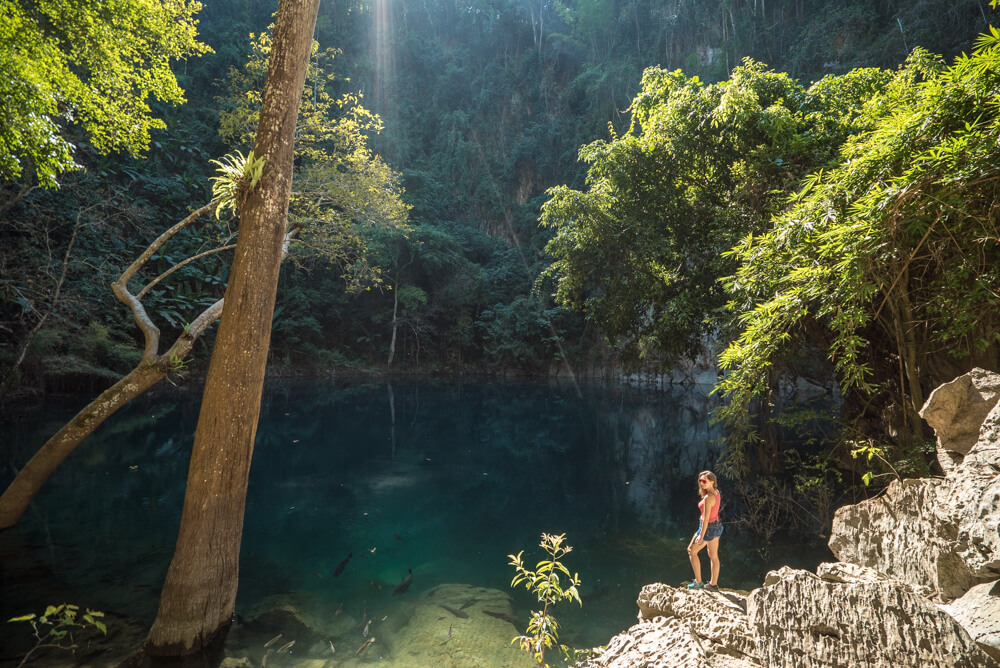 Yes. this place exists – in Thailand, not Mexico! It's considered to be holy by the locals who make offerings to it yearly. Since it is considered sacred, swimming, fishing, and feeding the fish are not allowed. I spent a good 2 hours there just admiring the beauty of the surrounding area, watching the fish swim, and enjoying the cool temperatures. It was a true adventure to get to, and there's almost no available info online, so if you're interested in visiting, click the post below for more info.
Blog post: Emerald Lake, a cenote in Thailand
18. Rent a car and do a day trip from Chiang Mai
Traveling in northern Thailand is generally pretty easy, especially with help from Songthaews, the local red trucks that go around town picking up and dropping off passengers. However, if you are looking for an adventure, consider renting a car (if there's a group of you) or a bike to do a day trip from Chiang Mai. You will be able to reach places that are off the beaten path, and stop whenever you want.
Blog post: 8 amazing day trips from Chiang Mai
19. Jump into the Grand Canyon
Chiang Mai's very own Grand Canyon is a favorite local swimming spot up north. For a more adventurous experience, you can cliff jump from the canyon into the water. There's also a Grand Canyon waterpark that's perfect for a group day trip. Think floating obstacles, ziplines, wakeboards, and of course, a cliff jump.
20. Complete the Mae Hong Song loop on a bike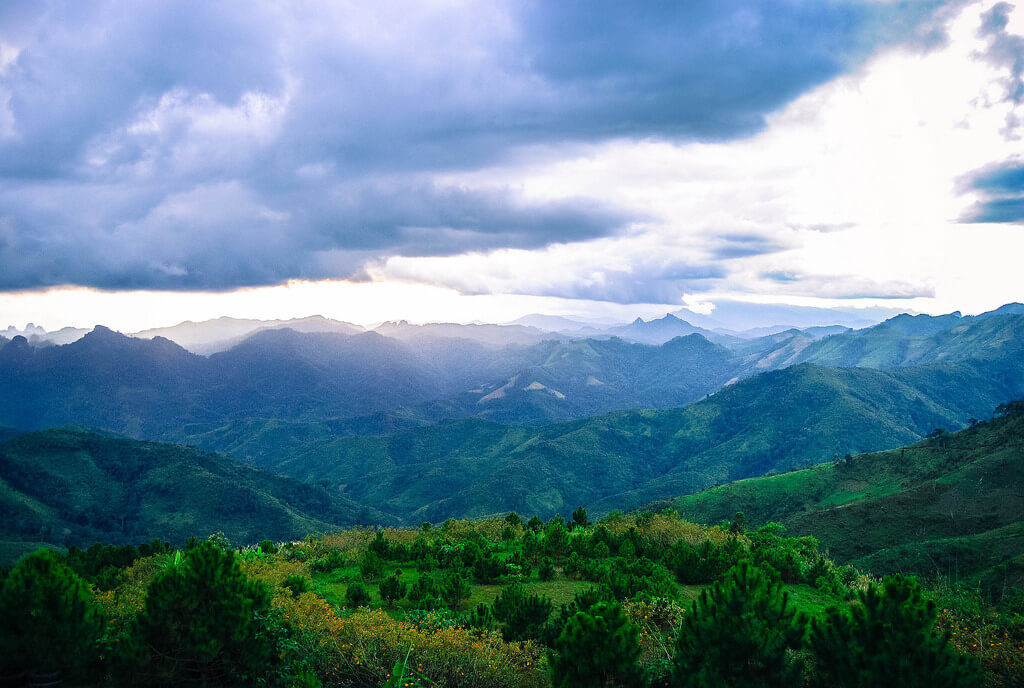 The cascading mountains of the province of Mae Hong Son, bordering Myanmar, are like a storybook with their misty mountains. It's a gorgeous journey here from Pai for those who are comfortable driving a car or motorbike. Once there, visit one of the many caves, hot springs, and nature parks. Even if it's just for a day, driving through there from Pai is a fantastic way to pass the time.
21. Immerse yourself in ancient history at the Sukhothai Historical Park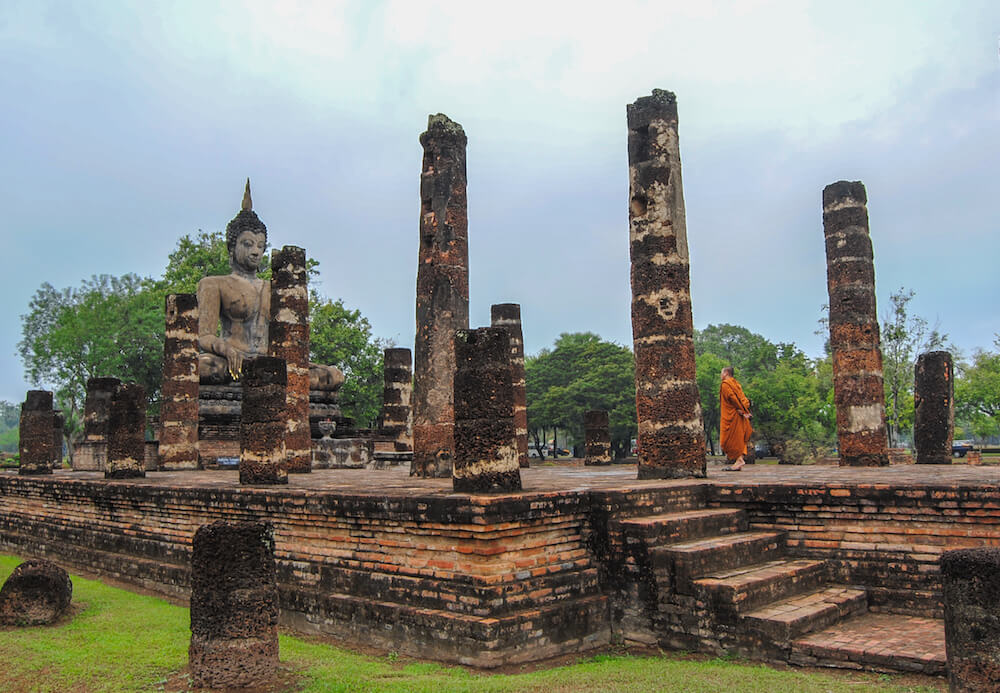 Sukhothai Historical Park is a UNESCO World Heritage Site that is much quieter than Angkor Wat, which I definitely appreciated. Perhaps it's due to the lower influx of tourists in Sukhothai, or perhaps the locals are simply friendlier here, but I felt extremely welcomed in this little pocket of Thailand. The best thing to do is rent bicycles for the day and explore!
Blog post: Exploring the ancient kingdom of Sukhothai
22. Shop in Bangkok
From the lavish Siam Square shopping mall filled with LV and Gucci flagship stores, to quirky local boutiques, down to the street markets with the typical elephant pants hanging high, shopping in Bangkok is world class, regardless of your budget and style.
23. Meet the locals through Couchsurfing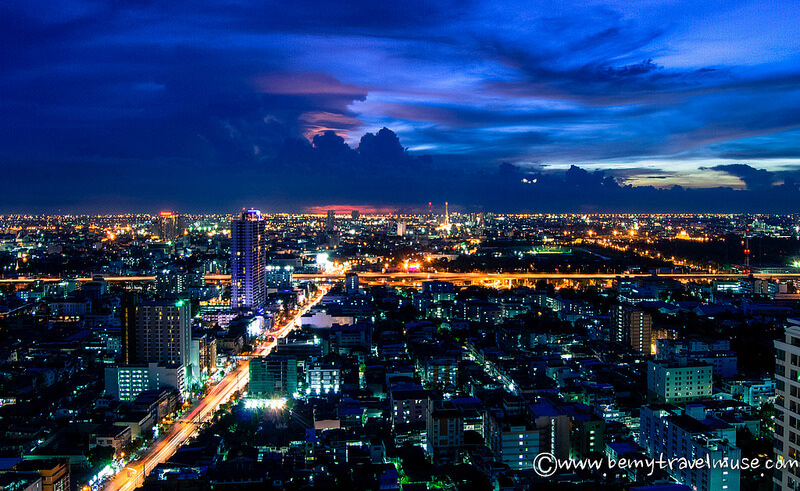 Staying with a local or expat through Couchsurfing has lots of perks. During my 5th visit, my couchsurfing host took me to some local food joints that would be difficult to discover without some local knowledge. He also lived in an area without many tourists, which gave me a different taste of Bangkok – in a good way. I recommend giving it a try, even if it's just to attend one of their meetups, especially in a big city like Bangkok.
24. Visit the Chatuchak market over the weekend
Chatuchak is a market in Bangkok that both locals and foreigners like to visit, so there's still a taste of local culture there. Plus, they sell absolutely everything! Truly talented artists sell their art there, along with one-of-a-kind handmade items that can fit in a backpack.
Blog Post: How to Fall in Love with Bangkok
25. Picnic at Lumpini Park
Bangkok's very own central park will bring you some peace and quiet in the midst of the ever hustling and bustling city. It's a great spot for people watching and seeing locals out playing sports, walking around, and living life, which is something I really dig when I'm traveling. If you want to see how life is lived away from tourist-packed areas, be sure to check this place out.
26. Visit the floating market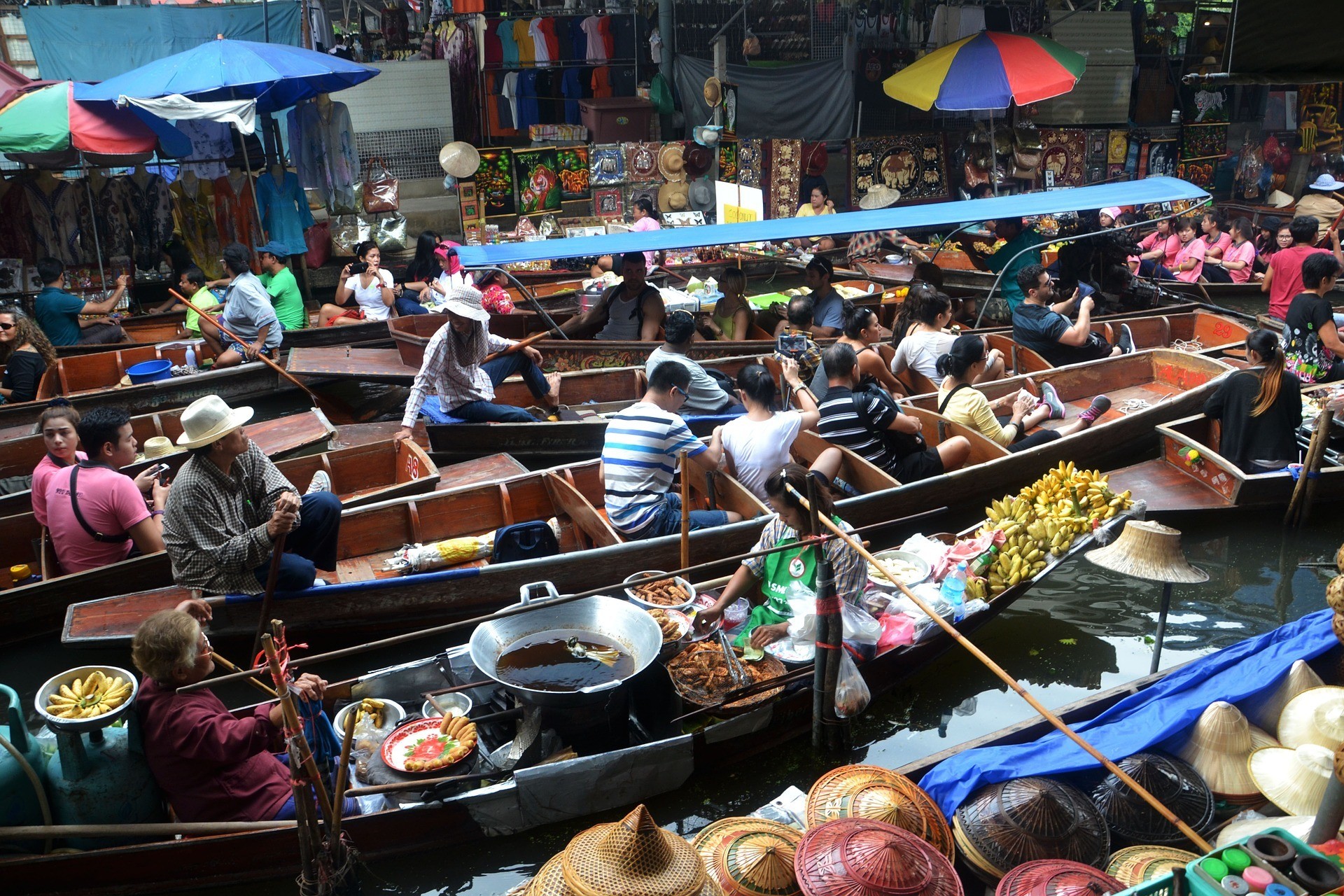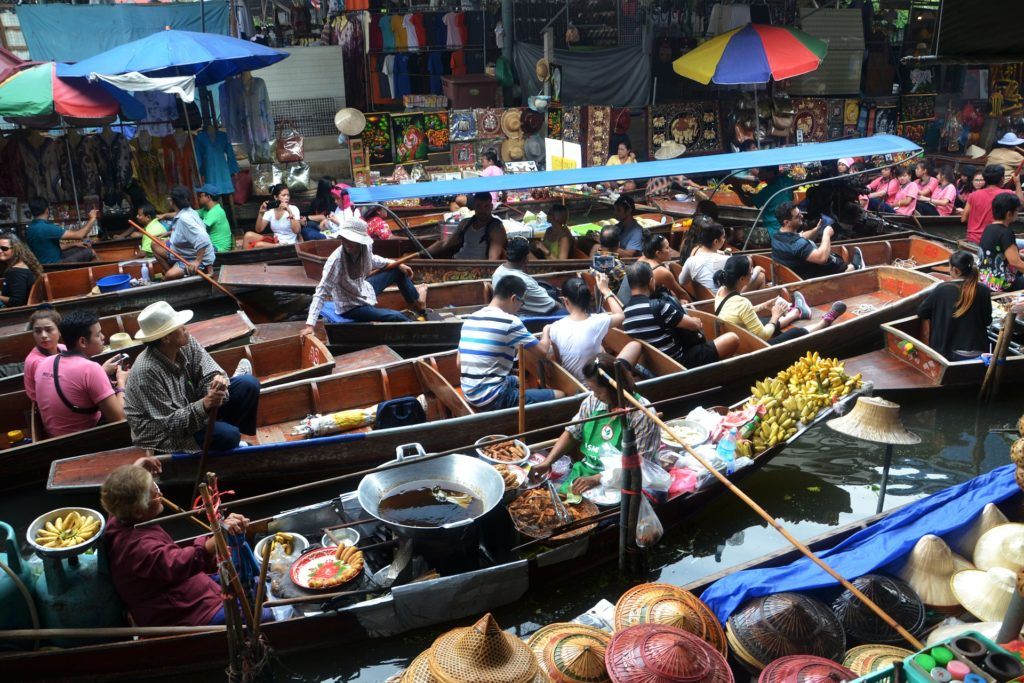 Because street food tastes better when eaten on a rocking boat squished between vendors and other tourists!
Alright so this one is super touristy, but it's also uniquely Thai, so if it interests you, check it out.
27. Relax and unwind on Koh Chang
I personally think that Koh Chang is the perfect Thai island for solo travelers. It's full of young people, hippie types, and big enough so that everyone can find what they're looking for there, whether it's a backpacker haven or fancy white sand beaches. The island is also much closer to Bangkok and therefore easier to get to for people traveling with a time-budget. It's also lovingly referred to as Thailand's 'last cheap island' which is true. Islands increase in price as you head south!
Blog post: Koh Chang, the perfect Thai island for solo travelers
28. Visit Red Lotus Sea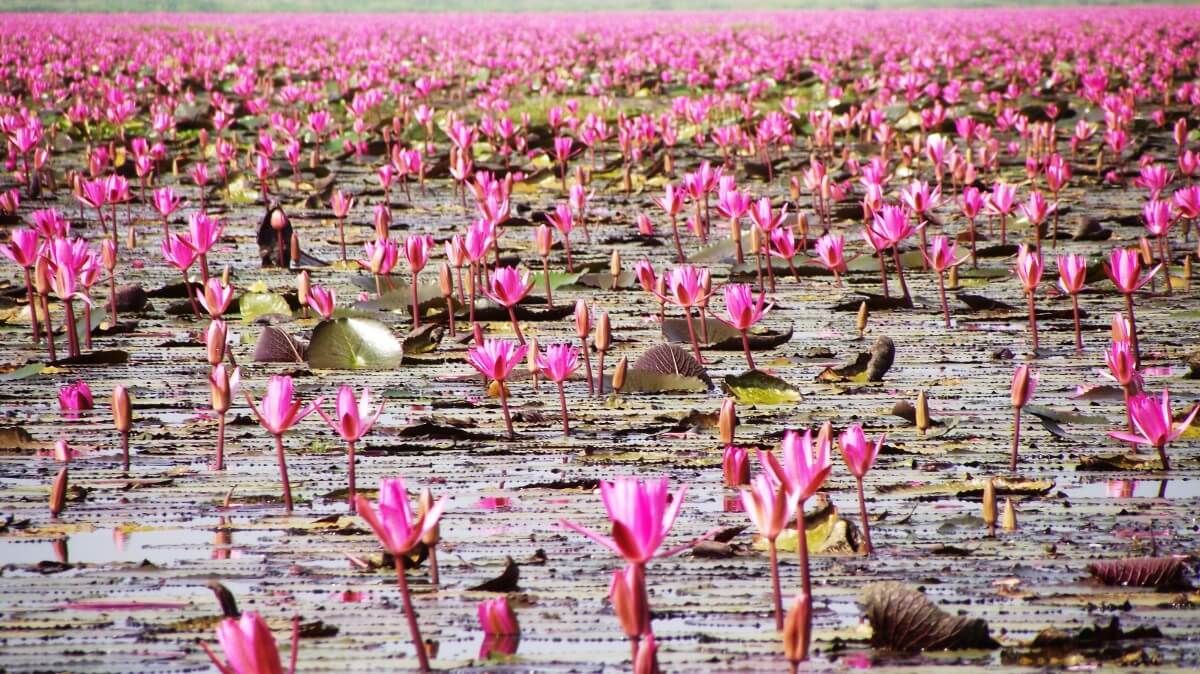 The Red Lotus Sea is famous for sunrise during the lotus bloom from November to February. The open lotus flowers are made even more brilliant by the dazzling colors in the sky – a photographer's dream!
Blog post: 20 of the most beautiful places in Thailand
29. Eat your heart out
Pad Thai, Tom Yam, Khao Soi, Som Tam, mango sticky rice, curry… these are the words you will be mumbling to yourself after leaving Thailand. The country truly is a foodie's paradise. A pro tip is to eat where the locals eat, especially places where the menu has not been translated, it's where you can find authentic, true Thai food. You won't necessarily know what you're eating, which is half the fun, no?
Blog post: A beginner's guide to Thai food
30. Visit the Reclining Buddha at Wat Pho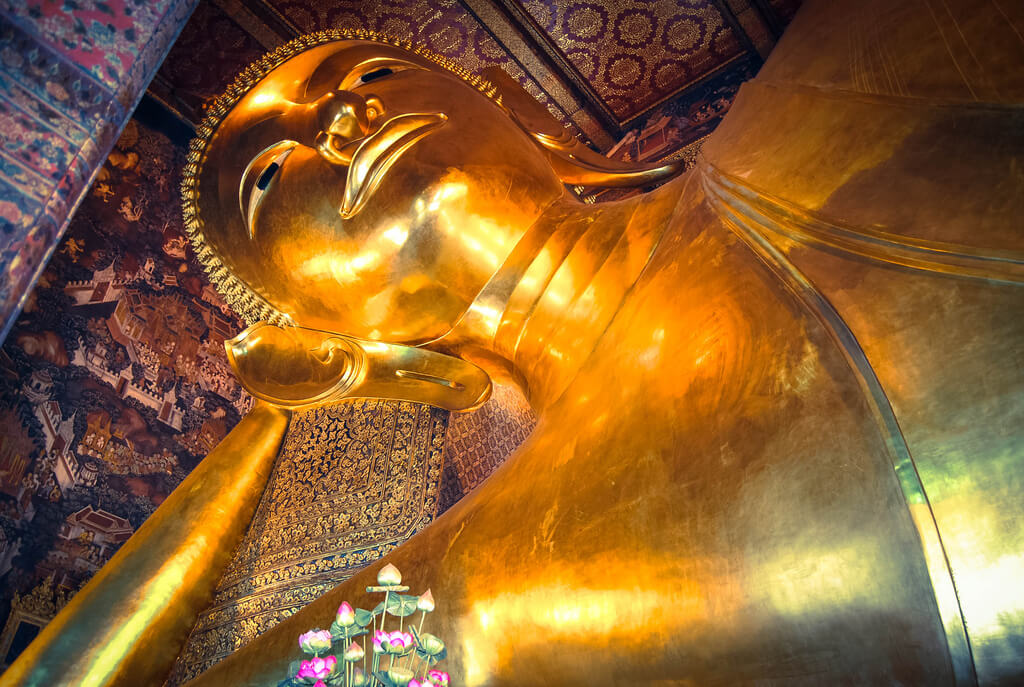 Wat Pho was one of the first temples I visited when I bought a one-way ticket to Bangkok six years ago. It is one of the oldest and largest temple complexes in Bangkok, housing thousands of Buddha images, including the reclining Buddha. Try to get there early or right when it's about to close to avoid massive crowds.
31. Watch a Muay Thai boxing match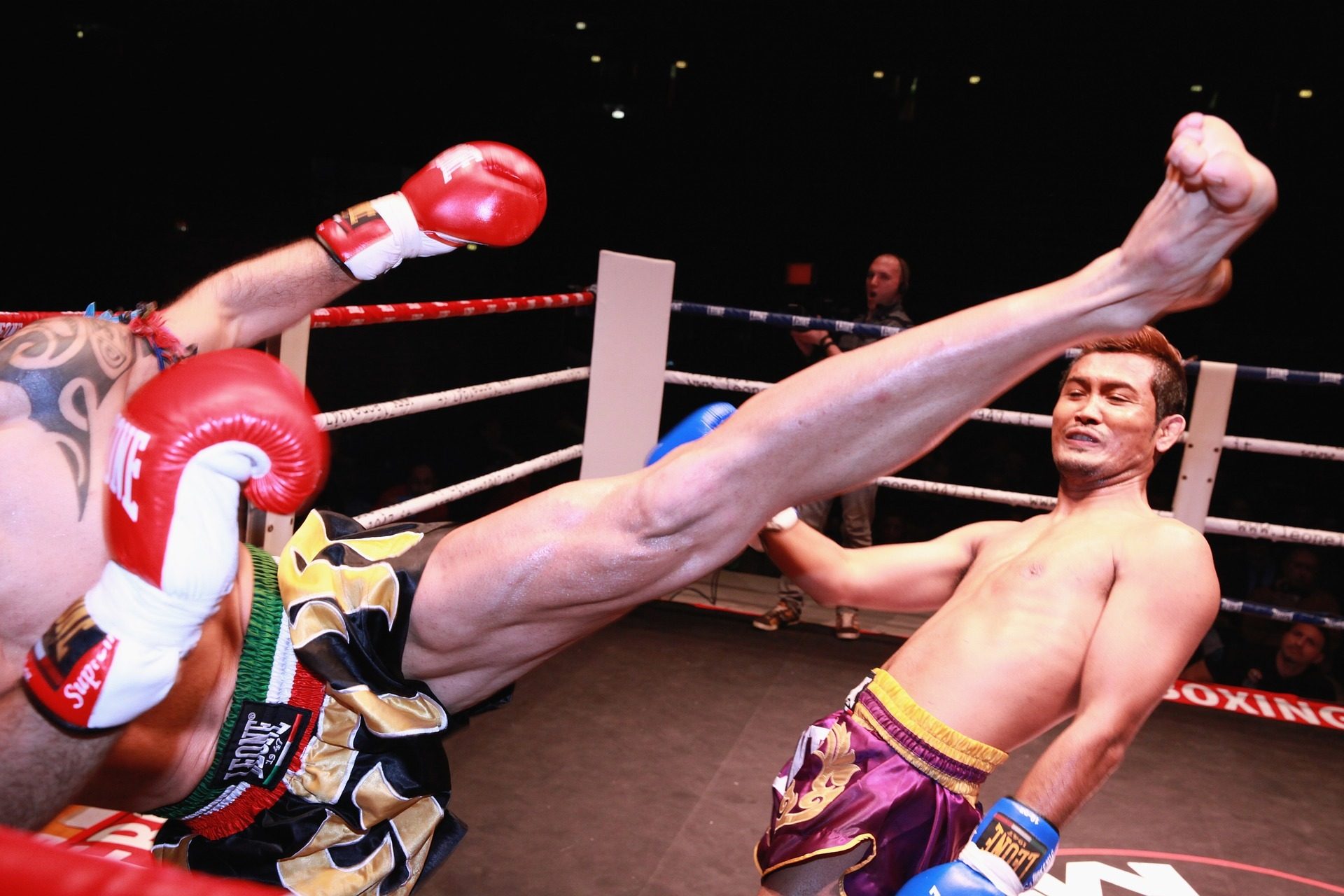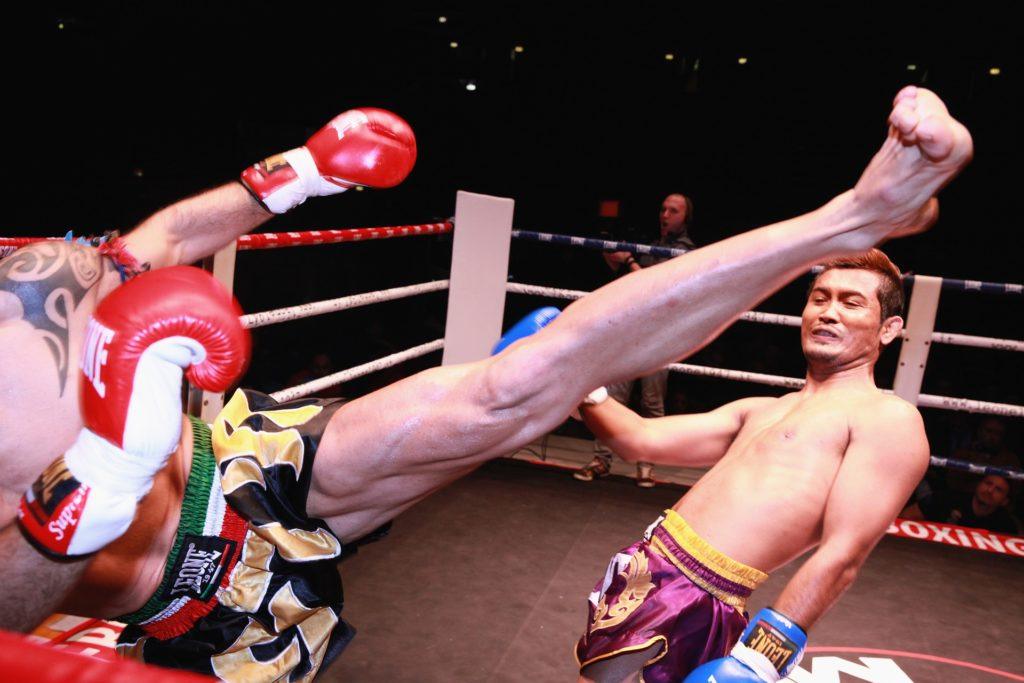 Muay Thai, also known as Thai Boxing, is an extremely popular sport in Thailand. Although every town or city in Thailand has Muay Thai stadiums and arenas, the best and largest Muay Thai venues are in Bangkok. For the most part, it is a thrilling and unique experience that you can't get anywhere else.
Blog post: the best venues to watch Thai boxing in Thailand
32. Join a Muay Thai boxing class
Enthusiasts from all around the world flock to Thailand to be professionally trained as Muay Thai fighters. While not all of us aspire to be the next Muay Thai champ, you can at least try your hands, and feet, at Muay Thai at one of the many Muay Thai gyms all over Thailand.
33. Enjoy a ladyboy performance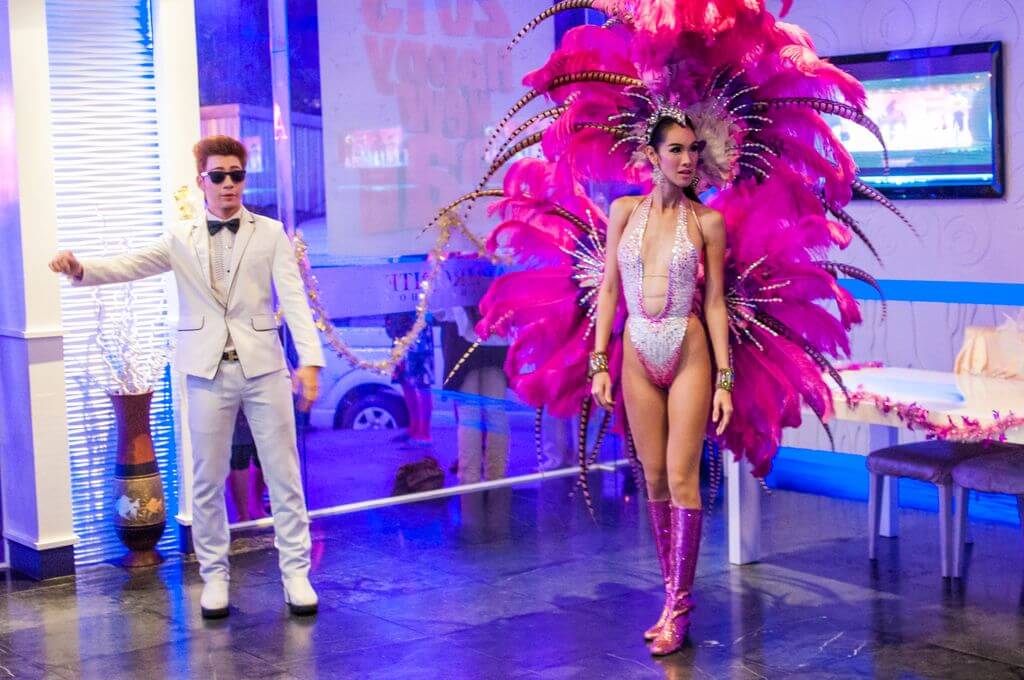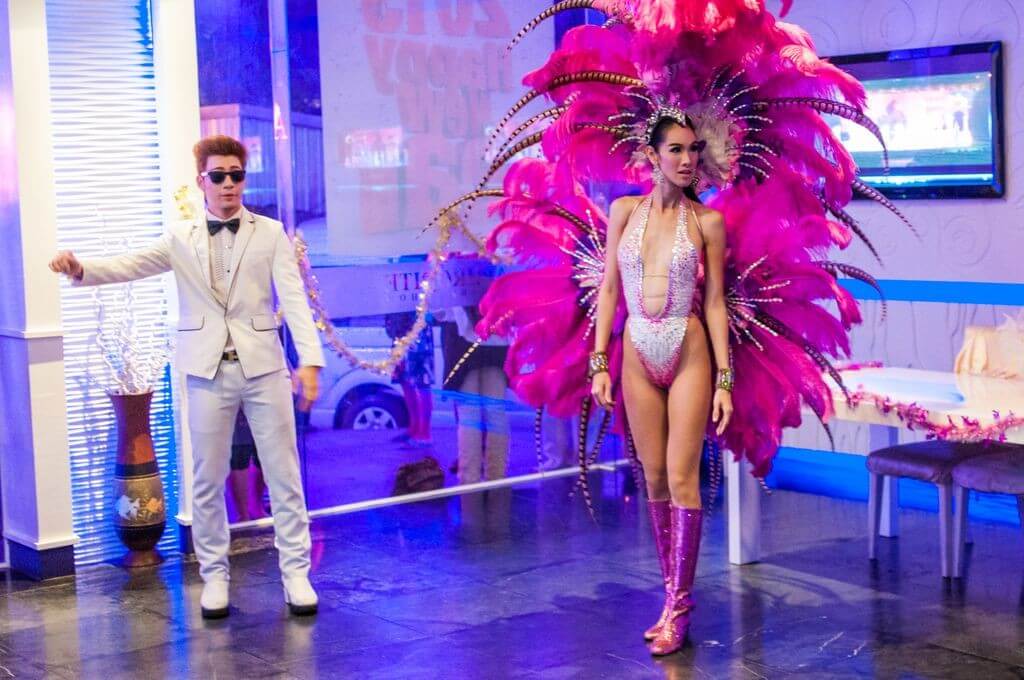 A ladyboy is a transgendered or transsexual individual in Southeast Asia. They are a minority group that is quite common in many parts of the world, especially in Thailand. Performing is one way for many of them to support themselves financially, or to save up for the final step of the surgical procedure to become a woman. The performances can be pretty well done, particularly in Chiang Mai and Bangkok. If you watch one, please watch it with an open mind!
34. Get a wonderful Thai massage
There's nothing better than an authentic and powerful Thai massage after a long day walking under the scorching sun. Ask your hostel for recommendations and be sure to check the reviews on TripAdvisor for an awesome Thai massage experience. If you are new to it, be prepared to get your limbs twisted and cracked (in a good way, for most people!).
35. Explore the ruins at Ayuthaya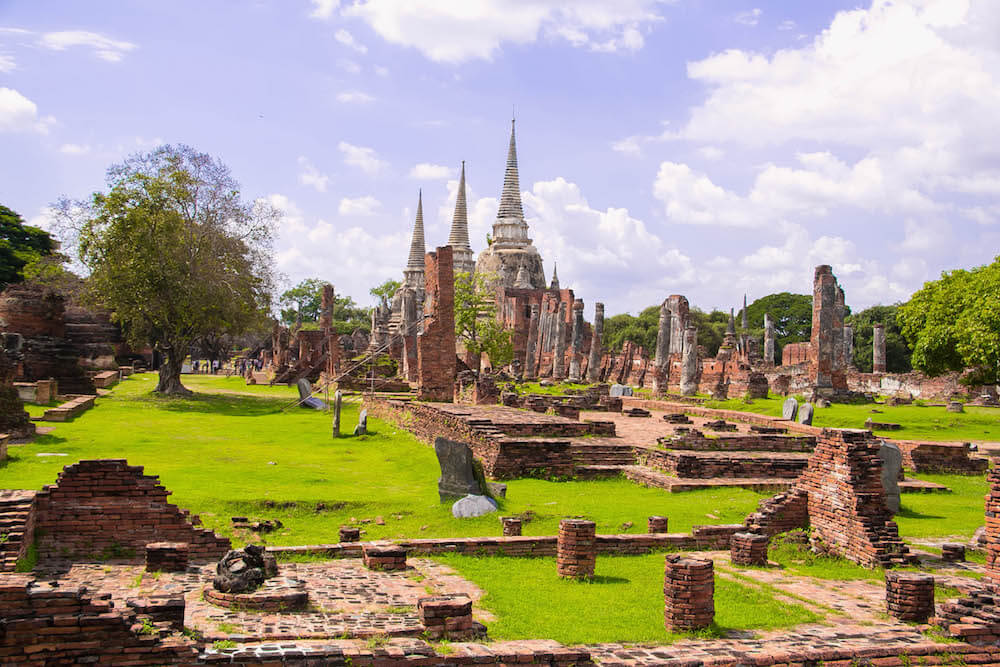 If you'd like to see more ruins, this is another stop a few hours south of Sukhothai with a lot to show, including a Buddha face that has been grown over by tree roots. It's pretty cool and worth a day trip over.
36. Take a Tuk Tuk ride
Though I got scammed by a Tuk Tuk driver on my second day in Bangkok, I'd still recommend including this in your Thailand bucket list, especially if it's your first time in Thailand. Just make sure to agree on a price before you get in one, and remember you can always walk away and try again with someone else if you think the driver isn't quoting a fair price.
37. Stay in a beautiful resort on Koh Yao Noi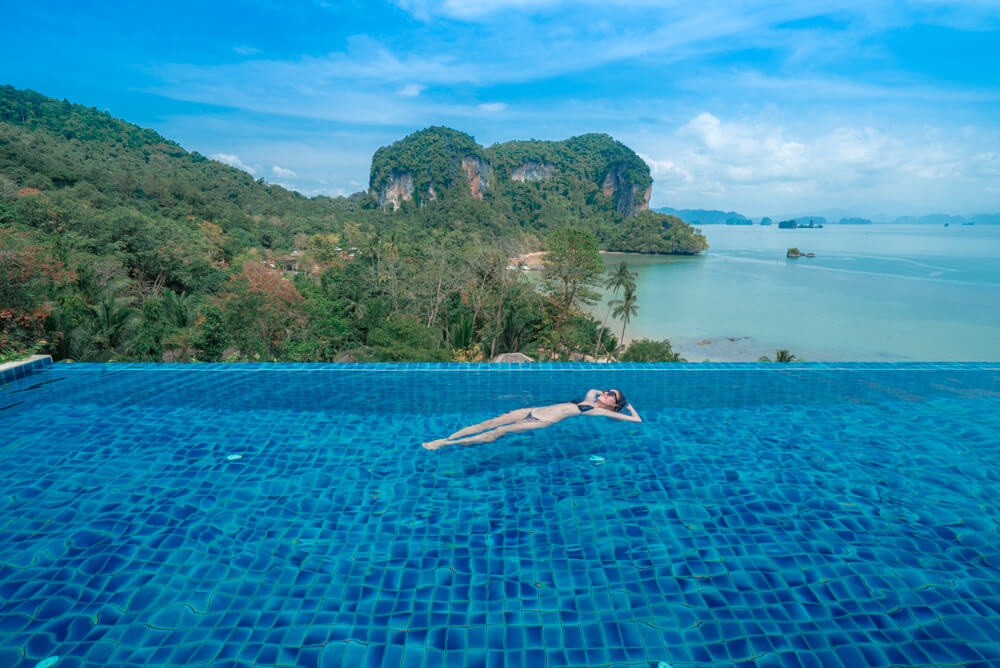 If you are wondering why Koh Yao Noi, that's because it is the "no farang" island, a little slice of paradise that tends to attract a much smaller crowd than its neighbors. Even if you're not usually a resort person, Koh Yao Noi is the place to splurge. Most of the resorts are smaller in size and designed to be eco-friendly with relaxation in mind. I stayed at Paradise Koh Yao for a couple of days on the island and thought it was fantastic.
Blog post: Paradise found in Koh Yao Noi
38. Participate in a meditation retreat
The 10-day meditation retreat at Wat Suan Mokkh in Chaiya, Southern Thailand, has been inviting English speakers to learn more about Dharma and meditation for several decades. If you are seeking for a spiritual experience in your Thailand journey, simply show up prior to 3pm on registration day, which is the last day of every month, and register yourself for the 10-day retreat. I wrote down my personal experience here, but keep in mind that almost everyone will have a different experience.
Blog post: how to participate in a 10-day meditation retreat at Wat Suan Mokkh
39. Get a Sak Yant Tattoo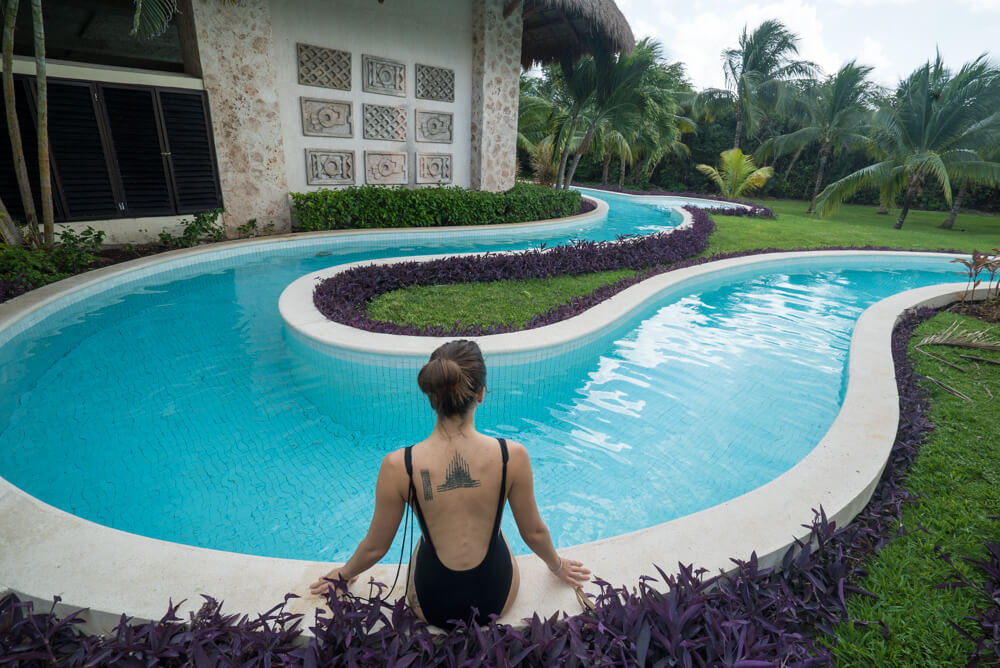 The Sak Yant tattoo at Wat Bang Phra, 55km outside of Bangkok, is performed by a monk in exchange for a small donation of flowers, cigarettes, and incense that is then recycled and sold again in order to keep the wat afloat. In exchange, the monk considers which of the 80-something San Yant symbols would best suit your needs, and where on the body it belongs. Without any prior discussion, he then gets to work. It is truly the ultimate travel momento! It's also something to put a lot of consideration into – it's not just another tattoo, but a deeply religious and cultural symbol.
Blog post: Getting a Sak Yant tattoo from a monk
40. Rock Climb at Railay Beach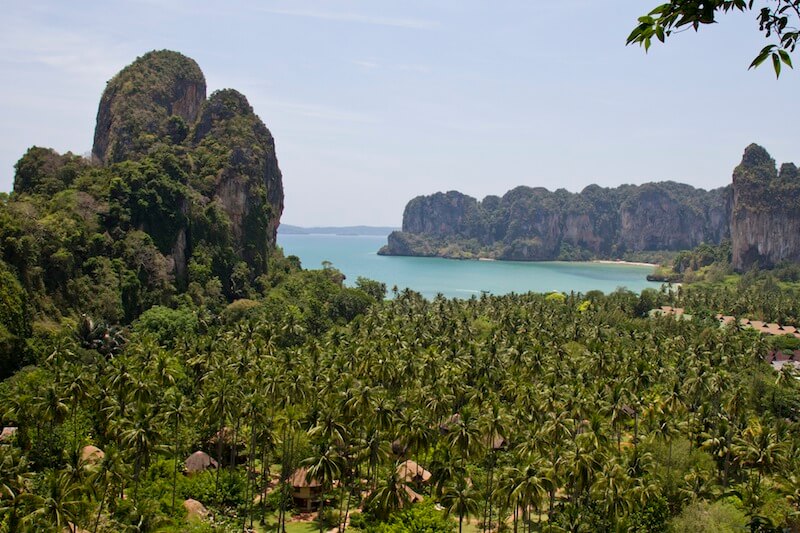 With more than 700 routes to choose from, rock climbing is a must-do during your time at Railay Beach. If you are a newbie, there are many rock climbing schools around to guide you. It's a great workout that activates muscles that you might not normally use, plus you get a gorgeous bird's eye view of the beach from the top. There's also a few places to scramble and play around in the Railay area, as I found out when I adventured to the lagoon.
Blog post: Climbing to the Railay beach lagoon
41. Get PADI certified on Koh Tao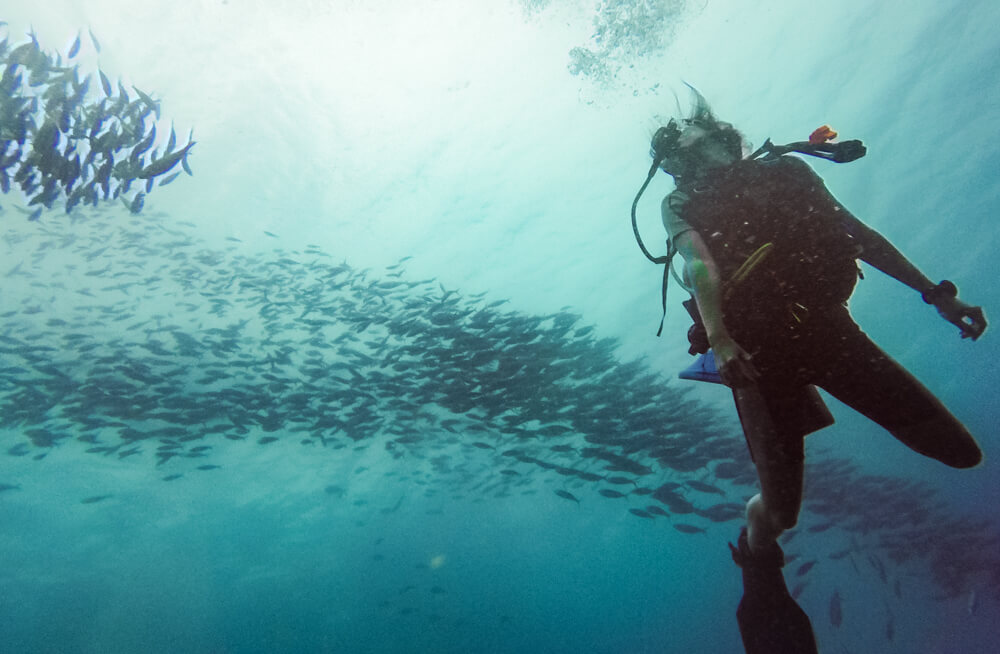 …because it's one of the cheapest places in the world to get PADI certified, and because there's so much to see under the sea, and because it's an exhilarating sport, and because why not?!
42. Visit Koh Nang Yuan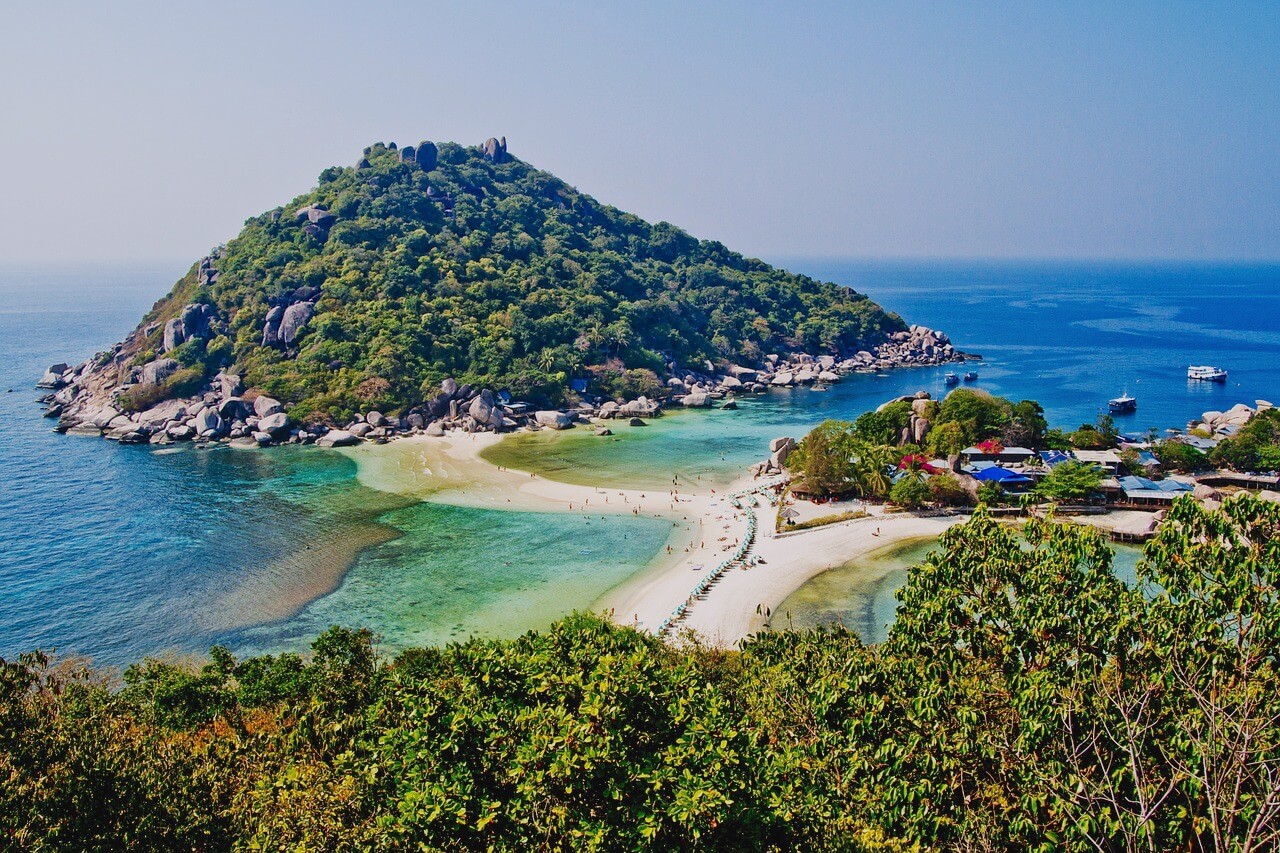 This little island off of Koh Tao is open each day until 5pm and is reachable by a 15-minute longtail boat. The hike up to the viewpoint pictured above takes about 15-20 minutes and as you can see, is worth it!
43. Relax on Tonsai Beach
Tonsai beach was an accidental stop for me when I was traveling in Thailand back in 2013. I passed by on the boat to Railay and said, 'what's that one? can we turn around?' Since then I went back twice. You can rock climb, kayak, or try out slack-line walking, but for me, Tonsai was perfect for doing absolutely nothing.
Blog post: When are you coming back to Tonsai beach?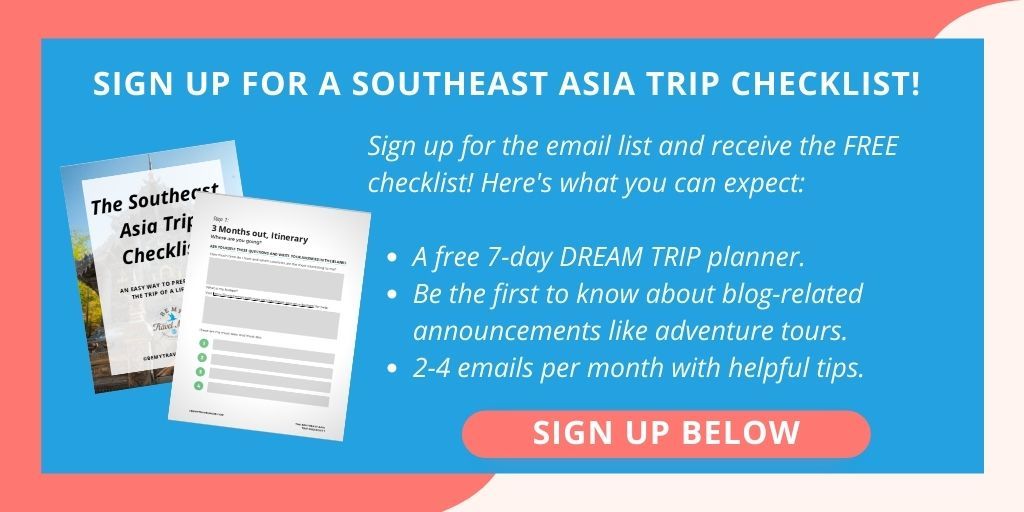 44. Attend Full Moon Party on Koh Phangan
The notorious all-night beach party originated on this very island. Bucket drinks, neon paint, fire ropes, and dancing all night come to mind when one mentions "Full Moon party". It's not for everyone, but if you are looking for a crazy night out, the Full Moon party is more than capable of giving you just that.
45. Enjoy solitude on Bottle Beach
This is a side of Koh Phangan that's quite the hidden gem. It's nothing like what Koh Phangan is known for – crazy parties, drugs, international resorts. Instead, what you can find here are basic but lovely beach bungalows, people who end up staying for years, and laid back vibes. When I was there, there were only 4 sets of bungalows dotting the beach.
Blog post: Bottle Beach on Koh Phangan
46. Stay in a beautiful villa on Koh Samui
Koh Samui is the glamorous sister of the 3 islands – the other two are Koh Phangan and Koh Tao – with luxurious resorts, international quality restaurants, and upscale spas dotted all over the island. If you are in the mood to splurge a little, there's a direct flight to the local airport on the island, and you can enjoy a nice couple of days lazing on plushy beach lounge chairs with a cold drink in your hand.
47. Find your own island around Koh Lanta
A ferry away from the popular mainland of Krabi, Koh Lanta is a laid back and relaxing paradise. The island seems to offer the best sunsets in all of Thailand, and the Old Town area is especially lovely. One thing you must do on Koh Lanta is to hire a private boat to go to the surrounding small islands. Chances are, you will find yourself (and the people on the same boat) alone on a quiet, sandy beach. Privacy on a gorgeous beach, what more can you ask for?
48. Visit Khao Lak National Park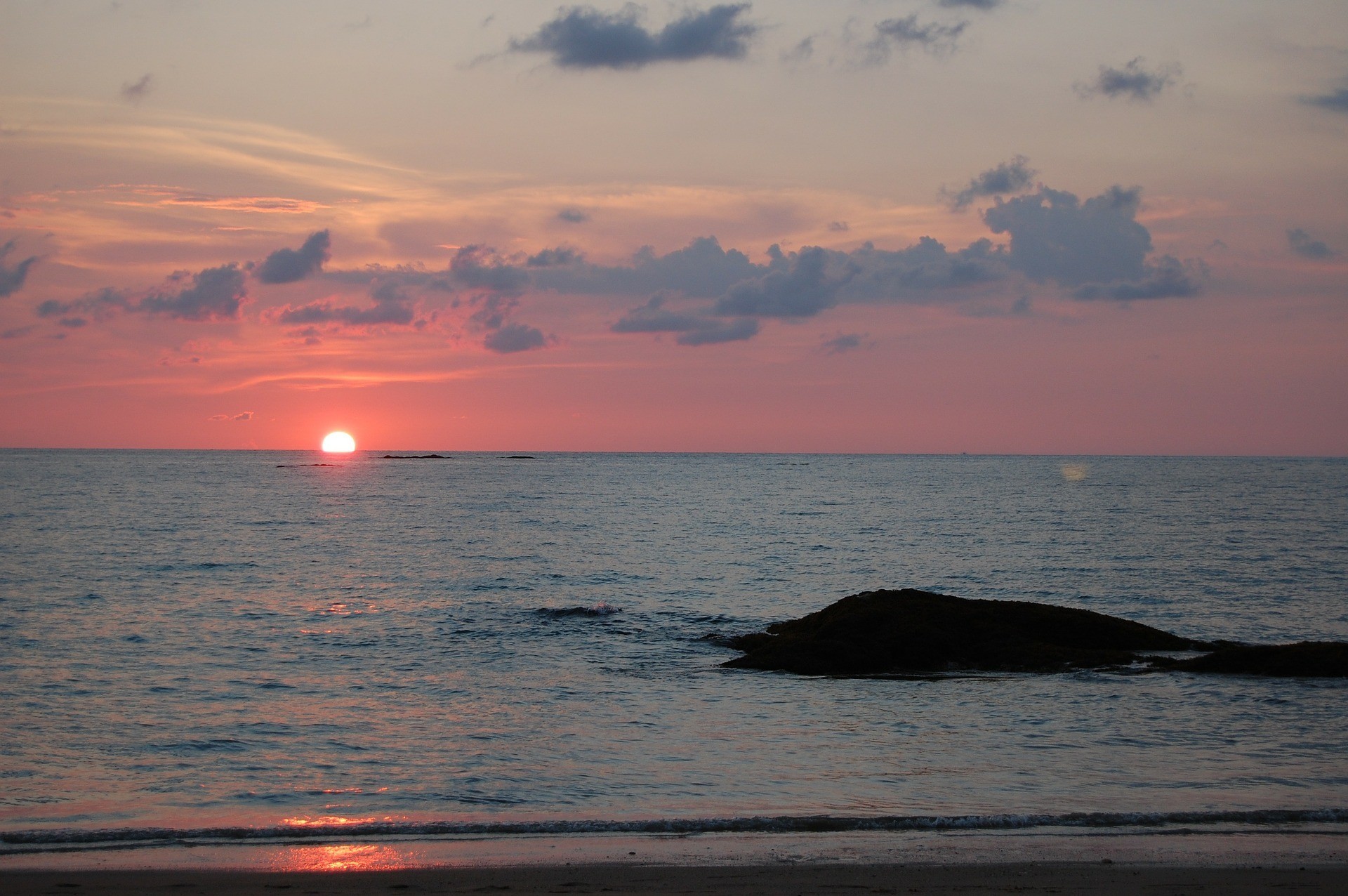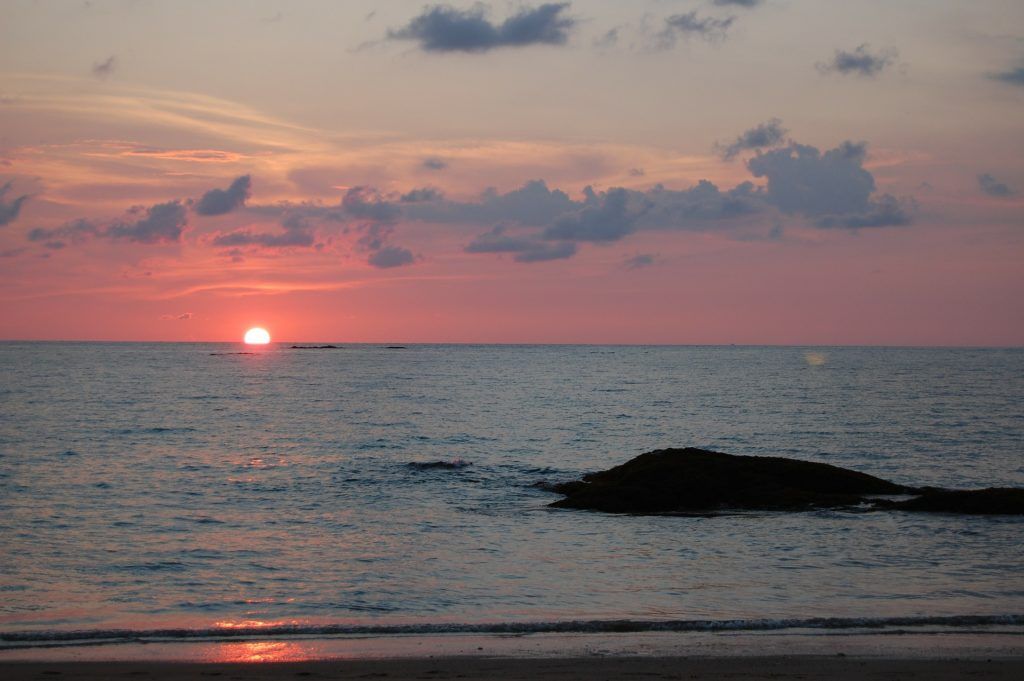 This is the jumping off point if you want to dive in the Similan Islands. The coral bleaching has removed some of their beauty, but this is still a popular spot for diving in Thailand and it's also where I saw my first Manta ray.
Blog post: Under the deep blue of the Surin and Similan Islands
49. Enjoy tiny Koh Lipe
The tiny island is named as the Maldives of Thailand for a good reason. Once a hidden paradise, Koh Lipe now welcomes tourists from neighboring Malaysia to tourists all around the world everyday. I think it's the perfect ending to your Thailand trip before embarking on another epic journey to Malaysia (it's a short boat ride away from Langkawi island).
50. Challenge yourself to go on a budget backpacking trip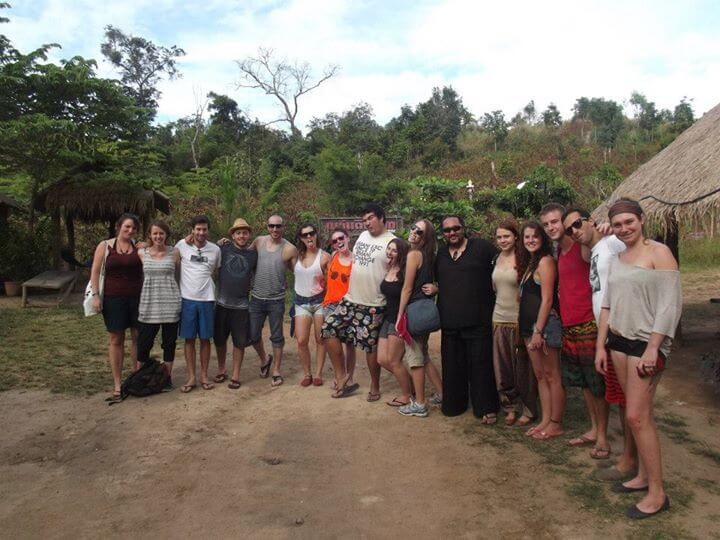 Backpacking Thailand on a shoestring budget is not only totally doable, but also a lot of fun! I was able to travel on $45/day, and you can certainly go even lower. Backpacking on a budget allows you to be more creative, meet like-minded backpackers, which often leads to epic adventures. While my dorm days are well behind me now, I will always look back on my budget backpacking memories fondly.
Blog post: The Thailand Budget