It was a rainy day in London when I impulse bought a ticket back to Chiang Mai.  I had been wanting to return to Asia and was choosing between Phnom Penh in Cambodia and returning to Pai in northern Thailand.  Pai won out and I'm so glad it did.
A few days later, while chatting to a friend who had just returned to Pai, he asked if I was going to attend the Yi Peng Chiang Mai Lantern Festival (only a 3-hour bus journey from Pai) – it would fall during my visit.
I flashed back to almost exactly a year before when I had completely missed the festival (the series of resulting photos in that post is pretty funny, though) by arriving in Chiang Mai too late.  The trouble is, to reduce the number of tourists at the local event, they try not to release the exact dates until only a month or so before Yi Peng. Even then, there were rumors floated that it had been cancelled or moved.  Of course, there's a special "tourist" Yi Peng several days later that comes with an $80 price tag.  I didn't have any interest in a staged event.  I wanted the real thing.
It had been one of very few things I had planned for during my 2012 trip and I was looking forward to it immensely.  I had been so gutted to have missed it, I decided that yes, I'd return and try to catch it again this year.
This time around, I succeeded.
Lanna Yi Peng coincides with Loi Krathong, which involves making decorations out of flowers and banana leaves and floating them down the river in Chiang Mai, which symbolizes letting go of things that need to be released, while the lantern release is accompanied by a well-wish for the future.
Lanterns are released all over Thailand as well as other parts of Asia, but the real epicenter, the real place where the magical release of thousands in unison takes place, is unequivocally Chiang Mai, in the north ("Lanna") so sometimes called Lanna Yi Peng.
The big release takes place at a university about 20km outside of town. It had begun with Buddhist chants and silence for about an hour prior to the lighting and letting go of the lanterns into the night sky.
Then, an announcement in Thai, followed by English then Mandarin, instructed us all to light the torches around us in preparation for lighting the lanterns.
…Then, the time came to light the lanterns themselves.  The crowd excitedly stood up. Friends helped friends to light their lanterns, made of rice paper and bamboo, and held them in place until they built enough heat to rise up towards the sky.
At first, my friend Maria and I just sat back taking pictures and watching the beauty of it, a feeling of euphoria blanketing the entire field over thousands of people.
I turned to her and said, "should we light ours now?"
A couple of tourists nearby helped us to light ours.  There's something truly beautiful about the unity required to light and release a lantern: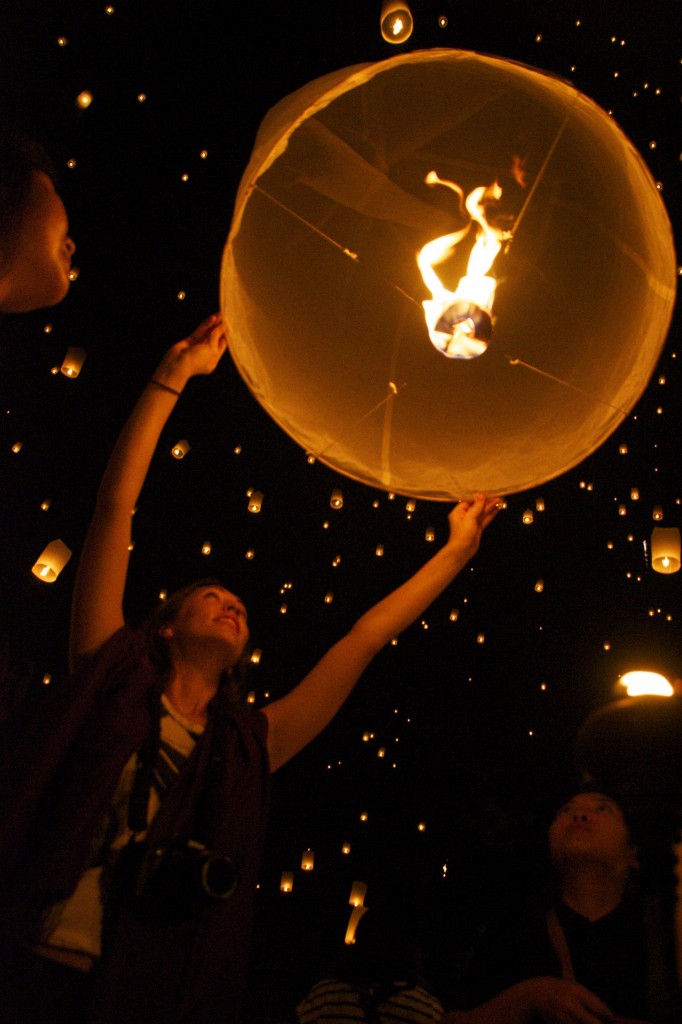 Do it yourself:
The Lanna Yi Peng usually takes place in November, but the official date is usually not released until only a month before, so flexible travel plans are essential

Book accommodation well ahead of time as Chiang Mai books up quickly! I like Spicy Chiang Mai because they organize transport to the university and back
Set off for the university around 3:30-4pm in order to avoid crowds, as thousands upon thousands of people will show up for the festival
Share a songthaew for around 100 baht per person each way. Sometimes guest houses arrange these. Other options include driving one's self via motorbike
Though there are street vendors selling lanterns, they are not allowed inside the venue. Lanterns must be purchased inside for 100 baht or USD $3 (about 4x what they cost everywhere else, but the festival is free, so I considered it well worth it)
Wear clothing that covers your knees and legs, ideally white
Prepare to deal with tons of crowds and traffic! Especially when leaving