Day 80
It was just after the Lantern Festival had culminated on a warm night in Chiang Mai. I had met up with my friend Yvonne and admired her back tattoo as we walked to a local bar to bond over Changs. We got on the topic of tattoos and I admitted to her that I had twice made an appointment to get some ink, and twice backed out, deciding that what I thought I wanted ultimately lacked enough meaning to carry on my person forever.
This was when I heard about the magical monk tattoo, and finally felt I might have found the perfect tattoo for me – something that had a deeper meaning than any other tattoo could possibly possess.
The Sak Yant tattoo at Wat Bang Phra, 55km outside of Bangkok, is performed by a monk in exchange for a small donation of flowers, cigarettes, and incense that is then recycled and sold again in order to keep the wat afloat. In exchange, the monk considers which of the 80-something Sak Yant symbols would best suit your needs, and where on the body it belongs. Without any prior discussion, he then gets to work.
(Click here for deals on the best Bangkok hotels)
His tools are a long bamboo pole, and ink made from snake's venom, Chinese charcoal ink, and palm oil.
We made plans to meet again in a few weeks in Bangkok, and get the tattoo done by Luang Pi Nunn, who we later realized is considered the most famous monk in Bangkok to perform this art.
Flash forward several weeks: I awoke at the ripe hour of 4:30am to meet up with Yvonne to get our tattoos done.
Oh, who am I kidding? I was too excited/scared to sleep at all.
Aware of just how popular Wat Bang Phra is amongst locals to get their Sak Yant tattoos, we knew we had to catch the 6am bus that leaves from the Victory Monument in Bangkok in order to be first in line.
We got to the temple seamlessly after alighting the bus and catching a delightful moto-taxi ride through rice paddies as the red sun was rising.
We arrived at the wat, a little unsure what to do next. A little Thai man roused from his slumber and helped us purchase our offerings for 65 baht, then handed us pink envelopes to put additional offerings into. In all, I donated 120 baht (USD$4 –not bad for a tattoo!).
I somehow ended up at the front of the queue. There were about 15 of us in the room – locals, Yvonne and myself. I had wanted Yvonne to go first, given she already has tattoos and therefore would naturally be less anxious than I would be (right?).
However, I was beckoned by the monk, and there was no turning back. I crawled into position, bent over a pyramid pillow, and dug my nails into my arm so that I would be able to focus my pain on another area. Two men on either side of me held my skin taut while the monk, a piece of paper separating his hand from my skin, as he can't touch female flesh, dipped his long bamboo needle into ink.
The tapping began. We had not selected a precise location – he just went for it. I knew from the beginning that I had to put faith in his design choice and placement based on his interpretation of my aura – based on his opinion of what blessing I needed most. I knew that I would have no say in what tattoo I got or where.
Ten minutes and roughly 3,000 strikes later, I had a new tattoo. I had expected the pain to be out of this world, but in reality, it has nothing on recovering from a shoulder surgery. I'd give it a 7/10 on the pain scale. It was therapeutic, in a way, and only lasted for ten or so minutes.
As he finished, he blew on the tattoo to breathe power into it as he chanted a blessing. He then moved on to Yvonne unto whom he bestowed the same tattoo. Though we were not allowed to take pictures in the room where the process takes place, I snuck one of Yvonne quickly with my iPhone.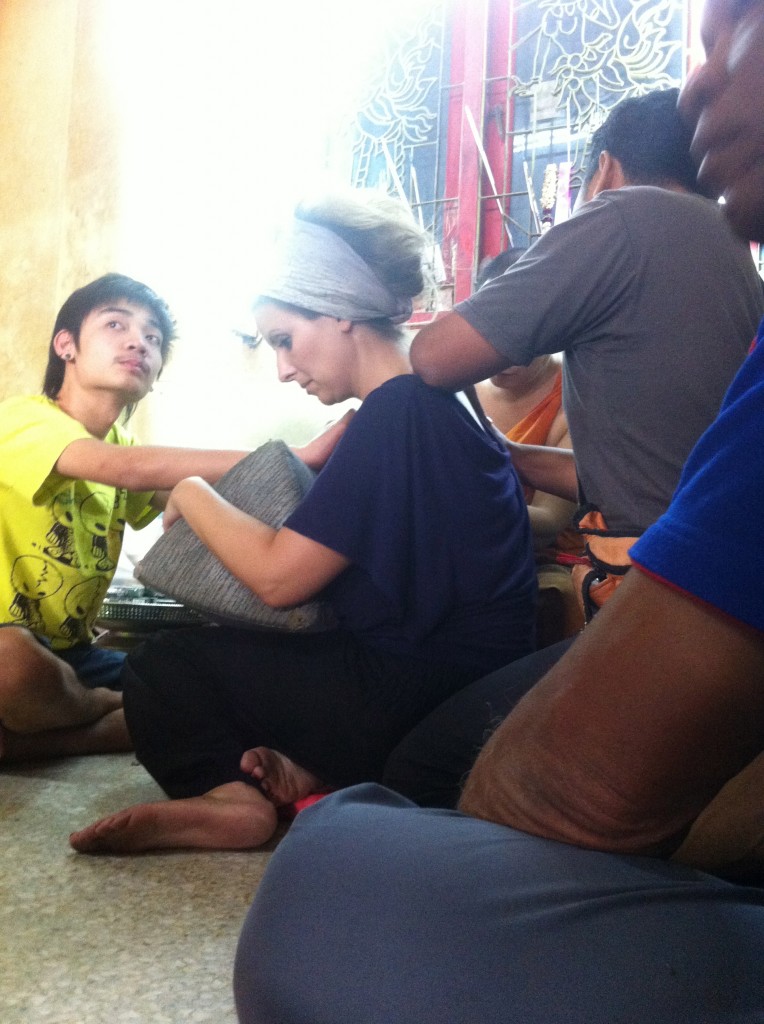 When hers was finished, we left the room and excitedly took pictures of each other's tattoos so that we could see our fresh ink for the first time. Both looked amazing. He had given us the Hah Taew.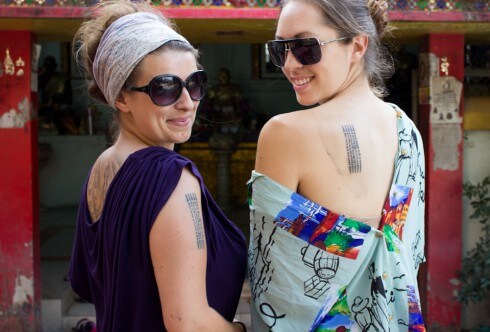 Though I will need to get the exact wording translated, as each monk has his own version of the Hah Taew, it generally bestows a blessing of loving kindness, lifelong success, charm, good luck, and protection against bad luck and evil spirits.
This was easily one of the most magical and enduring parts of my journey so far. I will forever remember the beauty of the day and the uplifting feeling of the blessing. After all, how can I forget? I'll carry this reminder on my shoulder forever.
Have you had a spiritual experience while traveling? Comment below!
2015 UPDATE: I've recently been informed that the main monk who gives tattoos has switched to a gun rather than a bamboo needle. His poor wrists have gotten too tired.
Therefore, if you want a bamboo tattoo, I'd highly recommend meeting with an ajarn — a monk in training — which takes place in a much cleaner environment, gives you an opportunity to discuss which tattoo you'll receive, and still ends with a blessing. The experience sounds absolutely amazing and is probably how I'll get any future Sak Yant tattoos. Click here to book an ajarn tattoo session in Bangkok or in Chiang Mai.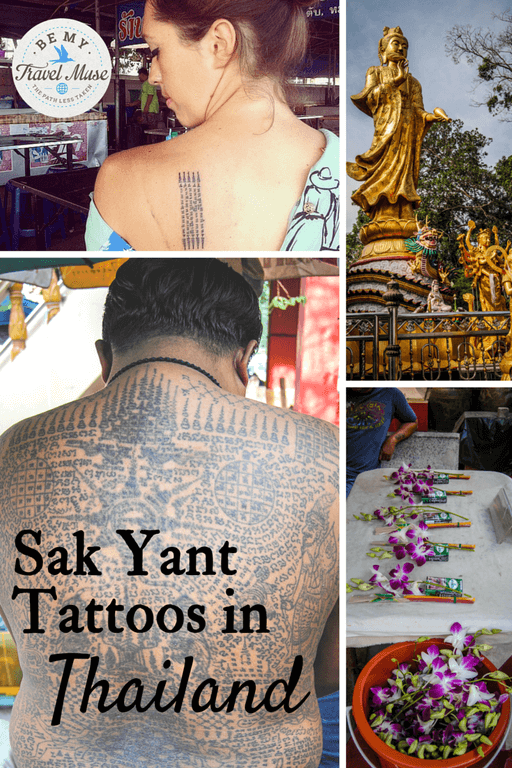 2013 UPDATE: I've had all kinds of emails from readers so I just want to answer some commonly asked questions:
No, you do not make an appointment, you just have to show up. No, it's not a new needle. No, you do not communicate with the monk. It will not be a new needle, and you do not get to choose the tattoo you'll be given!
Would I take the risk again? No, I would not. I have had blood work done long since getting the tattoo and have come out fine, but I have to say, I was sweating that one a bit and realize now that, despite how amazing the experience was, it's not worth catching a disease.
Most importantly, please remember, this is not just a souvenir, it's something that has deep spiritual meaning. Please read this post carefully and understand the customs before you go. Happy traveling!
Conquering Mountains: The Guide to Solo Female Travel
For a complete A-to-Z guide on solo female travel, check out my book, Conquering Mountains. Besides discussing many of the practical tips of preparing and planning your trip, the book addresses the fears, safety, and emotional concerns we women have about traveling alone, featuring my advice and over 20 interviews with other solo female travel writers and wanderers. It also has money-saving advice from the experts, info on working on the road, and everything you need to make planning your trip of a lifetime a quick and painless process! Click here to learn more about the book and start reading it today!