The first time I saw an image of the floating temples of Wat Chaloem Phra Kiat my mouth dropped in awe. I thought I was looking at a photo of Bhutan at first. How had this been in Thailand all along and yet I hadn't seen it on Instagram, on Facebook, and all over other travel blogs?
There was hardly any info about Wat Chaloem Phra Kiat Phrachomklao Rachanusorn Temple (what a mouthful!) in English online, though I did see a mind-blowingly awesome drone video by a Thai tourist on YouTube and from that, I was sold.
It became my number one must-see for my return to Thailand and you guys, it did not disappoint. It was just as amazing in person as the photos had promised.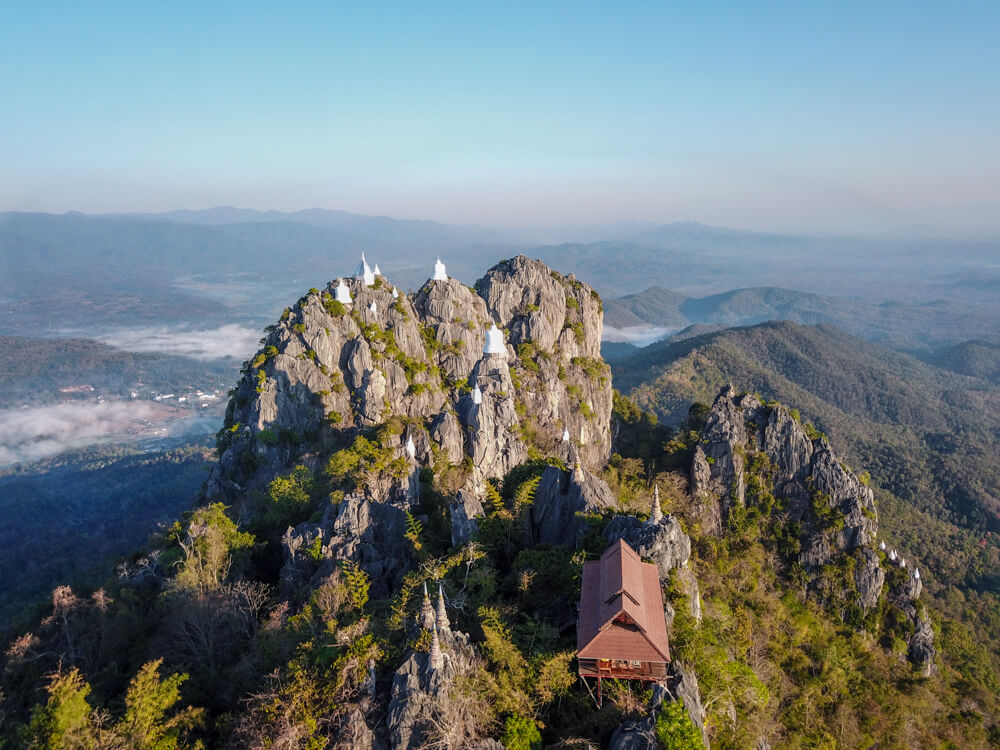 These pagodas dotting the mountain peaks were each carried up piece by piece by a revered local monk and a team of nearly 50 workers just over a decade ago.
The amount of love and sweat that went into making this work of art and devotion a reality is astounding, especially when seen in person.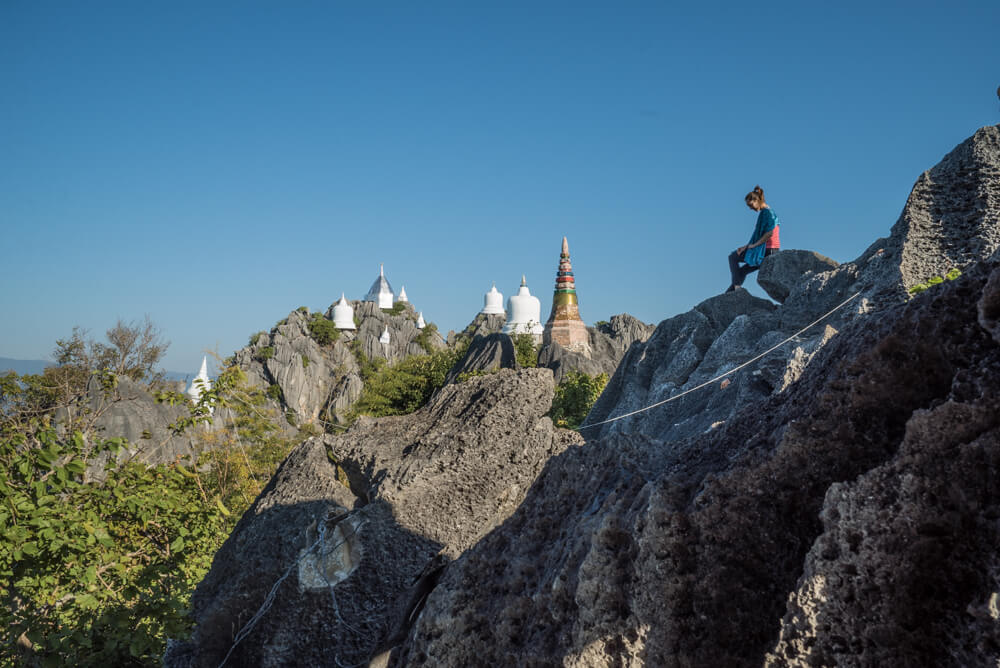 Want to see it for yourself? Here's how:
Getting There
What probably keeps most farang (foreign tourists) away is the accessibility of Wat Chaloem in Lampang province. There aren't buses that can take you there, and it's a solid two and a half hour drive from Chiang Mai by car, or longer by motorbike.
However it's easy to navigate to, and once you get out of Chiang Mai, the drive is quite pleasant along a relaxed highway that winds through the jungle and trees. I rented a car to go there as part of a larger road trip around Chiang Mai and, though I previously would have thought that driving in Thailand would be crazy and terrifying, I found it to be easy and laid back. The car rental set me back about 1000 baht per day which, when you split it with others, isn't bad.

You can navigate to it here.
Alternatively, you can bus into Chae hom or fly into Lampang and take a taxi from there. Though honestly, both will be more annoying and a lot more expensive than just driving yourself.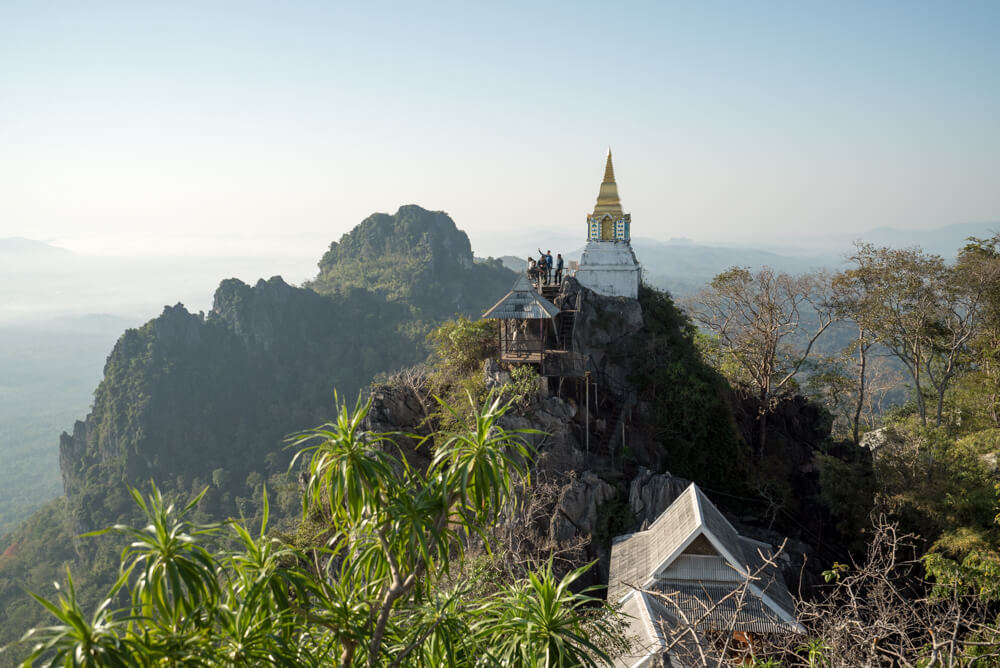 Once you get to the entrance of the wat, you'll need to buy a ticket for 200 baht, and a compulsory songthaew ticket for 80 baht per person. Once the truck is loaded up it takes you most of the way up the mountain until you reach a set of stairs to climb the remaining 500 meters up.
The view along the way is gorgeous, but the most amazing part is, of course, at the top.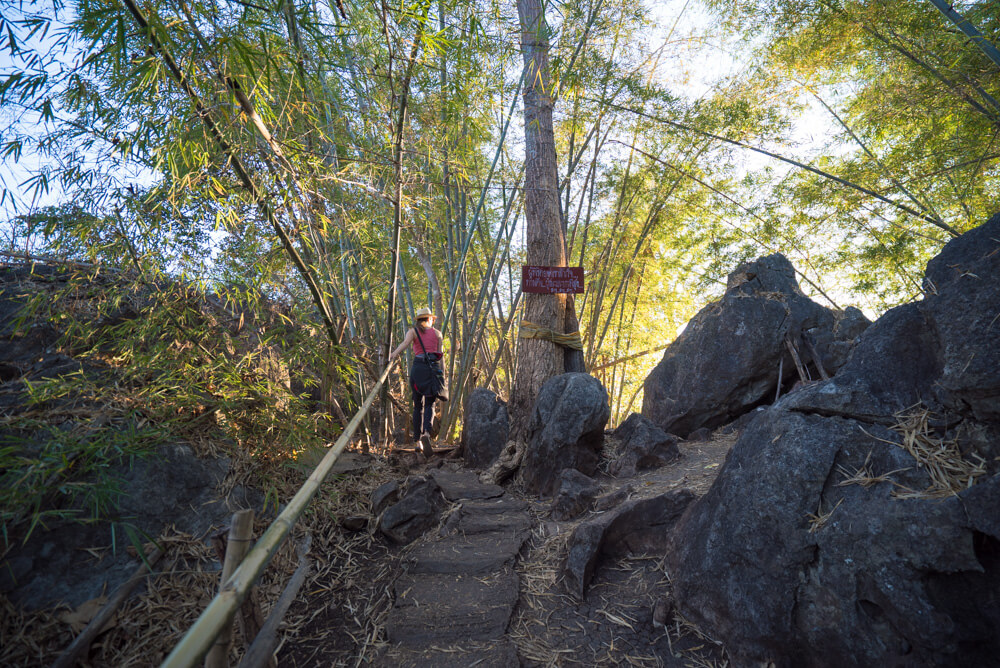 When to Go
Wat Chaloem might not be super popular with foreigners yet, but it is well loved by Thais, so plan on sharing it with a lot of other people if you go there on a weekend or during the middle of the day.
Tickets officially start to go on sale at 7:30am and finish at 4:30pm, though you can stay up there until 6pm and when I showed up at 7:15am, they were happy to sell me a ticket and take me up a bit earlier. On holidays, it opens a half hour earlier and closes a half hour later.
The morning is a fantastic time to go to see the mist still hanging in the village below, plus, you won't have nearly as many people to share it with if you go early.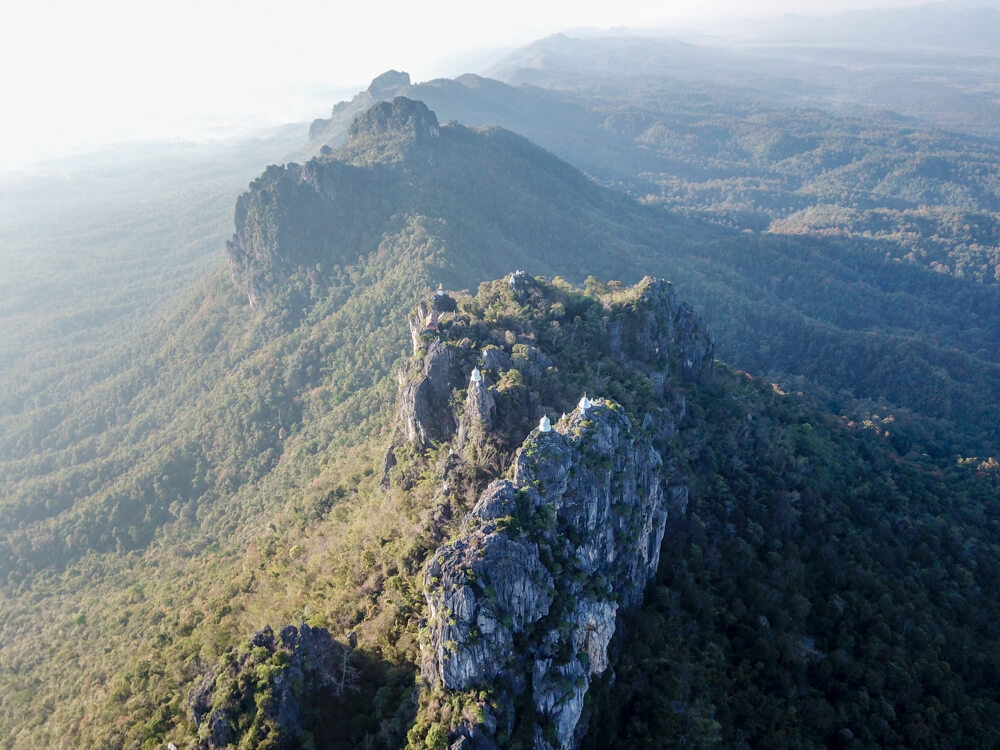 There are also plenty of food stalls at the bottom if you want to grab breakfast after you go up.
Where to Stay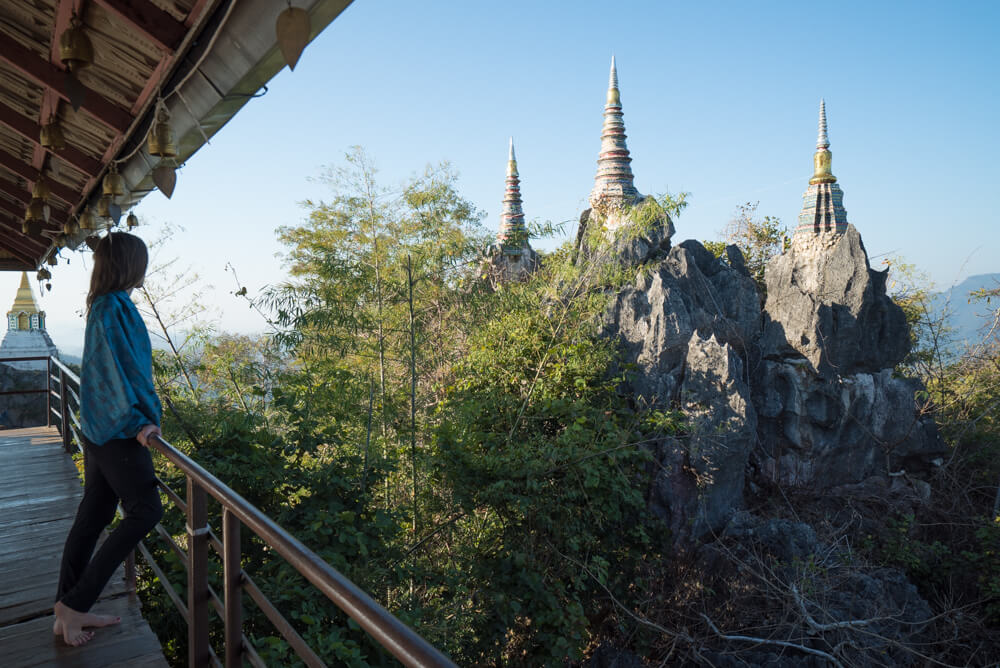 I didn't find any places to stay online before heading out to Wat Chaloem which had me a little worried, but once I arrived I found it's popular enough to warrant a local guesthouse with rooms for 500 baht each. You can find it here. Call 06-1997-6988‬ to check availability – the owner speaks some English.
The guesthouse is about 15 minutes away from the wat, and it was a nice, clean place to stay. There's also an open-air street food-style restaurant about 100 meters away serving up delicious food until approx 6:30pm, so it ticked all of my boxes.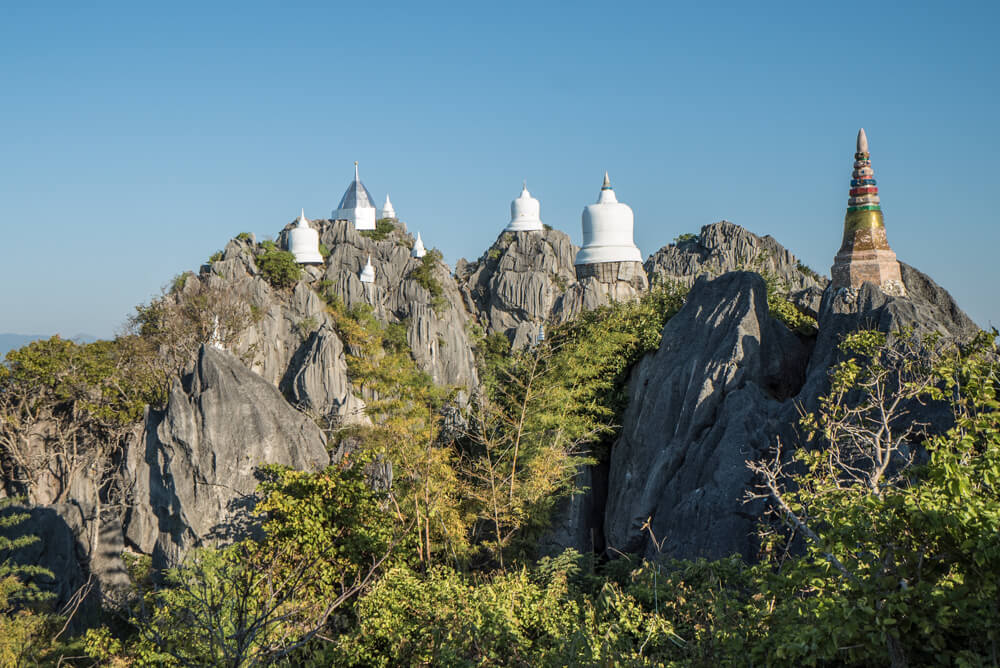 This discovery, amongst the others I made during my northern Thailand road trip, made me fall in love with the Land of Smiles in a whole new way. The friendliness of the people who were heading up and saying hello as I walked down, the breathtaking scenery, and the peacefulness of this province all had me wishing I had at least another month, maybe two, in Thailand.
It's hard to get enough of a place with so many hidden gems.
Wat Chaloem, I'm so glad that you exist.