Hiking is my hands-down favorite travel activity. There's just so much that you can see in this world that's only accessible by foot, over mountaintops, glaciers, and through canyons and gorges. When it comes to finding the best hiking trails in the world, it's no easy feat to narrow them down.
Over the past five years, these have been my favorite hikes from all around the world. They range in difficulty and length, though they all have one thing in common: They're stunning.
From Kyrgyzstan to Patagonia, South Africa, the Swiss Alps, the American Southwest, and so many amazing things in-between, here are a few of the best hiking trails in the world.
1. Ala Kol Lake, Kyrgyzstan: Moderate (57 km, 35.4 mi)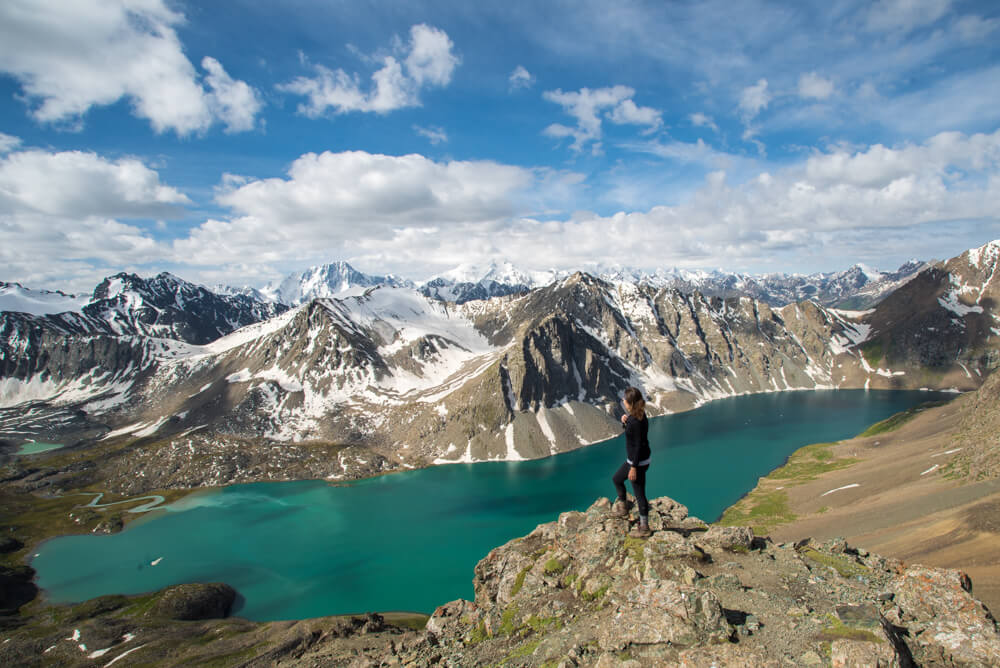 This gem in Central Asia is the country's most popular trek, though still flying well under the radar of similarly beautiful treks elsewhere in the world. The trail is blanketed with wild flowers in just about every color, and once you get to the top of the pass, the views in every direction are just magical.
Some parts of the trail are incredibly steep, though overall, no technical know-how is needed and the trail is clearly marked, unless you want to add on extra days in either direction in which case there is no trail.
Make friends with the locals along the way, sleep in a yurt for a night, and experience why Kyrgyzstan is the Patagonia of Central Asia. Read more about the trek here.
2. Inca Trail, Peru: Moderate (33.7km, 21 miles)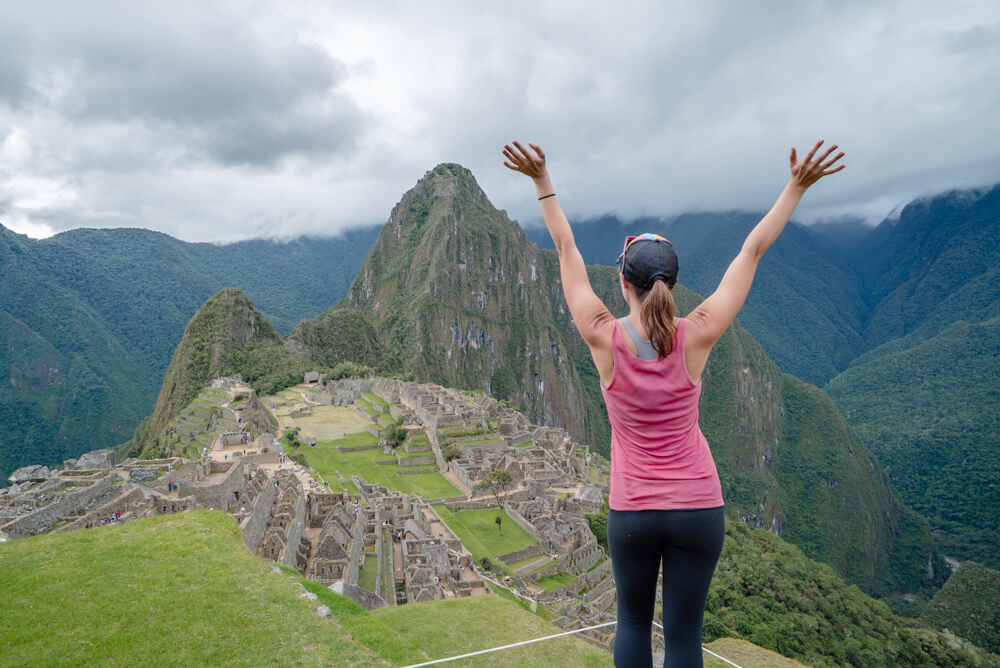 The Inca Trail is unquestionably a bucket list hike with gorgeous Incan ruins all along the way, culminating at Machu Picchu, one of the ancient Wonders of the World. The amazing thing about the trail is it's still 85% intact exactly the way that the ancient Incans built it. It's also the only trail that takes visitors into Machu Picchu the way that the Incans visited themselves.
The trail takes about four days to complete and guides are required. Most tour companies bring a huge team of porters, big tents, and fresh veggies and food for elaborate meals. If you're used to backpacking on your own, eating instant camp meals, prepare to be spoiled.
I'll be leading a tour group in Peru next April, as well as visiting the Amazon and Rainbow Mountain, and much more! Read more about it here.
3. Wrangell St. Elias, Alaska, USA: Difficult, Varies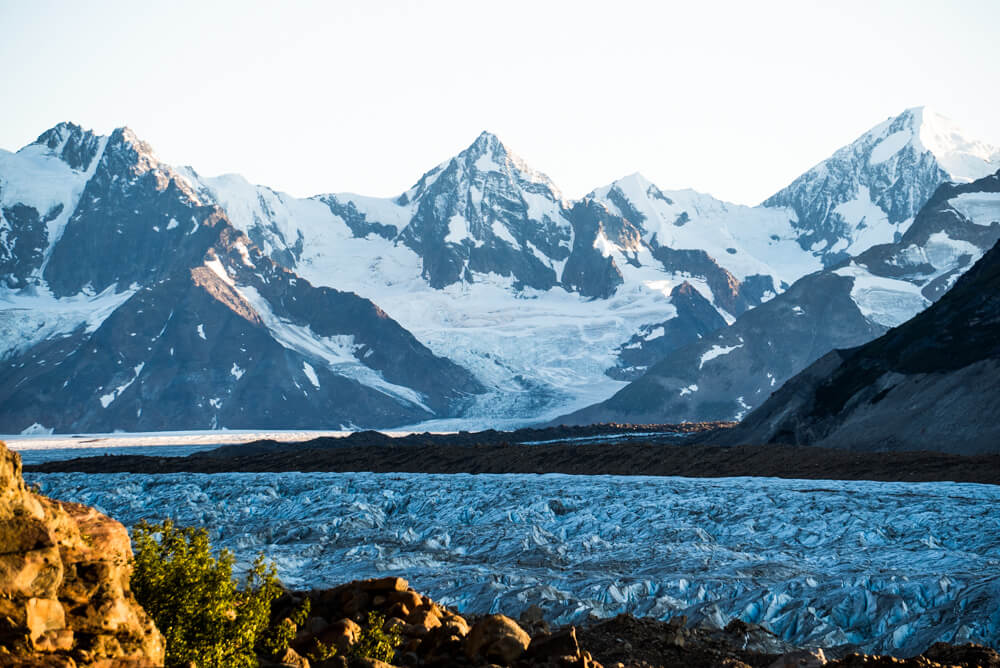 If you want raw, rugged, unadulterated nature, then look no further than Alaska. Apart from Denali and the popular cruise route, most of the state is devoid of people and full of adventures.
Wrangell St. Elias is the biggest national park in the US, yet it seems like nobody has ever heard of it! This 8-day trek over glaciers, multiple passes, through tundra, marshes, and moraine isn't for solo hikers or first-timers, as it requires route finding with a map and compass, and a bush flight in and back out. Yet this is what makes it so wonderful – you're unlikely to see anyone else out there, though you might spot some bears and moose! You can read more about the trek here and some general hiking tips here.
4. Annapurna Circuit, Nepal: Moderate, Varies between 160–230 km (100-145 mi)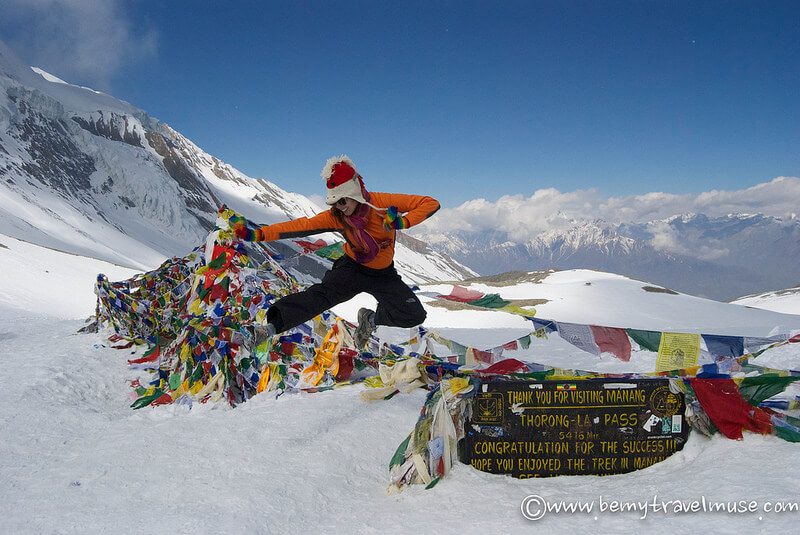 The Annapurna circuit is the slightly less crowded, more picturesque, but equally challenging cousin of Everest Base Camp. It's a tea house trek, meaning that you can leave the tents, cooking equipment, food, and basically everything but clothing and snacks behind.
More of the trek is becoming accessible by road, and what was once a minimum 14-day trek can be shrunk down depending on your time constraints. Though at 5416 meters (17,769 feet) in altitude, the Thorung La Pass is not to be taken lightly. The highest season is in November with April following in popularity. For an added bonus, tack on the Sanctuary Trek and Poon Hill at the end. For more on how to prepare, click here and here for a day-by-day breakdown.
5. Huemul Circuit, Argentina: Difficult (60 km, 37 mi)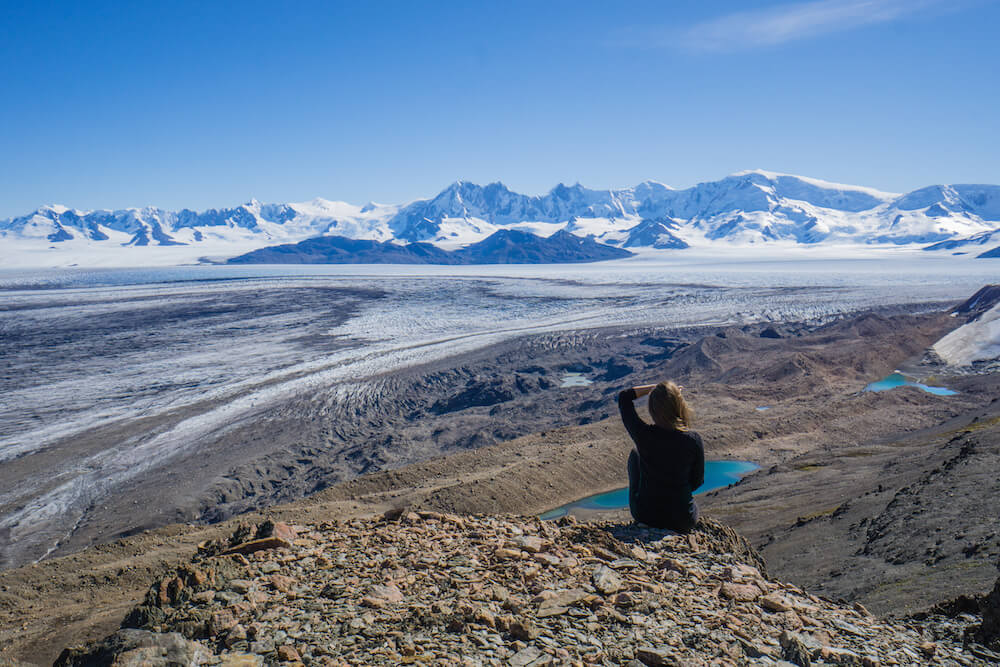 The Huemul Circuit out of El Chalten, Argentinian Patagonia, is one of only four trails in Patagonia that provides a view of the Southern Patagonian Ice Field, the third largest frozen body of fresh water in the world.
This hike isn't easy. You'll need to carry along all of your gear and provisions for four days, bring along a map with the GPS points routed ahead of time since the trail can be unclear, pull yourself across two rivers with a harness and pulley, and prepare for one of the craziest downhills around. It's nearly three hours of a steep descent on loose dirt, however the view is unmatched in Patagonia, and that's saying a lot!
The difficulty is what keeps most visitors away, so if you're feeling adventurous, read about how to do it here.
6. The O in Torres del Paine, Chile: Moderate (130 km, 80.1 mi)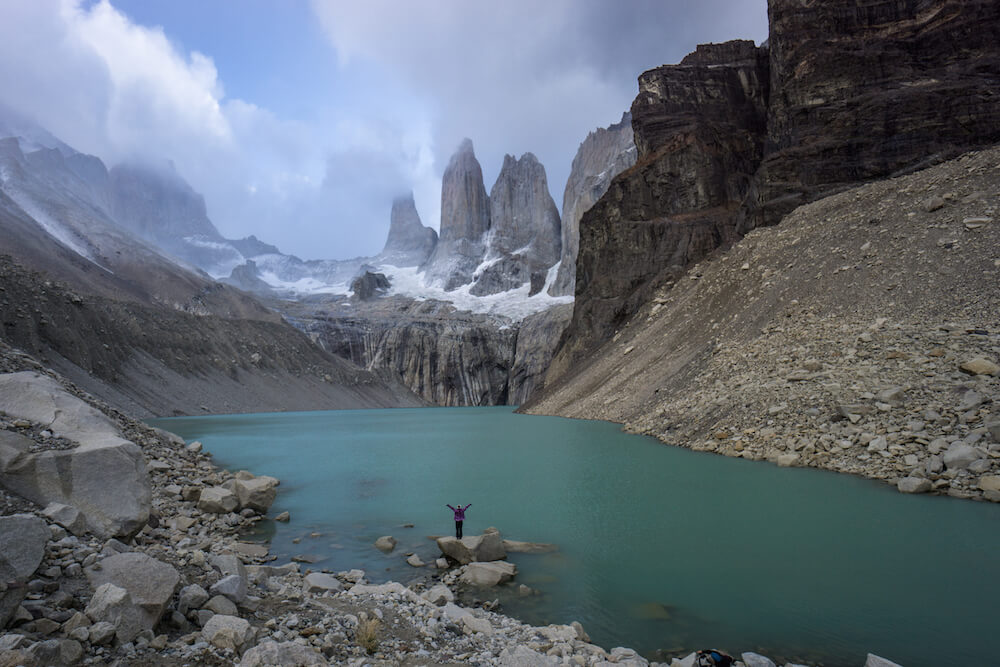 Patagonia's most loved trek, the circuit in Torres del Paine National Park in Chile, earned its fame for a reason. Picture glacier after glacier, another glimpse of the Southern Patagonian Ice Field for those who do the entire O (rather than the W, which is shorter), and mountain formations that have no equal.
The trail is easy to find, and is moderately difficult. Unless you book prearranged tents and refugios ahead of time, you'll need to carry all of your own gear for this one. You can read more about how to properly prepare for trekking in Patagonia, known for intense wind and wet, rocky trails here, and how to get the most out of the O in Torres del Paine here.
7. Coyote Gulch, Utah, USA: Moderately Easy (12km, 7.4 mi)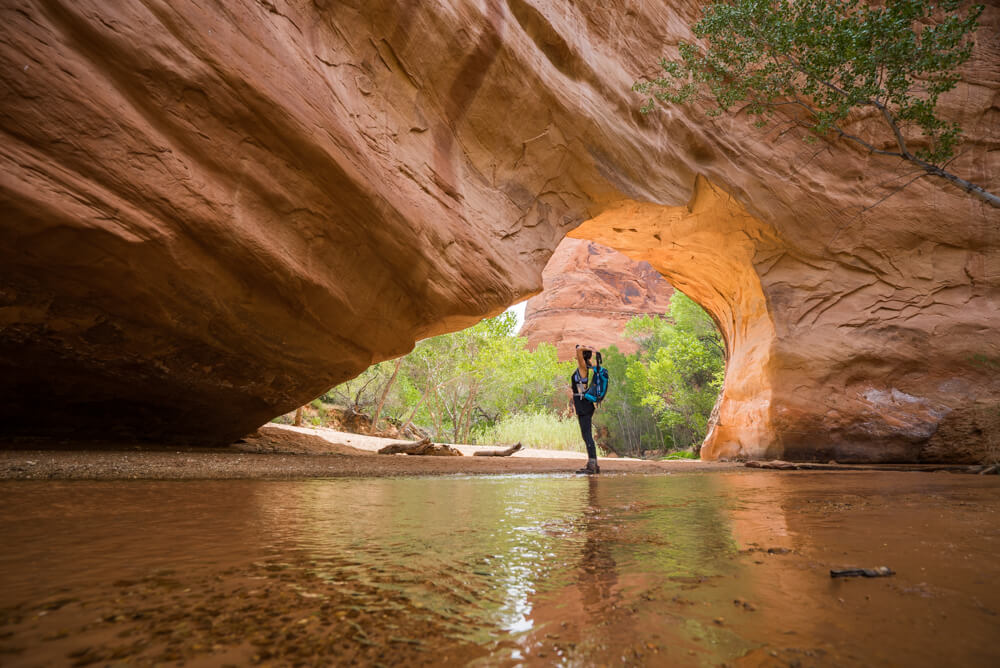 Coyote Gulch in Grand Staircase Escalante National Monument can be done over multiple days or, for those willing to rappel down a canyon wall, in just one day.
In comparison to the more popular hikes in Utah like those in Zion, Coyote Gulch has hardly any people at all. You can camp overnight right under the famous Jacob Hamblin Arch, and wander through all day long without seeing more than a few other people along the way. The hike is fairly easy and flat, though it's mostly through sand and water, so bring along waterproof hiking boots!
This is one of my favorite hikes in the American Southwest. You can read more about how to do it in one day here.
8. Doi Luang Chiang Dao, Thailand: Moderate (12km, 7.4 mi)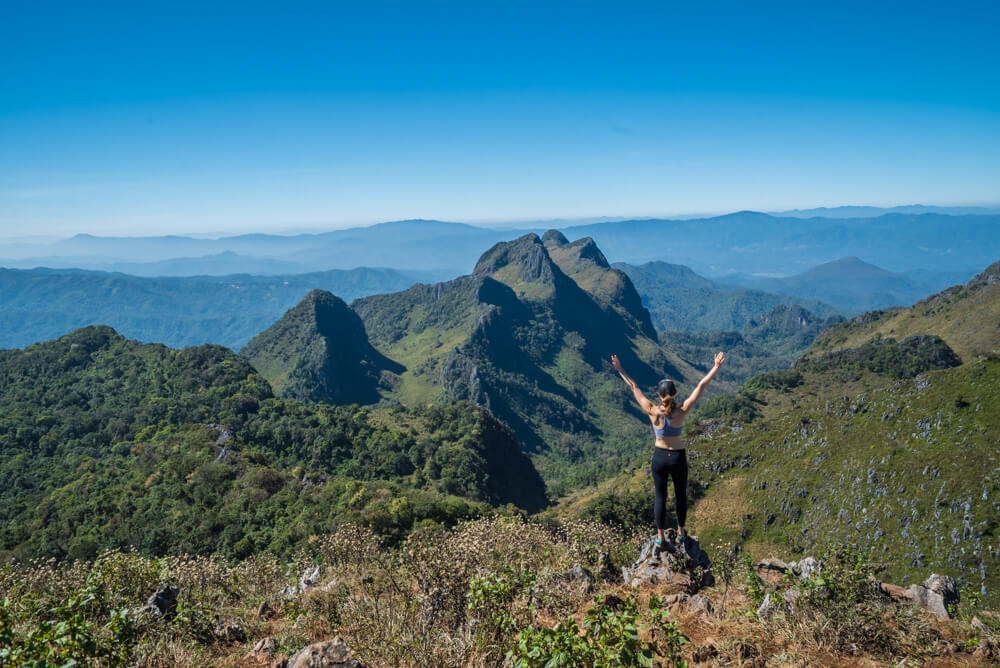 Doi Luang Chiang Dao in northern Thailand is the country's third tallest peak, but it's easily the most beautiful. The hike is steep in the beginning and the end, and flat in the middle. It takes you through a temperate jungle, full of interesting vines growing through rocks, sakura blossoms depending on time of year, and up to a peak with 360-degree views of undulating mountain after mountain.
I expected this to be a sweaty, buggy affair, but found the hike to be pleasant and even a bit cold. Most people do this hike as an overnight, but it's possible to do it in one day. You can read more about how to do that here.
9. Kawah Ijen, Java, Indonesia: Easy (8 km, 5 mi)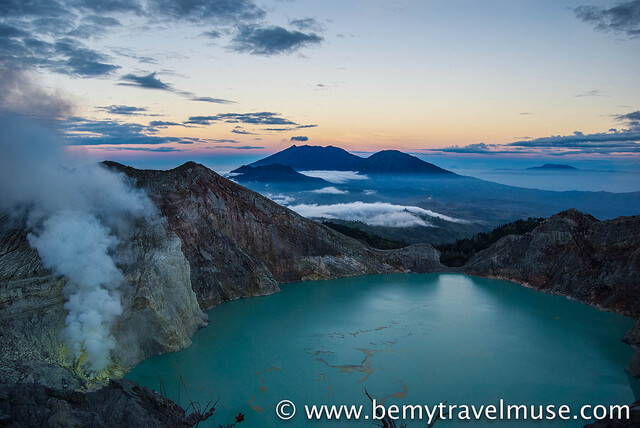 Hiking in with the stars, seeing the amazing blue flames (and trying not to choke from the fumes) and marveling at the local workers who haul sulfur up and down the mountain all day, made this one of my favorite travel experiences to date. Kawah Ijen in East Java is in a word, magical. It's a fairly easy morning hike – just make sure to bring a head lamp!
At the time that I did this hike 5 years ago, there was hardly any information about it and there were only a few people who made it to the flames. I understand that the popularity has exploded since (It's one of my most popular blog posts – sorry!), but I still think it must be an incredible experience. You can't see blue flames many other places in the world!
10. Cerro Tronador, Argentina: Moderate (36 km, 22 mi)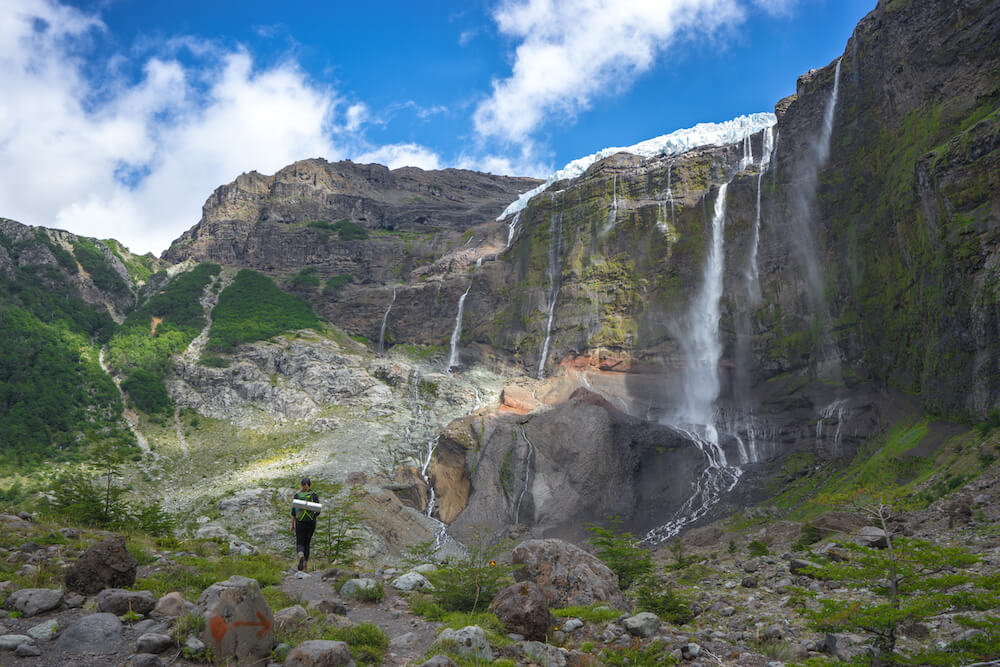 The Cerro Tronador and Refugio Otto Meiling trek out of Bariloche, Argentinian Patagonia has multiple 'wow' factors: The glacier at the top, and this view at the bottom of an area where it cascades over the mountainside.
This hike is best split up into a 2 day, one night hike. The refugio at the top does have some basic sleeping space that one can book ahead of time in town, or it's possible to bring your own gear and camp at the top. Read more about the hike, and others in the area, here.
11. Edelweissweg, Switzerland: Moderately Easy (varies)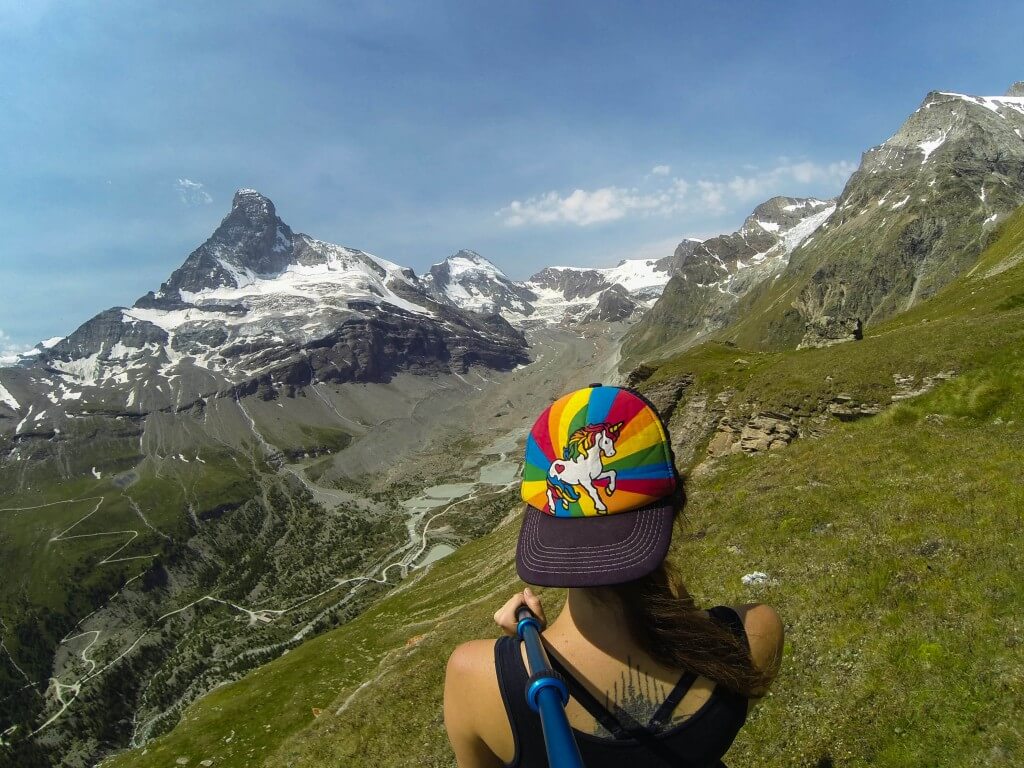 For an incredible panoramic view of the Matterhorn, for those who still want to hike in Zermatt, Switzerland without climbing the actual Matterhorn, the Edelweiss trail is perfect.
From town, take the gondola up to Fury and start from there in the early morning. Some of the trail winds up in switchbacks (and back down of course), but a good portion of it is a panoramic view of the Matterhorn, with plenty of wildflowers to guide your way.
The trail is easy to navigate though it branches off often so bring a map. It's perfect for a day hike though there are huts along the way if you want to break it up, or make it part of a longer hike. Choose your own adventure. Read more here.
12. The Drakensberg, South Africa: Easy to Difficult (varies)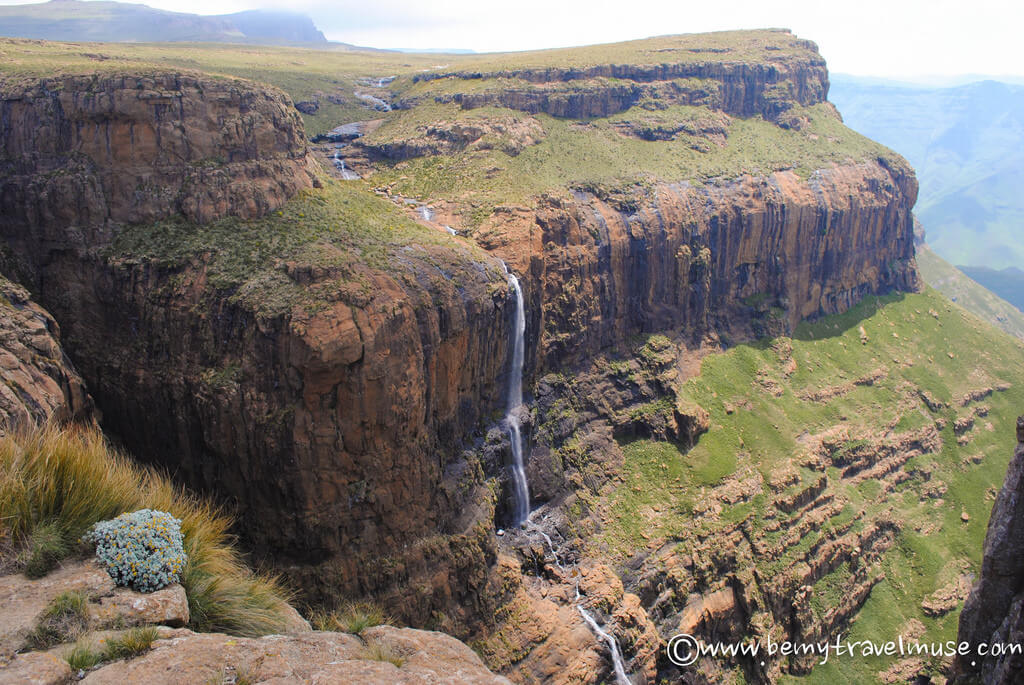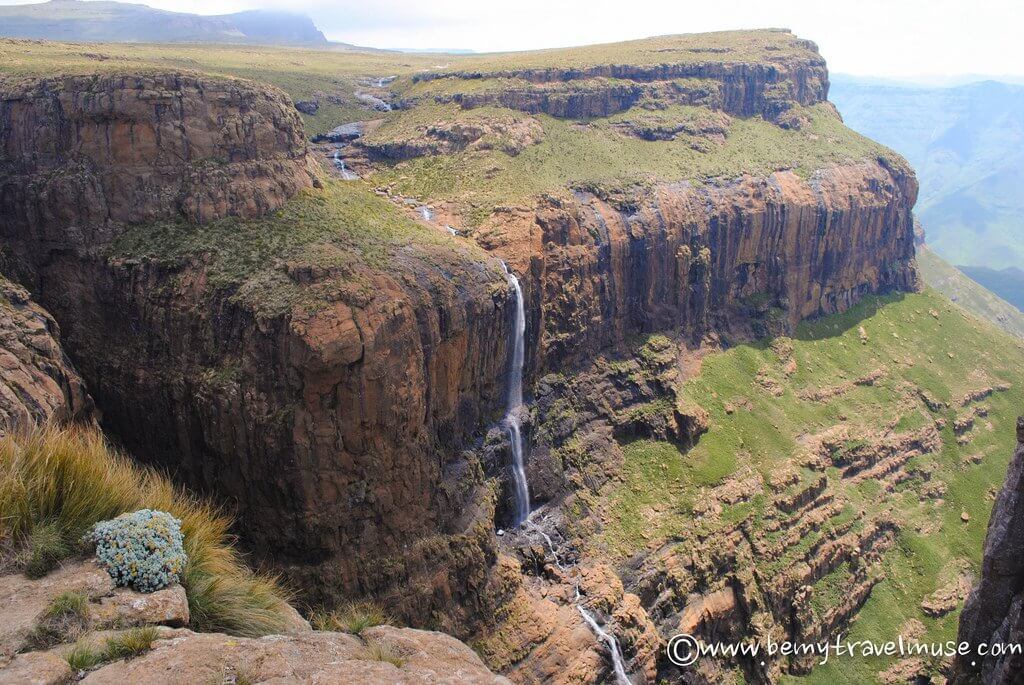 There are several hikes in the Drakensberg in South Africa and all of them are stunning, but this one to Tugela Falls was my favorite.
It's a pretty short day hike along a mostly flat trail, though the 20-meter chain link ladders that lead to the top make many people stay away. For those with a fear of heights, it can be a little grizzly. However if you can power through, this is your view. Read more about this hike and others in the area here.
13. Mt. Rinjani, Lombok, Indonesia: Mostly moderate, one Difficult Part (Varies)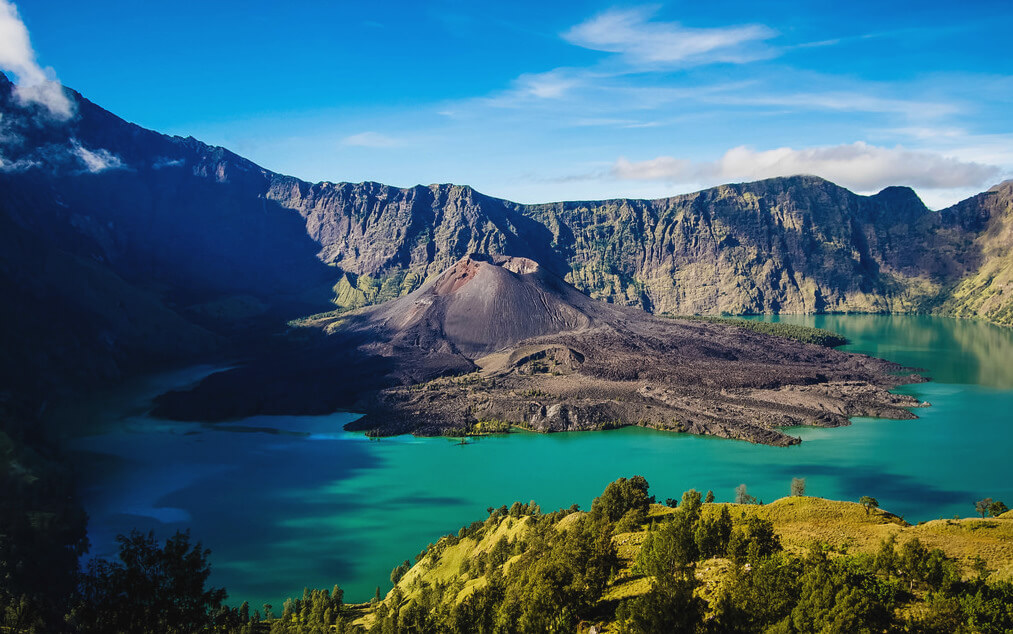 Mt. Rinjani is quickly becoming one of Indonesia's most popular treks, but it's no surprise given how stunning the entire trek is. Most routes last for 3 days, 2 nights, and pass through varied landscape consisting of the volcano within a caldera pictured above, hot springs, and the sunrise peak at the top with views all the way to Bali.
The best way to organize the trek is to show up on Lombok and book in person. It can be about half the price of booking online! Quality of gear varies, but everyone sticks to the same route, though it's possible to reverse it depending on your preferred starting point. The trek is moderately difficult, though the final ascent can be a challenge. For this reason, only about half of the people who do the trek wake up to hike to the top at sunrise (I highly recommend it!). You can read more about how to do it yourself here.
14. Fitz Roy, Argentina: Moderate (25 km, 15.5 mi)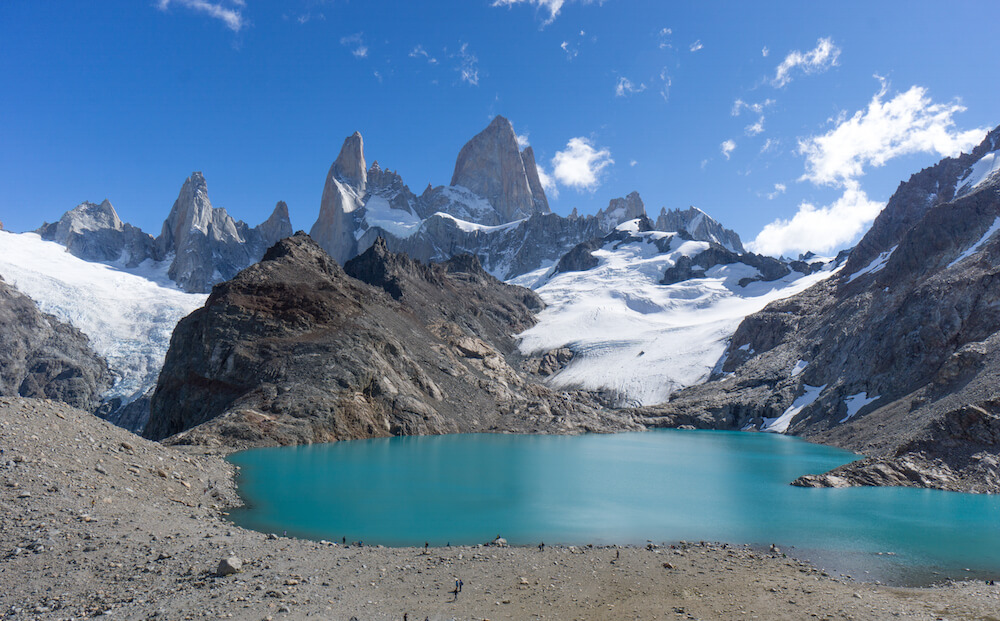 The Fitz Roy is one of the most famous mountains in Patagonia, proudly displayed on the Patagonia clothing brand label. It's popular with rock climbers, but the base is also fantastic for day hikers.
From the town of El Chalten, it's a mostly-easy hike until the last hour and a half, which is a steep and narrow upward incline over rocks. It's worth it for the view at the top, though. Read about this hike and others in El Chalten here.
15. White Pocket, Arizona, USA: Easy (≈ 5km, 3 mi)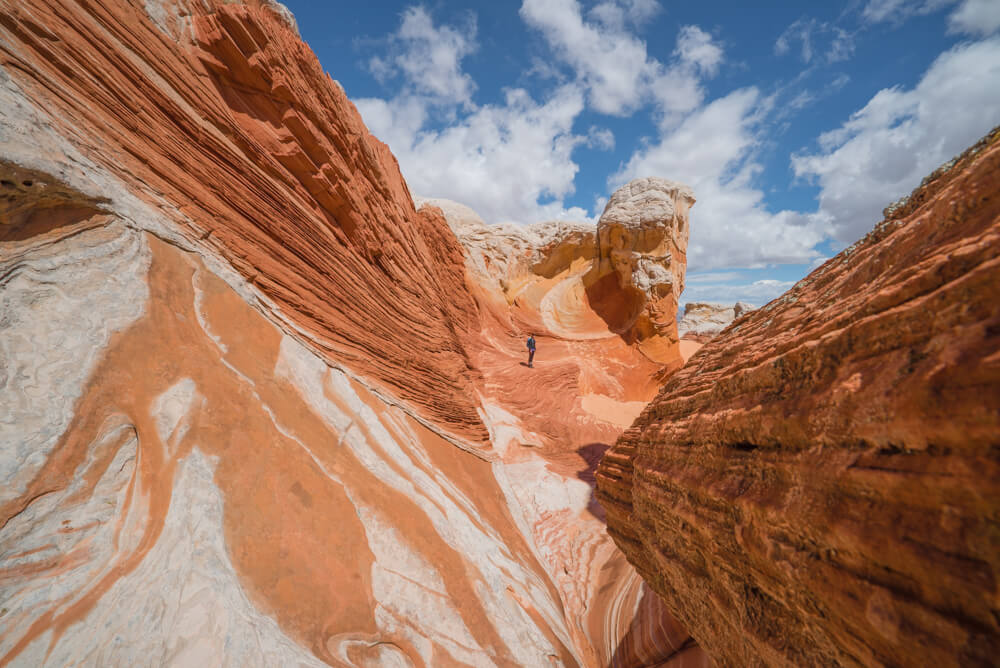 This is an easy hike, but it's not about trying to get to a final viewpoint or destination – it's about wandering along this crazy rock formation and trying to figure out how in the world it was formed.
It doesn't get nearly as much love as the nearby wave, but my guess is that's because fewer people have heard of it. You will need a 4×4 vehicle to get there, and some knowledge of driving through deep sand, or you can take a guide like I did. He was fantastic! More here.
16. Mount Kinabalu, Malaysian Borneo: Difficult (9 km, 5.5 mi)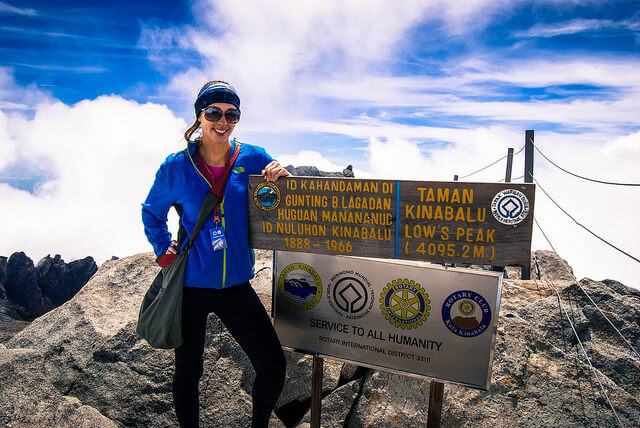 Mt. Kinabalu is known for being a steep, tough upwards hike, mostly up stairs and with very few flat parts. It's famous for its sunrise views, when the clouds clear and provide a reward for all of the tough hiking the day before.
It used to be possible to do this hike in one day, however recent regulations now require that hikers turn this into at least a 2-day hike. Though it's a tough climb, it's not necessary to bring along gear since there's a hotel with food and beds near the top. A guide is compulsory. You can read more about how to hike Mt. Kinabalu here.
17. Mt Aspiring National Park, New Zealand: Moderately Difficult (Varies)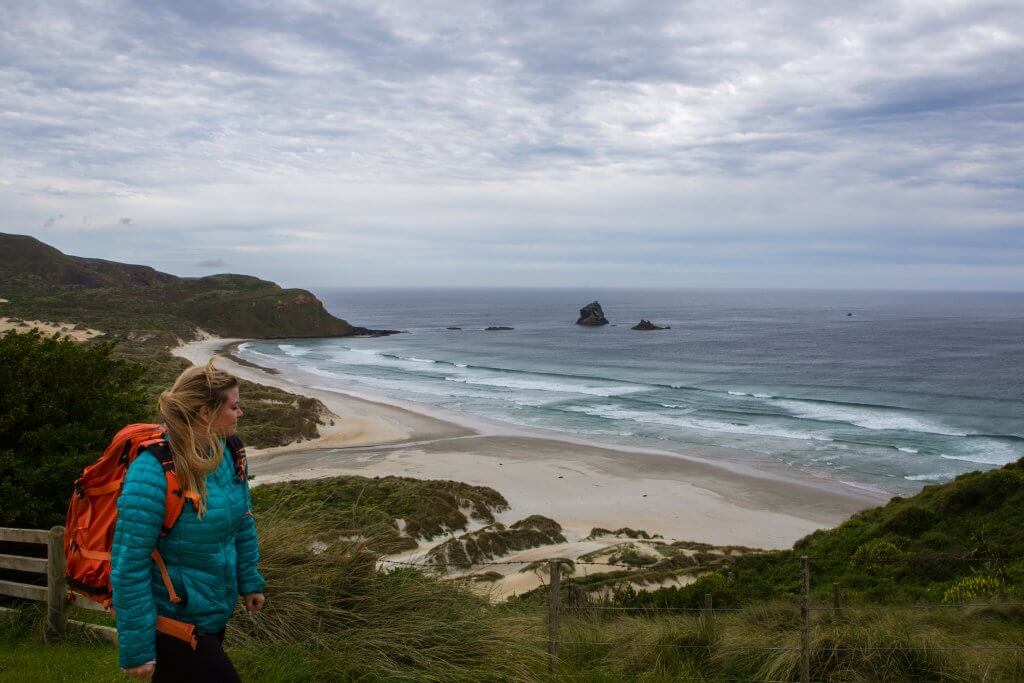 Mt Aspiring National Park comes recommended by Liz, an expat living in New Zealand who picks this as one of her favorite off the beaten track things to do in New Zealand.
There are hundreds of trails in New Zealand worth hiking, including the famous Milford Track, but this one will give you a chance to hike without the crowds over 3 days and 2 nights. Read more about this spot and a few of her other lesser-known favorites here.
18. Landmannalaugar, Iceland: Varies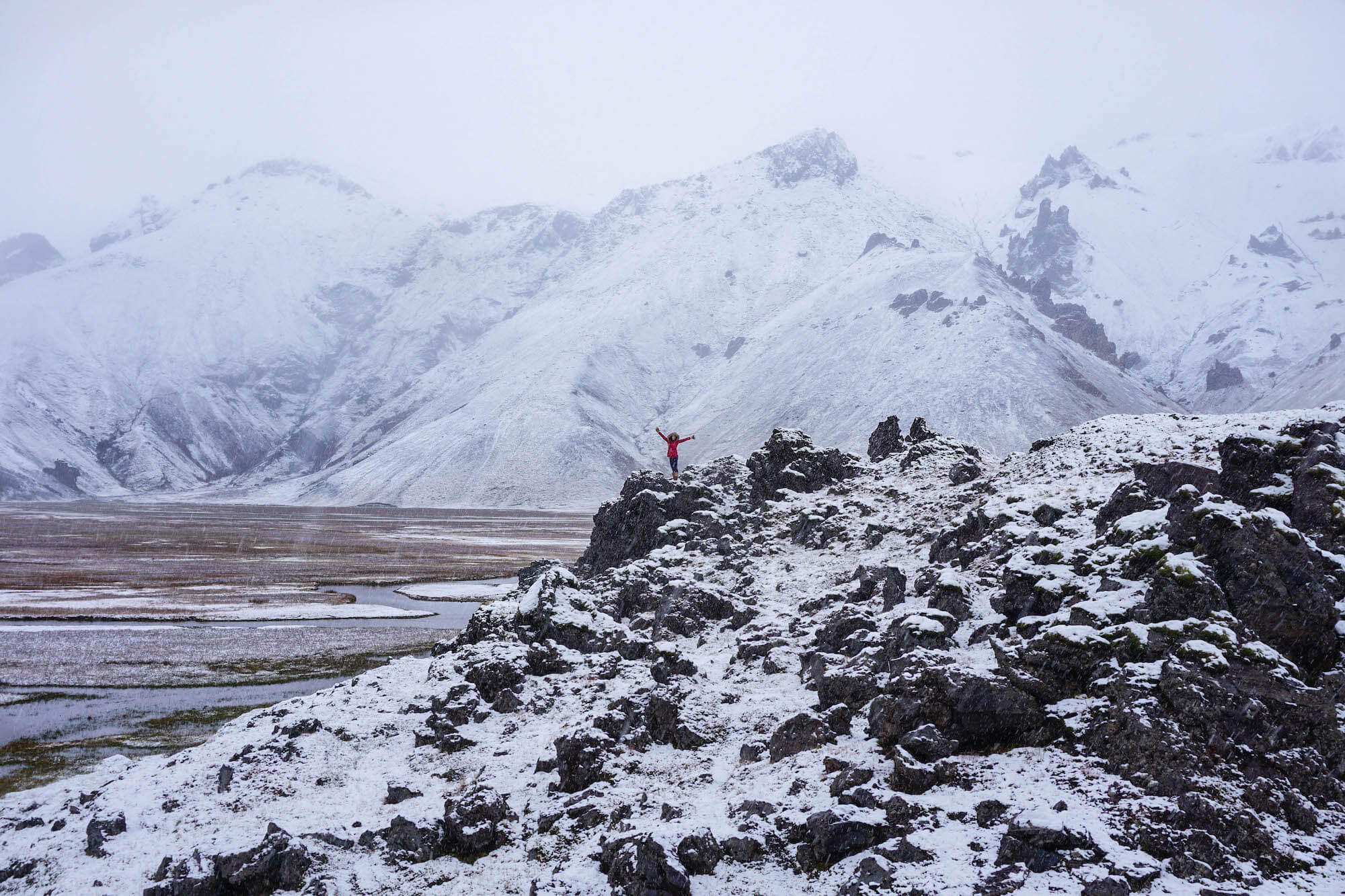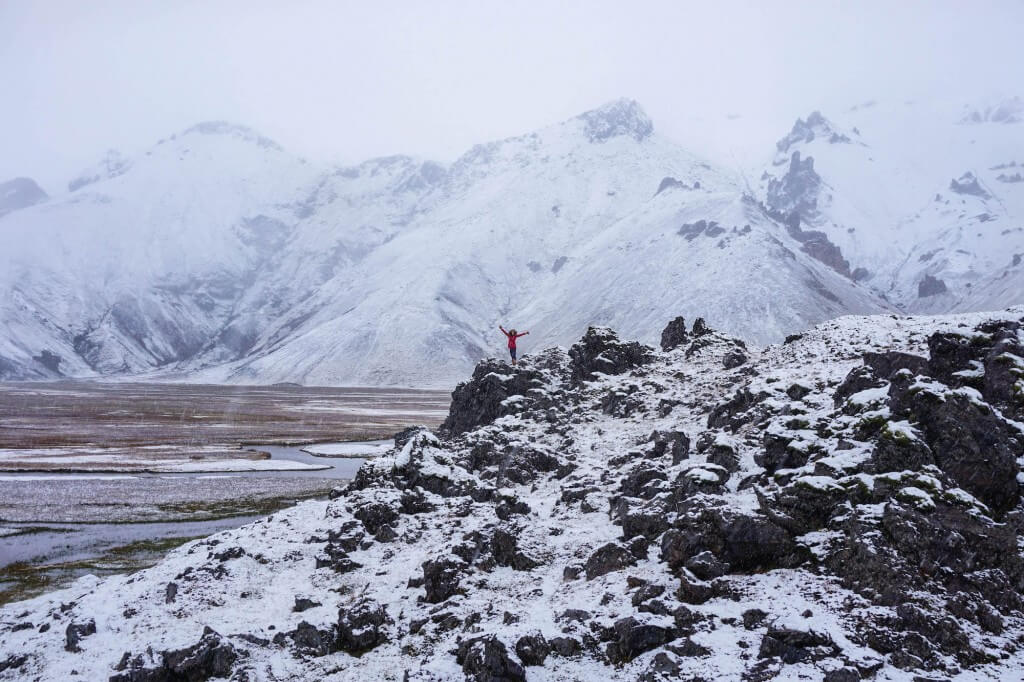 Located in Iceland's highlands, this is one of the more popular multi-day treks in Iceland of varying lengths and difficulty depending on what you choose. To do this, you'll want to head there in the summer, unlike when I did it in October, where I encountered enough snow and bad weather to make hiking a poor choice.
Still, these multicolored mountains were intriguing even in the snow, done as a day hike.
This is one of many amazing hikes in Iceland, including Asbyrgi Canyon. Find more info on these two as well as my full Iceland Ring Road itinerary here.
19. Tiger Leaping Gorge, China: Moderate (20 km, 12.5 miles)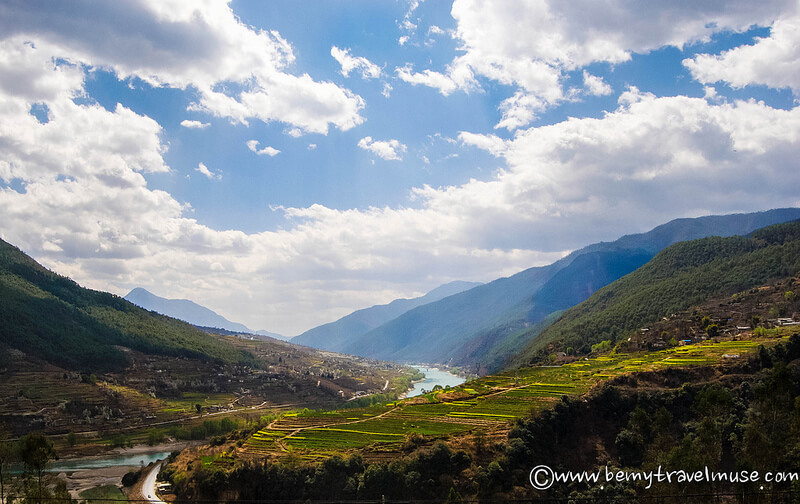 After a couple of months hiking through the Chinese Himalayas, it's not easy to narrow it down to one trek that stood out more than the others, though Tiger Leaping Gorge did really impress me overall. The water is crystal clear running through the gorge (as long as it's not the rainy season) and in February when I went, the rapeseed flowers and sakura were in bloom.
This is best done over 2 or more days, and there are basic guesthouses along the way to feed and shelter you on your journey. For more amazing hikes like this one, be sure to check out Yubeng, Siguinaing Shan, and Emei Shan.
20. Livingstonia, Malawi: Moderate (6km, 4 mi)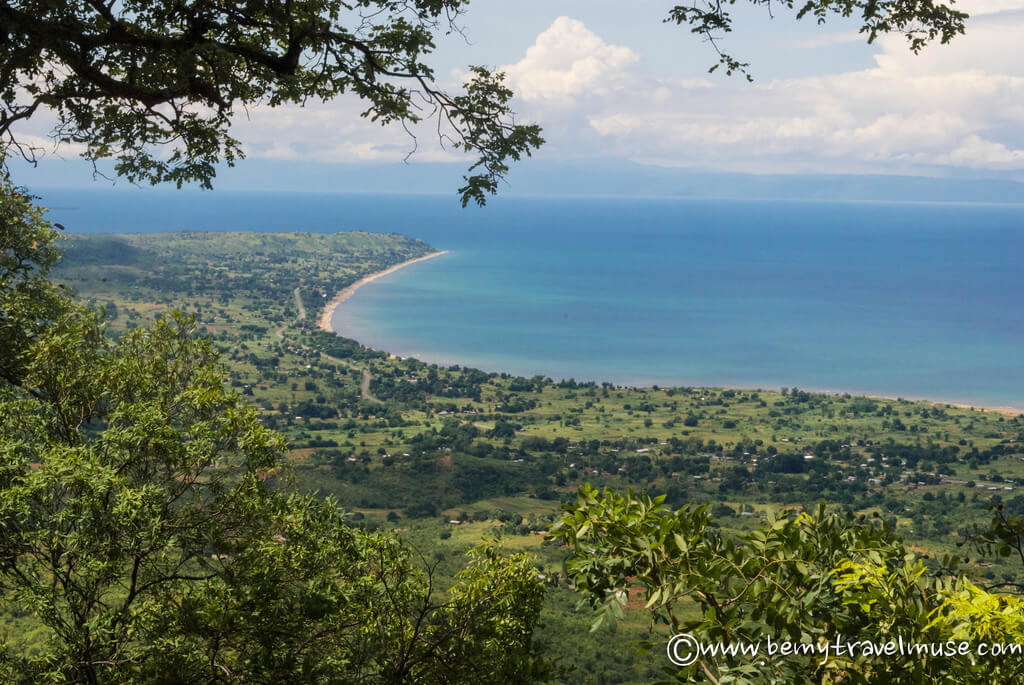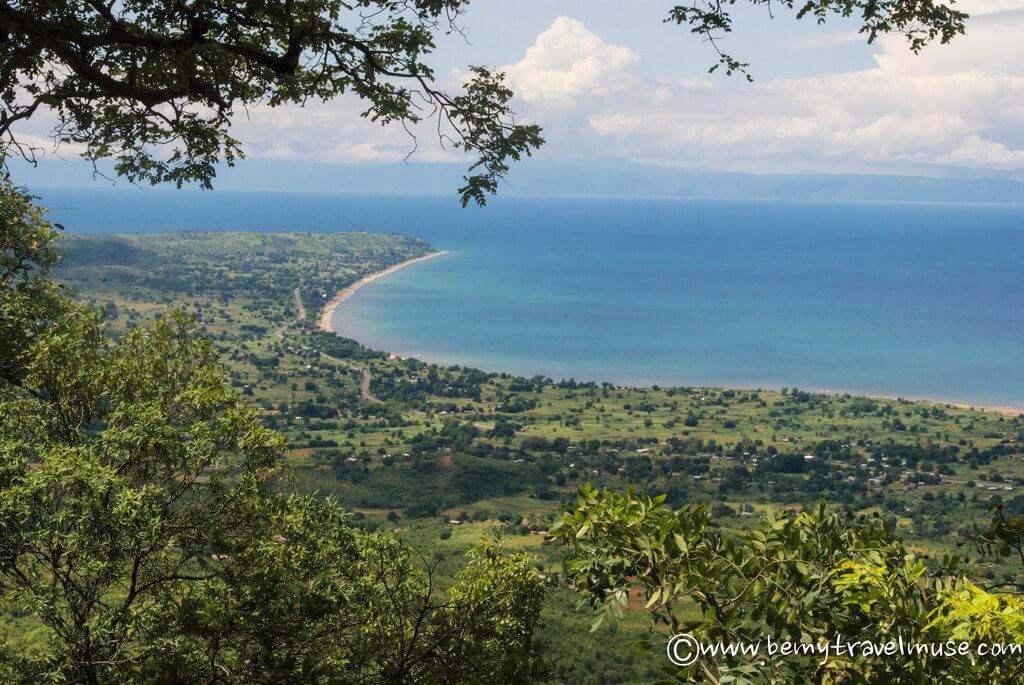 While the most famous hike in Africa is Kilimanjaro, for an incredible view and a trail that you don't have to share, take the hike from Khondowe to Livingstonia. It's possible to hire a local guide for the trail up, and to book a truck to take you back down if you want to save your knees.
The views along the way just keep getting better, plus, you'll pass by an impressive waterfall and some friendly locals as well. Though it's possible to self-guide upwards along the road, the locals know the shortcuts.
21. Havasu Falls, Arizona, USA: Moderate (16km, 10 mi)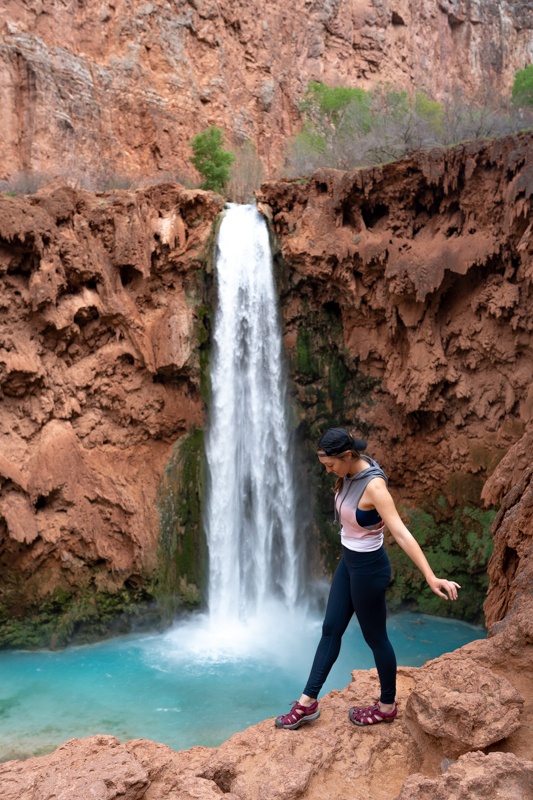 Hiking to Havasu Falls has a huge payoff at the end, but the entire 10-mile journey is breathtaking in itself. It's not quite as scenic as the White Pocket, but this part of Arizona has some awesome rock formations and stellar viewpoints to enjoy.
To get to Havasu Falls, there are quite a few things to know before you set out. First, the trail is on the Havasupai Reservation, which means you'll need a permit. Second, there's no avoiding the sun on this one, so you should go prepared for plenty of sun exposure. The hike is at a steady incline, which gets more difficult as you go on, but overall it's a moderate hike.
Besides the obvious payoff of reaching the bright blue Havasu Falls at the end of the trail, there are quite a few other waterfalls nearby if you want to extend your hike further.
22. Gertrude Saddle, Milford Sound, New Zealand: Difficult (7km, 4.3mi)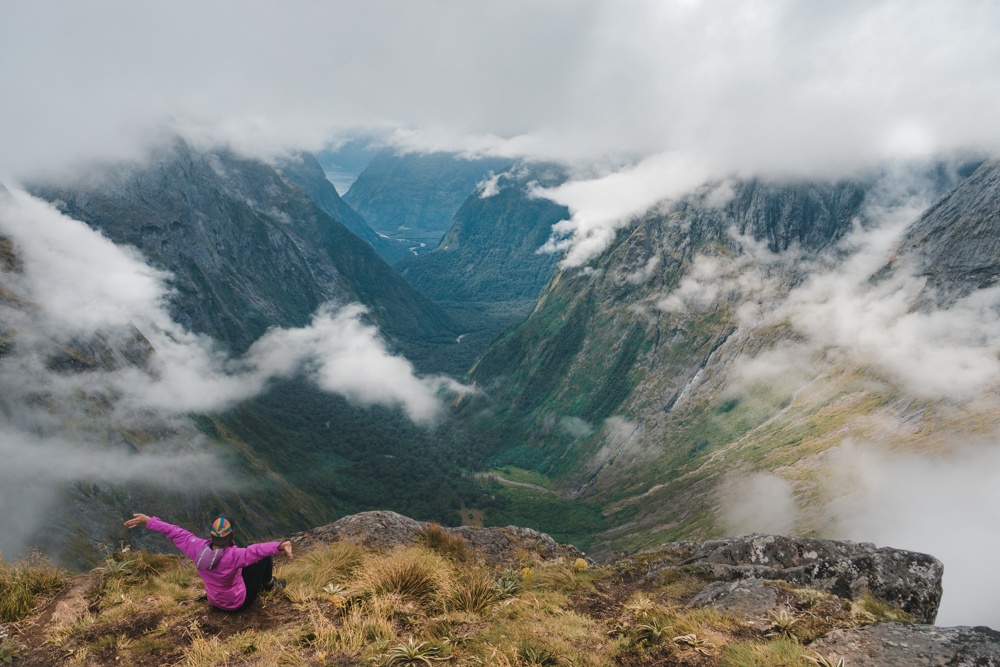 When I went road tripping through New Zealand, I heard about the Gertrude Saddle hike in Fiordland National Park. There were fervent warnings about how dangerous the hike was, but I wanted to give it a try anyway and I was so glad I did. This hike ended up being the highlight of my trip through the South Island.
Because of the trail's reputation for danger and previous accidents, the park has made it a point to mark the trail better. I found it easy to navigate, with little risk for straying from the trial by accident. The views alone were worth it, and are some of the best you'll find in all of New Zealand.
23. Mount Tallac, California, USA: Difficult (8.3km, 5.2 mi)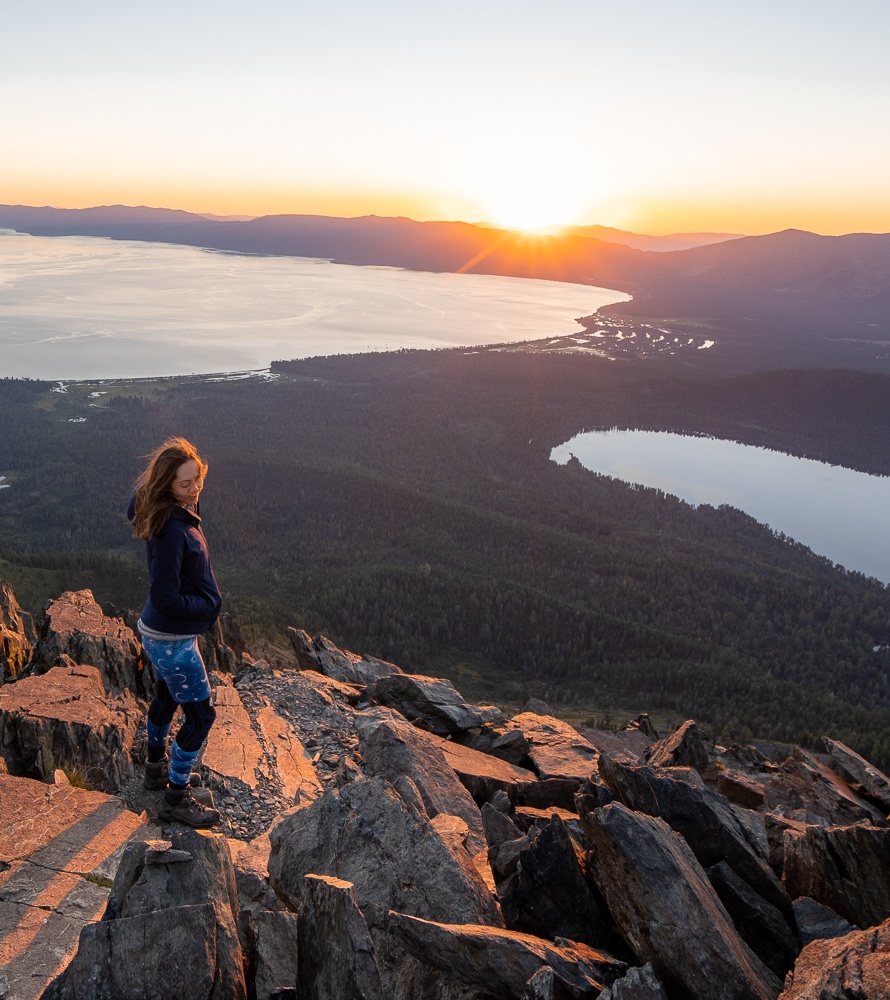 There's an option to take on the Mt. Tallac hike in a day or turn it into a multi-day adventure in Desolation Wilderness. I hiked Mt. Tallac in a day and getting to the summit is certainly a challenge. There are very few flat places on the way up, which is about 3,500 feet. You start at the same elevation as Lake Tahoe, so you can imagine how much of a trek it is to the top.
The trail to the top of Mt. Tallac is pretty exposed, so you'll need plenty of sun protection. Remember to bring plenty of water, but if you're doing it as a day hike you won't need much else. There is camping available in case you want to stretch it into a multi-day adventure or catch an epic sunrise at the top of the mountain.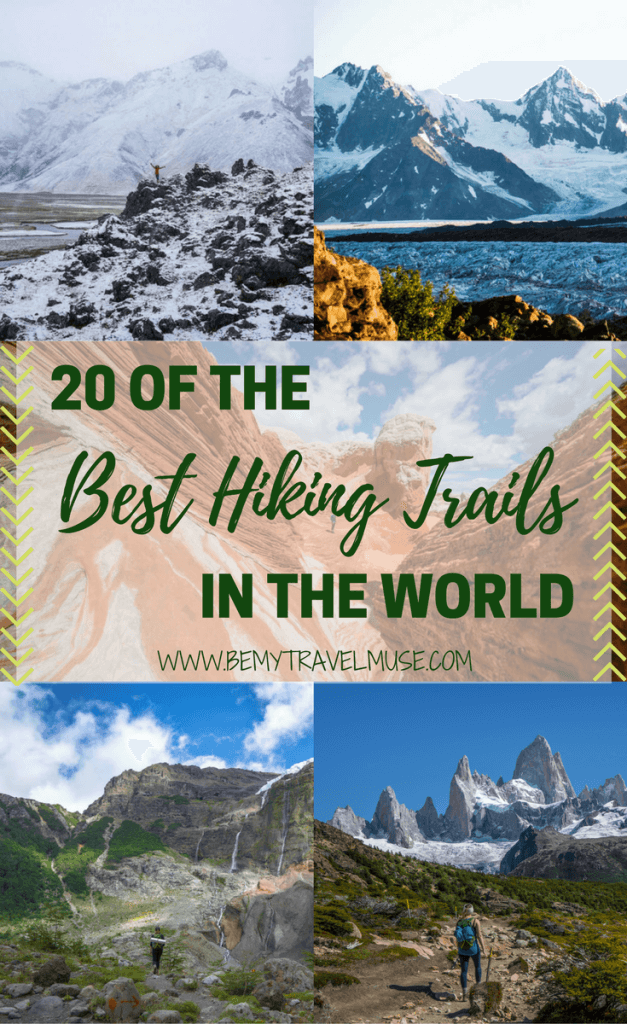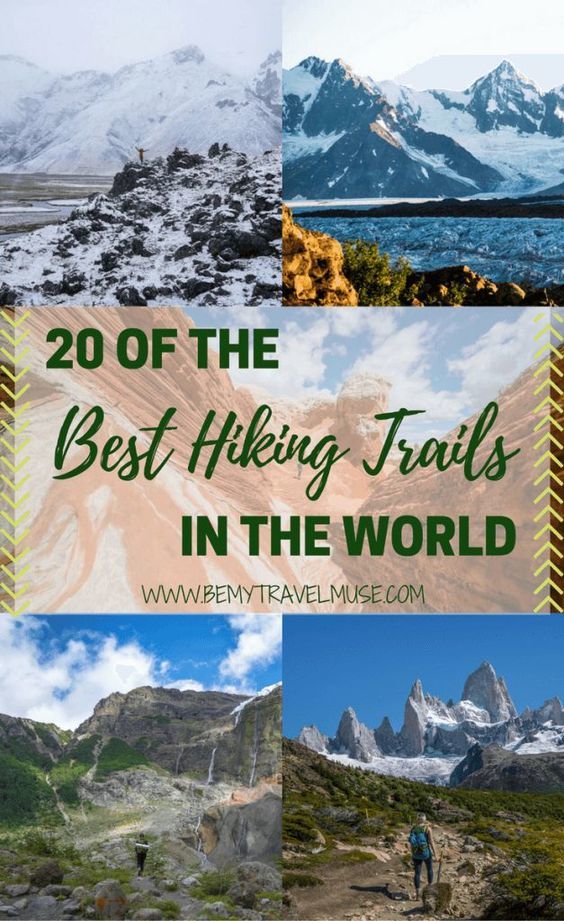 Those are a few of my favorites, though my search is far from over. In the next 12 months, I've got my sights on Bhutan, Peru, possibly more in Patagonia, and who knows where else?
Have you done any of these hikes? What are some of your favorites? Let me know in the comments!
READ NEXT: