The Laugavegur Trail in Iceland is one of the most unique and visually stimulating trails in the world. Not only do you have constantly shifting landscapes, from the rainbow-striped mounds of the highlands in Landmannalaugar to the psychedelic greens of Þórsmörk, but ever-changing conditions as well. No wonder National Geographic ranked this trail in their top 20 in the world. There's nothing out there that can equal it.
With the uniqueness of the trail comes a unique set of requirements for enjoying and thriving on this journey. Before I set out on it myself, most of what I could find were posts advertising guided hikes without any real information on what to expect each day and how to prepare. That changes now.
After guiding a hike on the trail myself, I found out everything you need to know about hiking the Laugavegur Trail in Iceland independently:
How Hard is it, Really?
Based on the other multi-day hikes I've done around the world, I'd rank this as a solid moderate. The gains and losses aren't too bad nor dramatic, though there are some steep parts. The biggest issue is weather, which can change at a moment's notice. You just need to be prepared for that, which I'll get into, and you'll be just fine.
Where Should You Start?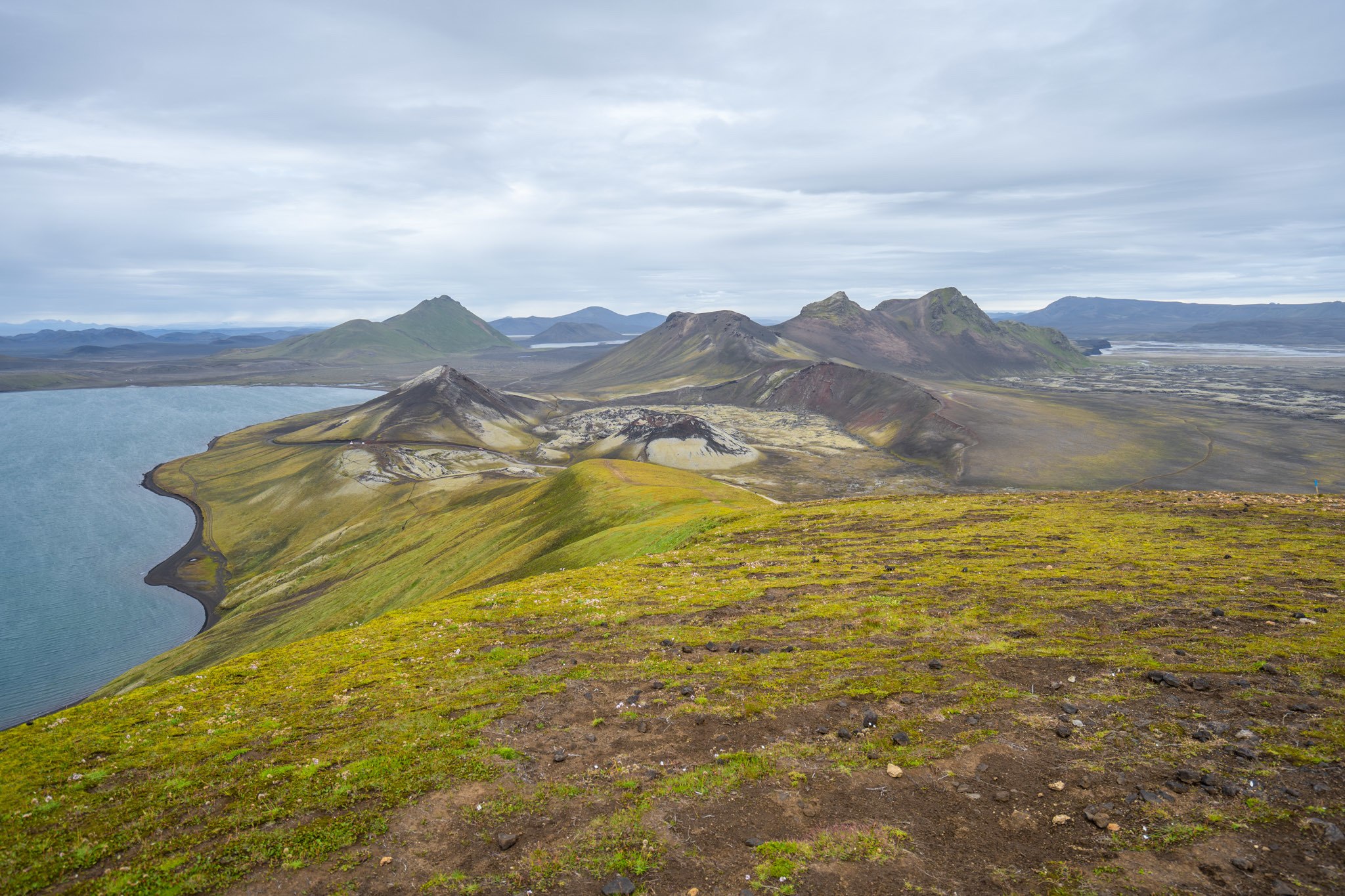 That is the question. Should you begin in Landmannalaugar (say that 10 times fast) or Þórsmörk (pronounced "Thorsmork")? And perhaps more importantly, should you add on two more days at the end, or beginning, to Skógar?
If you can be swayed, I advocate making this a six day rather than a four day trek and going all the way to Skógar on the Fimmvorduhals trail (more on that later), beginning in Landmannalaugar. This makes the first few days, when you have the most weight, a bit easier because instead of having a big uphill on days one and two in the reverse, you have a more gradual uphill on day one. That said, there's no wrong way.
Where Should You Stay?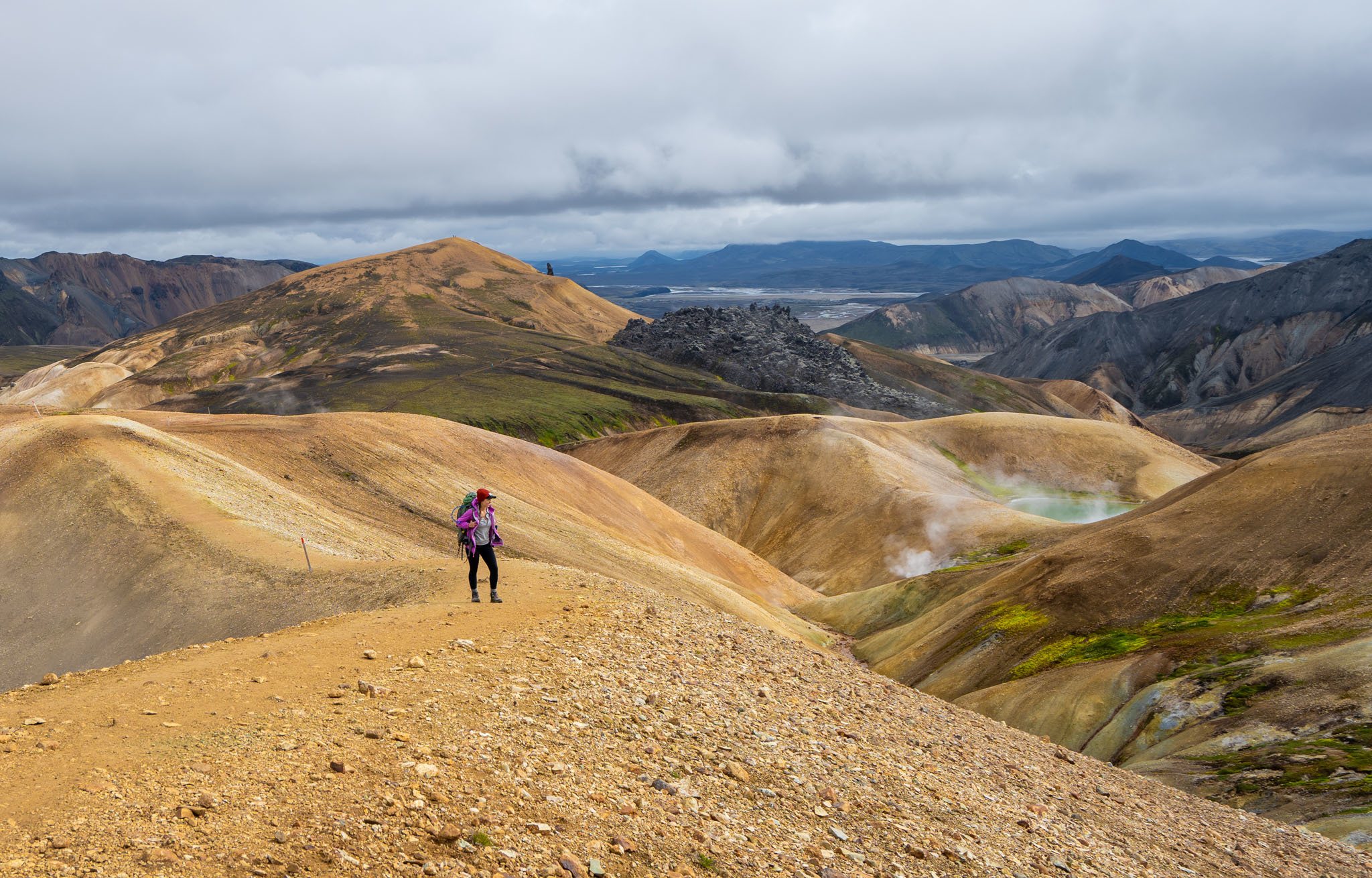 The next big question is, will you backpack or will you stay in the huts? Given the huts cost about US$90 per night, it's quite expensive for what you get, which is just a shared bunk, and sometimes even a shared mattress, in a room with lots of other people.
That said, if I had it to do over again I would still stay in the huts because there's a very good chance that your tent will never be dry on this trail. The winds can get crazy strong and it's highly likely that at some point in the day, you will encounter rain. Most of the time, by leaving early in the morning, we were able to avoid the bad weather. But if you're in a tent there is no escape. You also lighten your load by not having to carry cooking equipment, a tent, and a sleeping mat. The choice is yours!
If you do decide to stay in a hut, book them as far ahead of time as possible. There are only two months out of each year that are reasonable to hike the trail, in July and August, so they book up quite far in advance. Sometimes you can get lucky and get a last-minute booking, but that might mean you'd have to carry your tent around just in case, which nullifies the point for me.
What Should You Pack?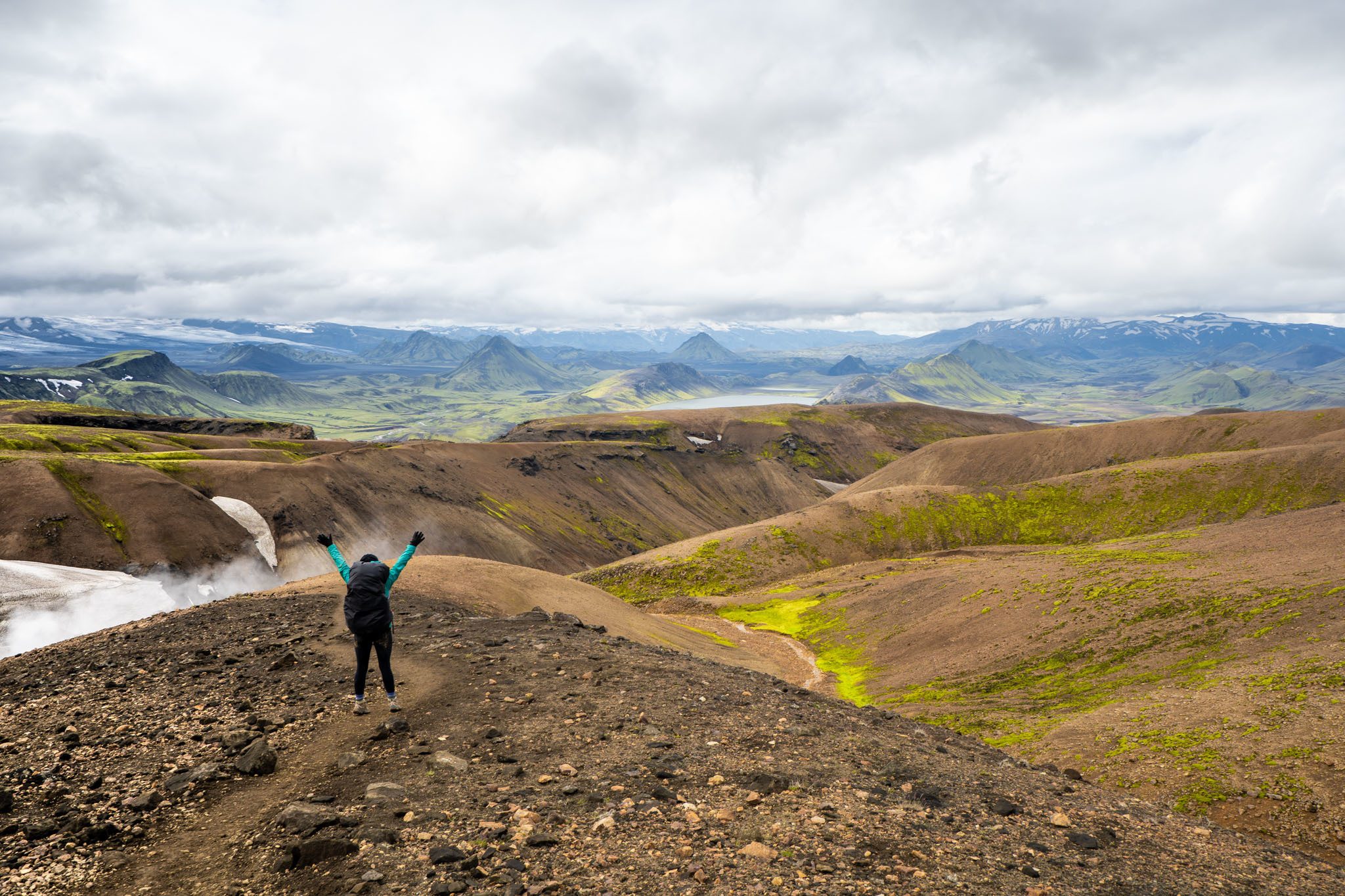 Food: I brought along plenty of just-add-water camp meals. After many backpacking trails, and being a human guinea pig, I figured out the best tasting ones. I have a ranking here to help you. It's best to buy these at home and bring them into Iceland with you. Even though the huts have kitchens, this makes cooking so much easier and only requires that you boil water to make dinners. Additionally, pick up snacks and breakfast and lunch items at the grocery stores in Reykjavik before you head out. Some of the huts will have snacks and food, but don't count on it.
Hiking: You need to have waterproof clothing. I'm not a fan of rain pants, so I wear lululemon leggings that dry super fast. However I do advocate a rain jacket and if you'll use a rain cover, make sure it's one that straps around the middle and around the waist so that it stays on in the potentially heavy wind. I love this one. Waterproof gloves are also a must.
Even if you're not a fan of hiking poles, it's important to have them on this trail. Parts of it are very steep and slippery, plus they're useful for the river crossings.
Connectivity: Although the huts don't have WiFi, I was shocked to find that I had cell service for most of the hike! I was able to surf on 3G, for better or worse, for most of the hike with a Siminn SIM card that I bought at the convenience store at the arrivals hall of the airport. Just keep in mind there is nowhere to charge electronics on the trail, so bring an external battery pack if you plan to use signal or charge camera batteries.
Sleeping: You will also need your own sleeping bag. The huts are pretty warm, so you don't need something that will keep you warm below freezing. Bring a towel as well, as some of the huts have showers for 500 ISK (about $4), and they take credit cards.
Finally, bring an eye mask and earplugs. You could be sharing the room with snorers and since the sun never truly sets, it can get bright. Both are very helpful to shut-eye and were worth their weight in gold to me.
If you're backpacking it, be sure to check out my backpacking packing list which has all of the gear that I use. It's also helpful if you're staying in the huts, just eliminate the tent and sleeping mat.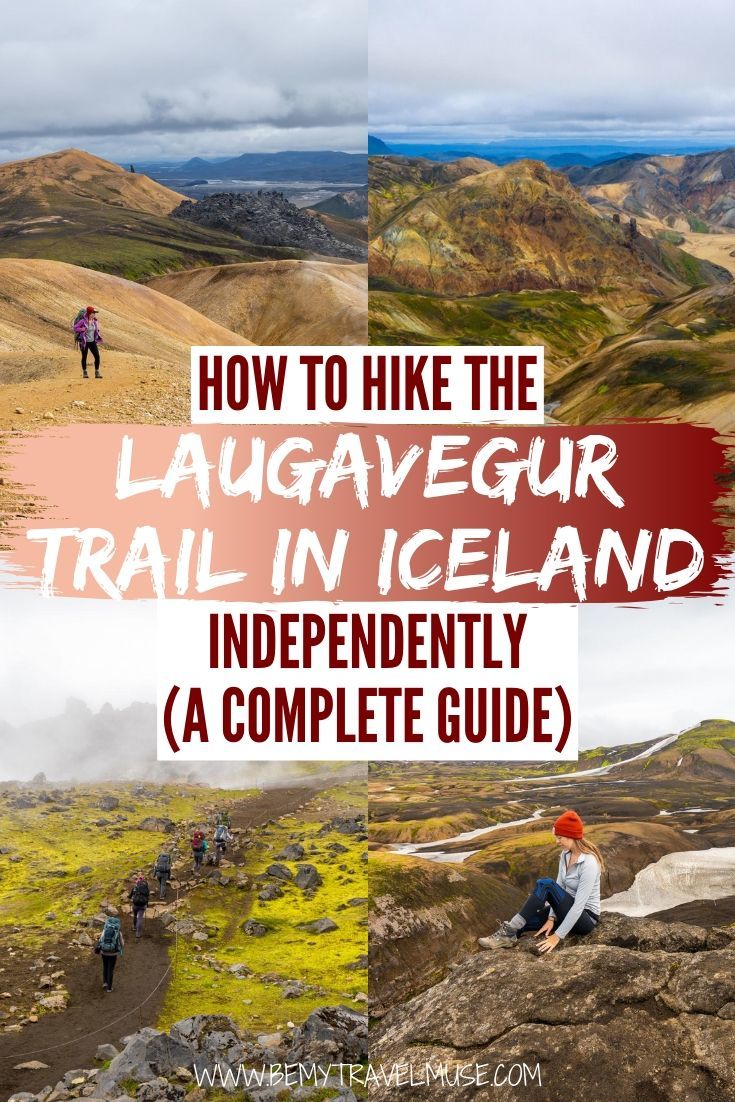 Day-to-day Itinerary
The following is the itinerary I took my BMTMAdventures group on, taking a leisurely pace so that we could enjoy each day, with plenty of time in the huts each night. Though I recommend bringing a map and tracking along on the maps.me offline GPS (download before you go and plot the huts in case it's super foggy), the trail is usually pretty well marked.
Day 1: Landmannalaugar to Hrafntinnusker
12 km (7.45 miles)
Elevation increase: 470 m (1,541 ft)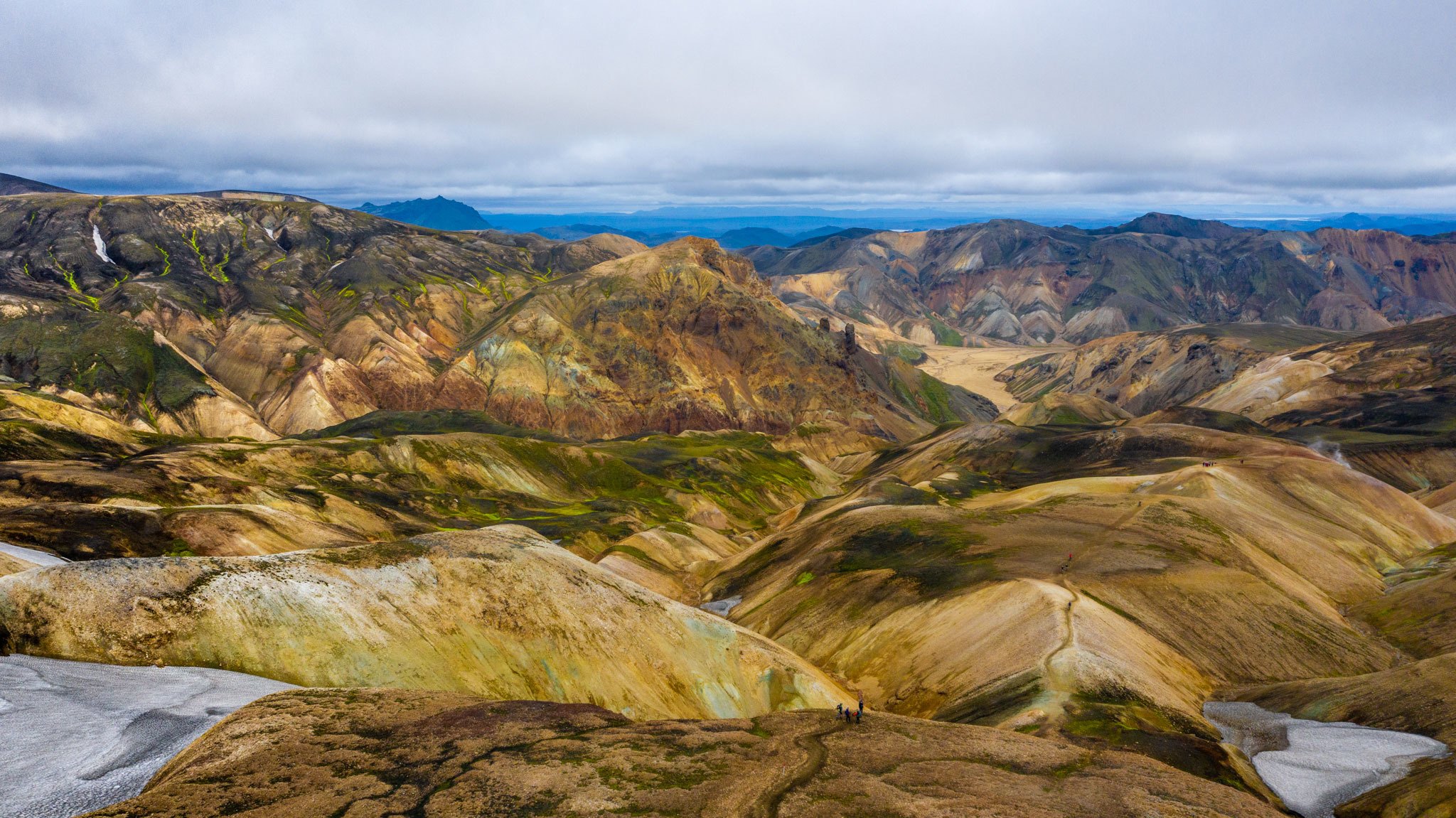 You have a couple of options for day one. Either you can make your way to Landmannalaugar, chill in the hot spring and spend the night in the hut to head out the following morning, which is what we did, or you can bus in from Reykjavík early in the morning and start your hike that same day. I'm glad that we gave ourselves some time in the area to do day hikes and to soak in that spring. It's the perfect combination of scorching hot and cool water that had me straddling the line between the two for a good couple of hours. It also allowed us to start hiking early in the morning the next day when the weather was nicer.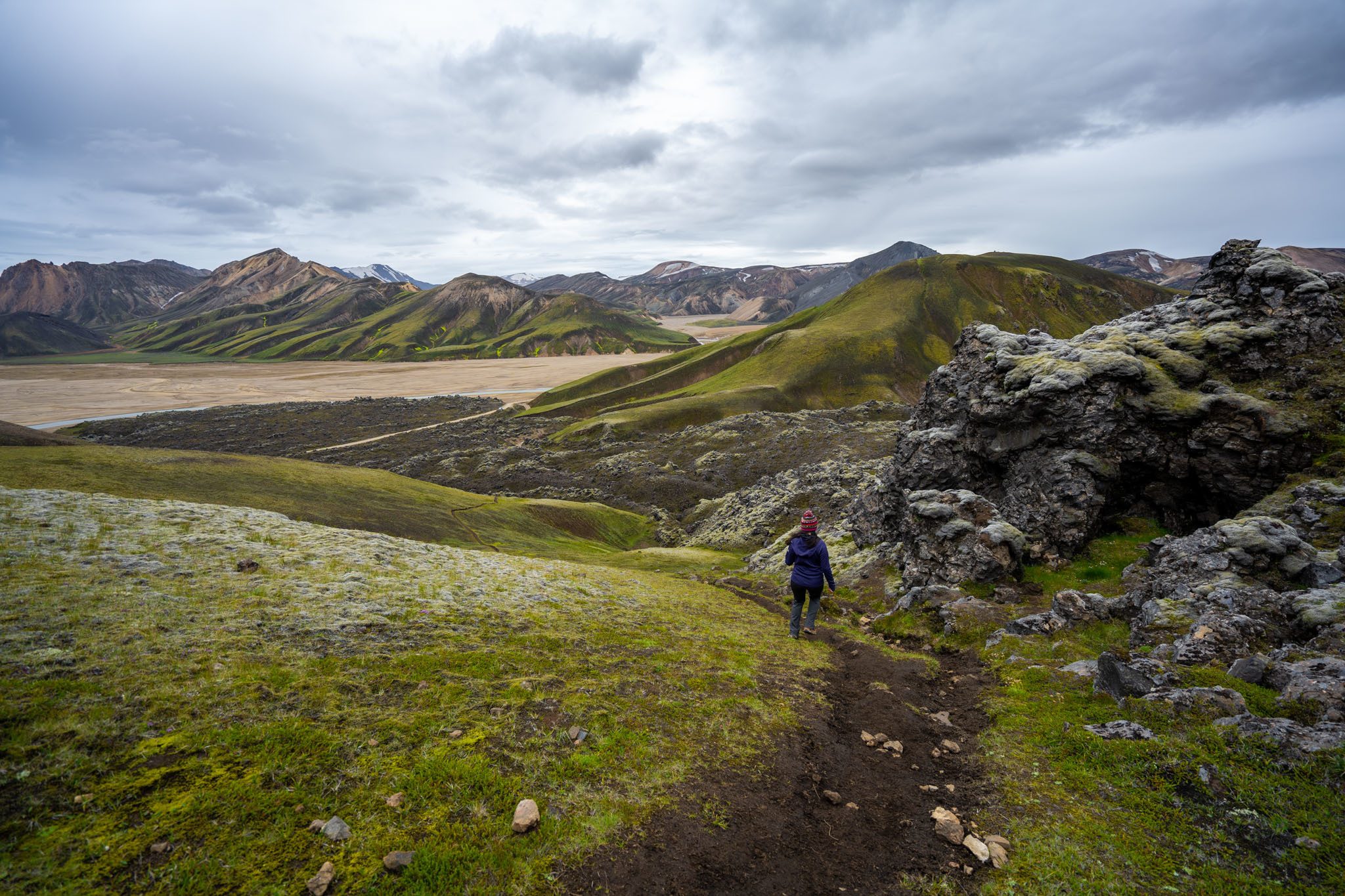 Your first day will involve a 470 m gain, passing piping hot fumaroles (The name for the tubes popping out smoke along the trail, just a few letters off from what you'll experience should you end up falling into one), looking at the striped rock in shades of reds, greens, and oranges, and walking on snow a bit here and there as well. The uphill is mostly gradual except for two very steep parts, which are nearly vertical. However they don't last long, and there's no shame in hand and foot scrambling if needed.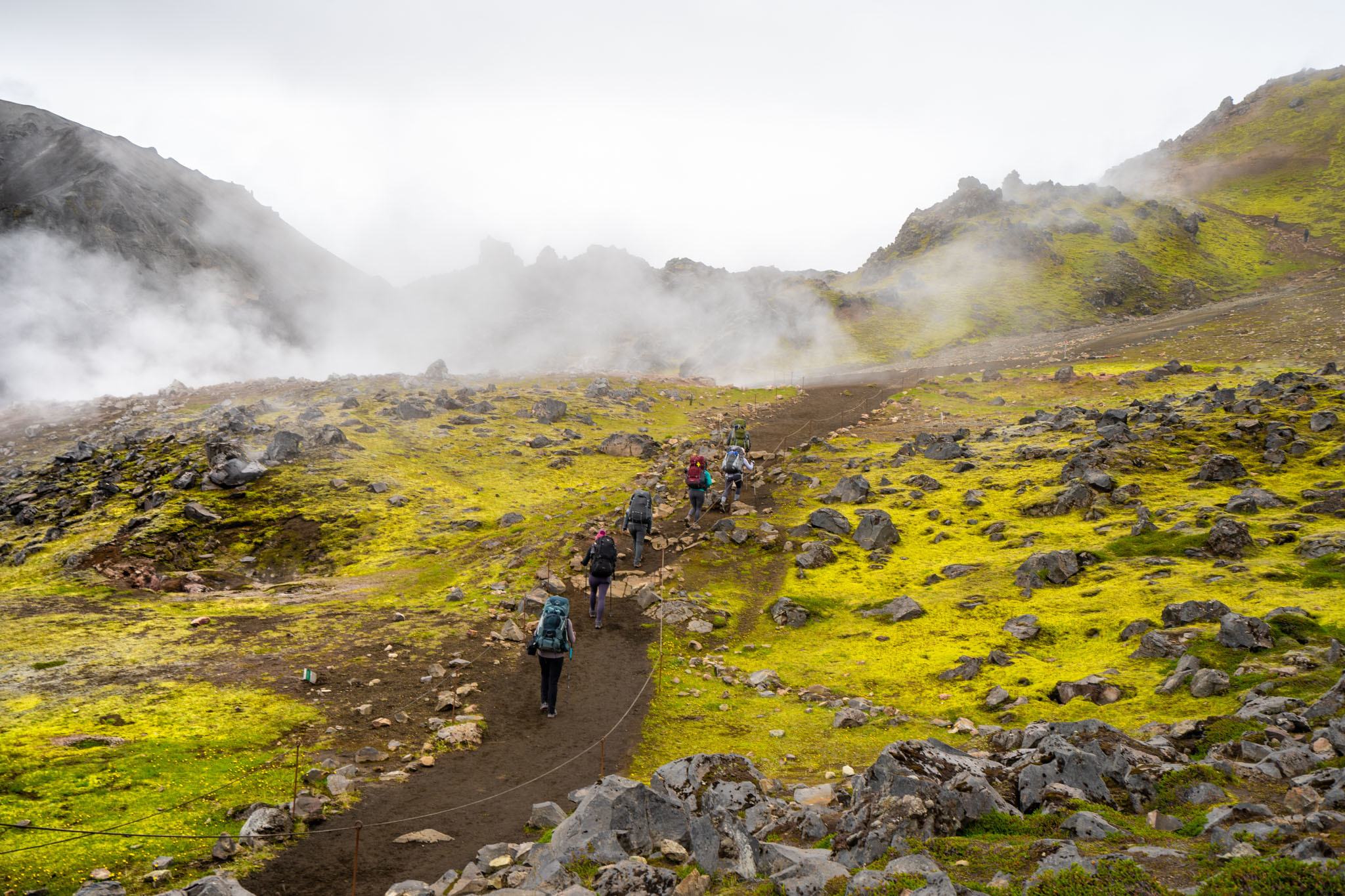 You'll finish the day at the highest point of the trail in a basic hut with a few bunk beds with single mattresses and doubles. The doubles are barely larger than a normal twin bed, so try to get there early if you know that you don't want to share. There are a few side hikes around there as well, but some fairly wretched weather moved in a few minutes after we arrived, so we chilled in the hut and did puzzles for the afternoon.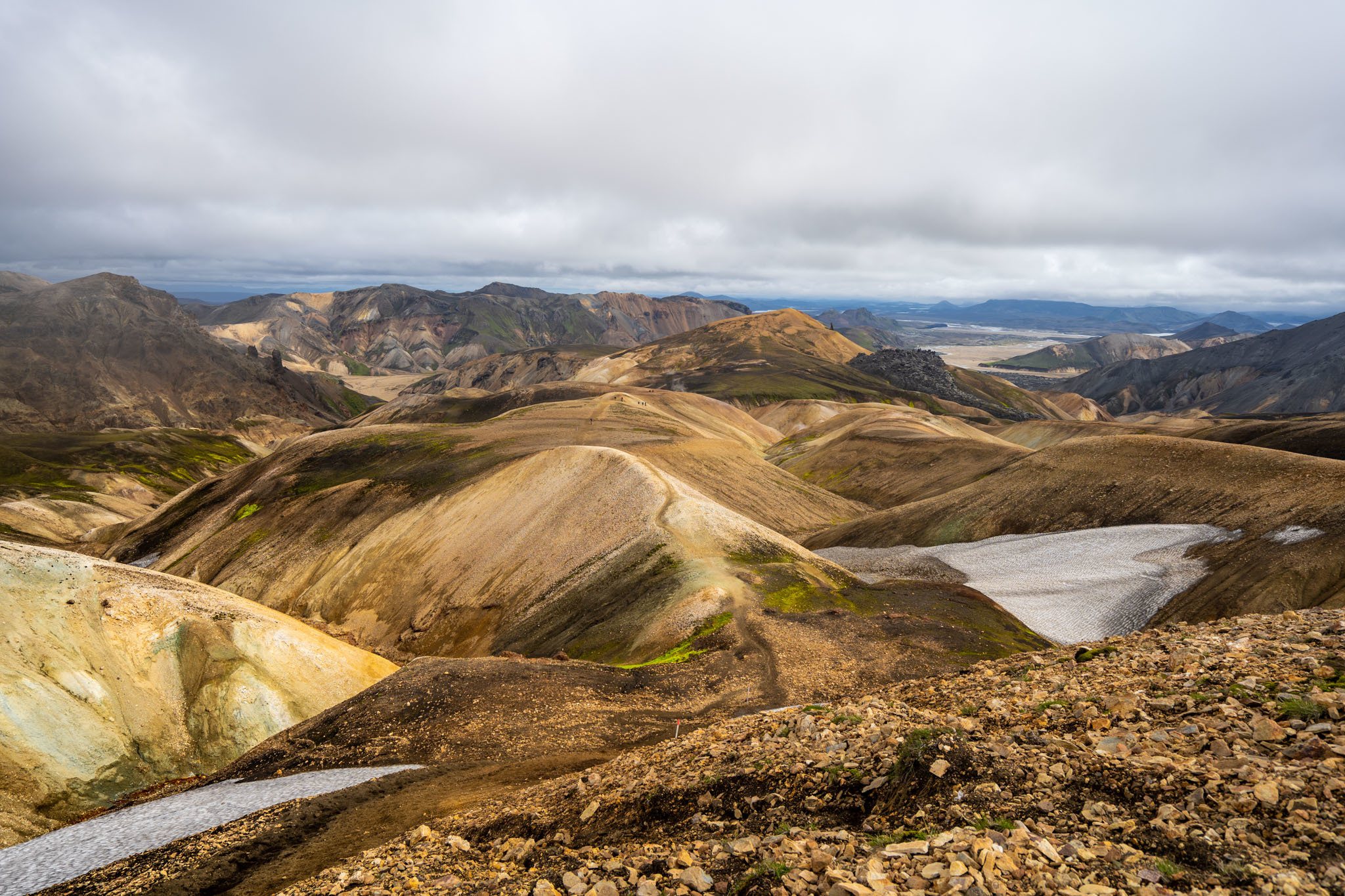 Given how much daylight there is, you will have plenty of time to hike each day. And since each day on this list is fairly short, if you're a fast hiker you can probably combine one or two of these, particularly if you can't get a hut reservation on one of the days.
Day Two: Hrafntinnusker to Álftavatn
12 km (7.45 miles)
Elevation decrease: 490 m (1,607 ft)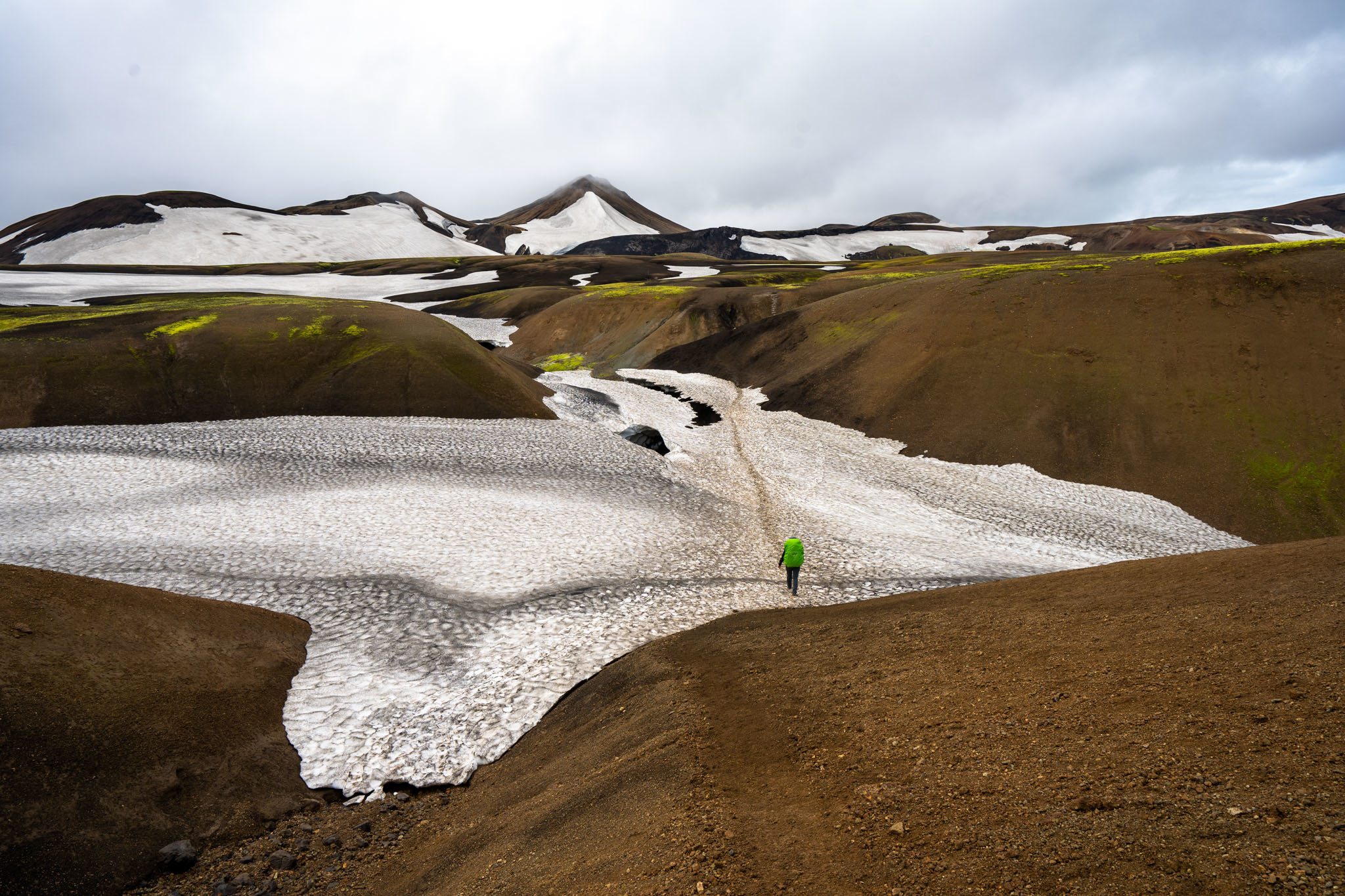 This was my favorite day of the Laugavegur trail thanks to the diversity of scenery. We began at the hut, with a chocolate and meringue colored landscape that reminded me of Choco Mountain on Mario Kart (anybody remember that level from N64? Please say yes). The day starts off relatively flat before an uphill climb to a sweeping view of the rainbow colored rocks in the distance. This is one of the last major views of these before descending into what looked to me like Middle-earth about an hour later.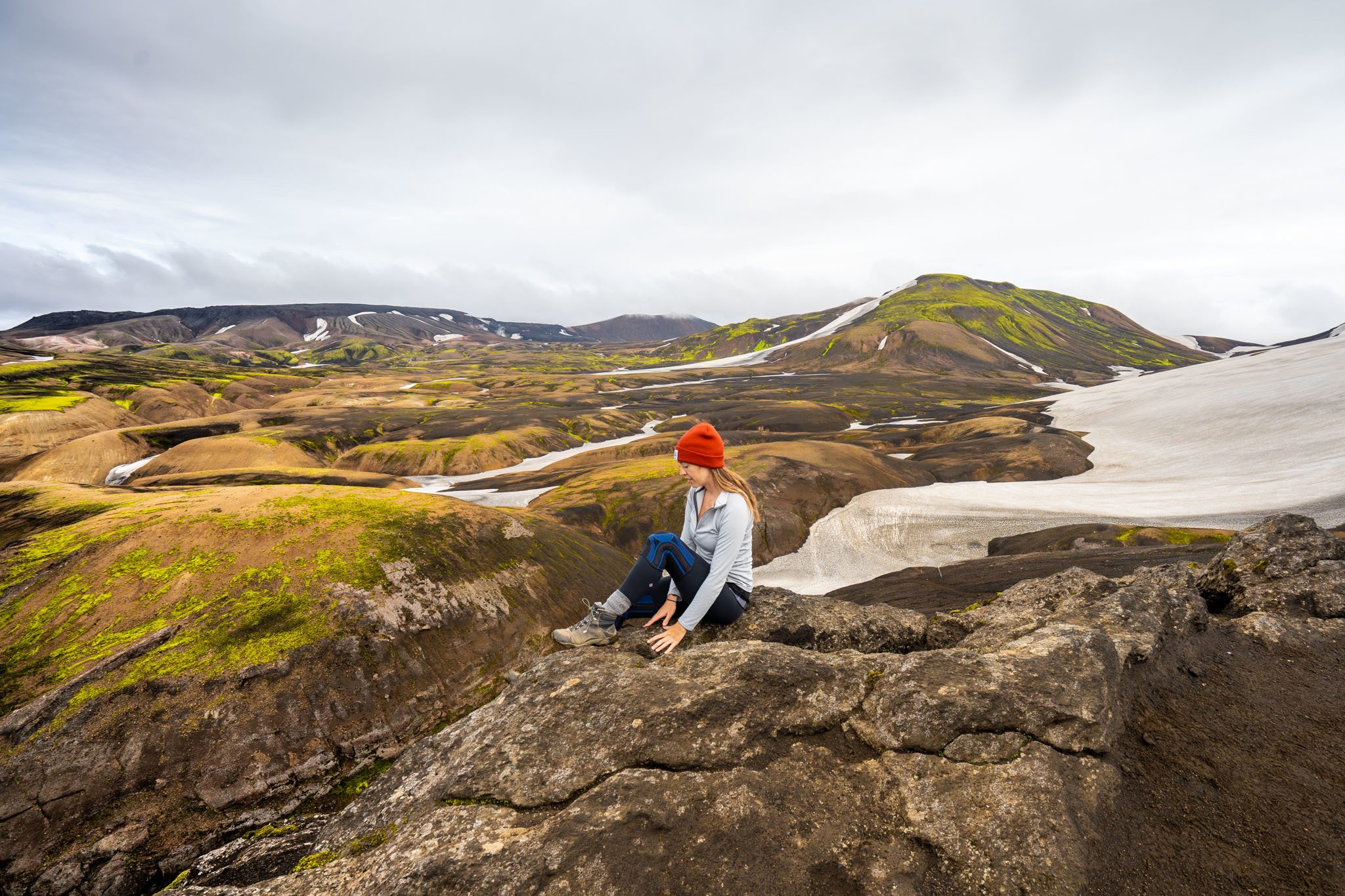 If you're lucky enough to have a clear view, you'll see a glacier to the left and impossibly green peaks in the valley below. It truly looks like you're about to descend into another world. There will be a few ups and downs, some of which are quite steep and on clay, which is why I highly recommend hiking poles, before a final steep downhill to the greenery below – and your first river crossing. Obviously each year is different in terms of water levels, but this was a pretty tame river and an easy one to cross.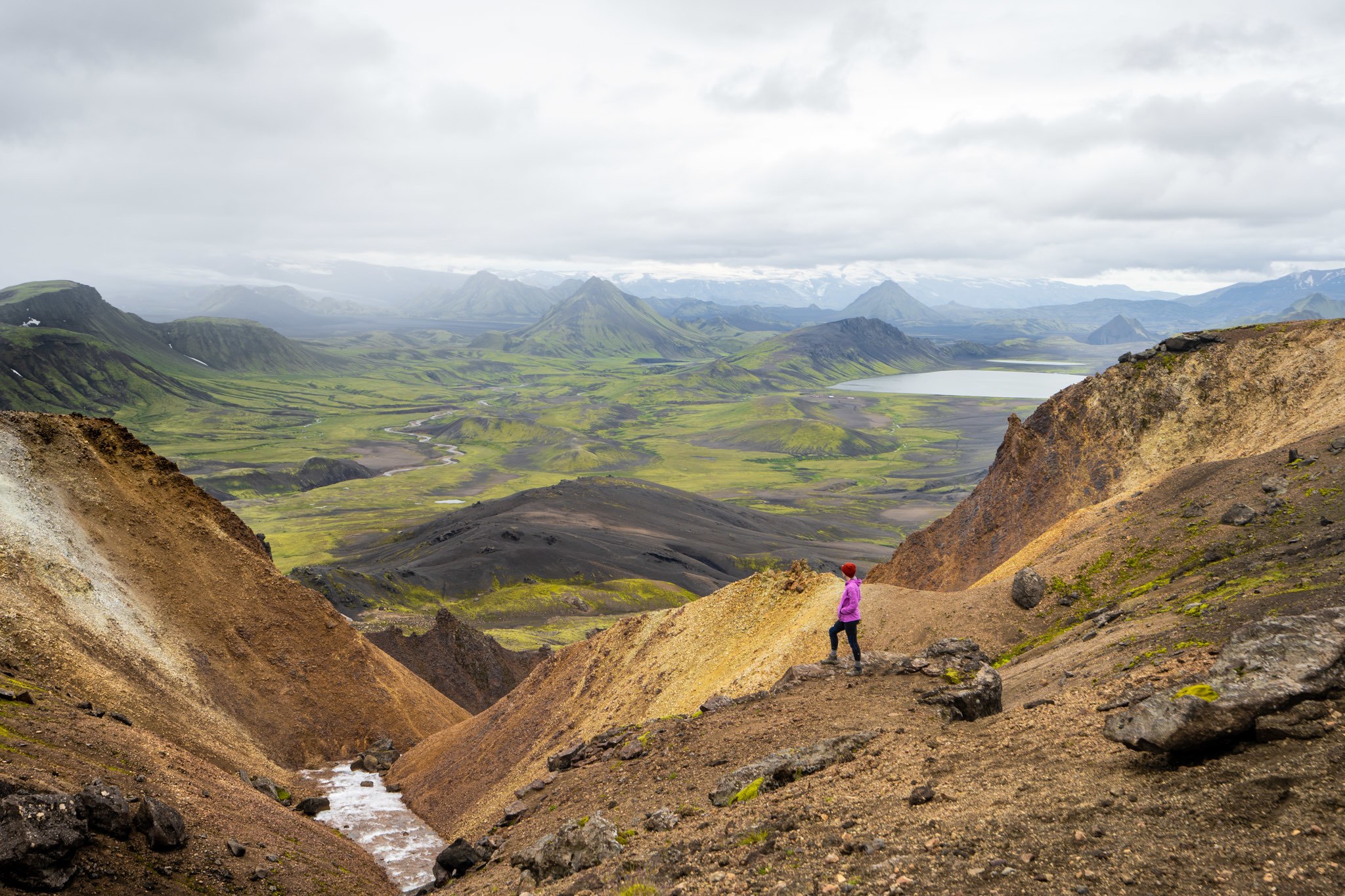 From there, make your way to a more comfortable hut than the previous night (that actually has running water in the bathrooms!) and the potential for hot showers. A few people even went swimming in the lake, which seemed certifiably crazy to me, but to each their own! It would make the hot shower thereafter that much more delightful.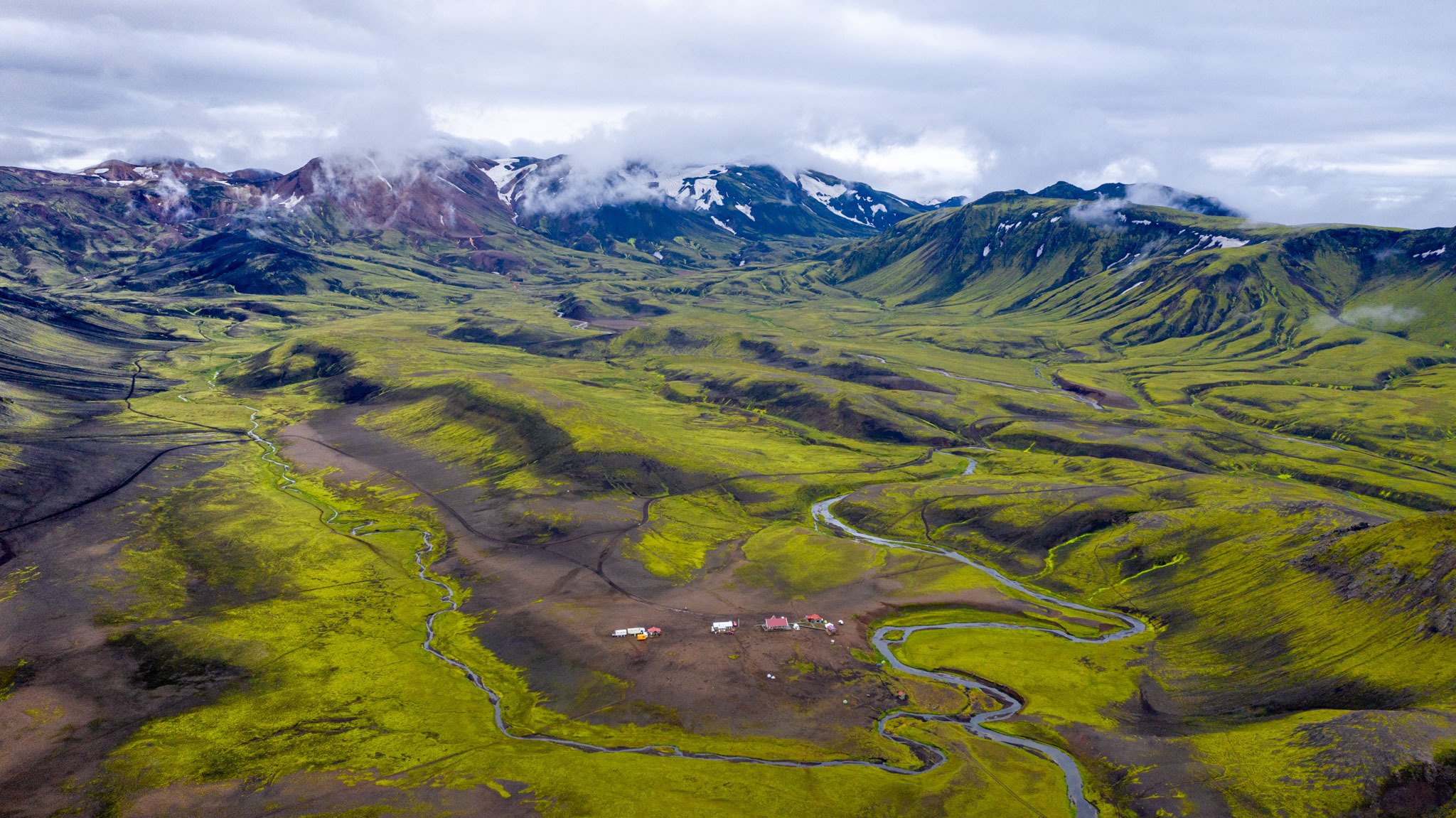 There is a restaurant and bar at this hut, so you can order some food if you please. It's pretty expensive and marginal at best, but it is Iceland after all.
Day Three: Álftavatn to Emstrur (Botnar)
15 km (9.3 miles)
Elevation decrease: 40 m (131 ft)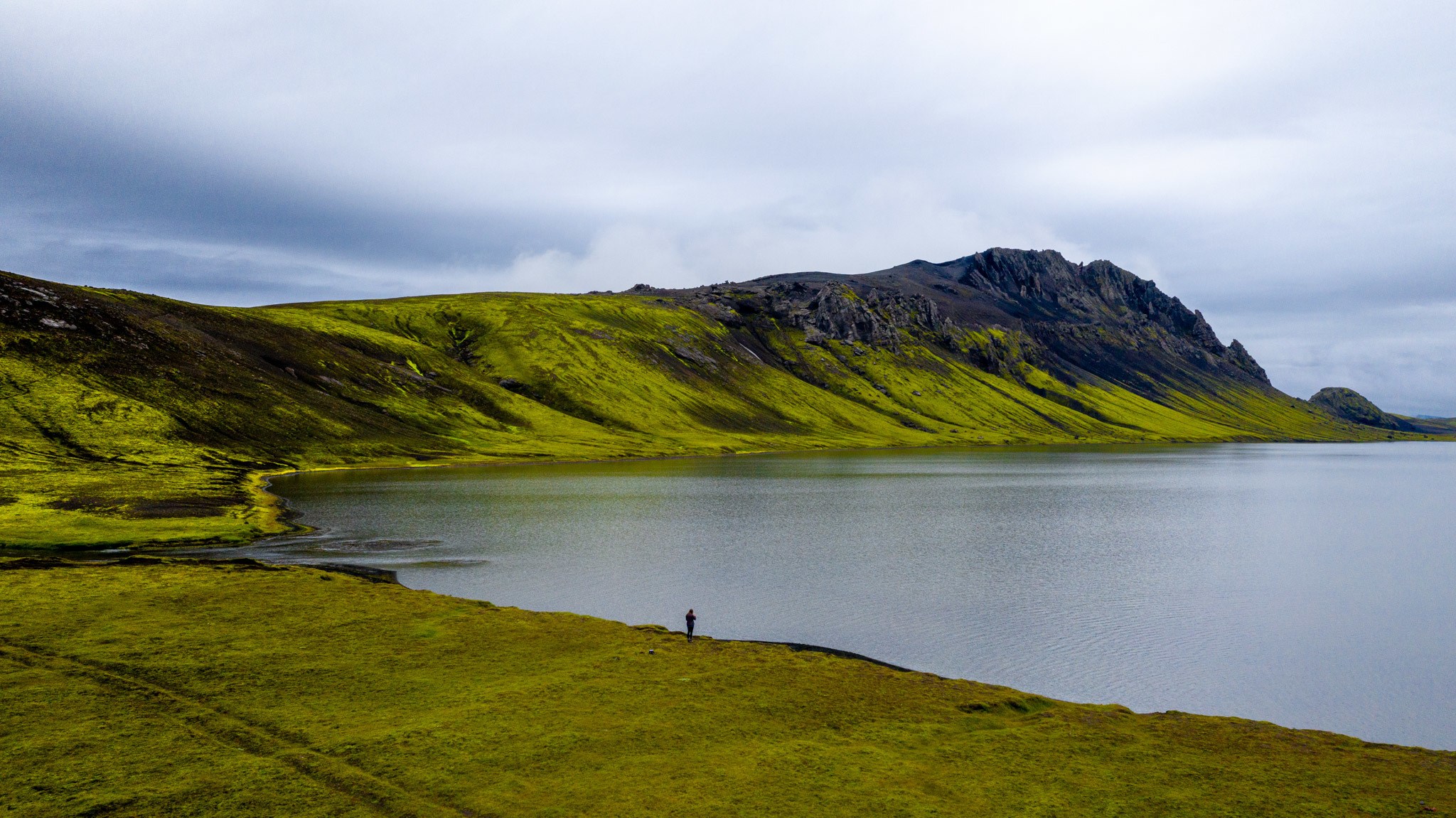 Day three will be a bit longer than the previous two days, but it's also much flatter and without much elevation gain or loss. You'll pass by another hut, a potential alternative to Álftavatn if you can't get into that one, followed by a wider river crossing. This one felt much colder to me than the first one, probably because there was more water and it was longer to get across. Still, it was only about knee height on me and not too difficult to traverse.
By the way, the best way to cross the river is to face the current rather than the typical method of walking straight. Slide each foot side to side, without crossing them over, and don't forget to unclip your backpack from your waist. This is the safest way to cross.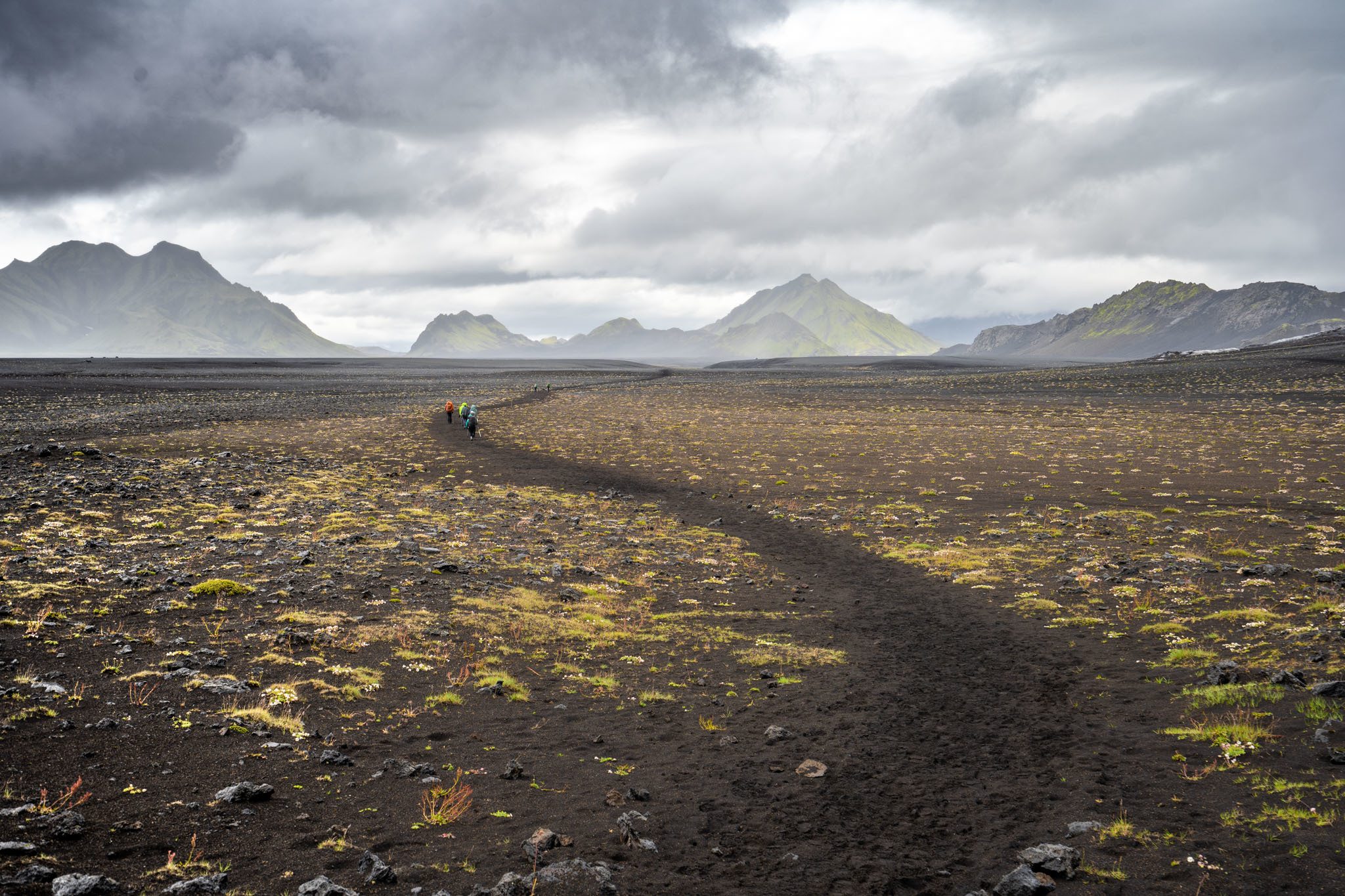 Next, you'll more or less leave the green behind to walk across a volcanic field of pebbles and sand with little wildflowers. The landscape is mostly black with dramatic, jagged mountains. This eventually leads you past some glaciers and to a beautiful glacier view at Botnar, which is where you'll spend the night.
Even though the huts on night one were a bit more basic, this was my least favorite because there were so many people in the room. It's about 25 people to a hut, each with its own kitchen. There are showers available here as well.
Day Four: Emstrur (Botnar) to Þórsmörk
15 km (9.3 miles)
Elevation decrease: 300 m (984 ft)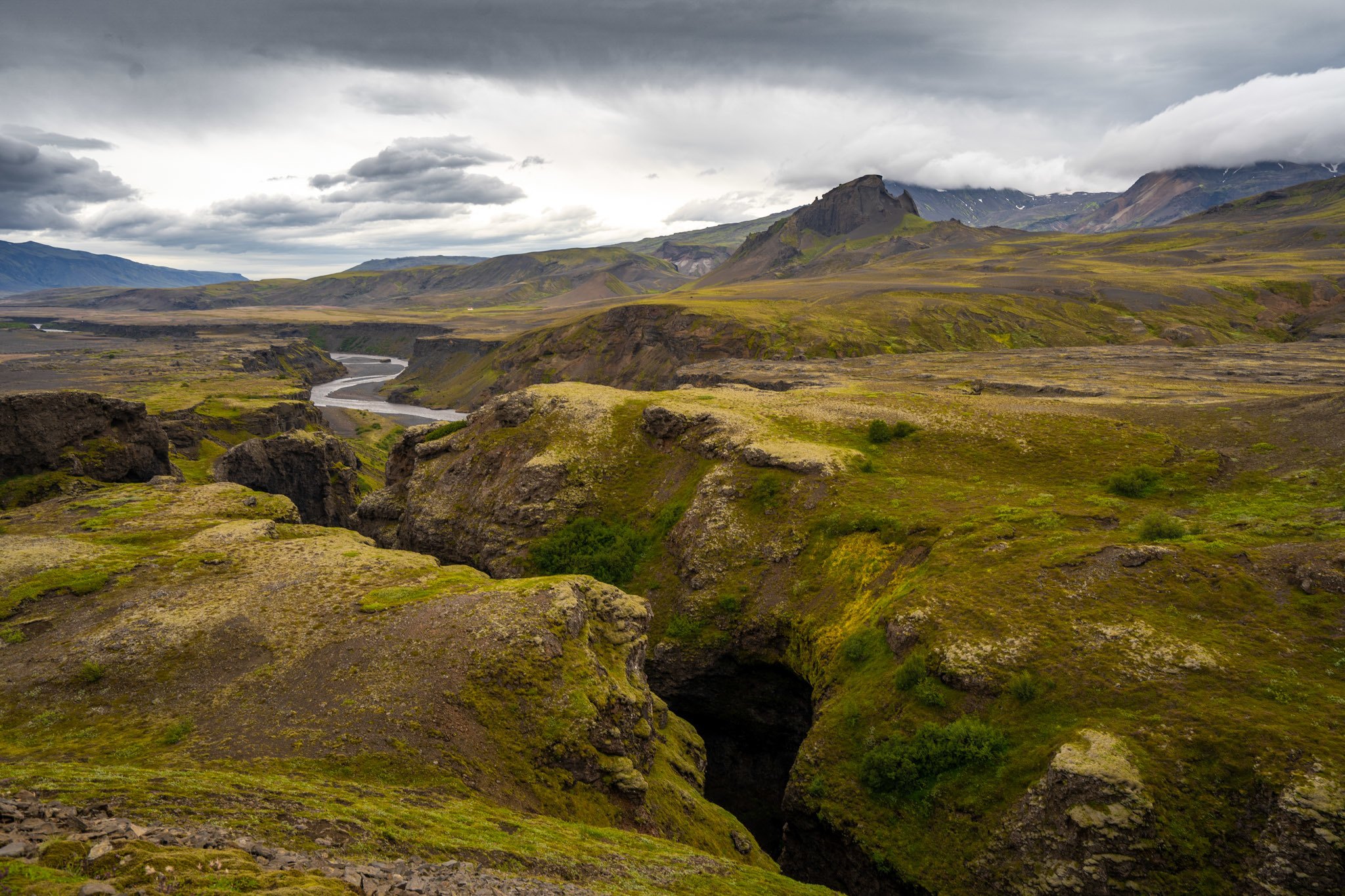 Similar in length to day three, day four will take you closer to the glacier, and then downhill a bit towards the canyon. There's a steep descent down to a bridge where you cross the river, followed by the trail along the canyon edge with beautiful views.
You'll follow this before another big uphill and eventual final river crossing for the Laugavegur trail. This is a pretty big river. Although it's not necessarily deep, it takes a long time to cross because it's quite wide. I recommend watching other people do it first to see where the better spots to cross are.
From here, it'll be another uphill and then eventually a downhill to Þórsmörk. There are three different huts that you can stay at, though the Langidalur is the most common and also where the bus picks up to take you out and back to Reykjavik. Or, as I mentioned earlier in the post, the best possible thing you can do is keep going onward for two more days to Skógar on the Fimmvorduhals trail. This route will take you past over 20 waterfalls and what was, to me, the most beautiful day of the entire trek on day five, with glacial views and water carved canyons all along the way. It's also about a 1000 m gain and then loss, but it didn't feel that intense to me. Be sure to check out my post on that trail to decide if it's for you.
A big factor determining your enjoyment of this trail is going to be something that you can't control – the weather. If you have heavy fog and can't see the views, it's not going to be as exciting, but we found that by leaving earlier in the morning we had a better chance at good weather. It's also imperative that you're prepared for the elements. By having a waterproof jacket and making sure that I was warm enough, I was never that uncomfortable. I also have a separate pair of shoes for crossing rivers so that I didn't have to have wet feet. At least if everything else was soaked, my feet could be warm and dry. I also think staying in a tent would have severely impacted my enjoyment of this trail, considering that they had to deal with crazy strong winds and lots of rain overnight. As much as I love backcountry backpacking, when I know there is a hut nearby, it's harder for me to enjoy it. Keep in mind that severe weather is part of traveling in Iceland, so if you can afford it, you might want to stay in the huts.
All in all the Laugavegur is one of my favorite backpacking trails that I've done. The diversity and beauty blew my mind over and over again.
I hope this resource has helped you to plan out your Laugavegur trail experience with a bit more info. Stay safe, have a blast, and let me know how it goes for you.
Read Next: