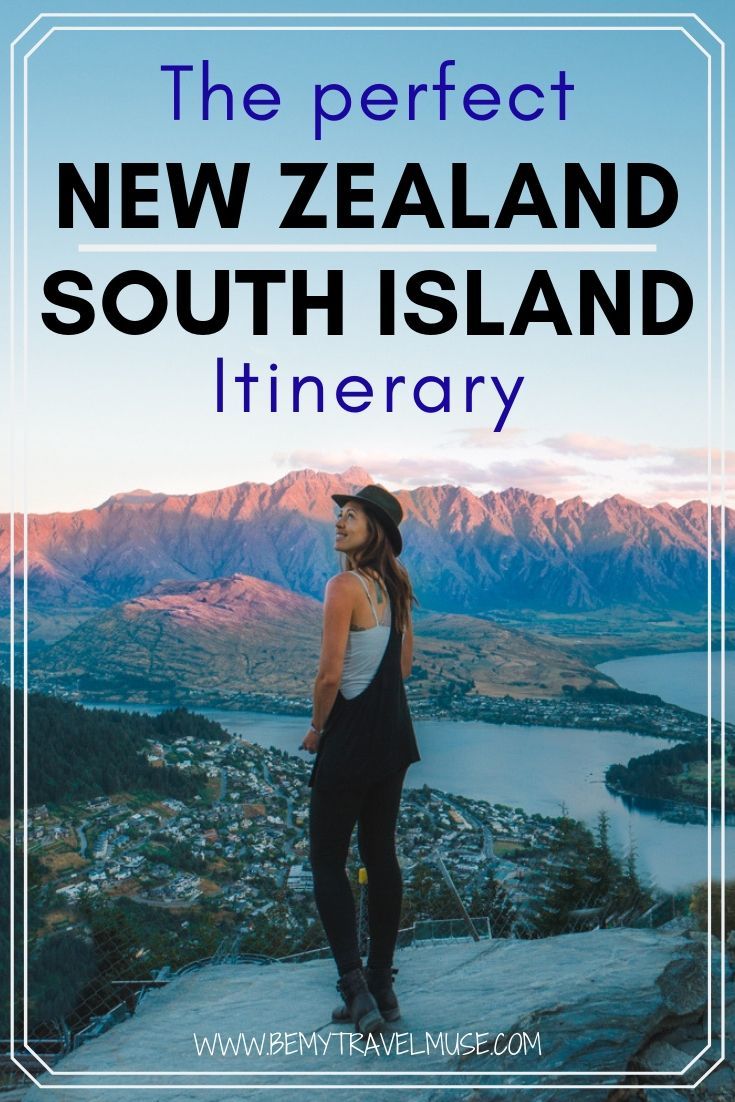 If you're craving gorgeous hikes, numerous lakes of different hues of blue from baby to deep sapphire, friendly people and rugged coastline, then you've come to the right place. New Zealand's South Island has it all and more.
The thing is, once you begin to do your research, you may come to realize it's a lot bigger than you anticipated. That always happens, no?
Still, there's a lot you can see in a short amount of time and still get the best of the best into your trip. This itinerary can make the planning so much easier for you.
The itinerary begins in Christchurch but you can easily alter it if needed to begin and end in Queenstown. Additionally, this is based on a two-week trip, though there are some additional suggestions at the end if you have more time. You can also add more days and relax it a bit and allow for rain and windy weather (which is guaranteed to happen at some point) if you have a bit more time. Without further ado here's the ultimate New Zealand South Island Itinerary: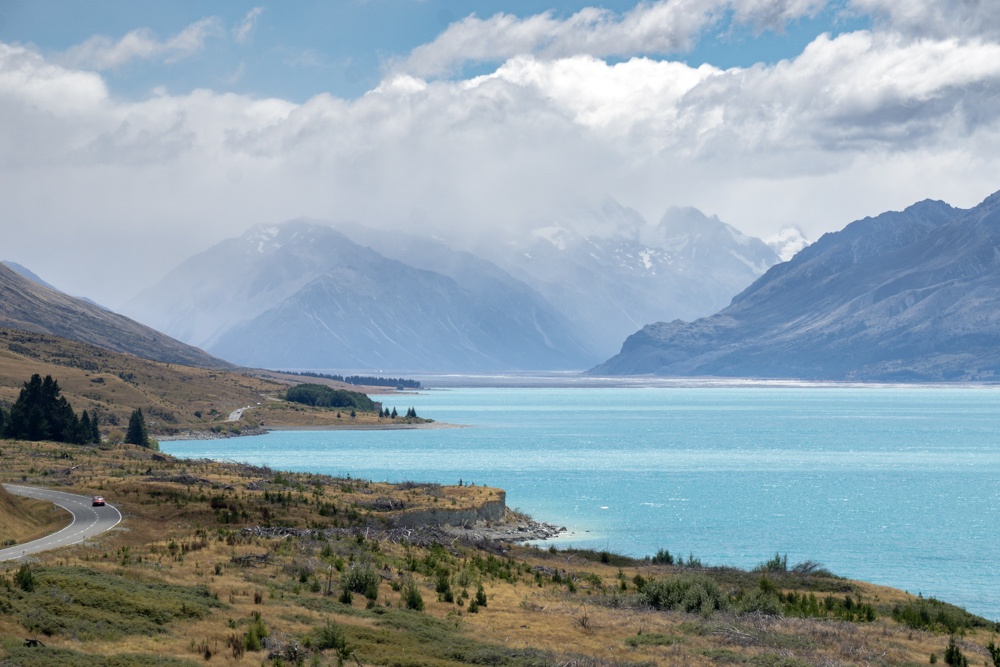 Christchurch
Most major flights will take you into Christchurch as a beginning point. I didn't spend a ton of time there and viewed it more as a transit point, though there are several things worth doing before you make your way onwards:
The Botanic Garden: Christchurch has a huge park with big, old trees from around the world, including a California Redwood, and lots of hydrangeas, dahlias, and roses. While recovering from what is most likely a long flight, it's the perfect activity to keep you awake without requiring too much exertion.
The Fo Guang Shan Buddhist temple is nearby and has some of the best vegetarian and vegan food in town. It's also the perfect vibe if you need a little R&R after a long flight.
Stay: The Parkview is close to the park, has free parking, and is close to the temple mentioned, and an organic grocery store.
Kurow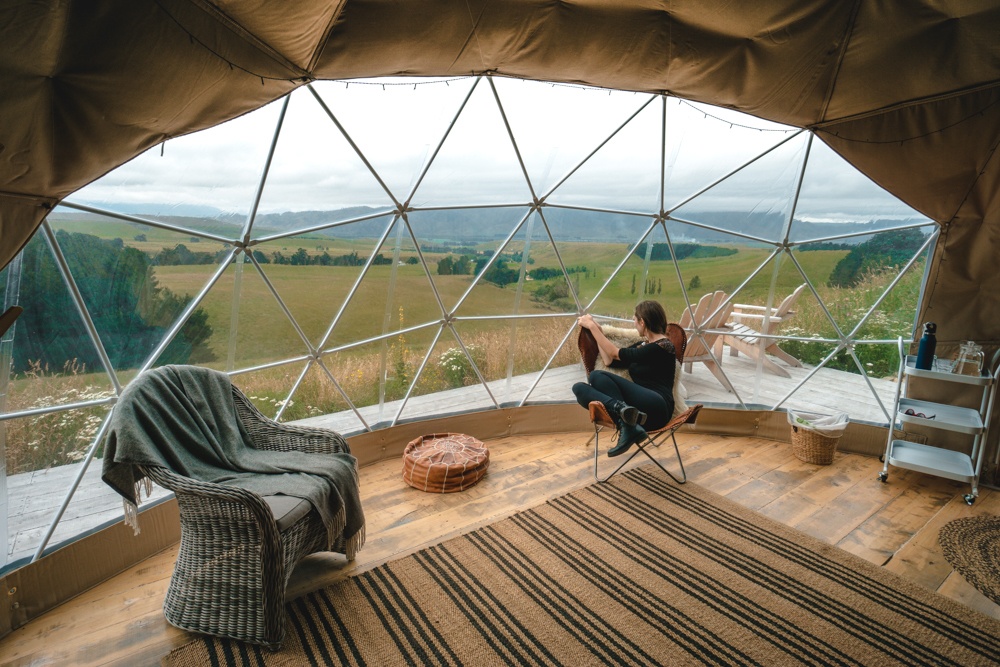 Valley Views is a hidden spot that most tourists would probably pass by if they weren't in the know. It's adorable and the perfect stop to break up the drive between Christchurch and Mt. Cook. I felt like I was in the Shire staying in the adorable domes.
The main building is where the showers, communal kitchen, and bathrooms are located. It's all off the grid, running on solar power and with sustainability in mind. They even feed the green kitchen scraps to their chickens!
My favorite part was the outdoor bathtubs, each underneath the pine trees and with a view of the mountains. I'm a big fan of showers and tubs with a view and can't remember a time when I could look up into pines and hear the birds while bathing.
Though it's a little pricey at over $300 NZD/night, it's a nice experience if it's within your budget range. You can book it here.
You could also bypass this altogether and go the Lake Tekapo route instead.
Lake Tekapo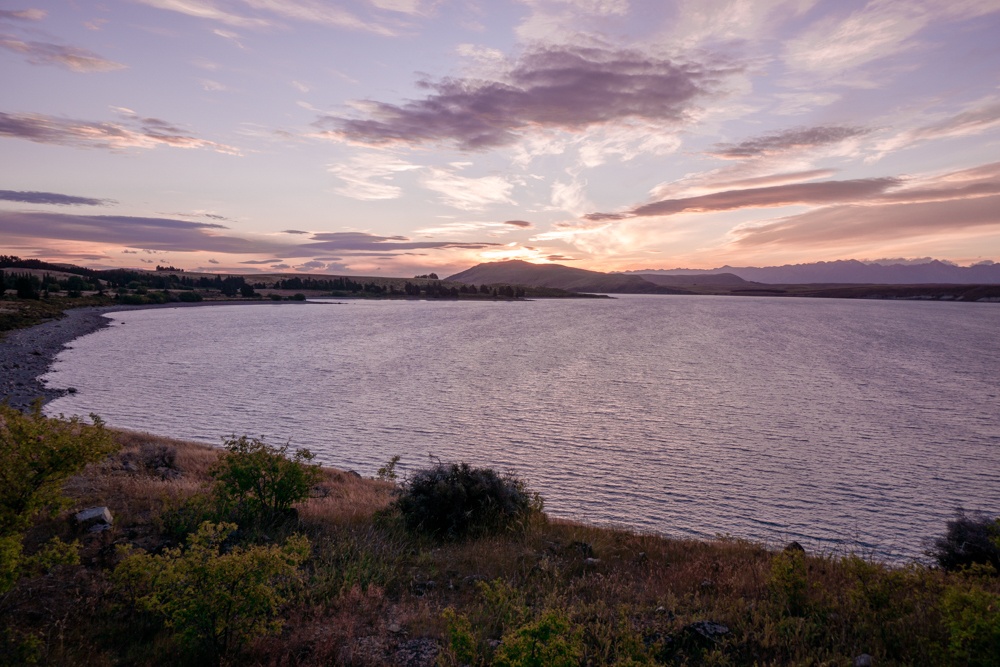 If you've seen photos of the incredible lupin on New Zealand's South Island chances are they were taken at Lake Tekapo. It's a gorgeous lake with a nice view on the other side of Mt. Cook, however it lacks the same magic if you go outside of lupin season (which is from the end of November until the end of December). It's still a lovely lake, but you could probably prioritize an extra day elsewhere if you prefer.
Stay: I stayed at an Airbnb again (get a discount here).
Mt. Cook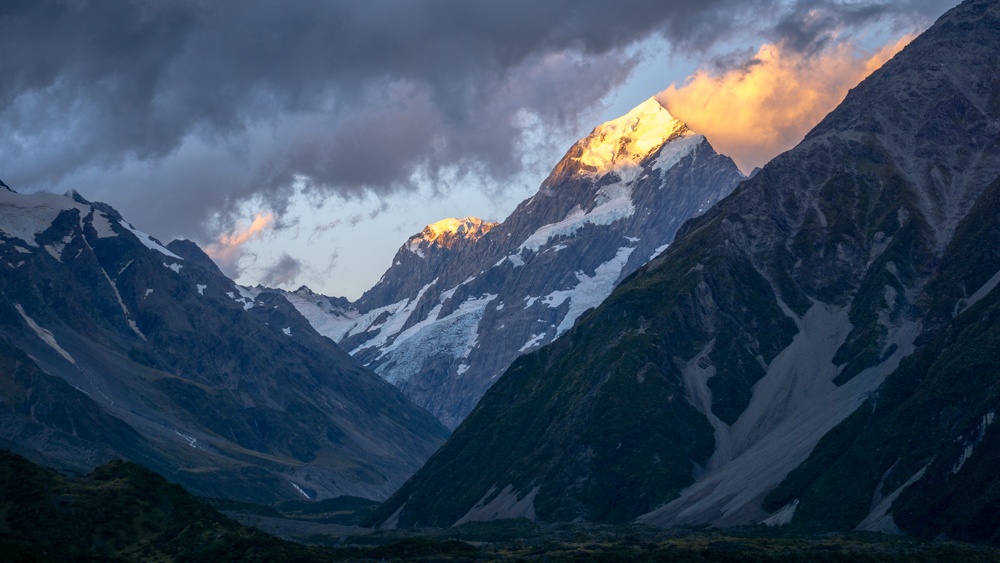 Once again, you'll be retracing your steps back towards Wanaka to make your way to Mt. Cook. It would be a long drive to do it all in one go, so it might be worth stopping in Wanaka again to break it up. It's crazy because as the crow flies it looks like it would be right next door, if only there weren't a huge mountain range in the way!
The drive is scenic, along that same gorgeous west coast and then up and along Lake Pukaki. On a clear day it's worth stopping at the viewpoint and walking down to the shore to marvel at the baby blue water.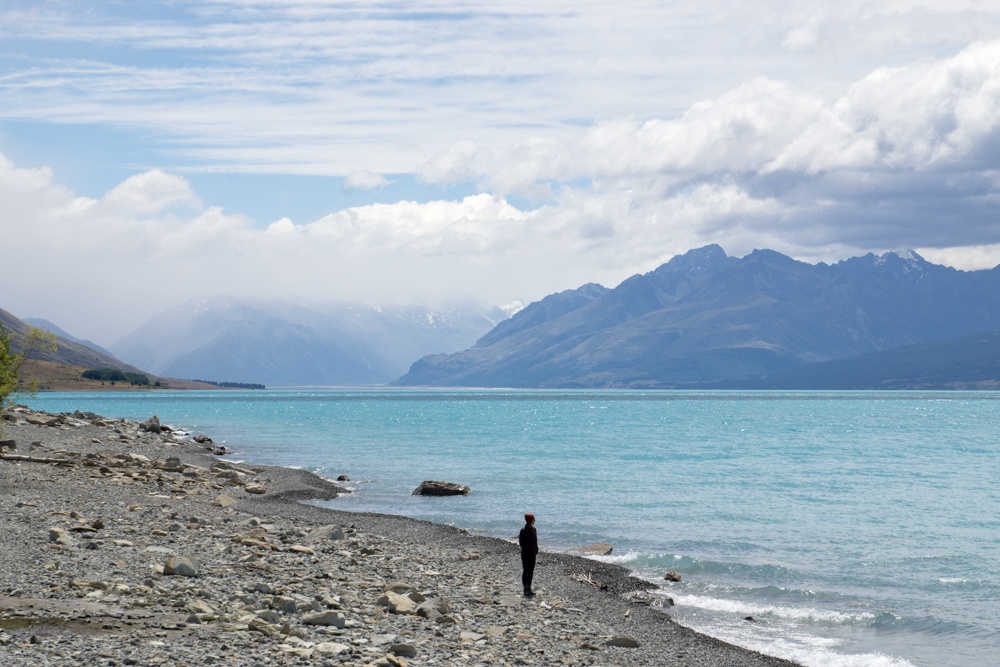 Here are some great hikes for the area, keeping in mind that Mt. Cook experiences a lot of rain and crazy wind. If you can time this towards the beginning or end of your trip coming or going from Christchurch, look ahead of time to see if you can possibly get some clear weather:
Mueller Hut: I wanted to do this one so badly! However the winds were up to 100km/hour at the top on the day that I could go, so that ruled it out. That said it's a challenging, exposed, steep hike that can be done in one day or as an overnight staying at the hut. The ladder would give you epic sunrise and sunset views. You'll need to book a spot ahead of time, which you can do here.
Hooker Valley: This is a nice, easy walk that is almost entirely flat leading you through the valley, over several bridges, and to a glacial lake with a few icebergs floating in it. It's a nice rest from the otherwise steep hikes on this list, and has incredible views!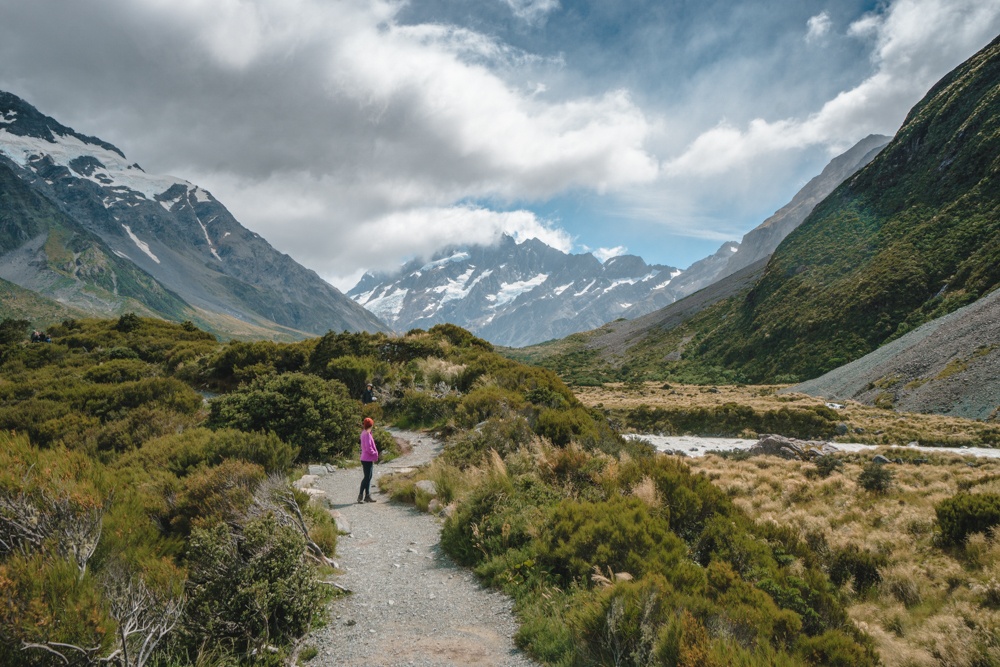 Tasman Glacier: An even easier and shorter walk than the Hooker Valley Track, you honestly might as well tack this one on. It only takes about an hour, or less, round trip and has a great view at the end.
Stay: I stayed at both the Hermitage Hotel and the Aoraki Court Motel and let me just tell you the Aoraki Court Motel is a MUCH better value. The rooms are the same quality, IMO, and you get a kitchen and larger overall suite. It does lack the view that the higher end rooms at the Hermitage have, though.
Wanaka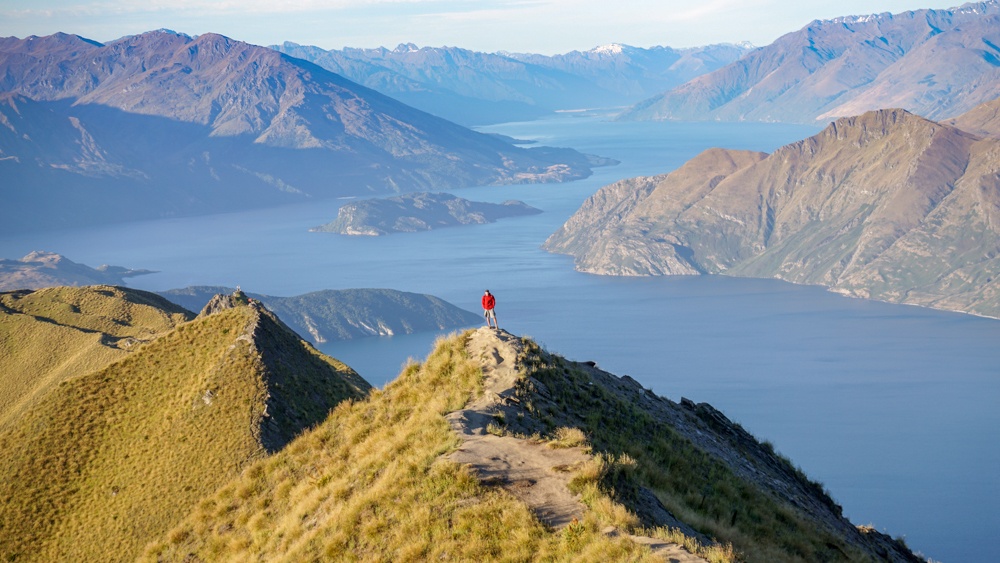 Wanaka was one of my favorite stops thanks to the great hiking in the area. You're spoiled for choice of lakes, lookout points, and variety of hiking that can be long or short, challenging or easy depending on what you want. These were my favorites:
Roy's Peak: This is the most famous hike in Wanaka and the views speak for themselves. That said, it's easily the most popular hike in the area and you'll be waiting for a turn at the viewpoint for a photo. The queues can get quite long in the summertime, and even at sunrise. I had a short wait when I went at golden hour, and had the top almost to myself at sunset. In the fall or winter months, you can probably get it all to yourself as well. It's a long uphill climb but it's worth it.
Isthmus Peak: This is a nice alternative to Roy's if you'd rather hike without crowds. It's a similarly difficult and long uphill climb, and with similarly rewarding views. If you're trying to pick between the two, I did both and wrote a full review here to help you choose.
Iron Mountain: This hike in town is perfect for the afternoon after you drive in. It is a bit of an uphill trek but nothing like the previous two hikes I mentioned. You'll get a nice view of Wanaka and a chance to train for one of the tougher hikes should you choose to do one (and you should!).
Stay: I actually stayed at an Airbnb (get a discount here) in Albert Town and thought it was perfect. It's only a few minutes' drive from Wanaka and is a bit calmer and quieter.
Queenstown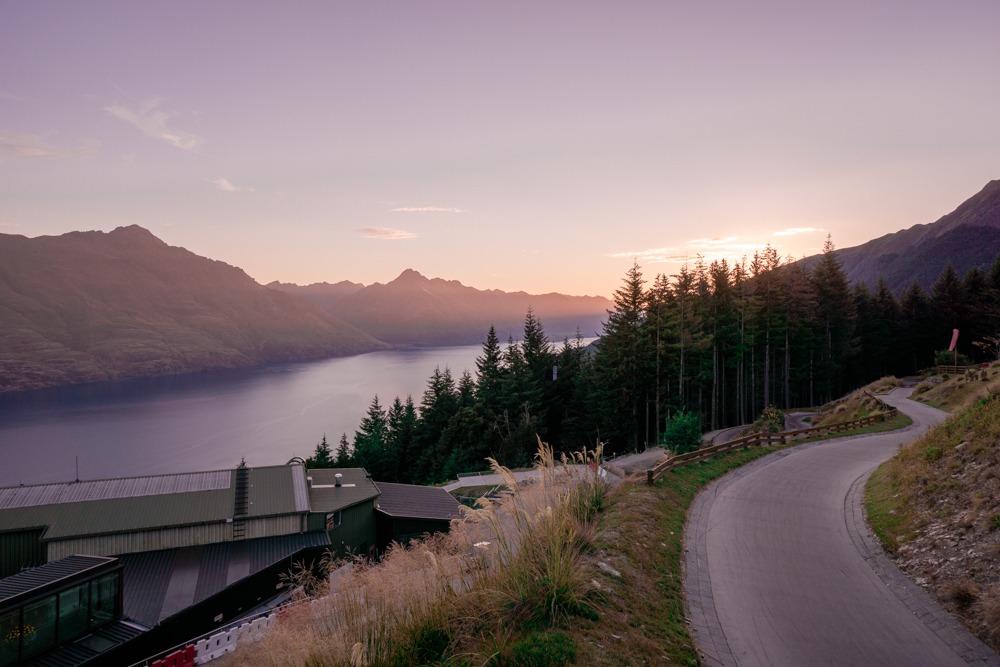 You'll notice upon arriving in Queenstown that there's a lot more of a party and adventure vibe than the previous spots on this itinerary. It's a ski town in the winter and a spot for bungee jumping, skydiving, and speed boating as well. There are lots of bars and breweries in town and hostels as well. I only stayed for a night because I prefer quieter places, but still enjoyed the gondola (figured my knees needed a break after the hiking in Wanaka) and views at sunset.
Adventurous Activities: If you're after some adrenaline try the jet boat adventure, canyoning, skydiving, ziplining, and/or bungee jumping, which you can access at the top of the gondola.
Gondola + Ben Lomond: You can take the gondola up to the top for sunset, or take it a step further and hike to the Ben Lomond peak. If I'd been feeling up to it I would have done this for sure. I heard great things about it. Plus you'd get a more private and unobstructed sunset.
Stay: I stayed at an Airbnb again (get a discount here) with a lovely view of the lake and easy access to the water. I recommend looking for something with a view!
Milford Sound via Te Anau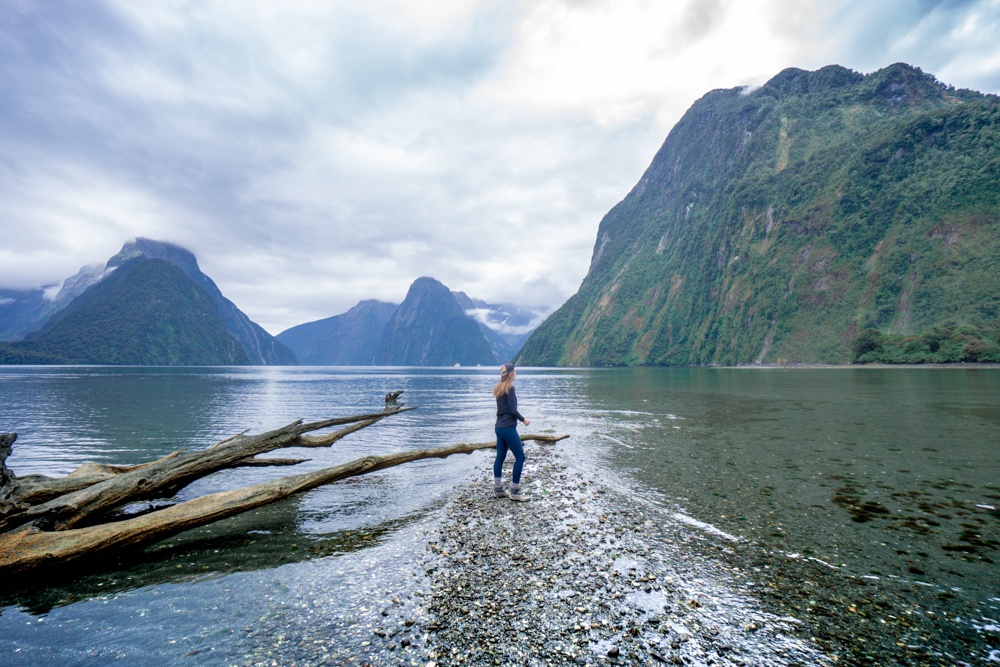 This will be a significant deviation from the route that will require you to backtrack later, but it's worth it. Milford Sound and Fiordland National Park are gorgeous and the Gertrude Saddle hike is worth the trek out to Te Anau.
Alternatively, if you'd really rather not make the long drive, you can take a bus + boat tour from Queenstown (however keep in mind it's 4 hours each way in a bus in one day) or take a helicopter + boat ride which, on a clear day, is probably more than worth the money.
Since I wanted to hike instead of boat, I drove to Te Anau, stayed for a couple of nights, and drove out to the end of the road in Milford Sound and then retraced my steps a bit to do the Gertrude Saddle track.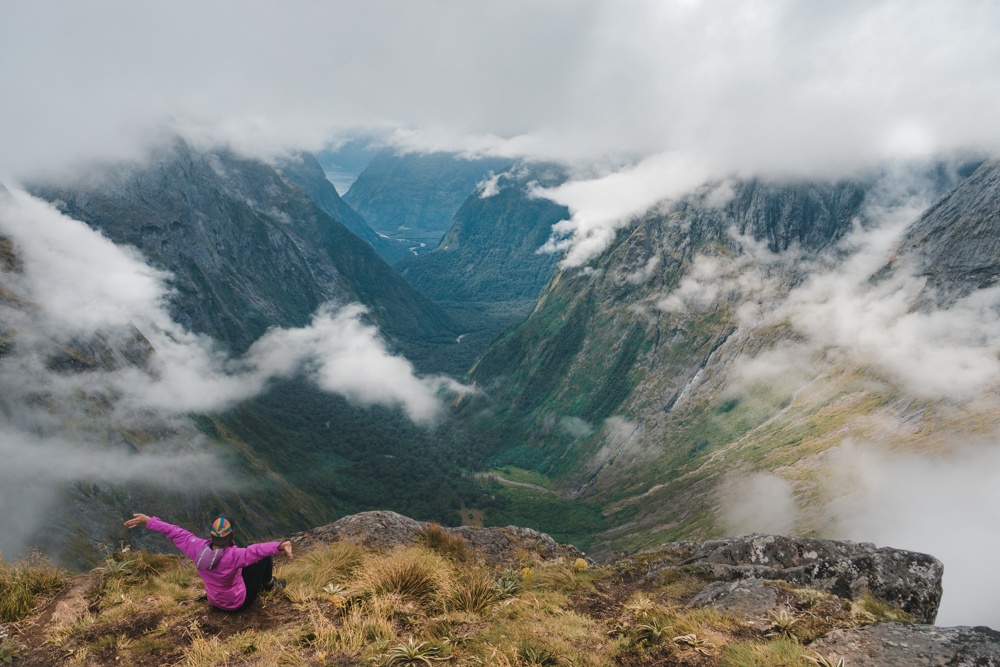 Here are a few more options and more details on Gertrude Saddle:
Key Summit or Lake Marian: If it's rainy or too misty to do Gertrude Saddle, check out one of these for beautiful scenery and views.
Take just the boat tour: You can drive yourself to Milford Sound, stopping whenever you please, and take the boat tour on your own.
Gertrude Saddle: This is a steep hike that would be sketchy during bad weather. It also requires some route finding but if you're feeling confident, it's one of the best day hikes I've done. Read more here.
Stay: I stayed at an Airbnb again (get a discount here) with a full kitchen. I love doing this in New Zealand!
Franz Josef and Fox Glaciers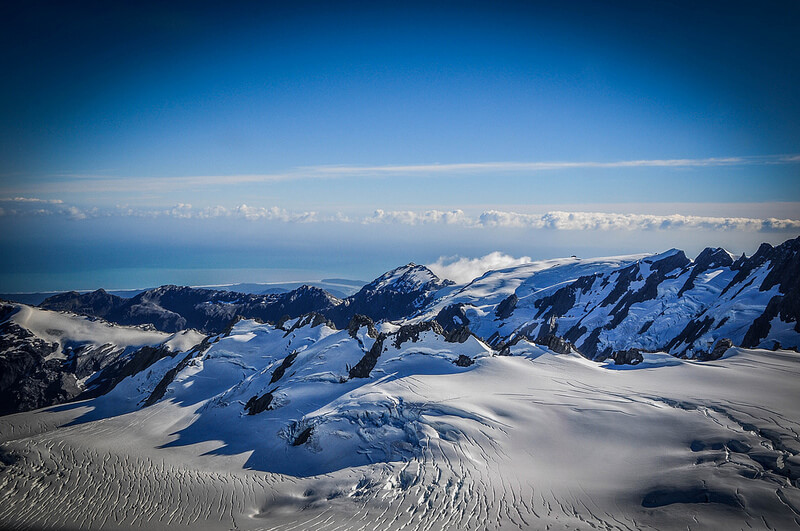 Like many places in New Zealand, this isn't going to be quick or easy to get to, and you'll have to retrace your steps all the way back past Wanaka (perhaps stop there for another hike) and continue upwards up the west coast. That said, it's a gorgeous drive in a more rural and lush part of the island and the glaciers are incredible to see!
Helicopter ride and snow landing: At some point while you're in New Zealand, you've just got to break open your wallet and do a helicopter ride. You see so much more from up there and you'll get a chance to get on the glacier without mountaineering your way up there. I did this last time I visited New Zealand and it was breathtaking. You can book here.
Go for a hike: There are SO MANY hikes to choose from of varying lengths and difficulty that you could stay for weeks and not run out. Check out the listing here and pick your favorite.
Stay: Book a hotel here.
Here's the map. As you can see, New Zealand's roads don't exactly make for the most logical driving directions, but the drives are so lovely, it's hard to complain. Scroll down for some variations and add-ins:
Bonus Trips:
Though the suggestions above are what I personally tried, there are so many variations that you can do. The following are a few places that I'd love to check out and would recommend you try to fit in if you have more time or end up cutting out one of the aforementioned items on the itinerary:
Marlborough Sounds: If you decide to keep heading north after Fox Glacier, it'll be a long drive but you'll be rewarded with the amazing Marlborough Sounds. They do dolphin swims and boat cruises there, though my sights would be set on the hiking trails which take you well over the sounds for amazing sunset and sunrise views.
Nugget Point: If you decide to head south then back up the east coast after Te Anau, not only does the drive look amazing, but you'll get to stop by Nugget Point, which as a photographer was one of my dream spots. If you're super into photography look it up and see if it's worth the stop for you!
Dunedin: Dunedin has cultural centers, a rugged coastline with the arches of Tunnel Beach, and the Otago Peninsula where you can have penguin sightings. It's a university town that I haven't checked out yet but heard good things about.
Getting Around: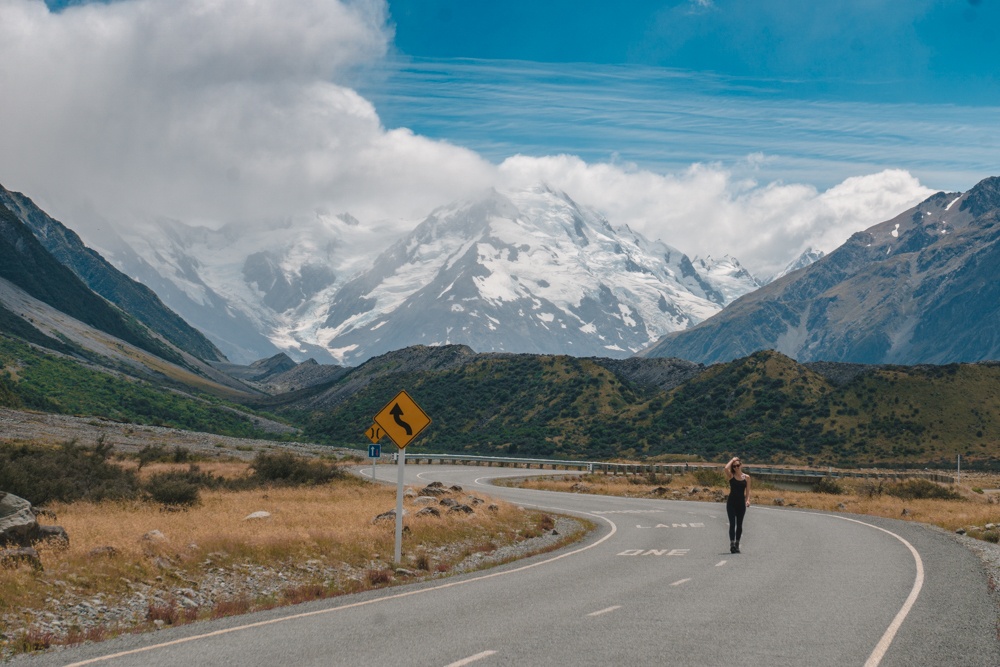 Most of the streets in New Zealand are just two lanes and as long as you're comfortable with driving on the lefthand side (which is easy to get pretty quickly, at least for me), it's pretty easy, straightforward driving. I recommend picking up a rental car at the airport, or going for a camper van for even more ease and flexibility.
I hope that helps to narrow down some of the choices. When it came to planning out a New Zealand trip, I quickly realized it's a lot bigger than it seems and there's so much more to see than can fit into a few weeks, but it's a big world, we only have so much time, and this itinerary helps to maximize it. These are some highlights you're sure to remember and enjoy, and that photograph beautifully.
Happy travels!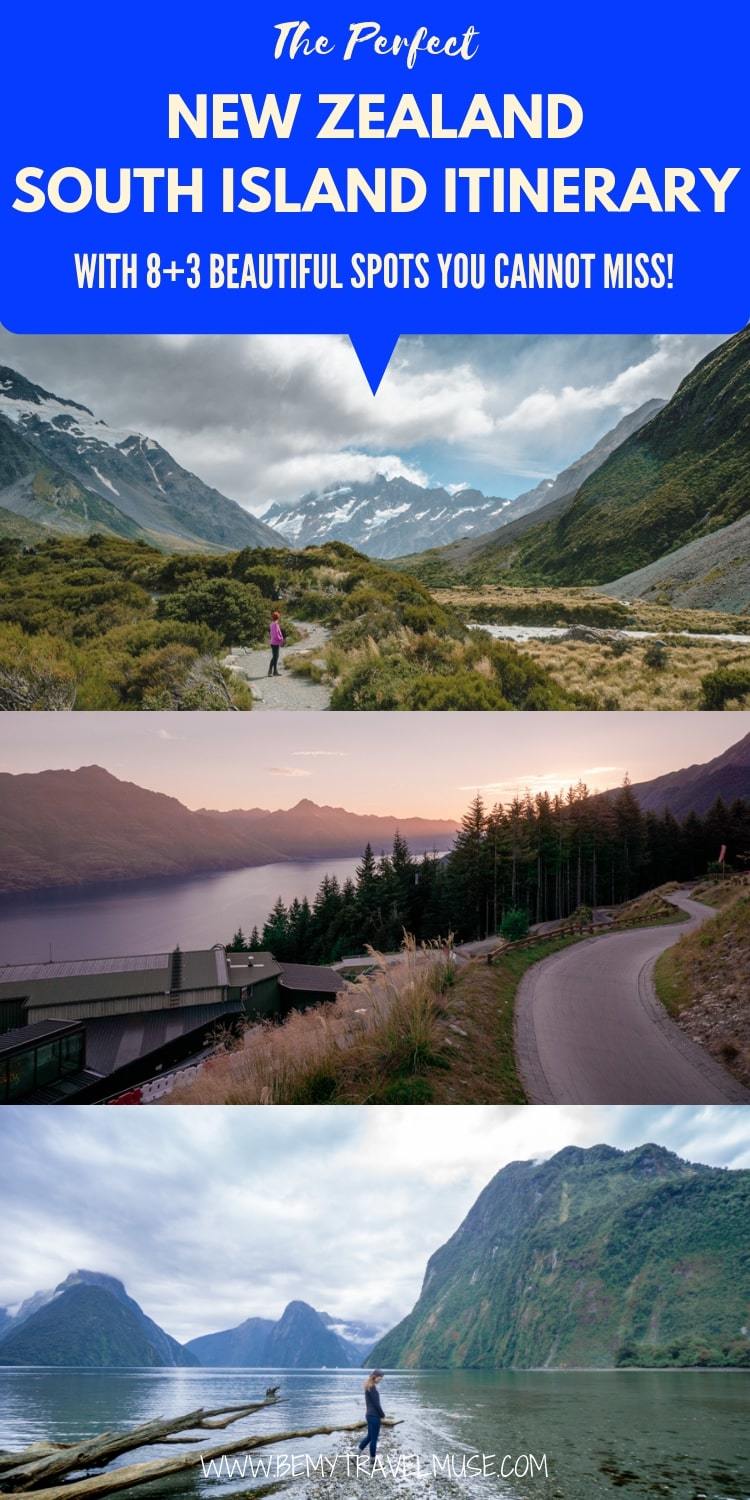 READ NEXT:
*Some links in this post are affiliate links. Any booking you make supports this site at no extra cost whatsoever to you. I only recommend companies I've actually used and places I've stayed. Thanks for supporting!