For a few years running now, I've explored Patagonia slowly, switching between Chile and Argentina and making hiking my main activity.
It was mind-blowing. I've never seen so many glaciers, waterfalls, and rainbows all in one place. It's rugged and tough landscape that tested my limits but was so easy to fall in love with at the same time.
I did several treks, some were just one day and others spanned several days or even more than a week. With the right gear and knowledge, Patagonia can be enjoyable despite the elements and without many mishaps.
Here's what I learned about trekking and camping in Patagonia:
How to Prepare for Trekking in Patagonia
1. You seriously do need hiking boots
I've trekked in Nepal, China, and all over the States in running shoes and thought they were great. The biggest difference is in Patagonia the trail is often super muddy, very rocky, or totally wet. Sometimes there isn't really even a trail and you have to go by GPS.
There were SO many times when I was really glad to have waterproof shoes that I could just trek through the mud with and not care. They were one of the most important things to bring along. Here are the ones I recommend.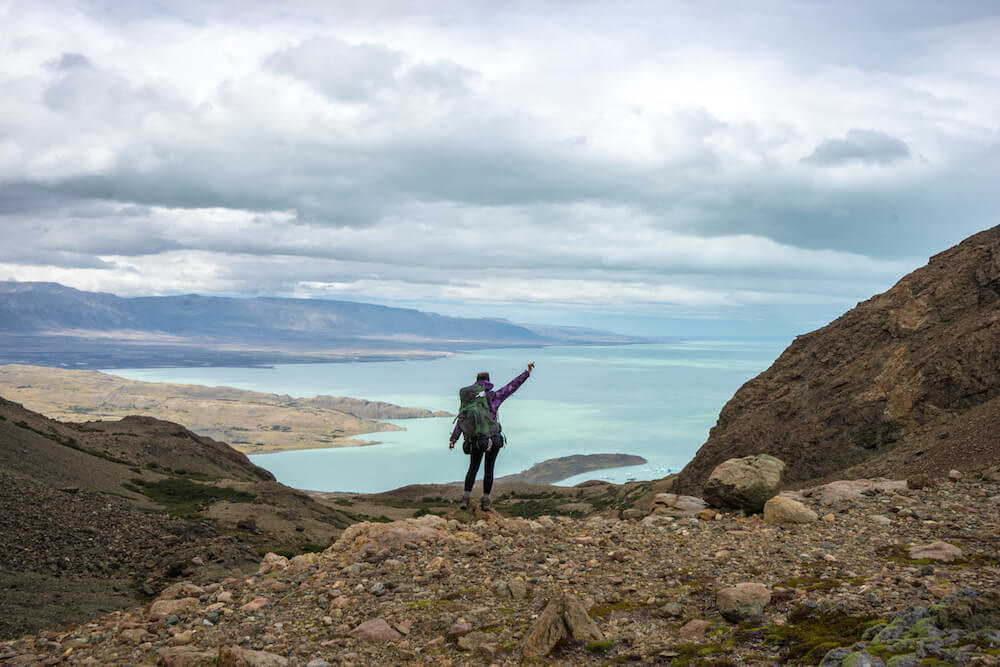 2. … and thick socks
The easiest way to avoid blisters is to reduce friction. That meant wearing thick socks and tying my boots very snugly when I trekked. When I did develop blisters, it really helped to keep my shoes tight and my socks thick to keep them from getting bigger or worse, tearing.
3. Bring Compeed
Compeed is so much better than Band Aids! These blister bandages are the best I've found, and they stay on for several days as well. You can get them at your local pharmacy, or a similar product at REI. Bring them with you as they may not be possible to replace everywhere in Patagonia (I actually never found them when I looked for them there).
4. Bring the right clothing with you
You can experience all kinds of different weather within the span of a few hours in Patagonia. I trekked through tons of rain, very heavy winds, and even snow over the two months that I was there. It can feel quite extreme at first, but in time you do get used to it and it even becomes part of the enjoyment of Patagonia.
However, it's only fun if you have warm, waterproof clothing. Here's my packing list for Patagonia to help!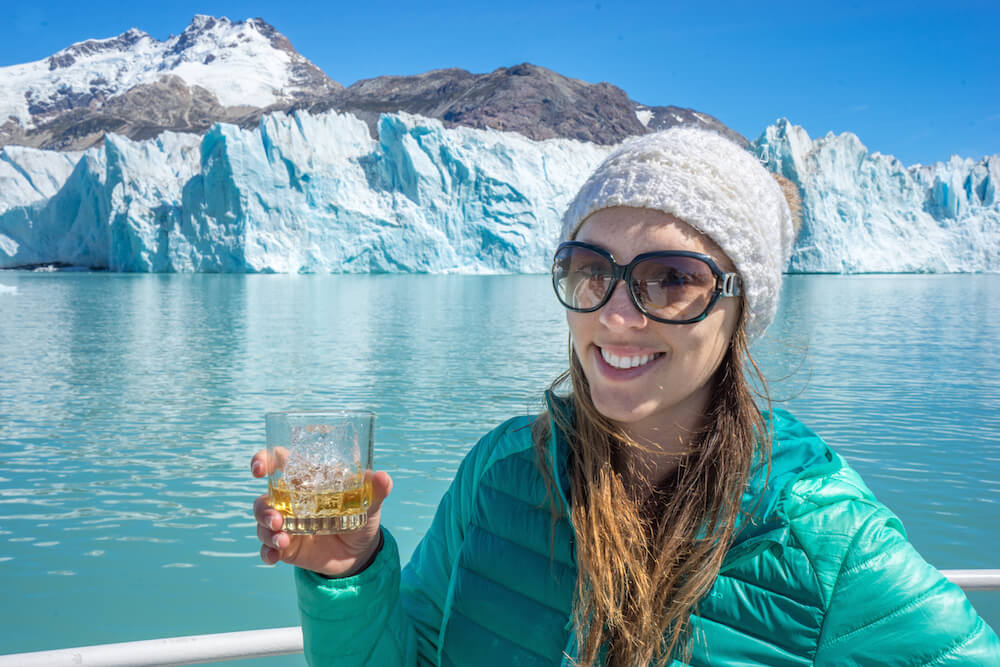 5. Get a tent suited for Patagonian weather
A normal tent isn't going to be a good choice in Patagonia, where winds can reach upwards of 100km/hour. That is some serious wind and the shape of the tent, plus strength of the tent poles, both matter a lot so that nothing breaks while you're midway through a trek.
I used an MSR tent that was resilient and super light to carry at the same time. The shape is designed for wind and the rain jacket kept us dry, except for one occasion when the rain was so heavy that everyone woke up wet (it does happen).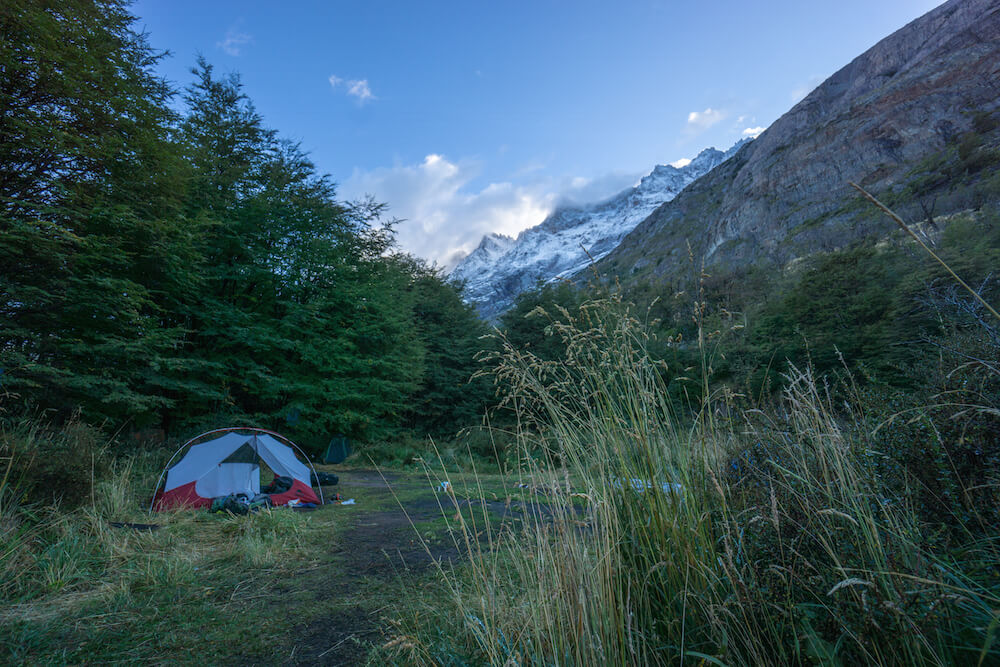 6. For the love of God, do NOT buy your camping gear in Argentina
In the past I've bought a bunch of my camping equipment in the local country before the trek. It saved me a lot of money and the trouble of carrying the equipment around. This is not true at all in Argentina. Seriously do not buy any of your gear there!
I saw a North Face bag on sale for $300 that would have been $50 back home. Absolutely everything was overpriced in every single store I checked. This is likely even more exuberant now that the country's economy has plummeted. Just bring it from home, seriously.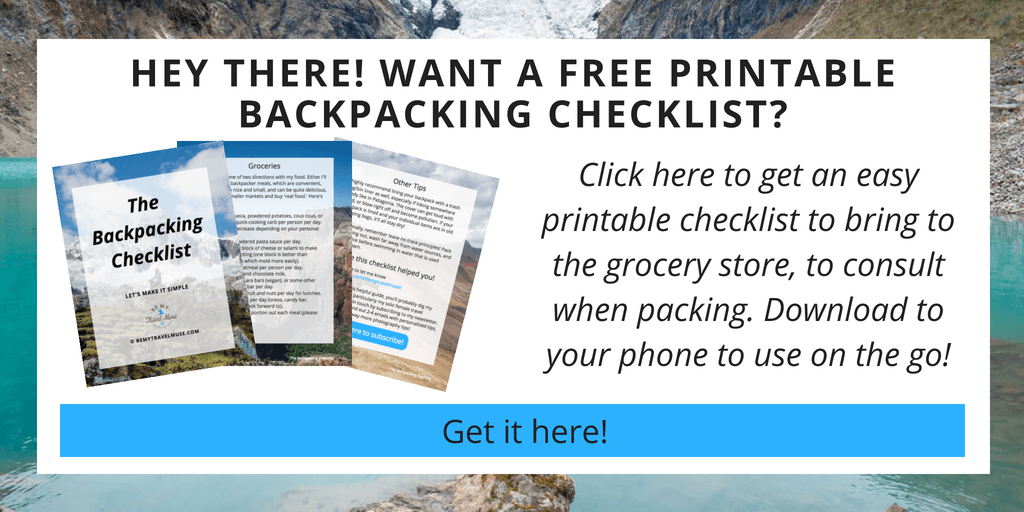 7. But honestly, Chile isn't that much better
There were a few things that I had to buy in Chile, like my sleeping bag and hiking poles. The price was closer to what I would pay back home, but I think I could have saved more by ordering stuff on REI and just bringing it with me.
8. Get lightweight cooking gear
Trekking with pots and pans is not a possibility for me. It's just way too much weight and when you have to carry a week's worth of food on your back, it's already heavy so why make it worse?
I found this foldable pot that doubles as a pasta strainer and thought it was great. It's super light and the quality is good. I used it for cooking everything I ate.
9. Hiking sticks are here to help you
Some people think hiking poles make them look dorky. I don't care. I like the idea of protecting my knees and redistributing the weight. Plus, hiking poles saved me from face-planting into rocks more than once when wind gusts caught me by surprise.
It's also good to have poles that aren't super heavy, and as they get lighter, the cost usually goes up. Here's a post to help you pick which trekking poles are best.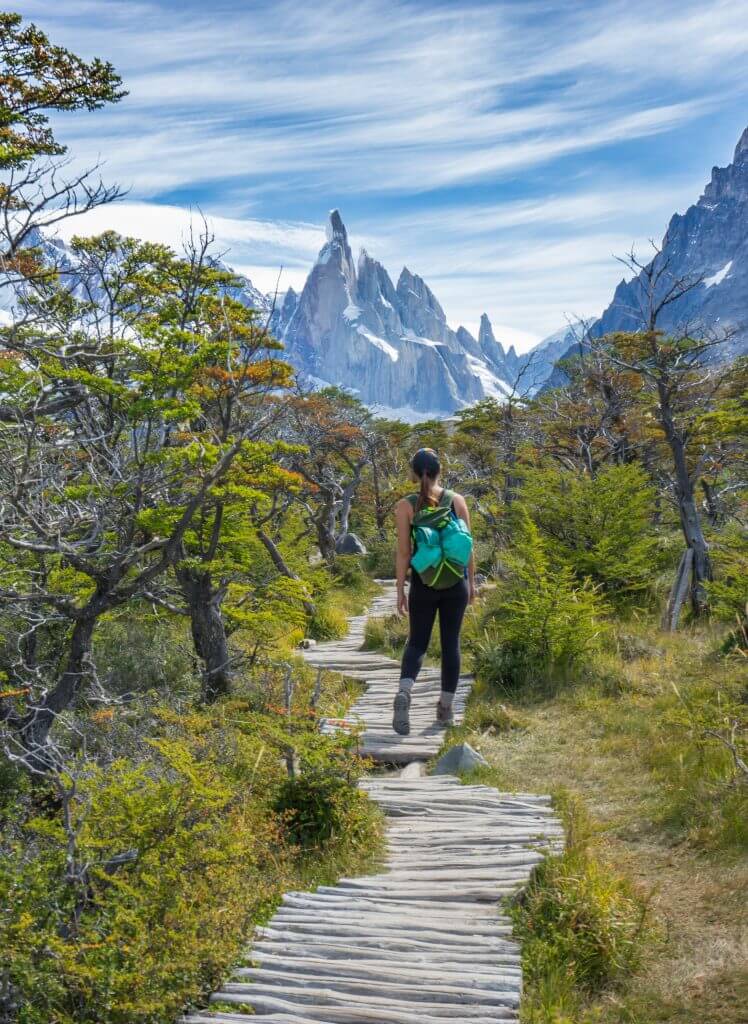 10. Avoid those dumb sporks
When you're looking at stuff to buy for your trek, you'll see these half-fork, half-spoon with a knife at the end of one of the fork blades. It looks like a great idea. You can slice your food then pick it up with the fork to eat it!
False – it's really hard not to cut your face on the knife part. Why was it designed that way, and how did I fall for it?
11. Life will be so much better with powder, not cans
It's hard to resist easy things like canned tuna (btw, not for me, ew) and sauces. You have to pack those cans up and back out, though. That's a lot of extra weight for not much gain.
My milk was powdered, as was all of the sauce and soup that I used for cooking. Some people even bring entire meals made out of powder that you just add water to. When water is as easy to get as it is in Patagonia, why not get things that are light until you add water?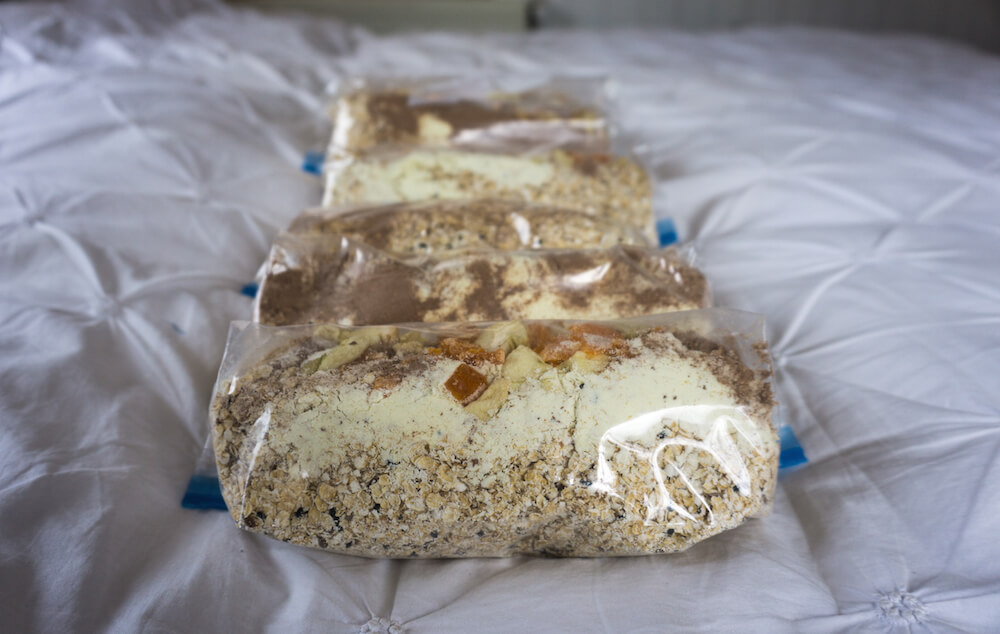 12. Rain-proof your stuff
Rain covers tend to blow off or just be incredibly annoying when the wind catches them, making tons of noise right in your ear.
I didn't bring a rain cover. I lined my bag with a bin liner and put my clothes, food, and electronics all in their own plastic bags as well. The backpack could get wet – no problem, and the stuff inside stayed dry.
13. Get a hat that won't blow away easily
Go for a hat that keeps your head warm, your face covered from the sun, and your ears warm in the wind. This hat ticks all the boxes.
I kind of felt like a dweeb wearing it but then again, my face was protected and my ears were covered. Two birds, one stone, really.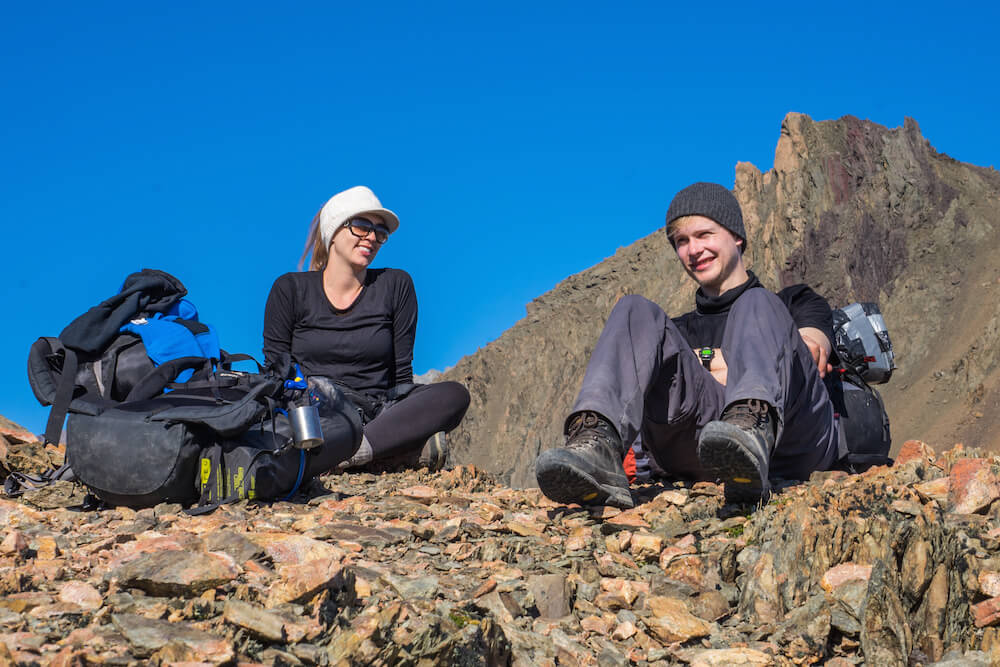 14. It's pretty nice to have a lightweight, warm sleeping bag
It gets seriously cold when you're sleeping next to a glacier. I got snowed on as well in Torres del Paine, so having a warm sleeping bag that was also super lightweight was a life-saver. This is a non-negotiable item, along with a good tent, in order to enjoy the camping part of trekking in Patagonia. You'll want it to be at least comfort level of 0-degrees Celsius.
15. It's worth it to get a thick sleeping mat
I spent around $20 on a mat that was lightweight but also pretty useless on bad ground. I encountered a lot of roots and rock and think things would have been a lot better if I'd brought a thicker mattress. They do weigh more but only slightly and that's something I would probably have been willing to carry.
I would probably use something like this in the future.
16. Most water on the trails is clean, but when it's not, sterilize it with this
Most of the water is glacier water in Patagonia and it's some of the cleanest on earth. However, especially in Torres del Paine, some campgrounds have had trouble with the increase in tourism and due to some campers doing things like washing in the streams or worse, some of the water has been making people sick.
I bring a steripen along on long treks. I never want to worry about the water or be without it, so I just sterilize it with a Steripen.
PLEASE: It's up to everyone who hikes in Patagonia to work together to keep the water safe. Too often I saw idiots jumping into the glacial lakes, swimming in streams, or washing their bowls directly in the water. This water trickles down and effectively makes campers drink your bathing or dirty dish water. That's not cool. Take water into a clean bowl and walk at least 100 paces away before washing, same goes for using the bush toilet. Please think twice before getting that swimming selfie – it's incredibly selfish.
17. You can eat the Calafate berries
They have thorns and are not to be confused with the little red berries also growing on the ground, but Calfate berries, as long as you know what they look like, are nice snacks to have along the trails, especially on the Huemul Circuit.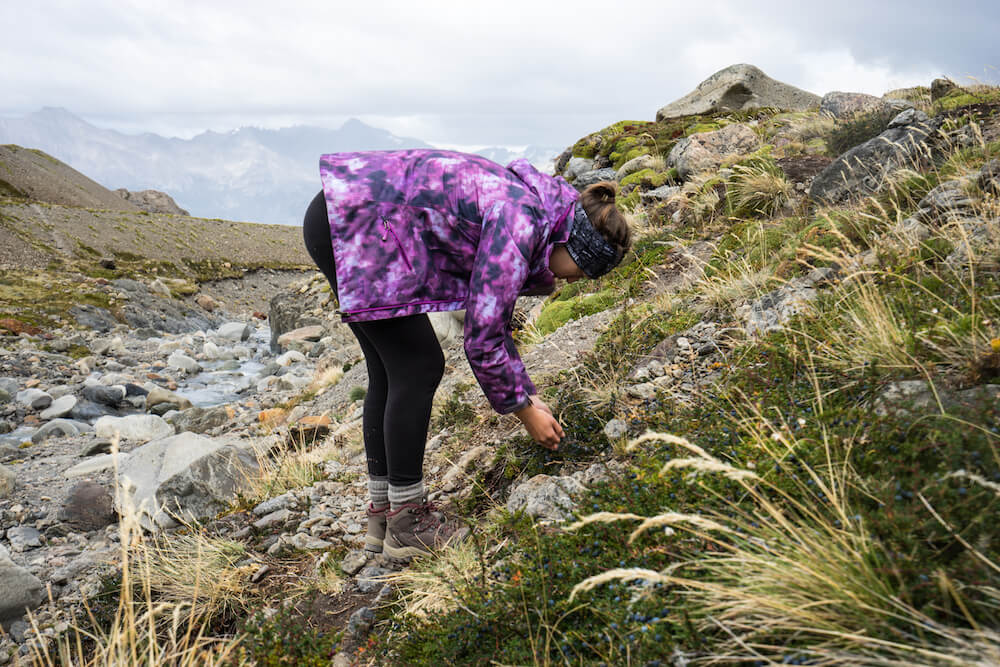 18. Here's a useful camping food list:
Powder, carbs, nuts, oatmeal, chocolate, and fruits. Those are always in my trekking pack because they weigh the least and give me the most energy.
A day's packing list:
one portion oatmeal with milk powder and chocolate powder to taste
100 grams of dried fruit and dried nuts
1 small chocolate bar
one portion pasta and powdered sauce plus slices of salami and/or cheese for dinner
For lunch, I pretty much always ate nuts and dried fruit. That way I could just keep going without having to stop. Dinners always had a treat in them of salami or a cheesy sauce (yes, a rare moment when I was willing to eat cheese) just to keep it nice and interesting. I also experimented with cous cous and powdered potatoes and think they're both great options for hot dinners as well.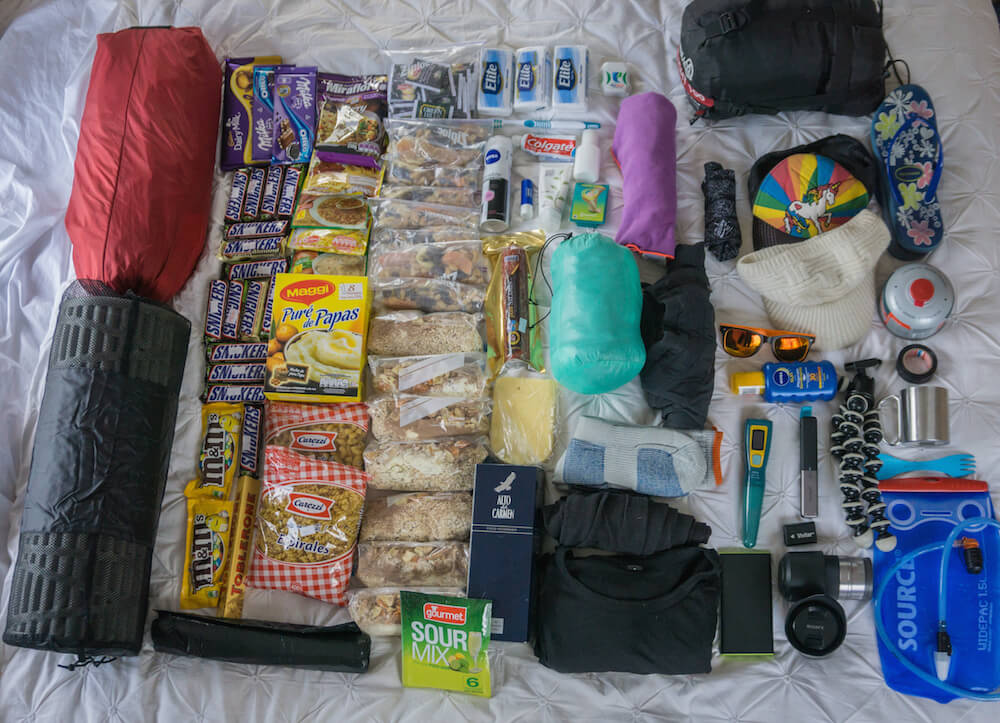 Since I was going to Patagonia with my friend Steve who has been there before and already knew that powder was the way to go, I was able to lighten my food load significantly by not bringing cans or liquid sauces. I'm so glad that we didn't make the mistake of bringing all that weight!
Also, Steve has a pretty helpful guide specifically for Torres del Paine hiking here, with park entrance prices and campground info, that I'd suggest in conjunction with this post!
19. You'll need this kind of cooking grill
It's forbidden to have open fire in just about every national park in Patagonia, at least that I'm aware of.
A little camping stove that you attach to gas cans, available in the sporting goods stores in Patagonia, is best for trekking.
20. Bring a headlamp!
Because using your phone as a flashlight is going to get annoying really quickly. I like this waterproof one.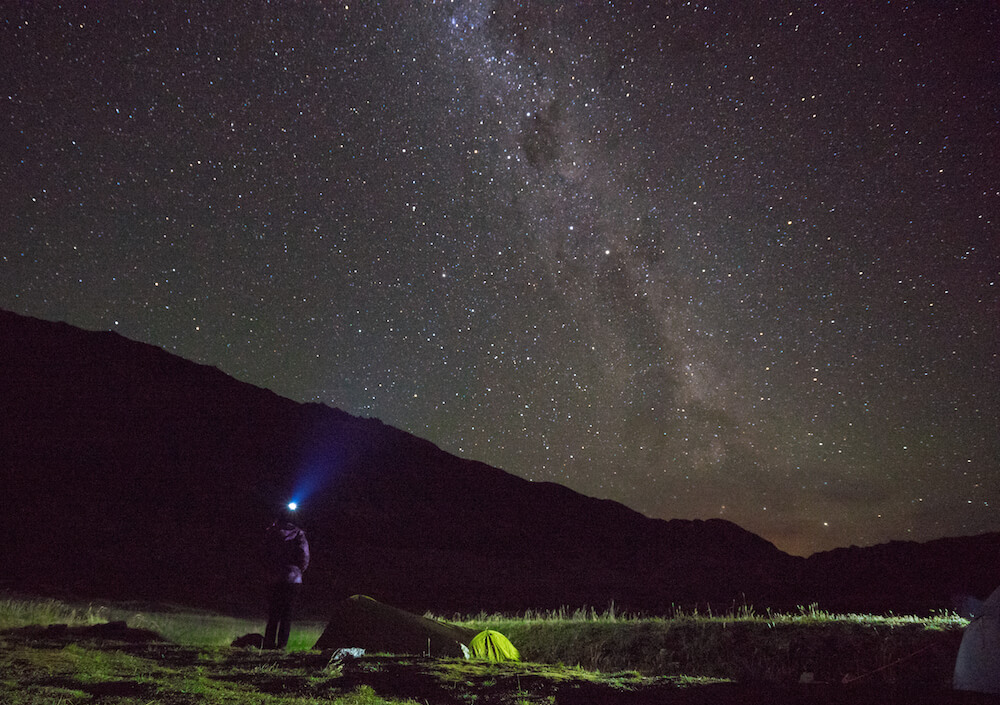 21. …and a portable charger
So that you can recharge your phone and cameras. This is the one that I use. (click here for more info on my camera gear).
22. Don't forget mosquito repellant
Yep, they do exist sometimes in Patagonia.
23. …and sunscreen!
Make sure to always lather up when trekking in Patagonia, or anywhere for that matter. A sunburn when trekking is the worst! I like Sun Bum best.
24. Get ready for the best trip ever
Patagonia is seriously awesome to trek through. The landscape keeps getting more and more dramatic as you go through, providing constant surprises and little challenges. It's one of the most rugged and lovely places I've traveled through, and if you're planning to do the same, get ready for one of the best trips, ever, period.