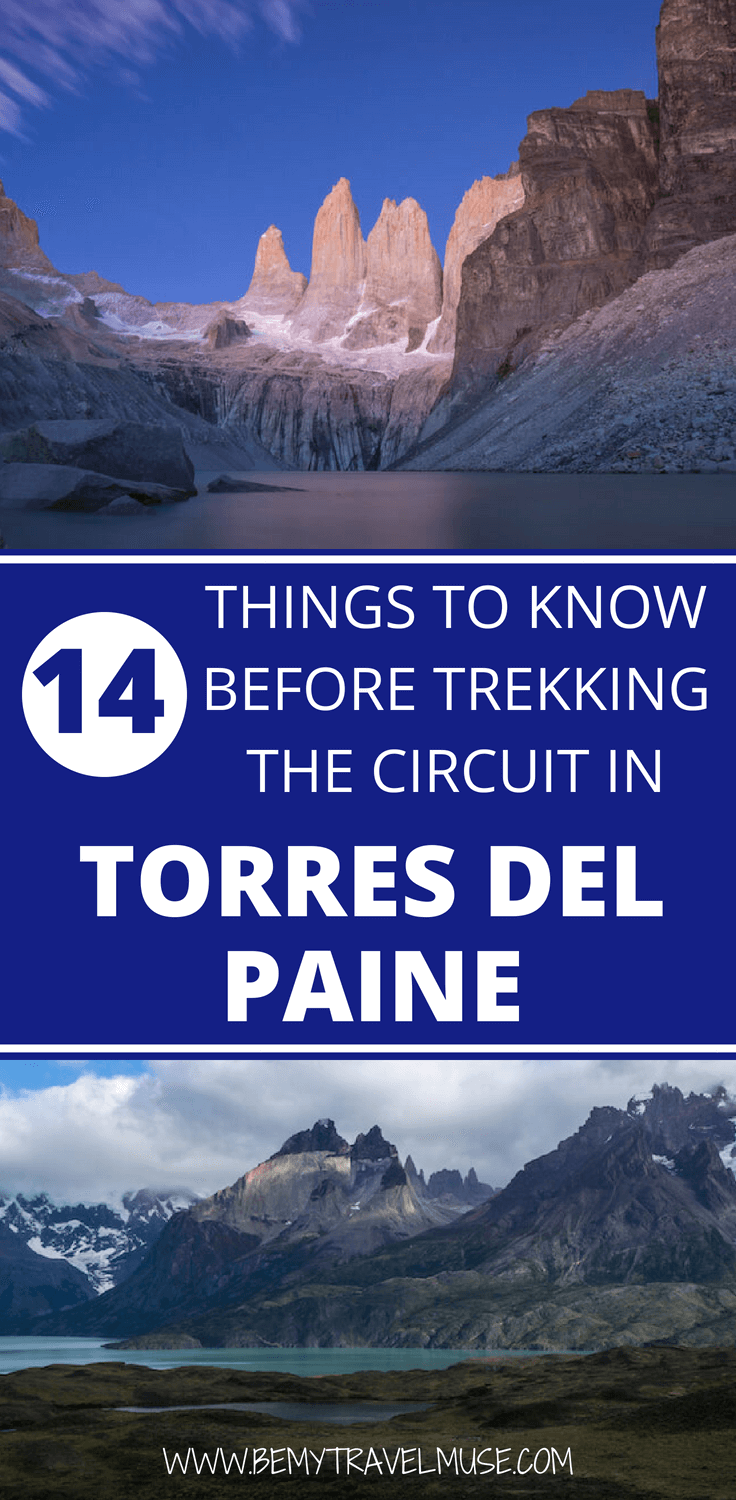 Torres del Paine in Chile is the cherry on top of the Patagonia experience for most hikers. It was my final hike of the two months that I spent in the region and a very fitting way to finish off a trip that I'll always remember for the physical challenges, the harsh but stunning landscape, and the number of 'wow!' moments.
Trekking in Torres del Paine is different than anywhere else in the world. You can pretty much count on very strong winds, rain, mud, and sometimes even snow. It sounds extreme but with the proper gear it's a lot easier to enjoy it. These are a few things to know before taking on the circuit trek:
There are several starting points
The bus that brings you to the park will make several stops, including the welcome center and the Hotel Las Torres, where I started. You can also get off on the last stop and do the Q trek.
There's no right or wrong place to start. Personally, I knew that I wanted to do the entire O trek and preferred to finish with the Torres, so I started at the hotel. If you're unsure whether or not you want to do the whole thing and want to test the W (the shorter trek) first, you can get the boat over and hike to Refugio Grey.
But if you're toying with doing the full O circuit, you really should!
In case you're on the fence about going for the full O circuit
By tacking on another three days in Torres del Paine you gain several things:
Some of the most beautiful parts of the trail are on the part of the trail that the W doesn't cover. Some say it's even the best part of the whole trek. Yes, you have to get over the John Gardner pass, but the reward of hiking next to the Southern Patagonian Ice Field all day is so worth it. You'll get views that most people who visit the park don't see.
The trail is much less crowded on the back end of the park, and the refugios have a more intimate feel.
The camaraderie with the other hikers is easier to come by because there are fewer people on the trail. You tend to meet each other, talk, hang out, and get to know each other before joining the masses on the W.
Convinced yet? Don't worry, you can do it!
During high season, you have to book ahead of time
Torres del Paine has increased in popularity by 30% year over year. If hiking during high season, you would be wise to book camping spots ahead of time, which you can do in town or on Fantastico Sur and Vertice Pagatonia. This wasn't necessary when I went at the end of March but in January and February, definitely look into it.
About guides, maps, and such
You don't need a guide and you don't need a map. I was never confused about where the trail was, because it's well-marked and well-trodden as well.
You should, however, have travel insurance. This basic package covers hiking under 3000 meters (this trek is definitely under that). There is no search and rescue in the park, and this will cover you.
You really need the right tent
It's tempting to bring a normal tent from home, I know, but a typical dome tent does not fare well in the wind in Patagonia. The last thing you want on an 8-day trek is to end up with a tent you can't use, so get one that is good in heavy winds.
I used an MSR tent and it worked great. The key is the sturdy but light tent poles, which will hold up in the wind but won't weigh you down tremendously. Every ounce counts when you have to carry 8 days worth of provisions!
…and shoes
Don't believe anyone who tells you that running shoes are just fine to use in Torres del Paine. The trail is very muddy and rocky, and some ankle protection plus a waterproof shell are both important to keeping you dry and blister-free. Remember to lace them up tight and get some nice thick socks as well! This is the pair of boots that I recommend and these are the socks I suggest.
*If you do get blisters, Compeed is a really helpful blister bandage. It's sweat-proof, so each one can last a couple of days.
…and hiking poles
The wind on two days of the trek in Patagonia literally lifted me up and slammed me forward, it was so strong. My hiking poles saved my face by helping me with balance. They also help tremendously for going downhill, especially if your knees tend to bother you on long hikes, or if this is the first one you're attempting.
Like with the tent poles, sturdy but light ones are great to have along. Cheap ones break quickly. These are the ones I used.
Waterproof your backpack
A rain cover isn't very useful in Patagonia. Due to the wind, they either blow right off or make tons of noise in your ears as the wind runs through them. Since the wind seriously does reach 100km/hour and over, they can blow right off and then become litter in the park. Nobody wants that!
The solution is to line your backpack with a bin liner/trash bag and to wrap everything inside in its own bag as well.
It's okay if the backpack gets wet. It'll dry out in the wind and they're made to be resilient. The stuff inside will stay dry with the double bag protection. Happy days!
What should you eat?
All the powdered food!
I know that's not very exciting, but in all seriousness, cans, packaged sauces, and anything that creates a lot of waste will be heavy and annoying on the trail. Food is the heaviest item on an 8-day trek, so it's essential to cut weight wherever possible. There's so much water available everywhere along the trail, flowing from every glacier and stream, so buying things that just need to be rehydrated works best.
It's also helpful to pack lunches that don't need to be cooked that you can snack on while moving or during short breaks. I'd suggest fruit and nuts. They pack lots of energy and calories for their weight.
Here's my food list for 8 days (consider that portions depend on your personal food intake, and keep in mind you'll be exercising a lot):
1 portion per day of oatmeal with powdered milk, milo, and dried fruit inside
16 bags of tea
2-3 kilos of nuts and dried fruit for lunches
16 Snickers bars (oh yeah I did)
150 grams of pasta, couscous, or powdered mashed potatoes for dinner per night +1 emergency pasta (just in case)
8 packets of dried soup + dried pasta sauce (tomato soup also works)
Small amounts of cheese and salami to flavor pasta
1 small bottle Pisco poured into a plastic bottle (taking tiny shots before crawling into your sleeping bag on cold nights is surprisingly helpful)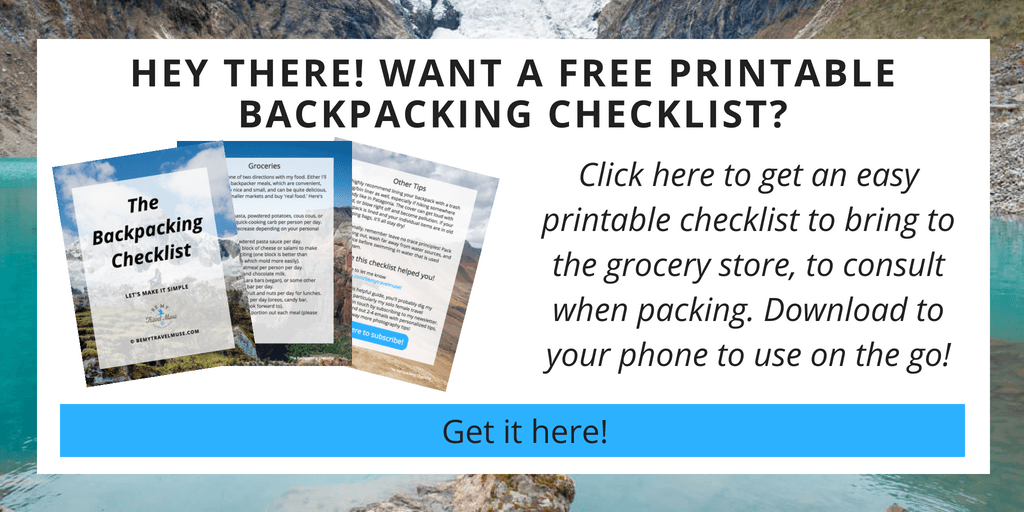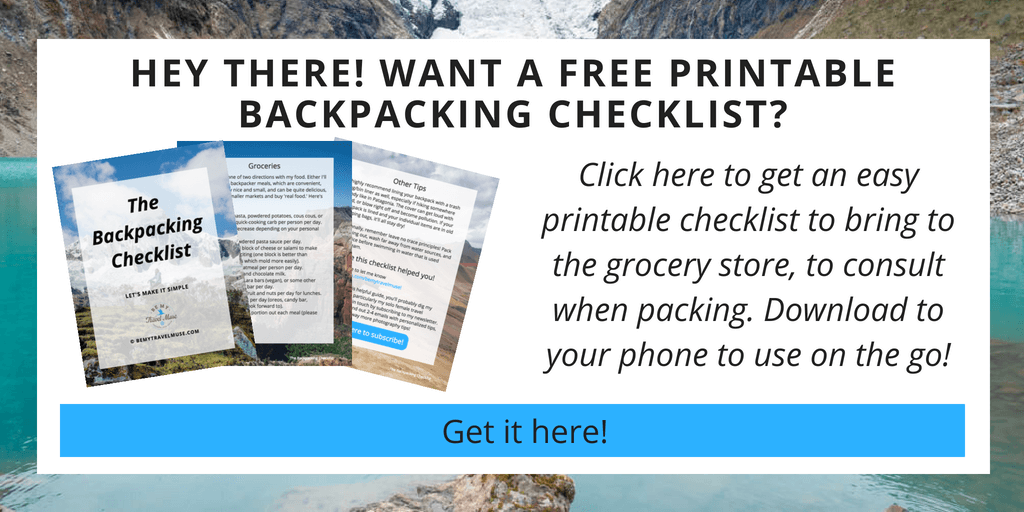 You can buy all of the food you'll need in the shops in Puerto Natales. I urge you to shop at the small, independent grocers and split your shopping between a few stores. There's even a dedicated fruit and nut shop with dried mango and melon!
What else to bring (and how to lighten the load)
So what else goes into your pack? Chances are 80% of it will be full with food, and I'd also bring along:
1 small first-aid kit
Only 2 changes of clothes – one for hiking and one for sleeping (yes you will wear the same nasty hiking clothes each day – there's no point in bringing more clothing because the new stuff will get sweaty and smelly within the first five minutes of your hike anyways). However bring one extra pair of socks and enough underwear for the trip.
1 small and lightweight sleeping bag. These can get costly, I know! But you will want something that doesn't weigh much and can keep you warm in sub-zero temps, which you might encounter on the trek.
1 SteriPEN – the amount of park visitors has been increasing by 30% year over year. People don't always respect the rules around water (ie: no bathing or washing directly in the streams) and some people have gotten sick from the water at Campamento Torres. You can avoid any issues by sterilizing your water.
2-3 gas canisters for cooking with the small grill on top (dependent on how much tea you'll drink or if you bring rice or longer-cooking foods)
1 hat for sun protection and to keep your ears warm
sunglasses
camp shoes to give your feet a break from hiking shoes when in camp
Something to put water in. I chose a camelback.
Small toiletries and sunscreen!
I also brought along my camera, of course, and several extra camera batteries. You can find out more about my camera equipment here.
You can lighten your load by eating at some of the refugios. The food is great at Refugio Dickson, in particular.
You can also buy some supplies as you go along. Don't count on it, but know that it's often possible to get more food and snacks if necessary.
You can shower (sometimes)
Some camps have nice, hot showers that you can use along the trek. It's much easier to get some shower time in the less crowded camps that are not part of the W. In particular, prepare for queues and limited hot water times at Refugio Grey and Los Cuernos.
The free camps don't have amenities like showers and sometimes don't have toilets that flush, but they're typically in really beautiful settings (and they're free!).
You can sleep in a refugio (sometimes)
You can book rental tents and rooms in the refugios along the W ahead of time if you just really, genuinely do not want to carry a tent and sleeping bag along with you. If you're doing the O, however, you have to bring along your own gear. Not all of the camps offer rental services and the value is not good to sleep in the refugios.
I'd always prefer to tote my own tent and have the freedom to sleep in whichever camp I make it to.
Here's a pretty cool insider's tip for avoiding the crowds
Most people sleep in the free camp at the base of the Torres and hike up to catch the sunrise in the morning.
I know that you might think I'm crazy for suggesting this, especially after the long hike to get to the camp at the base of the Torres, but it's so worth climbing up to the top twice.
If you go up in the afternoon for sunset, you won't find much of anyone else up there, in contrast to the sunrise which will be packed with people. Plus, you will know the route already when it's time to go up the next morning in the dark. It takes about 30-45 minutes to climb to the top and it's a bit steep, but if you've already done Fitz Roy, I can assure you it's not nearly as bad.
Besides, moving keeps you warm. It was snowing when I reached the base of the Torres in late March!
Treat yourself to a hotel after
I stayed at the Hotel Las Torres in the park right after the trek and it was the best decision ever. The food was great (it's all-inclusive) as were the drinks and the activities.
It's so nice to stay somewhere comfortable for a few days after finishing an 8-day trek, and though this is definitely fancier than a tent, it's a really welcome change. I also really liked that it included horseback riding and some treks that aren't on the usual TDP menu. (you can book a stay here).
One huge benefit of staying at the Hotel Las Torres, apart from the comfort, is access to this amazing viewpoint.
It's called the Puma trek and it sits on the hotel's property. It's also one of the steepest and toughest treks in the entire park. We went there the day after finishing the 8-day trek and I was definitely sore after!
Take a Full Paine tour or rent a car to see all the things you can't see from the trek afterwards
There are a lot of picturesque places in the park that you don't see when trekking on the circuit trail. The park is absolutely full of lakes of all colors, glaciers, different viewpoints, and even waterfalls. Most of this is accessible by car, so in lieu of renting one yourself and driving it through the park, you can take a day tour from Puerto Natales or in my case, as part of staying at the Hotel Las Torres.
Happy trekking!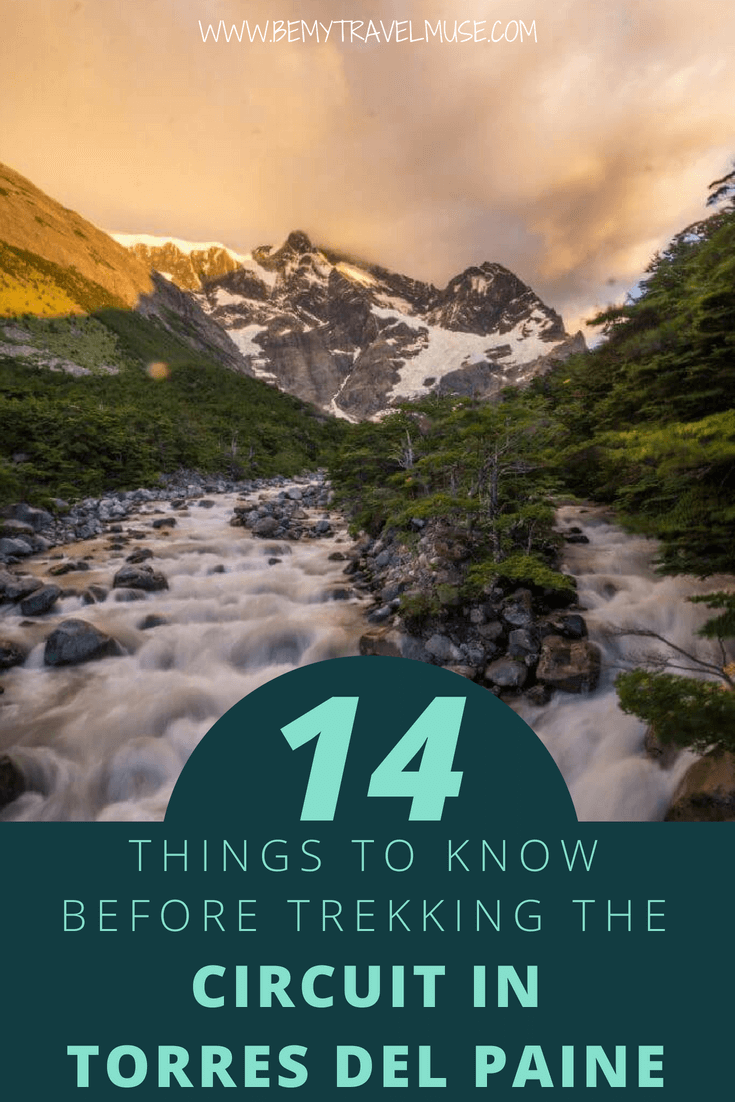 *Some links in this post are affiliate links. Any purchase you make through these links gives me a small commission at no cost to you. This post was also brought to you in collaboration with the Hotel Las Torres. All reviews on this site are always sincere.