Picture giant orange archways with a lazy, low river running through – the very same river that carved this incredible landscape over millions of years. It seems like it should be raging but instead, it just coasts right through, leading you from adventure to adventure. Now picture it all to yourself, with the occasional other hiker passing by with a friendly wave or a hello, equally blown away by the incredibly talented mother nature.
This is what I found at Grand Staircase Escalante National Monument in Utah. This is a massive sequence of sedimentary rock formations stretching almost 2 million acres from Zion to the Grand Canyon. An outdoor enthusiast's dream with hiking, rock climbing, bouldering adventures, 4×4 roads, and wide open spaces, you can climb all over and it's free camp. It's more rugged as well, without the paved roads, busses, and crowds of the national parks but without the amenities, maintained trails, and services, either.
The beauty is in the remoteness and the freedom to enjoy it, as well as the associated self-reliance.
It was tough to pick which hike out of probably thousands that I could do in the Grand Staircase. However, after seeing a few photos of the giant arches, my heart was set on Coyote Gulch. This one is best accessed via the nearby town of Escalante off scenic byway 12, the same one you'd find yourself on if you're driving from Zion or Bryce to Arches National Park.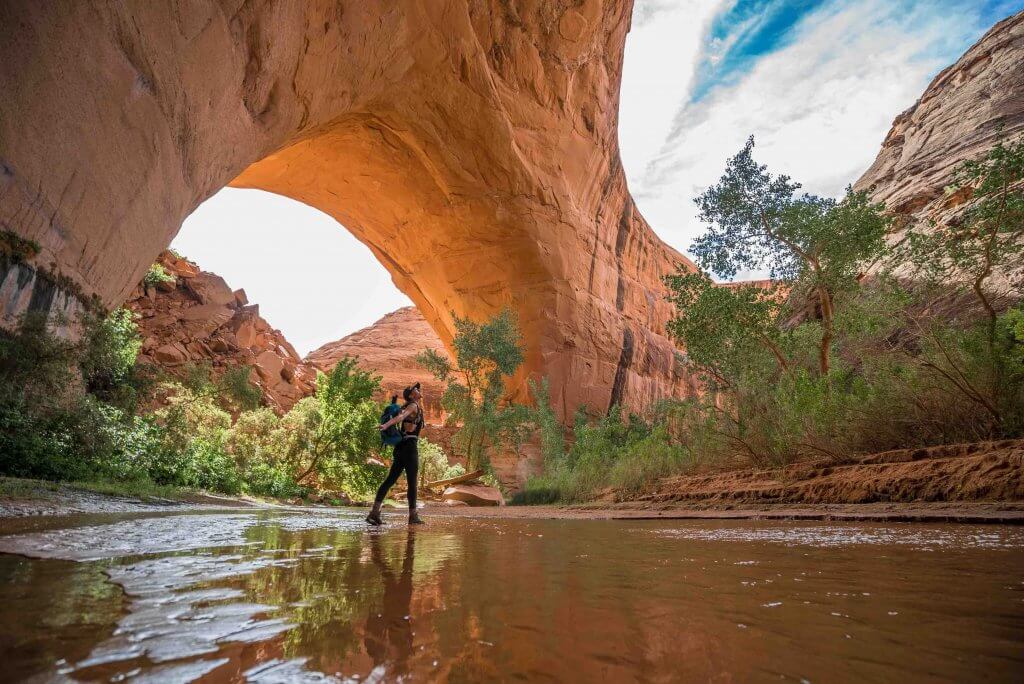 My Coyote Gulch One Day Hike
There are four different entry points for Coyote Gulch. Most of them involve at least one overnight in the canyon and potentially a 4×4 road as well. I didn't have the gear with me for an overnight hike, or the time. So I decided to just go and try out the 'sneaker route' and hope for the best.
Turns out that it is doable in one day and it's one of the best hiking experiences I've had! You just have to do a bit of trail finding and scale a 250-foot rock face to get down. It sounds tougher than it is, though, so don't worry!
The Route
Since I wanted to do Coyote Gulch in one day, and I was solo without a friend to drop me off at one end of the gulch and pick me up at the other, I did this as an out-and-back hike to Jacob Hamblin Arch (or the 'sneaker route' or the water tank trailhead). It ended up being 12 miles and took up most of the day, particularly since I stop so often to film and take photos.
Before embarking on this trail, I'd read that it's hard to find in places, but I didn't have any trouble.
I have a bad sense of direction — I'm talking no internal compass at all people — and I didn't get lost!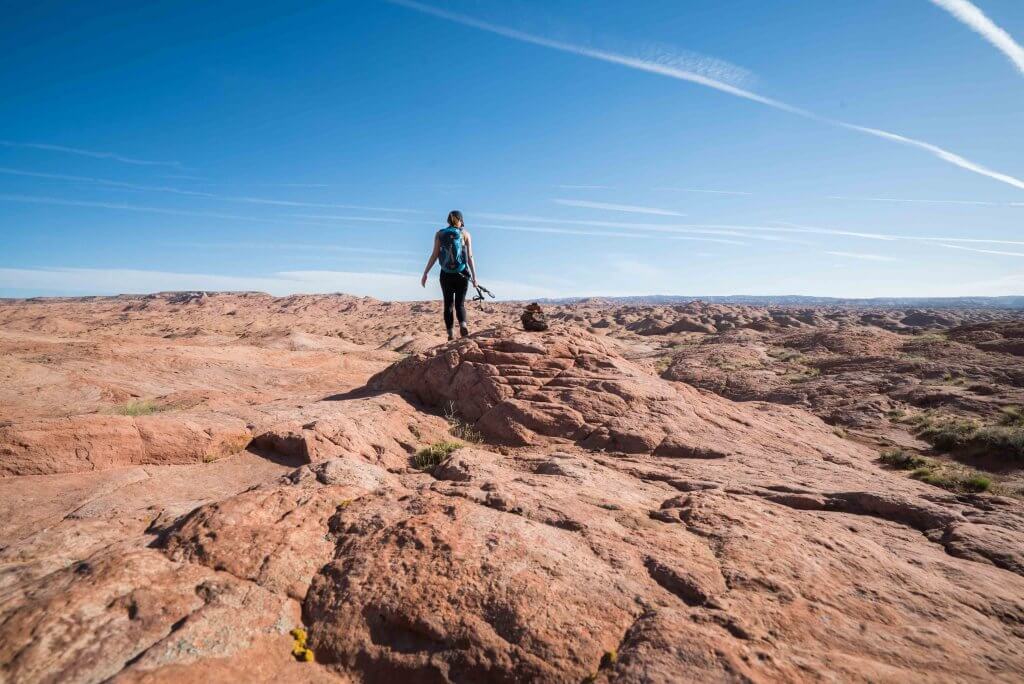 The trail is marked by rock cairns, which are stacks of rocks to help guide your way. Each time I reached one, I could see another in the distance. With those, I found the trail easy to follow. I had also downloaded Utah as an offline map on the free maps.me smartphone app and found that they had all of the major arches in the gulch already plotted in the app. I'd highly recommend downloading this back when you still have service (you won't in most of the Grand Staircase) and bringing it along on your smart phone.
From the water tank it's a two mile walk over rocks and in sand before reaching the descent point down to Jacob Hamblin arch. You'll see a rock that is hollow underneath that you can tie your rope around. You might also find that there's already one there.
I brought a 200-foot rope along which I bought in Escalante at Utah Canyon Outdoors for $100, only to find when I arrived that one was already tied to the rock and had been left there by some kind soul.
It is steep and a little bit nerve wracking, truth be told. Although it wasn't as terrifying as I thought it would be. It wasn't climbing down that would have been difficult, though it's a long way down at about a 45 degree grade. Rather, it's coming back out that would be tough without a rope. I suggest bringing one along since you can't count on there being a solid one there waiting for you.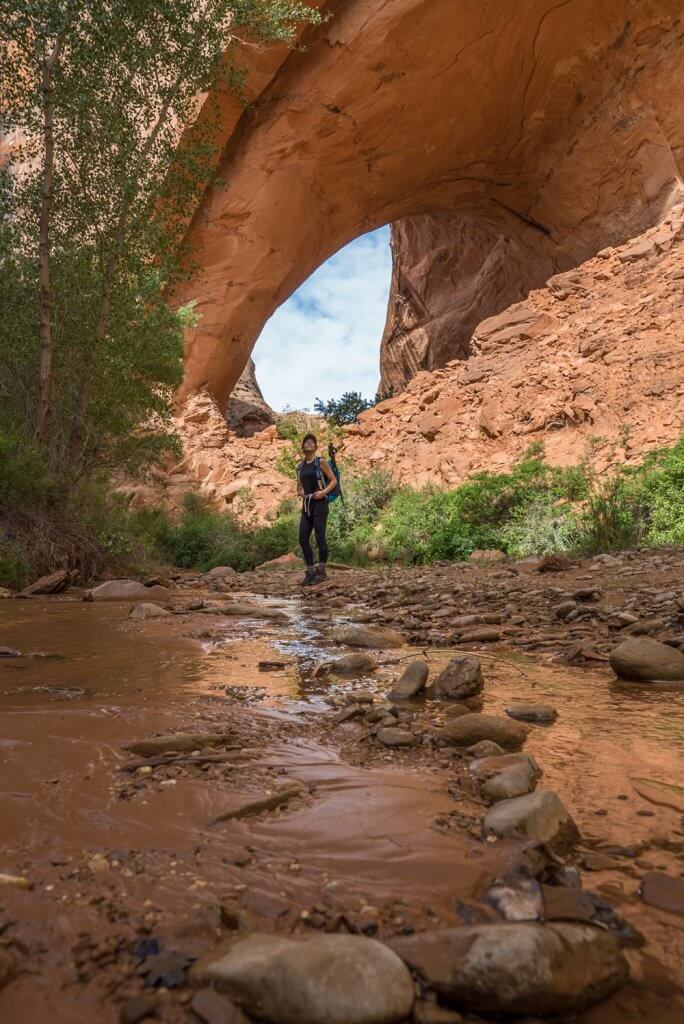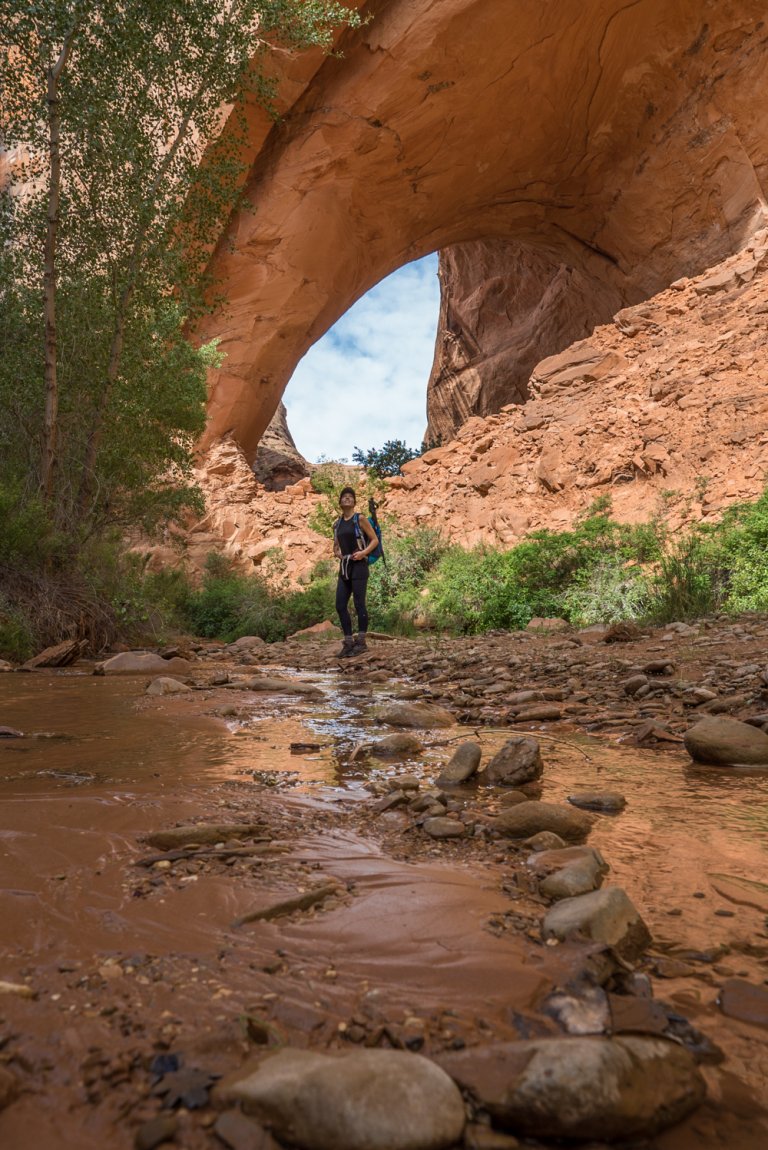 Once you're down, the first thing you'll see to the left is the massive Jacob Hamblin arch.
Be sure to wander around it for a little while before turning in the other direction to proceed further down to the other arches and the small waterfall. It's worth seeing it from several angles.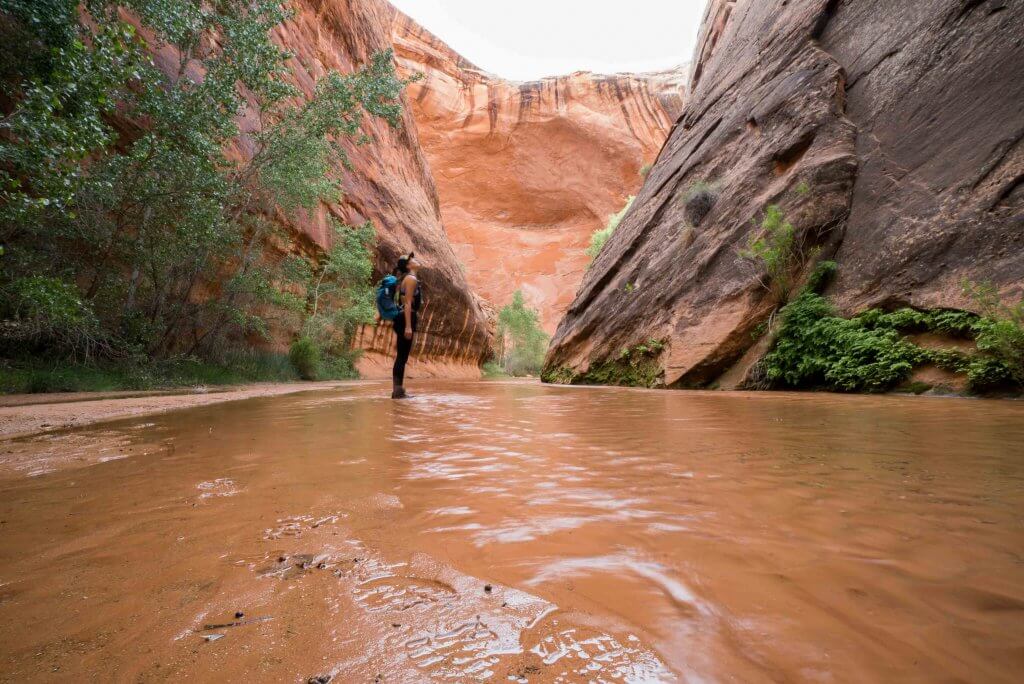 From there, I navigated with my app to the Coyote Natural Bridge and realized that the trail always runs along the water line, and sometimes through it.
For this reason I suggest bringing a way to clean or filter the water so that you don't have to carry much throughout the day, and waterproof hiking boots lest you end up doing most of the hike barefoot, which is probably fun, too.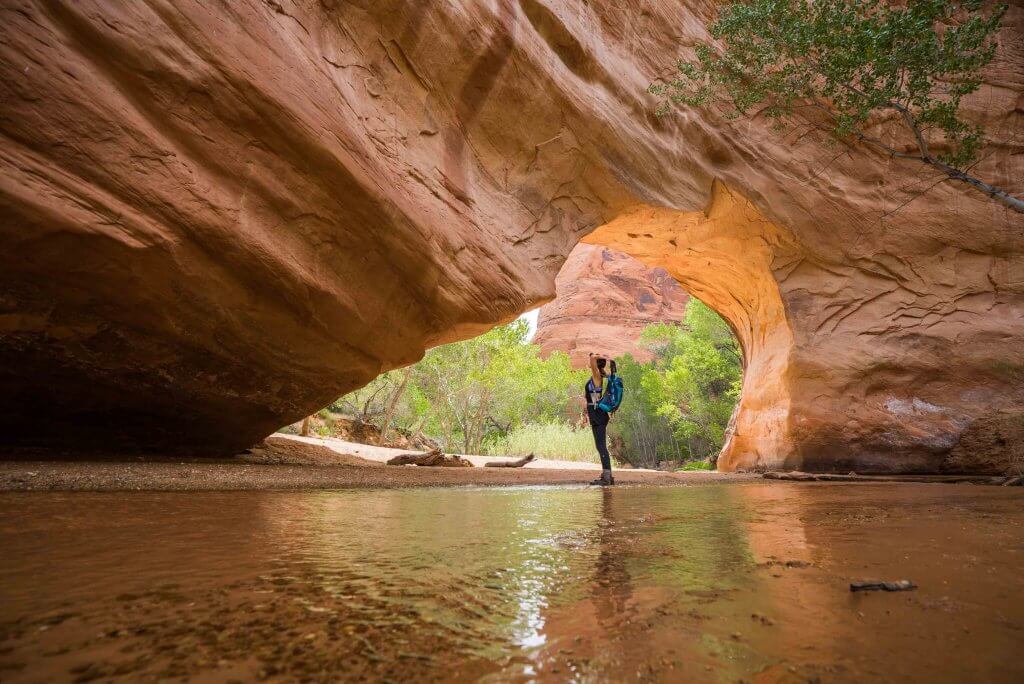 The canyon stays beautiful throughout the entire hike, with little waterfalls and areas where the design of the rock, so artfully carved by the water, looks like it couldn't be of this world.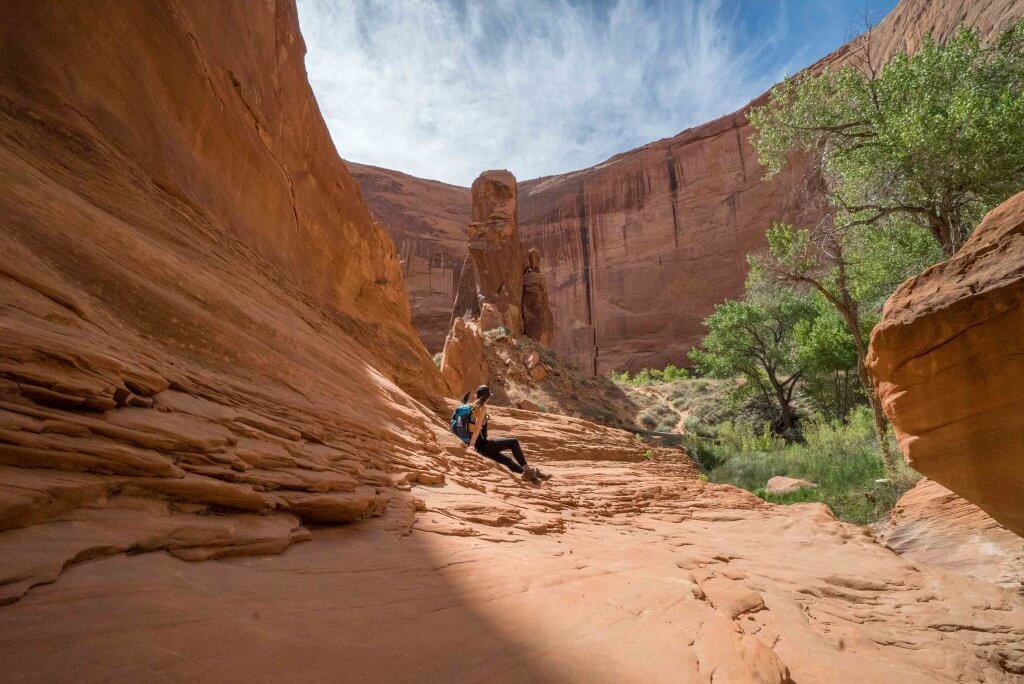 There's also a little hidden lagoon, which you can find here.
Special thanks to the lovely couple who I ran into on the trail for suggesting that I check this out. I didn't get the chance to tell them that I love them for letting me know it exists.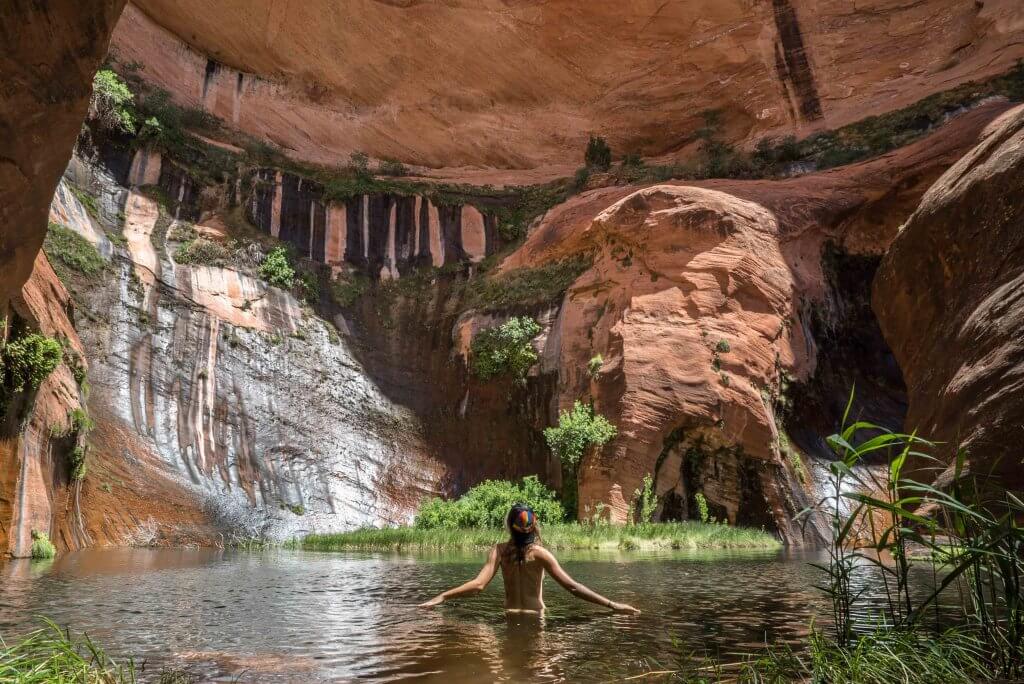 My terminus for the day was cliff arch and the waterfall. Be careful here as the trail gets a bit confusing with a bunch of social trails branching off and ending in odd places. I lost the trail for a while and had to navigate my way back.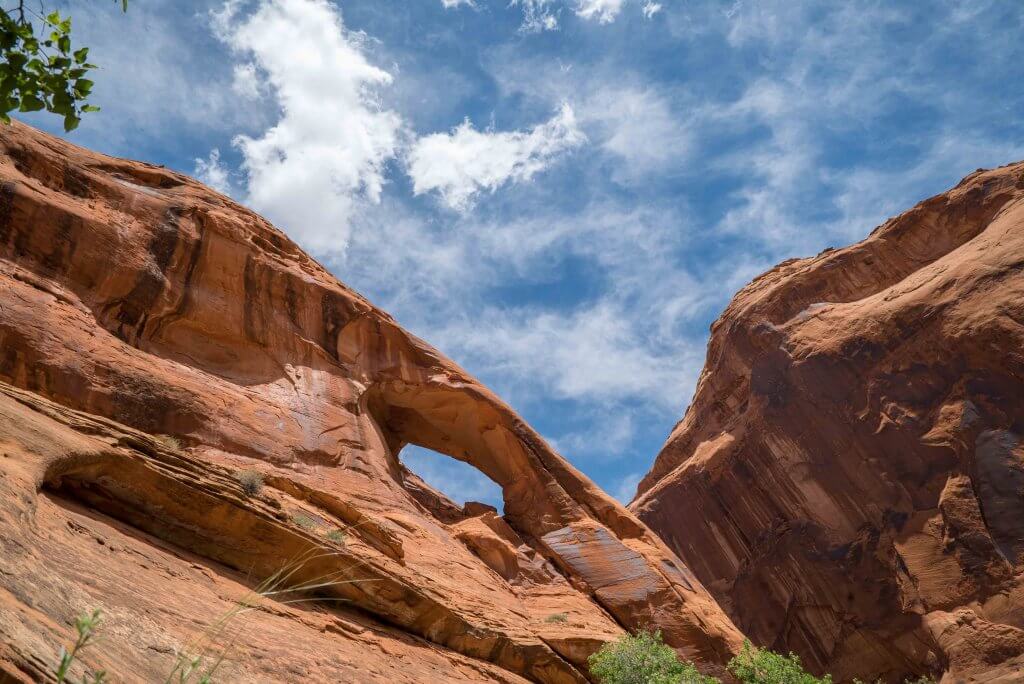 Stevens Arch is meant to be amazing too and would require a few extra miles. Unfortunately I couldn't make it that far, but with less time spent taking photos and videos, a normal hiker could probably reach it before turning around and heading back if you're up for a long day.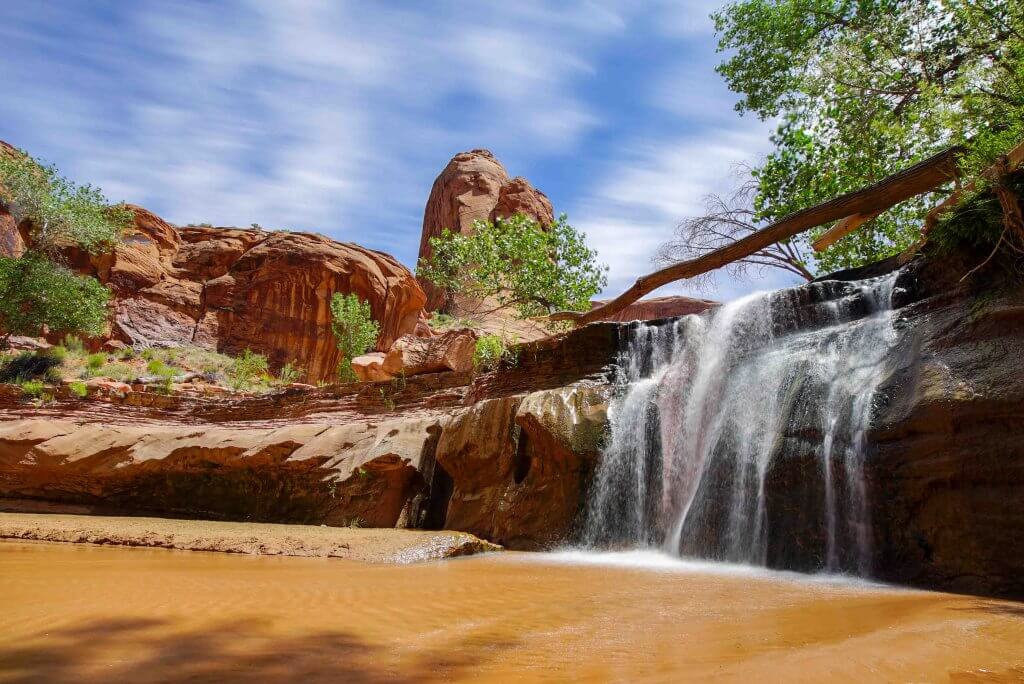 From there I turned back and made my way back to Jacob Hamblin Arch, back up the rock face, and walked the two miles to the car. I started my hike at 7am and finished before 3pm, walking a total of 12 miles that were mostly flat, but still exhausting since they were almost exclusively through sand.
For reference, there are several different ways to get into Coyote Gulch and each have their advantages and disadvantages. The following would require a multi-day hike for most hikers:
Hurricane Wash: This one appeared to be the most popular entry point and is a hike mainly down a sandy "wash" (where the water sometimes forms a river in the rain but is otherwise dry) before reaching the canyon. I passed by the parking lot on my drive and saw plenty of hikers getting ready for their trips. I didn't see the benefit in adding the extra mileage on since the main things to see are in the canyon but if you want to do this route and avoid the rappelling this guide by a fellow Kristen is helpful.
Red Well: Similar to hurricane wash, you'll be hiking for about 7 miles before entering the canyon.
Crack in the wall: Another option to shorten the hike. It's the same turnout as the water tank where I parked for the Jacob Hamblin arch entry called Forty mile ridge, but you need a 4×4 vehicle to get through the sand for the final two miles of the drive.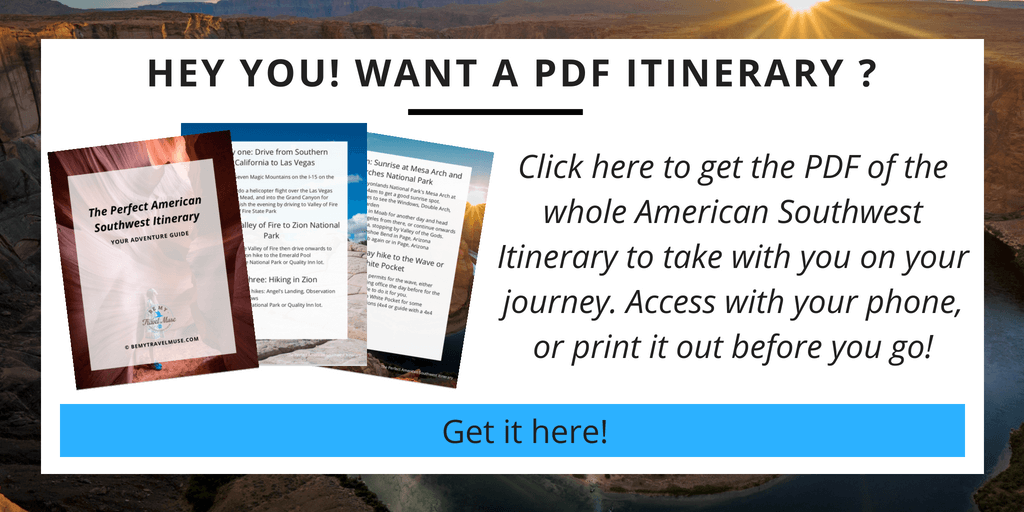 Getting to Coyote Gulch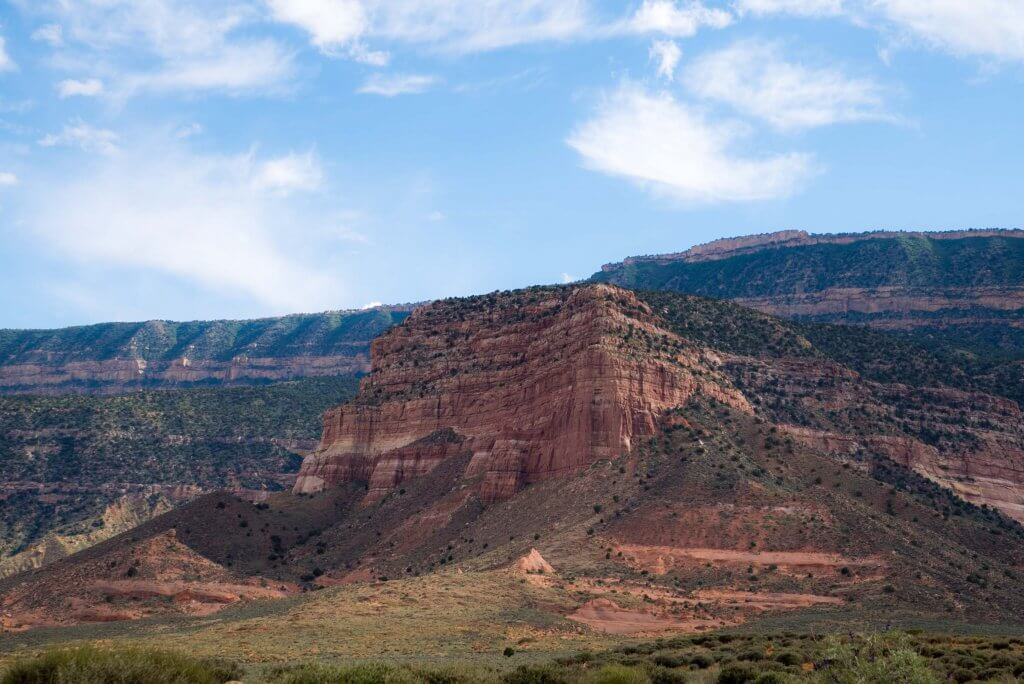 First, get to Escalante off of highway 12 and navigate to Jacob Hamblin Arch using Google maps off of BLM 200.
The drive to the trailhead will take you about an hour and a half to two hours to go the 36 miles on BLM 200 unless you're driving a 4×4.
Admittedly, I do tend to drive like a grandma on gravel and corrugated dirt roads because I know it's easy to lose control on roads like that. I was probably averaging 30 mph if I'm being honest. It took me about 2 hours each way.
The van that you see in the video is a camper van from Jucy, which I wish I could still recommend. However, they no longer operate in the USA. Indie Campers seems like a great alternative.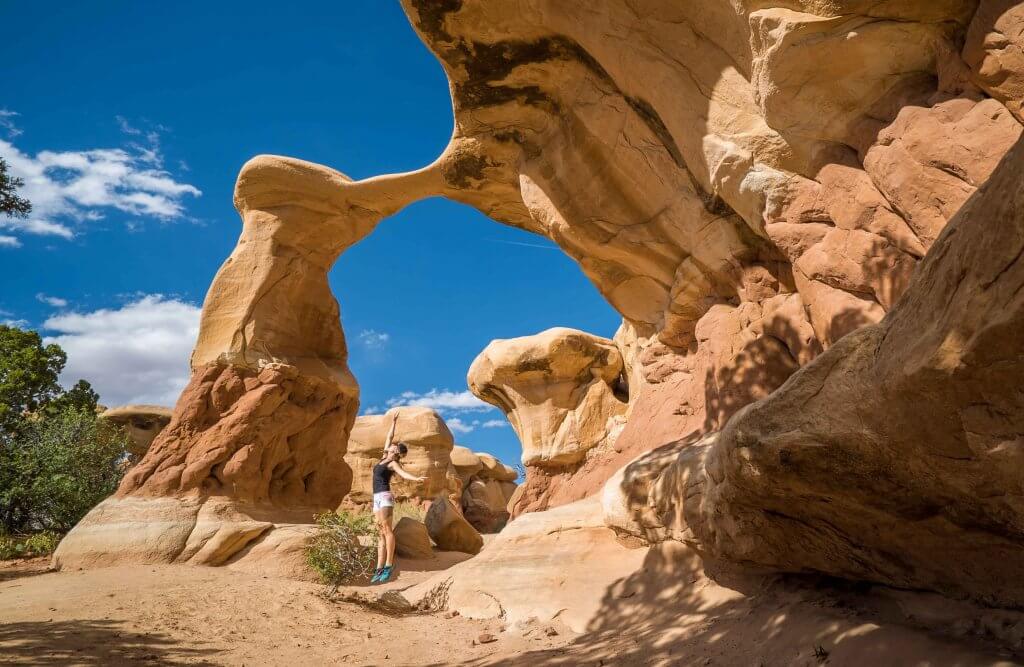 The drive is gorgeous, with plenty of worthy slot canyons to stop at and the hoodoos at the Devil's Garden on the way. It's a really short pit stop that I'd highly recommend watching out for as you come down BLM 200. It will be on your right.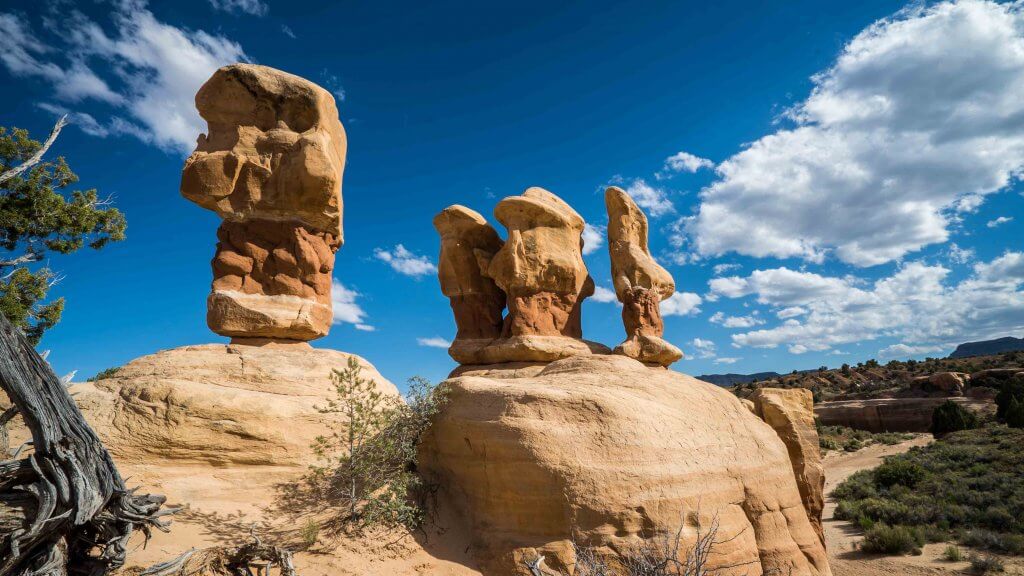 Be forewarned that some of the cattle grates will cause you to bottom out. Drive over them carefully and always look to see if there's an option for going around it, particularly on the turnoff road for the Jacob Hamblin Arch!
Also remember, these roads can get more or less impassable if there are heavy rains and they get muddy.
Camping in Coyote Gulch
When I was researching for this hike I saw a lot of people asking questions about permits. They are available at the trailhead and only required for overnight hikes. They are also free, unless I missed something!
I never realized it before this trip to Utah, but the Grand Staircase Escalante and the surroundings is BLM land, meaning that it's owned by the public. You can camp, hike, and adventure in there completely for free. I didn't pay for a campsite for the whole week and a half that I spent exploring southern Utah after that!
It's easy to find the campsites. Just look for a small dirt road off of the main ones and most of the time there are little areas where you can pull off and camp. You can't be visible from the main road and are required to leave no trace. In my camper van, this was easy to do.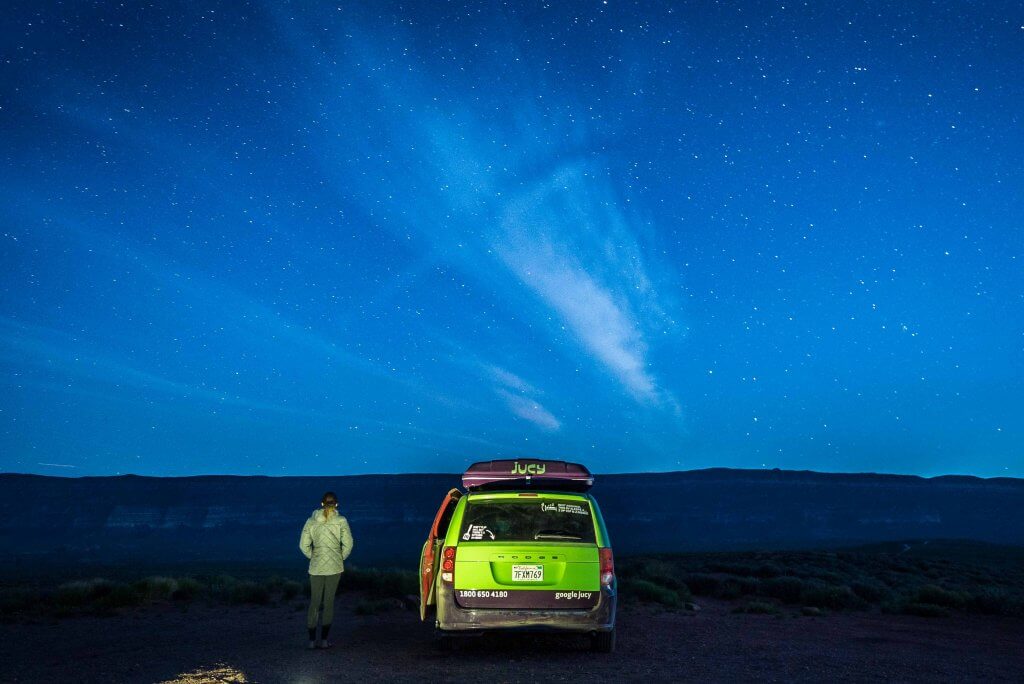 What I loved about camping out there near the trailhead was the feeling that nobody else was around. To be honest, nobody really was. It was just me and the wilderness for miles. It was humbling and incredibly exciting at the same time to really have everything I was looking at to myself.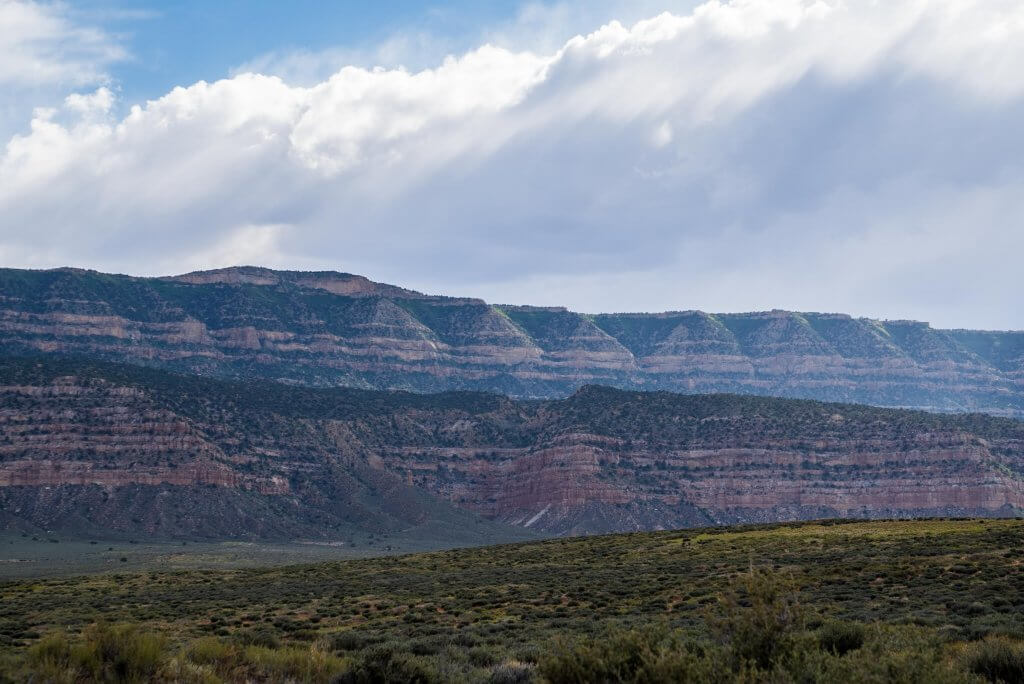 In contrast to the national parks, the Grand Staircase-Escalante National Monument is quiet, vast, wild, rugged, and to me, all the better for it.
Overall, Coyote Gulch is now one of my favorite hikes that I've done. The minimal crowds, the abundance of arches, and the thrill of the adventure all made this an awesome experience.
If you're in southern Utah and you want to experience something a little different, a little more adventurous, and a lot less crowded, check out Coyote Gulch.
READ NEXT:
An Awesome American Southwest Road Trip Itinerary
*Some of the companies mentioned here are partners who helped make this article possible, and some links are affiliate links. Anything you purchase through these links helps keep this site running at no extra cost to you!