I had so many questions prior to starting the Annapurna Circuit trek that I bombarded my poor friends for days with endless inquiries about "what if"s and "but what about"s.
Having just finished the trek, I figured it best to jot down every question I had and the answers that made themselves quite clear as the trek progressed. For anyone considering trekking the Annapurna Circuit (or Base Camp/Sanctuary), the following questions and answers should help you along.
When should I go?
The most popular months are September and October with the second highest season taking place in March and April. In the winter months, the pass can sometimes be snowed in, and in the summer, monsoon rains are common.
I personally hiked at the end of April/beginning of May and found it to be perfect weather on the circuit and rainy weather on the base camp trek.
Do I need to book ahead?
About half of the people who hike the Annapurna Circuit and Sanctuary treks appeared to have a guide and porter, or one of the two. The cost is typically $16+/day for each and can easily be booked in person once in Kathmandu or Pokhara at any of the many agencies or at your guesthouse. Booking ahead online can turn out to be more expensive and really isn't necessary.
That said, the trails are clearly marked, accommodation is easy to find, and since you don't need camping gear, it's possible to carry one's own belongings easily enough. I elected not to hire a porter nor a guide. I feared a guide might make too many decisions for me and limit my freedom. Another blogger also wrote a rant about the low level of professionalism, steering me further away.
The NATT guide was a great help and free resource I'd recommend printing and bridging along if you plan to go it alone.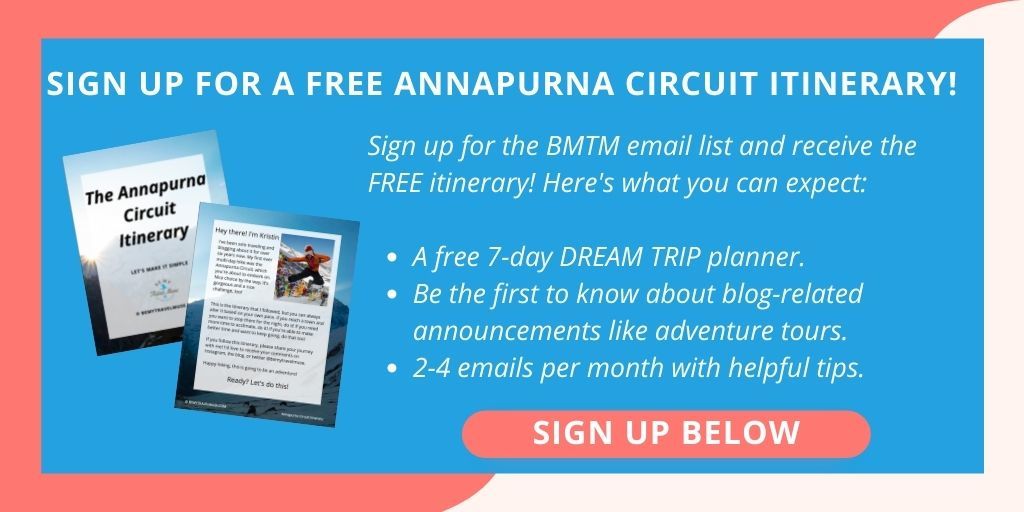 Plenty of locals along the trail asked if I had a guide or porter, reacting with obvious disappointment when I said that I did not. I felt badly for most porters, completely laden with incredibly heavy packs, but the locals didn't see it that way – to hire a porter or guide is to provide him with a well-paying job. I was a little torn on this but did buy handicrafts from local women, bought plenty of provisions on the trek, and ate my meals at the teahouses rather than bringing in my own food. I figured this at least helped bring money into the area in some small way.
How physically fit do I need to be?
Trekking the Annapurna Circuit can be made longer and more difficult or shorter and easier, depending on your timetable and interest level in the higher and steeper side treks.
If possible, doing some trekking and spending time at higher altitudes prior to beginning is quite beneficial. Trying a trek for a few days prior to know what you're capable of – how far you can go each day, what parts of the body hurt and might need more support, and how much weight you can handle carrying – can only help.
Most of all, the important thing to remember, apart from being injury-free, is to have a positive attitude and to honor one's body. Don't push it to the point that you feel defeated or start saying things like "can't" to yourself. Your pace is good enough and it's not a competition.
Tips: When you're hungry, eat something. When you're thirsty, stop and drink water. Never underestimate how much a 30-second to two-minute break can help. If you need rest, take a brief one and then keep going.
What is accommodation like?
The Annapurna Circuit and Base Camp treks are teahouse treks, meaning that there are guesthouses along the way that provide basic accommodation to trekkers (the accommodation becoming more basic as altitude increases) for a very low rate – usually free or just 100 NRP (about $1 USD) per person – with the intention that the trekkers will eat all of their meals at the guesthouse they stay in.
The teahouses gain their money from the food they sell at slightly higher prices than found elsewhere in Nepal rather than from the room rates. Keep this in mind when haggling on rooms.
It did bother me a bit when I saw that people brought and cooked all of their own food, yet stayed in the teahouses. I believe it's important to buy one's food along the trail as it lightens the load and puts money in the hands of the local people.
Tip: Most teahouses operate on solar power for showers and at the higher elevations, will charge for hot water. Most of the time the water isn't hot but is more of a lukewarm shower. Charging electronics also becomes a paid service at higher elevations. At the lower elevations WiFi is sometimes available for a fee.
What do I need to bring?
Your first major decision is whether to bring quality gear from home or to buy cheap knock offs in Kathmandu or Pokhara. I was coming from 6 months of traveling in Southeast Asia and China and simply didn't have the gear with me, so I bought knock offs in Kathmandu. I was regretful of this almost from the beginning as a strap on my backpack broke before I even got on the bus to start the trek. It was the perfect size and fit but the quality was horrible. Throughout the two weeks I used the gear, most of it broke or fell apart in some way. The same was true for my trekking buddy who had bought her gear in Pokhara.
In the future, I would definitely buy the same items but would go for the genuine ones as I've now learned that quality will far outlast the knock offs and are therefore cheaper in the long run:
A good backpack: I went with a Deuter Guide 35L in bright green.

It was the perfect size and if I'd had the genuine one with quality straps, I wouldn't have had to readjust constantly and probably would have kept this bag around for all of the rest of my treks.

The right jacket:

My knock off North Face waterproof jacket with fleece turned out not to be so waterproof, but my friends wearing

genuine North Face jackets

were warm, dry, and toasty!

Clothing: I had two thermal shirts , summit pants, two pairs of leggings (one thin and one thick), a genuine Under Armour quick dry shirt that I have used for years and love, a sports bra (though two would have been better), six pairs of socks and underwear,

and a pair of comfy clothing to sleep and feel clean in.

Hiking gear: Few to no people attempted the trek without trekking poles. They help take some of the stress off of your legs and knees and make steep climbs upwards and downwards much easier. A headlamp (the link is the exact one I've used for two years now and think is a great product) is also necessary for night-time power outages and the sunrise trek at Poon Hill.
Footwear: I actually wore running shoes for the trek! I had worn them in the snow before and have used them on over 10 treks in the past few years. They worked great because I had broken them in, so they did not give me blisters and were comfortable. Some big drawbacks were how wet they got (though they dried next to the fire at night) and how difficult they were to remain upright in on muddy terrain. The best idea is to get genuine hiking shoes at home and to break them in before arriving (I'd suggest trying them on rather than ordering online).

It's also a great idea to bring sandals to wear after trekking to give your feet a break from the hiking shoes.

SteriPEN water purifier

and

Nalgene water bottle

:

It's possible to buy bottled water along the trail, but at almost $2 per bottle at the higher altitudes and it being a big polluter, it doesn't make much sense.

Though there are some clean drinking water stations, they aren't frequent enough to keep you hydrated during the whole trek. The best bet is to clean the water on the trail. I used Aquatabs, available for around $2-$3 at grocery stores in Pokhara to treat the local water. However, you must wait at least 30 minutes between treating the water and drinking it, plus the taste isn't great.

A SteriPEN, however, cleans the water in 30 seconds. These need to be obtained at home beforehand.
Sleeping bag: Instead of using a sleeping bag, I asked the teahouses for extra blankets. In higher seasons this would be difficult to do, and the blankets at the higher elevations are often not clean.

I wished I had brought a sleeping bag, which could have been easily purchased in Pokhara.

Headwear and gloves: You can find some pretty cool and cheap knitted gloves and hats in Pokhara and along the trail. They're made by village women and are a great way to support local handicrafts.
What about Permits?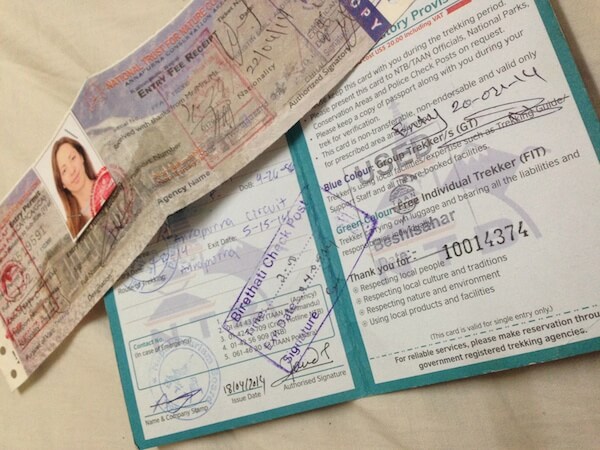 You need two kinds of permits — the Annapurna Conservation Area Program (ACAP) permit and Trekkers' Information Management System (TIMS card) — which will be regularly checked on the trail. Obtain these in either Kathmandu or Pokhara prior to your trek. In Kathmandu, the office is about a 15-20 minute walk from Kathmandu out to Thamel. In Pokhara, it is near the tourist bus station.
The process requires 4 passport-sized photos (which can be bought anywhere near the office in both cities), proof of travel insurance (I recommend the World Nomads Adventurer option, which is what I used), a passport copy, and 4,000 NPR (about USD $40).  In Pokhara, it took me less than ten minutes to obtain.
Costs
I averaged about $25/day at the higher elevations and as low as $10/day at the lower elevations, as the food was cheaper lower down.
Click here for more information on how to do the trek independently, how much time to budget, and for a suggested itinerary (plus some stunning photos!)