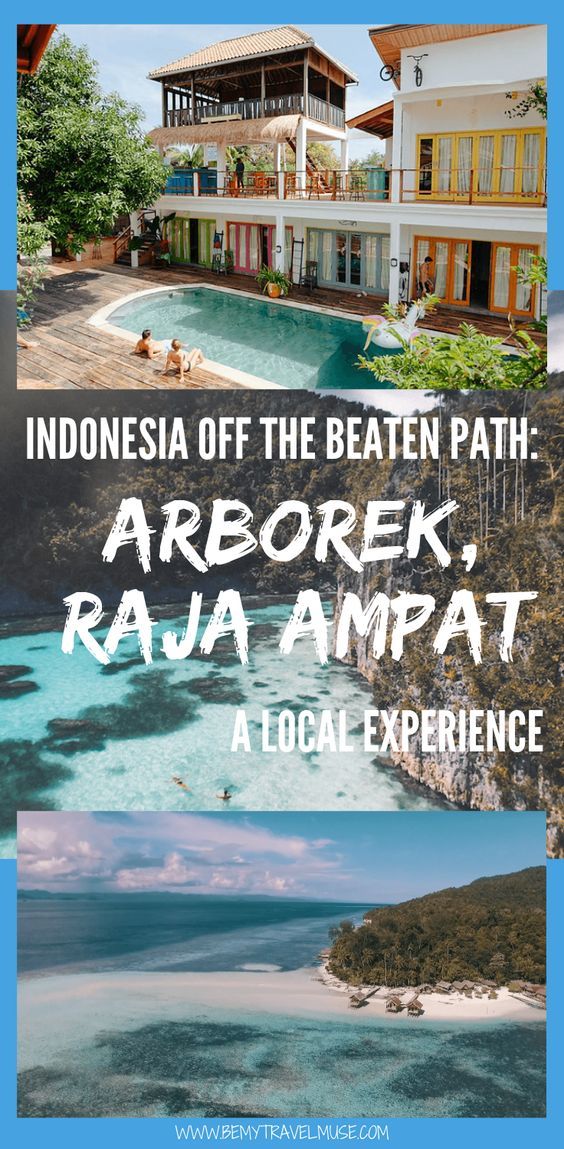 Cast away in the North Eastern corner of Indonesia lies Raja Ampat. Covering 50,000sq km, it's home to 580 kinds of coral and almost 1400 species of fish making it a real spectacle for divers, scientists and photographers alike.
We were drawn to its 12,000 islands with the promise of beautiful beaches, remote islands and an array of unique marine life to gaze at.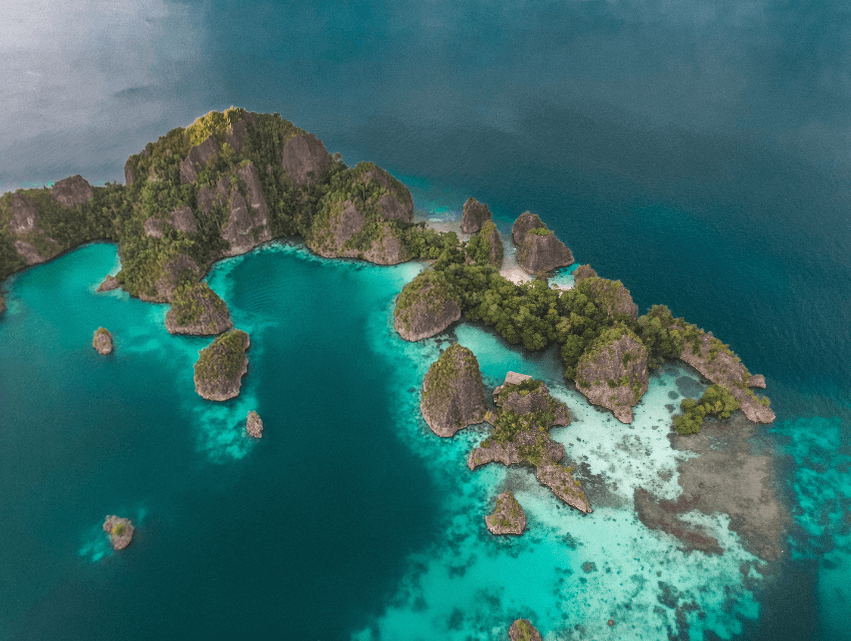 For divers, the draw of Raja Ampat is aboard a liveaboard, sailing between the North and South amidst the cobalt blue lagoons and below the watchful eye of the jagged prehistoric-esque mountains. They take guests to all of the best dive spots, but what about afterwards?
We went in search of a cultural experience that wouldn't break the bank and would give us a chance to get to experience the local culture.
we started deep in the heart of the coral triangle in the village of Arborek. Traditionally a mooring spot for boatmen, this authentic island welcomes guests with open arms and bursting with pride, the islanders are eager to introduce all to the Papuan culture.
Surrounded by plush sago palms and nourished by fish, the island is sparsely populated by a very meager 197 residents. Docking at the jetty we were mesmerized by the azure milky waters that hugged the delicate island. Its beaches a fine powdery sand reflecting the rays that beat down on us as we took our first step onto the jetty.
The sound of the boat had attracted quite a crowd and we were welcomed by echoes of "hello mister!" and a cluster of beaming faces, all eager to meet the islands new visitors. We had only just stepped foot on the island, but we knew that we were in for a melange of natural wonders both above and below the water.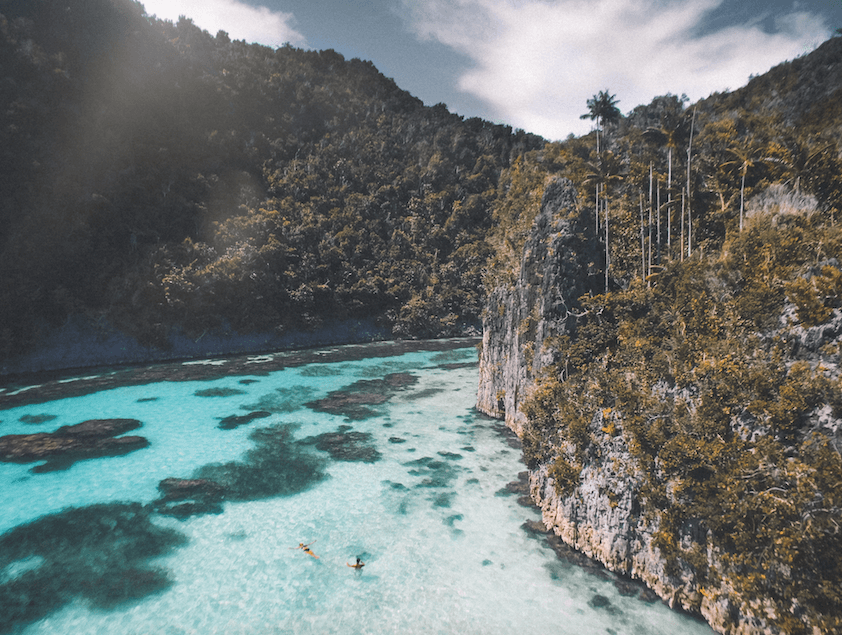 As we reached the village we were shown to our homestay, one of a handful of Insta-worthy wooden huts perched perfectly on stilts in the ocean. Homestays on the island have a fixed price agreement of 350,000IDR per person, per night which includes three delicious traditional meals per day and unlimited tea, coffee and water.
There are various homestays dotted throughout the archipelago with most listed on the Stay Raja Ampat website.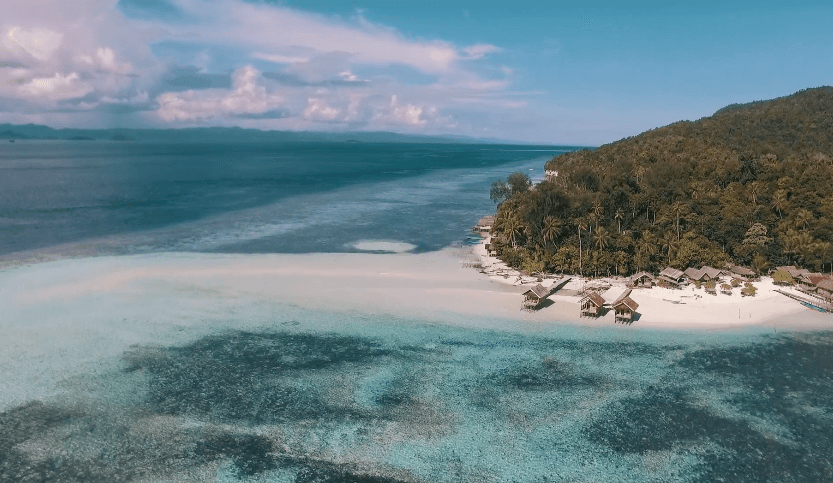 Looking out from our verandah, we were beckoned to the water with the promise of extraordinary diving in the epicenter of marine biodiversity, housing over 75% of fish species throughout the world, and we weren't disappointed!
There is something special that happens before every dive, those ten seconds before you deflate your BCD and slip below the surface when your body is a torrent of excitement and apprehension, wondering what it is you'll encounter.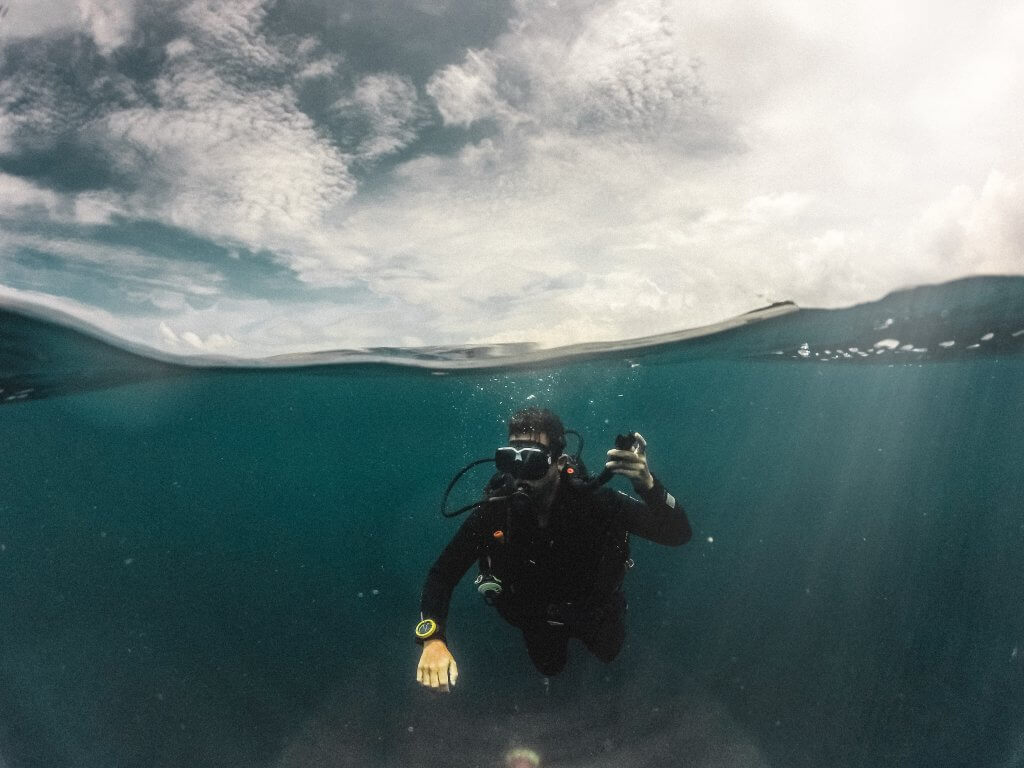 Submerged, our eyes were treated to a beautiful underwater kingdom. Frenzies of fish swarmed the hard and soft corals, all of which were in competition for a place on the reef, each as beautiful and bright as the one before.
Fusiliers, angelfish, butterflyfish and damsels congregate on the reef flats, barracuda tornados whip around the jetty whilst the armies of trevally, mackerel and tuna assemble a little further into the deep.
No dive in Arborek or Raja Ampat for that matter would be complete without the sighting of a reef shark or many species of manta that circulate the cleaning stations leaving you gawking in awe at their sheer size and grace.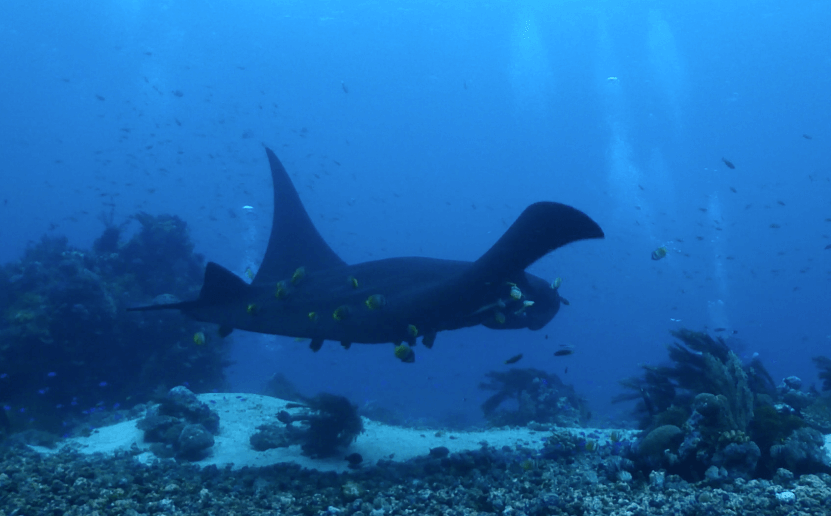 Surfacing we were desperate to reminisce about the marvels from the past 60 minutes. Clocking up over 150 dives between us, this was truly the most spectacular!
Back at our homestay we were greeted by the delicious aromas of cooked garlic and chili. Settling under the shelter, we were presented with a bowl plentiful with rice, fish, noodles, Tempe and of course a generous helping of sambal to awaken our taste buds. Finishing our last few mouthfuls we watched the sky turn to a fluorescent fuchsia shade as we drank in one of the most beautiful sunsets we have ever experienced, with some of our new found friends of course!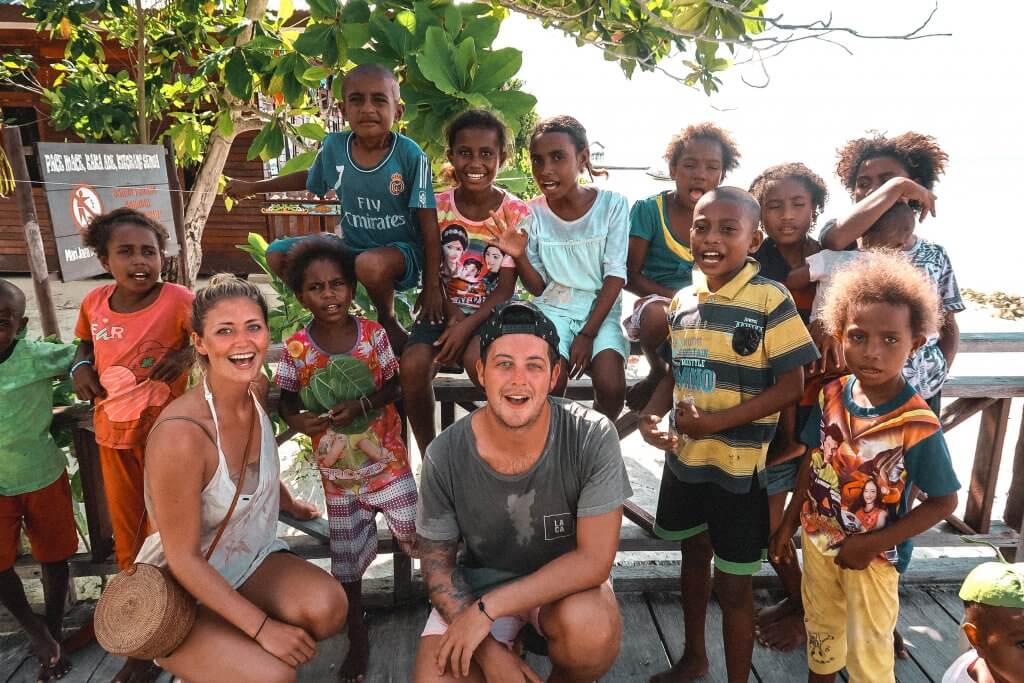 For those looking an authentic Raja Ampat experience, a stay at Arborek Village whose inhabitants have been living worlds apart for an eternity, will enable you a rare glimpse into the authentic world of West Papua.
A pretty village with tremendously charming natives, it is extraordinary to be welcomed by the locals who will look longingly into foreign eyes, play football, blow bubbles and embrace their visitors the only way they know how, with kindness and care.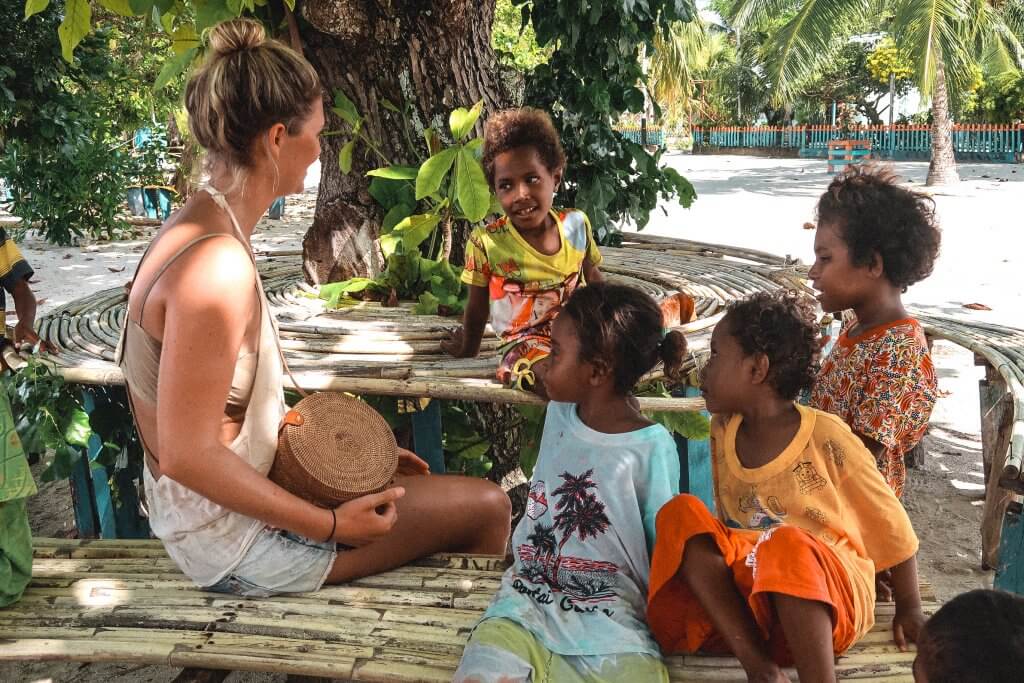 How To Get There:
The beauty of Arborek is its remoteness, making it a haven for those craving an adventure off the beaten path with not a single tourist in sight. However this remoteness does make the village a little more difficult to get to! You're required to fly into the city of Sorong where you can take the public ferry which leaves twice a day to the capital of West Papua, Waisai, where you can take a boat to the village of Arborek.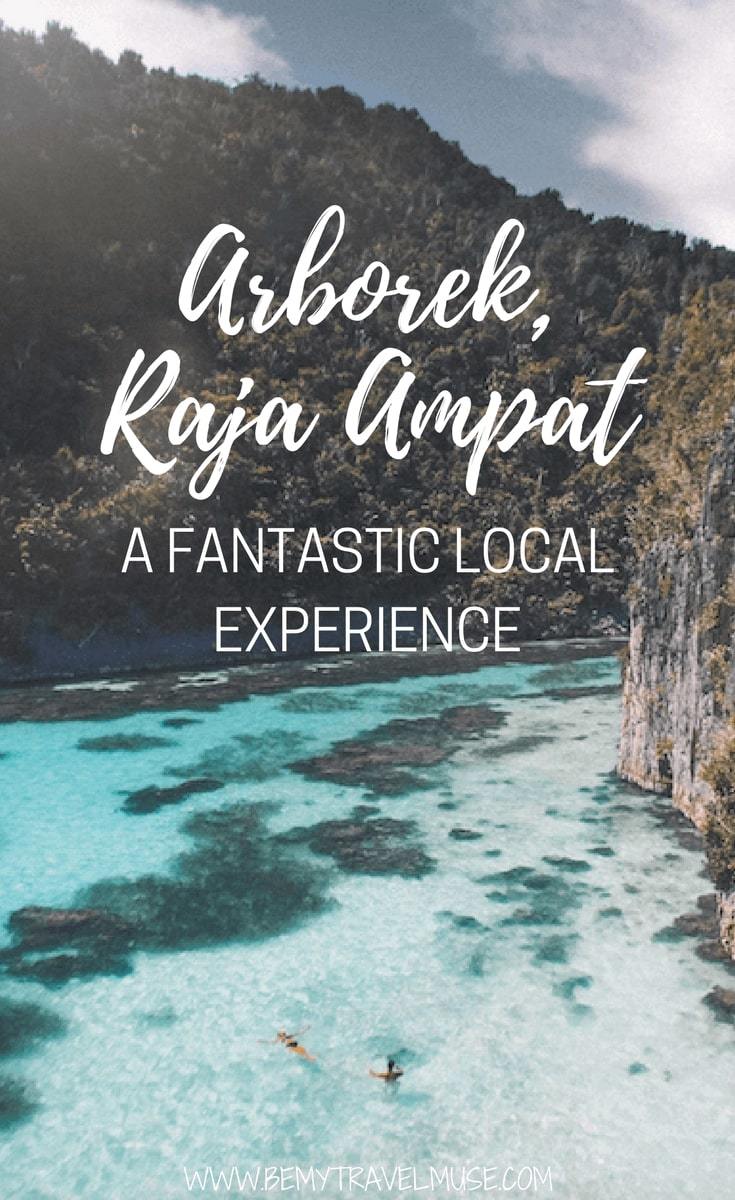 About the Authors: Charlie and Charlotte are the wanderlusting couple behind The Wanderlovers. They have swapped their city life in London for an action packed journey across the globe. Hand in hand, they're taking on one country at a time and creating a life they don't wish to escape from! Through their couple's travel and lifestyle blog and Instagram, they hope to inspire future travellers that anything is possible if you just buy that one way ticket … Go Live!