Days 112-116
I had spent a few days between bed and the sand in Khao Lak, unable to do much other than lay there and pray my inflamed tonsils away.  The insides of my ears were screaming.  Each night consisted of five or so hours of sleep.  I had been dealing with a middle ear infection for almost three weeks.
Please, pleeeease be gone. Please don't be what I think you are, I pleaded with my body as I tried, in vain, to equalize my ears.
I had booked six days for an 18-tank dive in the Similan Islands, which was rumored to be some of the best diving in the world.  I was so excited.  I had expected this to be one of the highlights of my travels in Southeast Asia.
The day of the dive came and I couldn't ignore it anymore, I had to see a doctor – the fourth doctor I would see in the span of 3 weeks.
"You have a middle ear infection, at this point, it's chronic.  No diving for you for at least five days," he told me.
Crushed, I cancelled my diving trip, and whipped out a map to see where I might head to next.
Krabi sounded good, and wasn't too far away, so I jumped on the next bus out.
I had heard good things about Railay, near Krabi, and therefore set my sights on that as a final destination.  However, on the long tail boat over, we passed a seemingly underdeveloped stretch of beach, nearly devoid of much apart from misty skies and wooden bungalows.
What's that? I wondered.  I landed on Railay and immediately headed back to the water taxi and asked to be taken to the other beach, which he told me was Tonsai.
We pulled up and someone with dreadlocks walked by.  I knew I had landed in a hippie paradise.  It was perfect.
Tonsai is the type of place where the electricity turns off during the day.  Most people who visit this place stay for several weeks, if not months.  These types of places always seem to steal my heart.
My days were spent lazily wading through the water, laying on the wooden decks and staring at the long tail boats, and reading Jack Kerouac novels.
Though not particularly easy with a middle ear infection, as it threw off my equilibrium, I tried out one of the more popular activities on Tonsai – slack-line walking. The more skilled 'slack-liners' could jump from line to line, balance on one leg, and lay down on the line only to push themselves back up without falling.  It was impressive, to say the least.
The other favorite activity in Tonsai is rock climbing, given the near-vertical cliffs that line the beach.  Each evening, base jumpers whoop as they hurl themselves from the tops of the cliffs to the beach below.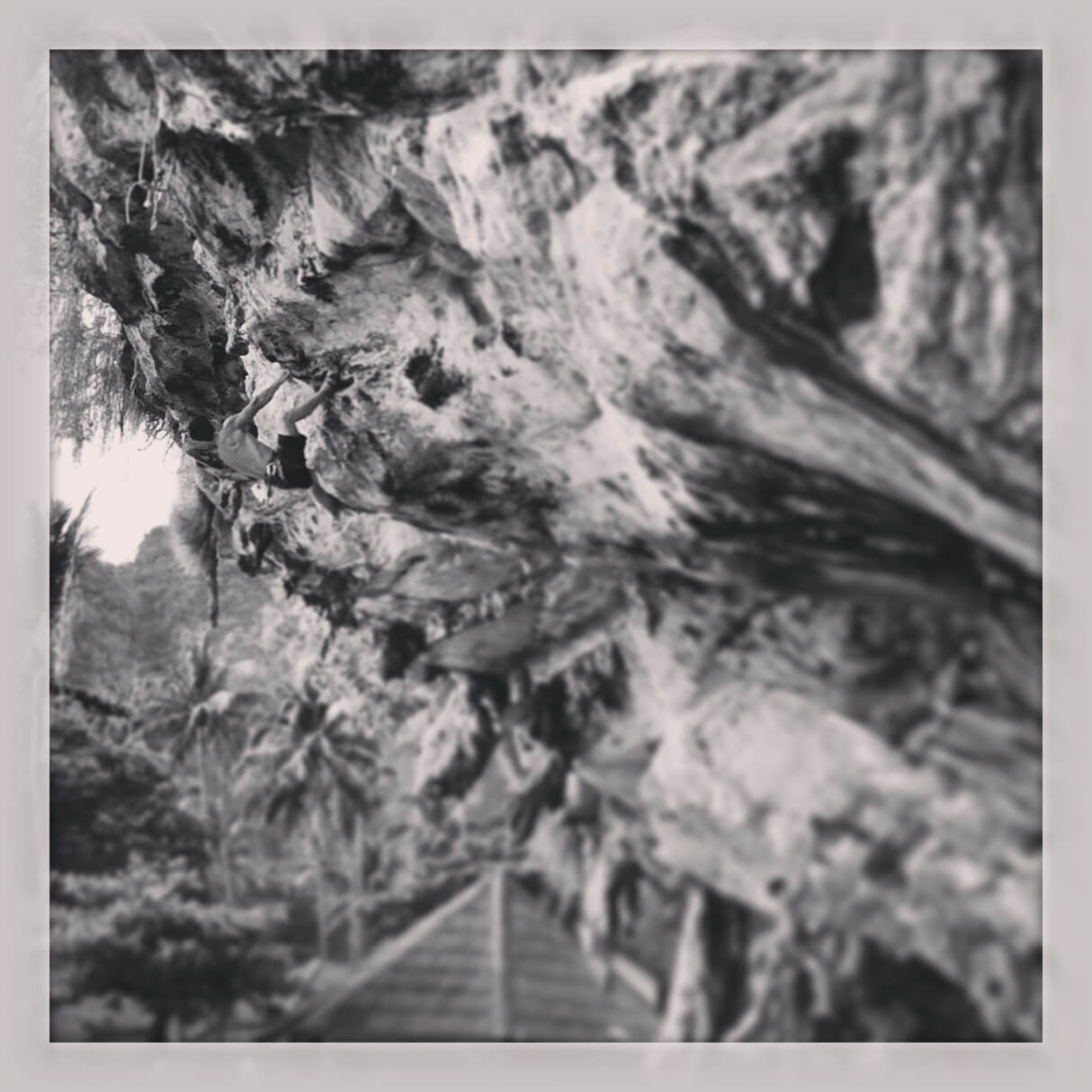 When not hanging or jumping from cliffs, most people kayak, or swim in the beautiful blue sea.
But me? I laid on the wooden decks of my favorite coffee shop, and drank chai teas churned out by an awesomely-tattooed local who wielded a mortar and pestle.
Every day when I got up to leave, he'd ask, "When are you coming back?"
Each day I said, "I'll see you tomorrow!" extending my stay that much longer, and writing off Koh Phi Phi as my penciled in finale of Thailand.
Every now and then, I sat up to survey the beautiful sea in front of me.
I even caught a sunset or two.
I finished the very last day of my 60-day Thai visa in Tonsai.  It took a lot of searching, but as it turns out, there are still beautiful, unspoiled beaches in Thailand.  Thank goodness!
Perhaps the ear infection was what the doctor ordered, after all.
Tonsai, I'm coming back in May.  Until then, stay beautiful.
Have you found a perfect beach paradise? Please do tell. My list is ever-growing!