It's finally getting chilly after a sweltering summer, and now you're looking for the best places in the USA to visit in October. Traveling during this time is definitely a treat, as October is the definition of "sweater weather."
From cozy getaways to spooky Halloween celebrations, from peaceful road trips to unconventional fall destinations, this list will give you some much needed autumn travel inspo, so you can have a fabulous time traveling the States this October:
1. Maui, Hawai'i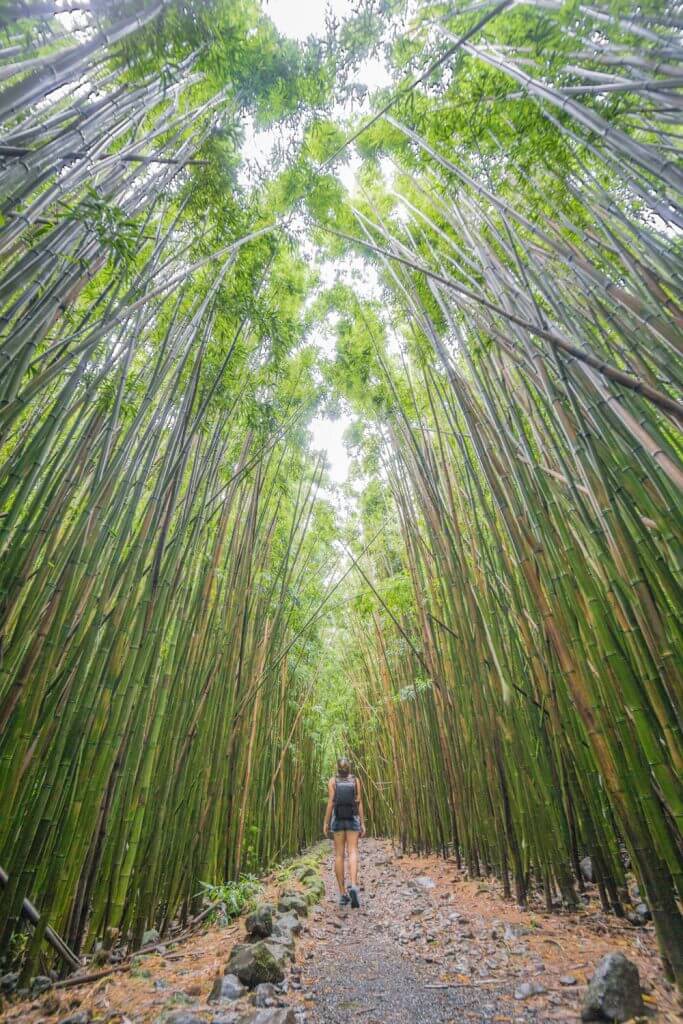 If you've been itching to visit Maui but get the nervous sweats every time you look at flights, perhaps an October visit might help you avoid sticker shock. This time is shoulder season for the Hawaiian Islands, meaning cheaper flights and accommodations if you book far enough in advance.
While a tropical vacation doesn't necessarily capture that cozy autumn essence that so many people yearn for, you'll forget all about the pumpkins (and pumpkin-spice lattes) as soon as you get a glimpse of Maui's immaculate scenery. Incredible black-sand beaches, enchanting bamboo forests, gushing waterfalls, and much more await you on this gorgeous island. Plus, the weather in October is warm without being too hot, and precipitation is low. Perfect beach weather, especially for snorkeling!
West
2. Mount Rainier National Park, Washington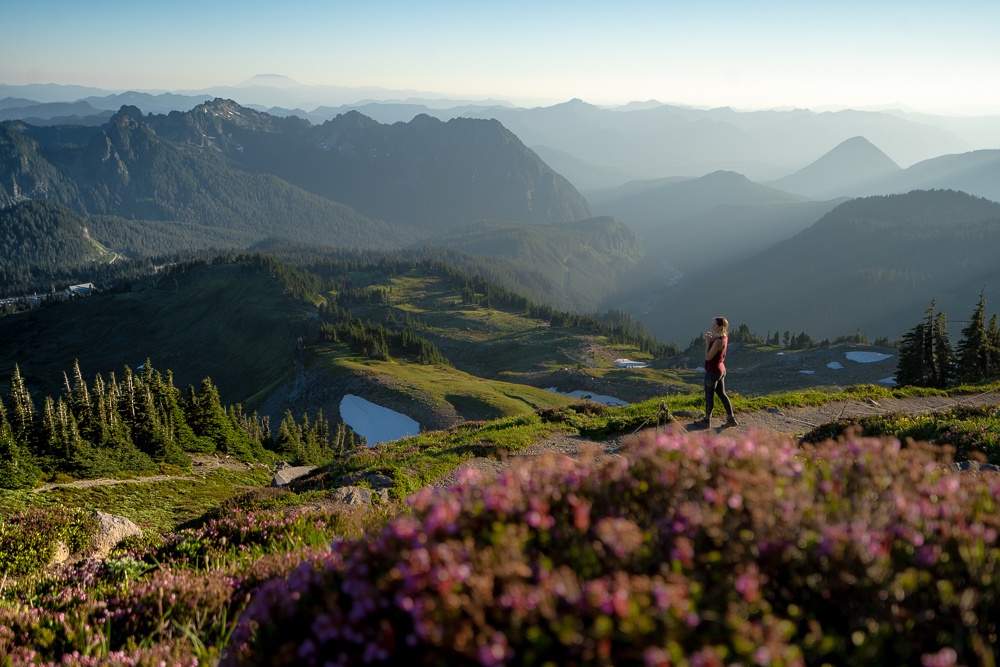 Can you imagine unzipping your tent and seeing the golden morning sun illuminate vibrant valleys full of fiery autumn leaves? If you venture to Mount Rainier National Park, you just might be able to find these kinds of views and more by visiting in October.
The name of the game in this incredible national park is getting out for a hike, and boy, are there plenty to choose from! Plus, it's less crowded in October, so you can enjoy it in a more leisurely fashion.
This month might be much chillier in Washington than it is in other places throughout the US, so make sure to pack plenty of layers, especially if you're camping.
3. Mammoth Lakes, California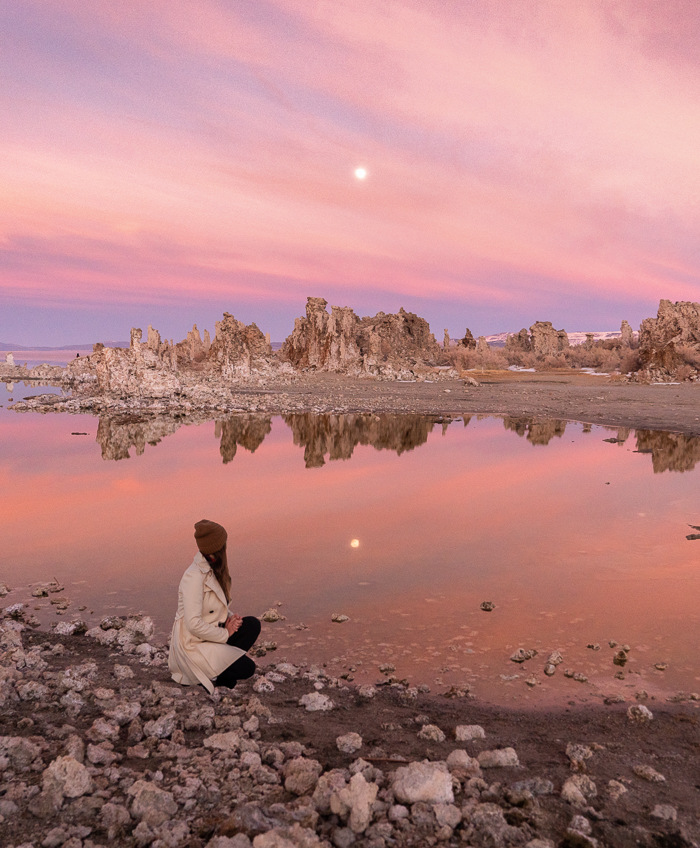 With brilliantly clear lakes that reflect light perfectly and vibrant yellow aspen trees, Mammoth Lakes is one of the most scenic places you'll find in the US, especially in the fall. Mammoth Lakes is a popular winter destination, mostly among skiers, so visiting in October offers a far less crowded experience, as many people prefer visiting between December and February.
Mammoth Lakes is in eastern California, close to Yosemite. While Yosemite is an incredible park to visit any time of year, it is one of the most popular and therefore the most crowded in the country. Mammoth Lakes is a great alternative, with gorgeous scenic drives like the June Lake Loop, on which you'll see some amazing fall colors. The October chill also makes for a great stop at the numerous hot springs, like Willy's and Hilltop.
4. Mendocino, California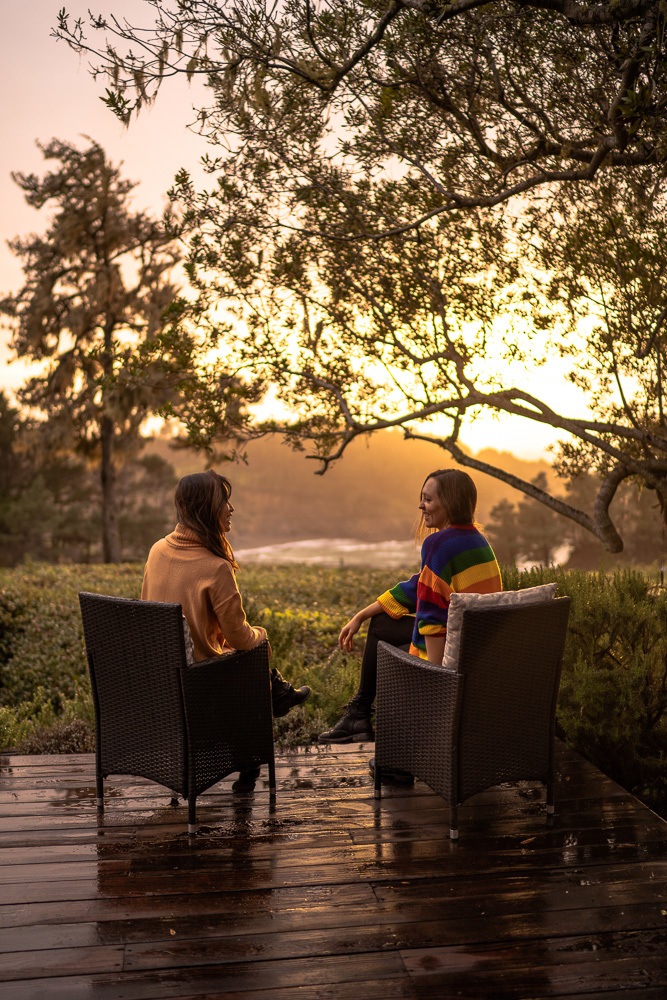 Mendocino is what autumn dreams are made of. While many claim that it's in an eternal spring, October's multicolor scenes add a special flair that only a fall visit can grant. Whether you're catching a sunset at Headlands State Park, hiking to the waterfall at Russian Gulch State Park, or simply cozying up in a seaside cabin with a cup of hot cocoa, you're sure to be enchanted by this destination. There's no wonder why it's one of the best places in the US to visit in October.
I highly recommend making Mendocino a stop on an October road trip through NorCal, as there are so many other places nearby that are worth visiting too. Some notable stops are Glass Beach in Fort Bragg and Redwood National and State Parks, among many others.
5. Twin Falls, Idaho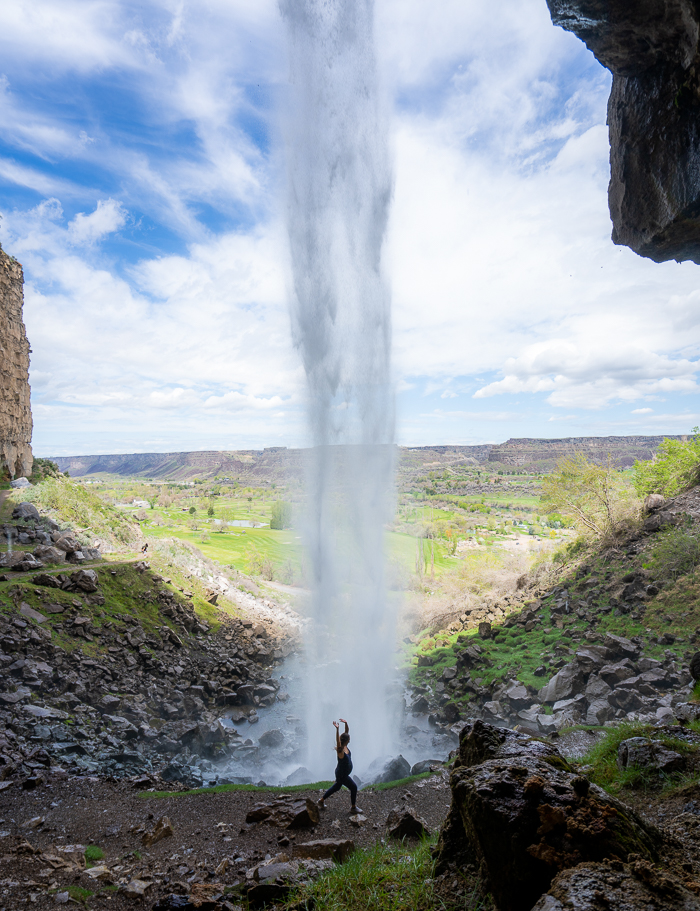 In case you missed it, Idaho is a big BMTM favorite when it comes to hidden US gems. In and around Twin Falls there is plenty to do, and the October scenery is the cherry on top. From deep canyons to thundering waterfalls and tons of hot springs (check out Kirkham Hot Springs), southern Idaho is spilling over with natural wonders.
With the autumn leaves in their full colorful splendor during the month of October, the already-gorgeous views around Twin Falls are even more magical. Though it might be too chilly to take a dip in the blue waters at the swimming holes in Box Canyon State Park, the weather is perfect for a soak in Miracle and Banbury Hot Springs. Or even better, take a longer trip to see the rest of the amazing hot springs all throughout Idaho! You'll have a great time no matter when you go, but it's one of the best places in the USA to visit in October.
6. Las Vegas, Nevada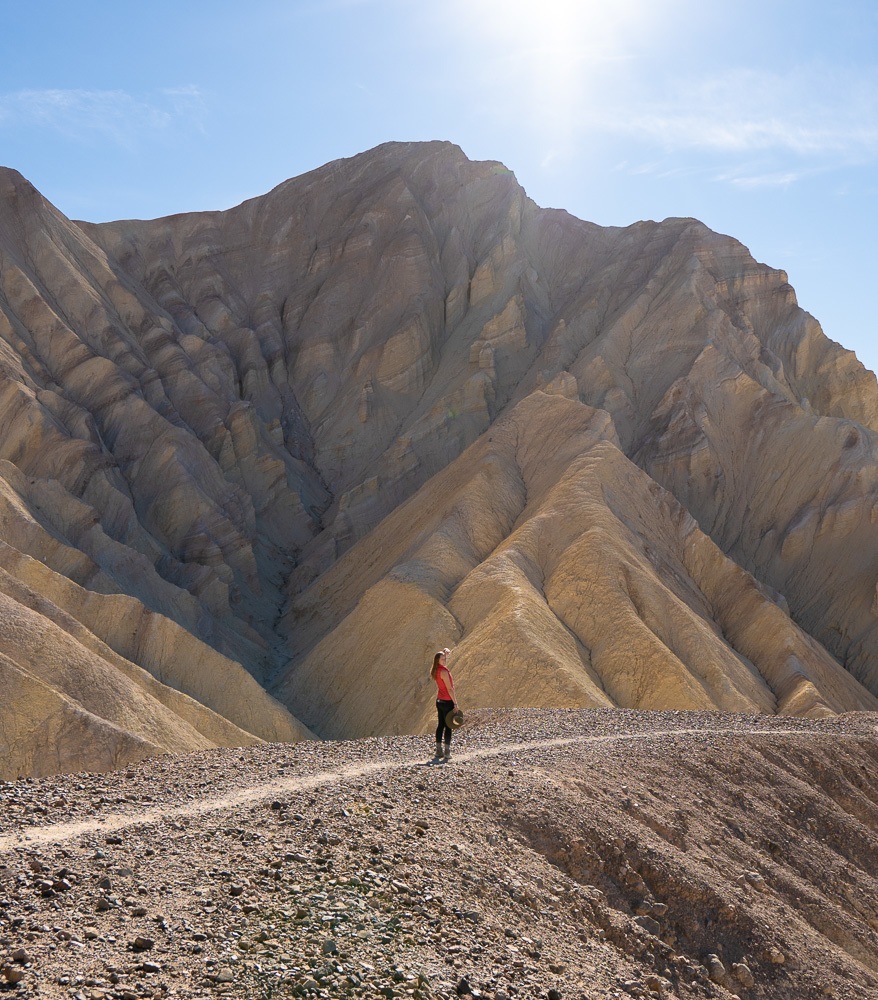 Considering the extreme temperatures, you might be surprised to know that summertime is actually the most popular season to visit Las Vegas. So escape the crowds — and the heat, for the most part — by visiting Sin City in October. Since there are so many amazing outdoorsy places just outside of town, you'll be glad you opted for an autumn trip.
Besides hitting up some of the obvious Vegas landmarks and perhaps checking out a casino or two, consider venturing out to Red Rock Canyon or Valley of Fire State Park. You can also easily get to the Hoover Dam, Death Valley National Park, and the quirky Seven Magic Mountains art installation, all within a few hours at most.
Northeast
7. Stowe, Vermont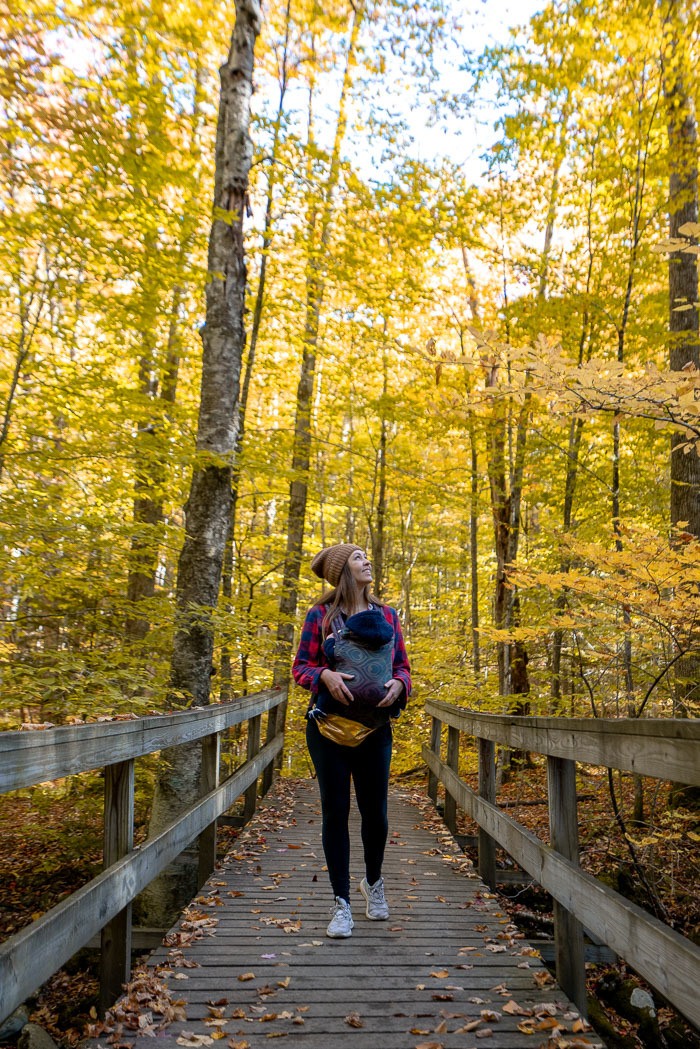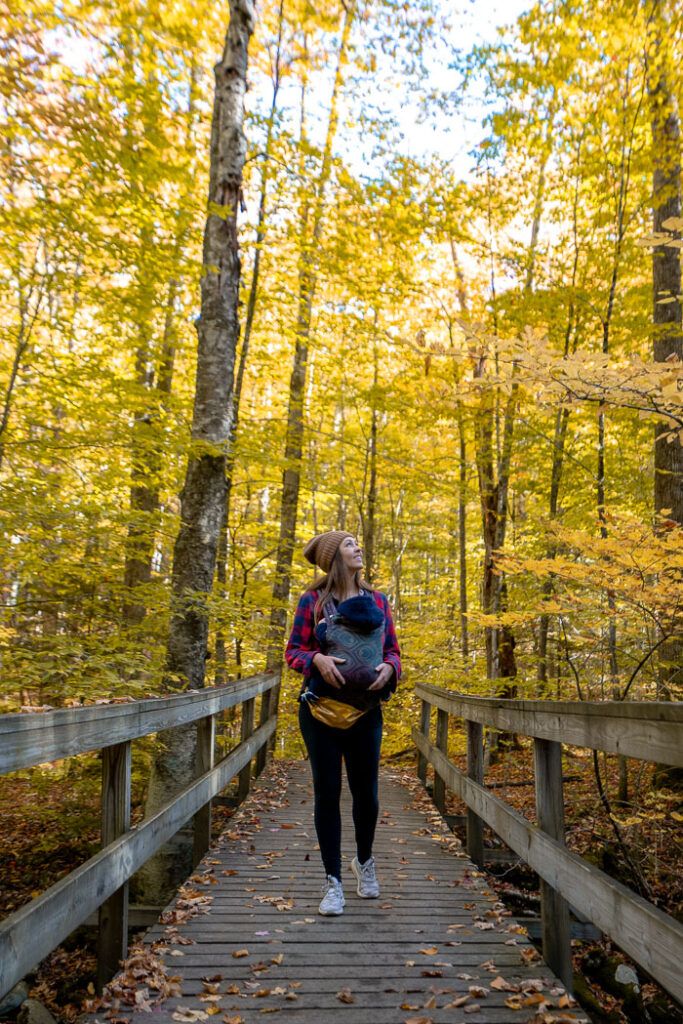 Old English architecture and rolling green hills topped with a rainbow of colorful trees await you in the ski town of Stowe this October. This New England town captures the best things about fall, with ample small breweries, locally produced cheeses and maple syrup, quaint farms, and chilly weather that is perfect for an evening by the fire.
To really get into the spirit of autumn, take the gondola up to the top of Stowe for amazing views. Then, get the most out of the fall colors by checking out the trails around Camel's Hump. Read all of the best things to do here
8. Philadelphia, Pennsylvania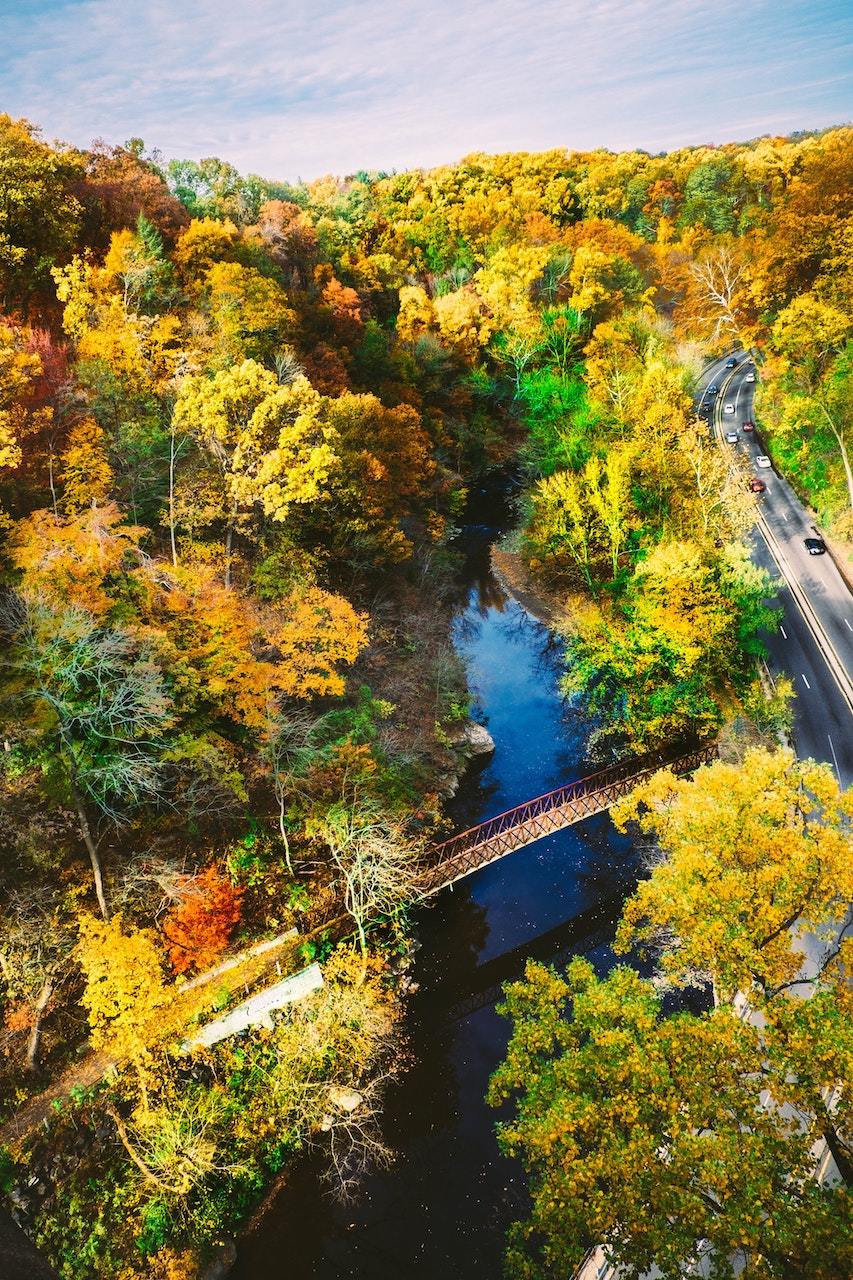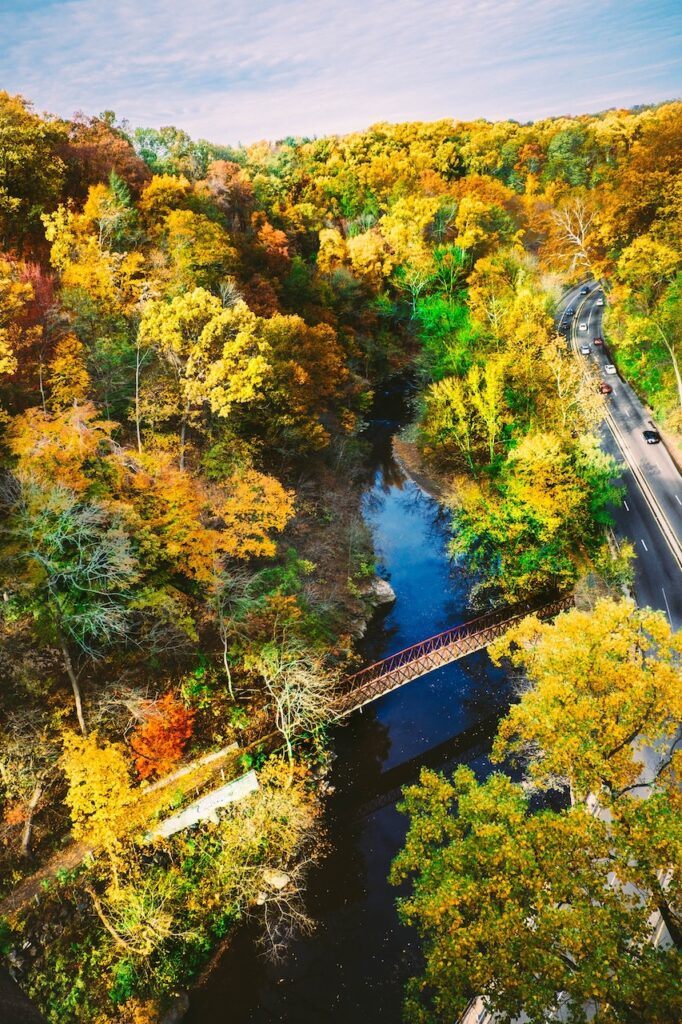 Being such a historic city, there are plenty of museums, theaters, galleries, and other landmarks to visit in Philly any time of year. However, the fall foliage and perfect sweater weather that October brings only makes it that much more magical. Bundle up with your favorite chunky scarf and hit the streets of Philadelphia to explore its rich history and culture.
Did you know that Philly puts on the largest Halloween celebration in the country? Between the abundance of haunted houses, parades, shows, and other spooky events, this is perhaps the liveliest time to visit Philadelphia. If Halloween isn't your main motivation for traveling here, you can also enjoy the city's gigantic Oktoberfest celebration, or head to Wissahickon Valley Park to enjoy the fall colors.
9. Hudson Valley, New York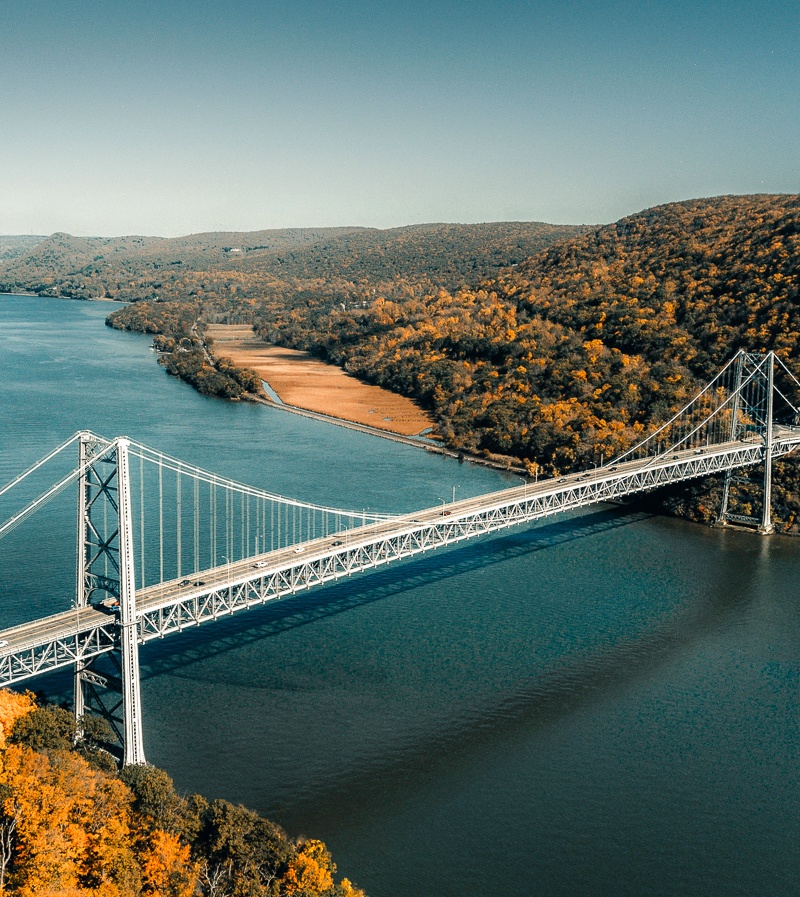 For pumpkin patches, apple cider mills, and brilliant fall foliage galore, head to the quaint and charming Hudson Valley in New York. This region stretches between NYC and Albany, with mountains alongside. Throughout the Hudson Valley, you'll find a variety of orchards and farms where you can pick your own fruits, with crips apples and juicy pears coming perfectly ripe in October.
The Hudson Valley is bursting with fun things to do, and the area is perfect for a fall road trip. Go for a hike at Minnewaska State Park Preserve or try rock climbing at Mohawk Preserve. Explore charming small towns like New Paltz, Beacon, or The Hamlets — or simply go for a scenic drive through the Catskills. Some of the best routes include Old Route 28 to 212 from Phoenicia to Woodstock, Route 44/55 from New Paltz to Kerhonkson, and Seven Lakes Drive in Harriman State Park. These are all perfect for leaf peeping!
10. New York City, New York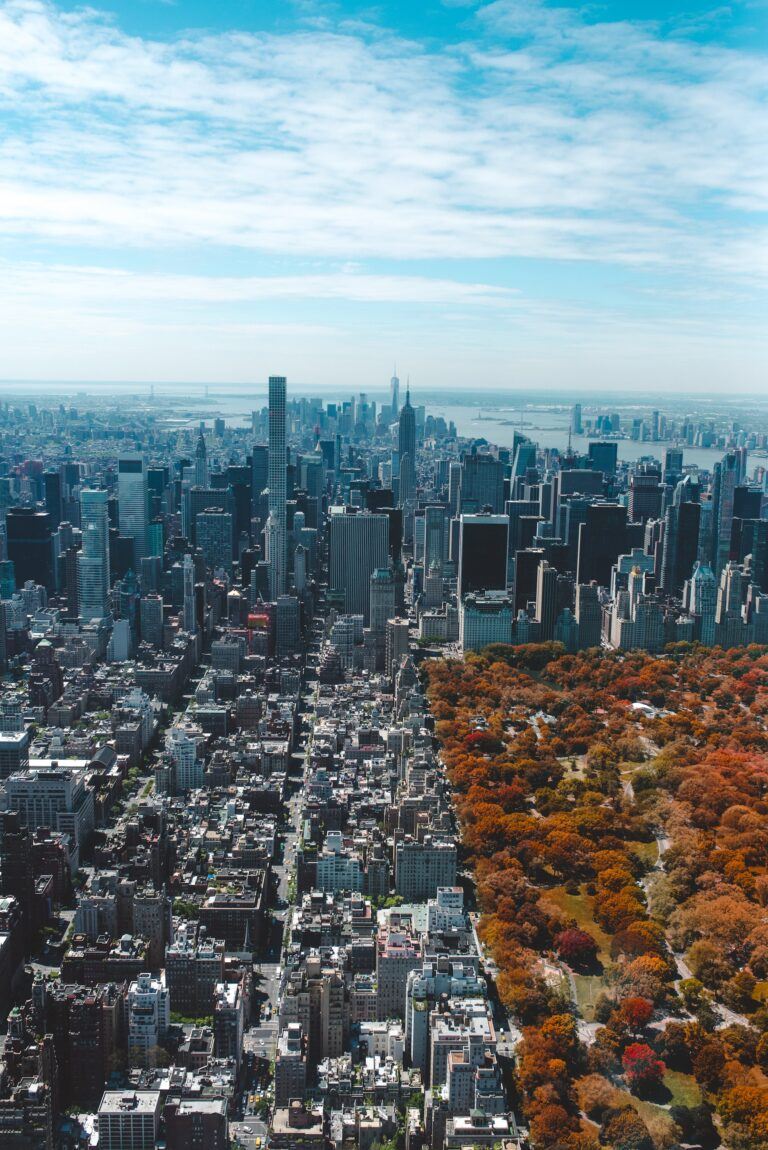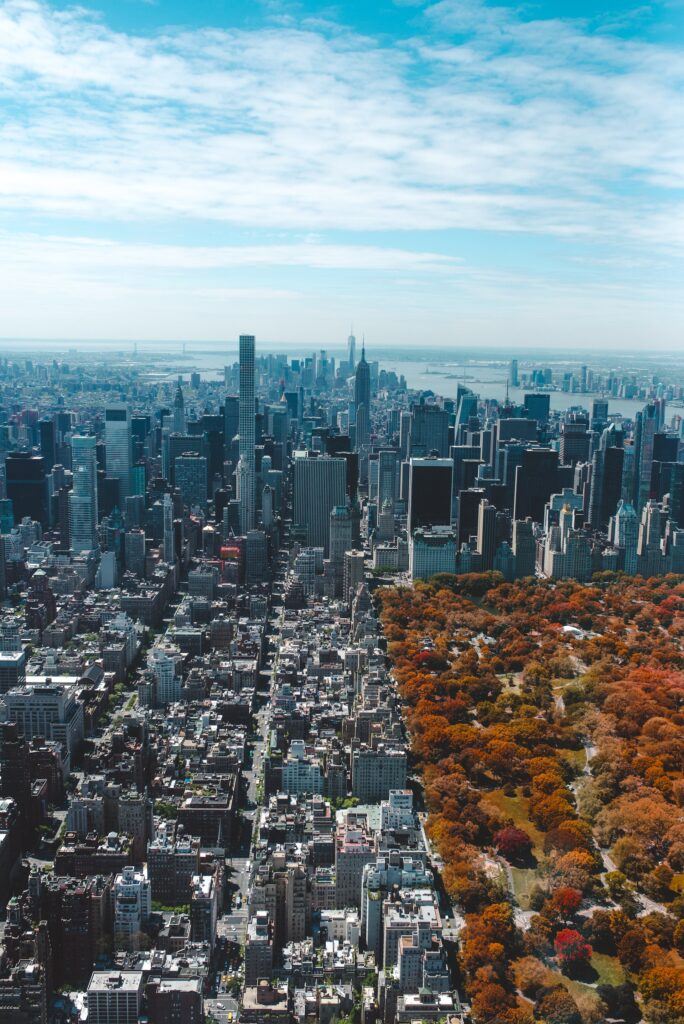 Let's face it, is there really a bad time to visit NYC? I have to say that there's something extra magical about a big city in the fall, though. From strolling through the paths of Central Park to admire the warm-colored trees to hitting up the city's best museums, there's an endless array of things to do in NYC (pssst, many of them are free!).
There are a number of festivals and events here in October, such as Oktoberfest NYC and the New York Film Festival, plus a ton of Halloween events. One of the most notable such celebrations is the Village Halloween Parade, which takes place in Greenwich Village on the 31st.
No matter how you spend your October trip to New York, you're bound to have a stellar time, even if it's just wandering the streets of Manhattan with a warm drink in hand.
11. Salem, Massachusetts
This one might be a no-brainer. Salem is one of the most legendary spots to celebrate the spooky Halloween season, so it's no surprise that it's one of the best places in the USA to visit in October. As it's the site of the 1692 Witch Trials, chances are you've at least heard about the lore surrounding this national historic landmark.
Each October, Salem hosts a variety of spooky events leading up to the big Halloween celebration every year. These range from the Salem Psychic Faire & Witches' Market to the Salem Zombie Walk; you can find a comprehensive event calendar here. I also recommend doing at least one haunted tour and visiting the Salem Witch Museum.
Keep in mind that October is the town's busiest time of year, so you will encounter crowds. However, they're more manageable during the week and toward the beginning of the month. In any case, book your accommodations well in advance to avoid price spikes.
12. Bar Harbor, Maine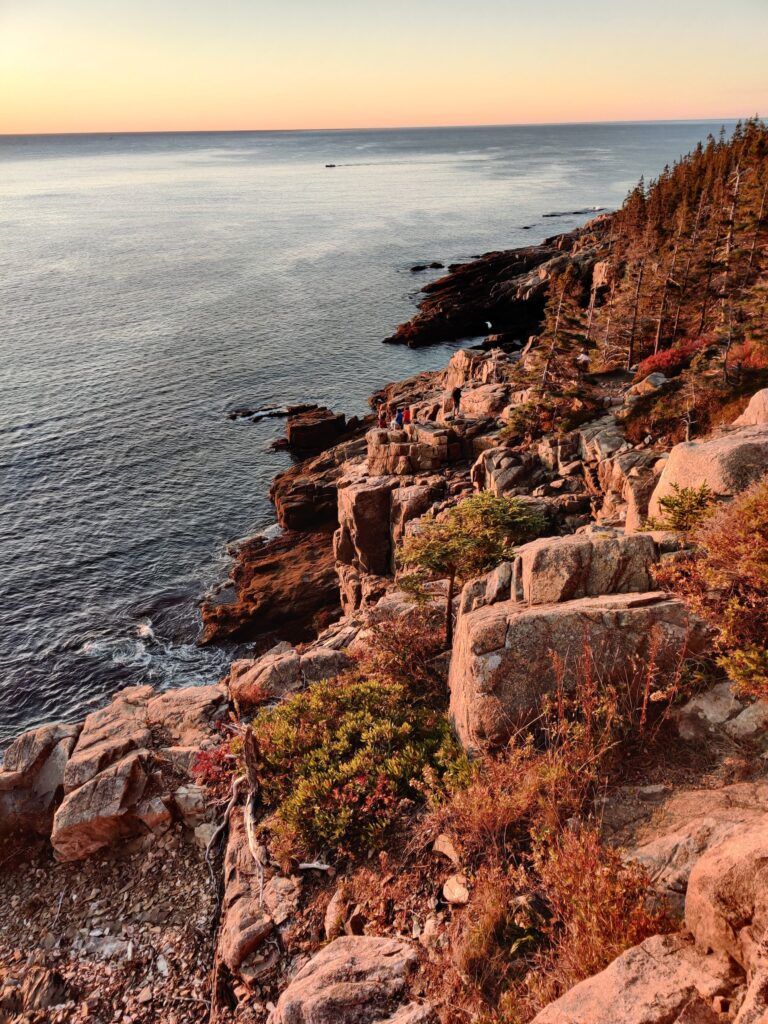 As the jumping-off point for Acadia National Park, Bar Harbor is one of the most scenic cities in New England. It's also one of the best places in the USA to visit in October because of the fall foliage at the national park and gorgeous nighttime views, due to very low light pollution. Since October is a relatively dry month, the night skies during this time are ideal for stargazing.
With crisp, sunny days throughout the month, you'll love checking out the beautiful Acadia National Park, strolling through downtown Bar Harbor, or checking out one of the many history museums in the city. This is also the perfect time of year to do a historical walking tour, as you'll get to see the cute Halloween decorations throughout town.
Midwest
13. Traverse City, Michigan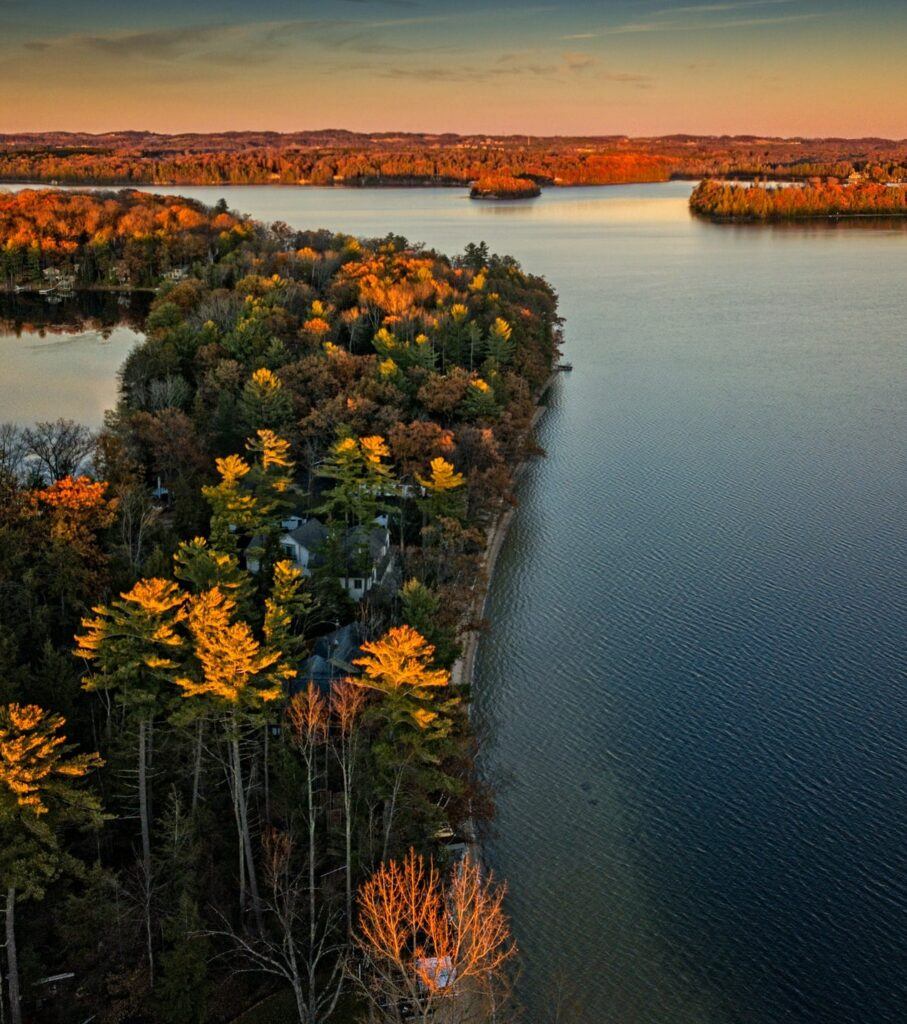 Michigan very well may take the cake when it comes to Midwest natural beauty. With hundreds of miles of lakeshore, cozy small towns, and tons of acres of forests and parks, Michigan is well worth an October visit. One of the best places is Traverse City, which sits nicely on the shore of Lake Michigan and has some spectacular autumn views.
Traverse City is a real charmer, with plenty of things to do during any season. From heading out on a boat ride to strolling through the historic downtown area, there's variety too. Summer is peak season here, like many places in the Midwest, so you'll be able to enjoy Traverse City's beauty without the crowds in October. Go for a hike at Hickory Meadows, a drive through the Tunnel of Trees, or take a day trip to Sleeping Bear Dunes National Lakeshore. However you decide to spend your time in Traverse City, you're sure to fall in love with this Midwestern gem.
14. Mystic Hot Springs, Utah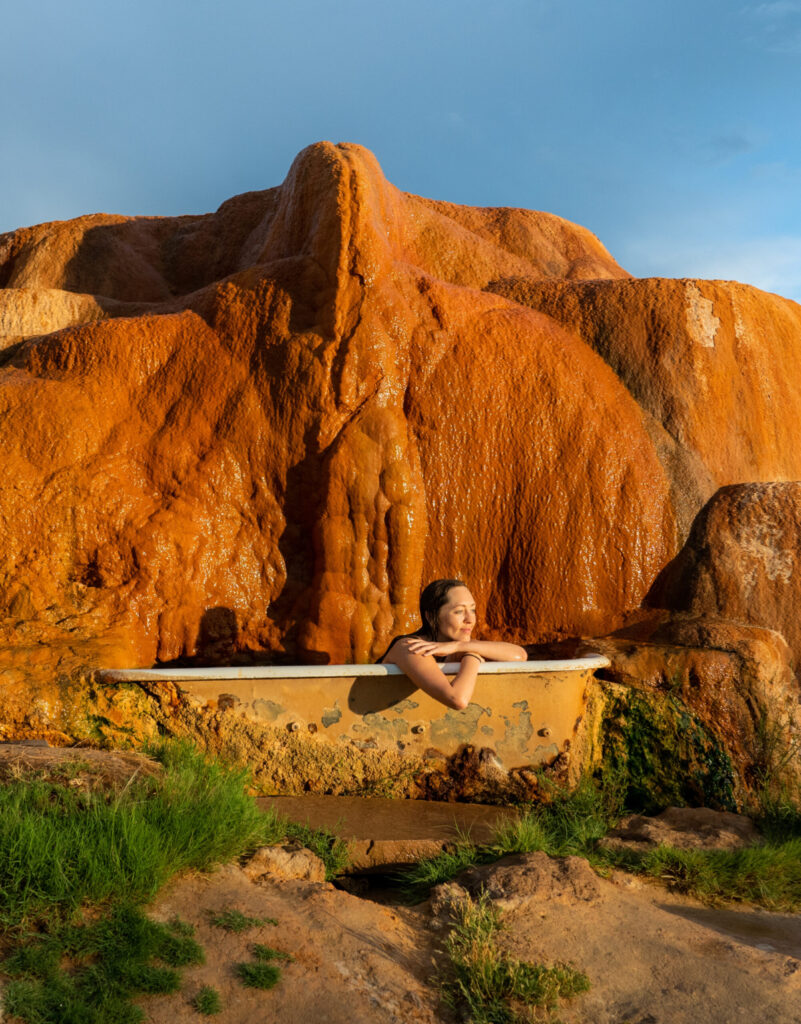 I think we've all agreed that orange is October's color, right? You don't need a bunch of jack-o-lanterns to get your fill of orange hues at Mystic Hot Springs, because this vibrant color is everywhere here! From the rock formations to the surrounding sandy earth, this region of Utah is known for its saturated colors, which are even more vibrant at sunrise and sunset.
October is a fantastic time to visit Mystic Hot Springs, because the cooler temps are ideal for soaking in the steamy waters here. Summertime is the most popular season to visit, meaning October has thinner crowds and is all around more peaceful. You can rent a cabin or sleep inside a renovated camper van for a full-on hippie experience at this desert oasis. It's the perfect October getaway for those who want to get off the beaten path and connect with nature in a unique way.
15. Aspen, Colorado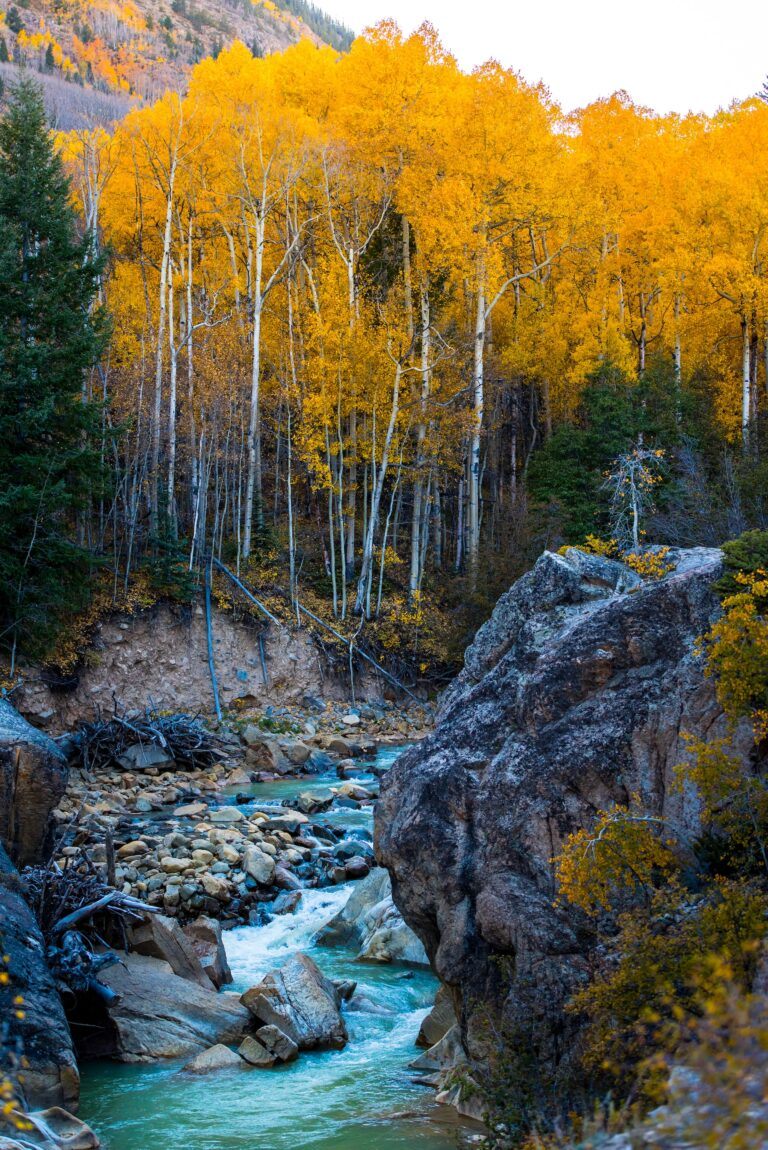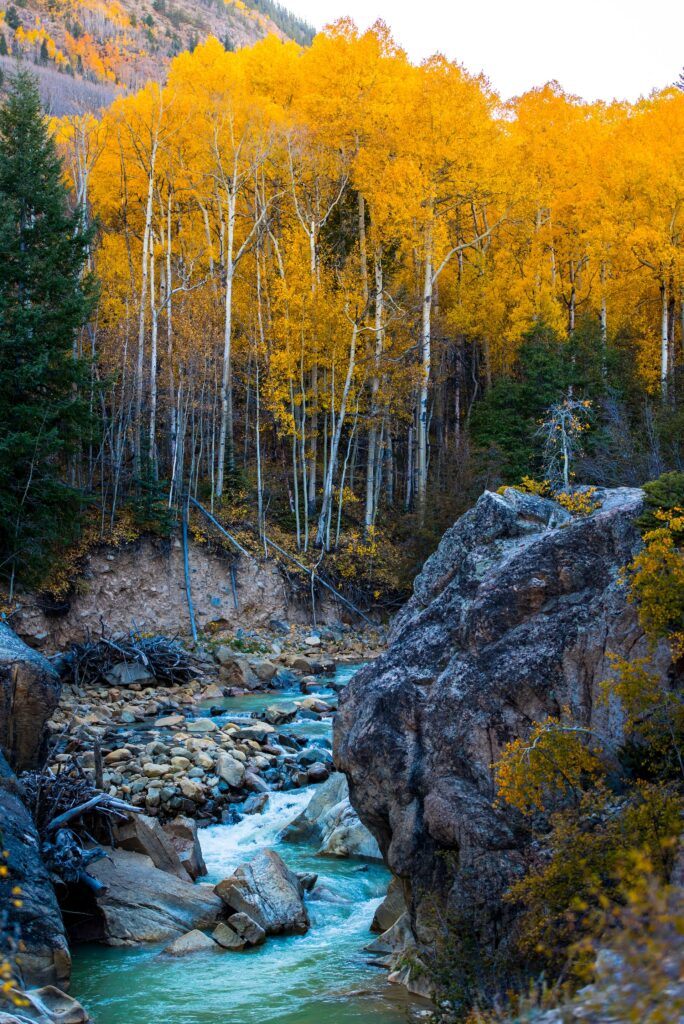 October is your last chance to hike through the yellow speckled hills of Aspen before the frigid winter kicks in. You'll see snow-capped mountains and ridges lined with golden aspen trees, which give the city its name.
Since Aspen is such a bustling ski destination in the wintertime, visiting in October means you'll get to take advantage of its beauty without so many crowds. Granted, there's really no bad time to visit Aspen. Besides hitting the hiking trails and strolling through the quaint town center, you can also enjoy a spooky nighttime ghost tour to get into the spirit of Halloween.
16. Havasu Falls, Arizona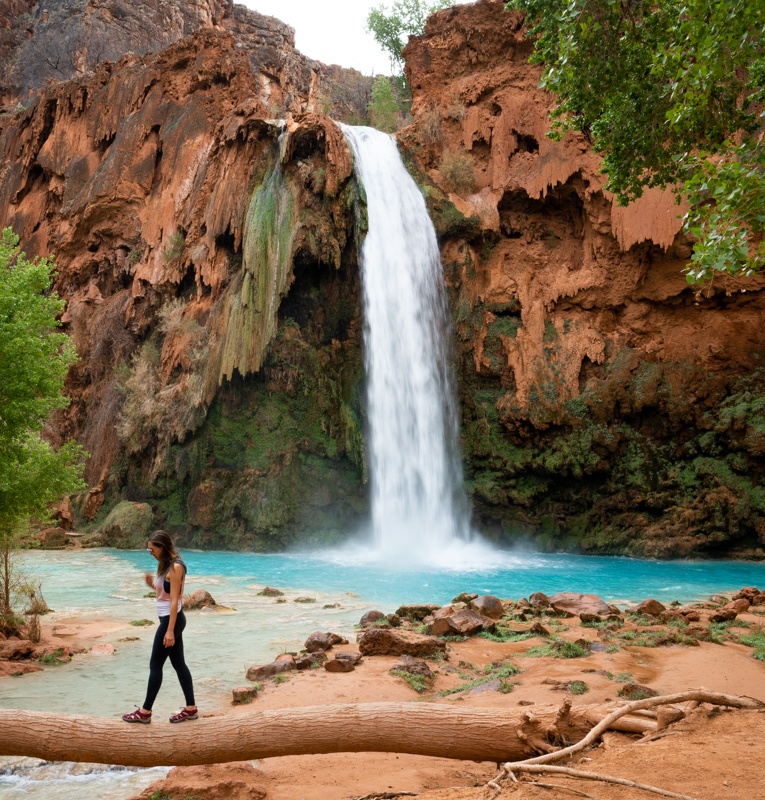 If you've been itching to see the stunning baby-blue water at Havasu Falls in Arizona, October is a fantastic time to do it. The summer heat deters many visitors from making the long hike to the falls, so anytime in September and especially October is ideal, because it's cool enough to endure the hike but warm enough to be able to swim in the water. There's also less of a likelihood of flash flooding during this time, as there's generally less precipitation.
Getting to Havasu Falls is an adventure in itself and requires quite a bit of preparation. You must have a permit to visit, which you can get here. Reservations tend to sell out, so make sure to get yours as soon as possible. All the preparation is definitely worth it, as this is truly the hike of a lifetime, which an incredible payoff when you reach the waterfalls.
17. Albuquerque, New Mexico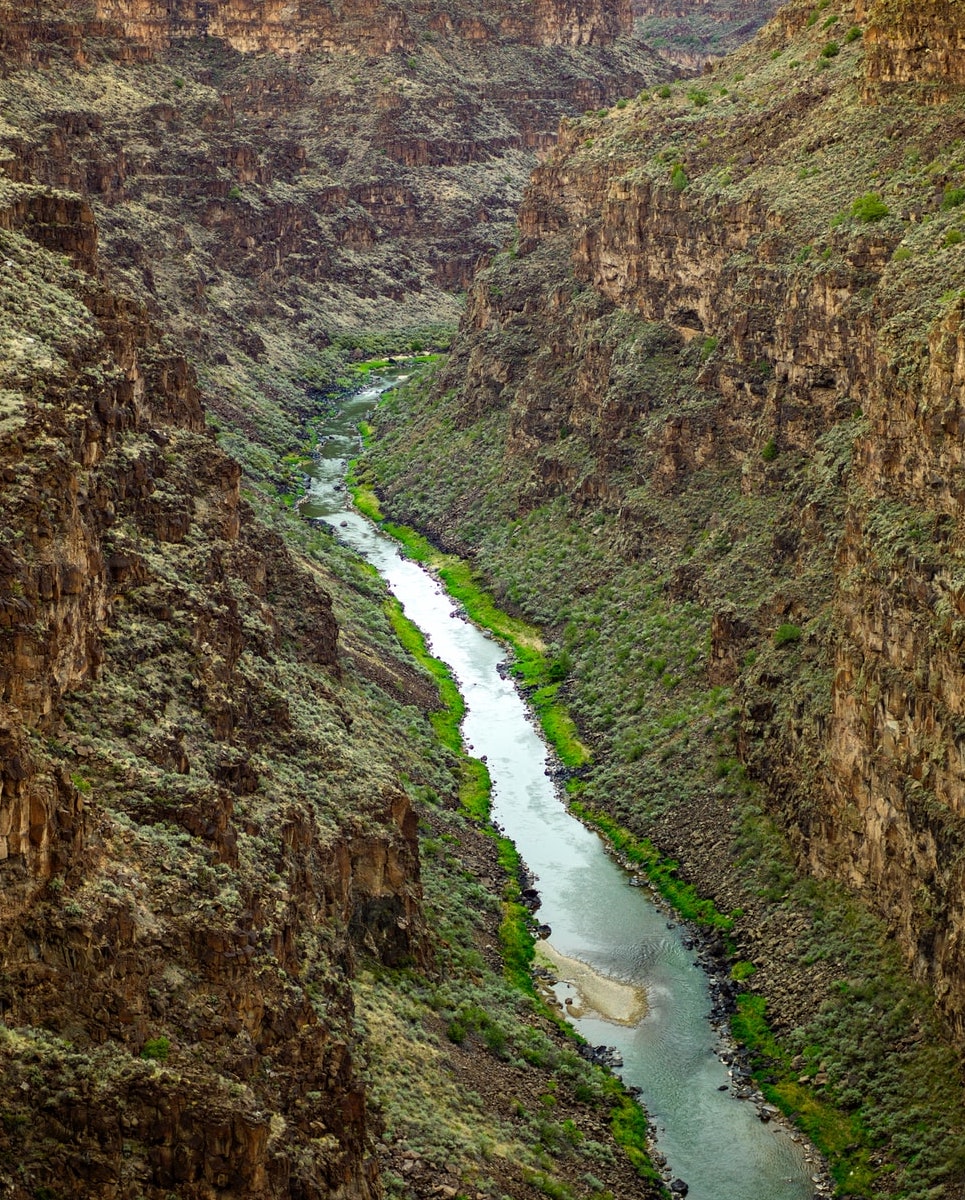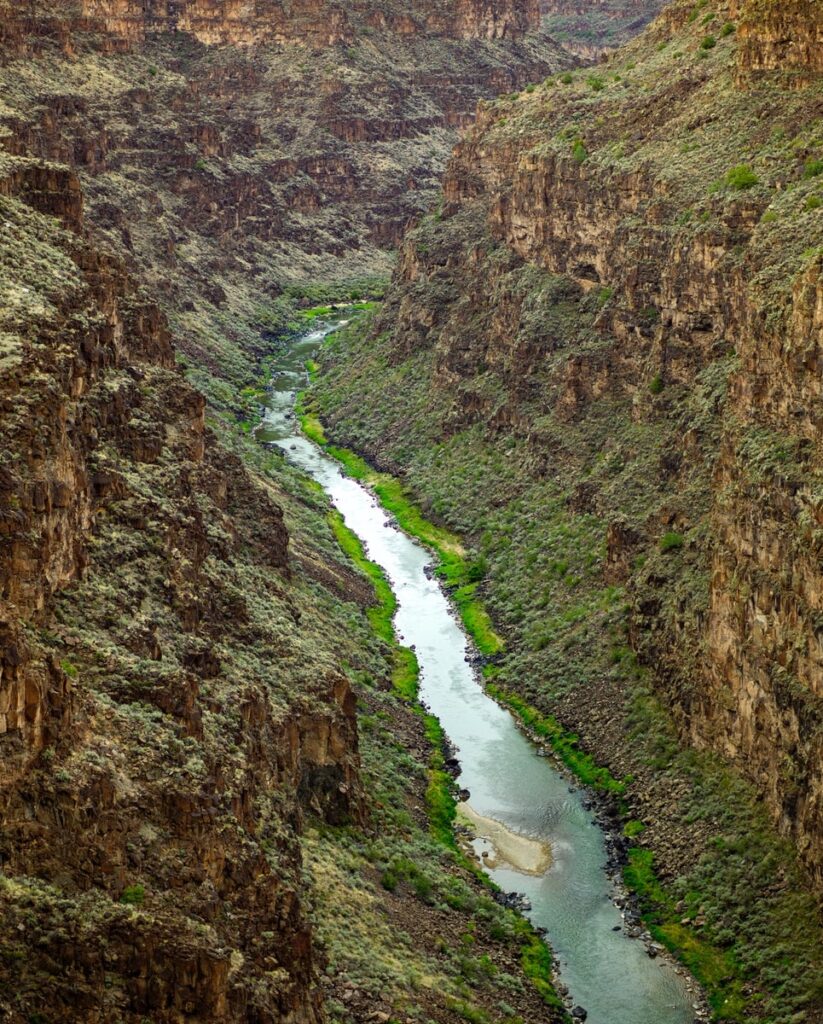 Get ready to experience the very best of Albuquerque by visiting in October during the city's International Balloon Fiesta. This legendary celebration takes place each year during the first week of October and features all kinds of hot-air balloon activities, from twilight balloon glows to balloon rodeos.
There are plenty of other things to do in Albuquerque while you visit as well. Check out the surrounding natural areas from above on the Sandia Peak Aerial Tramway, or learn about the region's past at the Albuquerque Museum — but don't forget to try all the different green and red chile dishes when you visit. Another huge plus for visiting Albuquerque in October is that the weather is still quite warm, with temperatures hovering in the high 70s and low 80s. That makes it the perfect pick for someone who wants to avoid the autumn chill.
18. Big Bend National Park, Texas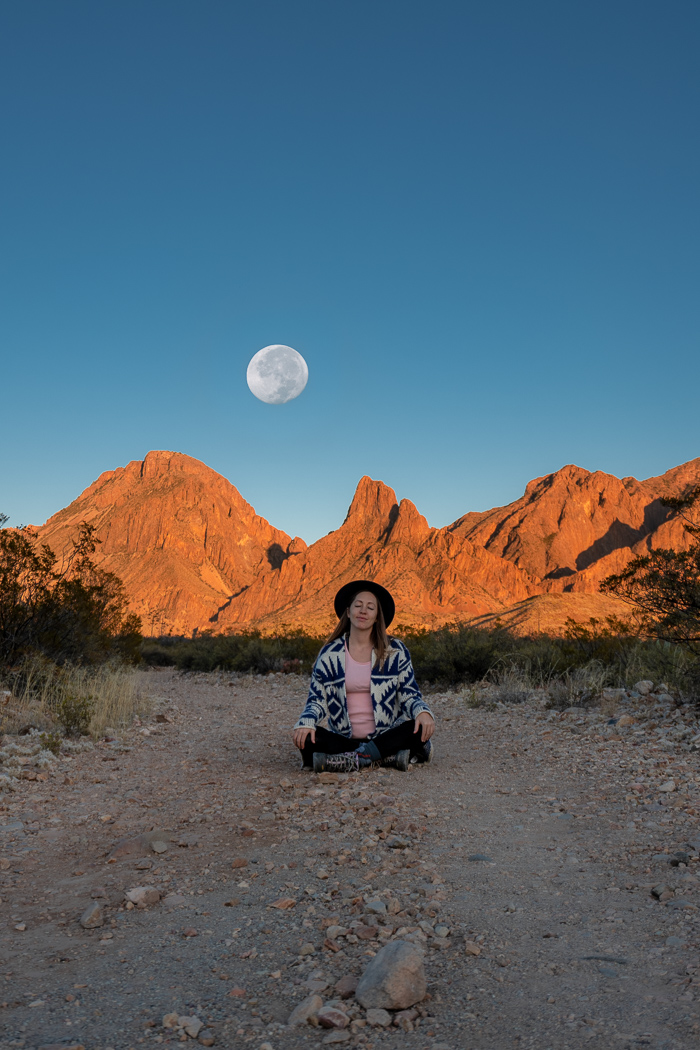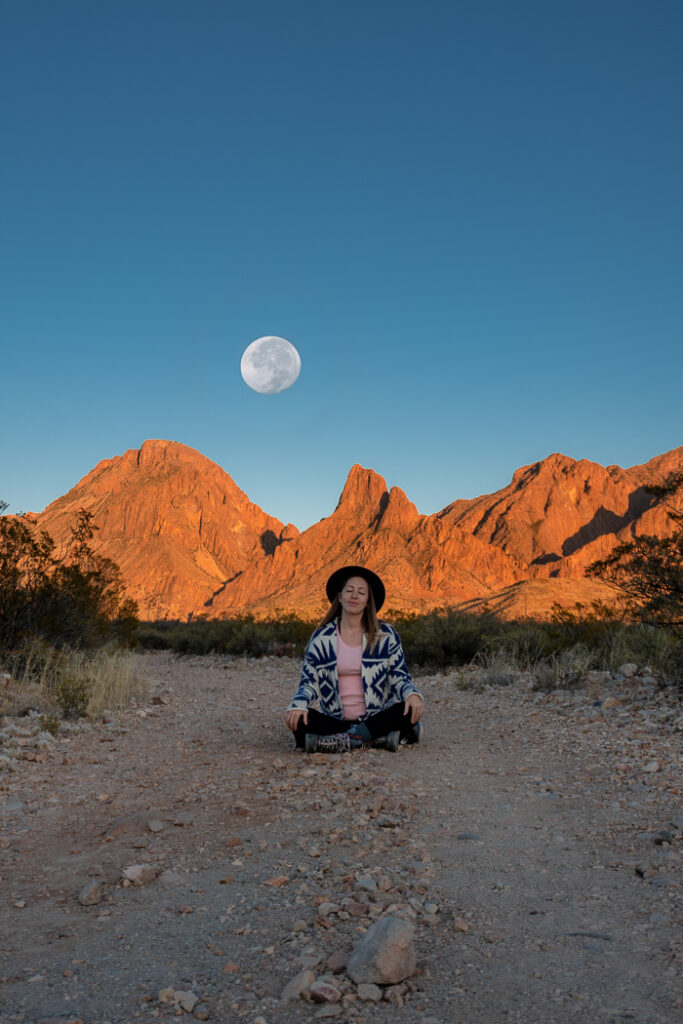 If you haven't been to West Texas yet, this is your nudge to consider it. The wild landscapes of Big Bend National Park highlight this region's jaw-dropping scenery, including impressive mountains that plunge into reddish-orange canyons with rivers winding through them. It's not just the daytime when you can feast your eyes on Big Bend's natural beauty, either. Here you'll find some of the clearest nighttime skies in the US, meaning ample stargazing opportunities.
October is one of the best months to visit Big Bend National Park, because the weather could not be more ideal for hiking. Summertime is sweltering here, but highs during the month of October stay around the low 80s, with temperatures dropping into the high 50s at night. It's the perfect time to visit, especially if you're planning on camping in Big Bend.
South
19. Great Smoky Mountains National Park, Tennessee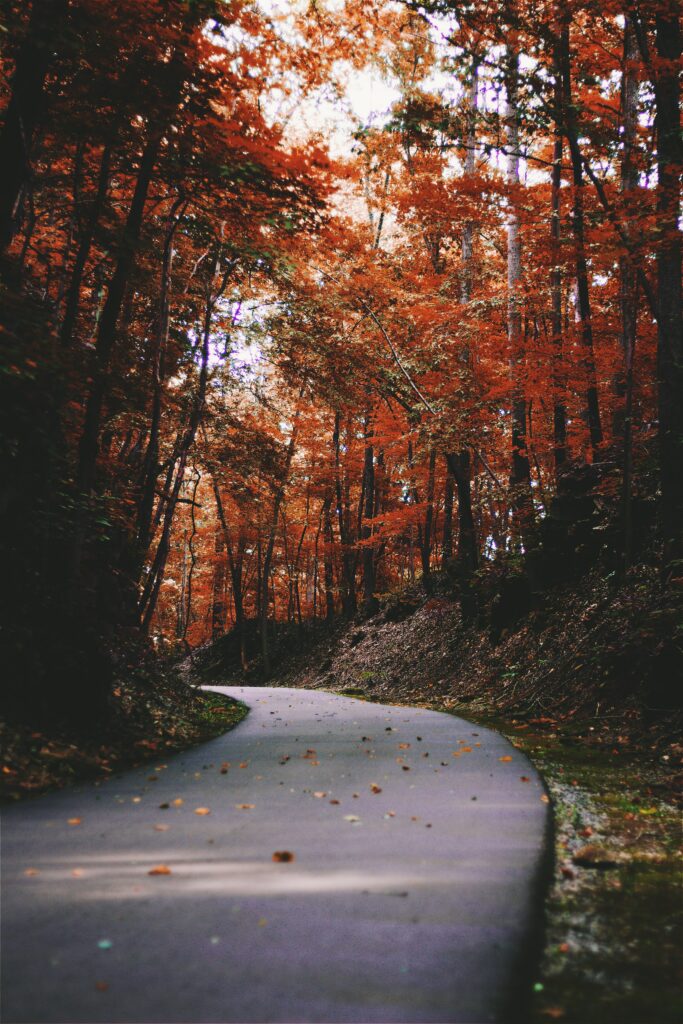 Whether you choose to admire the Great Smoky Mountains via the Blue Ridge Parkway or venture deep into the national park, October is an incredible time to do it. While September brings golden hues, as aspen leaves are at their peak, October's fall colors here are a glory to behold too. Vibrant bursts of red next to golden and orange hues await you, along with pops of deep green pine trees.
Great Smoky Mountains National Park is undoubtedly one of the best places in the country to see fall foliage, but that's not all there is to do there. Embark on a jeep tour through the park, check out Cade's Cove, explore Clarksville (and Dollywood!), or even get your adrenaline pumping on a white-water rafting adventure. However you build your October itinerary for the Smokies, you're guaranteed to have an awesome time.
20. Shenandoah National Park, Virginia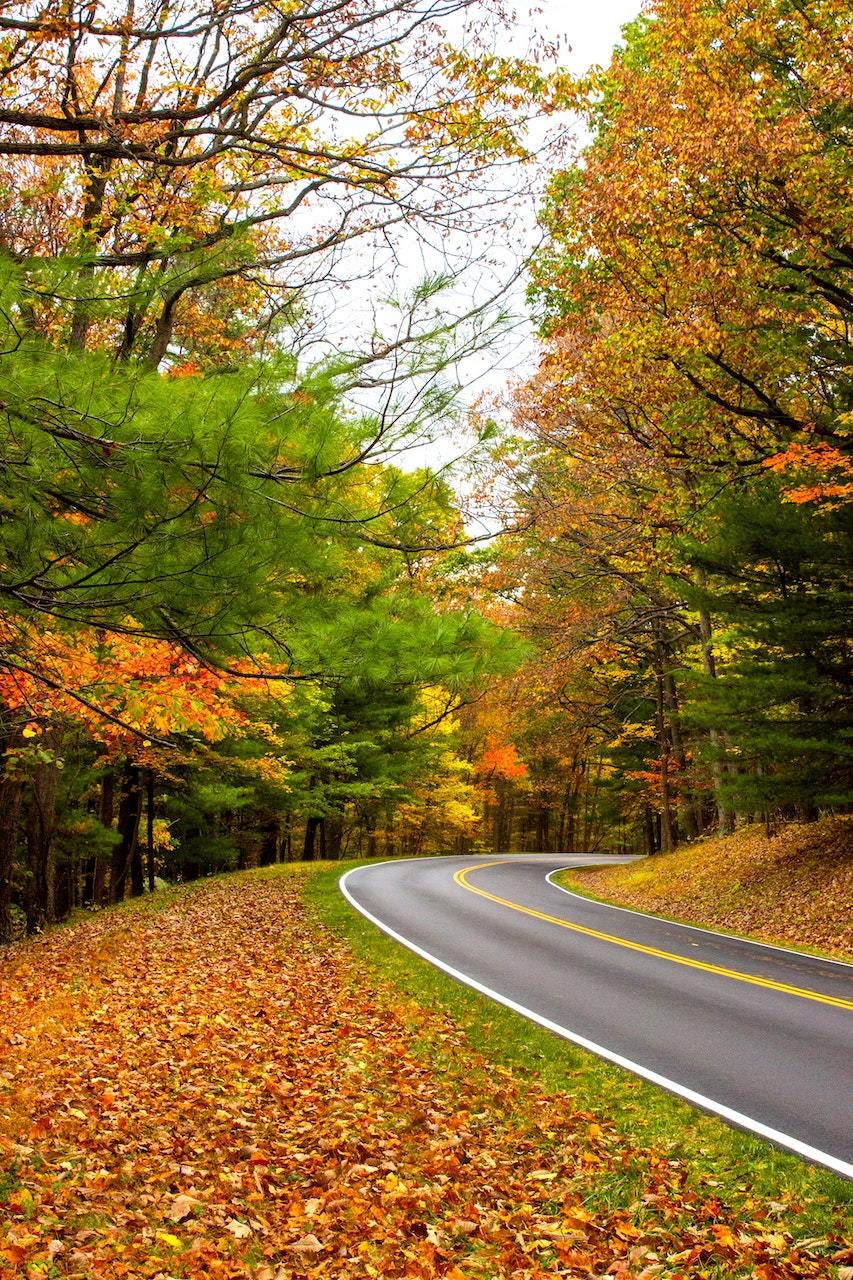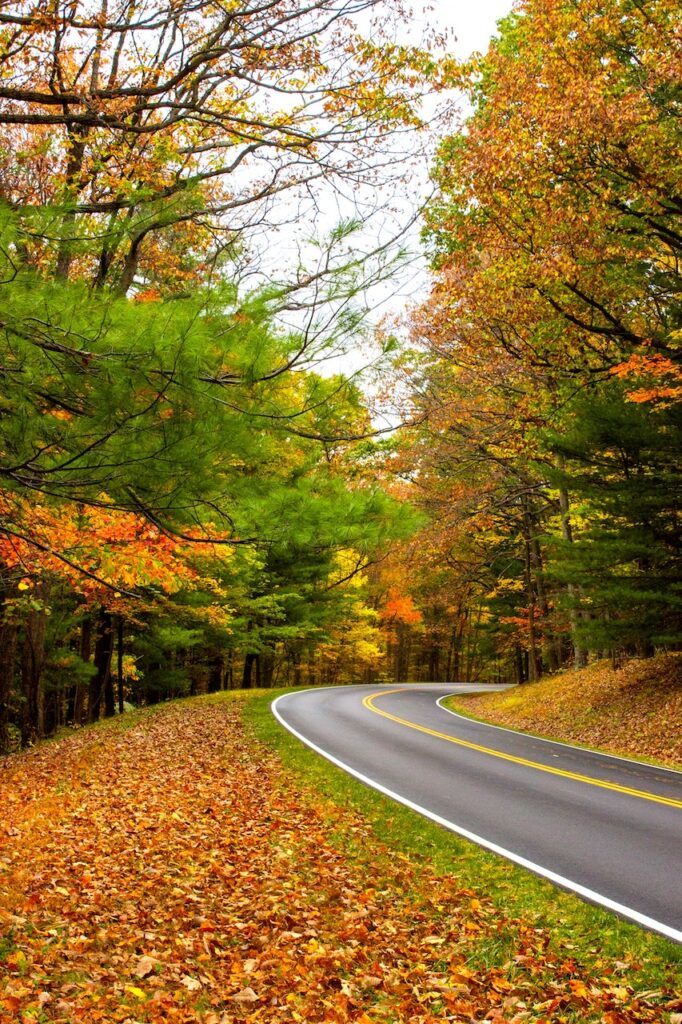 When it comes to autumn leaf peeping, there are few better places to do so than Shenandoah National Park in Virginia. There's something about those seemingly endless rolling hills, whose shadows and peaks bring more depth to the already-stunning spectrum of fall colors, that is nothing short of marvelous.
As such, it's no surprise that you won't be alone in your search for the perfect lookout point in Shenandoah, as October is one of the most popular times of year to visit. However, navigating the crowds might be totally worth it when you see just how beautiful it is. Cruise along Skyline Drive, hike to Hightop Summit, or check out one of the park's waterfalls. Remember that since this is high season for Shenandoah, campsites and lodging within the park fill up quickly on the weekends, so it's best to book months in advance if you can.
21. Asheville, North Carolina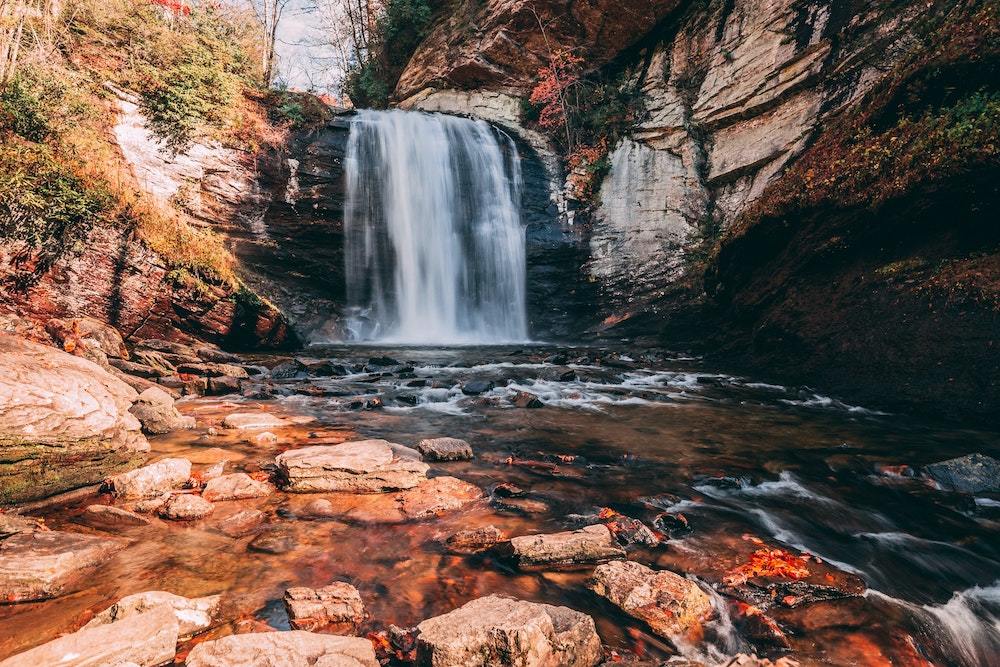 Though in the south, Asheville has eccentric vibes of its own. It's in the mountains and has a thriving art scene, and it's packed with significant historical characters, too. For instance, the Vanderbilt's built the country's largest house here!
Asheville isn't known as a cheap vacation destination, but it is entirely possible to visit and have an amazing time while on a budget. Here's a list of budget-friendly and amazing things to do. October is a beautiful time to be in the mountains. Cideries will be open, the leaves are changing colors, and the weather is perfect for hiking.
23. New Orleans, Louisiana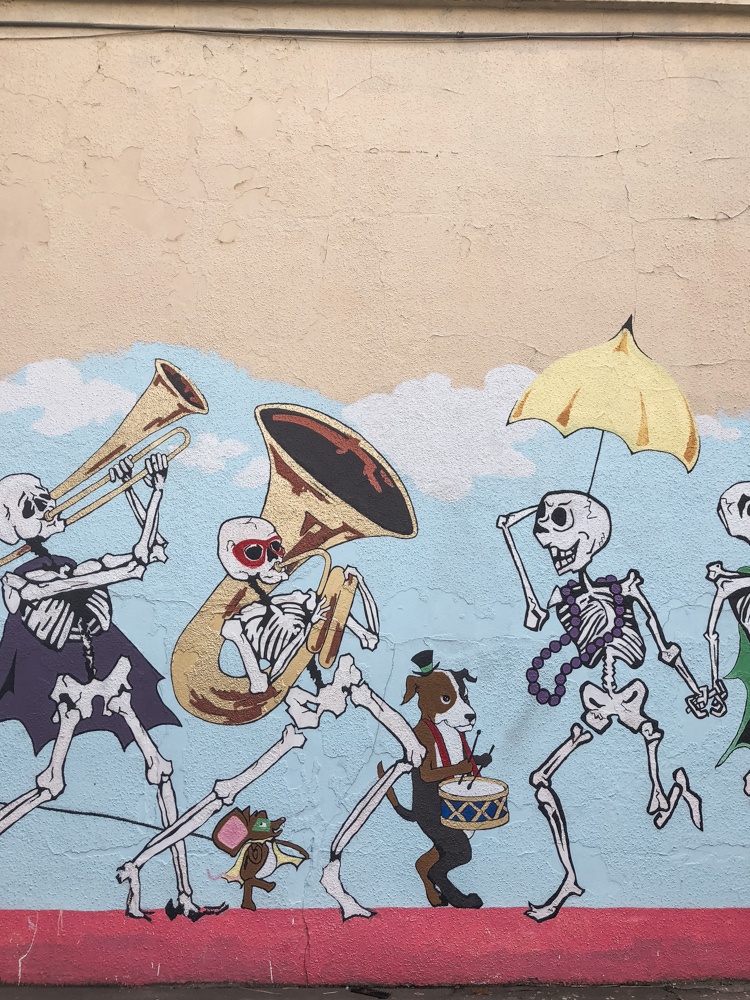 New Orleans is a wonderful destination for a solo female traveler looking for plenty of things to do and friendly people to meet. Here's our solo traveler guide to the city, and an itinerary to help you plan your trip. Make sure you check out the Bywater District, and if you're vegan, there are some amazing restaurants to try!
NOLA is gorgeous in October, plus… autumn means cooler temperatures, lower prices and smaller crowds. Not sure what to bring for a weekend trip? Here's a comprehensive packing list for a variety of activities you're sure to do when you visit!
***
Now that's a heavy dose of October travel inspo! I hope this list of the best places to visit in the USA in October helps you choose the perfect fall trip for you.
Where will you travel to?