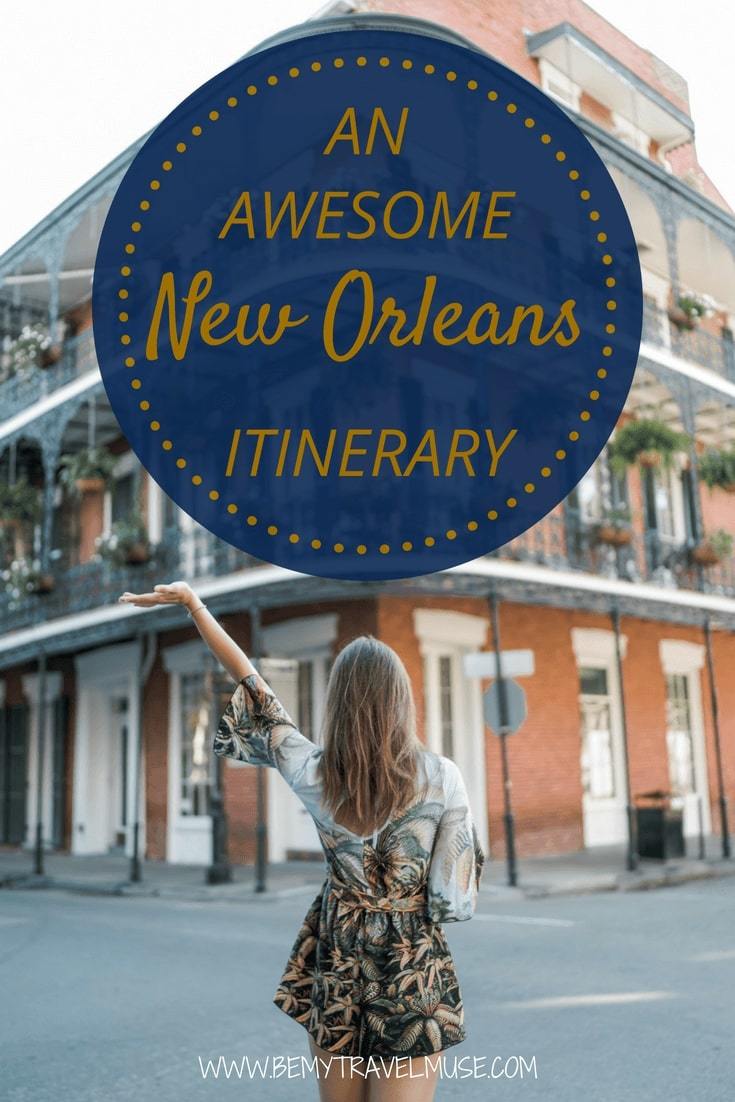 So you have just a few days in the Big Easy and you want to make them count. Incorporating some well-known favorites and some options you might not have thought of, here's the perfect 3-day New Orleans itinerary:
Day One: Explore the French Quarter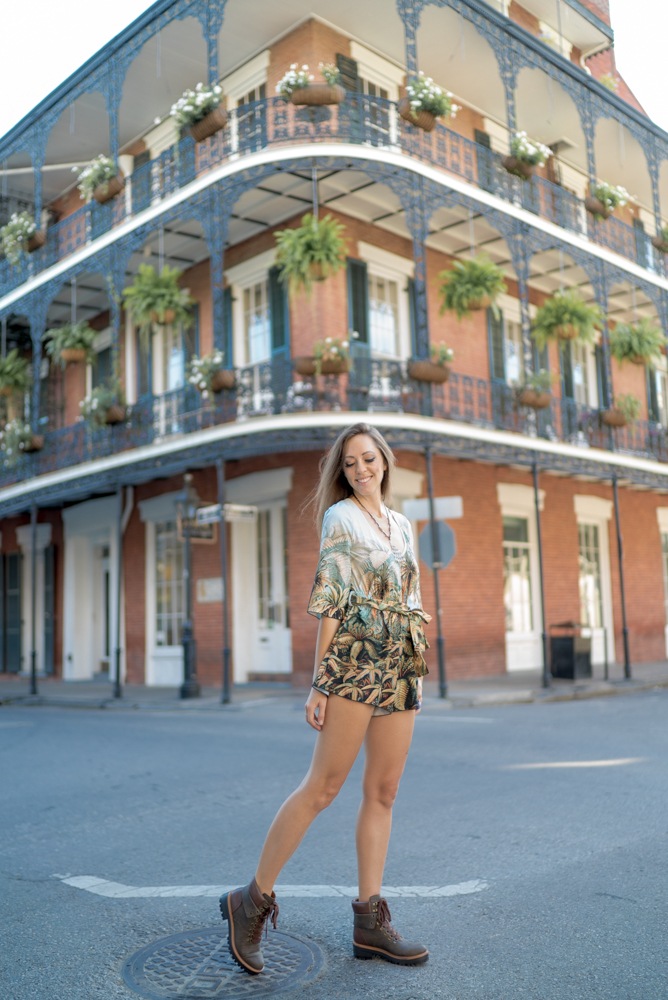 When one thinks of New Orleans, the wrought iron wraparound porches of the French Quarter most likely comes to mind. Since this is the most iconic part of the city, it's the perfect starting point for your NOLA adventure.
It is delightful to see the architecture of the French Quarter in person. This is also where you can have a famous Café du Monde beignet covered in powdered sugar, have your tarot cards read at Hex, get a taste of voodoo culture at Voodoo Authentica, and shop for jewelry, clothing, and antiques all throughout the neighborhood.
The Pharmacy Museum has quite an interesting tour – don't let the name fool you! It's all about old school remedies and how they evolved through history, with a local twist.
For the photo op displayed above, head to Royal and Dumaine Streets, but go early before the crowds come! I took that photo at around 8:30 in the morning.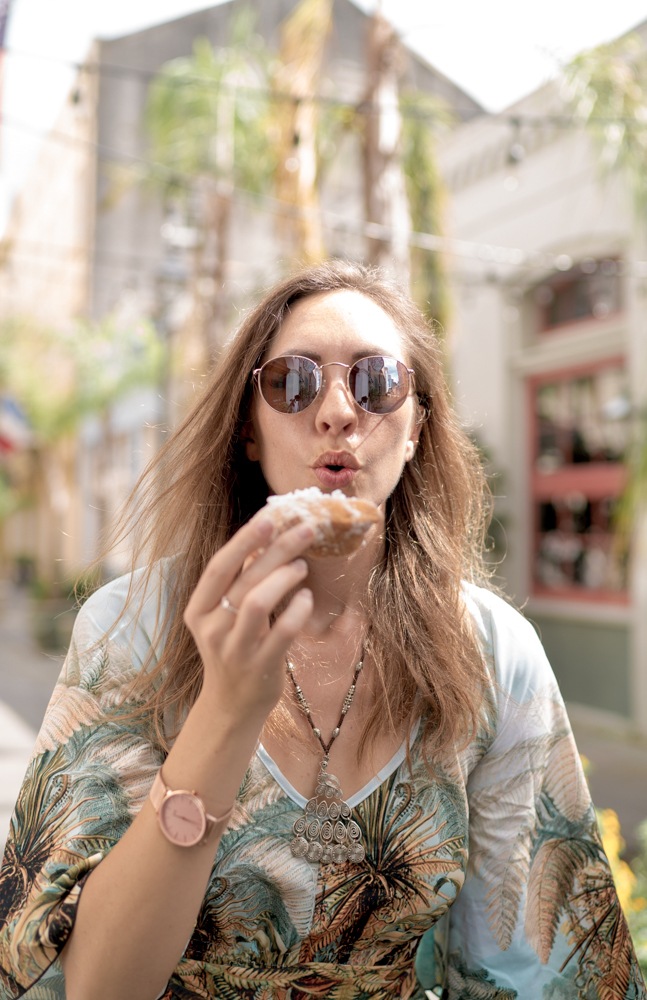 To get a lay of the land, I took a Two Chicks walking tour for two hours in the morning and then explored on my own. This area is compact but can easily take up a whole day just exploring the streets. Pop into shops, and eat and drink when inspiration strikes.
If it interests you, you can also find Bourbon Street running through the heart of the French Quarter. Though I avoided the madness, the upper part of the street has some cute houses and is nice to walk along earlier in the day.
For a quirky place for a drink, stop into Muriel's and ask to go to the top floor where everything is red and decorated to the nines. You'll also pass by a table set with two glasses of wine and some bread. This is apparently meant for the ghost of the former owner.
Day Two: Plantation Tours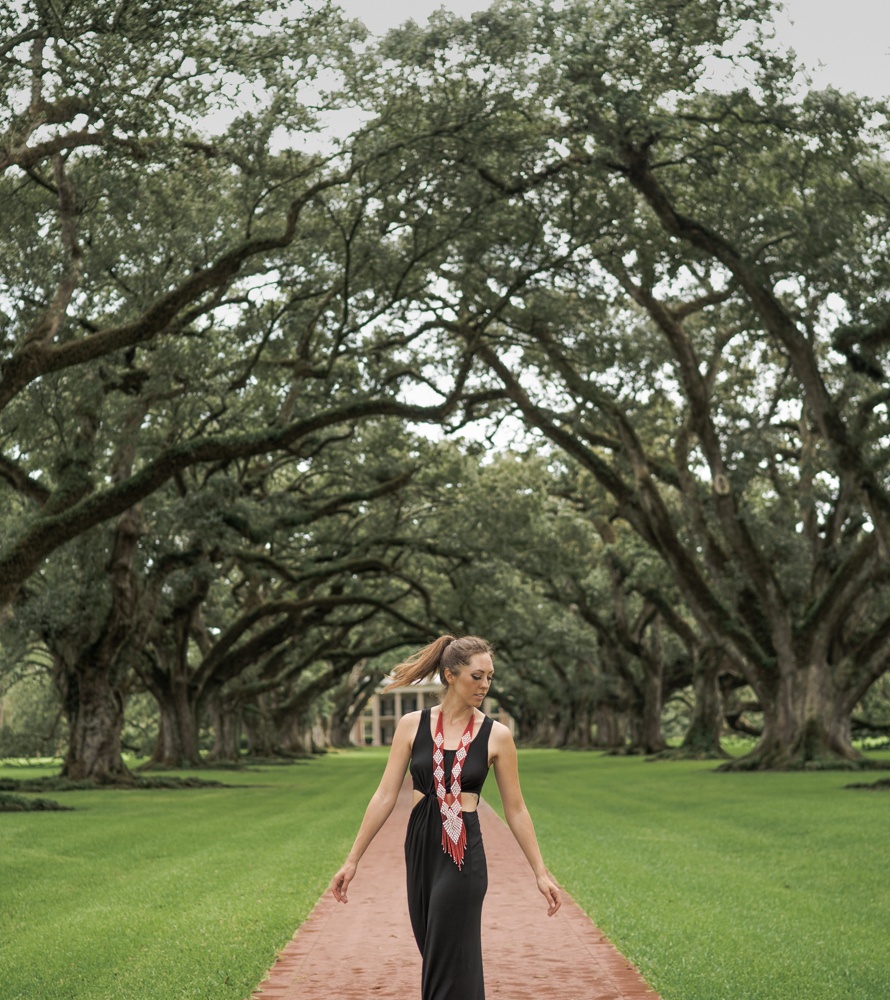 Is it strange to visit a plantation when they have such a dark history? While exploring New Orleans I felt it was vital to see this part of it. The plantations gave me a valuable understanding of a key part of US history that I didn't learn enough about in school. Check out this tour of the Destrehan Plantation for an in-depth look.
The Whitney Plantation
If you're going to visit any plantations, please make The Whitney Plantation a priority. It's the first slavery museum in America, dedicated to telling the history of slaves in their own words, taken from historical records.
Though we did learn about mistreatment of slaves when I was in school, they left out some of the more gruesome truths, including sexual abuse, perhaps feeling as 10 year olds we were too young to learn about it. Visiting also gave me a chance to see and feel a glimpse of what life was like back then by walking into the buildings and feeling the intense heat. I choked back tears for most of the tour but as an American and human being in general, I feel it's important to confront this ugly past. My tour had a mix of Americans, Brits, and Aussies all curious about the history, which I found interesting.
I specifically asked where the profits of the plantation go, after reading about the owner, and was told they're used for plantation upkeep. It may not be the perfect scenario but I'm thankful the history is being so well preserved and told.
Oak Alley
It wasn't until I walked into Oak Alley and saw two paintings of the former owners that I realized ownership barely came up at Whitney. This tour told the story of both the slaves and the white owners, but with much more of a focus on the ornate home and the beautiful oak trees that made the plantation famous. It made me uncomfortable after Whitney to discuss the owners at all, though I found the juxtaposition interesting, and loved the gorgeous trees. The house tours are set up as a nonprofit which goes towards restoring the house. The restaurant and gift shop support the most recent, not the original, owner's family.
Entry to the Whitney Plantation costs $22 and to Oak Alley is $25. However unless you rent a car, I suggest taking a Gray Line tour which stops at both and provides transportation and guided tours. You can book that tour here.
Day Three: Explore the Bywater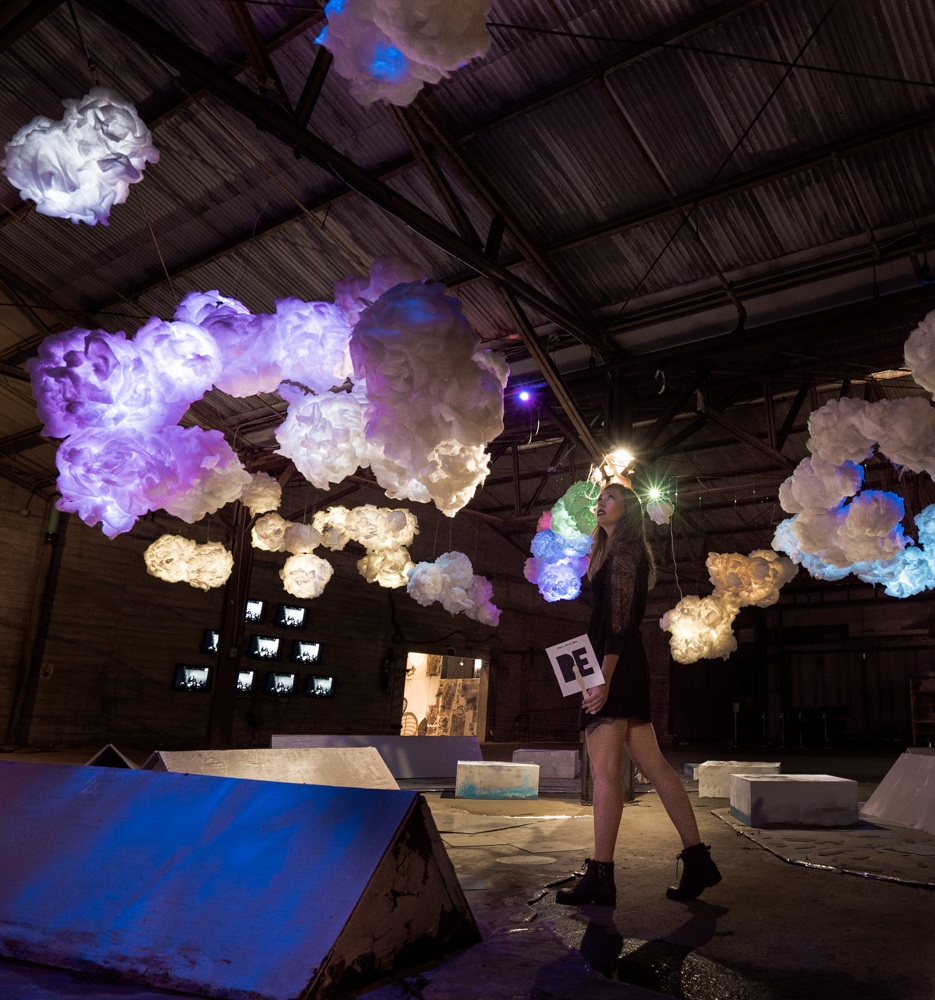 The Bywater was my favorite part of New Orleans. I loved the artistry, quirkiness, and the hippie vibe.
Though you can take the tram partway, the easiest way to get into the Bywater is on the number 5 bus which passes along Canal St. and says 'Marigny' across the top. Check out the transport section of this post below for specifics on how to utilize public transport.
Unlike the uniform look and colors of the French Quarter, the houses become more vibrant in this artist community. Here are a few things worth seeing:
Paloma Cafe (now closed, unfortunately) for some delicious breakfast or brunch. I particularly liked the matcha latte and the avocado toast. Nearby you'll find Dr. Bob Folk Art, which was reminiscent of Slab City's East Jesus, full of upcycled art in curious combinations.
From there it's a quick walk to Studio BE, an absolute must in the neighborhood. You'll find a 35,000 square foot warehouse full of #BLM movement and Hurricane Katrina crisis large-scale art installations, created by local artist Brandan Odums. I was blown away by how prolific and varied his work was, incorporating sculpture, street art, and even a basketball court to spread awareness, and ultimately share the power of love.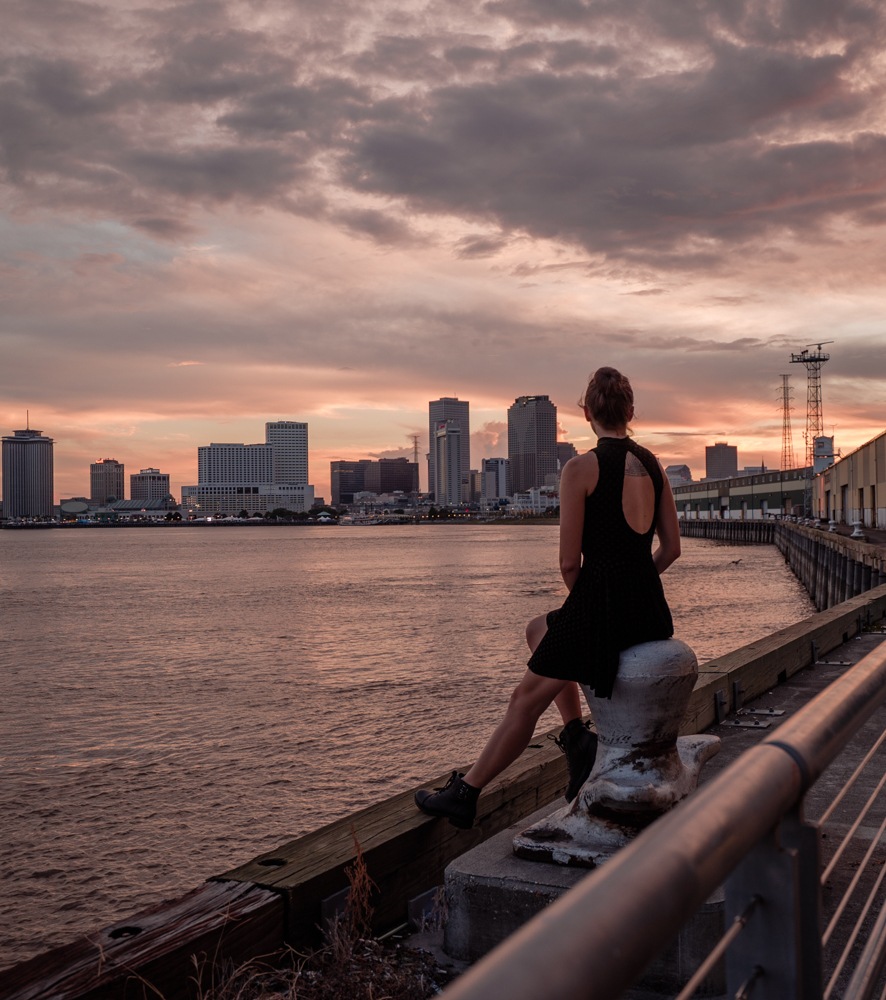 From there I recommend Clouet Gardens, a quick stop with a couple nice photo ops and some local flavor. Here you'll find a phone booth to reach those you miss, some mosaics, and picnic tables.
I also really wanted to visit the Music Box Village, which online reviewers describe as 'magical' with its interactive sound structures. I'll have to wait for next time as it was not open to the public when I was there. Check the schedule to see if it's open when you visit.
Finally, head to Crescent Park for a beautiful sunset view of the city. After the sun goes down venture over to Frenchmen Street for some live jazz and blues. While tourists tend to visit Bourbon Street, you'll see more locals on Frenchmen. For tonight's live music, check out this listing by the local radio station.
Getting Around
Streetcar and bus: I took the bus when I visited the Bywater (the red line no. 5) and found it so easy I just used it all day – for only $3! It's pretty amazing that you can get all around the city all day long for so cheap. Plus, you'll get a chance to experience the iconic streetcar too. To buy a ticket, simply purchase onboard and let the driver know you want a day ticket. Exact change needed. You can also purchase online through the app.
Uber or Lyft: Both operate in New Orleans and were often my preferred mode of transport when walking or the bus didn't sound appealing.
More Options: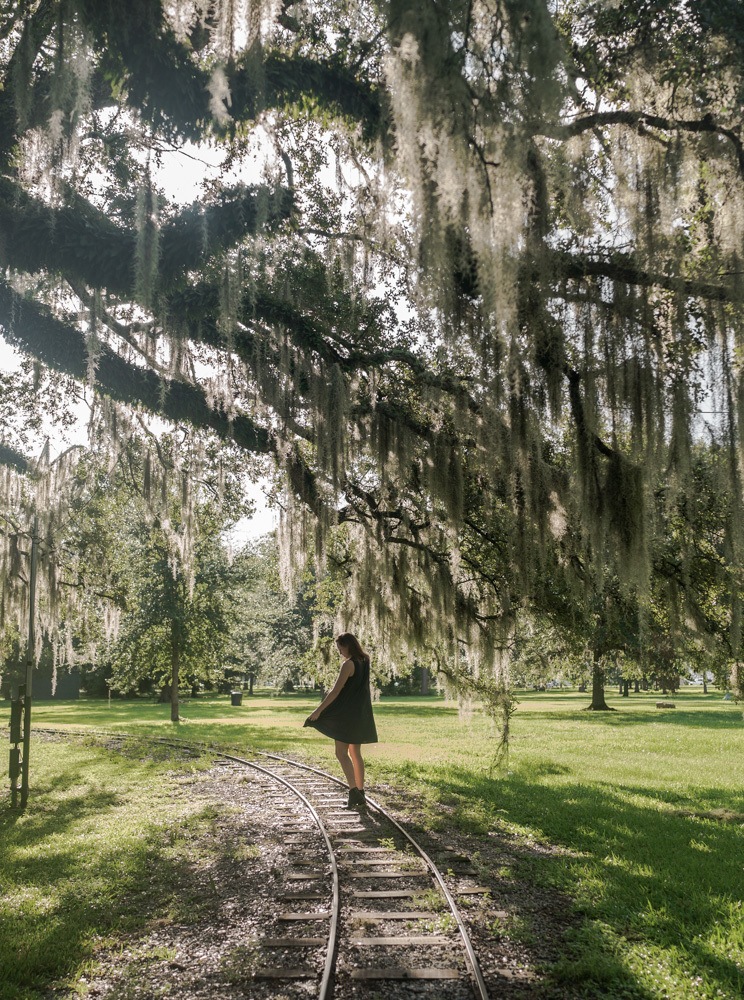 Though all of the above are fantastic options for your New Orleans itinerary, here are a few more:
Cemetery tours: New Orleans is famous for the ornate cemeteries around the city with grand mausoleums. Some of these look nicer than some places I've stayed! I recommend Saint Louis Cemetery No. 1 to see the tomb of Marie Laveau, a famous mixed race Voodoo priestess. Though other cemeteries are free to explore, to see this one you'll need to take a walking tour offered Monday through Saturday at 10am, 11:30am and 1pm, and Sunday at 10am.
City Park: To see beautiful Spanish moss-covered trees and beautiful old brick bridges, take a bus or Lyft to City Park. This is a massive green space with beignets at Morning Call (close to where the photo above was taken), walking paths and even an amusement park for kids.
Haunted walking tours or swamp tours: Fair warning, both of these can be hokey, but I can't say this is a complete itinerary without mentioning these popular options. Haunted tours take place at night and tell the spooky side of New Orleans, stopping in cemeteries and telling stories with a theatrical flare. The swamp tours jet you through the swamps at high speeds outside of the city.
For more on what's happening now, check out New Orleans's official tourism website with event and festival info.
Though three days will feel short in the Big Easy, it's just enough time to fall in love with the city and make plans and promises to return. I was looking up monthly rentals in the Bywater just to see if it would be plausible to come and stay for a while.
Though it was my first time in the South, I'm pretty confident that there's nowhere quite like New Orleans. The culture, history, tastes, and sounds all make it fascinating to discover. I also loved that each day of my itinerary was so different, offering up an entirely new experience.
So if you go, prepare to fall in love with New Orleans.
READ NEXT:
*This post was brought to you in partnership with New Orleans & Co. The activities chosen were up to me, and my reviews reflect my honest opinions of the experience. Your trust always comes first!