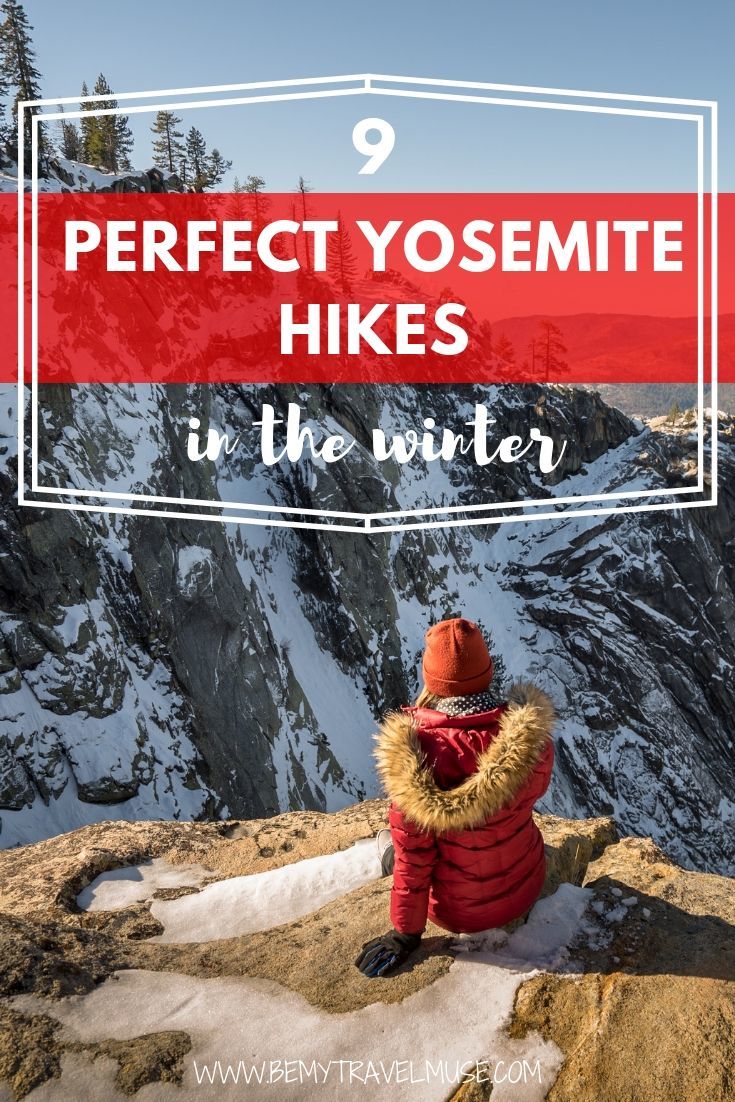 The winter is one of my favorite times to visit Yosemite Valley. Walking along the trails and seeing the ice-covered lakes and snow-capped trees is pure magic.
Growing up, our summer holidays often involved a hiking trip to this beautiful national park, but it wasn't until this year that I finally saw it in the winter. While beautiful, wintery conditions ruled out most of the usual hikes that I do in Yosemite when there's no snow, that opened up a host of new options, many of which involve snowshoes and overnights in ski huts. Kind of exciting, no?
These are the best Yosemite winter hikes:
1. Lower Yosemite Falls

0.5 miles, no elevation gain
For a quick and easy hike that delivers with views immediately, check out Lower Yosemite Falls. This gives you a view of the tallest waterfall in North America – nearly twice as tall as the Empire State building! At the beginning of the trail, which I would rate as a leisurely walk, you'll see both upper and lower falls cascading down, framed with ice. This can be a quick and easy one and is appropriate for most ages and levels of physical endurance. Much of the trail is wheelchair and stroller-accessible as well.
Getting there: There is a sizable parking lot across from the trailhead, additionally take the tram to the Yosemite village.
2. Valley Loop
11.5 miles for the full loop, no elevation
Though this can be a long trail, it's easy and takes you by many of Yosemite's most famous attractions. You'll pass through meadows, walk past the base of granite cliffs, and along the Merced River. Make a pit stop at lower Yosemite Falls and check out Bridalveil Fall as well. If you decide to only do part of the trail, you can stop at one of the shuttle stops to bring you back to your accommodation or wherever your car is parked. The best part is, you can make this decision on the fly!
Getting There: You can begin and end this hike from many of the shuttle stops within the valley. Pick whichever is closest to you.
3. Mirror Lake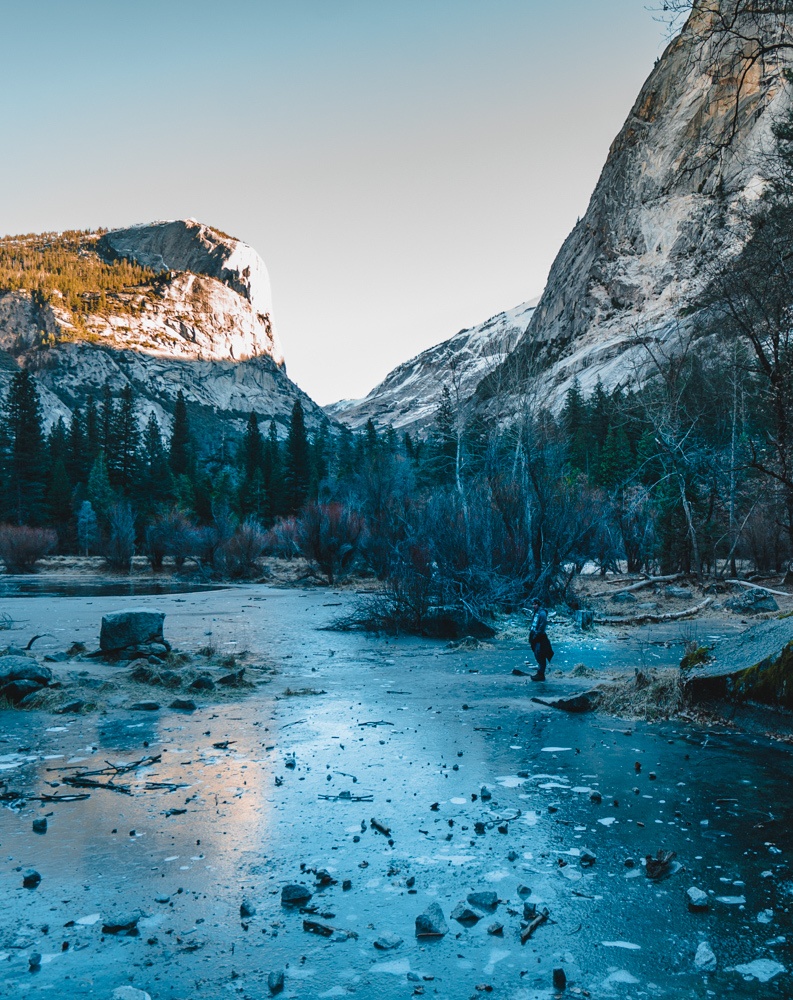 2 miles round-trip, 100 ft elevation gain
This is another easy, quick hike with a beautiful payoff. Though the lake is more of a meadow in the summer, the Tenaya Creek fills up more in the winter and can even freeze over to create a beautiful mirror. It was so solid, we could even walk on it when I was there!
Getting There: Take the shuttle bus to stop number 17.
4. The Mist Trail
3 miles to Vernal Fall, 7 miles to Nevada Fall. 1000-1900 ft elevation gain
The Mist Trail is a popular hike during the summer, so it can be nice to hike it in the winter and have more of it to yourself. The trail usually remains open, but be careful of ice on the steps near the waterfall. Hike either to the base of Vernal Fall, or power all the way up to Nevada Fall for one of my favorite spots in all of Yosemite.
Getting there: Take the shuttle to Half Dome Village and walk over from there.
5. Glacier Point
20 miles round-trip
This hike is high on my list to try out considering that it gives you a chance to walk along Glacier Point Road and spend the night at the Glacier Point Ski Hut directly looking at Half Dome. This is an experience you can only have in the winter, and it can be done either with snowshoes or Nordic skis. For experienced skiers, it may be possible to do the whole 20 miles in one day. For the rest of us, it's an overnight hike.
Getting there: Self-drive to the start of the trail (chains are most likely required), or, a shuttle leaves twice in the morning from the valley to the Yosemite Ski and Snowboard Area, formerly Badger Pass.
6. Dewey Point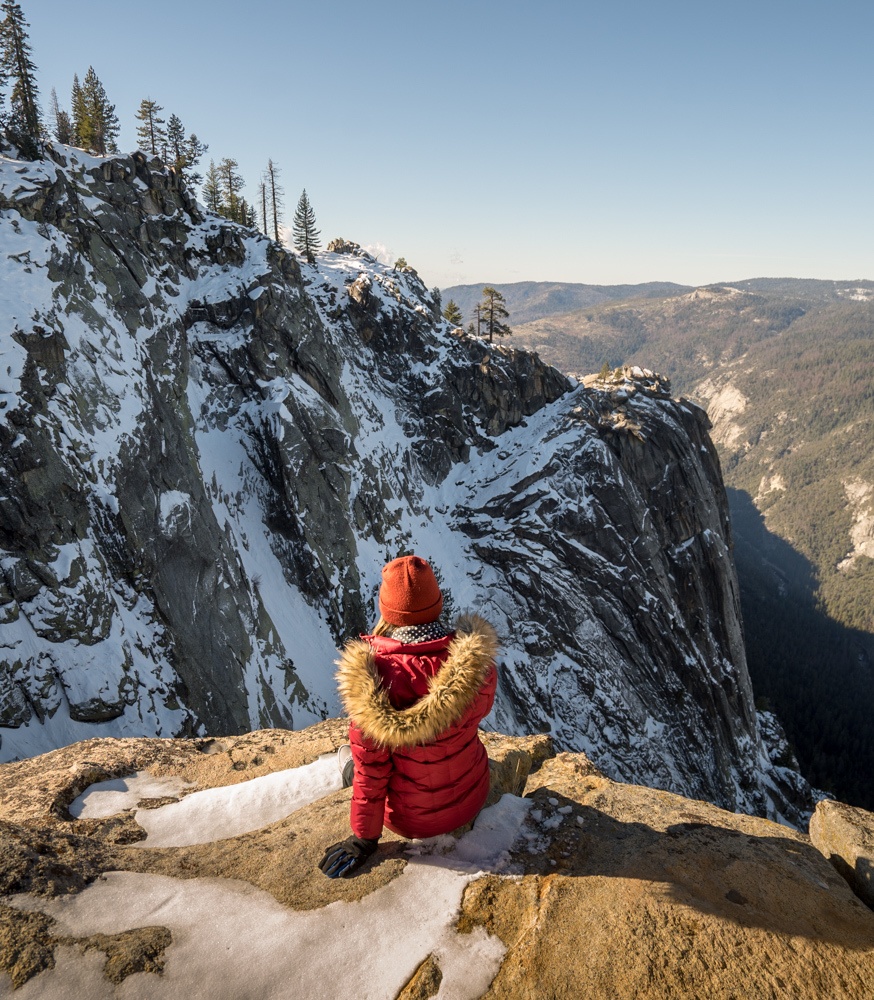 7.5 miles, 700 ft average elevation gain
If you're looking for a winter wonderland, this snowshoe and Nordic ski trail is perfect. You'll begin at the Yosemite Ski and Snowboard Area, where you can rent both skis and snowshoes, and proceed along Glacier Point Road until you see the signs for trails 14 or 18. The trails are more or less the same in terms of length, though the 14 experiences more gain and loss in elevation and has some steeper parts. The trails join up at the end to take you to Dewey Point. From there you'll see sweeping views of Yosemite Valley all the way to Half Dome. This is the perfect day trip to the ski area from the valley!
Getting there: Buses depart from the valley twice in the morning and bring you back in the afternoon. You'll need to take the earliest shuttle (8:30am at the time of this writing) and probably the latest one back. Alternatively, drive to the Yosemite Ski and Snowboard Area, though this may require chains. Might as well take the bus if you're in the valley – it's free.
7. Artist Point from Tunnel View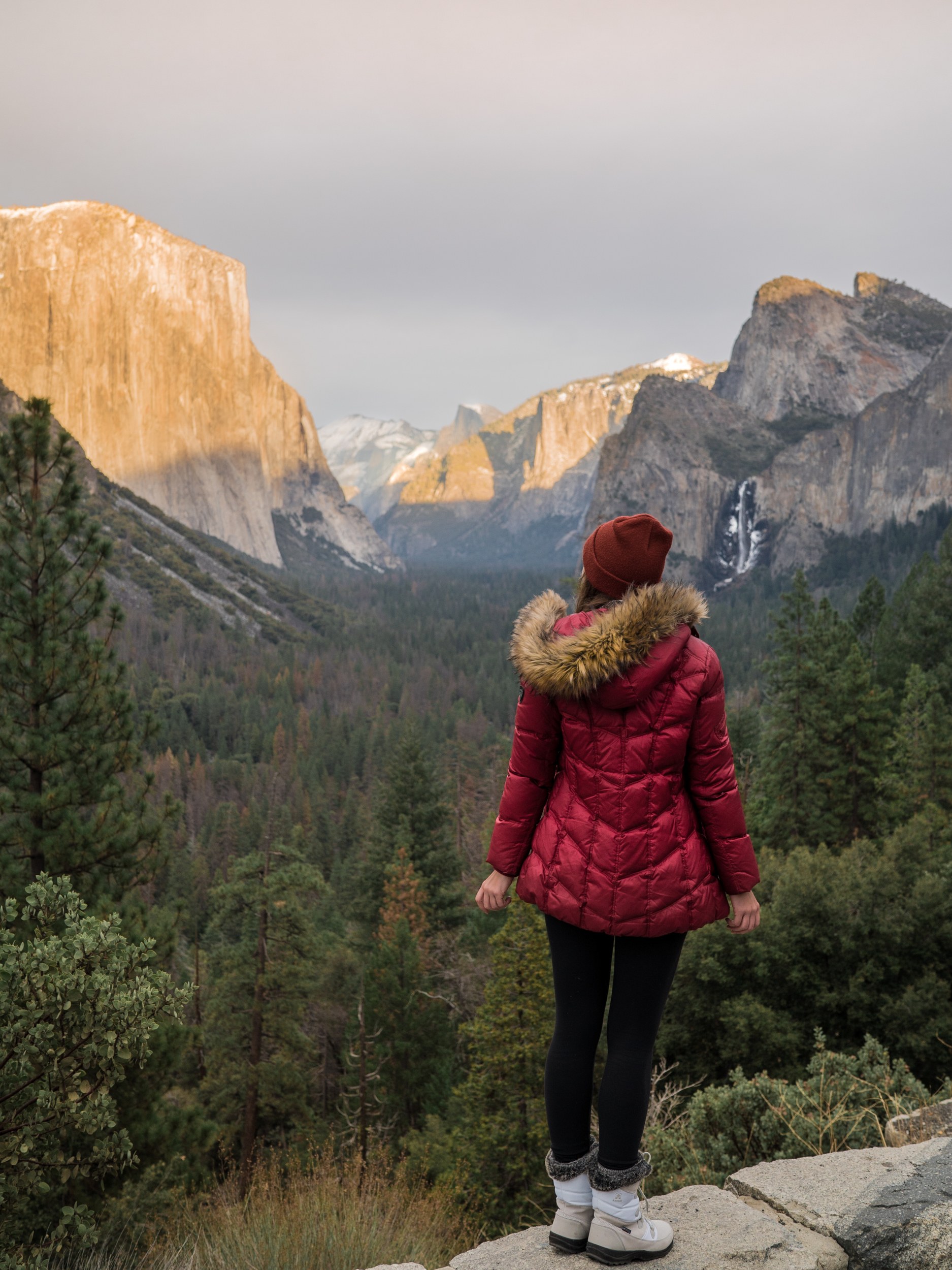 13 miles one way, 4,400 ft elevation gain
Tunnel View is the most photographed vista in Yosemite. If you want to be able to enjoy a similar view without the crowds, park in the Tunnel View parking lot and follow the Pohono Trail until a left-hand turn on to the Old Stagecoach Road. A half-mile thereafter, you will see a clearing with an open view of the valley.
Note: If you stay on the Pohono trail you can hike all the way to Glacier Point, though it is a difficult, 13 mile hike one way. Be sure to bring along spikes and hiking poles if you attempt it.
Getting there: Park at the Tunnel View parking lot
8. Bridalveil Fall
1 mile round-trip, 200 ft elevation gain
This is another super easy hike to a waterfall that tends to have a ring of ice surrounding it in the winter. It can be beautiful and it's easy. Though like Yosemite Falls, plan to share it with lots of other people.
Getting there: There is a parking lot at the trailhead.
9. The Snow Creek Trail
7.2 miles, 2700 ft elevation gain
Though the switchbacks can be tough, the resulting views of Tenaya Creek Canyon and Half Dome make it worth it. There can be snow on the trail in the winter months, so check conditions with the National Park Service to see if you need snowshoes.
Getting there: Since the Tioga Pass is closed in the winter, the only access point is the Mirror Lake Trail head, shuttle stop number 17.
Those are a few of the best hikes in Yosemite in the winter months. However there's more than just hiking to enjoy, like ice skating, skiing, and getting to see this gorgeous park covered in snow. For me, it was like adding a bit of extra magic to a childhood memory. For more on where to stay and what to do in Yosemite in the winter, check out my post on Alamo's Scenic Route.
To do it yourself, I recommend flying into Fresno Yosemite International Airport, picking up an Alamo rental car and driving in via Wawona. It's the most convenient and easy way to get there since the Tioga Pass is closed in winter. Plus, you'll be well-positioned if you plan to add on King's Canyon and Sequoia national parks, as well. For more on where to stay and what to do in Yosemite in the winter, check out my post on Alamo's Scenic Route blog.
Happy travels in Yosemite! If I've missed any hikes here, let me know!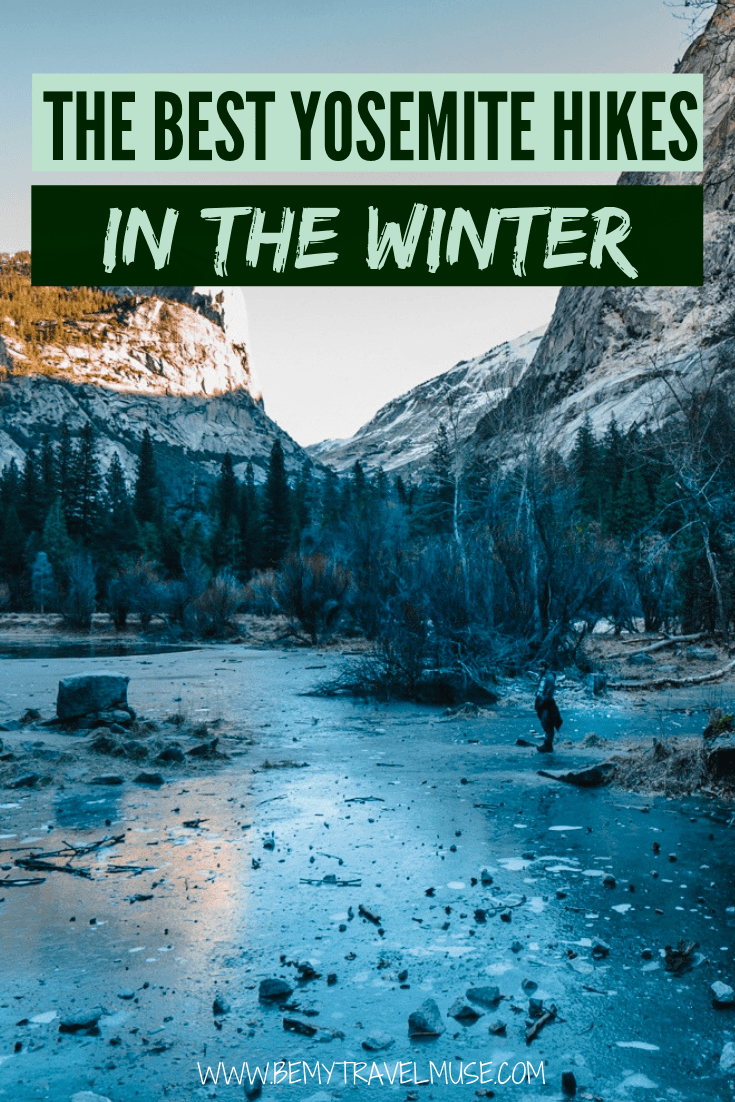 Read Next: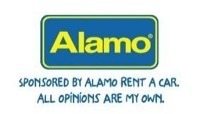 *This post was brought to you in partnership with Alamo Rent A Car. As always, all opinions of magical Yosemite are my own.