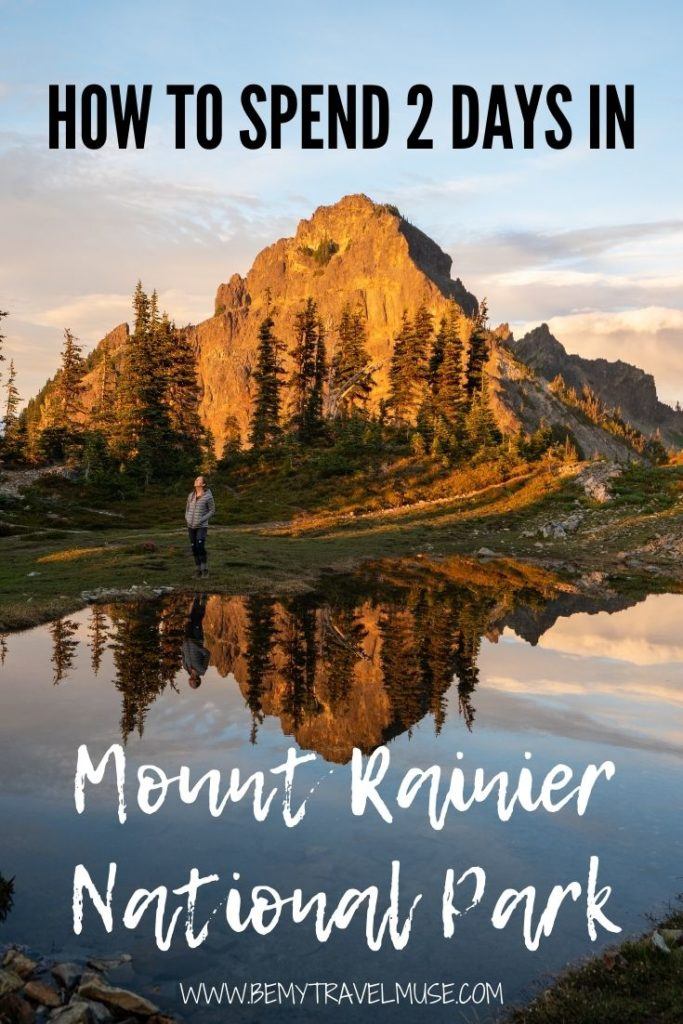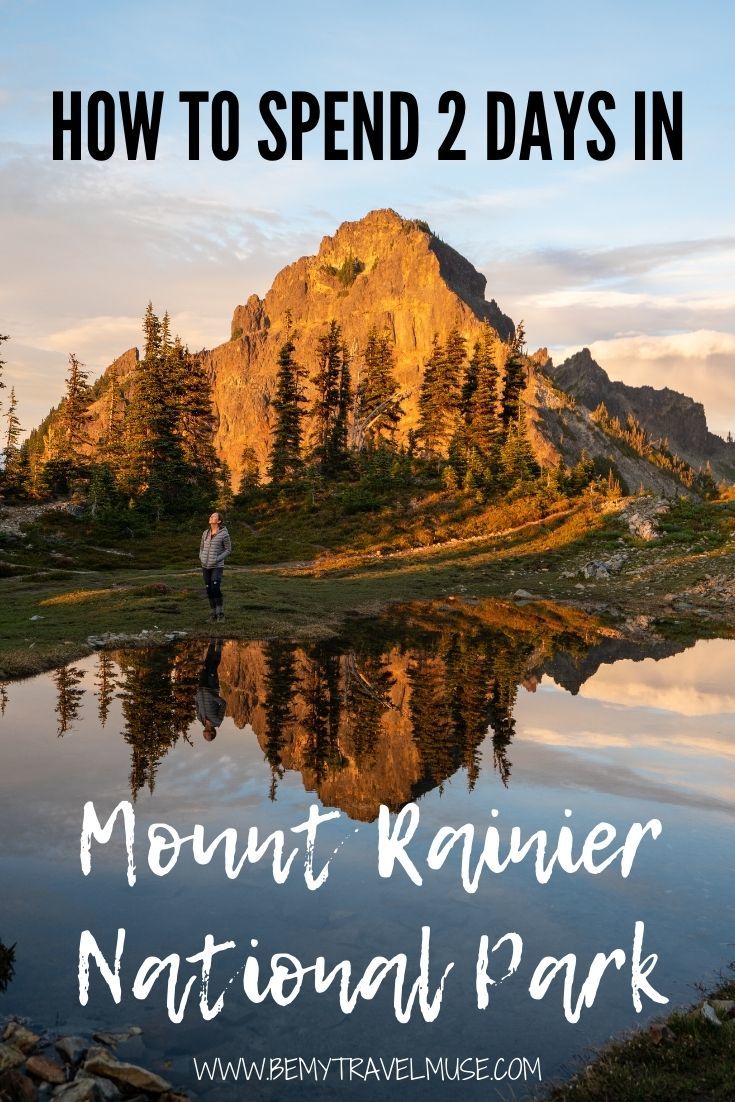 Mount Rainier rises like a behemoth above the Washington skyline. Towering at over 14,400 feet in elevation, it might not be the tallest mountain in the world, or even close, but in comparison to the surrounding peaks, it is a sight to behold.
Mount Rainier is an active volcano and the most glaciated peak in the lower 48. During my Washington exploration, I was always delighted when I could see this incredible mountain coming out to play.
I only had 48 hours to explore Mount Rainier National Park, but if you play it right, you can see a lot of great stuff during a short period of time. There is plenty of variety from waterfalls, to reflective lakes and of course, mountain hikes for glorious sunrises and sunsets.
If you're exploring mount Rainier National Park and you're short on time, let me guide you towards an amazing experience:
Sunset on the Skyline Trail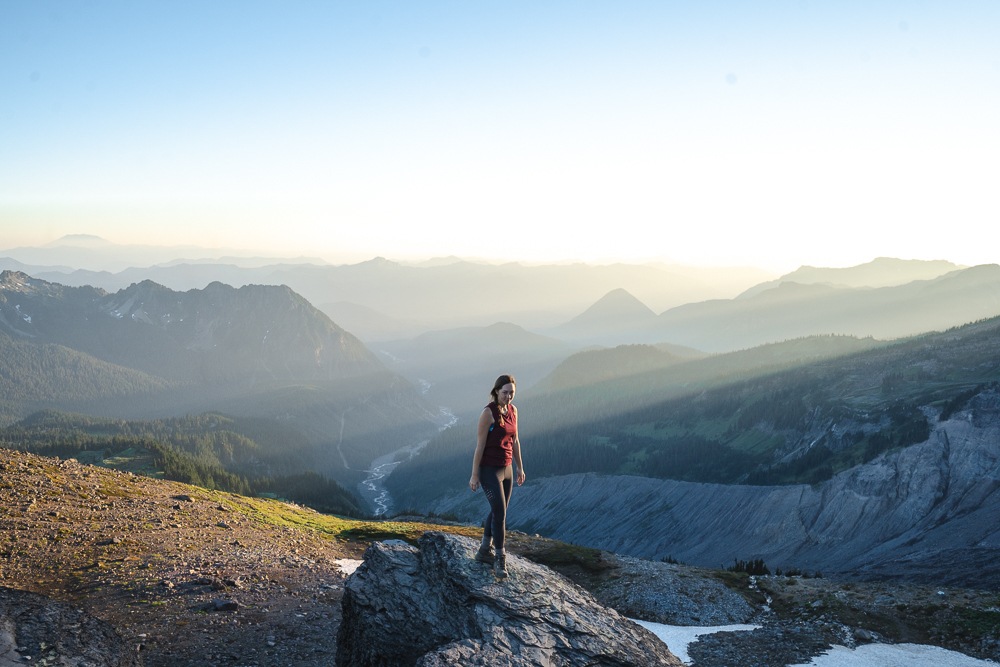 This 6 mile trail is easily one of the most popular and famous in Mount Rainier National Park, and for good reason. It really seems to have it all: animal sightings, breathtaking views, a waterfall, and constant views of Mount Rainier as you ascend. It's not too difficult, either, with nice views even in the beginning if you decide to give it a try and don't finish.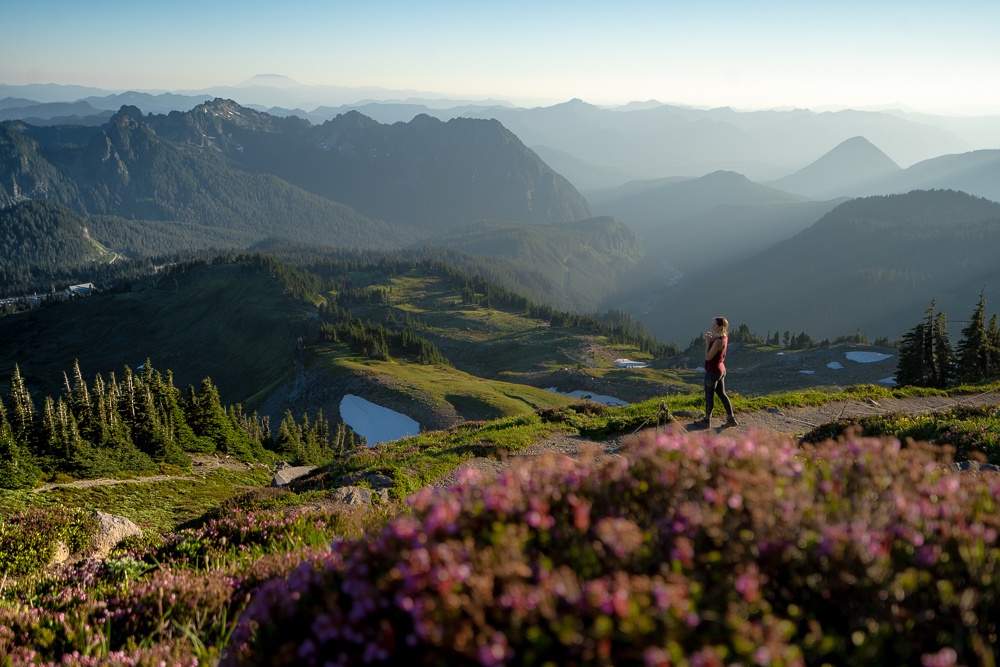 The jumping-off point for the Skyline Trail is the same as several other popular trails in the area – at the Paradise parking lot. This means it is the busiest and parking can fill up early in the summer months.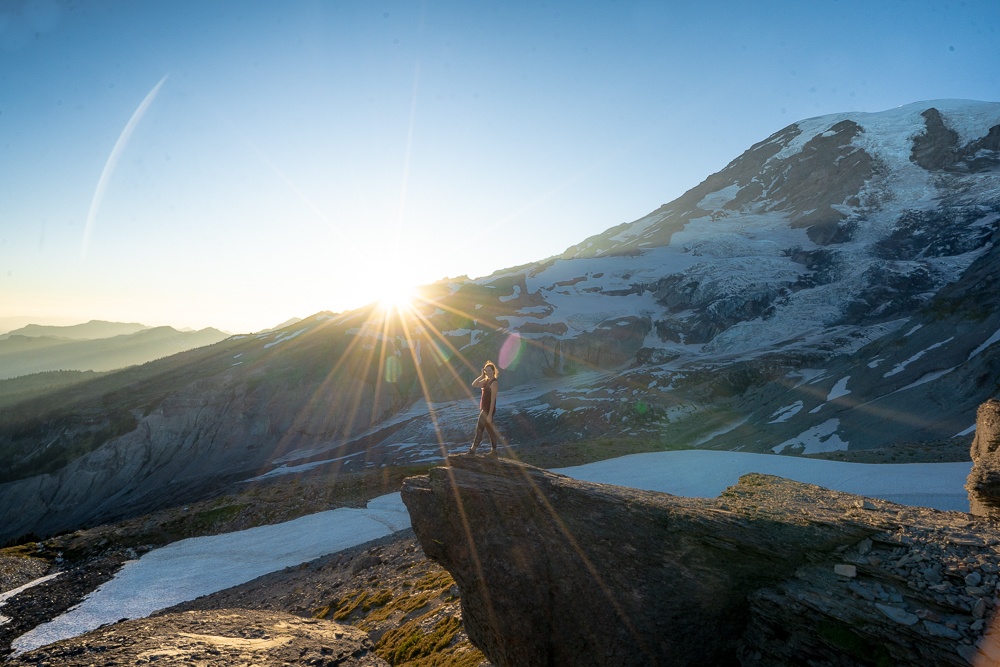 This is typical of popular national parks, and my favorite way to get around this is to do these hikes for sunset. Not only do I get incredible photography opportunities, but also most people leave by then! If you do this, bring a headlamp so that you can get down safely in the dark.
Sunrise at Reflection Lakes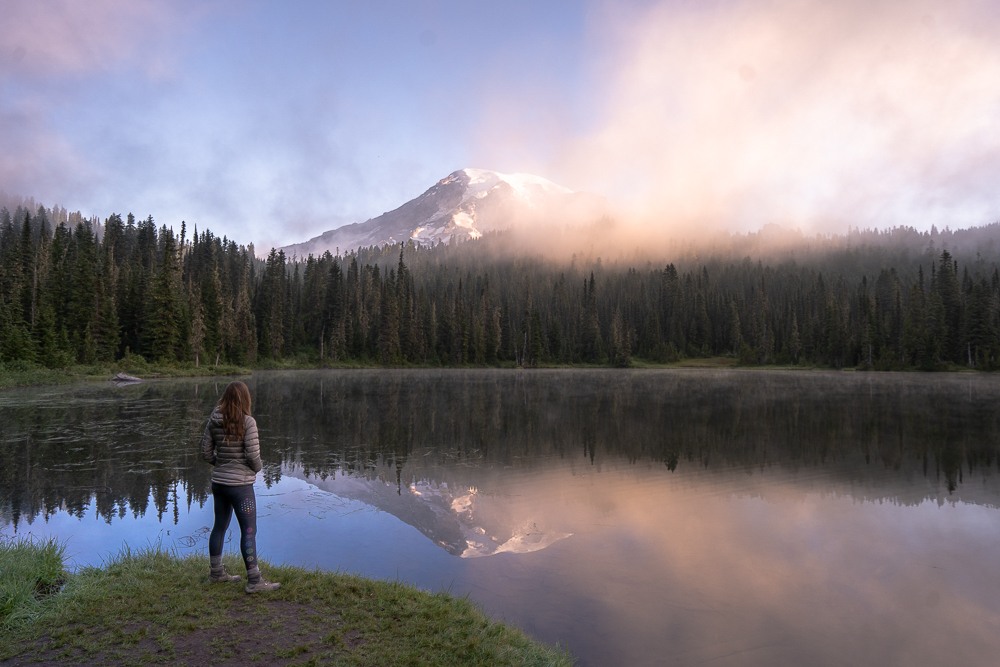 In keeping with my method of avoiding crowds, I also love to get in the park for sunrise as well. Sometimes I hike my way to it, but this time I wanted something easier, and Reflection Lakes was perfect! It's easy to drive right up to it.
This lake area is so-named for the beautiful reflection of Mount Rainier in the perfectly still water. Even if it's a bit foggy, give it some time as the sunrise may burn off some of the fog. That's what happened for me!
Comet and Christine Falls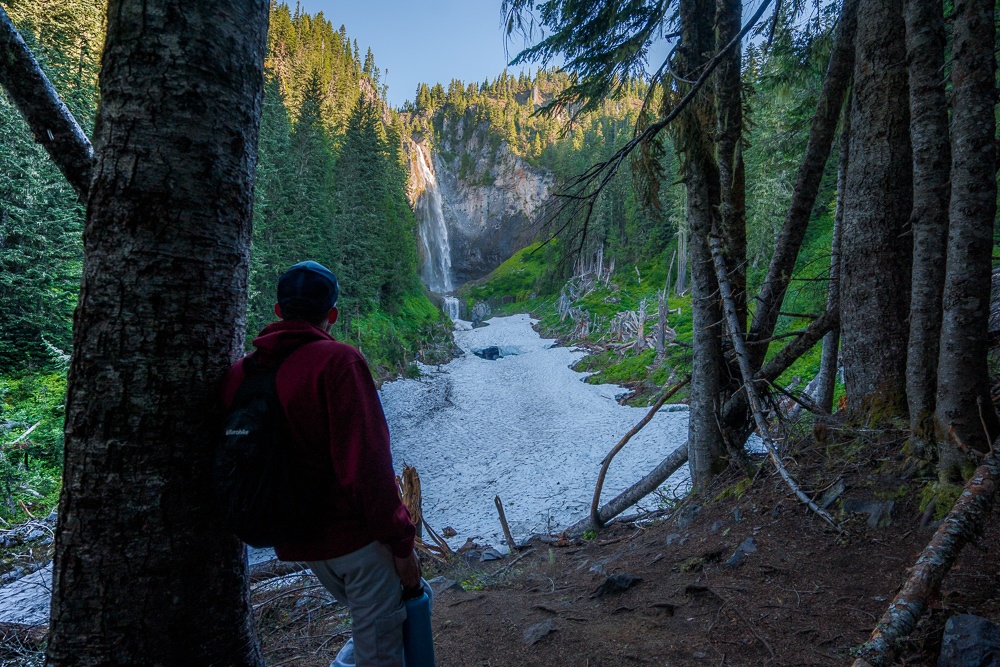 This four miler takes you past the gorge-like Christine Falls and up to the free-falling comet Falls. If you're used to Yosemite or just saw the Oregon waterfalls, you might not be super impressed by this one, but it's a nice way to get some variety.
The hike is mostly uphill and can be popular, with a small parking lot. I headed to this one directly after catching the sunrise at Reflection and wished it were a bit later in the season so I could feast on the blackberries along the trail!
Either way, this is a great way to see a waterfall in Mount Rainier National Park. There are several others in the area as well, but Comet looked the most impressive while I was doing my research.
Pinnacle Peak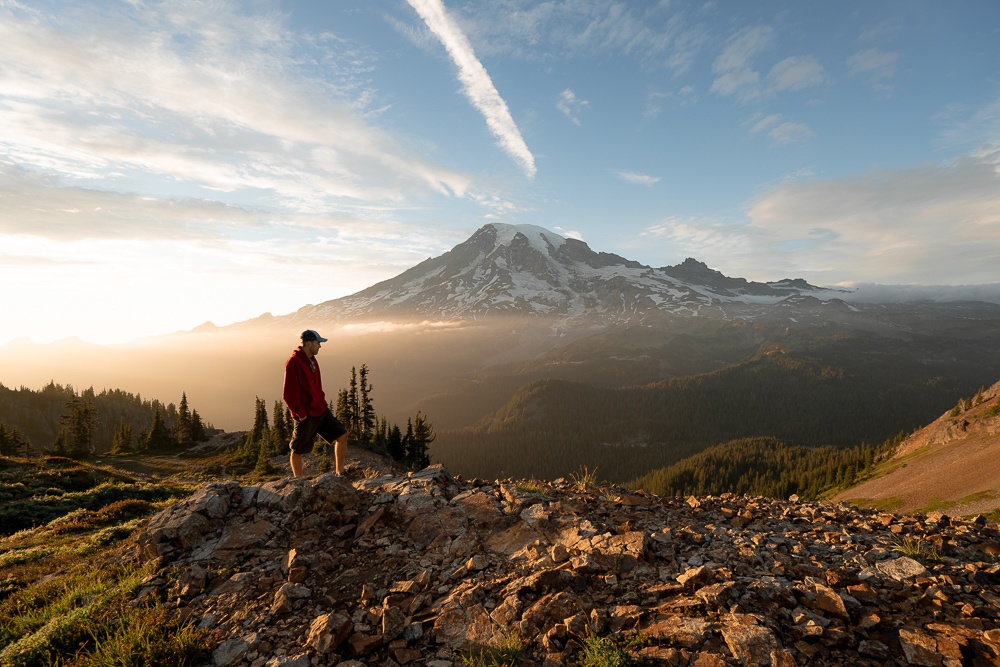 After a late morning-to-afternoon nap, I headed back out for another sunrise at Pinnacle Peak, which offers spectacular views of Mount Rainier.
This turned out to be my favorite hike in the park, probably because not many people seem to know about it, and the views were out of this world!
It's only a 1.3 mile hike, resplendent with blankets of wildflowers and 360-degree views. The snowmelt had even created a little lake at the top!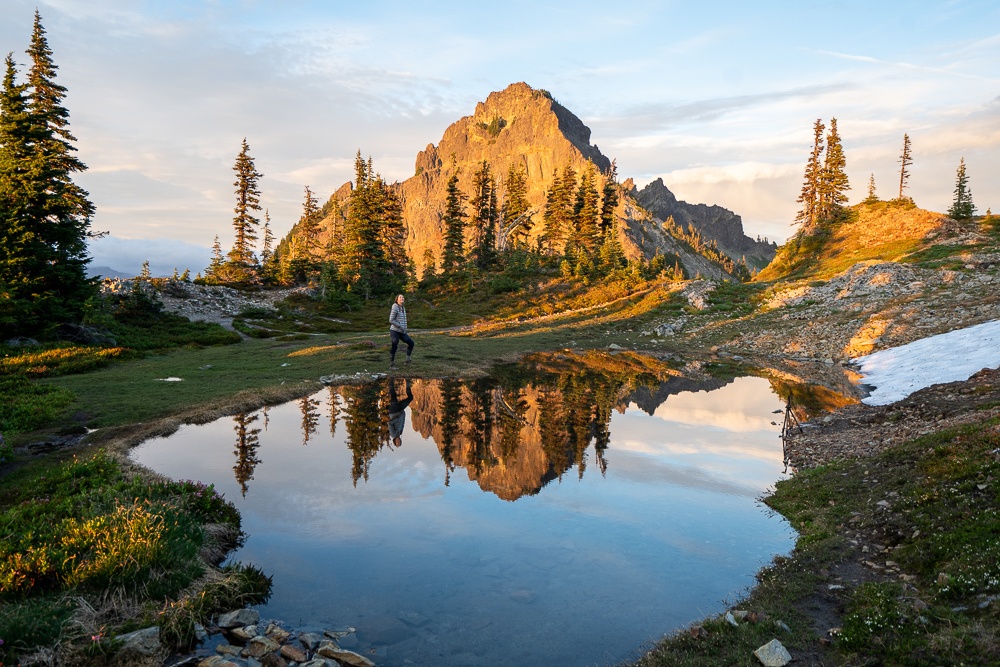 It's worth noting that once you get to the saddle, there is no maintained trail anymore. It is best to remain on the clearly established trails left by previous hikers and please, don't step on any vegetation. If you have a fear of heights, you might not want to proceed any farther than the saddle. Not to worry, the saddle itself offers amazing views.
Lastly, of course, if you're feeling particularly motivated and have mountaineering experience, there's always climbing Rainier itself!
The Eastern Side
While these were my favorite hikes on the southern side of the park, the best sunrise hikes are all from the eastern side. I hadn't realized that it would be 2 1/2 hours to drive to those trailheads from where I was, so I will save them for another time. But if you have the time or interest, Mount Fremont and Tolmie Peak both looked like awesome trails that I have bookmarked for the future.
Caring for Nature and Hiking Etiquette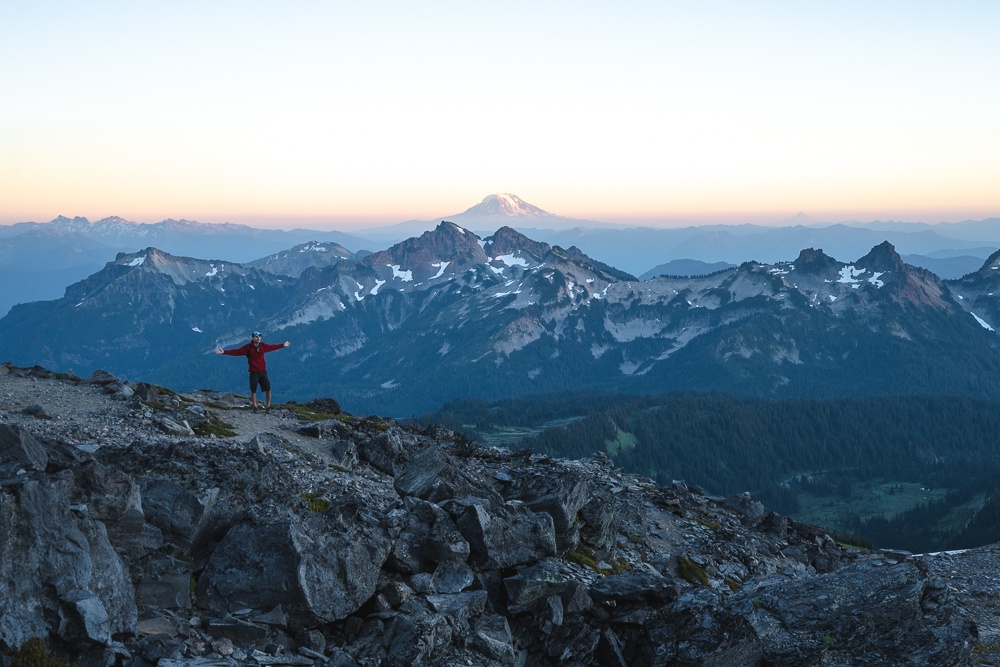 I hate to say some of the worst behavior I have ever seen from people was on the trail up near the Paradise parking lot at Mount Ranier National Park. There were so many people going off trail into the meadows, right next to the signs that said not to. I never went off trail to get any of the photos that you see here – it's not necessary! If you do see other people doing so, please gently let them know that it's not cool.
On busy trails, remember that those coming downhill yield to those going uphill.
Additionally, on these busier trails, it is probably not possible to have 6 feet of separation between you and other people. Please don't go far off the trail in order to create the distance. Pick less popular trails instead!
Mount Rainier National Park Seasons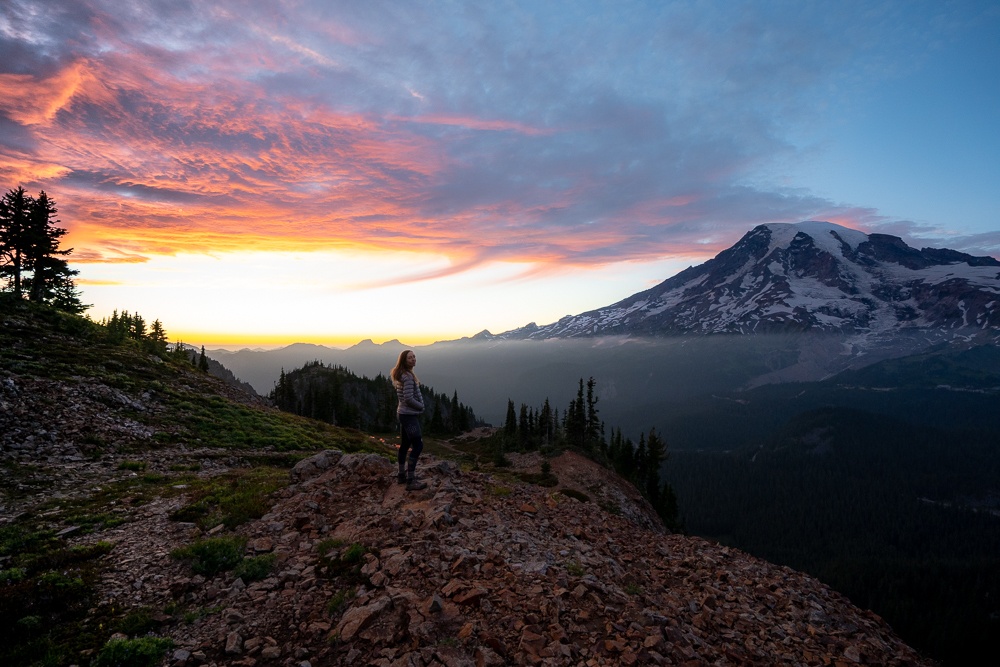 Mount Rainier National Park is open all year, but the summer is by far the most popular. I read that wait times just to get into the park can sometimes clock in over an hour or two midday on the weekends! This is yet another reason why I avoid those peak times.
The spring and the autumn are also wonderful times to go, with smaller crowds. However in the spring there can still be plenty of snow on the trails and later in the fall, the same can happen.
In the winter, vehicle access is only available from the Nisqually entrance, in the southwest corner of the park where I stayed. Check here for current road conditions and closures.
Stay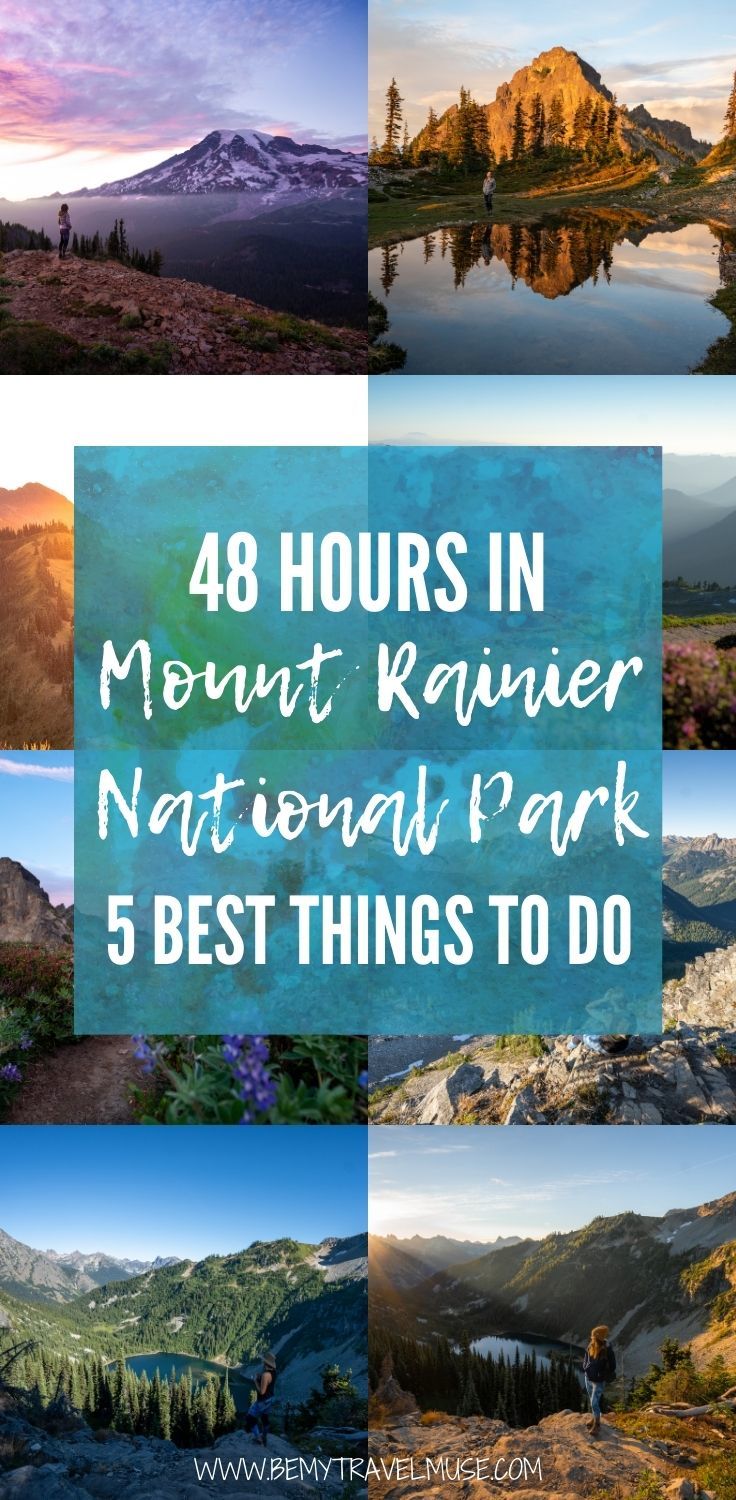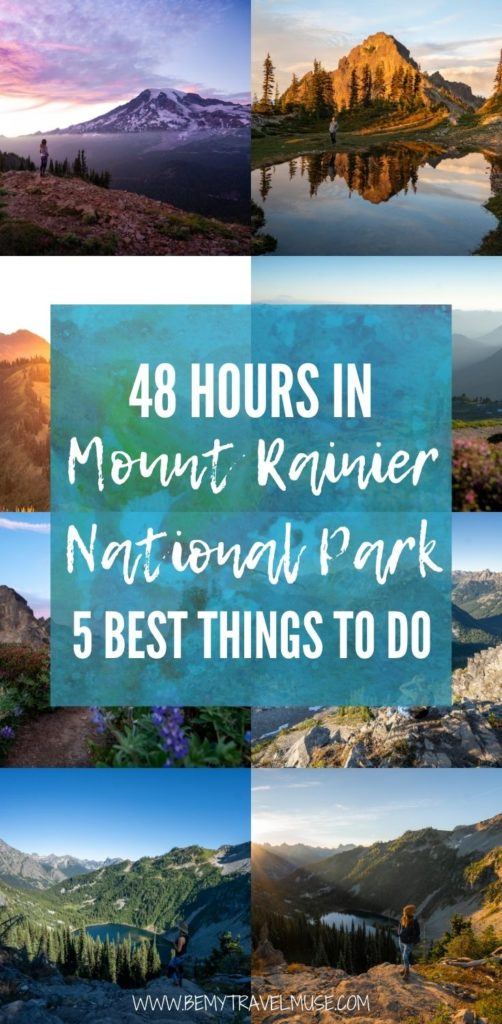 I planned my Washington trip incredibly last-minute, but if I had planned ahead of time, the Wonderland Trail would've been high up on my list! This is a very popular backpacking route with permits that book up pretty far in advance. You can learn more about booking wilderness permits here.
There are also some campsites in Mount Rainier, although unlike some of the other national parks in Washington, you can get pretty close by staying at a hotel just outside the park. I stayed at the Alexander's Lodge (affiliate link), a converted 1910 estate, and thought it was fine. Nothing amazing, but it did the job and the location was great.
In the end my short visit to Mount Rainier National Park only made me want to go back and spend more time there. The mountain is so impressive, the wildflowers so abundant, and the views just never quit!
There are tons of trails in the park and the surrounding area, though I hope this guides you to some of the most impressive and my personal favorites. Enjoy the adventure in one of Washington's best national parks!
Read Next: