Imagine driving through unassuming farmland in southern Idaho only to stumble upon a canyon oasis with some of the clearest, bluest spring water out west. That's what you'll find at Box Canyon State Park in the Twin Falls area of Idaho.
A short hike gets you down to a pumping waterfall, several swimming areas, and even a little beachy area to chill out and enjoy the day. Here's everything you need to know about visiting Box Canyon State Park:
The Views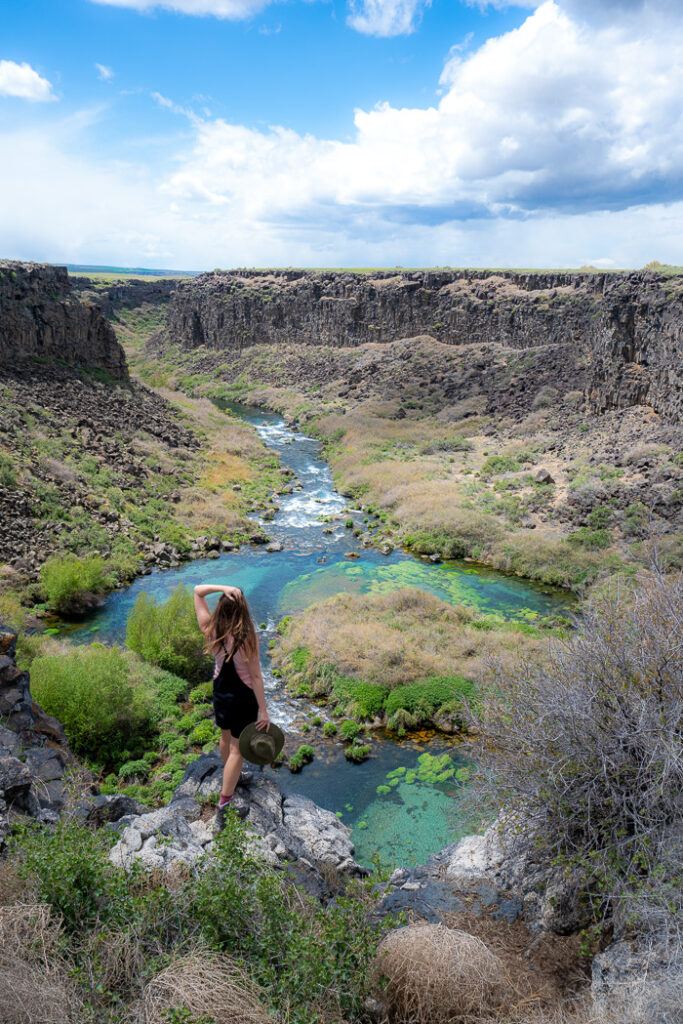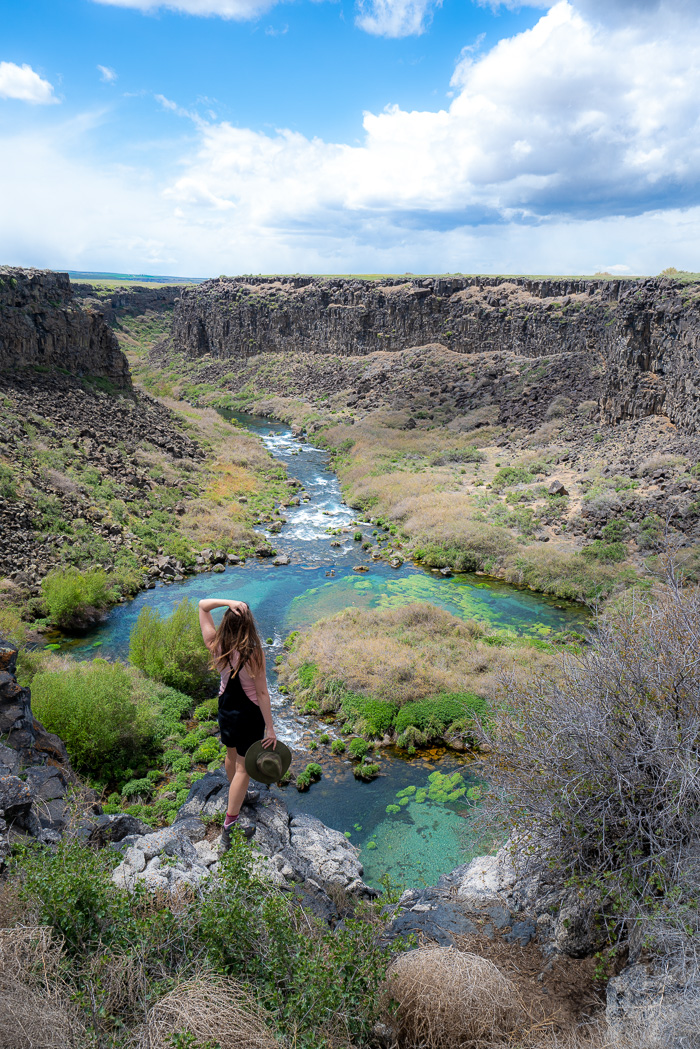 When you pull up and park you'll notice a pathway leading to an overlook that gives you your first glimpse of the glittering spring water and canyon views from above. There were plenty of marmots, birds of prey, and geese enjoying the surroundings as well. This is the 11th largest freshwater spring in the US, with an average of flow of 180,000 gallons per minute.
Continue along the flat pathway to your left and you'll get several impressive viewpoints all along the way. There were moments where it looked to me like this was Idaho's Horseshoe Bend!
Keep in mind that anything you bring with you, you'll need to pack back out. There are no trash cans down along the trail, and it's up to everyone who visits to keep the area clean and pristine. Please make sure you're using environmentally-friendly sunscreen if you choose to go swimming, as the water can only remain as pure and clear as we allow it to be.
The Hike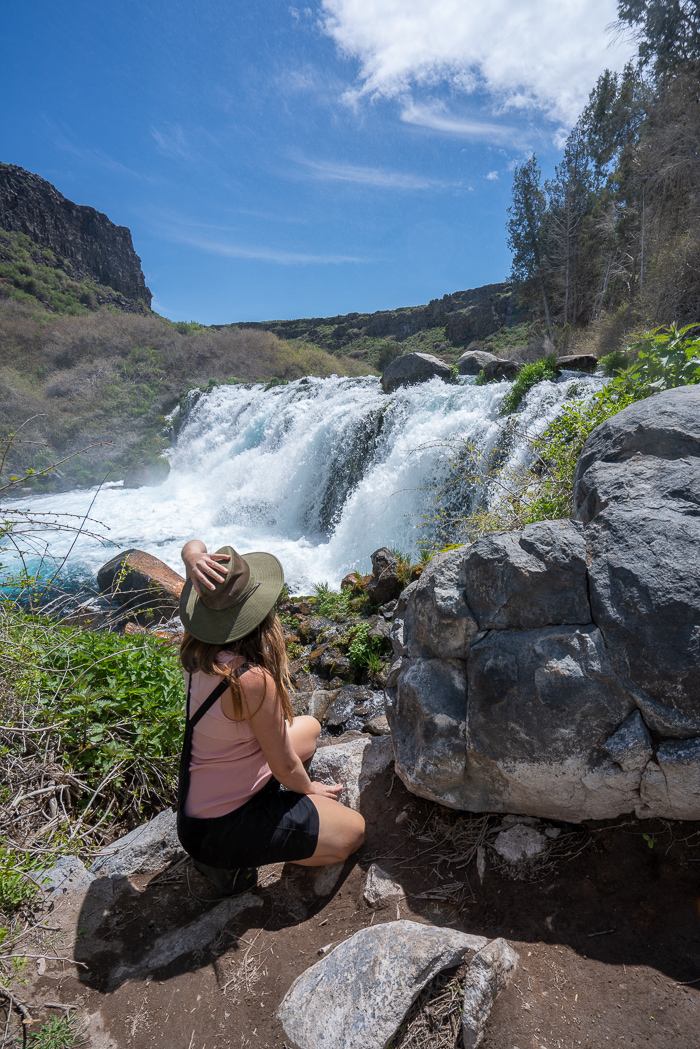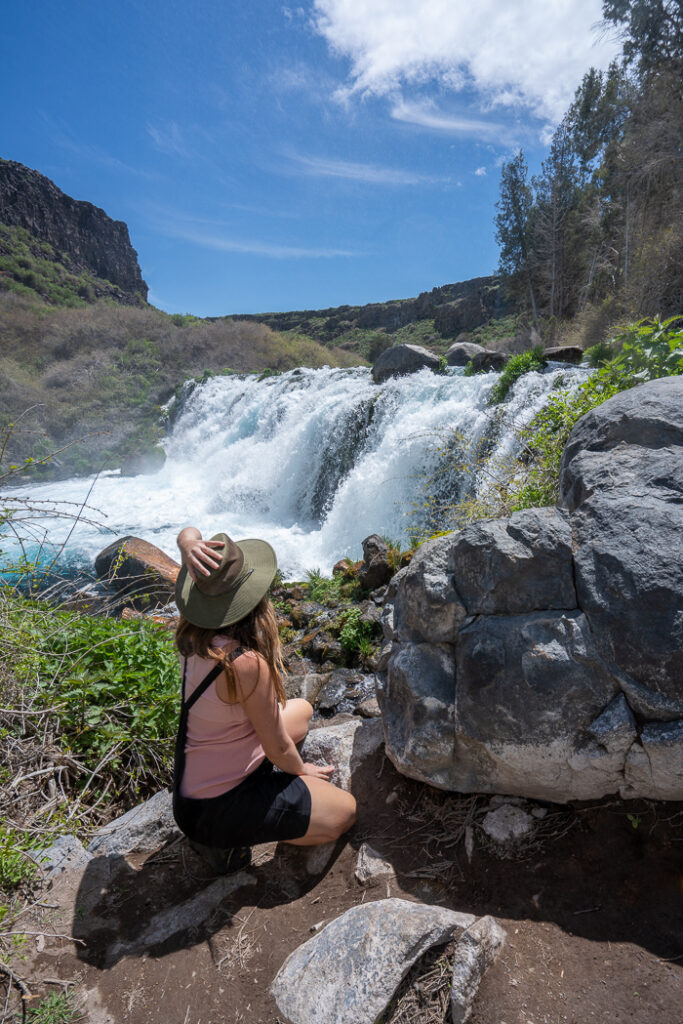 To get down to the water, you'll need to hike along the canyon wall and then down into the canyon. This can be done as a loop, or as an out-and-back if you'd like to avoid the steep, scramble portion at the first access point. That said, if you're in shape and hike often, you won't find the scramble down difficult, and this is a lovely way to go as you'll get several viewpoints along the way, and this pumping waterfall.
The entire loop is about 4.3 miles down a mostly dirt and rock trail, and once you're down in the canyon, it's fairly flat and easy. As you continue past the waterfall, you'll eventually cross the river and come to the beautiful pool pictured below on your left. Continue slightly beyond and you'll find a beachy area with a port-o-potty and easy swimming access.
Just beyond this, you'll come to a dirt road which will eventually lead you back around and out of the canyon. If you'd like to avoid the rocky scramble, look for this road to the left of the trail from the parking lot to make this an out-and-back rather than a loop.
Getting There and Payment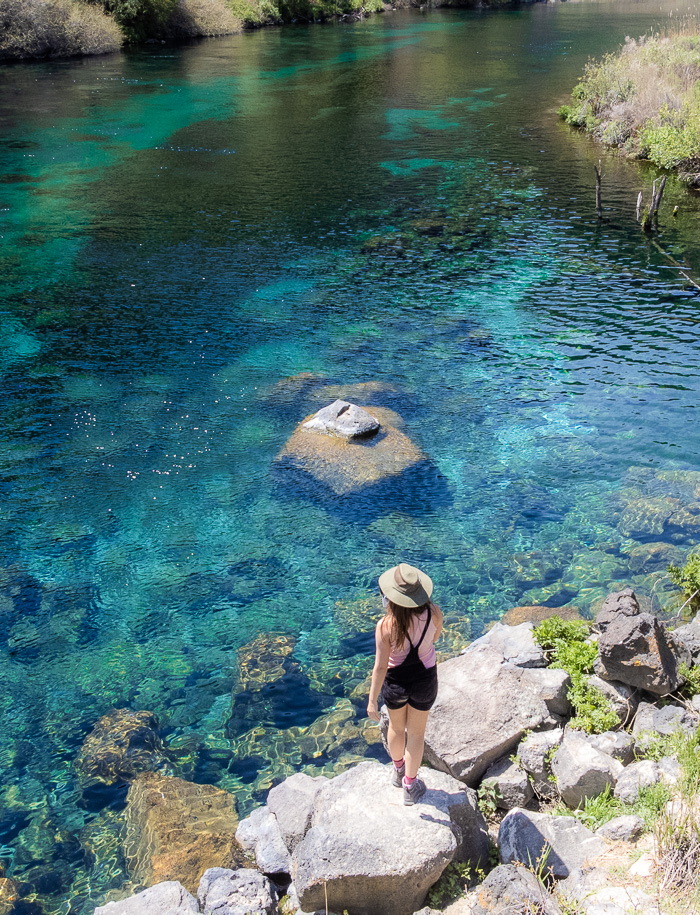 This area is about 20 miles northwest of Twin Falls. Look for the Box Canyon Springs Preserve in Google maps to be brought to the parking lot/starting point for the hike. You'll be mostly driving down rural, backcountry roads until you're at the turn off for the state park.
Entrance is $7, and there are two parking areas – the closest to the canyon will be the second one as you continue on. Note that this park can get popular in the summer months and once the parking lots fill, there's no parking allowed along the roadside.
There are also port-o-potties at the start of the trail that were well maintained, at least when I visited.
What Else is in the Area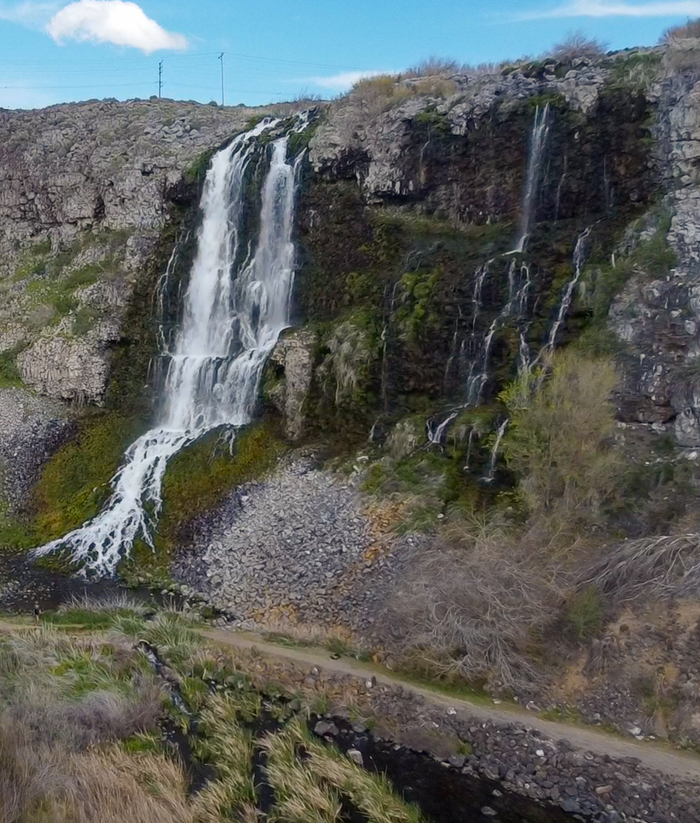 Box Canyon State Park is just one part of the Thousand Springs area, and there's lots to see! Nearby, you'll find Ritter Island. Just across from this island is the pumping Lemmon Falls. This is a very easy, short jaunt from the parking area to the falls. We're talking only a minute or so. Though great as a quick stop to see the falls, this is also a nice place to spend an afternoon, along the Snake River.
There's also the Miracle and Banbury hot springs – developed hot springs that offer private pools that you can book, as well as larger pools that are geothermal-heated.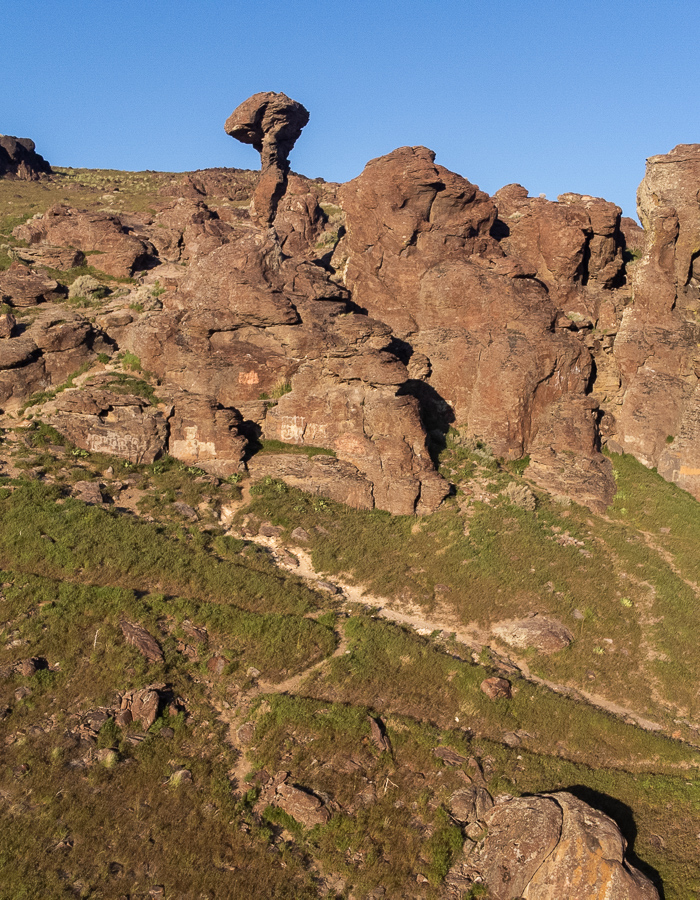 I also made the drive out to Balanced Rock, which is exactly what it sounds like! You'll find a top-heavy rock that's perched atop a ridge, and just beyond it, a canyon turnoff to the right with grass, camping, picnic areas, and a great spot to cool off in the afternoon.
Where to Stay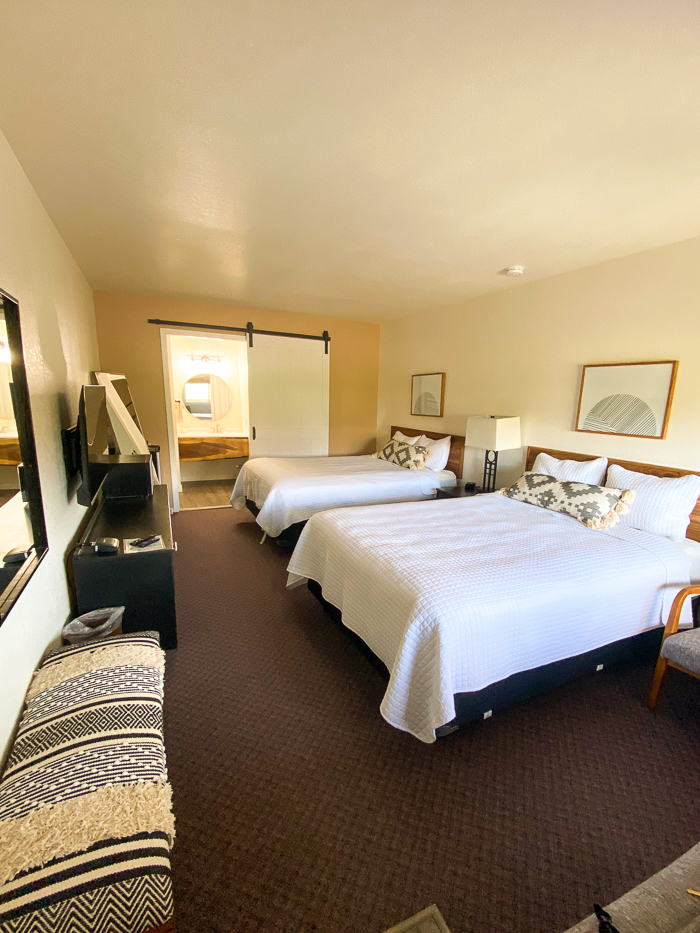 The Hagerman Valley Inn is the perfect locale to base yourself out of for Box Canyon and all of the other beautiful things in the area.
The rooms are spacious, it's sparking clean, and there's an upper and lower balcony area for guests to enjoy. My room was also equipped with a microwave and small refrigerator, though you're also walking distance to the Snake River Grill, which is great for breakfast.
Where to Eat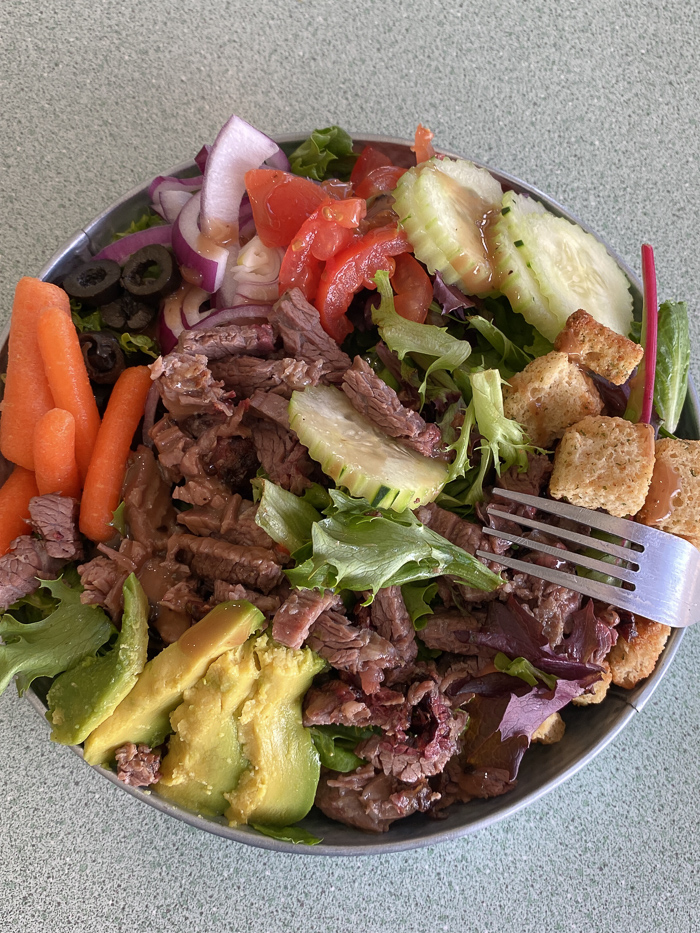 Worked up an appetite from your hike? Although there are several restaurants in the area, my favorite was the Bullzz-Eye BBQ. They have everything from grilled chicken to sausages, ribs, brisket, and more. You'll see them grilling in the kitchen when you walk in! If you're looking for something lighter, they have salads as well, which I ordered, pictured above.
For those with a sweet tooth, they also have pies, deep-friend cheesecake, and when I visited, lemon bars!
If you find yourself in Twin Falls, Box Canyon State Park is absolutely worth the detour. It was one of my favorite parts of my visit! Please remember to recreate responsibly.
Pin me for later: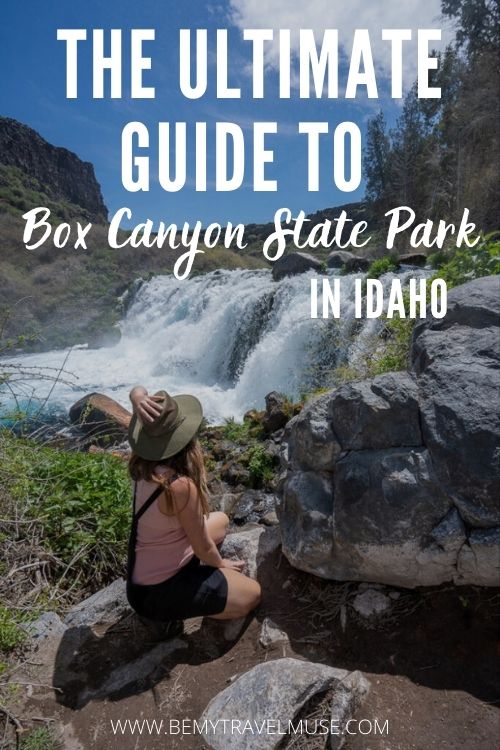 *This post was brought to you in collaboration with Visit Southern Idaho. All opinions on this gorgeous canyon are my own.
READ MORE