SCUBA diving tends to dictate my movements.  I follow the fish, sharks, and especially nudibranchs (extremely bright and colorful sea slugs) all around Asia, always looking for the next best dive spot.
It only made sense that based on this underwater addiction, I'd head to the Philippines to see what it had to offer after many positive recommendations from other travelers.
Upon arrival I was quickly overwhelmed by the myriad of options.  As is often the best plan of action, I took to my Facebook fan page and you guys, per usual, came back with some excellent recommendations.
A liveaboard dive trip consists of 3-4 dives per day, 3-4 meals per day, and generally living on the boat like a sailor (or pirate!) for around 6 days.
After some excellent liveaboard experiences in Komodo, Indonesia and the Similan Islands in Thailand, I knew I wanted a repeat.  Enter Rags II which ended up being an excellent choice for a liveaboard trip through the Coron Wrecks and Apo Reef.
Though I was initially afraid that the typhoon might have damaged these reefs to the point of ruining the diving experience, I was glad to see that the damage was minimal.
There weren't nearly as many options for liveaboards in the Philippines as there had been elsewhere in Southeast Asia. That said, I was entirely happy with my choice because it included lots of diving, a great crew, all the milo I could want, individually cooked meals three times per day (this really impressed me!) and unlimited beer in the evenings – the latter two of which are not common on dive ships.
The diving itself was excellent, giving me a chance to do around 10 wreck dives, which is something I had very little experience with prior.
It turns out that wreck diving is an incredibly interesting peek into the past. In this case, the ships we dived were Japanese cargo and warships sunk during World War II.
Following that was Apo Reef, which was absolutely teeming with fish, turtles, and lots of sharks.
My personal favorite, which my divemaster found funny, are nudibranchs.  They are rather small sea slugs that I always get excited to spot because a) it's a challenge to find them, and b) they are almost always bright and amazing to look at. They're also one thing that changes quite a bit depending on where in the world I'm diving.
At this point, with all of the diving I've done around Southeast Asia, a lot of things repeat, but nudibranchs don't.
That said, seeing sharks and turtles never does get old.
Here's the best summation I can think of, in two minutes, with all of my favorites from the dive. (Turn the music up!)
All-in-all, it was excellent diving and reminded me of just how much I really do love liveaboards and diving in general.
What are your favorite places to dive in Asia? Have you ever done a liveaboard?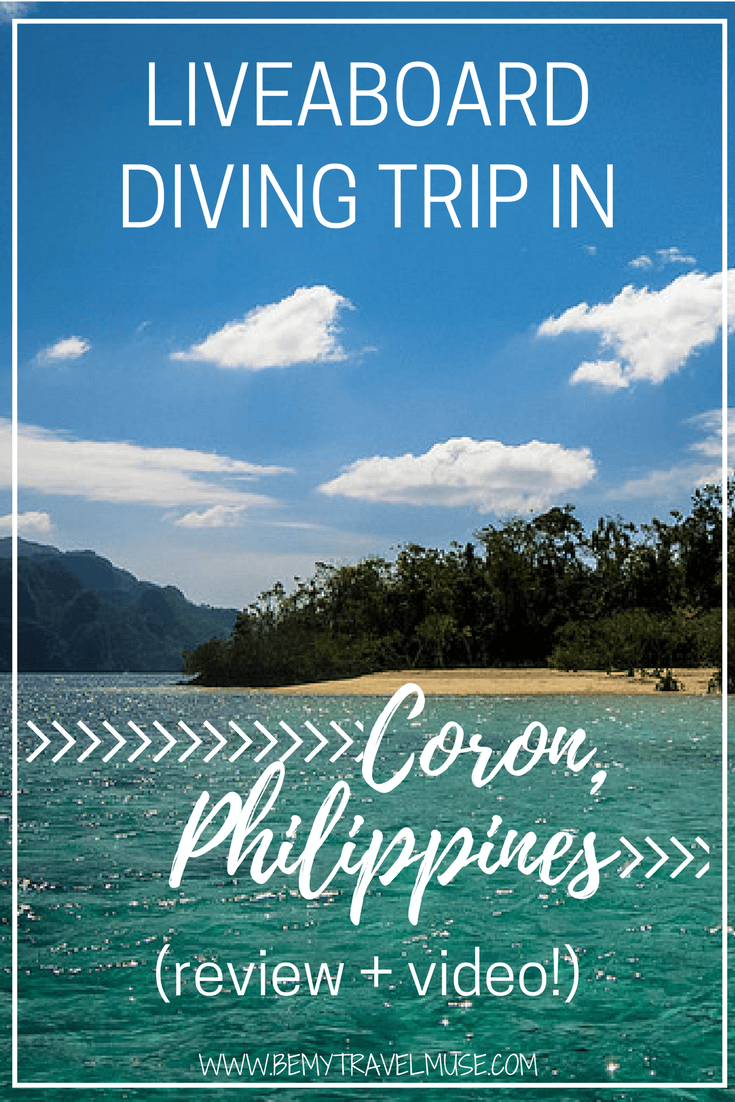 *In the spirit of full disclosure, I was provided a discount in exchange for blogging exposure. Opinions, as always, are entirely my own.