Siargao in the Philippines is a water-lover and general adventurer's dream. A surfer's paradise with a playful soul to it, it's also a place that evolves a lot as one travels through it.
I spent about a week there, and while I could easily do a month, most of us can't devote that much time to one place. With that in mind, what I did can be consolidated into just five days if you do an activity every day.
This itinerary begins in General Luna, which is where most people who visit Siargao end up staying. That said, I absolutely loved Pacifico up north, and included a night or two there at the end. It's much smaller, much more laid back, and a lot quieter.
With this itinerary, you'll see the best and most beautiful spots on Siargao:
Day One: Sugba Lagoon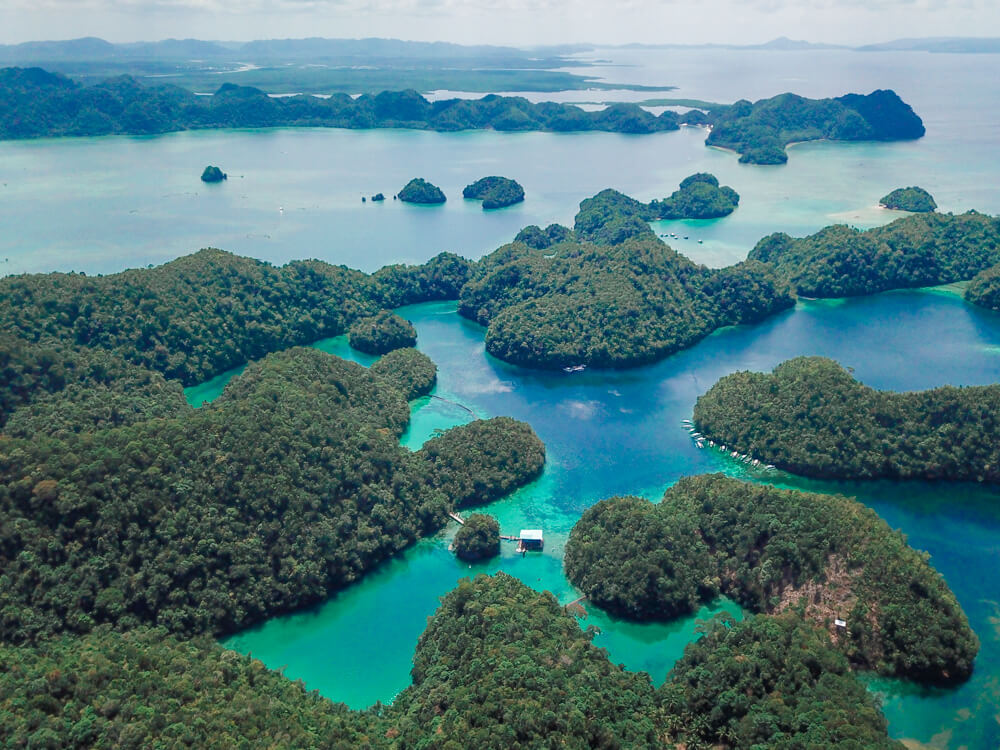 Sugba Lagoon is, no joke, what made me want to return to the Philippines. When I saw photos of it my jaw dropped and I was reminded of Raja Ampat in Indonesia.
While more crowded than Raja Ampat, which isn't surprising considering this is just one lagoon and Raja Ampat is a large area with thousands of islands, it was a gorgeous way to spend a day and yes, the water really is that color:
Be sure to jump off the diving board at the lagoon and paddle around in the aquamarine water.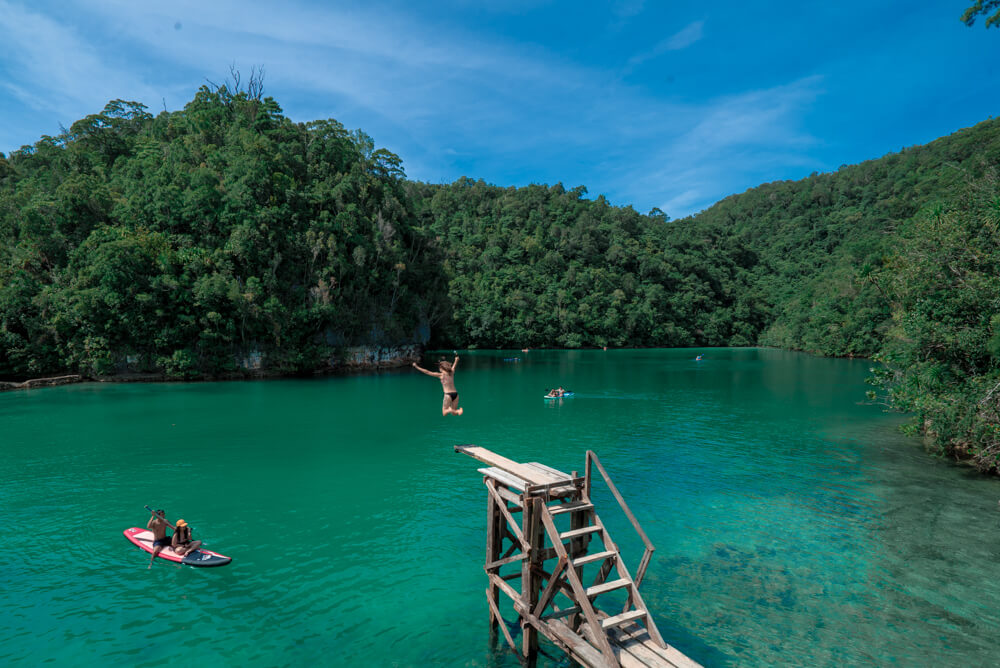 I went on the tour with Kermit which included transport to and from General Luna, a stopover on an island nearby, which was almost as awesome as the lagoon itself. It also included a fresh seafood, fruit, chicken, and veggie lunch served on a banana leaf, drinks, and standup paddle boards. Total cost was 2000 pesos and it's best booked at least a day in advance. I also recommend staying at Kermit while in General Luna. The food and the vibe are on point!
(By the way I paid out of pocket for the experience and nobody asked me to write a positive review. I just liked those guys!)
Day Two: Island Hopping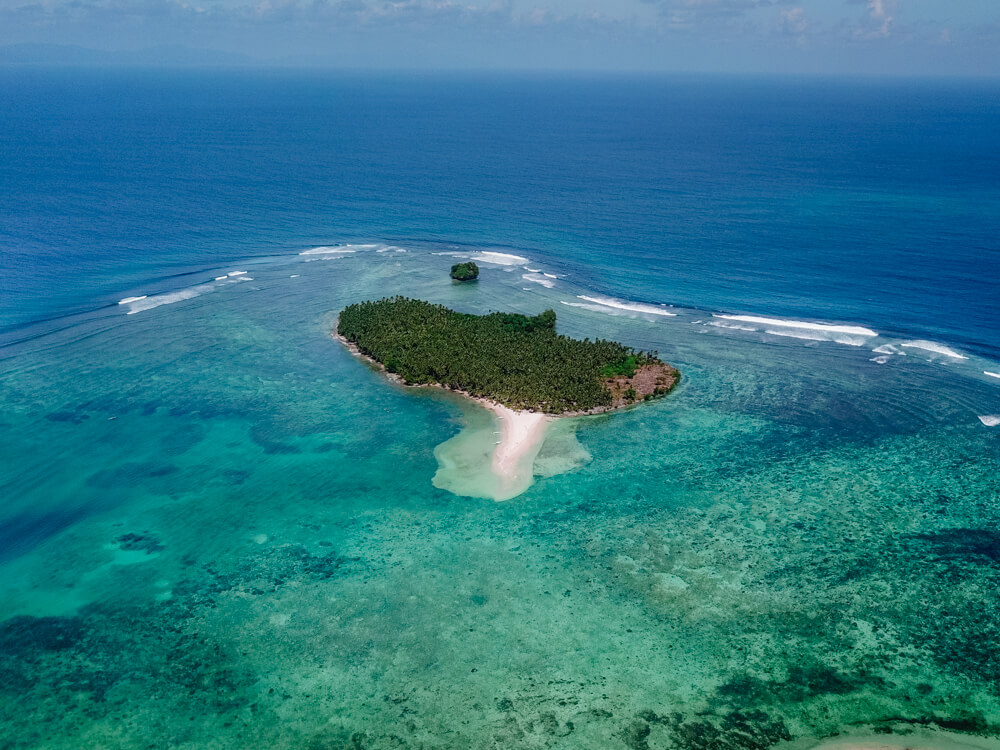 Most island hopping excursions will take you to Naked, Daku, and Guyam Islands. You'll see signs posted all over General Luna advertising the island hopping trips and all of them will take you to the same place. The difference will be the comfort, the lunch included, and the boat you take. I would recommend Kermit for this one too!
Naked Island is actually a sand bar with dazzlingly white sand and gorgeous turquoise water all around. This means you won't have shade, so make sure that you bring ample sunscreen!
The other two islands do have some trees, and Daku Island has a little fishing village as well. All three have powdery white sand and gorgeous clear water. If you're a surfer, you can also hire a boat to take you just out to Daku Reef for some nice and uncrowded surfing.
Day Three: Breakfast at Shaka and Sohoton Cove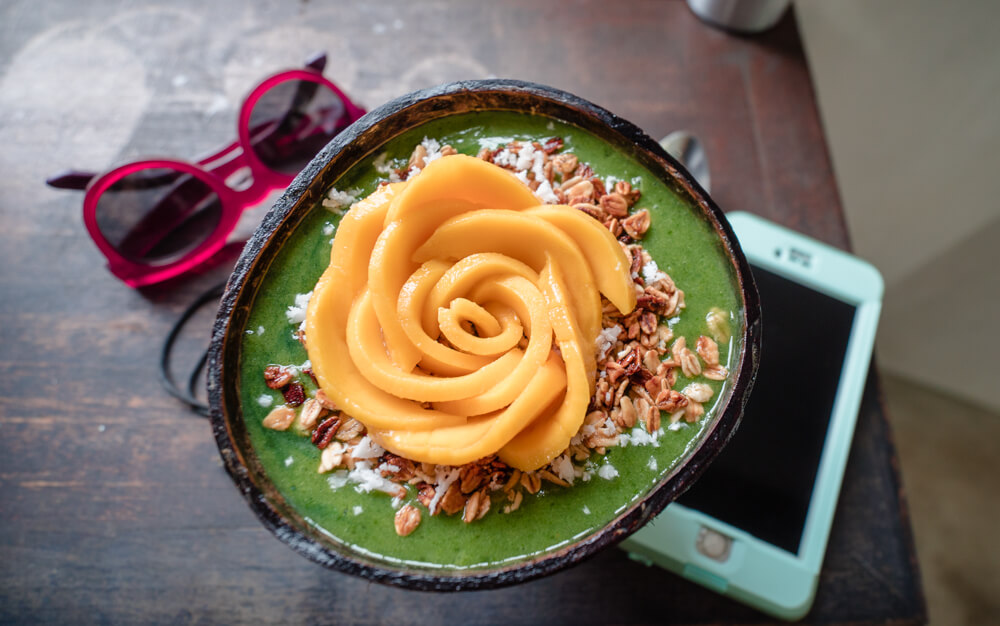 While not actually on Siargao island itself, Sohoton Cove is one of the most loved things to do while visiting Siargao, though it does take several hours to get there, including a couple just in a boat. However it looks just as stunning, if not more-so, than Sugba Lagoon and includes a cave excursion as well.
I was dying to do this but sadly the trip didn't have enough signups on the day that I wanted to go. I take this to mean that it's not as crowded as some of the other options, so make this one a priority to sign up for early in your trip, either with Kermit or Bravo (also a good place to stay and eat!), or if you have enough people (8 or so) you can get your own boat over. There are plenty of signs in town for boat rentals.
Day Four: Learn to Surf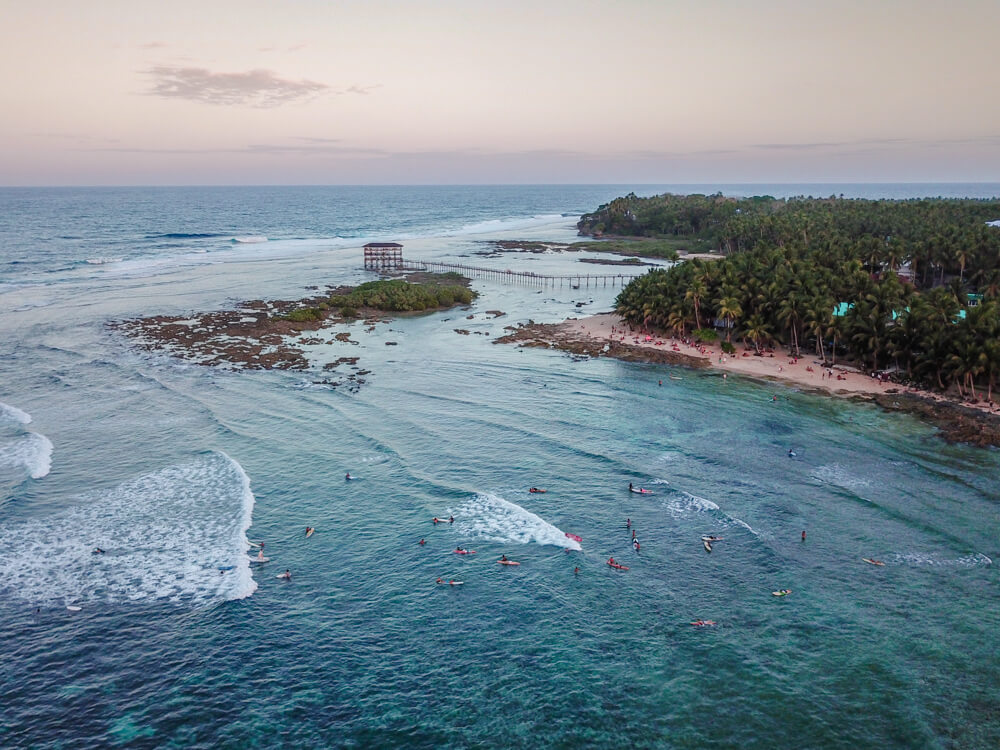 Siargao is the surf capital of the Philippines and there's a wave on the island for every level. The best part is plenty of the surf areas are uncrowded, especially if you're willing to hire a boat to take you out past the reefs or to one of the islands mentioned above.
If you want to take a lesson, the guys at Kermit are great. You can also wander around General Luna and pop into the surf shops and go for one that you jive with. If you don't want to take a lesson and just want to rent a board, check out Fat Lips in General Luna or head north to Pacifico if you want even less crowded surf spots.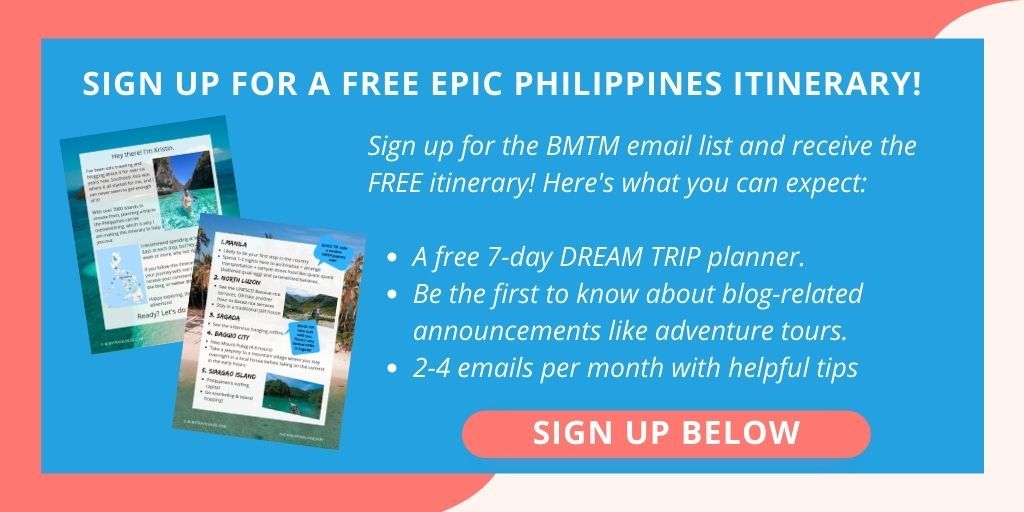 I'm not an expert surfer by any means but I do think it's tons of fun. Based on conversations I had with others and some firsthand research, here are some of the best spots:
G1: Where most beginner's classes take place. It can be a bit crowded but it's a nice long wave perfect for learning on.
Cloud 9: One of the most popular surf spots though it's a reef break and best for advanced surfers.
Daku Reef: I heard great things about this one, including that the crowds are much smaller or nonexistent. This requires a boat ride and you can easily ask a local to take you out from the beach in General Luna.
Pansukian Reef: Near Naked Island, this is another one that isn't too crowded and well suited to intermediate surfers.
Pacifico: Known for bigger waves. This break looked super powerful to me while I was there and is probably only for more advanced surfers.
Day Five: Magpupungko Rock Pools/Adventure to the North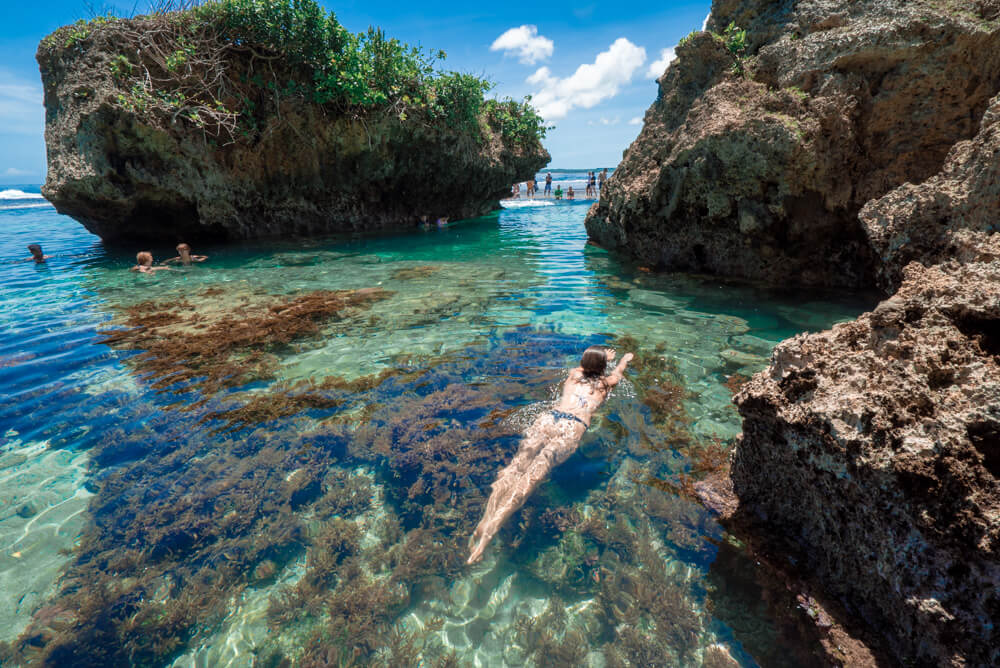 One of the best things to do in Siargao is to just rent a motorbike and go for a drive. If you're island hopping the other days, that really only leaves day five to explore on your own. Wake up early and make the most of it!
Be forewarned, most scooter and motorbike rentals in Siargao don't come with a helmet. I was pretty resistant at first and finally accepted that's just how it is if you want a pair of wheels when in Siargao. Rentals cost anywhere from 400 to 500 pesos per day, usually. You can refill the petrol on the side of the road whenever you see the red bottles lined up. It usually costs 50 pesos per bottle and two will fill up the tank.
First, check the tide forecast and head to Magpupungko Rock Pools during low tide. Entrance is only 50 pesos and it's easy to reach, so I'm of the opinion that a tour is not necessary.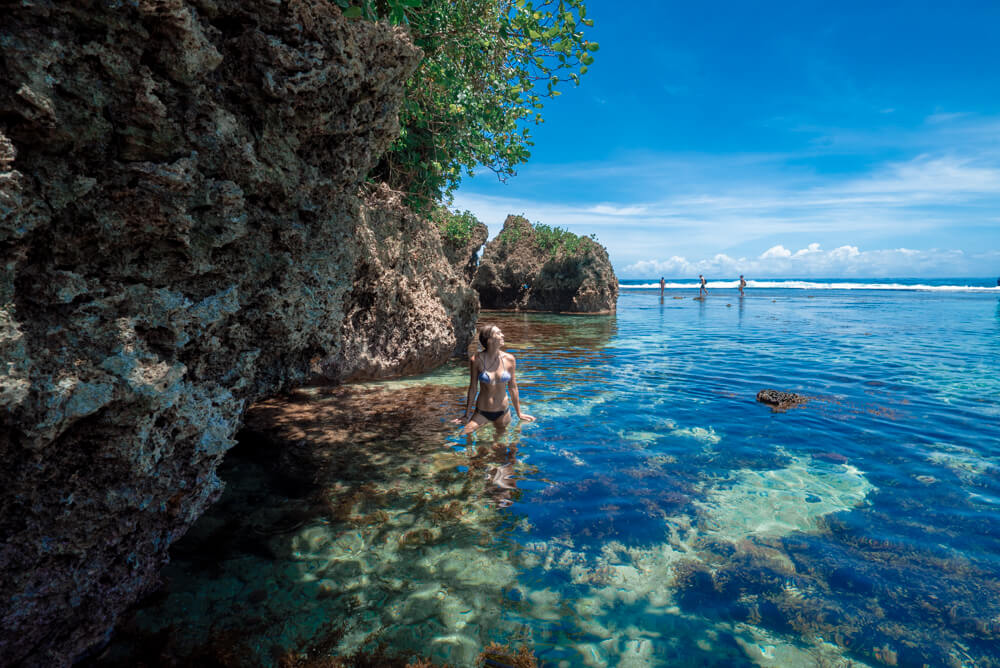 Initially, it'll look crowded, but explore beyond the main pool and you'll find little sections that aren't as packed. The beach is also a lovely place to chill and eat lunch or buy a coconut (or three if you're like me).
NOTE: There's a lot of theft at the pools. I highly recommend putting your things in a dry bag and taking them with you to enjoy the pools fully. Never leave anything of value in the motorbike seat.
As you head north, you'll pass by mangroves as well as Pacifico Beach, followed by Alegria Beach, finishing with the sunset at Santa Monica Pier. From there it's only a 20km ride back to Pacifico Beach, where I recommend staying for the night (Jafe's is awesome and quirky).
Things to Know
Book ahead: In high season, expect things like accommodation, tours, and motorbikes to be booked out, and try to book ahead!
Cash: I wish I'd known before I landed in Siargao that there aren't any ATMs on the island that will take foreign cards. I got past this by downloading the World Remit app and sending myself money, then picking it up at the M Lhuillier in General Luna. It was pretty quick and easy and only cost $3.99 but it would have been even easier had I just brought ample cash with me from Cebu.
Pacifico: I liked General Luna and Cloud 9, but I LOVED Pacifico. If you're willing to wake up earlier to get south for some of the tours, consider staying there if you like a more laid back atmosphere like I do.
Refill your bottle: I was so delighted to find that almost every restaurant and guesthouse in Siargo has a water tank and it's free to refill your bottle! I don't really like drinking out of the same plastic bottle over and over so if you have a refillable one, bring it with! There's also the SEA Movement who actively go and clean the beaches and would certainly love to have you along. Due to these two things Siargao had some of the cleanest beaches I've seen in Southeast Asia.
Those are some of the best things to do when on Siargao, especially if you only have a few days.

Personally, I found leaving painful and plan to go back and explore more of Siargao Island, one of the most beautiful islands in the Philippines.