It was shimmering like a mirage before me. A pigtailed redhead smirked down from her neon perch, her eyes saying 'You know you want this.' After three years in Australia and six months of traveling through Asia, I was standing before… a Wendy's. This was not what I was expecting to find in Manila.
And that is how my first meal in the Philippines was a Baconator. I'm not proud of it, but I hadn't been in a Wendy's in over four years and I was starving and it was there and… oh what am I saying? There's no excuse.
Learn from my mistakes! Yes, there are dozens of American fast food chains sprinkled throughout the Philippines. There are also plenty of Western items on every restaurant menu. But with dozens of amazing local dishes to choose from, you're wasting your tastebuds (and calories, let's be real) eating the same things you can get at home. So what should you order when you visit the Philippines? Follow me, young grasshopper. I will show you the ways.
Start Your Day
Ensaymada
Filipinos love opposing flavors in their meals, and this pastry is no exception. It's a brioche base with a topping of grated cheese and sugar. Cheese and sugar? Yup. That combo of salty and sweet might confuse your tastebuds on the first bite, but it also keeps you coming back for more. You can find this all over the Philippines at the ubiquitous cafe chain Goldilocks, but they're best at Mary Grace, which also has several locations.
Mamon
The texture of this is closest to a sponge cake: dense, yet somehow light. It's definitely a treat, but not overly sweet. Variations of these can have cheese or berry compote on top, jam or buttercream in the middle, or whatever the local pastry chef can dream up to personalize this versatile pastry. These little blonde beauties pair perfectly with a strong coffee, making it a yummy start to the day. These are also found at Goldilocks.
Longganisa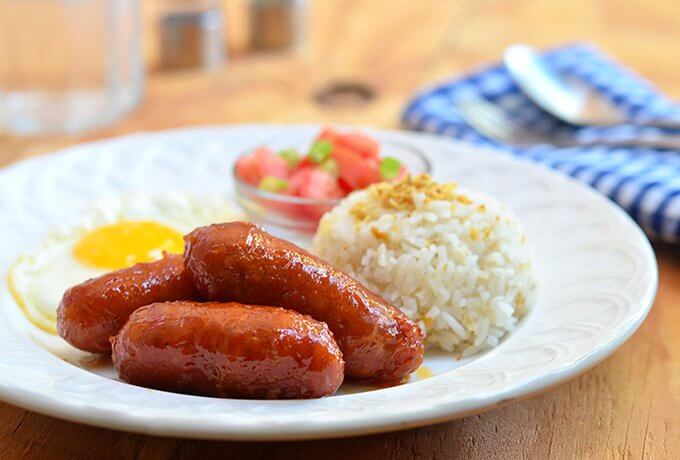 Feel like something a little heartier before you trek the rice terraces, summit the volcanoes, or swim with the whale sharks? Longganisa is the ticket. Served with a plain egg omelette and garlic fried rice, these mini pork sausages are usually sweet, though in certain parts of the Philippines they can be more savory. It's the perfect breakfast to fuel your day (or soak up those San Miguel beers from last night). 
Tocino
For another meaty option in the morning, try tocino. These are sweet, caramelized pieces of thin-cut pork that just melt in your mouth. It's a Filipino version of cured bacon, with the flavor coating each each piece of meat in a sticky, gooey mess of happiness. Also served with fried eggs and garlic fried rice, this cured meat tastes just as delicious as all the hours that went into preparing it. 
Midday Meal
Filipino Pizza
Disclaimer: This is not a typical Filipino dish. When I was trekking the rice terraces in Batad, I finished the day at a small cafe that overlooked the incredible hills I had just hiked. Out of curiosity, I ordered a Filipino pizza. When it arrived at my table, I was skeptical. It had green beans on it. The tomato sauce looked more like mild chili sauce. Sure, there was cheese, but it wasn't the melty, gooey mess that usually comes with pizza. But then I took a bite… and it was strangely delicious. Somehow all those flavors combined to give me the perfect post-hike refresh, and I'd order another in a second.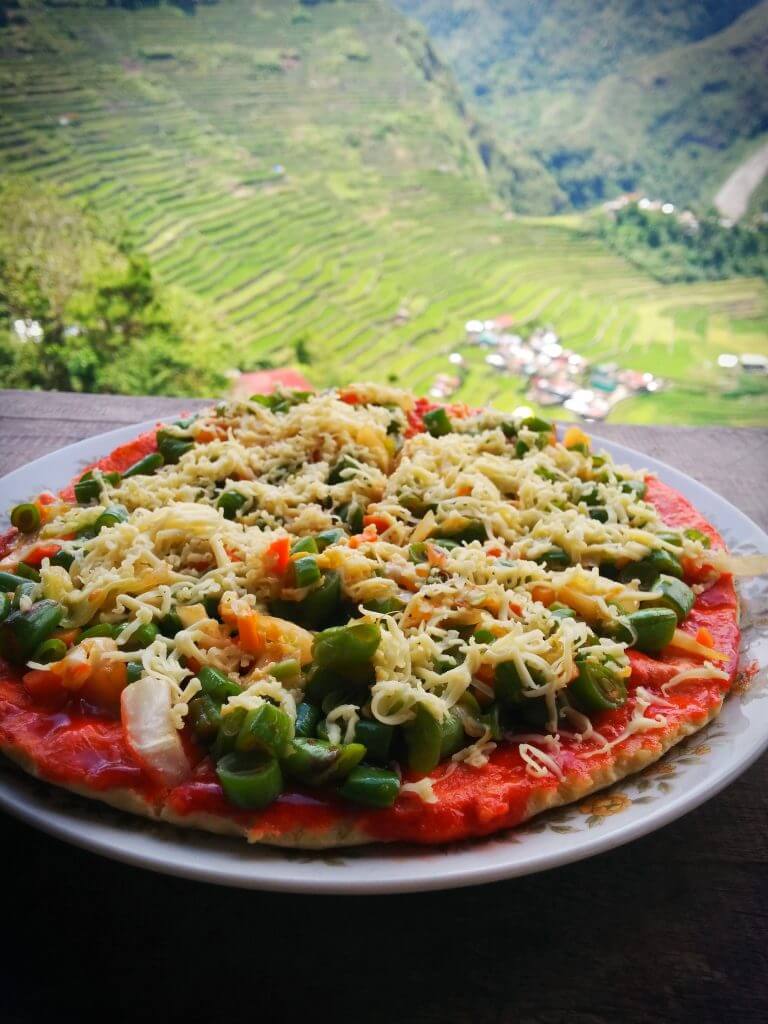 Crispy Pata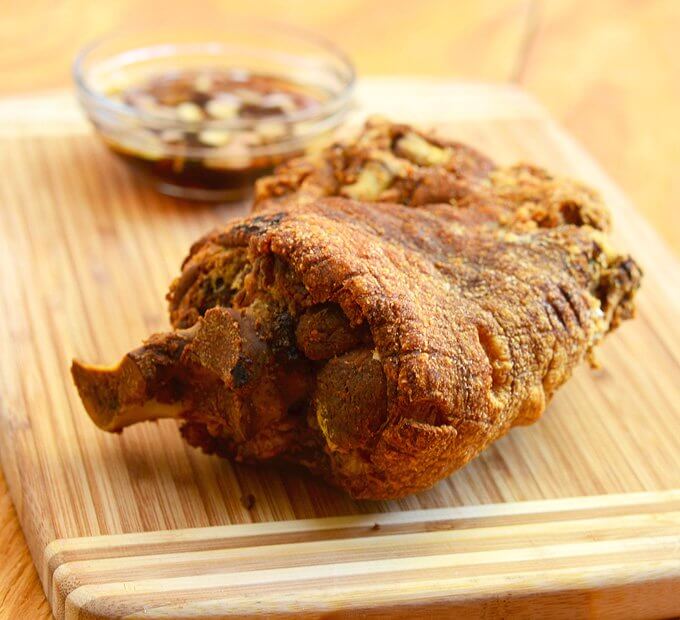 Four words: Deep. Fried. Pork. Knuckle.
The outside is a crispy layer of crackling that might make you cry tears of joy when you break the crust (Just me? Maybe I am too into food). The inside: Juicy, falling-off-the-bone pork that will wrap your tastebuds in a warm hug that you hope never ends. It's served with soy-vinegar dip that has the perfect amount of tang to cut through all that buttery goodness. Unless you don't eat pork, there is no way you can't enjoy this simple and hearty meal. Please, please do not visit the Philippines without trying this! 
Chicken Arroz Caldo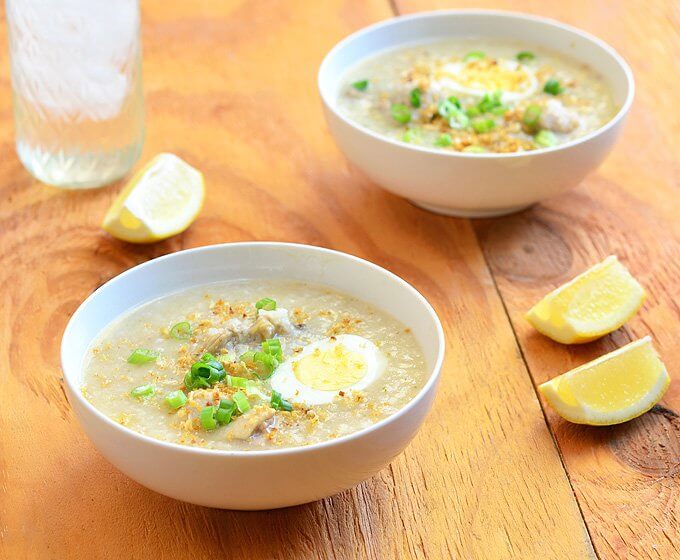 This is the Filipino equivalent of chicken noodle soup, a savory dish with bone-in chicken, a little kick of ginger, and a perfect sweet-citrus note of calamansi* as an aftertaste. Instead of noodles, rice is added, which thickens the overall texture into something closer to a porridge, depending on where you get this. If you catch the sniffles while traveling, the garlic and ginger in arroz caldo will fix you right up, so ask for extra! 
*Calamansi is a popular citrus fruit in the Philippines that is a hybrid of a mandarin orange and kumquat. The flavor is like a sweet lime or a sour orange.
Snack
Chicharon
I was traveling on a bus from Cebu City to Oslob to swim with the whale sharks when I was befriended by a student named Vitex who was traveling to his family for the weekend. At one of the many stops between the point A and point B, a vendor hopped onto the bus to sell snacks. A few words of rapid-fire Tagalog later, I had a bag of chicharon in my hands, courtesy of Vitex. These are not the puffy, processed pork rinds of American gas stations that resemble a rice cracker more than they do meat. These are the real deal: pork skin boiled, seasoned overnight, then deep fried. Snack heaven! Thank you, Vitex.
Ukoy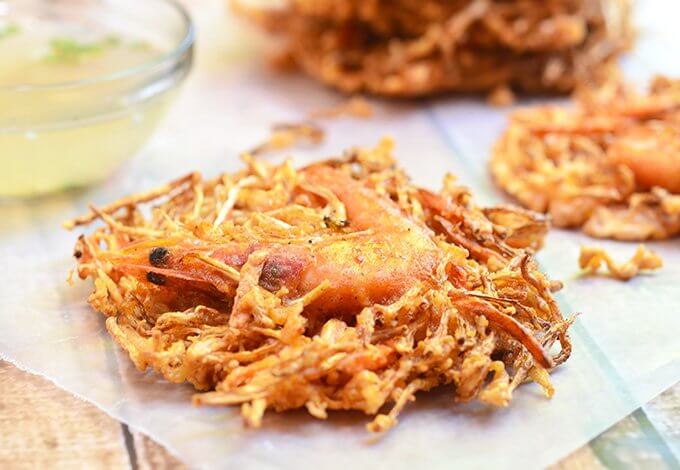 Who doesn't love a fritter? And who couldn't love a fritter made from a combo of shrimp and potato? Though potato or sweet potato is the most common second ingredient in these little parcels of crunchy goodness, almost any root vegetable can be combined with bean sprouts to make the 'nest' that the shrimp snuggles into. The result? The perfect handheld snack to hold you over until dinner. 
Lumpia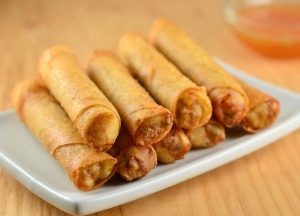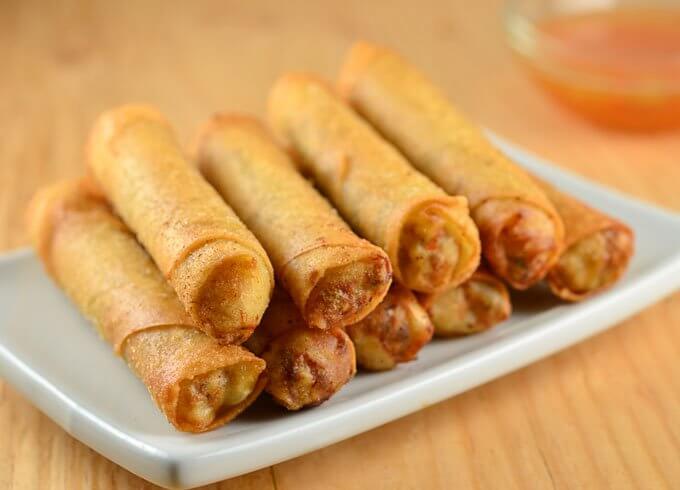 Lumpia is a small word that describes a great many things. These are Filipino spring rolls, but they definitely aren't the same as the ones you'll find in mainland Southeast Asia. They look the same from the outside, but these can be filled with savory meats and fresh veggies or sugary bananas for dessert. The consistent factor? They are wrapped in a rice paper a fried to perfection. Look for the sweet version of these on street carts all over the islands. 
Time for Dinner
Kare Kare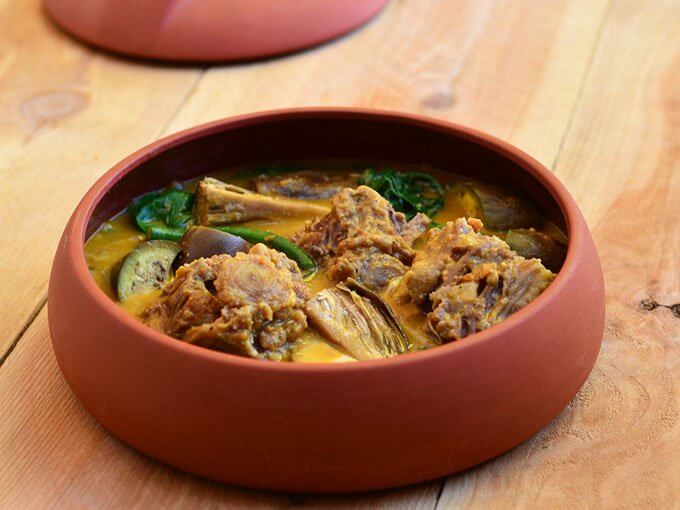 A dominant rule in Filipino cooking? Nothing goes to waste. In this case, it's oxtail slow-cooked into a hearty stew. While this one isn't wild on heavy-hitting flavor, the slow-cooked meat and unusual inclusion of peanut butter gives it a heartiness that's perfect for a chilly night in the mountains.  
Adobo
Ah, adobo. How I could sing your praises from the rooftops for all time. Adobo is the name of the sauce, a tangy, salty, thick confusion of flavor that covers almost any meat, though chicken and pork are the most common. Here's the thing with adobo: you'll never get the same dish twice (unless you order seconds from the same restaurant). The ingredients of adobo vary widely depending on which island you're on, or even which city you're in. The most common is black adobo, a mix of vinegar and soy sauce simmered with loads of garlic, peppercorns and bay leaf. The meat that's cooked in this sauce usually has bones in it, adding to the yum factor. On a bed of white rice, it's savory heaven on a plate.
Lechón
I know, enough with the pork already, right? But dang can the Filipinos cook a pig! This one is slow-roasted over a fire for hours until the meat is tender and juicy. You can find Lechon all over the Philippines, but if you only try it one place, try it in Cebu. There, lechon is stuffed with a mix of lemongrass, star anise, bay leaf, and other delicious spices, and roasted until the skin is extra crispy. The infusion of flavor in the meat and contrast of textures of crispy skin and shredded meat will have you eating until you're comatose.
Pancit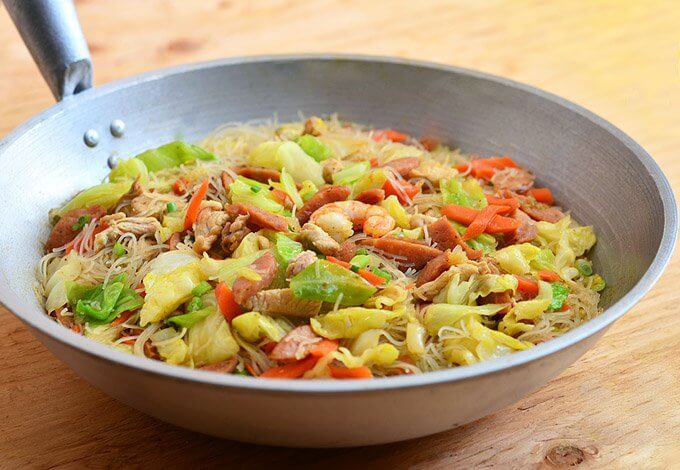 A whole article on Asian cuisine and not a noodle in sight? Well, here comes pancit to save the day. In Tagolog, pancit literally means noodles, so the second word is important to know exactly what you're getting. There are literally dozens of varieties of pancit, with specialties for each region. Want to get to know the region you're visiting better? Get the local version of pancit. Two popular and common varieties are pancit palabok and pancit bihon. Bihon is stir fried veggies, meat and noodles (think pad thai but with thinner noodles, less spice and more citrus). Palabok is shrimp, pork belly and host of textures and flavors from other toppings (crushed chicharon, fresh green onions, hard-boiled eggs) over boiled noodles. 
A Sweet Treat
Ube Ice Cream
If Dr. Suess made an ice cream, this would be it. It's bold purple color comes from ube (pronounced OOH-bay), which is a purple yam that makes an appearance in many Filipino desserts. When made into ice cream it tastes… well, kinda like a yam. Some vendors add coconut milk, which gives it a bit of a toasted coconut flavor. You may be confused at the first taste, but after the third, you may even go for another scoop!  
Halo Halo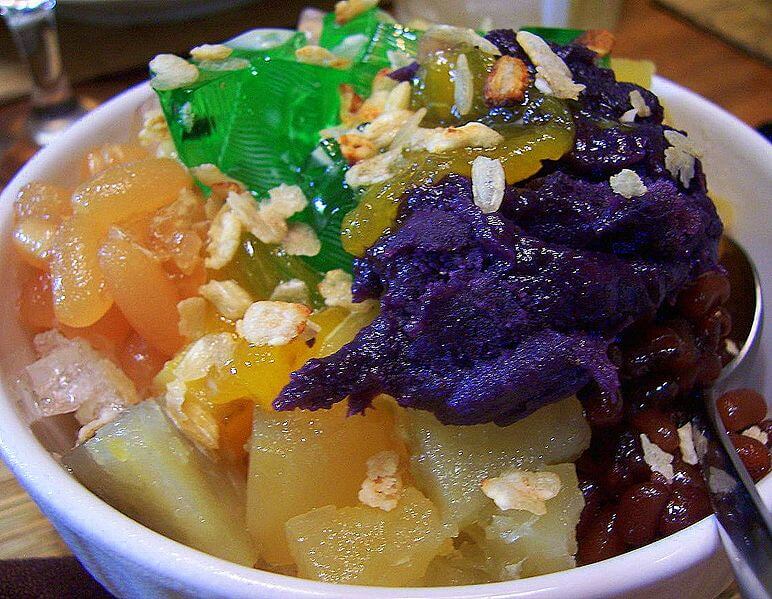 One look at his wacky concoction might make you want to but the cup down and slowly back away. A cacophony of colors and textures, halo halo is shaved ice and evaporated milk piled atop a mixture of almost anything sweet: from fruits like plantain and jackfruit, to jello, to beans that have been sweetened. This is then usually topped with a scoop of ube ice cream. Just the colors of this dish make it a show-stopper, and it definitely delivers on it's promise of a sweet (and refreshing!) treat.
Leche Flan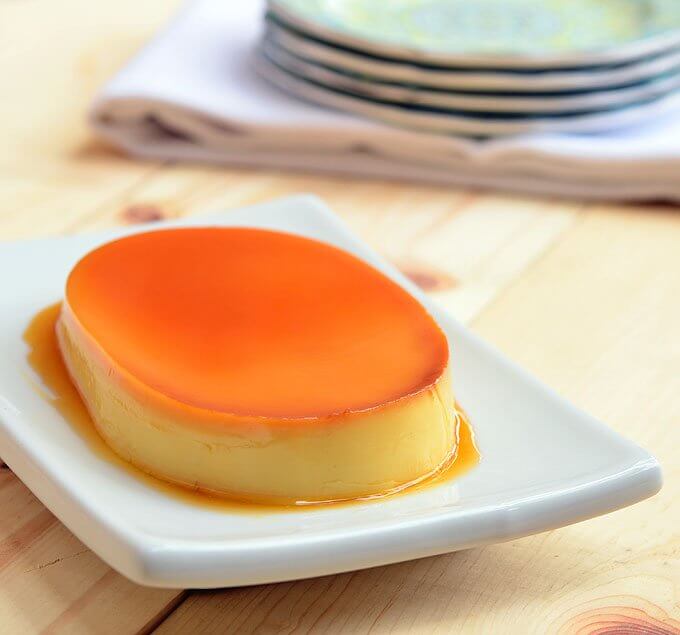 The recipe for flan came with the Spanish, who ruled the island nation for over 300 years. Naturally, the Filipinos took the European recipe and made it their own. Though it looks very similar to the European counterpart, Philippine flan is denser and (in my opinion) packs more flavor-per-bite. If you like vanilla and caramel, don't miss this. 
Bring the Philippines to You
Hungry yet? One of the easiest Filipino dishes to replicate is adobo, and fortunately it's one of the most delicious. This is pure Filipino comfort food, so pick a chilly night and fire up the stove for this slow-cooked feast. You can sub pork for chicken if you're not a pork eater — A mix of bone-in wings and thighs or boneless cuts cut into 2" pieces will work with this recipe, though the cooking time might be reduced if you use boneless chicken.
Recipe: Pork Adobo
Serves 4
Ingredients:
2 ½ lbs. Pork shoulder, rump or belly, cut into 2" pieces
¼ cup white vinegar*
⅔ cup soy sauce
1 tbsp whole black peppercorns
8 cloves garlic, peeled and crushed
2 – 3 dried bay leaves
1 cup water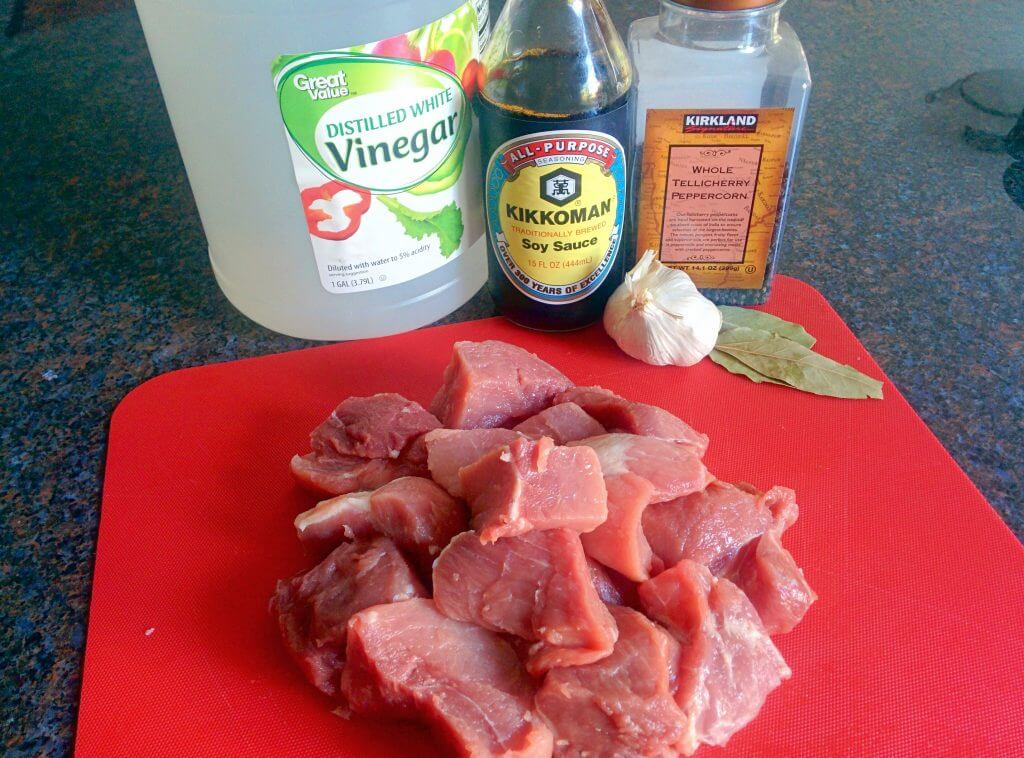 Directions:
Combine all ingredients (except bay leaf) in a large bowl, cover, and let marinate at least 1 hour, up to overnight. The longer the better! Stir it a couple of times to make sure all the meat gets coated.

Pour the marinade and mixture into a heavy pot over medium-high heat, add the water and bay leaf, and bring to a boil. Once boiling, lower the heat and simmer, covered, until the meat is tender (about 1 hour – 90 minutes).

Drain the meat in a colander set over a bowl (so you can save the sauce, you'll need it!). Heat a pan with a bit of oil over high heat and brown the meat on all sides.

Once the meat has been browned, remove it from the pan. Add the saved sauce to the pan and heat, using a wooden spoon to scrape up any brown bits left in the pan.

Place the pork on a bed of rice and top with the sauce.
*Any type of vinegar works for this, though it will subtly change the flavor. I prefer white vinegar because I love the strong tartness, but playing around with different flavors is fun. Adobo is a very forgiving dish, so as long as the proportions are the same, have fun!
With such a rich culinary history, choosing what to eat in the Philippines is tough. If you are more adventurous, there are plenty 'I dare you' foods found on street carts all over the cities: Betamax (fried congealed blood, anyone?) and balut (duck embryo) have been luring extreme eaters for ages, though these are just normal snacks in the Philippines. Plus, there are about 20 more dishes that weren't listed in this article that are just as delicious as the ones included! One thing I can say for sure? Skip the Baconator.
A special thank you to Lalaine of Kawaling Pinoy for granting permission to reuse the photos of her beautiful food. I was way too busy scarfing down the food to take good photos, so maraming salamat! You can find recipes for each dish on her site, linked in the relevant photo captions.
About the Author: "Jetsetter" Jenn Brown is an adventurer, amateur chef, and wine-lover who has been on the move since 2012. Past adventures include swimming with whale sharks in the Philippines, solo hiking the mountains of Montenegro, and apprenticing at a dairy farm in Spain. This summer she is working aboard a tourism charter boat in Southeast Alaska as their chef. You can follow her adventures at her site, JetsetterJenn.com, or on one of her many social media channels: Facebook, Instagram, or Twitter.