When the sea breeze is blowing, the aquamarine blue of the water is glistening, and everything seems to somehow be more vibrant than usual, you might be on Romblon Island.
It's a friendly, more local experience than Boracay nearby, but it's no less stunning and to me, is even better with its sandbars and collection of islands, all ripe for adventure.
After several of some of the most relaxing and enjoyable days of my travels so far – which is exactly what I'd ordered from the universe – it was time for some adventure, and Romblon Island delivered! Plus, I was one of the only foreigners around.
The people in the area are some of the friendliest in the world, I'm sure. How can you not love a place where everyone wants to know your name and take photos together? This incredible hospitality is what keeps me coming back to this country again and again. I'm confident this Romblon Island itinerary will have you falling in love, too:
Getting to Romblon Island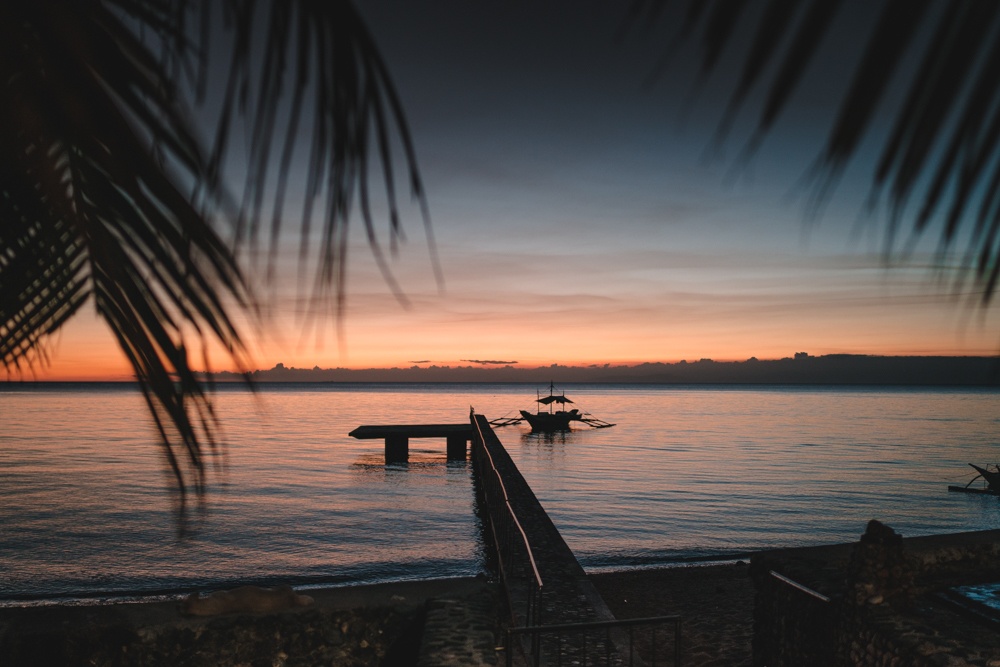 Romblon is both the name of an island and a province, kind of like New York, New York. In order to reach Romblon Island, you'll first need to get to the province. You can do this by flying from Manila to Tugdan Airport in Tablas (TBH) and taking a jeepney, trike, or van to San Agustin. Cebu Pacific operates this flight 3 days per week.
You may need to overnight on Tablas in order to take the a pump boat over. They leave daily at 8am and 1pm from San Agustin and cost 100 pesos plus a 10 pesos terminal fee.
Alternatively, you can fly into Caticlan Airport, ferry from Caticlan to Odiongan, and take a jeepney from there to San Agustin. It's also worth seeing if you can go directly from Odiongan to Romblon Island, as some ferries on some days of the week stop in Odiongan on the way, like Montenegro Lines.
You can also ferry from Batangas, which is 3 hours south of Manila by bus. This is a long option but it's the cheapest. You can find out more about timetables here.
Here's my complete journey getting from Los Angeles to Romblon Island. It was a long trip, but worth every minute:
*Be sure to bring ample cash with you. Sometimes the ATMs on Romblon Island aren't working. Thankfully my accommodation accepted PayPal, or else I would have had to penny pinch.
Where to Stay
My biggest tip for having a much more unique and beautiful experience on Romblon Island is actually to stay on one of the smaller satellite islands, particularly at this enchanted place: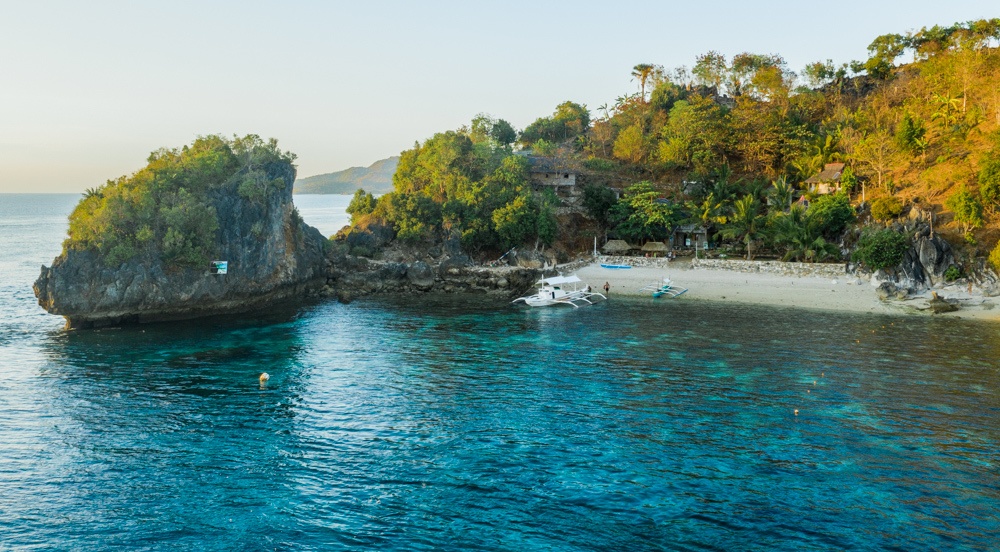 I chose to stay on Alad Island, which is a stone's throw from Romblon Island, and where many of the island hopping tours will take you for its underwater menagerie. I am absolutely smitten with the place I stayed, Tinaoog Beach Resort, which is an eco-resort that's fully self-sustaining, running on solar power, on its own secluded beach on Alad Island.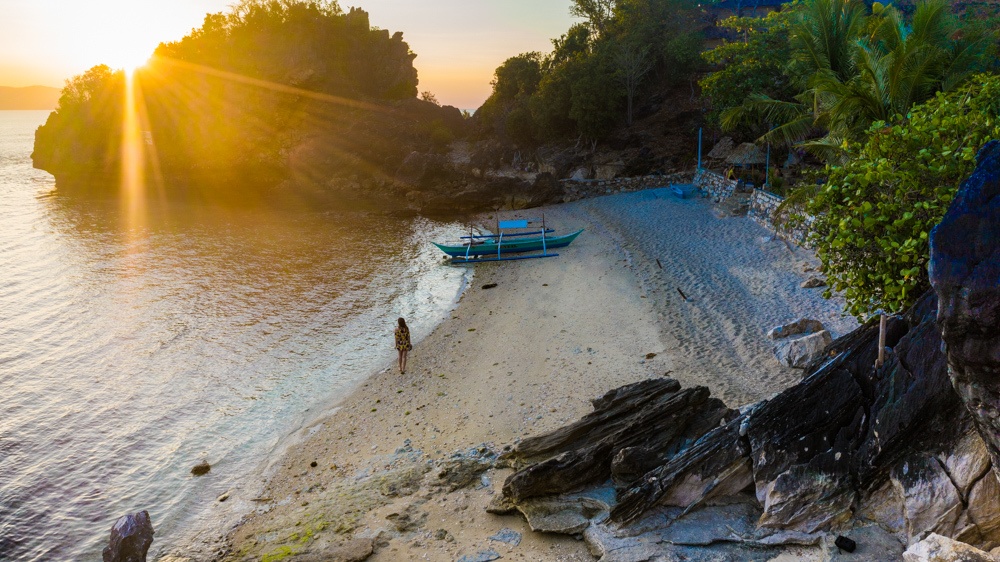 I was in such a good mood my whole time there. The owners, a French and Filipina couple, were so hospitable and friendly, they even let me stay in their family hut over Easter since I hadn't booked my hut all the way until then. Their daughter is adorable, and the staff are so friendly and cheerful. I think it says a lot about a place when everyone there seems genuinely happy.
It was so peaceful and had a vibe to it that is hard to put into words. It felt serene, safe, secluded, and perfect. It's easily on my list of top 5 favorite places I've ever stayed, out of hundreds. Book it right now, honestly, and plan the rest of your trip around it. It's worth it.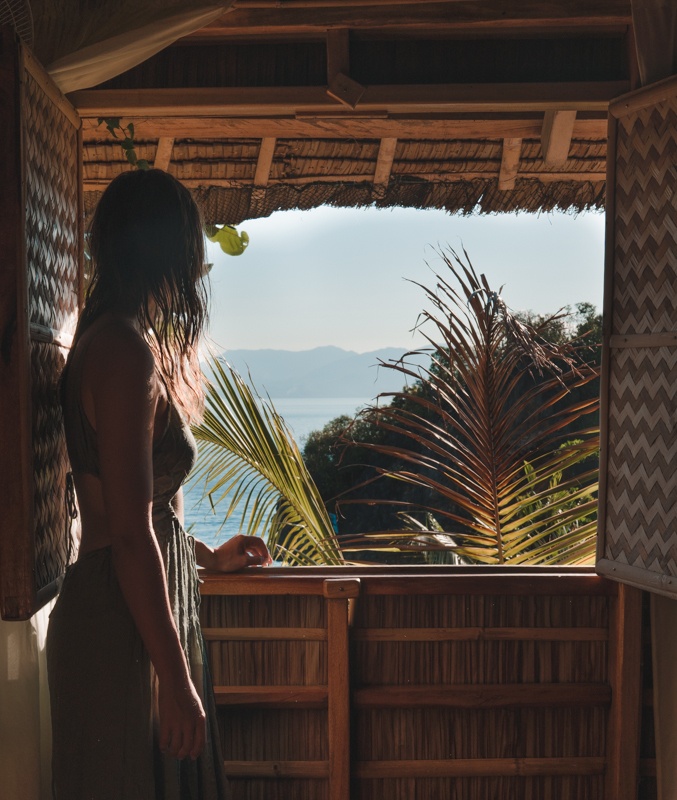 There are only a few huts there so you'll want to book in advance. The food is amazing, the price is right, and you can book a private island hopping excursion directly from them for only 1500 pesos, which I did! This allowed me to customize the trip how I wanted to. This is what Ken, the resort guide, and I found:
What to Do
Bon Bon Beach
Romblon Island's most famous feature, Bon Bon Beach is a sandbar that appears in its full glory during low tide. The swirling shape of the bright white sand leads to a gumdrop (or bon bon?) shaped island at the end. I was the most excited to see this, as a sandbar enthusiast.
If timing doesn't allow you to see it during low tide, don't despair, because it's beautiful even when the water starts to cover it as well. The photo above was taken at high tide, since it was quite crowded when I went during low tide. I initially found that disappointing but ended up loving the thin, swirling shape of the sandbar even more at high tide!
Also beware, when the water comes and seals off the sandbar, the current can be strong. Be sure to cross back over before the water is waist-deep.
Tiamban Beach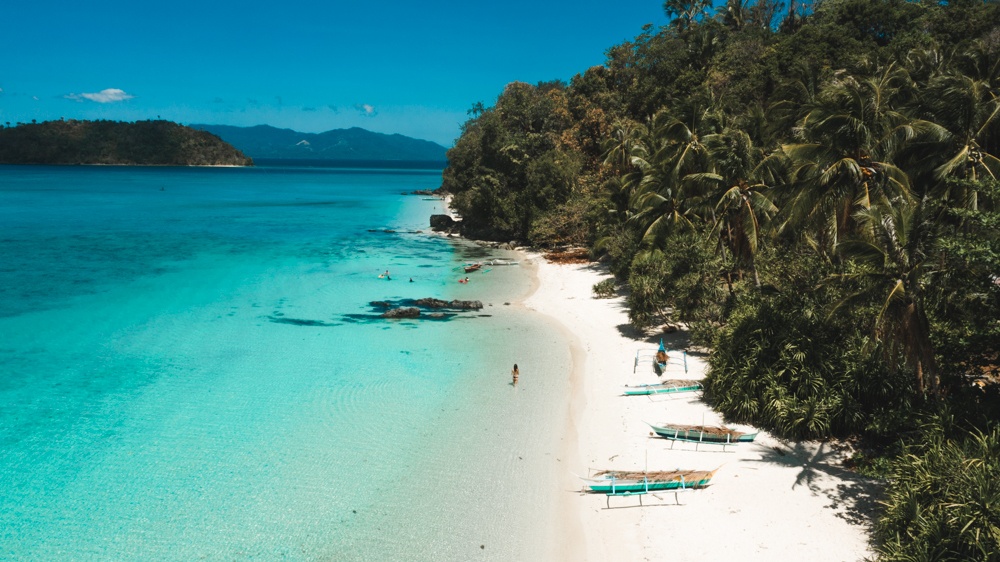 Just a couple beaches over from Bon Bon, Tiamban Beach provides a palm-lined stretch of white sand and calm, crystal clear water that is synonymous with tropical paradise.
The little fishing boats seem to match the water hue perfectly, and for those who prefer calm water that you can just lay in, this place is perfect. There aren't any reefs or sea urchins within the first hundred meters or so (depending on the tide) which can be hard to find elsewhere in the area. So soak it up before moving on to the other spots on this list for a bit more adventure.
Logbon Island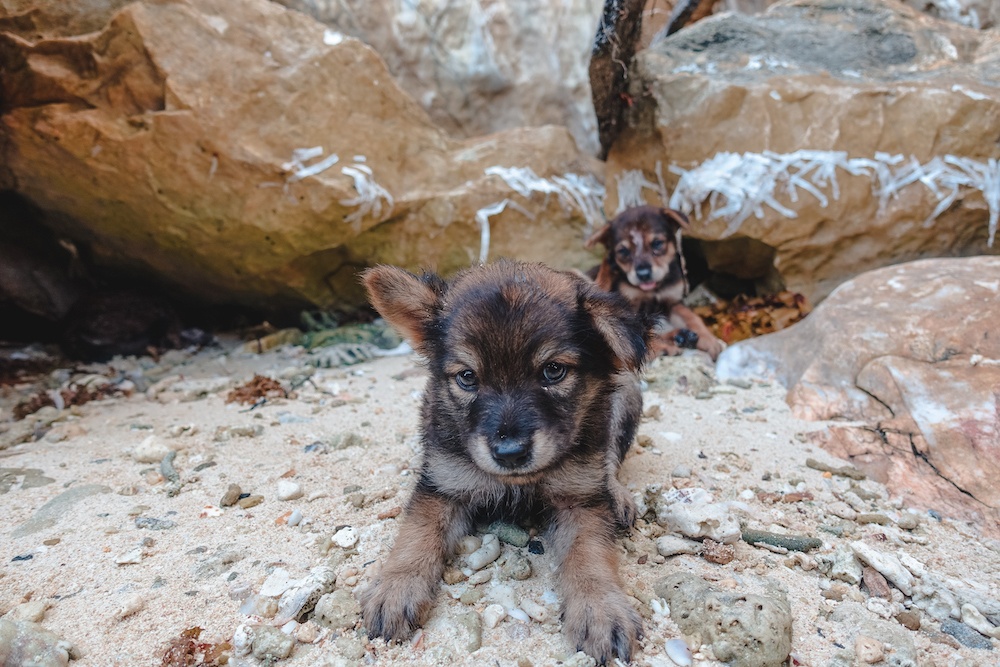 You'll notice another sandbar to your right when approaching Bon Bon Beach from the water, or at about 2 o'clock if you're standing on Bon Bon Beach. This is just one of several beaches on Logbon Island that are similarly pristine with white sands and crystal clear water.
On the other side, near where the Logbon Pool forms at certain times of year (though not when I was there in April), there's a small local village with some great snorkeling – think multiple different kinds of corals and nice, clear water. I saw a seahorse while snorkeling there!
Cobrador Island Sea Turtle Sanctuary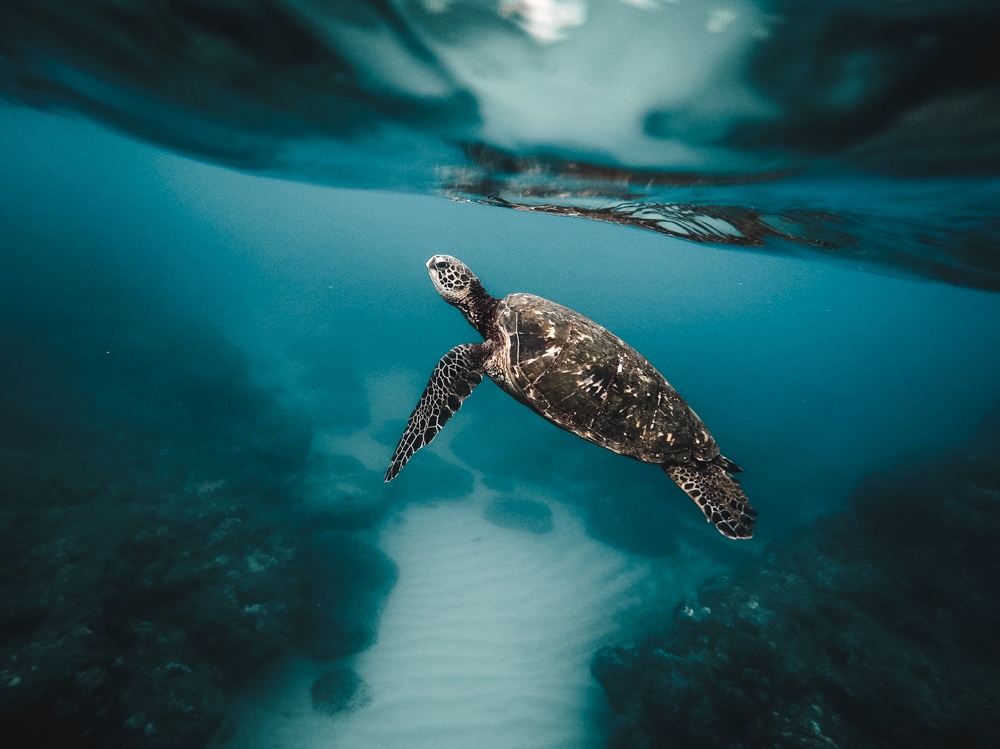 The snorkeling in Cobrador Island is excellent as well. If facing the island, the best spot for finding sea turtles is to the right of the small island with the diving board, Marakay Marakay. I saw schools of barracuda, lobster, schools of glittering tiny fish that jumped out of the water when I freedived down to them (sorry guys), and of course, a sea turtle. I heard that the turtles can get huge as well! This was some of the best snorkeling I did in Romblon and the surroundings.
Marakay Marakay Island Diving Board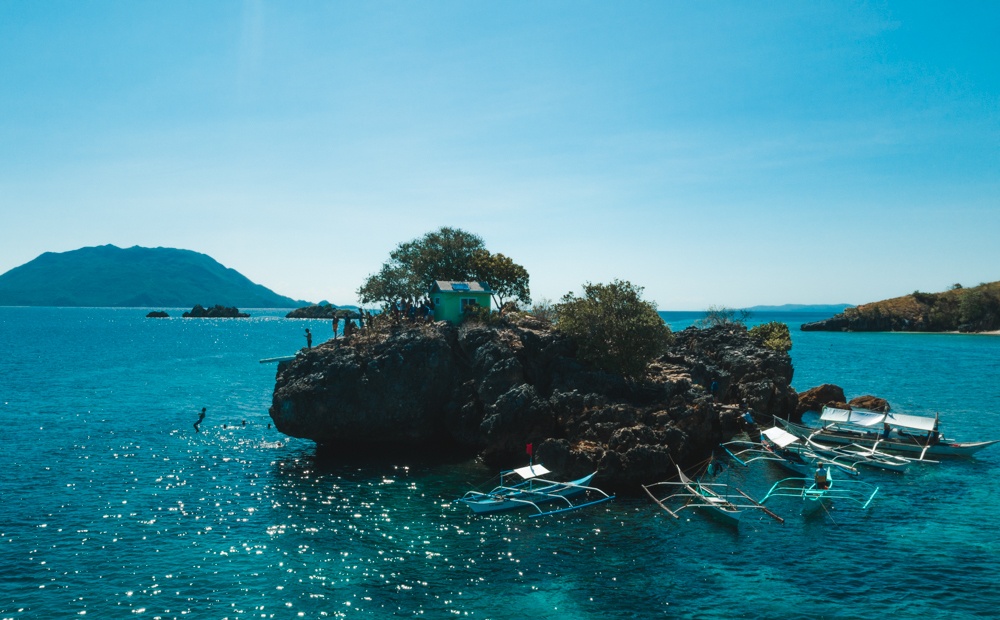 I'm beginning to think little islands with their own diving boards are a thing in the Philippines after finding one in Siquijor (come to think of it, I did off of Bali, too, on Nusa Lembongan). Romblon Island, naturally, has its own!
There are two sets of stairs on either side of the island, though one is much lower than the other. This is where your boat will likely dock if you'd like to give it a try. It's not a crazy high jump, but it still gets the adrenaline going!
Cobrador Beach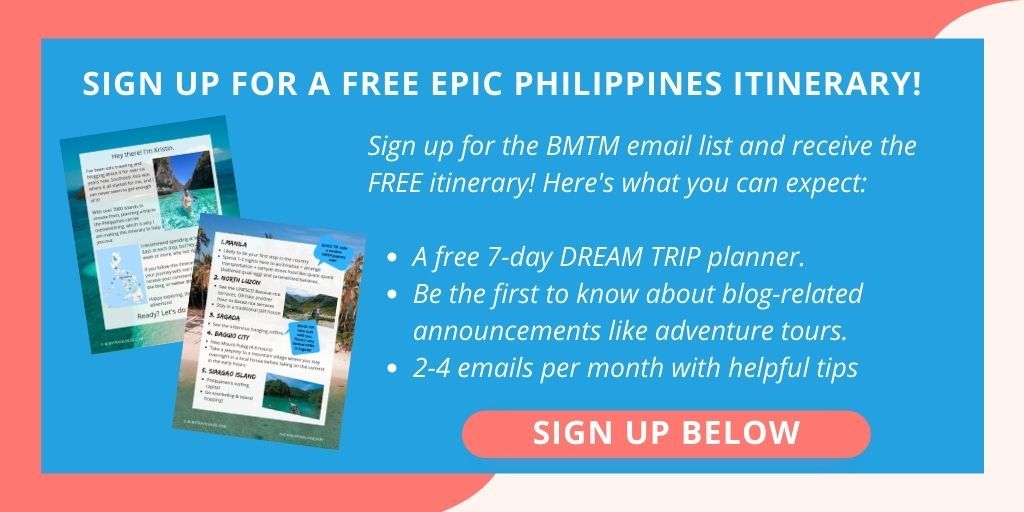 Just beyond the Marakay Marakay diving board you'll see another perfect, white sand beach. When I was there it was alive with kids swimming in the water, locals out enjoying the day, and there, as well as everywhere else I went on my trip, I was the only foreigner around. I just love it when that happens!
Keep in mind that this beach is hard to access at low tide due to the coral and sharp uphill-tilt of the sand. It makes it hard for the boat to get in and out, so go at high tide.
Tinagong Dagat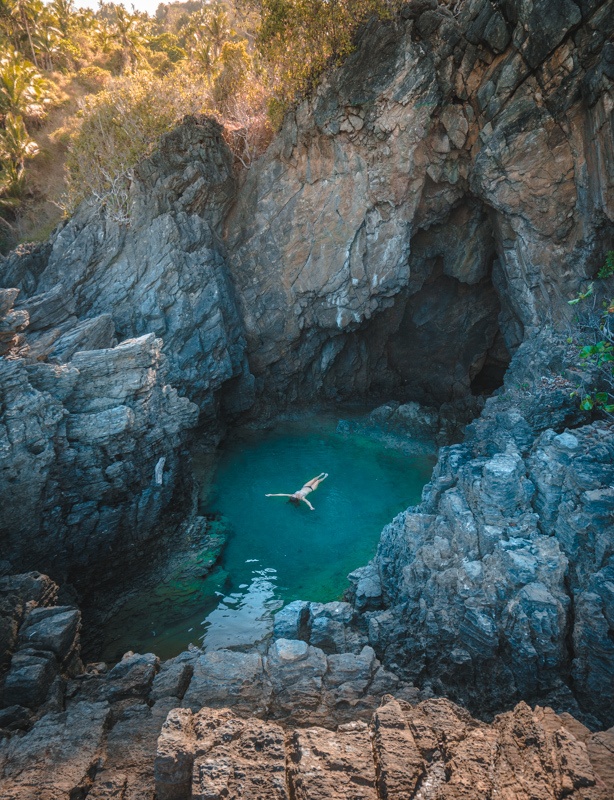 Tinagong Dagat was one of the things I wanted to see most during my Romblon Island hopping experience, apart from Bon Bon, of course. We couldn't quite get there during high tide, when it's best, but you can't be everywhere at the right time!
It was still pretty cool to see it as the tide was falling, and I suspect it's not too different at high tide – perhaps there's just a bit more water. The minerals in the rock or the way it's filtered as it comes in (or both? Sounds like science to me) make it a blue-green color that's enchanting to see, and soak in.
Be sure to wear your flip flops or water shoes when you explore this one, as you'll need to climb over some jagged rocks. You'll walk through a couple of caves on the way as well, which make it feel like a journey into another world.
More Romblon Island Spots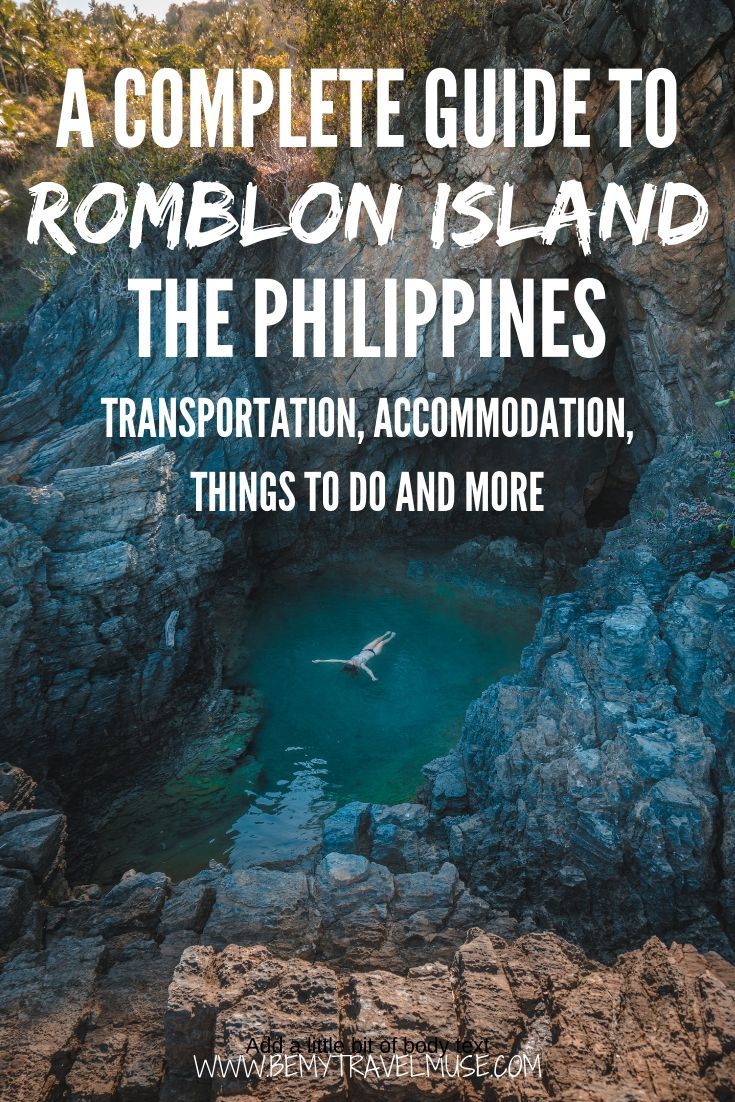 On Romblon Island proper, there's plenty to explore as well. Here are some favorites:
The Fort
When you dock at the main port, you'll see steps directly behind the first row of buildings leading up to an old fort that looks out over the ocean. It's west-facing and a great spot for sunset.
Libtong Falls
I didn't check these out myself, but heard from a couple who stayed at the same resort as I did that it was a worthy excursion. I wish I had more info on where exactly to find it but if you ask around the friendly locals can probably point you in the right direction.
Kipot River & Inuquit Falls
This super blue river is another unique feature of Romblon Island that I heard good things about. It's a nice little change from the beaches and sandbars, if you want to switch it up. This one isn't on Google Maps either, so ask around to find the best way there!
Though there are many beautiful places in the Philippines, this has been one of my favorite for the peacefulness, the variety of activities on Romblon Island and the surrounding islands, the Bon Bon Beach, which truly lived up to expectations for me, and the beautiful place I stayed, which totally exceeded them.
Enjoy the adventure and the friendly atmosphere – I'm sure I'll go back one day!
Read Next