Puerto Princesa in Palawan, Philippines is for many the gateway to El Nido and Coron, two of the Philippines' most beautiful and popular destinations.
If you're looking for remote, untouched paradise, this isn't necessarily it. However if you're just visiting on your way elsewhere and want to do some Honda Bay island hopping, especially without a tour, you've come to the right place.
To be honest I ended up in Puerto Princesa by accident. I'd booked a flight to Palawan thinking PP was close to El Nido only to realize there's a flight from Manila directly to El Nido that I could have taken instead. Oops. Since I made that error, I figured there had to be something worth seeing in the area and gave it one full day. It turns out there are two somethings to see: An underground river and Honda Bay's islands and sandbars.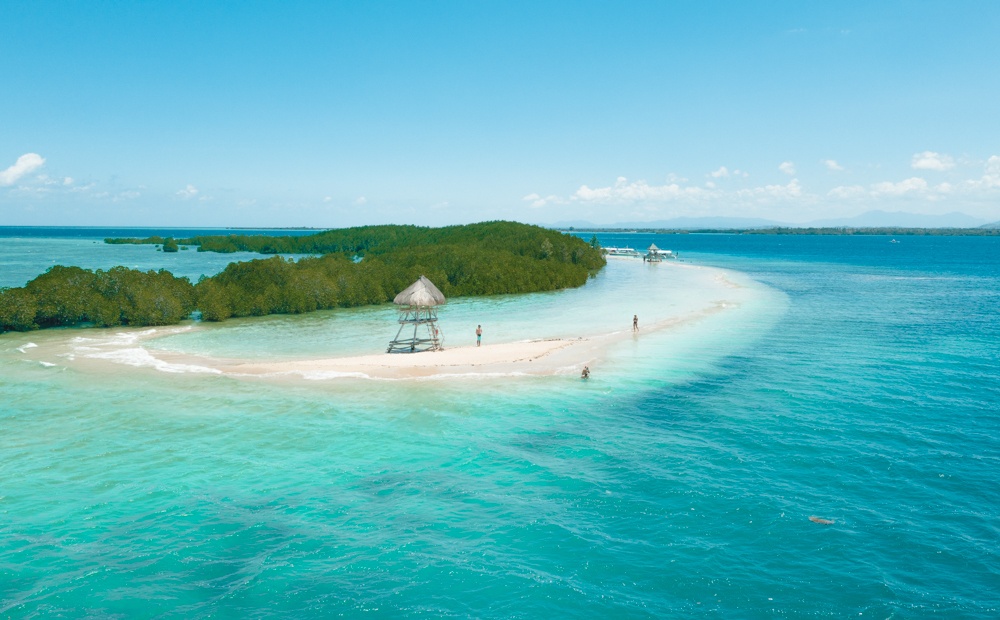 Puerto-Princesa Subterranean River National Park is a UNESCO World Heritage Site and is famous for containing the world's second longest underground river. I opted to do Honda Bay instead with my one day in the area, since the river is pretty far from Puerto Princesa and it sounded like there's a lot of waiting and crowds involved.
This guide has everything you need to know about island hopping in Honda Bay, with information on how to do it yourself for less money and with more flexibility:
How to Do It Yourself
Most Honda Bay tours depart at 8am and come back at 4pm and include 3 islands: Starfish, Cowrie, and Luli. The price is usually 1500 pesos (about $30 USD) though my hotel wanted 1650.
Unless you'd rather not bother doing it independently, or are traveling solo and prefer a tour, it's much better to do it on your own. It's easy. Here's how:
Step 1: Take a tricycle or jeepney from your accommodation to Sta. Lourdes Wharf
I read on several blogs that the usual tricycle price (for a tourist) is 700 round trip and I found this to be true. Your driver will wait for you and bring you back when you're done. It's a lot for a tricycle, and the whole ride over the driver will probably try to sell you on other tours, but it's also the most flexible option. The ride takes about 30 minutes each way from most hotels in Puerto Princesa.
You can also take a jeepney from PP to the wharf for about 50 pesos each way. Where you catch it depends on where you're staying, so ask at your accommodation where the jeepney will be passing by and wave it down when you see it. It will have 'Lourdes pier' written on the side. Based on the amount of vehicles I saw during my ride it appears to me that they go pretty often. In hindsight I would probably have done this. Jeepneys are always an adventure!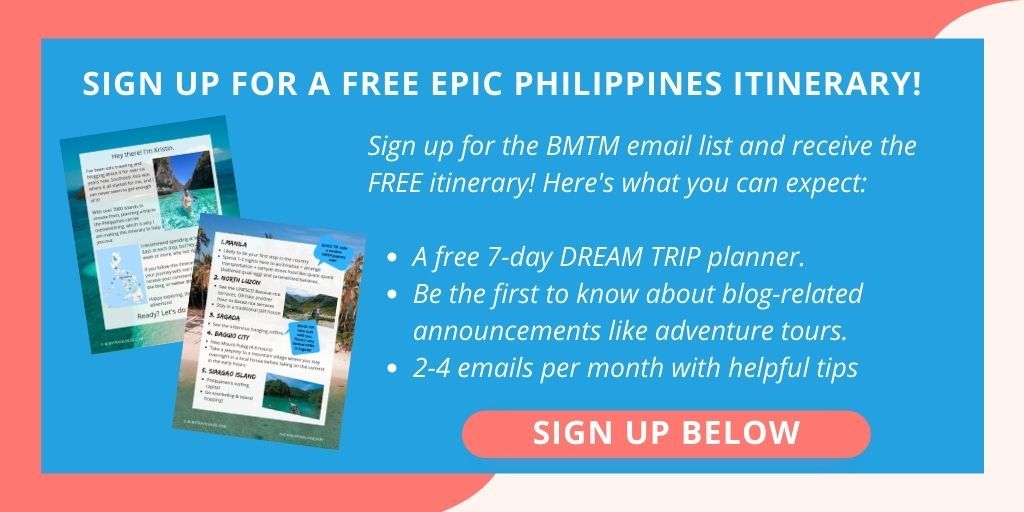 Step 2: Register and pay at the wharf
I've never seen a setup like this in the Philippines before, but you can't just go negotiate directly with a boat, you MUST register at the wharf and pay entrance fees for each island plus a 155 pesos environmental fee.
Boats cost 1300 for a small boat and 1500 for a 'big boat,' which can hold up to 20 people. I was told they only had big boats left that day but honestly every boat I saw all day was the exact same size, emblazoned with neon flags. I'm guessing the 1500 is more of a tourist price.
I asked a couple of guys who showed up when I did if they wanted to split with my friend and me, which they were happy to do, so our private tour for four was only 375 pesos per person. Score!
This allowed us to customize our tour and didn't include all of the waiting time, picking people up, and dropping them off, that I'm sure is involved in the organized tours.
Step 3: Pay the fees and rent snorkeling gear
Snorkeling gear is available for 150 each per mask and 150 per set of fins. You'll also need to pay the 155 pesos environmental fee. I brought my own mask and snorkel and honestly you don't need fins. You're not swimming that far.
Step 4: Pick your islands
You'll have to pick which islands you want to visit before you go, with a maximum of three. I asked if I could decide as I go and they looked at me like I was crazy, so, no you can't.
The options are listed below with their respective prices:
Starfish – 50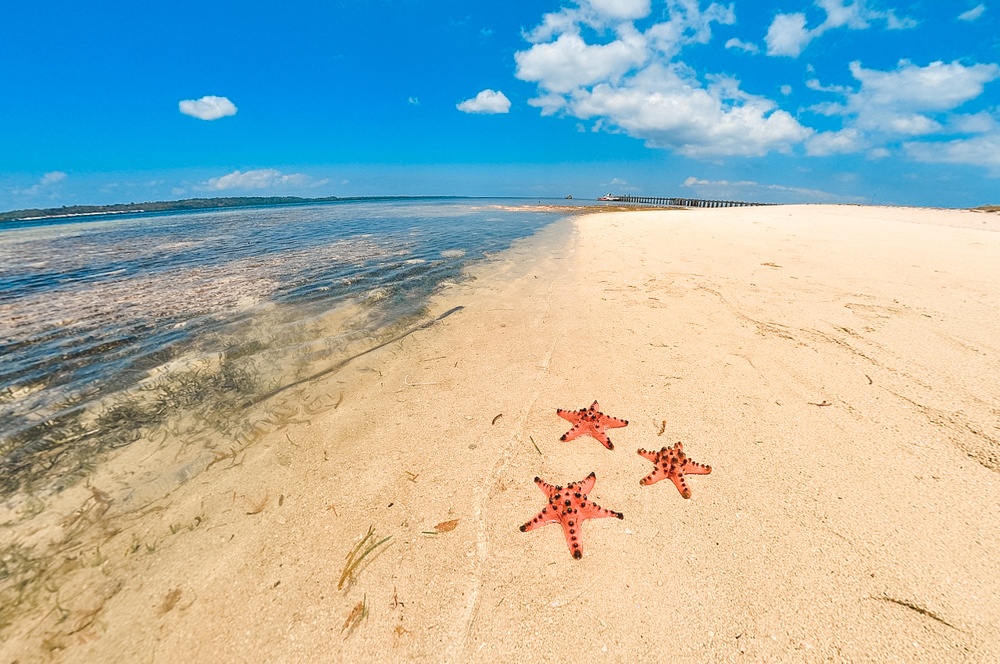 Starfish Island is known for its rock starfish and a lovely sandbar. I enjoyed the drone flight over it and the starfish are cool too, I suppose.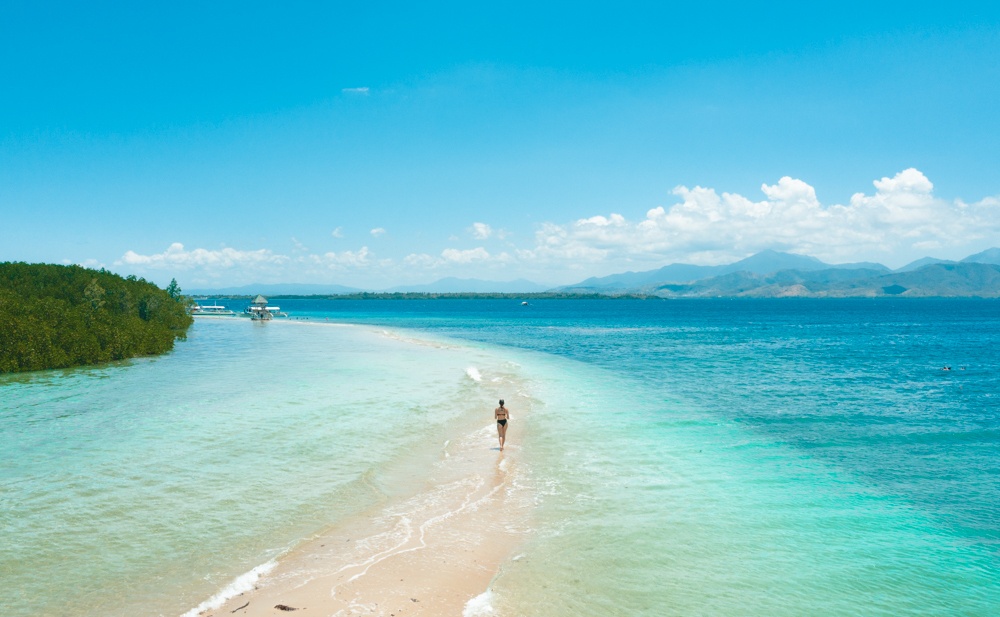 What I find weird about the islands is how built up all of them are. They'd be so beautiful if they were just left natural but they're pretty gimmicky with signs at each one and even life-size mannequins you can, um, pose next to?
Cowrie – 100
Cowrie Island is known for cowrie shells and its 'amenities' of cabanas and spa huts. They also have a buffet lunch for 300 pesos and like all of the islands, offer snorkeling.
The island is larger than the others mentioned and has white sand water sport options as well.
Luli – 70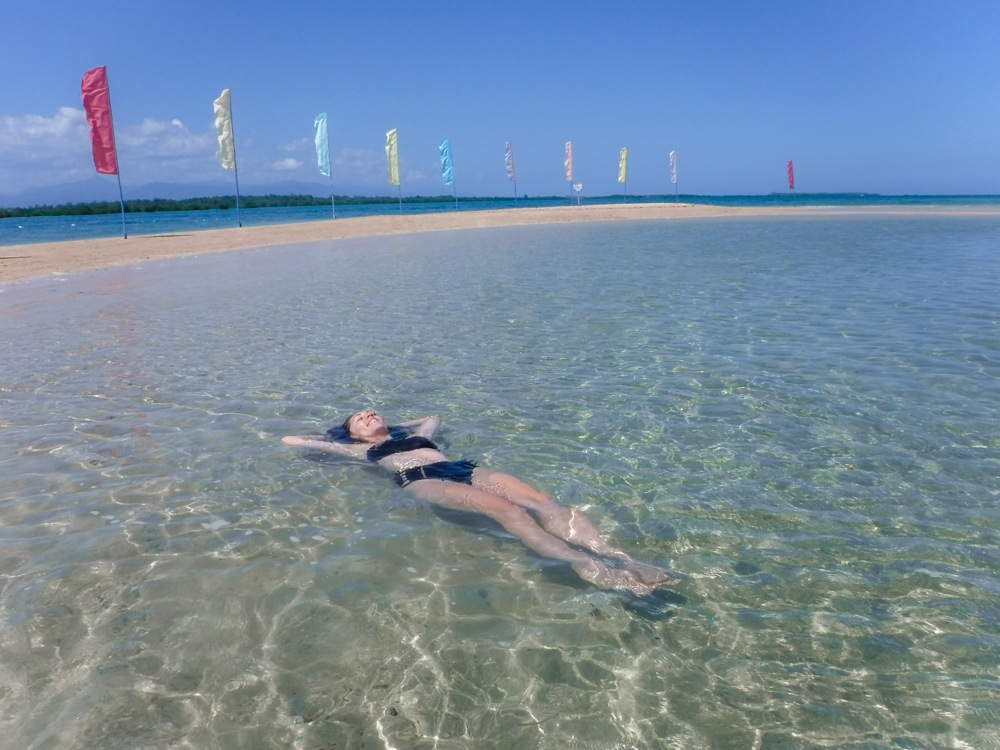 Luli Island has a beautiful sandbar that almost forms a perfect circle at low tide. It would be one of the most beautiful sandbars in the Philippines if only it wasn't covered in little huts selling 1500 peso shuck-it-yourself pearls and 60-peso coconuts.
The sandbar has flags all along it which, to me, totally ruins it. There's a little snorkeling area that's not bad, and a diving board and some hammocks as well. I love a more natural island vibe than this so it wasn't that impressive to me but it must appeal to someone's taste out there?


If you're doing this tour on your own and forgot to bring food along, you can purchase a buffet lunch here for 300 pesos. It looked alright, with rice and noodles and chicken.
Pandan – 1250
Initially I'd wanted to do this island but the price made me change my mind! It looks like a recent change since it was taped onto laminated paper with the price written in.
This is a private island that the typical tours don't visit and it's supposed to be more natural, with white sand and good snorkeling. Since it costs almost as much as the entire boat I gave it a pass, though.
Snorkeling at Pambato Reef – 100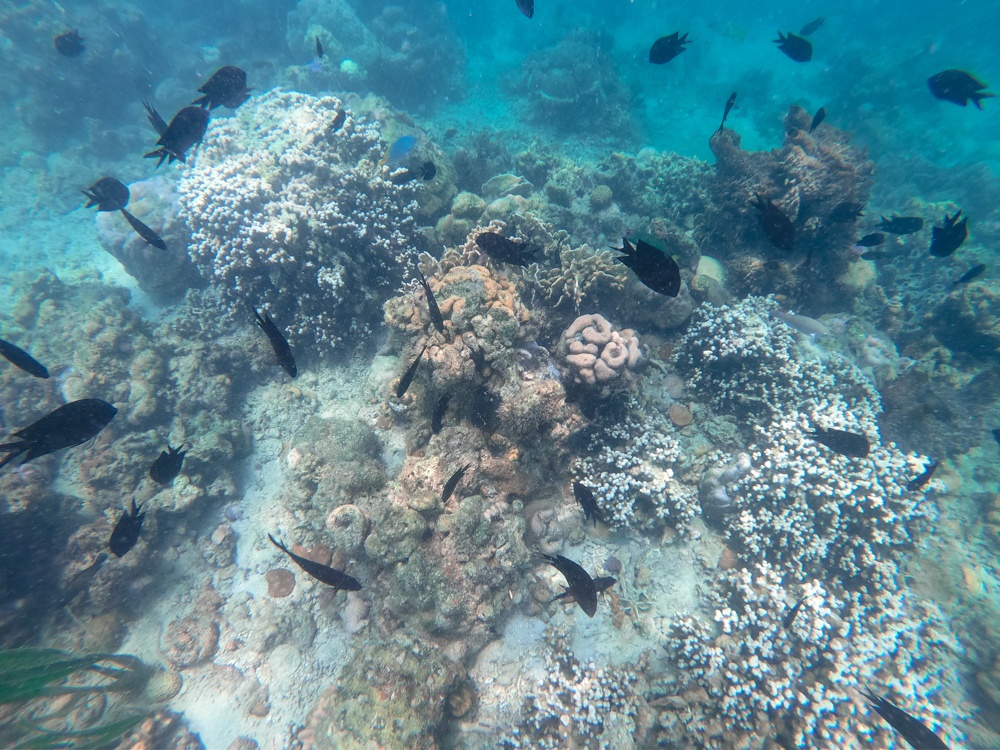 This floating platform is supposed to have the best snorkeling of the stops on the standard tour, though all of the islands have snorkeling options.
In general the current can be strong and the water visibility low snorkeling in Honda Bay. If you've snorkeled in other parts of the Philippines and are used to those amazing reefs, and especially if you'll be visiting El Nido, you may be underwhelmed. I also thought it was unfortunate that the natural beauty of the islands was marred by all of the gimmicky statues, signs, and unnecessary buildings.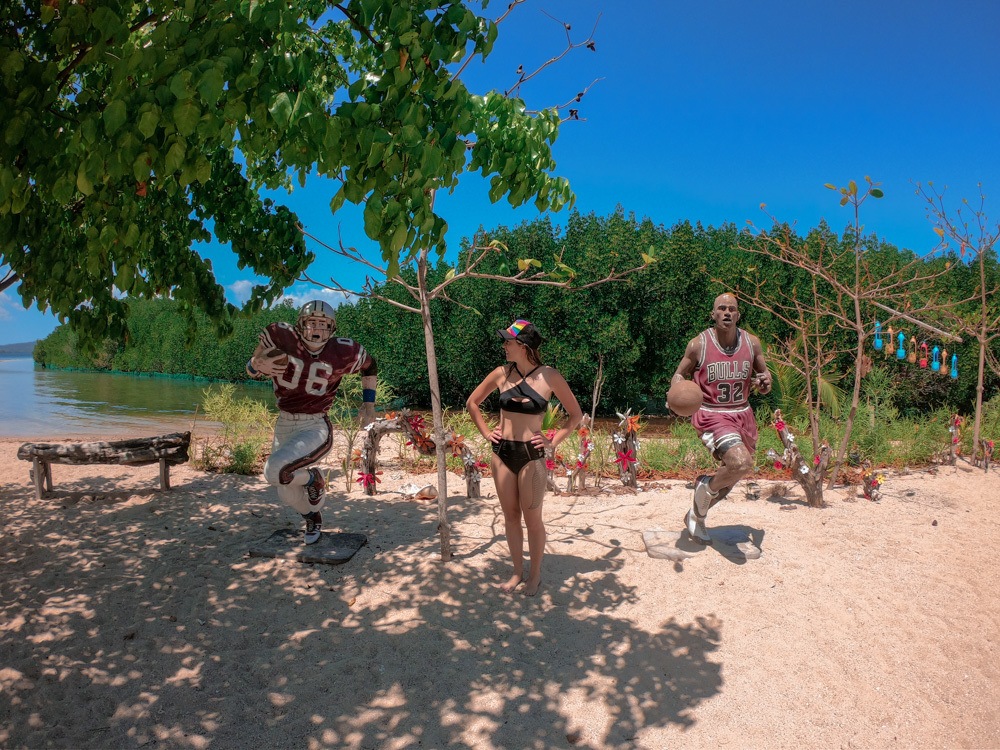 Overall, you can probably tell that I was unimpressed by my Honda Bay experience, and frankly by Puerto Princesa in general. It's pretty touristy, and I didn't do myself any favors by heading here immediately after an incredible week in Romblon.
That said, if you have a day to spend in Puerto Princesa, this isn't a terrible way to spend it. I started my day at about 11am and it was the perfect amount of time for two islands, Starfish and Luli, and for a total of 1000 per person once I'd split the boat 4 ways and the tricycle two ways, it wasn't bad. I would have been quite disappointed to spend the 1650 per person that the hotel wanted, though!
It was also perfect to go a bit later in the day, since by the time we got to Starfish and Luli, the crowds were much smaller and most of the boats had already moved on. I could tell it gets pretty busy when the tour boats are there.
I'm excited to see what El Nido and Coron have to offer. Perhaps if nothing else, island hopping in Honda Bay will only make those better by comparison.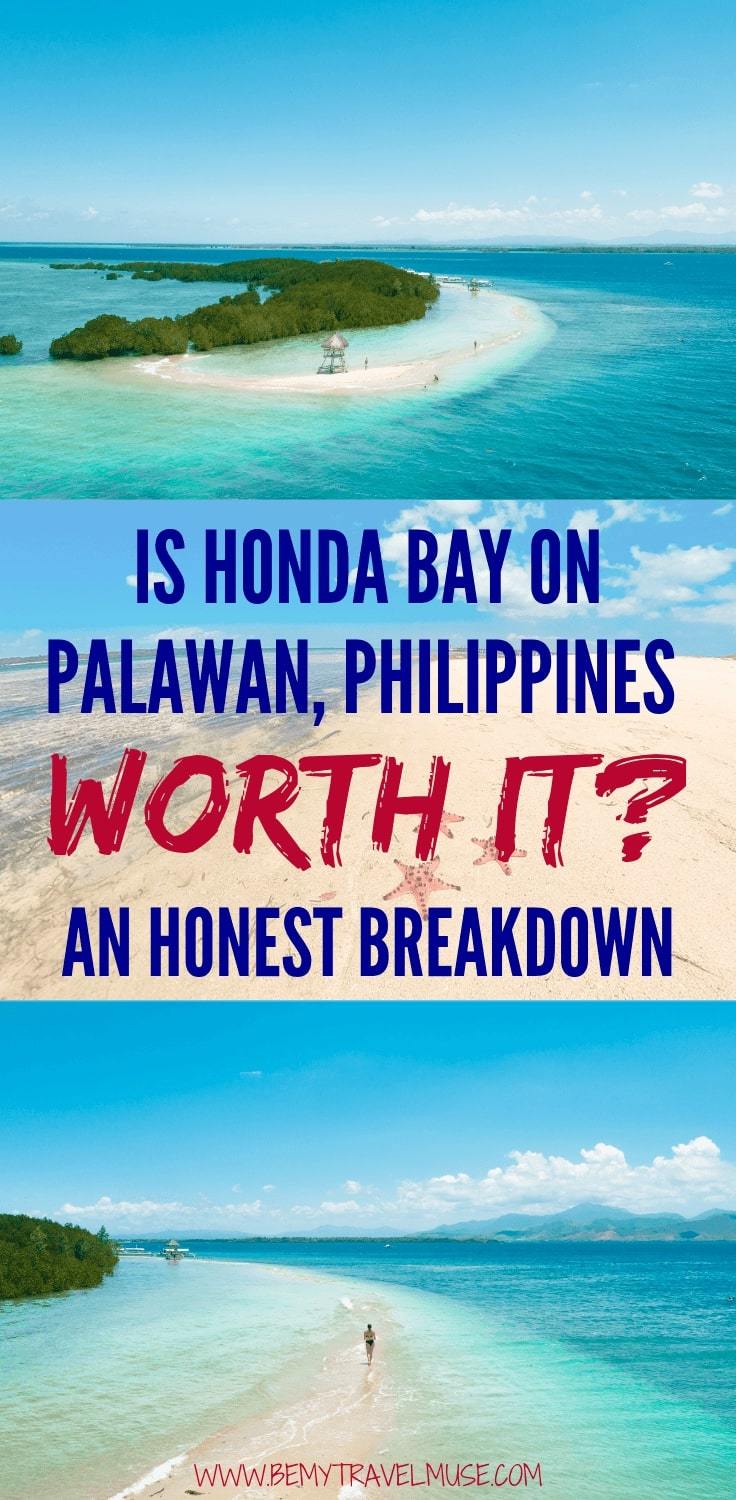 READ NEXT