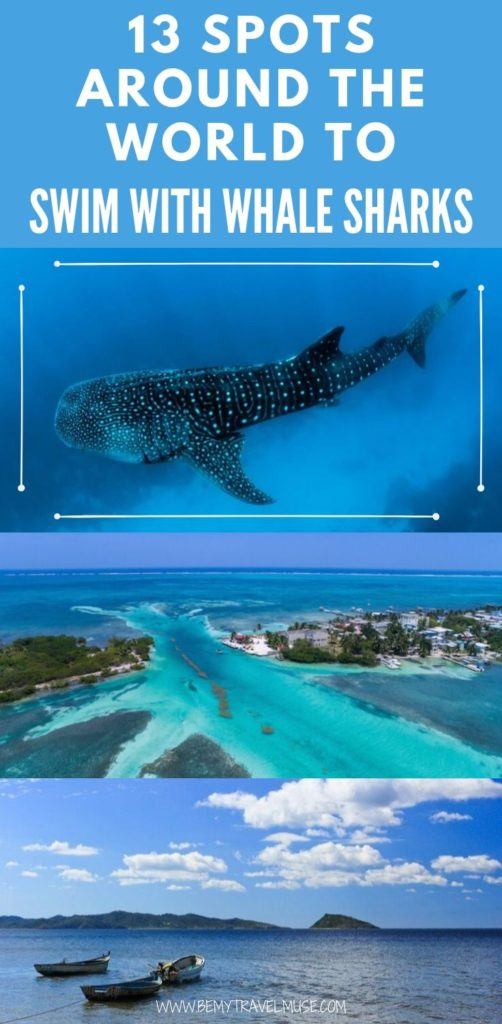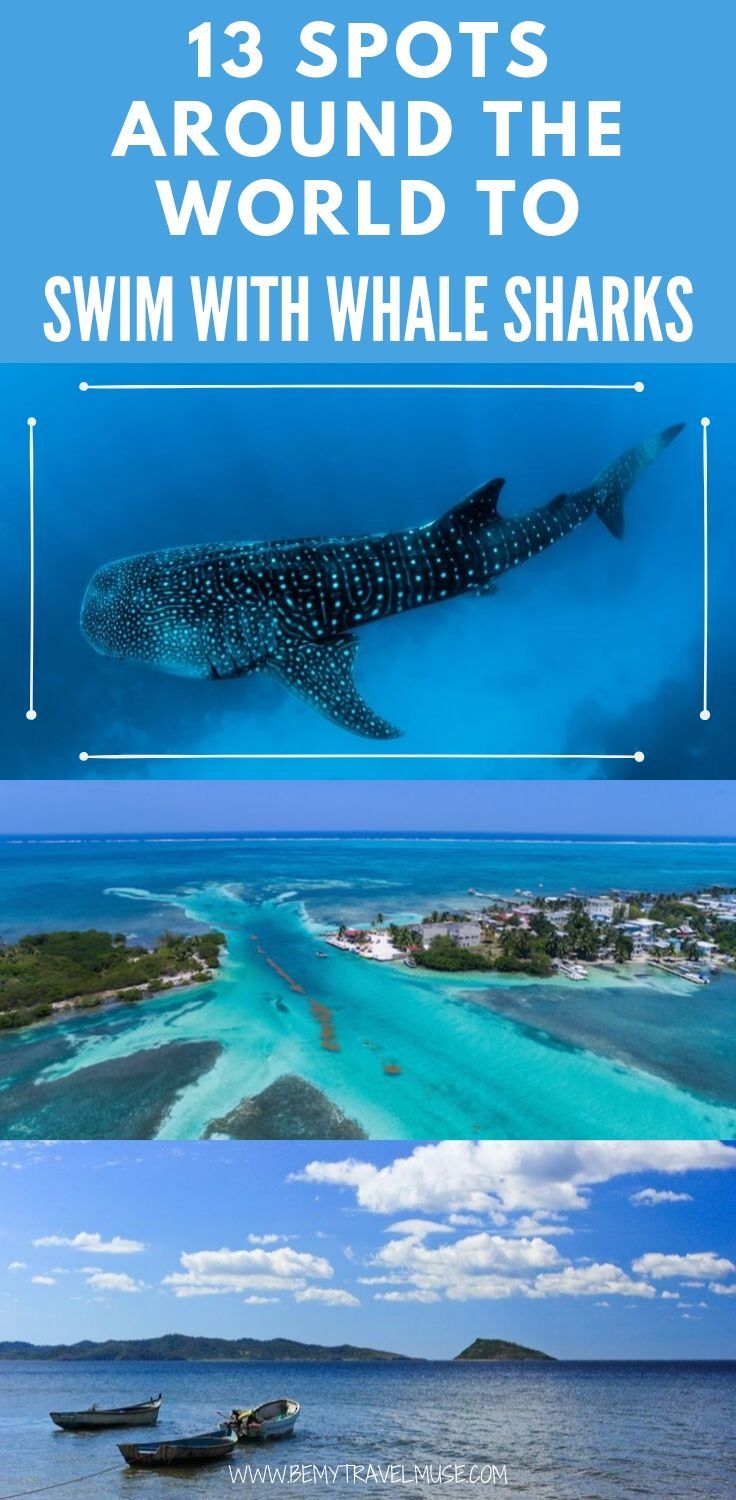 Swimming with whale sharks is one of the most exciting and awe-inspiring aquatic experiences. Apart from swimming with humpback whales, shark swimming is my favorite ocean activity, in part due to how huge they are.
Not only are whale sharks the largest sharks in the ocean, they're second only to some whale species when it comes to ocean animal size, and are the largest 'fish in the sea'. These spotted and striped fellas can be as long as a school bus — 40 feet long or more – that's up to three times as big as a great white!
Gasp! Sharks? Aren't those dangerous?
Thankfully whale sharks are gentle giants: they have tiny teeth, and they don't really use them anyway. Whale sharks are filter feeders, so they use their five-foot-wide mouths to eat mostly plankton. Since they are so massive, they live in practically no danger of being hunted by predators, so they have life spans similar to and exceeding those of humans, ranging from 70 to even 130 years!
While whale sharks are found mostly in tropical seas, as they choose to live in warm waters, they can be seen all over the world and on five of the seven continents. Since they migrate, the best time to see them varies from place to place. Here are the best places around the globe to swim with whale sharks:
Mexico
Mexico is home to several different whale shark habitats. Off the coast of Cancun is Isla Mujeres, a popular spot for divers and snorkelers. From May to September, the whale sharks migrate south past the island, and the annual Whale Shark Festival takes place there every July.
Another option, the nearby Isla Holbox, is 40 miles northwest of Cancun and sees the same migration as Isla Mujeres. Holbox is actually home to one of the largest whale shark populations in the world. Meanwhile, the tiny Isla Contoy is a Mexican national park which regulates eco-tourism including diving with whale sharks. Whale sharks can be found around the Baja California region as well. La Paz, on the south and eastern coast of the Baja peninsula, sees whale sharks from November to May.
In all of these locations, booking an excursion is easy!
Belize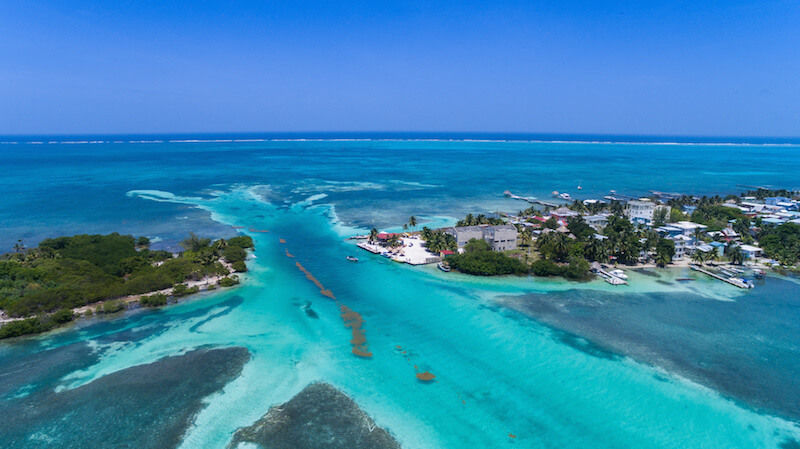 The Gladden Spit and Silk Cayes Marine Reserve protects the central part of Belize's Barrier Reef off the southern coast. From March to June, whale sharks gather in the waters of the reserve to feed. Swimming with the sharks is fairly easy, as several local tour companies run excursions with them. Prices seem to be higher here than in Mexico (at around $200) as some of them are SCUBA diving excursions, not just snorkeling trips.
Booking isn't quite as straightforward, either: there are plenty of companies with tour listings online, but many do not display their prices or offer online booking. Also important to know is that dive operators can only work within the restrictions of the reserve, so it is best to book a spot on a trip well in advance, which might require picking up the phone and inquiring that way, or showing up in person if you have a bit more time to work with.
Costa Rica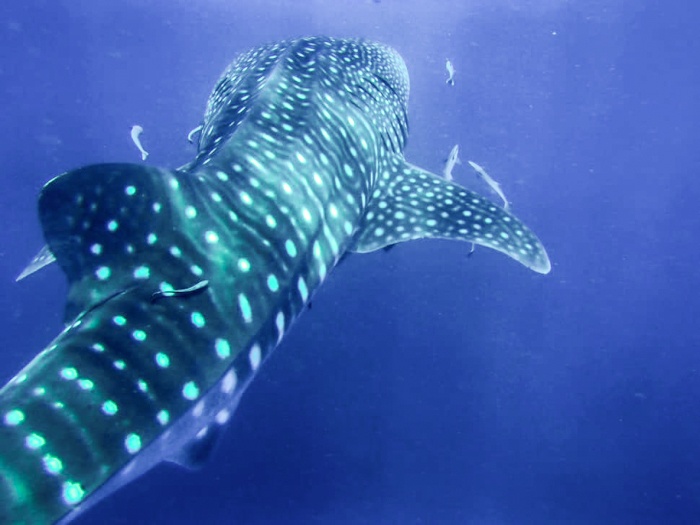 The tiny Isla del Caño, ten miles southwest of mainland Costa Rica, is a protected biological reserve with crystal clear waters. The island is rumored to be Costa Rica's best spot for snorkeling, as swimmers can see turtles, rays, and other species of shark, too.
The whale sharks are believed to most likely visit the area June to September and November to January; however, this destination is certainly more "off the grid" than many others, so booking an excursion online to see the whale sharks here is somewhat difficult. Like many options on this list, it's best to visit and organize in person.
Honduras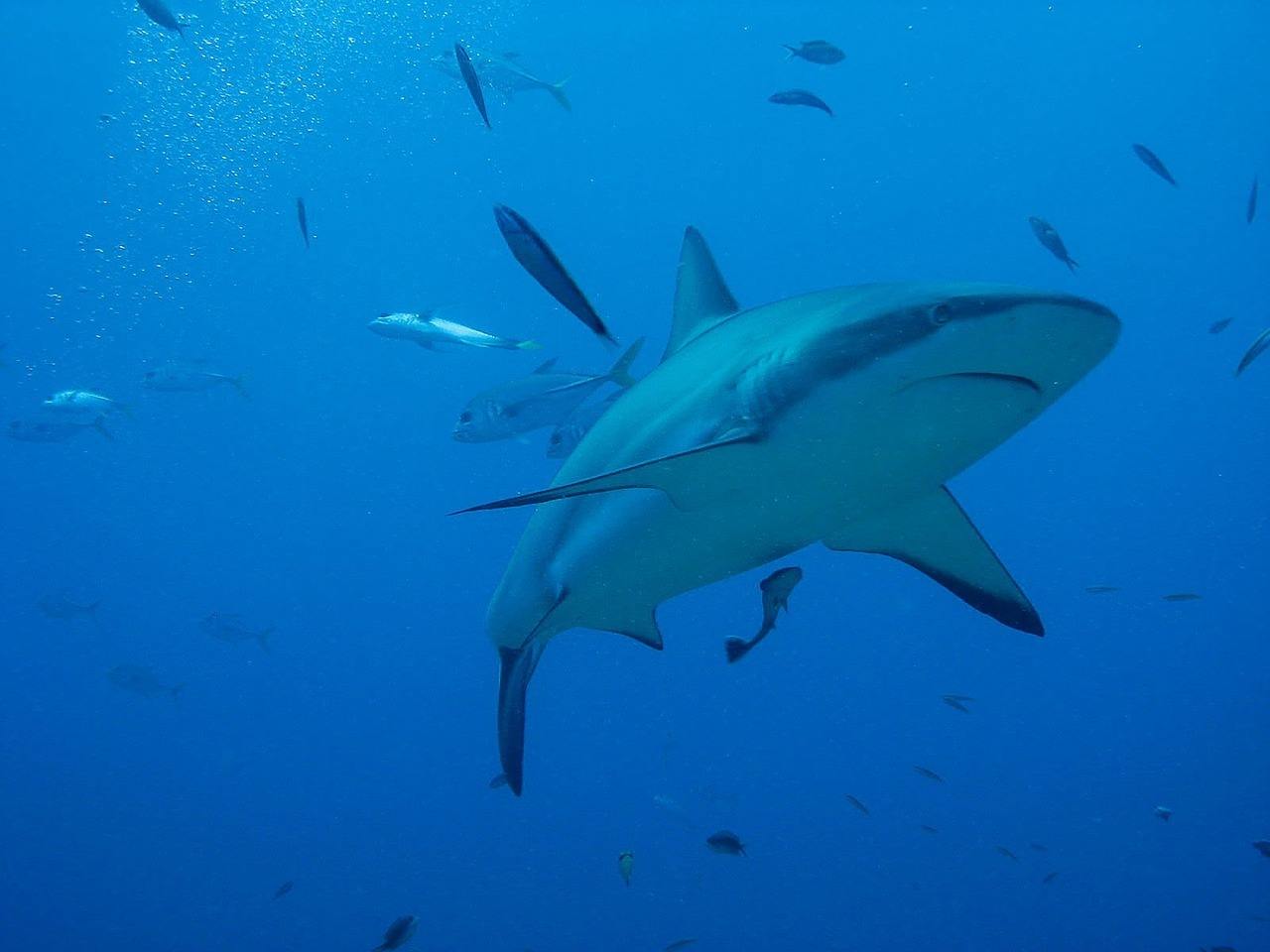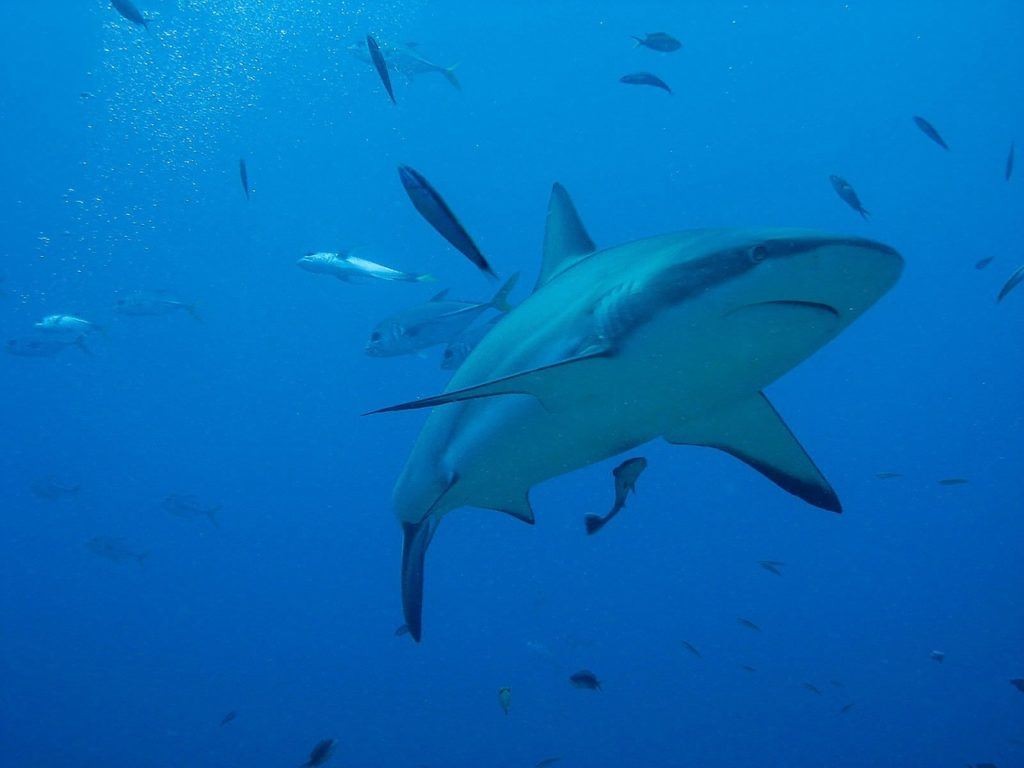 The island of Utila, off the northern coast of Honduras, is one of the most famous whale shark viewing spots, as the sharks swim near to the shore all year long, not just for a few months. The island is also home to the Whale Shark and Oceanic Research Center, which studies the population and movement patterns of the sharks.
Roatan Island is another great spot to see the whale sharks, particularly between the months of May and September. The diving there is exceptional because the island's proximity to the world's second largest barrier reef results in diverse marine life. Since the islands are well-known for diving, booking a guide to see the whale sharks should be no trouble at all. A diving trip alone typically falls between $150 and $200.
Panama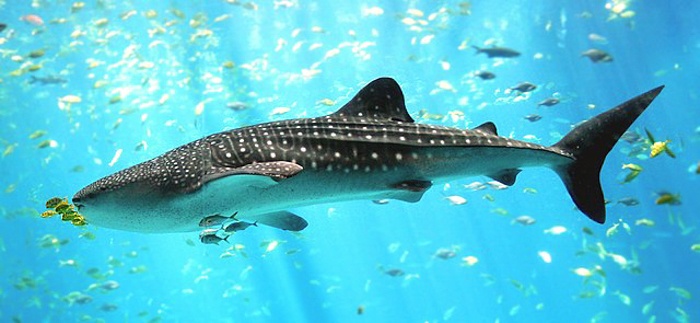 Coiba National Park is a protected marine reserve off the southwestern mainland coast of Panama. Here, whale sharks can be seen close to land from January to April. Tours to swim with the whale sharks run from Puerto Mutis, El Banco, or most commonly, the fishing village of Santa Catalina. Most diving trips seem to range around $150, while snorkeling trips are much cheaper at about $30, and many of these excursions are available for easy booking online.
While the whale shark season is brief, the months of June through October bring orcas and humpbacks, so Coiba is a great destination for seeing marine life no matter when you visit.
Madagascar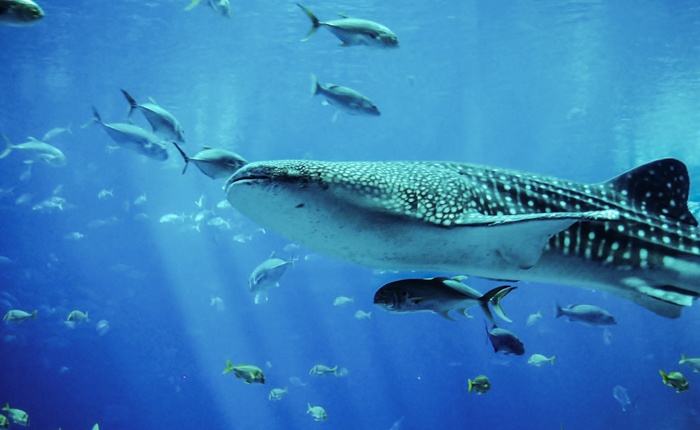 Off the northwestern coast of Madagascar, the island of Nosy Be is home to large numbers of young whale sharks which come to feed in September through December. Countless other species besides whale sharks have made Nosy Be home, contributing to the island's reputation for amazing diving.
Booking an excursion in Nosy Be is easy online, as underwater activities are the island's greatest tourist pull. While Nosy Be is the most expensive destination in Madagascar, it still pales in comparison to many other places around the world: rates tend to hover around $75 for a one-day diving trip.
Tanzania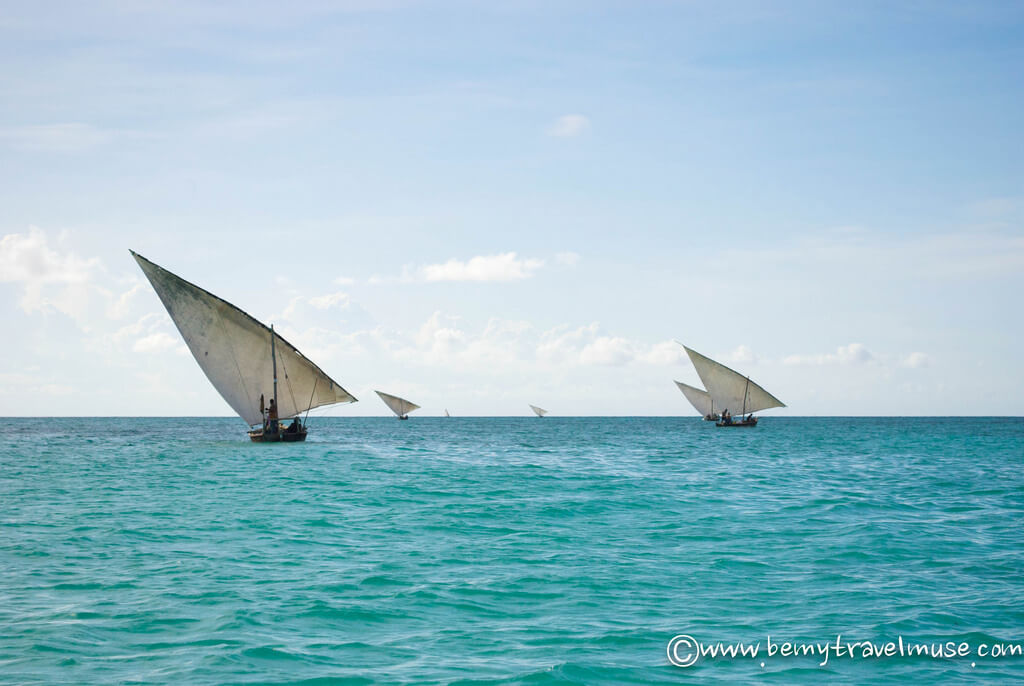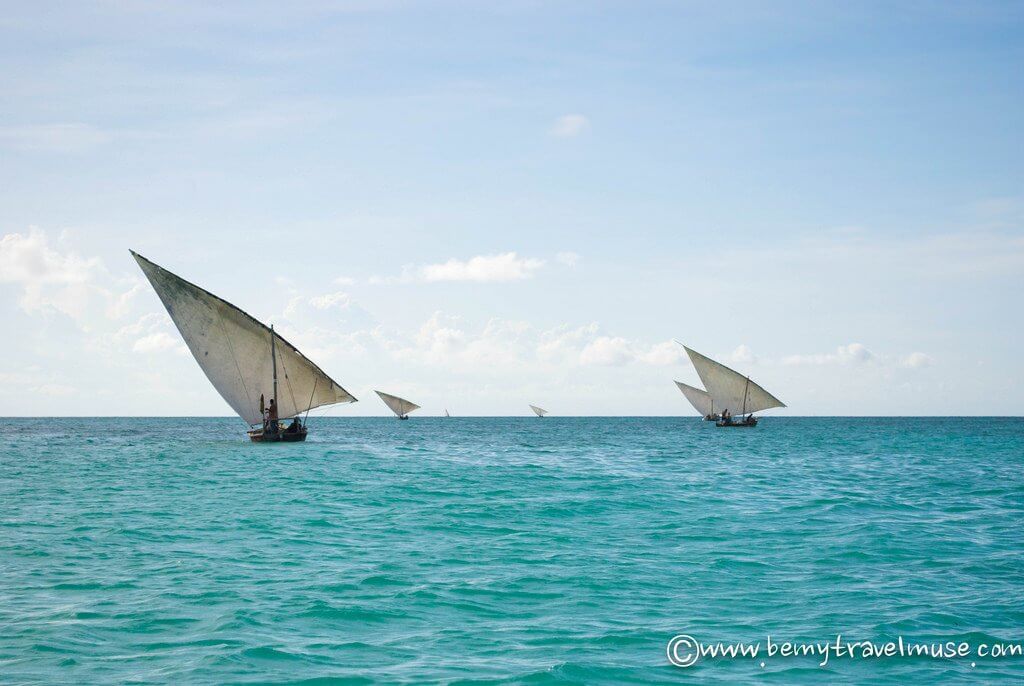 Mafia Island, off the east coast of Tanzania, offers an optimal whale shark spotting season from September/October to February/March, a little longer than Madagascar. The island sees a large population of whale sharks, which is unusual for how near the island is to the African continent.
While there are seasons of optimal viewing, like Utila, Mafia sees sharks all year long, making it an important destination for marine biological research. Booking a swim with the whale sharks costs about $60 to $100 and is possible online or in person.
Mozambique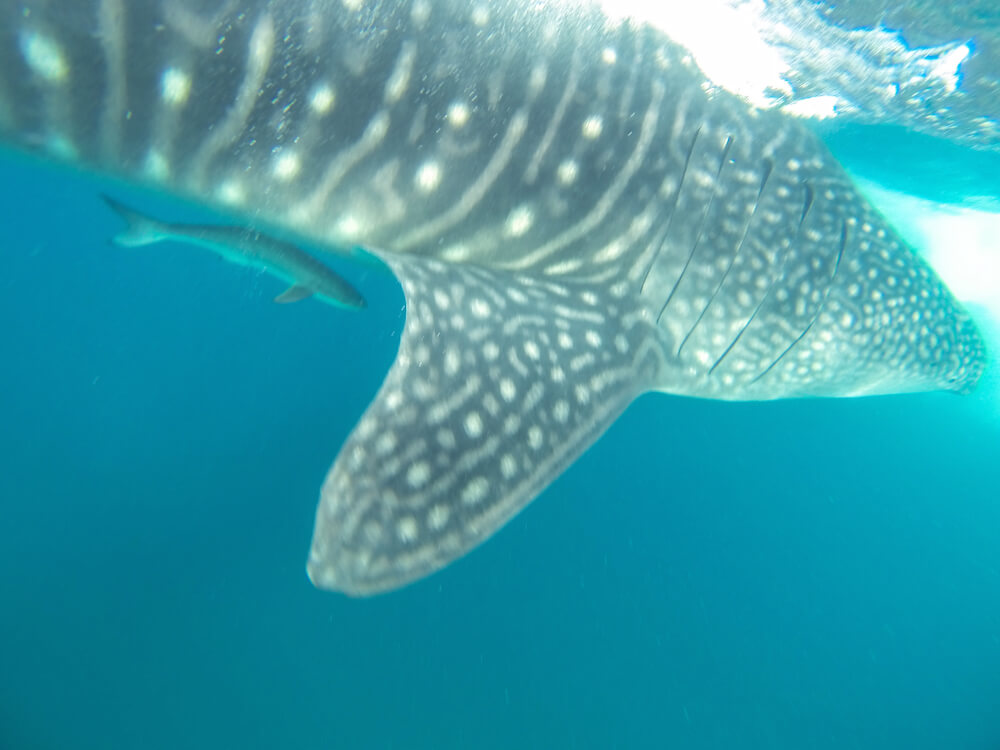 Mozambique offers great opportunities to see and swim with whale sharks in Tofo, 300 miles northeast of the capital city of Maputo. Huge numbers of plankton guarantee one of the largest whale shark populations anywhere in the world. November through February is the best time to go, as waters are both clear and warm enough for great shark spotting. The whale sharks float close to the surface here, so even snorkelers should be able to see them without going too far below the surface.
Most of the dive tour companies do not offer online booking, unfortunately, but the sticker prices make up for it: a snorkeling trip to see whale sharks, manta rays, devil rays, dolphins, and turtles costs less than $60. In my case, after a SCUBA dive, my guide spotted some whale sharks and let me jump in, so it's possible to see them on dive trips as well. There are just four dive companies in Tofo, all of which are easy to reach on foot from wherever you might be staying.
Red Sea: Egypt & Djibouti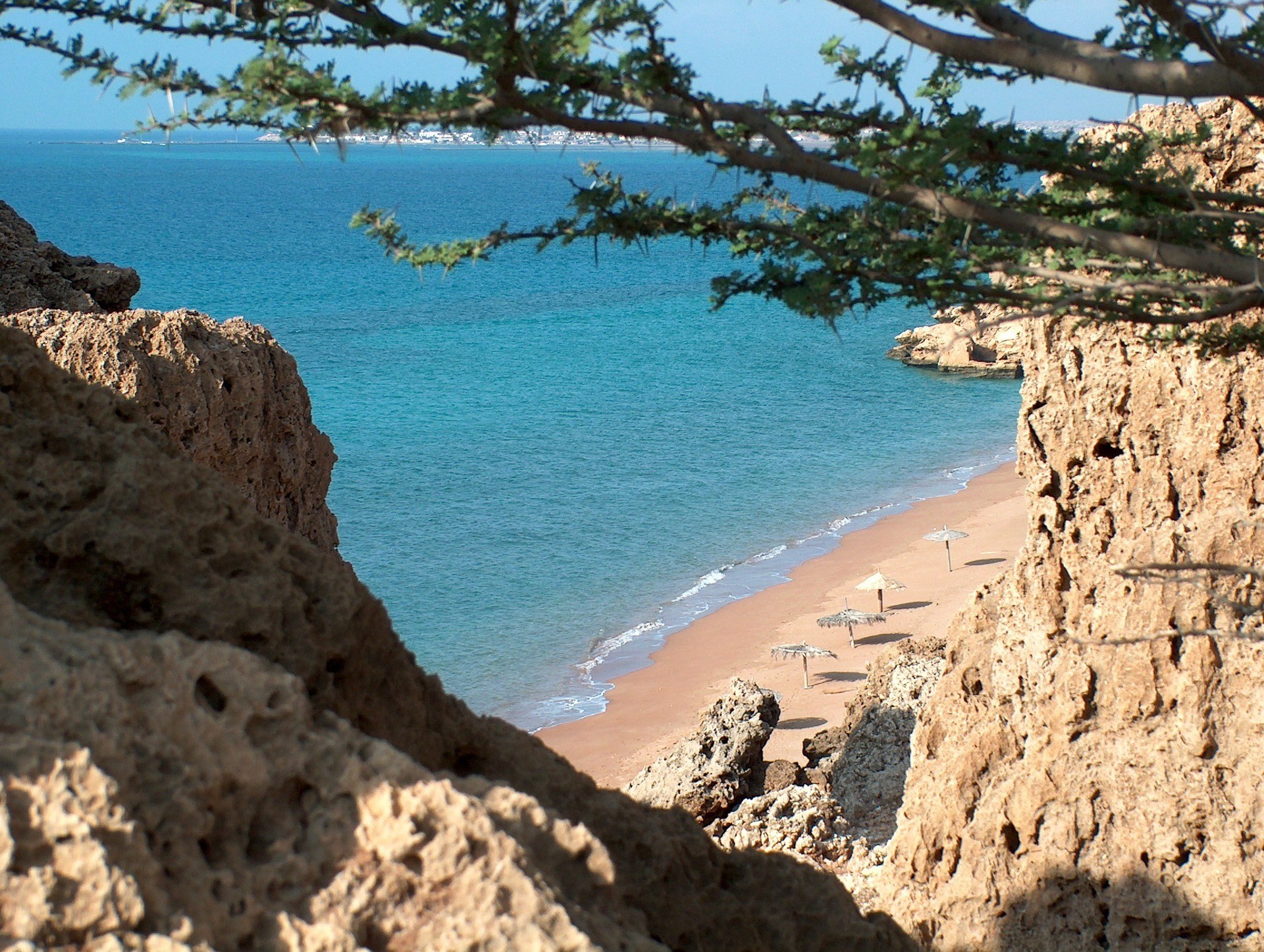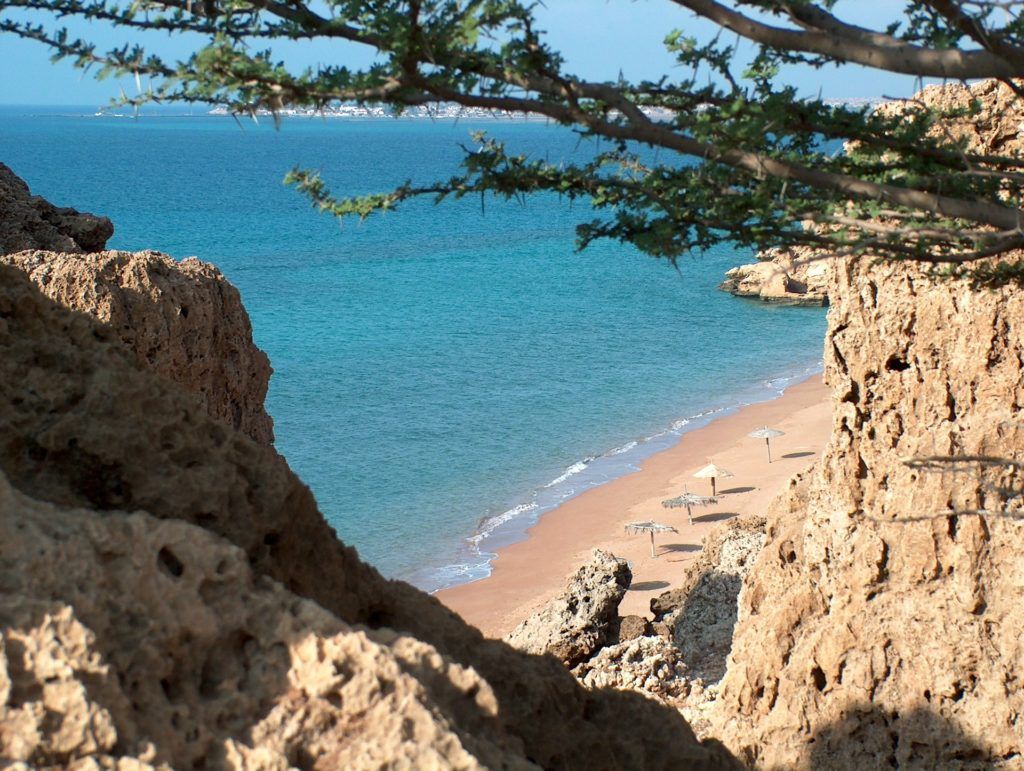 A surge of plankton brings groups of whale sharks to the upper Red Sea region each May to July. The sharks appear mainly in the very north of the Red Sea (adjacent to Egypt), having migrated from the central Red Sea region (e.g., Sudan and Saudi Arabia), originating in large clusters in the southern part (near Djibouti).
In Egypt, some popular spots are the city of Sharm El-Sheikh, which has clear waters perfect for diving, and the town of Marsa Alam, popular for its coral reefs. Several dive tours in each place are easily available for booking online, and most diving and snorkeling excursions cost around $50 to $100.
Since Djibouti is situated on the southern part of the Red Sea, it is even closer to the Indian Ocean and therefore the ocean's strong currents bring in all kinds of marine animals. Here you'll find at least 200 marine species native to the country, and thanks to that biodiversity, whale sharks love to hang out along the Djibouti coast.
They're most visible from November to February, and the best places to see them are the Bay of Ghoubbet, an inlet which stretches nearly halfway into the country from the Indian Ocean, and the Island of the Devil, which is surrounded by plankton which attract the sharks. Prices for day-long excursions hover around $100 for snorkeling and $150 for diving, and most tour companies do their booking online.
Maldives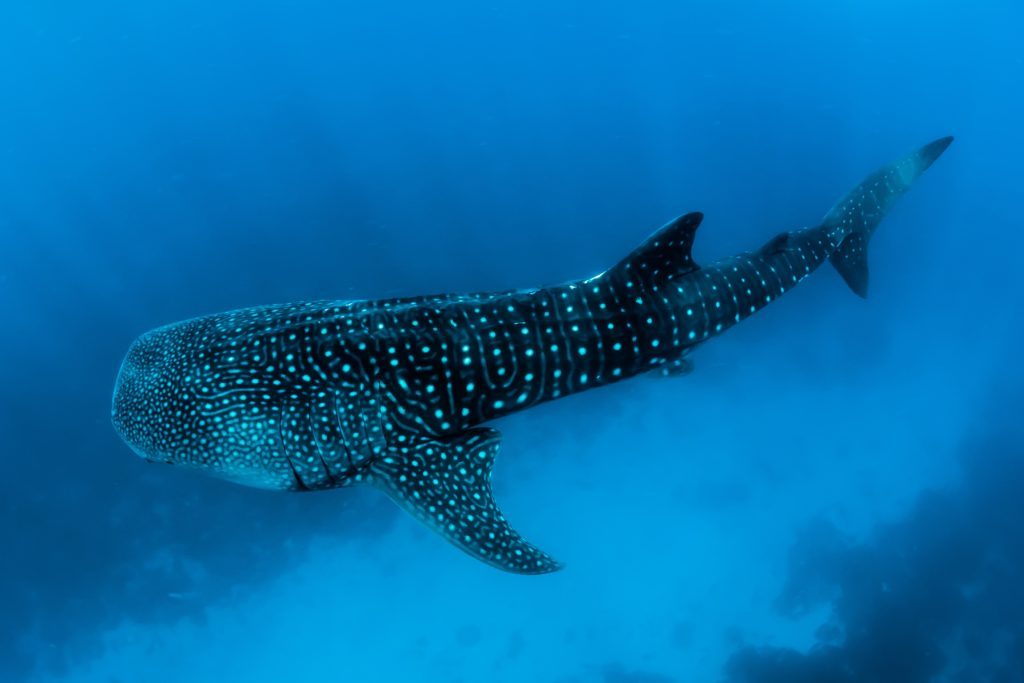 South Ari Atoll in the Maldives is a Marine Protected Area which sees whale sharks year round, rotating from one side of the island to the other depending on the season. Tours are available to swim with the sharks at all times of the year, so booking an excursion should be easy.
Prices usually center around $100 for a day-long diving trip. The Maldives Whale Shark Research Programme has even created an app which allows you to track whale shark sightings to better plan your trip!
I had a fantastic experience with a whale shark here, swimming with the same one for over 45 minutes (without feeding). Compared to my super brief Mozambique experience, this one was quite magical, though there were tons of other tourists in the water with me.
Philippines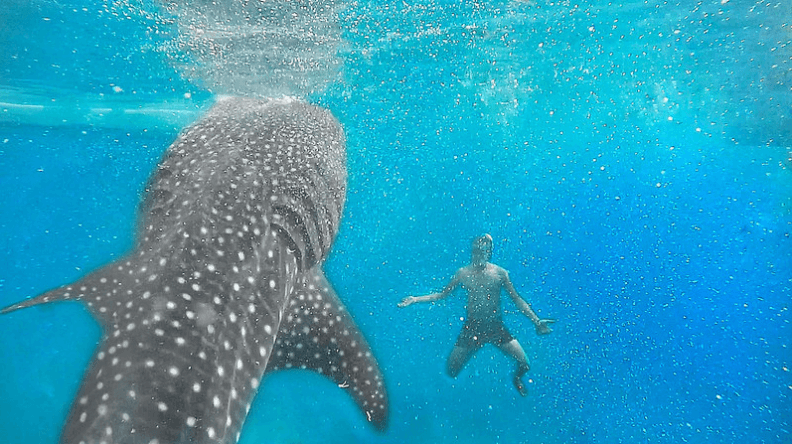 While the most popular location for swimming with whale sharks in the Philippines is Oslob in Cebu, the practices for swimming with the sharks there are often questionable and can be harmful to the sharks themselves. Whale sharks don't naturally gather there, so the ways in which tour guides use food to lure them to groups of tourists is highly unethical. Not to worry, there are other options that are more ethical!
Donsol Bay, at the southern tip of island of Luzon, is a much better option thanks to the way locals protect the whale sharks. Donsol Bay has a "no diving – snorkeling only" rule, as the sharks are well visible to snorkelers and there is no need to further disturb the aquatic ecosystem. While the whale sharks do not hang out in the Philippines here year-round, they do spend a good half of the year here, from December to May. Tours are best booked in person.
Thailand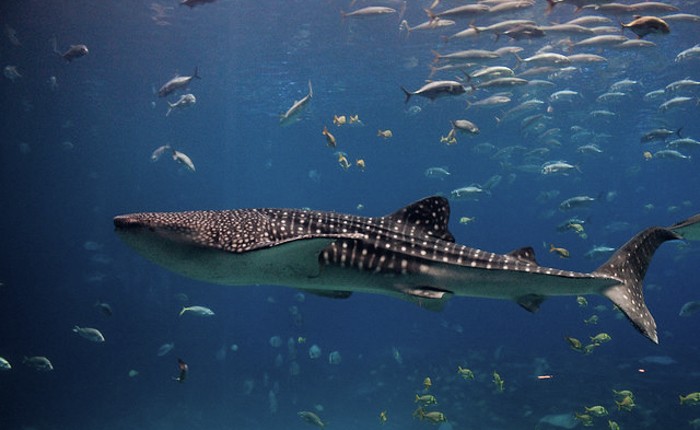 The island of Ko Tao is the perfect spot for cheap but beautiful diving in the Gulf of Thailand, another destination where whale sharks hang out year-round. The island usually sees younger, smaller whale sharks which are often curious and playful with divers, as well as rays and turtles.
Here, seeing the whale sharks typically requires actual diving, not just snorkeling. However, a day-long diving trip only costs around $50 to $60! These are usually best booked in person.
Western Australia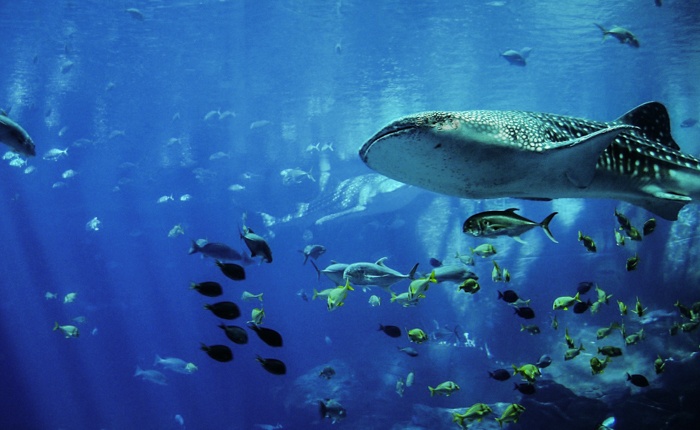 Part of the Coral Coast of Western Australia, Ningaloo Reef is the world's largest fringing coral reef. Ningaloo is home to more than 300 species of sea animals and sees large numbers of whale sharks from early spring to late fall. Here, they hang out just below the surface of the clear waters, so diving isn't even necessary to see them.
Australia might be one of the most expensive destinations to swim with whale sharks, though: ready to fish out (no pun intended) around $300 for a whale shark diving trip. Luckily, the tours are highly-rated and include transport, snacks, and professional photos.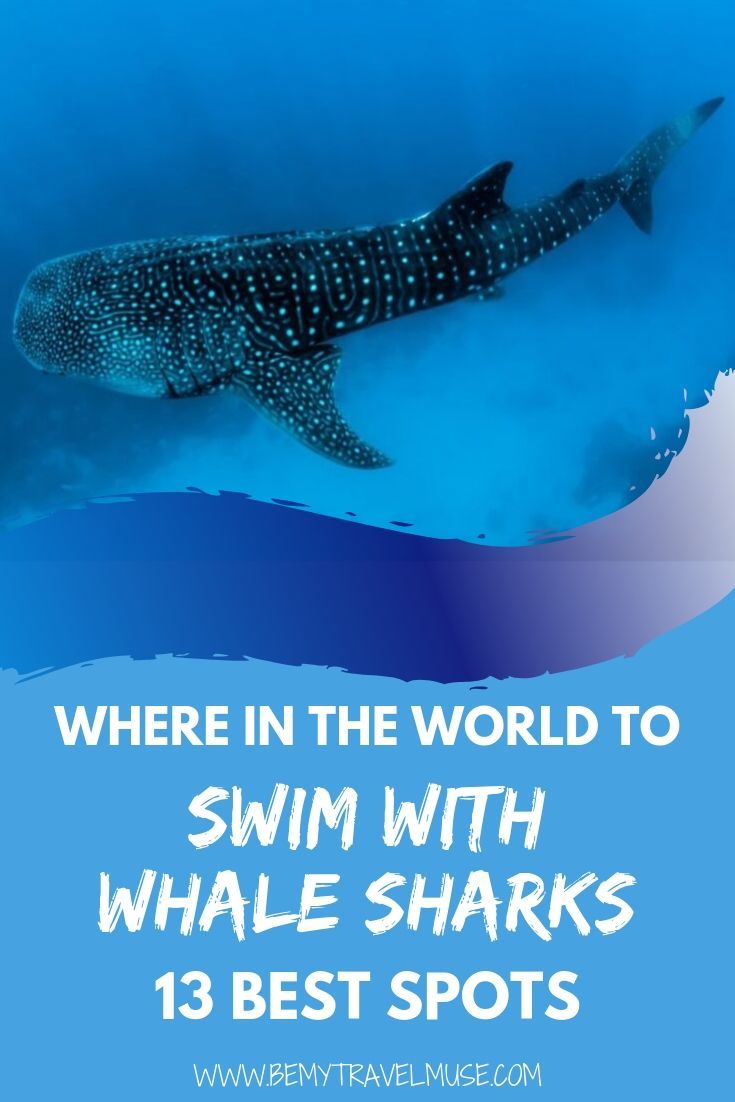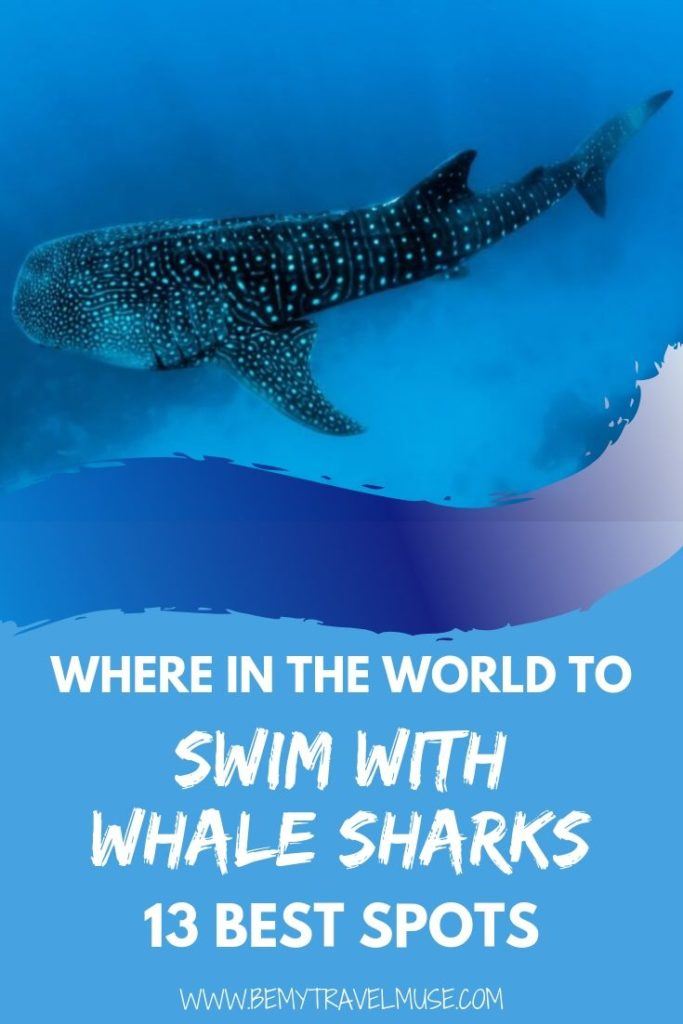 Though rare, whale sharks can show up just about anywhere, like Hawaii, French Polynesia, and more.
If you do get the privilege to swim with them, please don't touch, or chase, and just admire. There are few experiences as profound and beautiful as swimming with such a large, gentle creature.
*Some links in this post are affiliate links that support this site at no extra cost to you. If you do book a tour, consider booking through one of these links. Many thanks!